When it comes to Tuscaloosa it's easy to find things to do no matter the time of year. Whether it's attending collegiate athletic events, experiencing a theatrical performance at the Bama Theatre, dancing the night away at the Tuscaloosa Amphitheater, or spending hours exploring our great outdoors at one of our many parks, lakes, or rivers, our visitors are always welcome with open arms and warm hellos.
Below you'll find information (and some discount codes!) for eight events in Tuscaloosa, taking place in 2023.
FIDDLE FEST – THE SOUTHEAST FIDDLE CHAMPIONSHIP
About the Fiddle Fest: Held annually on the campus of Shelton State Community College, this family-friendly atmosphere celebrates the rich sounds of bluegrass and its talented musicians. Old-time music and fiddle music have rich histories in West Alabama with many fiddlers such as Dix Hollis, Y.Z. Hamilton, A.K. Callahan, and more connected to the area. Open to the public to enjoy, contestants will compete for over $7,500 in prize money. The Fiddle Fest will feature music from Iron Horse and will also offer arts, crafts, and other activities.
Date: Saturday, February 25, 2023
Website: https://thefiddlefest.com
VISIT TUSCALOOSA HALF MARATHON & 5K
About the Tuscaloosa Half: Now in its 11th year, the Visit Tuscaloosa Half Marathon and 5k will offer runners an exciting 13.1- and 3.1-mile course that traverses the streets of T-Town. Runners will enjoy a sampling of the rolling hills along the Black Warrior River, the Tuscaloosa Riverwalk, portions of The University of Alabama campus (including a great view of Bryant Denny Stadium), and some of the City's quaint historic downtown neighborhoods. Sign up today for the largest road race in West Alabama, taking place on Saturday, March 25.
Date: Saturday, March 25, 2023
Website: https://www.tuscaloosahalf.com
DISCOUNT CODE: Receive $10 off with the registration code VisitTCL
Code expires Saturday, January 14, 2023
TUSCALOOSA GAUNTLET
About the Tuscaloosa Gauntlet: Join the Alabama Marines Foundation for their 2nd Annual Tuscaloosa Gauntlet obstacle course race. The racecourse is just a bit over the 5k distance (3.1 miles) and will feature 20+ obstacles, include a Marine regulation O-Course. This one-of-a-kind obstacle course race provides every participant a challenge worth celebrating and directly benefits the Alabama Marines Foundation. Check out this video promotion to learn more and register today!
Date: Saturday, April 1, 2023
Website: https://www.tuscaloosagauntlet.com
DISCOUNT CODE: Receive $10 off with the registration code VisitTCL
DRUID CITY ARTS FESTIVAL (DCAF) PRESENTED BY CADENCE BANK
About DCAF: What started as a one-day arts festival put together by a group of Alabama students has become a staple in the Tuscaloosa community over the past decade. DCAF's goal is to provide a quality arts and music festival, while also educating, engaging, and inspiring both youth and adults about the arts and humanities within the community. Many undiscovered artists who are now in textbooks, galleries, and museums have exhibited at DCAF over the years. Guests can expect a free two-day festival with live music, 70+ artists, and delicious local food.
Date: Friday, March 31 – Saturday, April 1, 2023
Website: https://www.druidcityartsfestival.com
TUSCALOOSA MAYOR'S CUP 5K FOR PRE-K
About the Mayor's Cup: Since 2007, over 1,000 runners, joggers and walkers have joined together each year to support Pre-K in Tuscaloosa through this annual race. Having raised almost $325,000 to provide resources for preschoolers throughout the Tuscaloosa area, the Mayor's Cup is a simple and fun way for the entire community to get together and get involved in supporting education. This 5k course highlights Downtown Tuscaloosa, parts of The University of Alabama including the Walk of Champions, and historic neighborhoods.
Date: Saturday, April 29, 2023
Website: http://www.tuscaloosamayorscup.com
WEST ALABAMA FOOD AND WINE FESTIVAL
About the West Alabama Food and Wine Festival: Benefiting the West Alabama Food Bank, the West Alabama Food and Wine Festival showcases the community's best local restaurants with tasting tables that highlight signature dishes. Wine tastings are also provided by local distributors to introduce trendy and season varietals. After such significant growth in attendance over the years, the 2023 festival will now be held in Historic Downtown Northport. This community festival is great for both residents and visitors and is put together by a wonderful group of community volunteers. Tickets can be purchased online.
Date: Sunday, April 30, 2023
Website: https://westalabamafoodandwine.org
KENTUCK FESTIVAL OF THE ARTS
About Kentuck Festival: Kentuck has a rich 52-year history as a nationally known crossroads of creativity and community. The two-day festival has its roots in folk art and features 270+ artists, live music, spoken word, activities for children, folk and contemporary craft demonstrations, food trucks, and local craft brews. This festival has been claimed as one of the "Best of Bama 2022" events by Alabama Magazine and has been featured in publications such as the Smithsonian Magazine, Southern Living, and more! Located in Downtown Northport, this is a festival that you just don't want to miss.
Date: Saturday, October 14 – Sunday, October 15, 2023
Website: https://www.kentuck.org/the-festival
AHSAA SUPER 7 STATE FOOTBALL CHAMPIONSHIPS
About Super 7: Bringing the best Alabama high school football athletes to Tuscaloosa! The Alabama High School Athletic Association Super 7 State Football Championships are one of the most exciting and highly anticipated sporting events in the state. Over the course of three days, the final two teams from each of Alabama's seven classifications will compete to be crowned as the new state champions, and in 2023 it's taking place in Bryant-Denny Stadium.
Date: Wednesday, November 29 – Friday, December 1, 2023
Below are additional resources to help you keep up with all of the fun events happening in T-Town.
COMMUNITY ART NIGHTS:
Tuscaloosa and Northport's art scene continues to grow. While there are many galleries and events throughout the year, each community is home to a monthly art night featuring artists, live music, local food, and more.
– Kentuck hosts Art Night the first Thursday of each month.
– The First Friday Art Walk is hosted the first Friday of each month at various locations in Downtown Tuscaloosa.
While this is just a highlight of events taking place in 2023, there really is no such thing as a timeout in Tuscaloosa County. Seated in the heart of West Alabama, the area offers something for sports enthusiasts, outdoor adventurers, history buffs, foodies, and for the artists at heart. Ready to plan your next trip to Tuscaloosa? Request a visitor guide today!
Tuscaloosa continues to become a dynamic place to visit with the addition of many new and wonderful restaurants and bars that opened in 2022.  As you prepare your 2023 travel plans and add Tuscaloosa to the bucket list, be sure to consider one of our newest places to eat and drink in Tuscaloosa while you're in town!
New places to eat and drink in Tuscaloosa
BISTRO 17
If you're looking for a spot with a fabulous Gluten free menu, Bistro-17 has you covered. The team at Bistro 17 has curated a menu that offers healthy American comfort food, with many of those Gluten free. The restaurant is conveniently located close to City Hall on University Blvd. in Downtown Tuscaloosa.
Website:  https://bistroseventeen.com
Address:  2217 University Blvd. Tuscaloosa, AL 35401
DOMO
Located along the banks of the Black Warrior River, Domo serves as a takeaway market offering meat, cheese, seafood, and wine. Their Sandwich menu, Charcuterie Board, and Boxes make for a great picnic along the Riverwalk or at one of Tuscaloosa's many parks.
Website:  https://domodomodomo.com
Address:  1650 Jack Warner Parkway Suite 1008 Tuscaloosa, AL 35401
FORTE CUTS & COCKTAILS
One of Tuscaloosa's newest dining destinations, this modern brasserie serves French-inspired staples and classic cuts on a Brasserie meets Steakhouse inspired menu. Chef Jacob Stull offers elevated classics that are paired alongside a thoughtful wine list and an excellent bar program. Located in The Alamite, this Downtown Tuscaloosa spot is open for breakfast, lunch, and dinner and reservations can be made.
Website:  https://www.fortetcl.com
Address:  2321 6th St. Tuscaloosa, AL 35401
HOMEWOOD BAGEL CO.
Handcrafted, boiled, and baked fresh daily. A staple in Homewood, Alabama, this spot is now open daily for breakfast and lunch in Tuscaloosa, with bagels and cream cheese, bagel sandwiches and wraps, other baked goods and gourmet coffee. Located on 15th street in the former Hoo's Q restaurant, this family-owned bagel shop was a great addition to the Tuscaloosa community this year.
Website: https://www.homewoodbagelco.com
Address:  101 15th St. East Tuscaloosa, AL 35401
JALAPEÑOS DOWNTOWN COCINA & TEQUILA BAR
If you're looking for Alabama's largest Tequila selection, the new Jalapeños Downtown location is where you need to be. Jalapeños has been a longtime favorite in Tuscaloosa and Northport for years and when the opportunity presented itself to return to their very original location they couldn't pass it up. This Downtown location in Temerson Square features some of Jalapeños favorite Mexican dishes with unique additions, margaritas, Spanish wines, signature cocktails and … Tequila!
Website:  https://iris-badger-f482.squarespace.com
Address:  405 23rd Ave. Tuscaloosa, AL 35401
ROLL CALL
If you're seeking an elevated rooftop experience with views of Downtown Tuscaloosa and Bryant Denny Stadium, Roll Call is your new spot! Located above The Alamite, the team serves creative cocktails, local and craft beers, artisanal wines, small plates menu led by Executive Chef Jacob Stull, and good spirits. We'll meet you at the top!
Website:  https://www.rollcalltcl.com
Address:  2321 6th St. Tuscaloosa, AL 35401
SOCAL CANTINA
If you're looking for a Cali-Mex restaurant, then SoCal Cantina is the spot for you. The best of Miami has brought its award-winning margaritas and tacos to Tuscaloosa. With two bars, a wide selection of Southern California style bites and specialty margaritas made with only the freshest ingredients, it's certainly a one-of-a-kind vibe! Born as a pop-up in the heart of Miami, SoCal Cantina was built with one main goal – to be a place where good vibes, mixed with outstanding food and drinks could hang out in harmony.
Website:  https://www.socal-taco.com/location/socal-cantina-tuscaloosa/
Address:  2308 University Blvd. Tuscaloosa, AL 35401
THE VEGANISH MARKET
Owned by a Tuscaloosa local and female entrepreneur, Yazmyn Rozier, the Veganish Market offers many gluten free, dairy free, and plant based items.  On the menu you can find anything from plant-based ice cream to small plates and bowls, smoothies, and mock tails.  The idea behind Veganish was to not only create a menu that caters to the vegan community but also the vegetarians, pescatarians, flexitarians, and those transitioning into a plant-based lifestyle.
Website:  https://www.theveganishmarket.com
Address:  2128 University Blvd. Suite B. Tuscaloosa, AL 35401
---
DESSERT
MO'BAY BEIGNET COMPANY
Based out of Mobile, Alabama, Mo'Bay Beignet Co.'s original hot and fresh beignets, signature syrups and freshly brewed coffees is something you just don't want to miss out on! Located in Temerson Square, Mo'Bay's hours allow for guests to enjoy their treats for breakfast or for a must-have late night snack.
Website:  https://mobaybeignetco.com
Address:  401 23rd Ave. Tuscaloosa, AL 35401 
---
DRINKS
ATOMIC COCKTAIL BAR
Another new spot opened in Temerson Square is Atomic Cocktail Bar. As a lively cocktail bar, they are proud to serve high-end cocktails, beer, and wine. You'll find Atomic located directly below Dillard's Chophouse. You'll find the entrance on the side of the building located on Greensboro Avenue.
Website: https://www.instagram.com/atomic_cocktailbar_tuscaloosa/
Address:  2330 4th St. Tuscaloosa, AL 35401
BOBAMANIA MIDTOWN VILLAGE
Locally owned in Tuscaloosa, BobaMania has become quite the popular treat in and around Tuscaloosa! Now with their second location in Midtown Village, the Bubble Tea House's most popular drink is the Brown Sugar Boba Tea and the most popular topping is the Strawberry popping boba. They're open seven days a week making it easy to give it a try anytime!
Website:  https://bobamania.com
Address (Downtown):  1914 University Blvd. Tuscaloosa, AL 35401
Address (Midtown Village):  1800 McFarland Blvd. E, Suite 434, Tuscaloosa, AL 35404
---
COMING SOON!
STRANGE BREW COFFEEHOUSE
What started out as a place for college students quickly became a place for the whole community in Starkville, Mississippi. Coming soon to The Strip in Tuscaloosa, this coffee spot focuses on customer service and makes sure the Strange Brew experience is the best. All of their coffees are roasted in small batches with care and are delicious. In addition to coffee, they enjoy coming up with fun baked goodies that will change seasonally. This new location will be located next to the iconic Gallettes bar.
Website: https://strangebrewcoffeehouse.myshopify.com
WE DAT'S CHICKEN & SHRIMP
We love when Alabama's sports legends invest back in the Tuscaloosa community! JaMychal Green, an Alabama native and a star for the Crimson Tide's Basketball team from 2008 until 2012, will be at the helm of this new restaurant opening on The Strip. Guests will find We Dat's in the former home of Little Italy, which was a staple on The Strip for years. Already doing business with multiple locations around New Orleans, We Dat's will specialize in Cajun-style chicken, shrimp and catfish with loaded sides to match. Take-home spice mixes and sauces will also be available for sale.
Website: https://wedatschickenandshrimp.com
This is just a quick glimpse into some of the many new places eat and drink in Tuscaloosa that opened during 2022.  Ready to plan your visit?  Request a visitor's guide today, or explore some of our upcoming community events.
Roll Tide!
If you're traveling to Tuscaloosa for the Alabama /Ole Miss football game on Saturday, September 23, check out the details in the images below for Alabama Gameday info. For more information, you may also visit uagameday.com.
We hope that you enjoy your stay in Tuscaloosa and encourage you to come back and visit us again!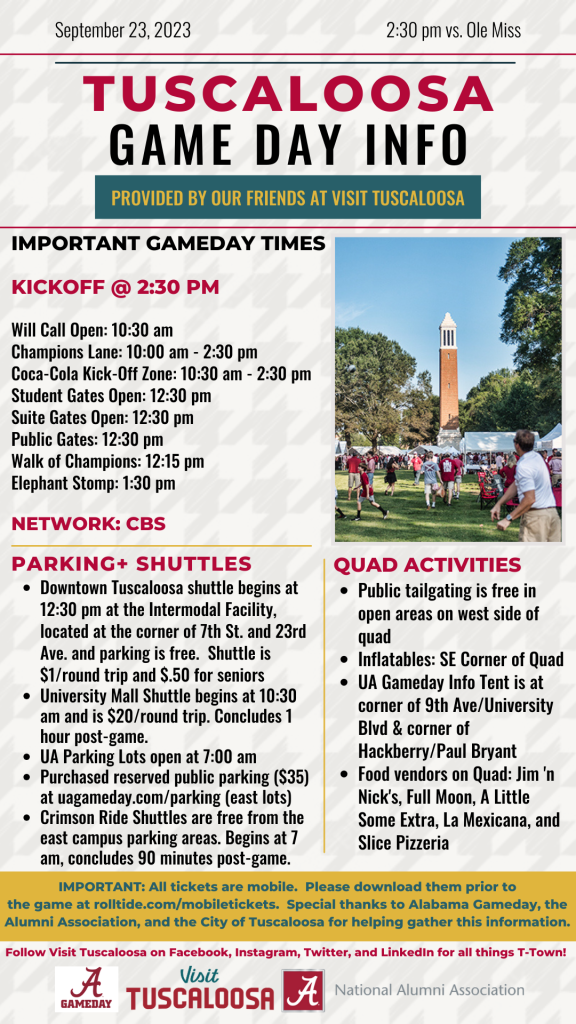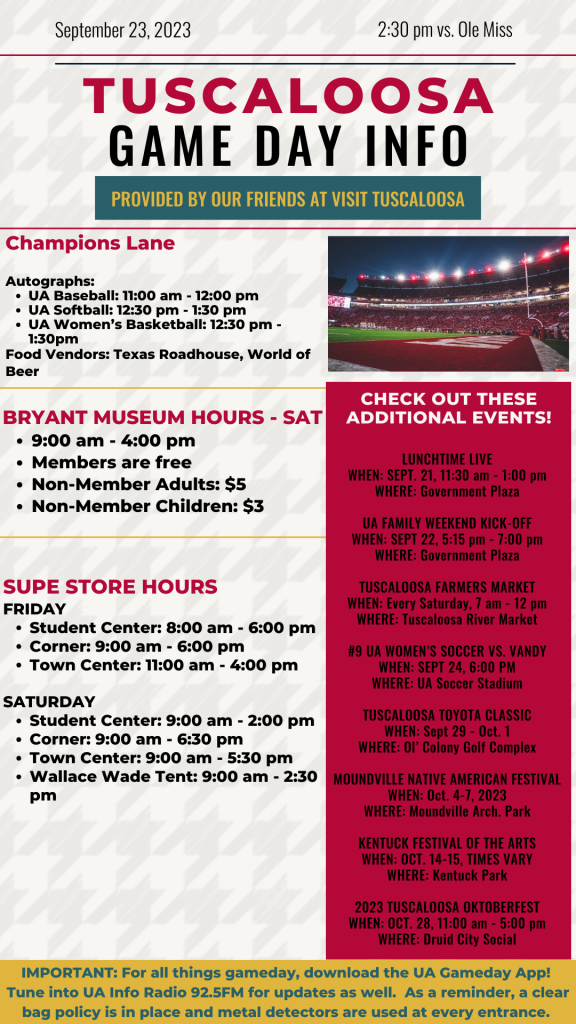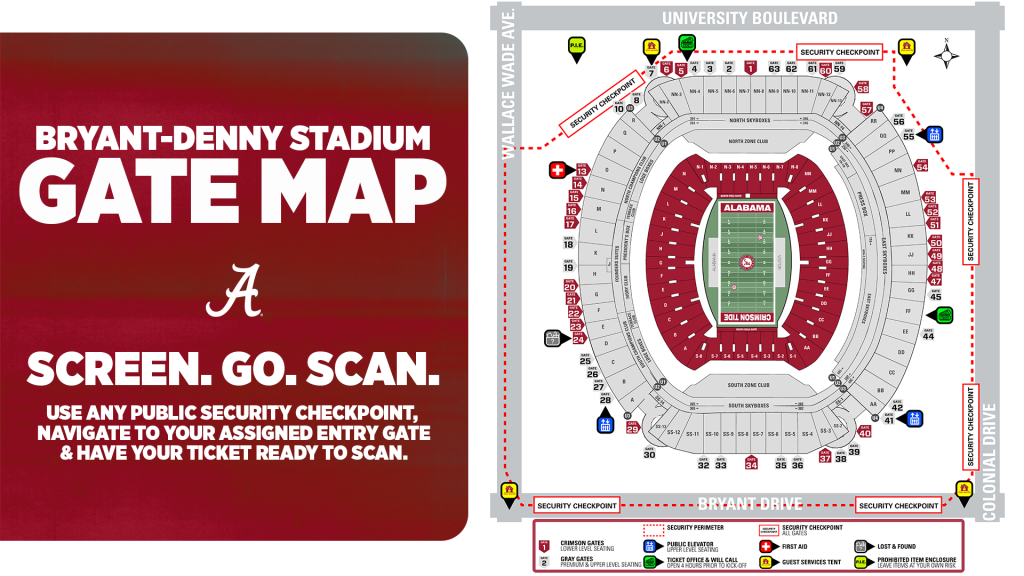 The ultimate gameday experience in Tuscaloosa, Alabama, home to The University of Alabama and the Crimson Tide, offers one of the most electric atmospheres that college football has to offer. Sometimes called "The City of Champions," Tuscaloosa is a vibrant community filled with local restaurants to satisfy every palate, a walkable downtown complete with live music, outdoor spaces to explore, and a destination that's easily accessible – no matter what direction you're coming from.
For a true taste of the game day experience, kick off the weekend with a trip to the Bryant Museum, where you'll find exhibits, artifacts, and memorabilia that traces the long history of The University of Alabama football. Once you're done taking in the knowledge of Alabama Football's legendary past, it's time to enjoy the beautiful campus. From the museum, walk over to the Quad for what will become a tailgating experience you won't soon forget. Hundreds of tents are filled with friends and family as they join in fellowship, indulge in great food and drinks, and cheer on other football teams across the nation as they await Alabama's kickoff.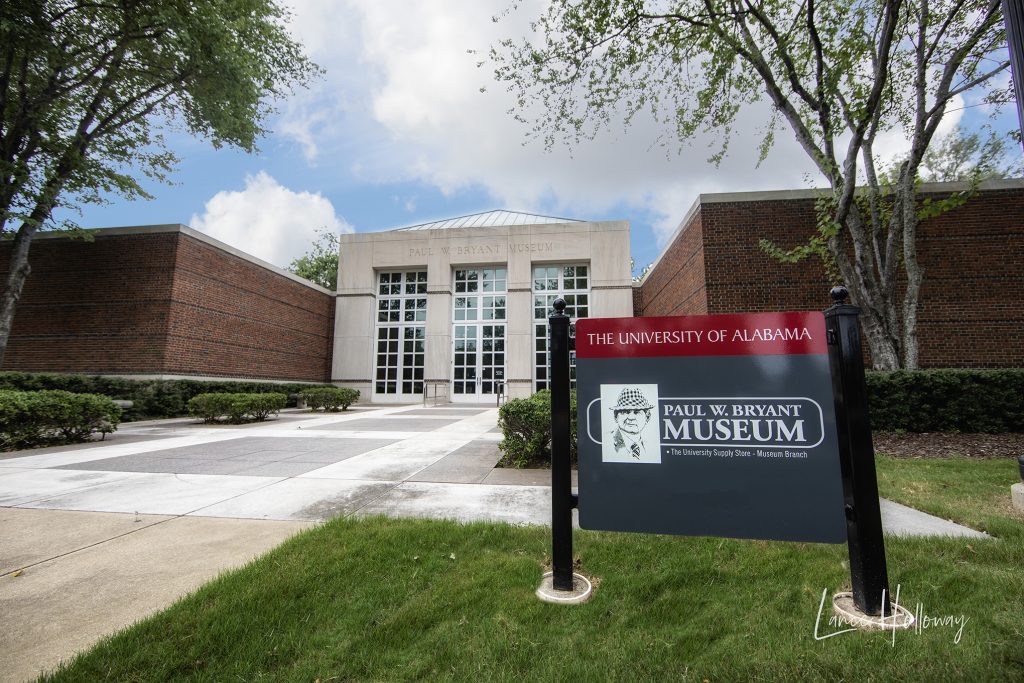 Another stop you won't want to miss is the Walk of Champions and the Coaches Walk, located at the north end of Bryant Denny Stadium. The Walk of Champions includes granite tablets commemorating the school's title seasons. But what makes it so special on game days takes place two hours and 15 minutes prior to kickoff. The Alabama team buses drop the players and coaches off at the walkway where thousands of fans greet them with smiles and roaring cheers to watch some of college football's most elite walk to the locker room.
After cheering on the Tide, it's time to experience the energetic nightlife in T-Town. While there are many options to select from, be sure to check out options located along The Strip, Downtown, or in Temerson Square, as well as a variety of other locations throughout the city. Many restaurants and bars feature live music, especially throughout game day weekends.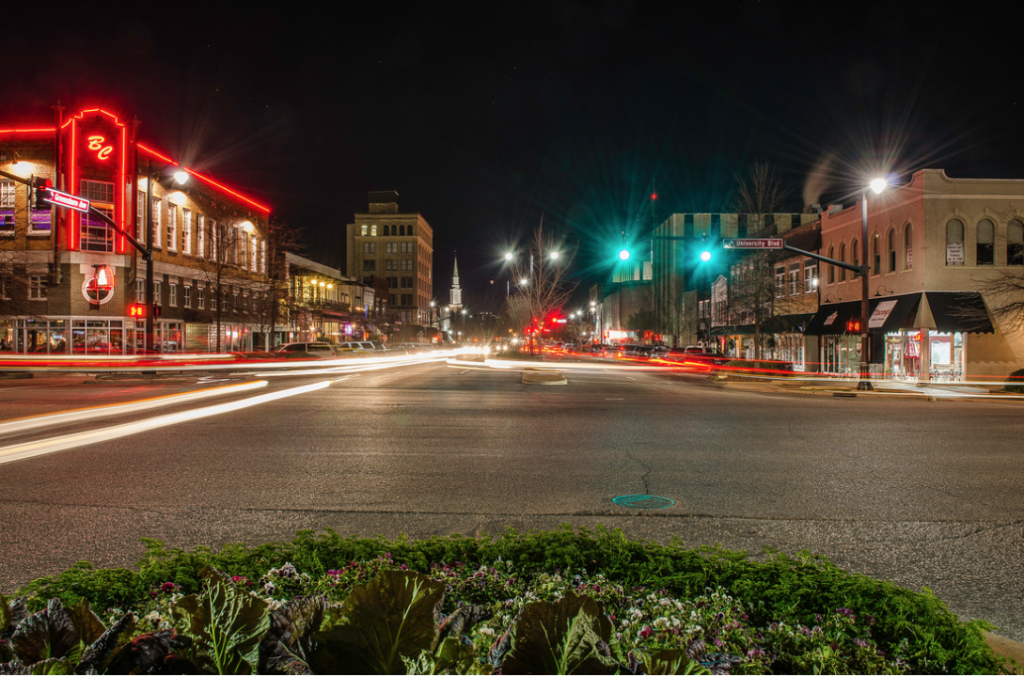 Whether you arrived to town early or have time before returning home, consider exploring the Tuscaloosa Civil Rights Trail. This self-guided, 18-stop trail includes many stories to help you understand Tuscaloosa's place in civil rights history, but most importantly, highlights the history of how Tuscaloosa's color barrier was broken by the courageous efforts of many black and a few white foot soldiers.
When planning your trip, search visittuscaloosa.com for all things Tuscaloosa. We welcome you with open arms and know you'll make legendary memories to last a lifetime while here. Roll Tide!
A Game Day Must: Don't miss out on a Denny Dog (aka Stadium Dog). Quite possibly the next best thing outside of the game itself and sold in Bryant Denny!
Photo Credit: Alabama Athletics
The crisp autumn air has arrived and the pumpkins have started to proudly show up on Tuscaloosa's front porches. Which means that we have good news for those of you looking for things to do in Tuscaloosa in October!  
While we may only be a few days into the new month, the festivities of Fall and Halloween are certainly upon us!  Tuscaloosa and West Alabama boast many events this time of the year that are fantastic for both residents and visitors.  Whether you tack on an extra day or two while visiting for an Alabama football game, or simply want to jump in the car for a quick weekend trip, we hope you'll support some of these local events when visiting Tuscaloosa.
As always, if the Visit Tuscaloosa team can assist you as you plan an upcoming trip to our community, please feel free to call us at 205-391-9200 or request a visitor guide by submitting this form.
OCTOBER 2022
Tuscaloosa Barnyard Pumpkin Patch
Friday: 1 – 6 pm | Sat & Sun: 10 am – 6 pm
Admission: $12 per person
11453 Turner Bridge Road, Tuscaloosa, AL 35406
The Tuscaloosa Barnyard Pumpkin Patch is something that locals look forward to each year! Admission to the pumpkin patch offers access to many fun activities such as feeding animals, playgrounds, a corncrib, hay play, wagon ride, the Charlotte's web and much more! Pumpkins are $7 per pumpkin, no matter the size. Kiddos want to ride a horse or pony, or drive a tractor? Those options exist too!
SATURDAY, OCTOBER 8TH:
Ghost Hunt at Tuscaloosa's Historic Drish House
7:00 – 11:00 pm
Admission: $50
Just in time for the Halloween Season! This is an Exclusive Paranormal Investigation that Psychic Lesley Ann Hyde and the professional Paranormal Investigation Team, Psychics and TV Personalities The Southern Ghost Girls Have Investigated The Historic Drish House in Tuscaloosa, Al. You will get to Investigate with them for this amazing event. You will get to use Real Paranormal Investigation Equipment just like you see on tv. This is an interactive paranormal investigation and Everyone is Invited to join in the ghost hunt to see what paranormal evidence is discovered. Join the Southern Ghost Girls Team and you will have a hauntingly amazing experience. Click here to purchase a ticket.
SUNDAY, OCTOBER 16TH:
T-Town Witches Ride
3:00 pm registration, 5:00 pm ride begins
Registration: $25
Benefiting the Arc of Tuscaloosa, this annual bike ride is a whimsical Halloween tradition with participants dressing up as witches and "flying" through the streets of Downtown Tuscaloosa. This two-mile bike ride offers great fun for those over the age of 18. Have children? Bring them for the fun in the kids play area as the adults enjoy the witches ride. New for 2022, the event will also offer a one-mile walk. Prizes will be awarded for the Best Dressed Witch, Best Broomcycle, and the Best Group Theme! Participation is $25 per person. Purchase a ticket by clicking here.
OCTOBER 24 – 28:
Haunting at the Museum (Gorgas House Museum)
9:00 am – 12:00 pm | 1:00 – 4:30 pm
810 Capstone Drive, Tuscaloosa, AL 35487
Hosted at The Gorgas House Museum, located on campus, this year's event will run from October 24-28 and will provide FREE haunted tours sharing the spooky stories associated with this home, which is one of the oldest structures on The University of Alabama campus. Former UA President and Confederate General Josiah Gorgas passed away in this home… but his spirit is apparently alive and well.
TUESDAY, OCTOBER 25TH:
Tech or Treat
6:00 – 8:00 pm
Tuscaloosa Gateway Innovation and Discovery Center | 2614 University Blvd. East Tuscaloosa, AL 35401
Do you have a little princess, superhero, goblin or ghoul who loves science and technology? Gather up your trick-or-treat enthusiasts and join the City of Tuscaloosa for Tech or Treat at the Gateway on Tuesday, October 25 from 6 to 8 p.m. Similar to "trunk-or-treat," at the City's Tech or Treat, families go from table to table collecting candy. At each table, children are introduced to science, technology, engineering and math (STEM) opportunities by interacting with City departments and community organizations. Tech or Treat is free and open to all ages. Children must be accompanied by an adult.
THURSDAY, OCTOBER 27TH:
Northport Police Department Fall Festival
5:00 – 8:00 pm
Kentuck Park | 3401 5th Street, Northport, AL 35476
Put on your best costume and join us for Northport Police Department's Fall Festival October 27th from 5:00pm – 8:00pm at Kentuck Park. We'll have trick-or-treating, bounce houses, a hay ride, a costume contest, food trucks, and a whole lot of fun!
FRIDAY, OCTOBER 28TH:
Haunting at the Museum (Alabama Museum of Natural History)
4:30 – 7:00 pm
Alabama Museum of Natural History | Smith Hall on Campus
The Alabama Museum of Natural History visitors are encouraged to attend this fun after-hours event to celebrate Halloween with spooky children's stories, crafts, mad scientist experiences, and much more! Free and fun for all to attend.
Tuscaloosa Public Library Boook-tacular
6:00 – 8:00 pm
1801 Jack Warner Parkway, Tuscaloosa, AL 35401
All ghouls and ghosties are invited to a Boooook-tacular evening at the Main Branch of the Tuscaloosa Public Library. They will have food and activities for the entire family to enjoy, including face painting, balloon animals, games, a petting zoo provided by Tuscaloosa Barnyard, and summer reading favorite, Roger Day! They will also be joined by frightfully fantastic community organizations and local food trucks with wicked good refreshments. Don't miss this ghoulish celebration at the most booo-tiful library of the river!
Harvest Jam in Midtown Village
5:30 – 8:30 pm
Midtown Village
Beer Tasting Ticket: $5
Come JAM with Midtown Village! Harvest Jam will be held on Friday, October 28th from 5:30 PM – 8:30 PM on the green!
This free fall event is for music fans, farmers market shoppers, craft beer lovers, and families! Enjoy a craft beer tasting presented by Adam's Beverages, live music, pop-up vendors, and activities! Donations from the craft beer tasting will benefit Child Abuse Prevention Services in Tuscaloosa, AL. Grab your beer sample, and then select the perfect pumpkin at our Pumpkin Patch benefiting Child Abuse Prevention Services!
Click here to purchase a BEER TASTING ticket for $5.
Freaky Friday 8k Run
8:00 – 11:00 pm
101 Bridge Avenue, Northport, AL 35476
Registration: $30
The 13th annual Freaky Friday 8K Run takes place on a scenic yet scary course during the darkness on the Friday before Halloween, "Freaky Friday". There will be a post-race awards ceremony complete with food and drinks at Dreamland Barbecue along with a costume contest prior to the start of the run. Local radio stations and craft beer will also be on hand for registered runners. Click here to register!
SATURDAY, OCTOBER 29TH:
Boo! In the Park & Touch-a-Truck
9:00 am – 12:00 pm
Sokol Park | 5901 Watermelon Rd. Northport, AL 35473
Tuscaloosa County Parks and Recreation Authority is hosting two free events: Boo! in the Park and Touch-a-Truck on Saturday, October 29 at Sokol Park from 9:00 a.m. – noon. The Touch-a-Truck event will include sensory friendly "quiet time" (no sirens, etc.) from 9:00 a.m. – 10:00 a.m. followed by the exploration of all types of vehicles from 10:00 a.m. – noon. Vehicles will include heavy equipment/machinery, tractors, fire trucks, cars, and trucks. The annual Boo! in the Park will be held concurrently and consist of carnival-like games, candy, and more. The Tuscaloosa Police Department plans to join with their helicopter and a K-9, as well as the Tuscaloosa Metro Animal Shelter and the Tuscaloosa Public Library.
Halloween at the Transportation Museum
1:00 – 4:00 pm
1901 Jack Warner Parkway NE, Tuscaloosa, AL 35401
Visitors are encouraged to come to the Mildred Westervelt Warner Transportation Museum in their costumes on Saturday. October 29 from 1:00 pm until 4:00 pm and see the costumes from the year 1905 on display in the new Threaded Through History exhibit! The Museum will be decorated with fun Halloween outdoor inflatables and fall cut-outs. There will be holiday music, candy, and light refreshments.
15th Annual Rocky Horror Picture Show
8:00 – 11:00 pm | Ticket Price: $20 – $27
Bama Theatre | 600 Greensboro Ave. Tuscaloosa, AL 35401
Pink Box Burlesque is back at the Historic Bama Theatre on Saturday, October 29th for their 15th Annual Rocky Horror Picture Show! It's an artistic composition with a humorous and provocative stage show that you just simply don't want to miss. Doors open at 7pm. Costume Contest (with cash prizes) at 8pm. Show starts at 8:30 pm. Click here to purchase tickets today.
Editor's Note: D.J. McEachern and his wife, Emily are working toward their PhDs in chemistry at the University of Alabama. D.J. has been bass fishing for 20 years and just recently joined the University of Alabama's Fishing Team. He's been fishing in Tuscaloosa County Holt Reservoir on the Black Warrior River in Tuscaloosa, Ala., for the last three years and catches bass from below Lock 17 all the way down to Holt Lock and Dam. He primarily likes to fish grass in the summertime for bass because grass will give bass good ambush points, shade and oxygen.
While discussing lures, McEachern shared: "I create my own 1/2-ounce jigs. I buy my jig heads online. I keep combining different colors of skirt material I like, until I get the color of jig I want. The jig in this picture is similar to one that Dirty Jigs makes named Dirty Craws. But I put more-brown strands in my skirt with some watermelon-colored strands. Strike King's Rodent in green pumpkin is my favorite flipping bait. I use 3/0 Owner Jungle Hooks with a 5/8-ounce tungsten weight in front of the bait. I like to use this lure when I'm flipping willow grass, and there's a lot of it on this lake.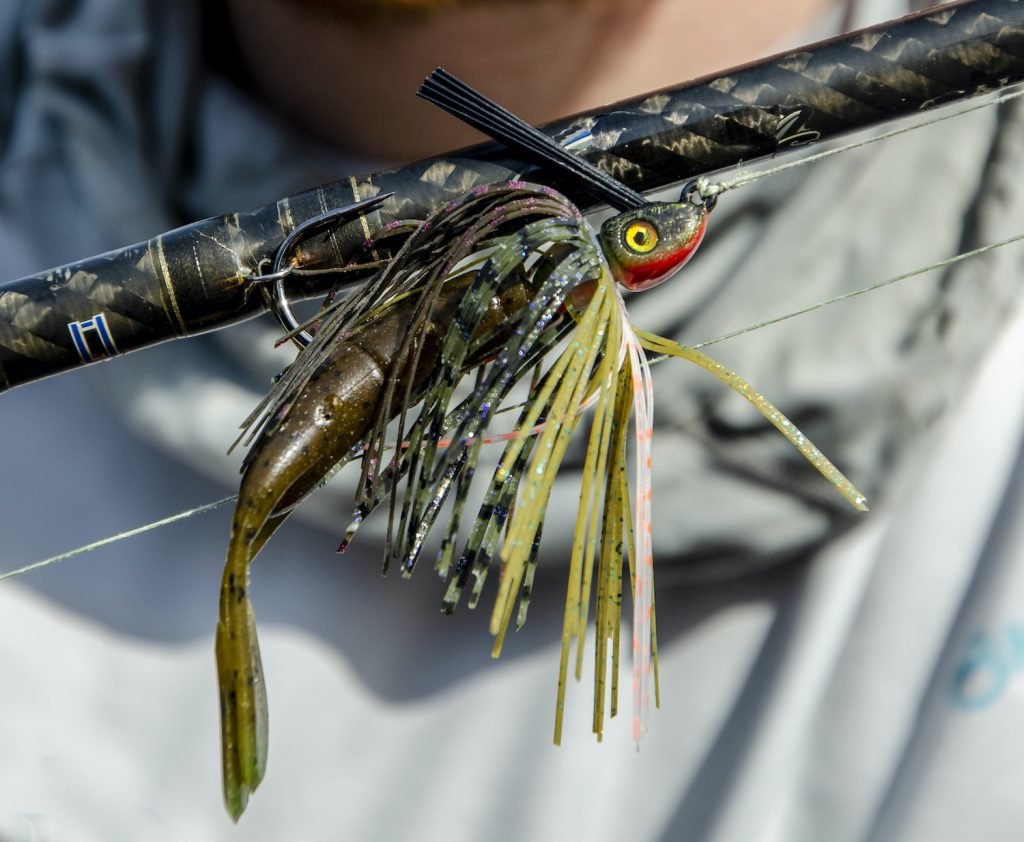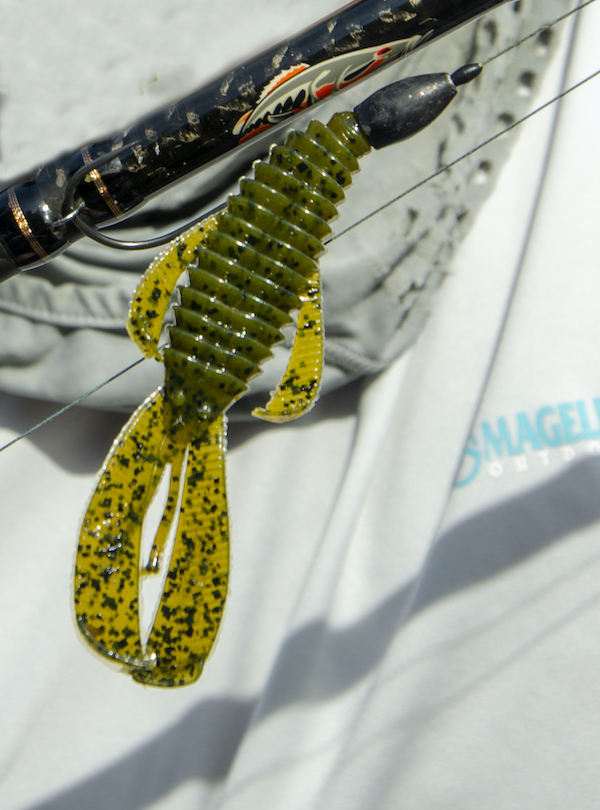 Another lure I like is the Jackall Gavacho Frog. In addition, I like a swim jig made by Strike King that I attach a Speed Craw trailer to with its legs dyed chartreuse. I also like a Berkley Bullet Pop in the ghost gill color.
I mainly fish using the flipping technique because my rod, reel and line have the power to pull a big bass out of the grass, and I'm comfortable flipping. I even flip the Gavacho Frog in the open grass. Flipping is the only technique that I've won a tournament with while fishing with the University of Alabama Fishing Team. I won that tournament on Lay Lake. Because bass are cold blooded, when the air temperature is hot on the lake, then the shallow water is also warm, which speeds-up the bass's metabolism and requires them to eat more than bass holding in cool, deep water."
If you're looking to fish in Tuscaloosa County during the summer months, there are always bass to be caught at Holt – shallow and deep – regardless of where you're fishing on the lake!
With Outdoor Writer, John E. Phillips, and Jalen Conner
Editor's Note: 27-year-old Jalen Conner is a native of Tuscaloosa and has been fishing Tuscaloosa County's Holt Reservoir for eight years. A criminal justice student at Tuscaloosa's Stillman College, Conner fishes two tournament trails – the S.A.B.A and the Jim Austin.
Jalen Conner and I went fishing upriver from Rock Quarry Boat Ramp (more info here) on Holt Reservoir in Tuscaloosa County, Alabama, in early June. From 7:00 am to noon, we caught 10 bass and probably missed twice as many, with the biggest bass weighing about 4 pounds. While that bass was in the live well, it spit-out a crawfish it just recently had been eating. This clued Jalen into the fact that a soft-plastic Zoom Z-Craw was exactly the right bait for the bass we wanted to catch. 
"The crawfish color I fish, as well as what most anglers fish on Holt Reservoir, is the Alabama Craw," Conner explains. "Its main body is orange, and its pincers are red. During the summer months, the Zoom Z-Craw in the Alabama Craw color is the exact color of the crawfish here at Holt at that time. The crawfish will be in the grass, so when the currents aren't running, or the current's light, the bass will move into the grass to feed on the crawfish. However, they'll eat crawfish almost every day during the summer."
Another color of the Z-Craw that Conner fishes in the summertime is a watermelon red. He dyes the pincers with chartreuse dye. Conner fishes two types of the Zoom Z-Craw – the Junior and the larger Zoom Craw.
"I don't tell the bass what size of crawfish they want to eat," Conner explains. "I'll flip both sizes and colors down the bank and in the grass. Whichever-size Craw gets the most bites is the one I'll continue to fish. I think the bigger Z-Craw causes a reaction strike from the nearby bass, and that's why it receives more bites than other baits do."
Conner went on to explain: "When I'm fishing the Z-Craw, I'll rig it Texas-style with a Gamakatsu 3/0 hook with a 3/8-ounce tungsten bullet weight in front of it. I then peg the weight to the eye of the hook. Although the Junior and the larger Z-Craws in the Alabama Craw and the watermelon red are my favorite colors, I'll also fish a purple Craw that looks like a small bluegill. Bluegills and crawfish are what the bass are primarily feeding on in the grass and on the bank structure in the summer at Holt."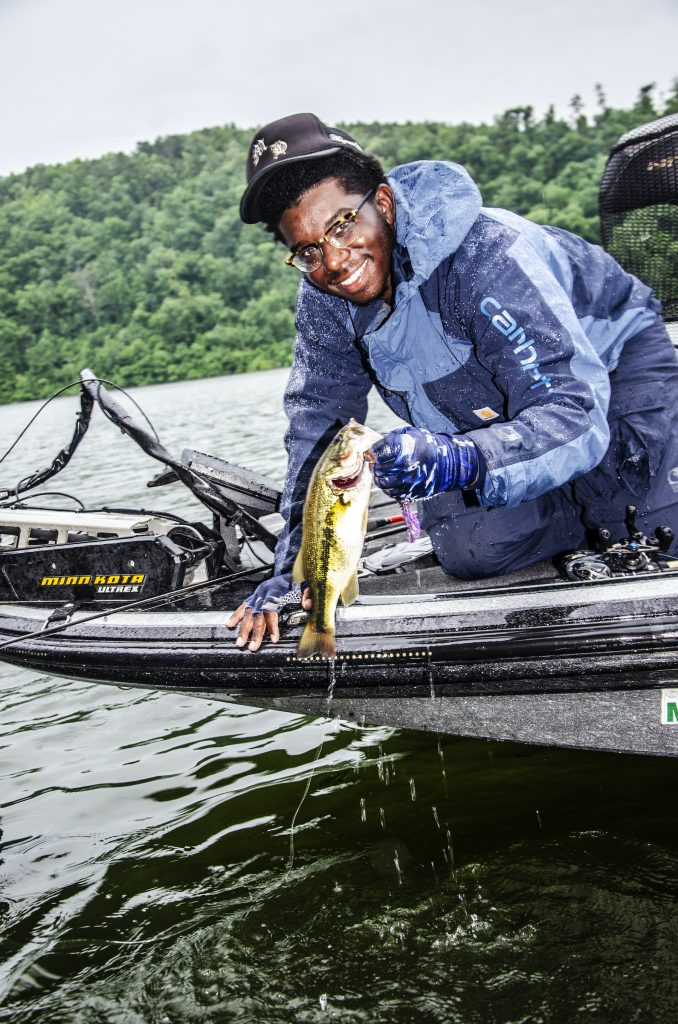 D.J. McEachern: Fishing in Tuscaloosa County at Holt Reservoir
Editor's Note: D.J. McEachern and his wife, Emily are working toward their PhDs in chemistry at the University of Alabama. D.J. has been bass fishing for 20 years and just recently has joined the University of Alabama's Fishing Team. He's been fishing in Tuscaloosa County's Holt Reservoir on the Black Warrior River in Tuscaloosa for the last three years and catches bass from below Lock 17 all the way down to Holt Lock and Dam. He primarily likes to fish grass in the summertime for bass because grass will give bass good ambush points, shade and oxygen.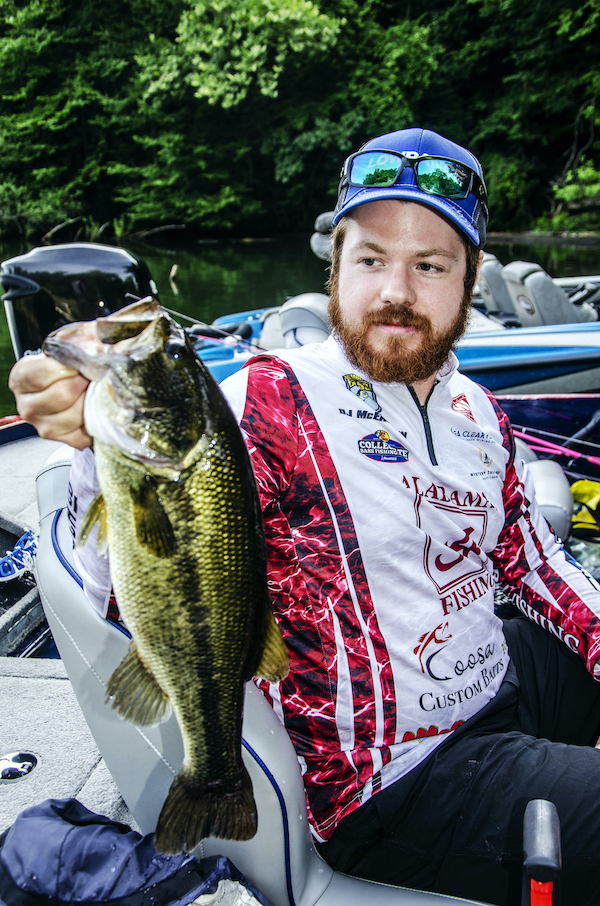 "During the summer, Holt Reservoir has a good bluegill spawn, and I don't believe many people who fish Holt Reservoir flip grass as much as I do. My favorite lures to fish during the hot summer months, all the way through August, include a bluegill popper, like a Berkley Bullet Pop. I also like a flipping bait like the Reaction Innovations Kinky Beaver in the green-pumpkin color that's 3-1/2 inches long and features flappy tails. I'll be fishing with 25-pound-test braided line made by Sunline and I don't use any leader, just a straight braid. I'll also fish with a Doybns DX795 Champion Extreme, 7'9" flipping rod with a Shimano Curado spinning reel."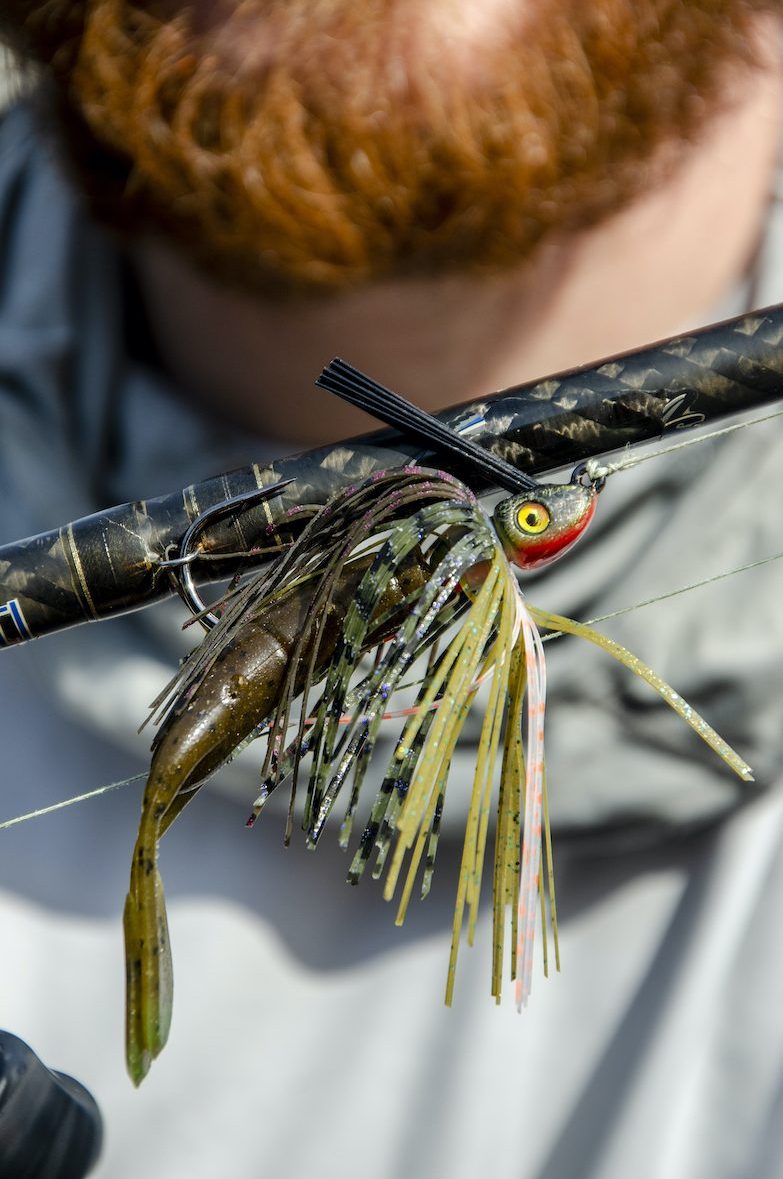 In speaking with McEachern, he catches most of his bass during the summer months near the Lock 15 boat ramp since there's plenty of grass there on underwater humps, islands and ledges that he can flip.
"I'm known as a bank beater. I like shallow-water fishing for bass better than offshore in the summer months because the bass don't have to come up through any other atmosphere other than the water depth where they are living. Not having to bring the bass up from deep water isn't as stressful for them, and they easily can be released and will survive – even on the hottest days." 
Since he knows bass like to feed on bluegills, and almost always there are bluegills in shallow water in the summer at Holt, the shallow-water bass usually bite better than deep-water fish. Of course, a bass in shallow water has to be big enough to get a bluegill in its mouth and eat it, and often will be bigger than deep-water bass in the summertime.
Largemouth Bass Vs. Spotted Bass in the Summer:
"I'd rather catch largemouth than spotted bass. Largemouths are usually the species of bass holding in the grass and shallow water in the summer months. However, my best day of fishing at Holt was in March, 2022. My best five bass there were spotted bass that weighed a total of 20 pounds. I've had a lot of days when I've caught 15-18 pounds of bass at Holt for a five-fish limit. On an average day, I'll catch 15-20 small bass. However, I've even heard of people catching 10-pound bass out of Holt. For me, a big river bass weighs 4-5 pounds. I try to bass fish two days a week – regardless of the weather or water conditions. But a caution to anyone fishing in Tuscaloosa County and the Holt reservoir is to watch out for logs and other floating trash, especially after a rain."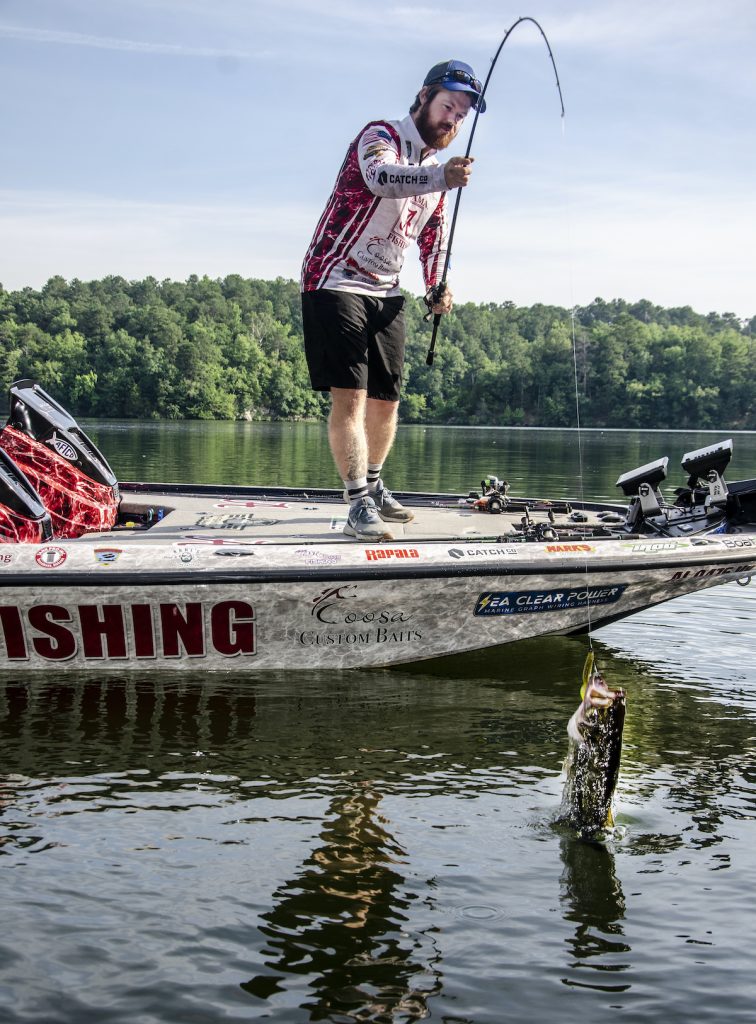 Editor's Note: 27-year-old Jalen Conner is a native of Tuscaloosa and has been fishing in Tuscaloosa County's Holt Reservoir for eight years. A criminal justice student at Tuscaloosa's Stillman College, Conner fishes two tournament trails – the S.A.B.A. and the Jim Austin.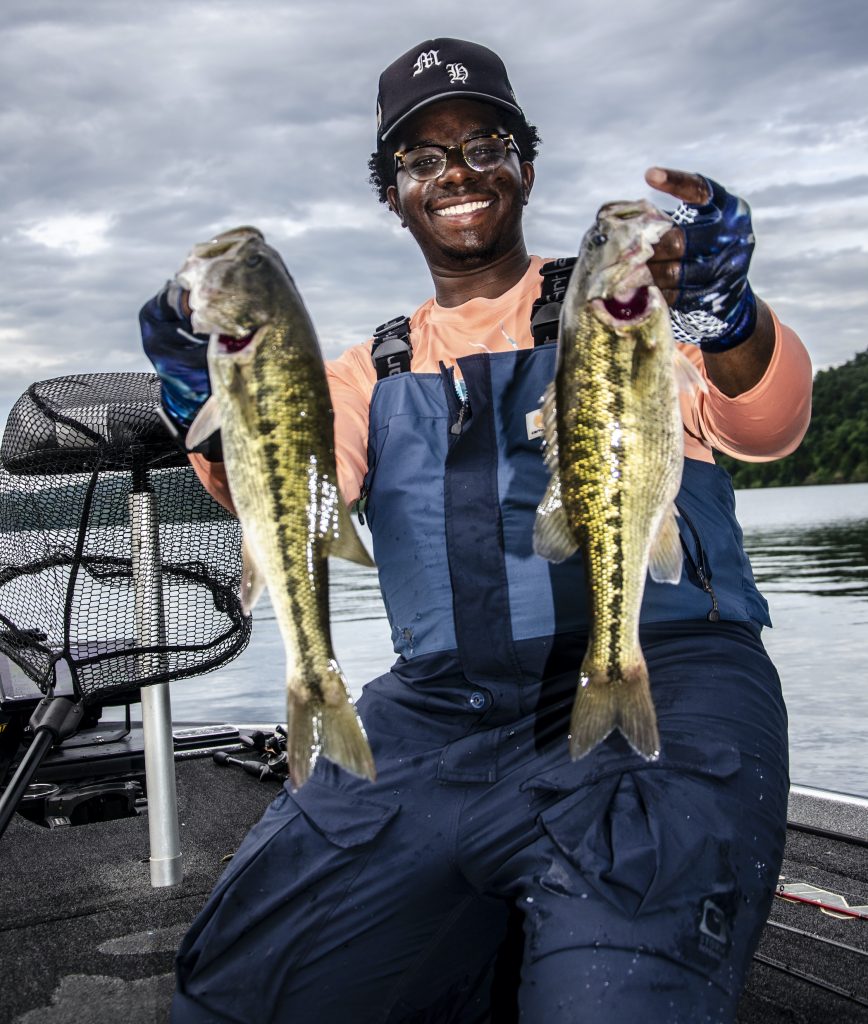 Fish the Bankhead Tailrace to Catch a Wide Variety of Fish:
When fishing in Tuscaloosa County, according to Conner, "When only the generators are running at Bankhead Lock and Dam, you can catch a wide variety of fish in the tailrace, including saltwater stripers, hybrid striped bass, white bass, catfish and crappie. I've seen a 65-pound blue catfish that was caught in that tailrace, and the tailrace homes plenty of eating-size cats too. I've also had some friends who have limited out quickly on catching crappie in the tailrace because they know where the eddy holes are, and the places where the crappie hold when the current's running.
Lock 17 Dam is the Bankhead tailrace border between Tuscaloosa County to the south and Walker County to the north. Numbers of spotted bass are in this tailrace when the current's running, especially when the floodgates are open and the power-generating plant is producing current at the same time. Depending on how much current is moving through the lake, the lake may be 3-4 feet high above normal pool. Once there's little or no current being released by Bankhead Dam, Holt Lake may be 3-4 feet below normal pool. When the current's running strong, and I want to catch largemouths, I'll go further downstream and fish mainly grass and bank cover." 
Fish Holt Lake with Jalen Conner and Outdoor Writer John E. Phillips:
The weatherman had promised a 50% chance of rain when Jalen Conner and I had set a date to fish Holt Reservoir. Because we both realized that the weatherman could be 50% wrong, we decided to go ahead and fish and carried our rain suits with us. We were fishing on the first Thursday in June, 2022. Although we ran almost the entire 20-mile stretch of the reservoir from Bankhead Dam to Holt Dam, we only saw three or four boats all day, with only one boat having a fisherman in it. We put in at Rock Quarry Landing with its boat ramps, restroom facilities and parking (more info here) and went upriver first. 
During the summer months, Conner believes that the best fishing is upriver.
"Another advantage we have when we fish this section of the river during the week is that we rarely, if ever, see jet skis or people water skiing. This section of the Black Warrior River in Tuscaloosa County is unknown to most Alabama anglers. If you enjoy fishing for bass in a river with plenty of grass, points, sandbars, quality backwater and pocket areas and underwater humps as well as islands and ledges in the middle of the river, then Holt Reservoir on the Black Warrior River near Tuscaloosa, is a hidden gem for you to bass fish."
This section of the Black Warrior River runs through some of the most-rural areas in Tuscaloosa County and receives little or no publicity. So, the fishing pressure is almost nonexistent during the week there.
Tuscaloosa, AL – Tuscaloosa Tourism and Sports (TTS) has partnered with the Bama-Q Grilling Series to host Grilling in T-Town on Saturday, July 9th at Druid City Social as an official Steak Cookoff Association (SCA) competition. With the goal of creating more opportunities for family-friendly events that unite the community through food sport, TTS is working with local private chef and traveling food judge Alison Hudnall and experienced food sport promoters, Alabama Coasting and Bama-Q productions, to bring this SCA sanctioned event to Downtown Tuscaloosa.
Admission is free to the public and guests will enjoy food trucks, a sampling tent, local vendors, cold drinks, live music, and a family-friendly atmosphere.
This SCA-sanctioned event and World Food Championship qualifier invites top-tier traveling competitors as a way to promote food sport tourism to the City of Tuscaloosa. Local businesses, organizations, and amateur backyard cooks are invited and encouraged to register to compete as well. The top-performing locals will be recognized and eligible to win special prize packs. The competition will also feature a World Food Championships qualifying event with the best dessert taking home a golden ticket to the World Food Championships Finals in Dallas.
To ensure a level playing field, all steaks for the competition are provided by local sponsor Northriver Cattle Co. and are included in the competitor registration fee. Judging will be completely blind.
Food sport has become a new American pastime.  As food sport has grown, various sanctioning bodies have emerged across a large range of cooking styles, methodologies, and categories of food. KCBS, FBA, MBN, IBCA, SCA, PNWBA, WFC are just a few sanctioning bodies that offer both seasoned chefs and everyday cooks a chance to take home a win. With cash prizes up for grabs, many have turned to food sport as a way to monetize a hobby. Each sanctioned competition offers up another opportunity for any competitor to land themselves a spot on a national stage.​
Learn more about the SCA format and rules by visiting https://www.grillinttown.com or by contacting David Calametti. Click here for the SCA registration link.
Don Staley to Transition to Advisor and Consultant for Tuscaloosa Tourism and Sports / Visit Tuscaloosa Beginning July 1
"On behalf of Tuscaloosa Tourism and Sports (TTS) and the board of directors, it is both bittersweet and exciting as we share an update on the timeline of Don Staley's expected retirement," said Samyra Snoddy, TTS board chair. "Through Don's guidance over the years, he has inspired many and has established a strong foundation that has helped us make plans for the future of the organization," said Snoddy.
By the recommendation of Staley, the board of directors has unanimously agreed to accept his request to transition to an advisor/consultant role beginning July 1, 2022. Kelsey Rush, previously announced as the President and CEO-in-waiting, will assume the Interim President and CEO position beginning July 1 and will collaborate closely with Staley in the months that follow. Staley has offered to serve in this capacity through the end of September with the possibility to extend as needed.
The board of directors and staff at TTS are grateful for all of Staley's contributions and hard work for the organization and for the community since his time in the industry. The announcement of his retirement is much-deserved and he is wished the very best as he and his wife make the full time move to Florida. A retirement celebration for Staley is being planned and more details will be shared as finalized.
###
As we continue to raise awareness around the opportunities to fish in Tuscaloosa County, especially along the Black Warrior River, Toby Wilson continues to share his advice and expertise.
Editor's Note: Toby Wilson is a management consultant and has been fishing the Black Warrior River in Tuscaloosa County for the last seven years. He's also heavily involved with high-school bass fishing in Tuscaloosa County with his three sons through Holy Spirit High School. His eldest, Garrett, is 18-years old, his son, Matthew is 16 years old, and his youngest son, Chase, is 15-years old.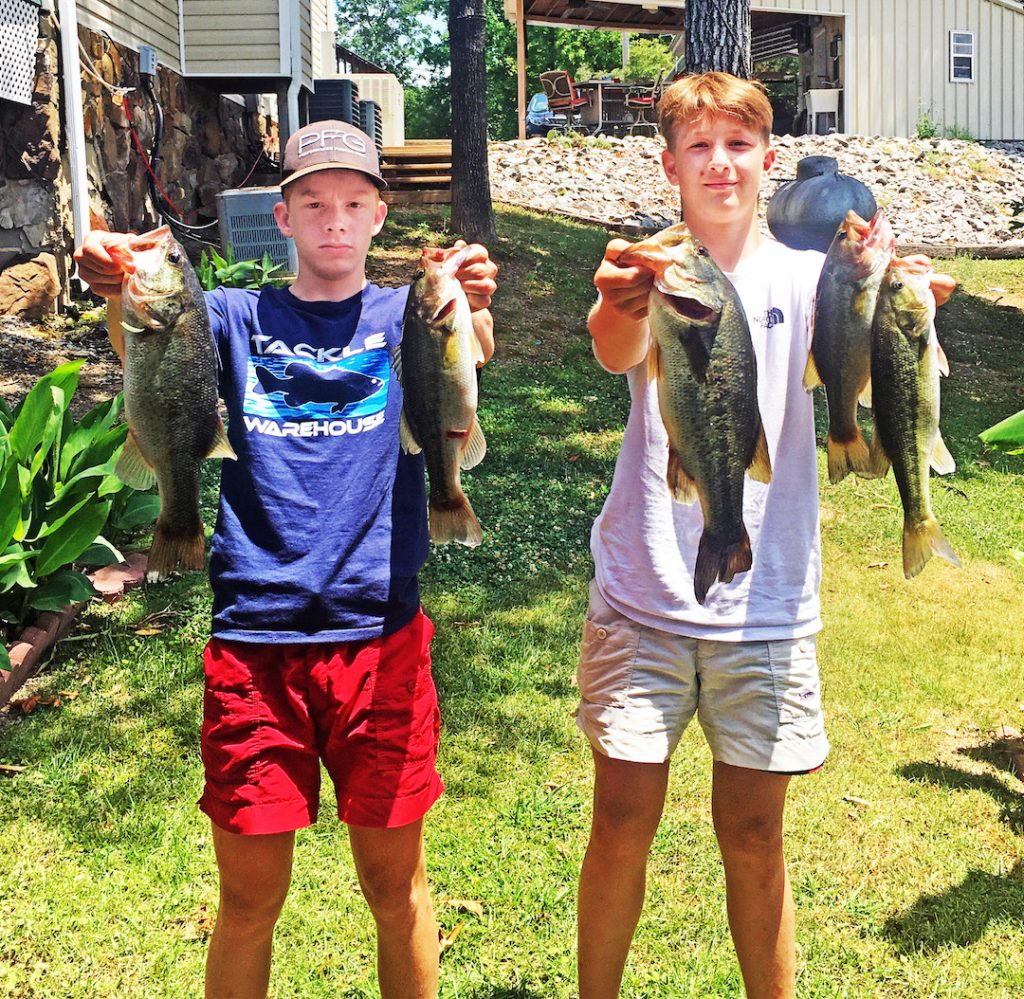 Toby Wilson: I have two sons who bass fish on the high-school circuit. I've been the coach for the Holy Spirit High School fishing team for almost six years. This year we have two people on the team, but we have had three before. I'm working on teaching the team how to fish well enough to move into the college circuits. But like most youngsters, they'd rather me take them places where I know bass are there to catch, rather than finding the bass themselves. My son Garrett already has reached-out to the fishing coach for the University of Alabama Fishing Team and will start there in the fall. I'm planning to help both of my sons to bass fish when they go to college too. I have two bass boats – one that was my dad's boat, and the other is mine.
John E. Phillips: Toby, if someone wants to fish in Tuscaloosa County on the Black Warrior River that runs the length of the county, where can they go to get the best information on tournament results, available fishing tournaments and high school and college programs?
Wilson: Check out Bob Hale's L&L Marine website. Bob keeps up with most of the tournaments in this area. Dustin Wright, the fishing coach for Tuscaloosa County Northside High School and the District Director for the Alabama Bass Nation, has information on tournaments located in Tuscaloosa too.
Phillips: To fish the Black Warrior River in Tuscaloosa County to catch bass, where and how will you fish, what lures will you use, and what strategies will you employ to produce the five-fish limit needed to be competitive in a tournament?
Wilson: In the spring of the year, the backwater areas that we have available to fish for bass can be very productive. These same regions may not be accessible in the winter, but in the spring and early summer, this section of the Warrior River has a lot of high water that gives anglers access to the backwaters that perhaps we can't fish during other times of the year.
When I want to fish in Tuscaloosa County, some of my favorite backwaters are in Oliver Lake, all the way down to Lock 6. There seems to be better backwater fishing near the town of Akron and Lock 8 than there is up toward the northern portion of Oliver. Many of these backwaters don't even have names. Because of the high water, you can find stained water in these backwater regions. The lures that work the best there for bass are lures that make a noise, like the chatterbait and the square bill crankbait. The most-productive color generally is white in both the chatterbait and the crankbait.