Careers at Tuscaloosa Tourism and Sports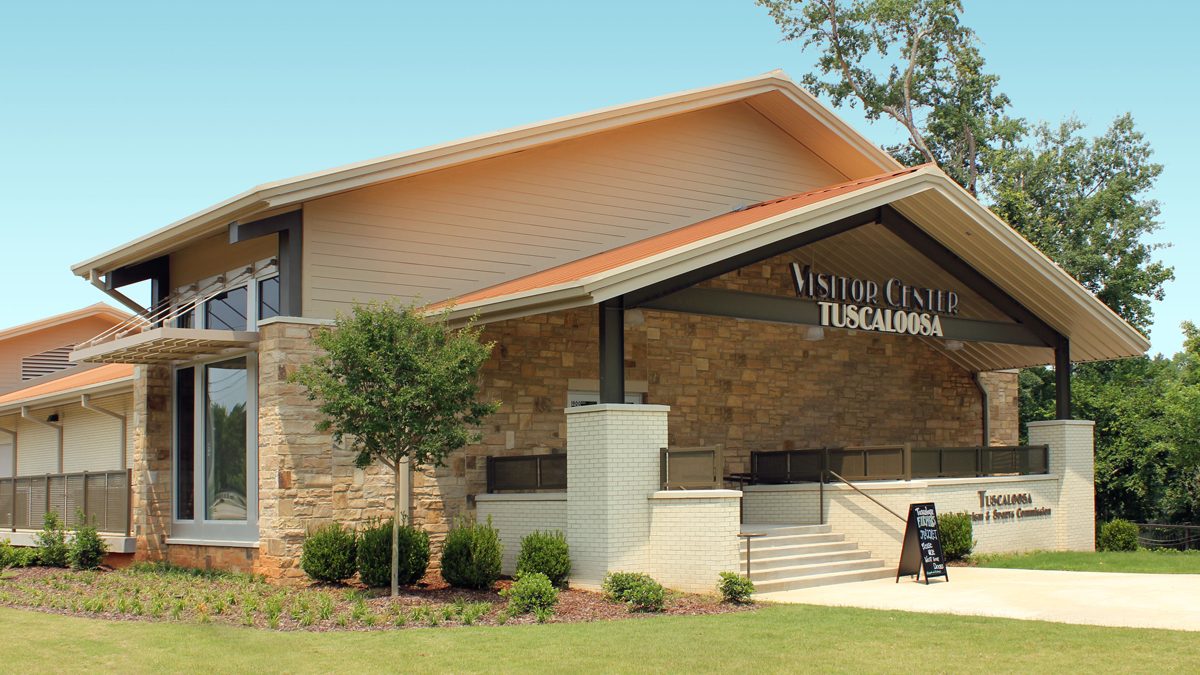 Now Hiring: Marketing and Communications Director
ABOUT VISIT TUSCALOOSA:
Visit Tuscaloosa is the official destination marketing organization (DMO) for Tuscaloosa, Alabama, also covering Northport and Tuscaloosa County as a whole. The team is passionate about Tuscaloosa and has a strong desire to strengthen the community's economic position and vitality and to provide opportunity for its residents. The organization works to create a harmony of quality of life for residents and quality of place for visitors.
Visit Tuscaloosa is committed to driving overnight visitation, growing and enhancing destination awareness, and supporting industry partners through its advertising, marketing, public relations, and sales programs. Lodging tax supports the funding for the organization through the City of Tuscaloosa, City of Northport, and Tuscaloosa County.
In 2021, visitors spent $748 million throughout the county and helped generate 9,532 jobs. As an organization, Visit Tuscaloosa generated $37M in estimated economic impact through sports tourism, meetings, conferences, bus tours/group travel, and more.
This job is open until 5:00 pm (CST) on Friday, August 5, 2022.
REPORTING TO: President/CEO
FLSA Classification: Exempt; Salary commensurate with experience.
POSITION SUMMARY:
The Marketing and Communications Director is responsible for Visit Tuscaloosa's advertising, media relations, content creation, and digital presence. As a member of the management team, this individual creates, develops, and executes a range of strategies and tactics to increase overnight visitation, tourism expenditures, and tax revenue.
The position will have 1 to 2 direct reports and will report to the CEO.
RESPONSIBILITIES:
– Design, execute, and manage Visit Tuscaloosa's marketing strategy; core functions include brand/campaign development, marketing research, media relations (B2B and B2C), content creation, collateral materials, lead generation, digital presence, and owned/earned channels.
– Ensure overall creative platforms are designed to grow brand awareness and visitation.
– Ensure database and all contact lists are current and well-organized.
– Manage the Visitor Intelligence operating system to create actionable insights and strategies.
– Oversee paid media plans to ensure campaigns meet/exceed projected deliverables.
– Ensure alignment and execution of integrated campaigns within consumer and sales initiatives.
– Cultivate and maintain relationships with media and influential professionals.
– Serve as lead on all asset captures, including photography and video shoots.
– Develop and design Visit Tuscaloosa presentations to maintain brand consistency.
– Direct all media relations activities, including press events and consumer-facing initiatives.
– Lead all content creation, including annual visitors guide, digital/social editorial and copy, search engine optimization, etc.
– Oversee, direct, and organize the work of the marketing/communications team.
– Direct assigned vendors, ensuring partners deliver on contracted scope of services.
– Manage department budget, reconcile expenditures, and provide monthly reports to the President/CEO and board of directors.
– Represent Visit Tuscaloosa at appropriate community board meetings, functions, and activities.
– Other duties as assigned.
QUALIFICATIONS AND EXPERIENCE:
To perform this job successfully, the employee must be able to perform each essential duty. The requirements listed below are representative of the knowledge, skill, and ability required. Bachelor's degree in Business, Marketing or Communications. Master's degree is preferred.
– Minimum of five years of experience in Convention and Visitors Bureau/ Destination Marketing Organization marketing/brand management experience is preferred. Other industry marketing, communications, and brand management is acceptable.
– Team player who can multitask and coordinate multiple projects in various channels.
– Experience in vendor management and managing agencies to meet contract deliverables and timelines.
– Preferred experience with Customer Relationship Management (CRM) systems.
– Ability to effectively interface with staff, the Visit Tuscaloosa board of directors, and constituents.
– Self-reliant, strategic, good problem solver, and results oriented.
– Team leader who can positively and productively impact both strategic and tactical marketing/communications initiatives.
– Exceptional written and verbal communication skills.
– Ability to work a minimum of a forty-hour workweek, likely to include some nights and weekends, with hours varying based on time of year, events, and/or projects.
PRIORITIES FIRST 6 MONTHS:
– Assess current marketing and communication situation and begin to level up through innovation, creativity, and accountability. 
– Hire a Public Relations and Content Manager.
– Move to the implementation phase of new Visit Tuscaloosa brand.
– Solidify a digital vendor and implement a digital marketing plan.
– Develop a strategic marketing plan for 2023 in partnership with the President/CEO.
– Evaluate current creative processes, ideation, and execution. 
– Create a culture that is motivating, inspiring, and accountable.
All interested candidates should email a cover letter, resume, and references to careers@visittuscaloosa.com.
Reminder: This job is open until 5:00 pm (CST) on Friday, August 5, 2022.
TTS is an Equal Opportunity Employer that does not discriminate on the basis of race, color, religion, national origin, ancestry, citizenship status, age, disability (mental or physical), sex, marital status, veteran status, sexual orientation, arrest record, genetic information, or any other characteristic protected by applicable federal, state or local laws.
All employees of Tuscaloosa Tourism and Sports must be (or become) residents of Tuscaloosa County.