Chatter Baits and Square Bill Crankbaits for Backwater Bass at Oliver Lake
If you're interested in learning more about fishing on the Black Warrior River and particular baits that local fishermen have found to be beneficial, you've come to the right spot!
Editor's Note: Toby Wilson is a management consultant and has been fishing on the Black Warrior River in Tuscaloosa County for the last seven years. He's also heavily involved with high-school bass fishing in Tuscaloosa County with his three sons through Holy Spirit High School. His eldest, Garrett, is 18-years old, his son, Matthew is 16-years old, and his youngest son, Chase, is 15-years old.
John E. Phillips: What size of lures are you using to catch bass on the lower end of Oliver Lake?
Toby Wilson: I prefer to fish either a 3/8-ounce or a 1/2-ounce chatterbait with a white skirt and a soft-plastic Rage Tail trailer. Occasionally, I'll use a Z-Craw trailer as well.
Phillips: How are you fishing the chatterbait?
Wilson: Often we'll just cast and retrieve this lure. But there's a lot of wood in Oliver's backwater regions. We've found that banging the chatterbait up against logs in the water, fallen trees and any other type of wood may cause a bass to strike. Other times, we'll fish the chatterbait slowly on the bottom. If the grass hasn't grown-up to the surface, we'll fish the chatterbait through the lily-pad stems, the grass stems and the underwater stumps. We want the chatterbait to hit the wood and trigger a reaction strike.
Phillips: The other lure you mentioned was a square-bill crankbait. Which is your favorite square-bill crankbait lure, and how are you fishing it?
Wilson: I use quite a few different manufacturers. I like Booyah, Bomber, Bill Norman and Lucky Craft. My boys and I fish a variety of assorted colors, such as white, sexy shad and blue back with chartreuse sides. We primarily fish bright colors that the bass can see in Oliver's stained water.
Phillips: How are you working the square bills?
Wilson: We're trying to crank the square bills and bounce them off the wood cover.
Phillips: Most people don't like to run crankbaits through heavy wood cover because they're afraid they'll lose the crankbaits. How do you solve this problem?
Wilson: Some days you don't lose any lures, and on some days you lose a lot. The best thing to do is bring numbers of crankbaits with you when you're planning to fish the backwaters on Oliver Lake. We've learned that if we're not banging the square bills into the wood, we don't get as many strikes as we do when we crash the crankbaits into the wood cover off the main river channel.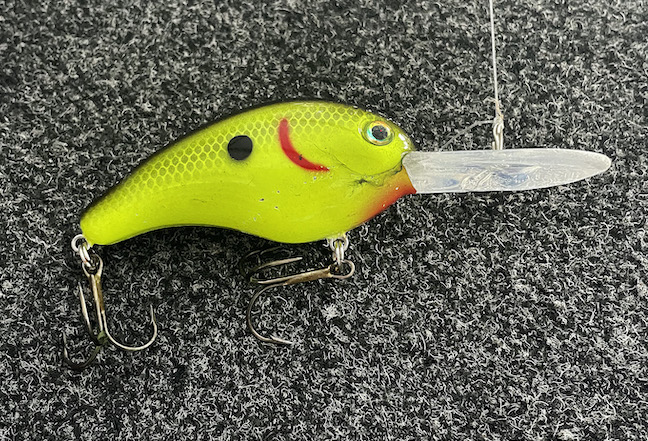 Phillips: Two effective ways to fish a crankbait through wood cover is to pause the crankbait as soon as it hits the cover or burn the crankbait through the cover. Which tactic do you think is the most-productive at Oliver?
Wilson: We let the bass tell us which retrieve they'll bite the best.
Phillips: What size bass are you catching in the backwater areas, and how many are you catching?
Wilson: Most of the average bass we catch will weigh 1-1/2-pounds to 4 pounds. But, every so often, we will catch a 5 pounder.