The ultimate gameday experience in Tuscaloosa, Alabama, home to The University of Alabama and the Crimson Tide, offers one of the most electric atmospheres that college football has to offer. Sometimes called "The City of Champions," Tuscaloosa is a vibrant community filled with local restaurants to satisfy every palate, a walkable downtown complete with live music, outdoor spaces to explore, and a destination that's easily accessible – no matter what direction you're coming from.
For a true taste of the game day experience, kick off the weekend with a trip to the Bryant Museum, where you'll find exhibits, artifacts, and memorabilia that traces the long history of The University of Alabama football. Once you're done taking in the knowledge of Alabama Football's legendary past, it's time to enjoy the beautiful campus. From the museum, walk over to the Quad for what will become a tailgating experience you won't soon forget. Hundreds of tents are filled with friends and family as they join in fellowship, indulge in great food and drinks, and cheer on other football teams across the nation as they await Alabama's kickoff.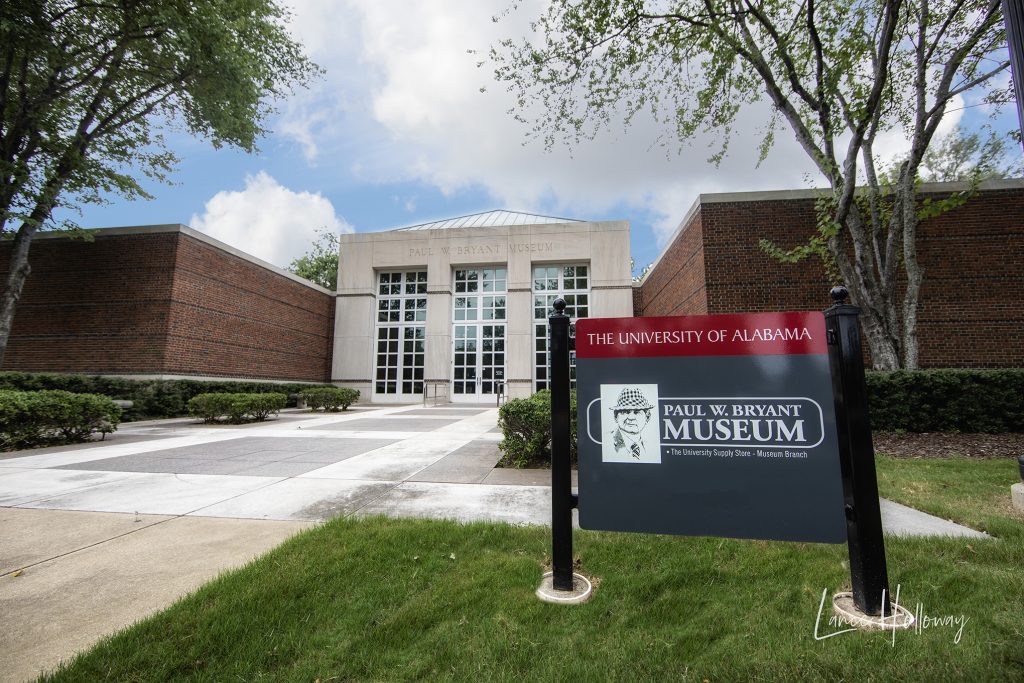 Another stop you won't want to miss is the Walk of Champions and the Coaches Walk, located at the north end of Bryant Denny Stadium. The Walk of Champions includes granite tablets commemorating the school's title seasons. But what makes it so special on game days takes place two hours and 15 minutes prior to kickoff. The Alabama team buses drop the players and coaches off at the walkway where thousands of fans greet them with smiles and roaring cheers to watch some of college football's most elite walk to the locker room.
After cheering on the Tide, it's time to experience the energetic nightlife in T-Town. While there are many options to select from, be sure to check out options located along The Strip, Downtown, or in Temerson Square, as well as a variety of other locations throughout the city. Many restaurants and bars feature live music, especially throughout game day weekends.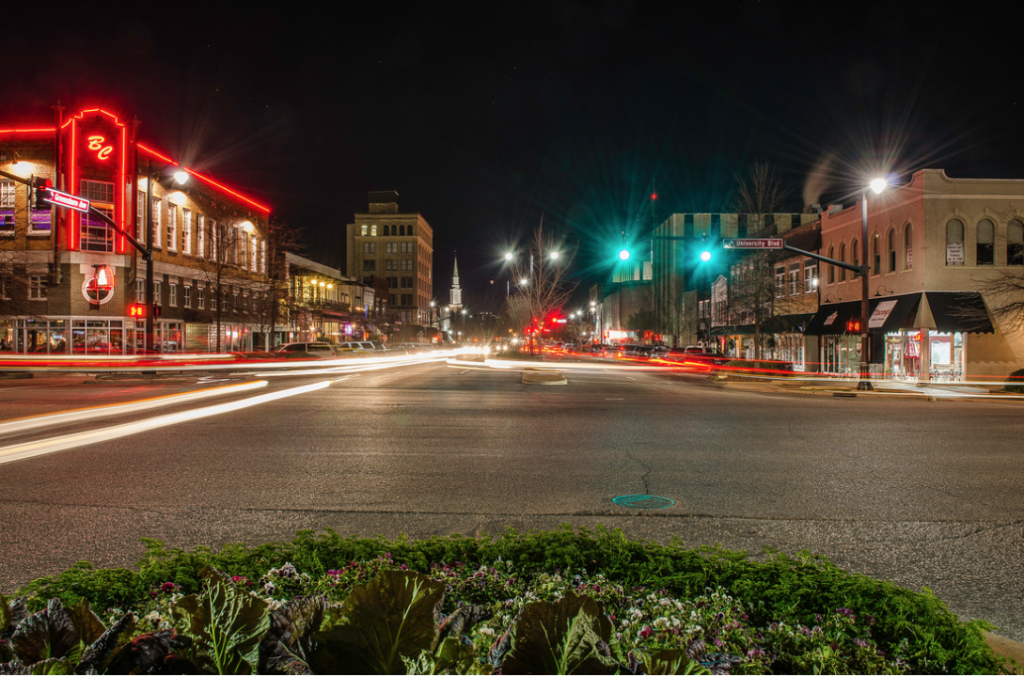 Whether you arrived to town early or have time before returning home, consider exploring the Tuscaloosa Civil Rights Trail. This self-guided, 18-stop trail includes many stories to help you understand Tuscaloosa's place in civil rights history, but most importantly, highlights the history of how Tuscaloosa's color barrier was broken by the courageous efforts of many black and a few white foot soldiers.
When planning your trip, search visittuscaloosa.com for all things Tuscaloosa. We welcome you with open arms and know you'll make legendary memories to last a lifetime while here. Roll Tide!
A Game Day Must: Don't miss out on a Denny Dog (aka Stadium Dog). Quite possibly the next best thing outside of the game itself and sold in Bryant Denny!
Photo Credit: Alabama Athletics
Football has returned to Tuscaloosa, and with it a ton of great events to give you a fun-filled weekend in the city of champions. We have live music, art events, musicals, and more! Get ready to enjoy a special weekend in Tuscaloosa!
Art Night at Kentuck
Just over the river from downtown Tuscaloosa rests Kentuck Art Center, the centerpiece of the local art community. One the first Thursday of each month they host a quaint little shindig to help you relax and explore their unique scene. They have live music, light hors-d'oeuvres and a chance to interact with a local artist and even purchase some of their beautiful art. Art night lasts from 5-8 on Thursday, but it will be the best three hours of your month, guaranteed. Check out their Facebook event to share this information with your friends! https://www.facebook.com/events/366189450947666/
First Friday Art Walk
The first Friday of the month is a special evening in downtown Tuscaloosa. Local art galleries open their doors late and invite the public in for a night of fun and exploration. With downtown being an entertainment district on Friday evenings, you can now grab your favorite drink from a local bar or restaurant and dig the local art scene. Galleries on your tour include Harrison Galleries, the Dinah Washington Cultural Arts Center, and local artist Caleb O'Connor's studio. For more information and hours visit http://firstfridaytuscaloosa.com/
Alabama Football vs. New Mexico State
The Crimson Tide how the New Mexico State Aggies in the Tide's first home game of the 2019 season. Alabama dominated Duke last week to the tune of 42-3, and look to build on that success before heading on the road for its first conference game of the season against South Carolina next week. Kickoff is at 3:00 p.m., and it will be a great day for some early tailgating before watching the Tide roll. Tickets are still available at rolltide.com. For more game day information, visit https://uagameday.com/gameday-information-2018/.
Fly By Radio at Rhythm & Brews
Fly By Radio has spent years traveling the southeast playing fraternities, sororities, special events, festivals, corporate, and weddings. From Motown to current jams, and everything in between, FBR will have you singing along to all the hits at Rhythm and Brews this Friday, September 6 beginning at 10 p.m. If you like Guns n' Roses, Metallica, and AC/DC, then this will be a great way to kick off your gameday weekend in Tuscaloosa. For more info visit https://www.rhythmnbrews.com/.
The Actor's Charitable Theatre presents "Cats."
"Jellicle Cats come out tonight, Jellicle Cats come one come all." Join the Actor's Charitable Theatre for their magical and moving production of Cats the Musical September 6-9 at The Bama Theatre. Based on T.S. Eliot's whimsical collection of poems, Old Possum's Book of Practical Cats, Andrew Lloyd Webber's popular musical brings together a tribe of Jellicle Cats on a moonlit evening, who must make the "Jellicle choice" to decide which of them will ascend to the mysterious Heaviside Layer to be reborn. Featuring such celebrated standards as the haunting "Memory," "Cats" was an international phenomenon and its original production is still the fourth-longest-running show on Broadway with a new revival that opened in summer 2016. You have plenty of opportunities to experience this musical over the weekend. This includes shows on Friday and Saturday, as well as two showings on Sunday. Visit http://theactonline.com/cats/ for showtimes and to purchase tickets.
The road to Alabama's eighteenth football national championship begins this beautiful spring weekend in Tuscaloosa at Bryant-Denny Stadium! The Tuscaloosa Amphitheater will be hosting Chris Young on Thursday night and Casting Crowns on Friday night. There are plenty of family events happening this weekend such as the Tuscaloosa Children's Theatre's presentation of "Peter Pan, Jr" and the Alabama Football Spring A-Day game. Get out and enjoy a fun-filled weekend in the One and Only.
Chris Young at the Tuscaloosa Amphitheater
If you're a country music fan you don't want to miss Thursday night at the Tuscaloosa Amphitheater. Chris Young's "Losing Sleep 2018 World Tour" is making a stop in Tuscaloosa, and he is bringing special guests Kane Brown, Morgan Evans and Dee Jay Silver with him. The show begins at 7:30 pm, and it's going to be one of the best shows of the spring! You can get in the door right now for $37, so purchase your ticket from www.tuscaloosaamphitheater.com before they are all gone!
Tuscaloosa Children's Theatre presents "Peter Pan, Jr."
Based on the Disney film and J.M. Barrie's enchanting play, Disney's Peter Pan JR. is a modern version of the timeless tale about a boy who wouldn't grow up… with no flying required! The score includes new arrangements of classic Disney songs and a story featuring one rousing adventure after another. Wendy Darling loves to tell stories to her brothers, Michael and John. But when her father announces she must move out of the nursery, Peter Pan comes to visit the children and whisks them away to Neverland. Their journey introduces them to the Lost Boys, Mermaids, Indians and even the infamous pirate, Captain Hook! It's Peter to the rescue when Wendy is taken captive by the dreaded captain, who has his own sinister plans in mind for our hero. There are multiple times that you can catch this presentation at the Bama Theatre. The times are Friday 7:00 pm- 9:00 pm, Saturday 2:00 pm- 4:00 pm, and 7:00 pm- 9:00 pm. Come out and show your support for the Tuscaloosa Children's Theatre.
Casting Crowns at the Tuscaloosa Amphitheater
Chris Young isn't the only artist playing the Amp this weekend. Casting Crowns will be back in town at the Tuscaloosa Amphitheater on Friday night for their "Very Next Thing" tour performing soulful praise and worship music. They will be joined by special guest "I Am They." The concert begins at 7:00 pm. Visit www.tuscaloosaamphitheater.com to purchase tickets. ​
Alabama Football's A-Day Spring Game
The 2018 Golden Flake A-Day Spring Football Game will be played on Saturday, April 21, at 1 p.m. The annual A-Day Game is the 15th and final practice of the spring and takes place at Bryant-Denny Stadium. Admission will once again be free to the public. After the scrimmage, you will have the chance to go onto the football and walk around or take pictures. Some of the other highlights of A-Day include the Walk of Fame ceremony, where the 2017 captains will set their hands and cleats in cement at Denny Chimes and an alumni flag football game with former star players. A-Day is the perfect family event, so come out and support the Crimson Tide as they begin their road to number eighteen.
Beans and Brews Crawfish Boil to benefit Habitat for Humanity
UPerk and Loosa Brews are partnering for a family-friendly crawfish boil featuring local bands, artists, and artisans to benefit the Tuscaloosa Habitat for Humanity. The crawfish boil is on Saturday at 4:00 pm to 9:00 pm, so make plans to swing by after the A-Day game for some crawfish and to support this wonderful organization that does so much for the Tuscaloosa community.
Follow us on social media (@visittuscaloosa) to stay up-to-date on important events. Tag us in your photos for a chance to be featured on our social media accounts. We love seeing Tuscaloosa through your eyes!
It's a weekend of music, sports, and celebrating in the City of Champions. Band of Brothers hosts award-winning blues artist Diedra the Alabama Blues Queen, Alabama men's and women's basketball play conference games, and the football team's national title celebration will take place on Saturday at 2:00 p.m. on the steps of Bryant-Denny Stadium. Also, Monday brings with it a special event unique to Tuscaloosa. It's D.A.T.E. Week! Check out the info below so you can plan your weekend accordingly. The weather is even going to warm up so you can get out and have some fun after this cold spell, so we know you're itching to get out and get down.
Diedre The Alabama Blues Queen at Band of Brothers Brewing Company | Friday, January 19 | 7:00-10:00
Diedra The Alabama Blues Queen is a 15-time Blues Award Winning and Nominated International Artist and a 2014 International Blues Challenge Finalist. Together with her band that includes husband and Alabama Blues Hall of Fame member Keithen Ruff, she belts out blues hits like "Born Under a Bad Sign." Battered Wild Food Truck will be on site, so you can grab a nice local brew, listen to the best blues around, and grub!
Alabama Men's Basketball vs. Mississippi State | Saturday, January 20 | 7:30
The Tide iced the hottest team in the country on Wednesday when they snapped Auburn's 14-game winning streak behind John Petty's 27 points on eight three-pointers. Alabama now has a nice 4-game winning streak of their own, and look to keep it rolling against Mississippi State on Saturday. Come out and see this special Tide squad before these Freshmen go pro!
Alabama Women's Basketball vs. Vanderbilt | Sunday, January 21 | 2:00
At 13-5 through eighteen games, Alabama is having a great year under 5th-year coach Kristy Curry. Most impressive is the Tide's 9-1 record in Coleman Coliseum so far. Come see as the squad continues its climb to the top of the conference against Vanderbilt on Sunday. If you enjoy winning, you can't miss this Alabama team at home. General Admission (All Ages) is $5, so don't miss out.
D.A.T.E Week | January 22-26
We have a special event for you beginning Monday of next week (1/22). It's D.A.T.E Week! Local businesses will have special promotions on Diamonds, Arrangements, Tastes, and Entertainment (D.A.T.E.). Your SO would love some pretty flowers and a nice dinner out. Or perhaps they would love to do something fun with you like attend a chocolate making class, a wine pairing, or mixology class. All of this is going on and more during D.A.T.E Week! Visit our website TtownDateWeek.com for a full list of participating locations and start planning your special night out today!
Have a blast in the City of Champions this weekend, and check out visittuscaloosa.xyz/events for more upcoming events!
It's another great weekend filled with exciting events in Tuscaloosa! Alabama football and basketball are in action, and there is live music and performances for those so inclined. The entertainment district downtown has gone so well that it has been extended. This Friday and Saturday you will be able to head downtown, grab a drink, and explore the wonderful shops and art galleries in the area so don't miss out!
Alabama rolls into its last home game of the season with at least ten wins for the tenth straight season, but this team is hungry for more against a Mercer team that gave Auburn fits earlier this year. Saturday is senior day in Bryant-Denny Stadium, so come and support the seniors who have compiled an incredible career record of 50-4 with a chance to cement their legacy with these accomplishments: a 55-4 record, four straight SEC titles, and two national titles. Don't miss a great opportunity to come cheer on JK Scott, Rashan Evans, Hootie Jones, Tony Brown, Da'Shawn Hand, Levi Wallace, and Shaun Dion Hamilton. The game kicks at 11:00 so come out and enjoy a nice day in Tuscaloosa afterward.
Green Bar does a great job of hosting great bands every weekend, and this Saturday night they present a three-piece homegrown Tuscaloosa band King's German Legion that will blow your socks off. This blues-rock band puts you in the mind of the Black Keys with a heavy base and distorted, finger-blistering guitar work. Tickets are $5.00 at greenbarttown.com and the music starts at 10:30.
Moundville Archaeological Park and the Office of Archaeological Research are hosting an event this Saturday at Moundville Park! They invite you to come and help catalog and wash real artifacts that have been found recently at Moundville. You never know what you might get your hands on! The event runs from 10 a.m. – 4 p.m. on Saturday. There will be light snacks and water provided. The event is free with park admission ($8).
Wind your weekend down by taking in one of the most famous American plays of all time presented by UA Theatre and Dance. August: Osage County is a story about one of the most dysfunctional families you will ever encounter. It will hopefully make your own family seem tame by comparison when you are sitting around the Thanksgiving table arguing about politics next week, and you'll be glad to have the perspective. The show begins at 2 p.m. on Sunday at the Marian Gallaway Theatre on Alabama's campus. You can get tickets here: https://theatre.ua.edu/productions/august-osage-county/
Alabama has rocketed off to a 2-0 start with wins over Memphis and Lipscomb. The Tide's young freshmen look as good as advertised and could lead the Tide to a special season in 2017-2018. The next opponent in their way on their journey to the top is Alabama A&M. Collin Sexton and John Petty are two players you have to see to believe, and your next chance is this Friday night at 7:00. Don't miss the best basketball squad Alabama has had in 13 years!
There are always fun events going on around town, so visit our event calendar at visittuscaloosa.xyz/events for a complete list.
Tomorrow begins a big weekend in Tuscaloosa! Bama football returns for homecoming, Druid City Pride weekend runs through Sunday, and the Children's Hands-On Museum always has something fun for the kids. The entertainment district will be in effect in Downtown Tuscaloosa again this weekend, so take the opportunity to get out, grab a drink, and explore Tuscaloosa's unique downtown area and events.
On Friday night downtown Tuscaloosa will be buzzing with excitement and activity. In addition to the area being an entertainment district from 9:00 a.m. to 10:00 p.m. Druid City Pride will host a block party from 5:30 p.m. to 9:00 p.m on 22nd Avenue between Alcove and Grace Aberdeen. Druid City Pride is a local organization dedicated to celebrating, serving, and supporting the LGBTQ+ community in Tuscaloosa. Great drinks from Alcove and Monarch, cornhole, and live music by incredible blues musician Janelle Frost will give you and your friends a fun place to unwind and kick off a great Pride weekend in Tuscaloosa. Come out and enjoy a good time!
The Crimson Tide returns home under the lights of Bryant-Denny this Saturday night to battle divisional foe Arkansas for homecoming. Alabama will kick off at 6:15 as a whopping 30.5-point favorite and will be looking to Coach Saban and the fans to make sure they haven't been affected by the "rat poison" that comes along with beating SEC teams 66-3. If you haven't purchased a ticket yet, don't worry. There are still some tickets left on rolltide.com. There are several special homecoming activities happening this weekend, such as a step show on Friday night at 8:30 p.m. and parade on Saturday at 1:00 p.m. Get out and enjoy the best gameday experience in all of college football.
The Children's Hands-On Museum always has fun events for the kids, and this weekend is no exception. On Saturday from 10 a.m. to 4 p.m. things will get spooky as Halloween takes over for the Goblin Gala. Kids will enjoy treats, activities, and games in a fun Halloween setting. The Children's Hands-On Museum is always providing fun things for kids to do in the One and Only Tuscaloosa. Stop by before the homecoming game on Saturday and get into the Halloween spirit.
Join Band Of Brothers Brewing Sunday, October 15th for Trucks By The Tracks with your favorite local food trucks. Band of Brothers is hosting Pastor's Kitchen, Simple Southern Cuisine, Get MIX'D, Lolly's Sugar Shack and more. This event is your chance to experience great beer, live music, and good company. What could be better? The brewery opens at 1:00 p.m. with food trucks arriving at 1:30. Live music performed by the Tarred and Feathered Band will begin at 2:00. It's going to be a large time!
The Alabama Crimson Tide soccer team is in town on Sunday afternoon taking on the Mississippi State Bulldogs at 5 p.m. Both teams are coming off of loses and will be fighting hard to get their schedule back on track. The Crimson Tide's record is 9-6-1 and the Bulldogs are 7-3-3. Sporting events at The University of Alabama are always a good time. As always, admission is free so it is a great event to take the whole family to.
We have tons more going on so check out our great upcoming events below, and follow us on our social media pages (@visittuscaloosa) for more announcements.
Contributors: Danny Owen & Rachel Horton
Homecoming is always a highly anticipated time of year for UA alumni and students alike, and this year is no exception. UA is gearing up to welcome alumni and friends back to the One and Only and we have the inside scoop about all of the events during another exciting weekend.
-Sweet Home Capstone
This year's theme, Sweet Home Capstone, is an embodiment of the SGA Homecoming Committee's vision for the entire experience of Homecoming. Whether a current student or loyal alum, Sweet Home Capstone calls on us to celebrate and honor not only the rich traditions of this institution and history of athletic dominance but also the values UA instills in its students throughout their years here. Homecoming is a time to pay homage to this diverse community that fosters growth and new ideas through its legacy of loyalty, school spirit and pride while simultaneously building strong relationships between past, present, and future students.
-Bon Fire and Pep Rally
Friday night is full of terrific events, culminating with the pep rally and bonfire on the Quad. The pep rally begins with a performance by the Million Dollar Band, followed by appearances from Nick Saban and members of the football team. Continuing the excitement of the night, the MC will announce the results of the Homecoming Queen elections. The night concludes with the annual bonfire lit in the center of the quad. It's sure to be an event you don't want to miss!
-Parade
No proper celebration is complete without a parade, and UA pulls out all the stops during the homecoming festivities. Featuring floats decorated by the members of different organizations on campus, the parade will start Saturday at 1 pm in downtown Tuscaloosa and head north along Greensboro Avenue before heading East along University Boulevard towards the Quad. Be sure to catch the parade marching through the center of campus before heading to Bryant-Denny to watch the Crimson Tide.
-Homecoming Game
Returning home after facing the Aggies of Texas A&M last weekend, the Crimson Tide returns to Bryant-Denny Stadium for a night game against the Arkansas Razorbacks. The Tide hopes to roll on to another victory against a conference opponent in an exciting matchup at home after a well-earned victory on the road last week. The game kicks off at 6:15, allowing plenty of time to make a stop at the Bryant Museum, catch the Elephant Stomp on the steps of Gorgas Library, and even snag one last Yellowhammer from Gallette's before heading into the stadium. Be sure to stick around during halftime to see the crowning of UA's homecoming queen!
-Entertainment District
Don't forget to head down University Boulevard to check out the sights and sounds of Downtown Tuscaloosa! Every Friday and Saturday in the fall you can enjoy the one and only Entertainment District, allowing the gameday festivities to continue past the boundaries of the UA Campus until 10 pm. Pop in and out of local business, drink in hand, and take in all that gameday has to offer this homecoming weekend!
We have tons more going on so check out our great upcoming events, and follow us on our social media pages (@visittuscaloosa) for more announcements and events. Tell your friends and we can't wait to see you around the One and Only Tuscaloosa!
Written by: Katy Aspinwall
Another big weekend in Tuscaloosa is around the corner. Eric Church, The Black Jacket Symphony, and Alabama football headline a slate of exciting events. An entertainment district will be in effect in the downtown area on Friday and Saturday from 9 a.m. to 10 p.m., so feel free to grab a drink and visit some of Tuscaloosa's great downtown shopping locations.
You can kick off your weekend this Friday at the Tuscaloosa Amphitheater with country music mega-star Eric Church. Church will be continuing his tour playing hits like "Springsteen" and "Talladega". The event will take place rain or shine and will be one big party, so get ready for a good time.
The Tuscaloosa Amphitheater isn't the only ones putting on a concert on Friday. The Bama Theatre is presenting the Black Jacket Symphony as they perform a note-for-note rendition of the Grateful Dead's classic album American Beauty. You are sure to hear favorites like "Friend of the Devil," "Truckin'," and "Brokedown Palace." The Black Jacket Symphony will begin at 8 p.m. with doors opening at 7 p.m. Between these two concerts, downtown Tuscaloosa will be an exciting place to be on Friday night.
Kids will have plenty of exciting things to do this weekend as well. The Children's Hands-On Museum will kick off Saturday with Nickelodeon Worldwide Day of Play from 10 a.m. to 4 p.m. Special games and fun activities will be available throughout the museum for kids of all ages to enjoy.
Bryant-Denny stadium will turn on their lights Saturday evening as Alabama faces the Colorado State Rams in a 6:00 night game. Alabama comes in 2-0 after decisive victories over #10 Florida State and Fresno State. The Crimson Tide are a 28.5 point favorite, but the Rams have an offensive system that keeps Alabama on their toes.
Wrap your weekend on Sunday up with University of Alabama soccer action as the #19 ranked Crimson Tide square off against Chattanooga. The 7-1 Tide are on a five-game winning streak after a win over Tennessee Tech and will look to keep rolling this Sunday evening. The match will begin at 5 p.m. on inside the Alabama Soccer Complex.
We have tons more going on so check out our great upcoming events, and follow us on our social media pages (@visittuscaloosa) for more announcements and events. Tell your friends and we can't wait to see you around the One and Only Tuscaloosa!
It is the heart of our one and only Tuscaloosa, visible from almost everywhere in town and the center of sports and fun: The University of Alabama's Bryant-Denny Stadium! Home of the Alabama Crimson Tide football team, it turns into the ultimate hotspot in town during football season. It doesn't stop there, as it is a special location year-round! We're going to show you why and take you on the behind the scenes tour through Bryant-Denny Stadium!
For somebody who has never been to the stadium, even standing in front of it is mind blowing: The walls rise so high, you can't seem to wrap your mind around this massive building! It was named after UA's former president George H. Denny and longtime coach Paul "Bear" Bryant. Entering the stadium at the south end zone, the first stop of the tour is the Donor Hall of Recognition, which is located right above the entrance. Here you can see all the generous donors that supported the UA Athletics Department with donations of one million dollars or more on beautiful portraits! The Crimson Tide Foundation itself gives away $16 Million of athletics scholarships every year, supporting young people in sports like football, baseball, soccer, golf, tennis, rowing and much more!
Next, on the tour you walk around the field on an upper level, getting a first glimpse on the field and the breathtaking view of Tuscaloosa from above the treetops!
While on the upper level, we learned some interesting facts such as Bryant-Denny-Stadium was opened in 1929 and meanwhile has a capacity of 101,821 seats – which makes it the 8th largest stadium in the world! Also, during a game day, the stadium puts out 10,000 gallons of fountain drinks and 18.000 bottles of water to go with the concessions, leading to a total of 1 ton of trash!
Up next is the press-room: Here you can see the seats for the reporters behind a giant glass pane with a perfect view of the field and you even can take a seat on the commentator's chairs! Located right next to it is the Presidential Box: An incredibly lavish lounge with seats for 200 of the UA president's closest friends. On the other side of the ranks, you can see another row of windows that contains the 159 Sky Boxes: Private lounges with up to 75 seats that can be rented – for the trifle of a $500,000 donation to get your name on the ten years long waiting list! You better hurry up to make your reservation!
In the maze of the inside of the stadium, the tour shows you The Zone, located right above the north end zone with a view on the Walk of Champions. Members can access that beautiful hall during games and it can also be rented for events, even for wedding receptions! Say I do and Roll Tide!
Then the tour finally enters the holy halls: The Crimson Tide's locker room!
Standing in the huge room with the noble wooden lockers and leather stools, you can literally feel the Tide's spirit!
Doing it like the players, you have to rub the nose of the Paul Bryant plaque and hit "WIN" above the doors before leaving the locker room for good luck! Then your way leads through the famous tunnel straight onto the field! You feel so incredibly small standing at that gateway, even without a hundred thousand fans cheering for you! And have you ever realized how gigantic the field goal is? You sure will do when you stand right underneath it!
Walking around the field, you can take pictures that are memories for eternity. Side fact: It takes 120 hours of work and 500 cans of dye to paint the lines and signs on the field! Right across the Crimson Tide's tunnel and locker, you can enter the one of the most iconic locations in the stadium: The Fail Room – which is nothing else than the locker room for the visiting teams. You can't miss the obvious differences to the Tide's locker room. But still, Alabama has one of the nicer, almost luxurious visitor locker rooms with stools and white walls – compared to Iowa, who for example painted theirs bright pink because of scientific proof that staring at it induced bad headaches.
And with that fun fact, the amazing tour comes to its end and leaves you feeling like a champion! Roll Tide!
Written By: Katharina Horvath – Intern
The University of Alabama's Million Dollar Band has been thrilling spectators for years! Starting way back in 1912 with just 14 members, it's incredible to think that they have grown to 400 strong in just a short 104 years! Every time there's a game at Bryant-Denny Stadium, they swarm the field from all four corners of the stadium before helping the crowd erupt in "Yay Alabama" as they march down the field. At halftime, they play everything from jazz to modern pop, and even bust out the dance moves in front of millions of fans each year!
Not only does the Million Dollar Band perform on Tuscaloosa Saturdays, but they often will travel with the football team across the country. Because of this, they have become known as the most televised college band in history! It's easy to say that Saturdays wouldn't be the same without the one and only Million Dollar Band. From songs like Basket Case to a rousing rendition Rammer Jammer, they are a #FallLoosa staple that you can expect to see or hear anytime you're around campus on a game day weekend!