Welcome to Starkville: Mississippi's College Town!
We're excited for a fun SEC matchup, and we're glad you're making the trip from Tuscaloosa. An evening kickoff means you have all day to experience everything Starkville has to offer – from the Cotton District to the Community Market.
Kickstart your morning at one of our popular breakfast spots. NutriGroove is a local favorite for delicious smoothies, teas, bagels, wraps and toasts. The, you can head to The Coffee Depot for one of their signature lattes or espressos. They also serve smoothies, cookies, and other sweet treats.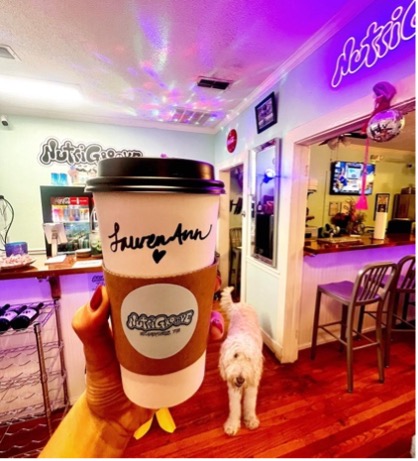 (NUTRIGROOVE)

Next, it's time to shop for fall weather essentials at some of the South's finest boutiques. Stop by B-Unlimited for t-shirts and accessories with Starkville flare or find the perfect gameday outfit at LA Green, a lifestyle boutique offering the latest in women's fashion.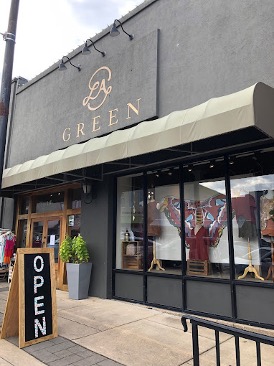 (LA GREEN)
Before you make your way to The Junction for tailgating, stop by the Cotton District to refuel with food and beverage. Little Dooey's has been a staple in our community for over 25 years. You'll find some of the best barbeque, burgers and catfish around – as well as an experience you won't forget.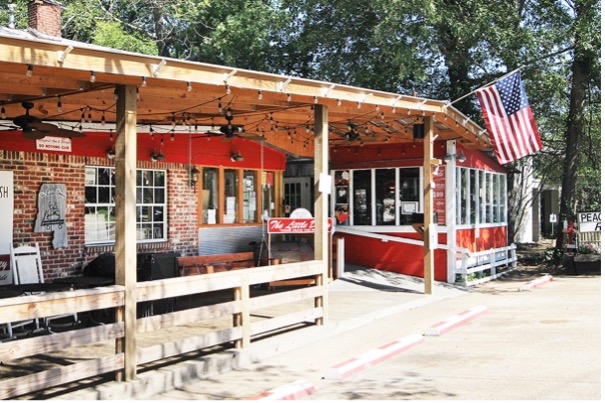 (LITTLE DOOEY'S)
There are plenty of bars to choose from in Mississippi's College Town. Tucked in an alley behind Restaurant Tyler, The Guest Room might be Starkville's best kept secret. They offer an intimate, seated experience, and feature one of the largest bourbon selections in the state. If you're more of the cold-beer-and-pizza type, look no further than Dave's Dark Horse Tavern.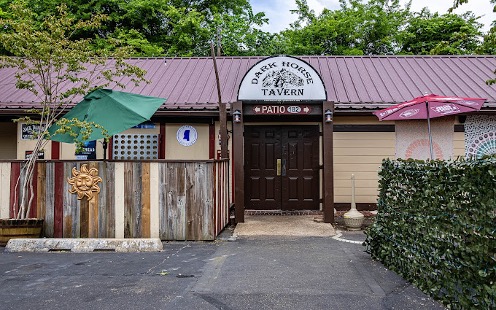 (Dark Horse Tavern)
No weekend in Starkville is complete without tailgating and visiting Mississippi State University. Make sure to head to The Junction, directly across from Davis Wade Stadium. Have a sweet treat at the MAFES Sale Store (or get some cheese to-go), less than a five-minute walk from the stadium. We recommend the muscadine ripple ice cream and Edam cheese!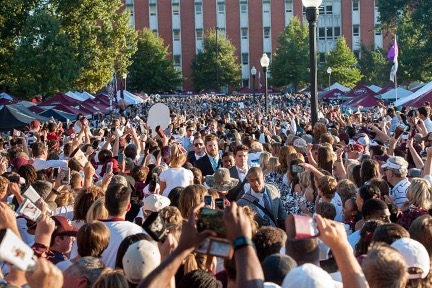 We're so glad to have you in Starkville for the weekend. Our home is your home – and we hope to see you again! For more information on where to shop, eat, play and stay, visit us online at https://www.starkville.org, and connect with us on our Facebook, Instagram, and Twitter. Be sure to download the Visit the SEC pass to check in and earn points towards prizes while you are in Starkville: Mississippi's College Town!
Editor's Note: This blog is part of the SEC Blog Exchange facilitated by the Cities of the SEC partnership. You can enjoy all of the communities SEC schools call home and earn prizes. Check out VisittheSEC.com to find out more.
Congrats to all of The University of Alabama's 2020 graduates! You deserve to relax, relish, and reminisce in one of the most remarkable college football towns in the nation. You might think it stops there, but Tuscaloosa goes far beyond football. Thanks to excellent lodging, exceptional eats, and endless local gems, T-Town offers unforgettable experiences whether you roll with or away from the tide. Read on for tips to get the most out of your weekend getaway in the Druid City.
Whether you are attempting a last-minute road trip or scheming a self-indulging staycation in the near future, you're in luck. Some of our city's incredible hotels have availability for the next few days! For a traditionally southern experience, check out Bama Bed & Breakfast, located a mere two blocks from Bryant-Denny Stadium. Providing five gorgeous rooms to choose from, hot tub access, and complimentary breakfast + basket of snacks, this place goes above and beyond to accommodate for their guests!  If Tuscaloosa's fantastic local shopping and dining is calling your name, check out Embassy Suites,  Home2 Suites, or Hotel Indigo. All of these highly-rated hotels are a short walk to the heart of downtown T-Town, home to many iconic places that give this city personality. Haven't quite found what you're looking for? There are more amazing local hotels with availability for this weekend!
Gather with family, friends, and fellow graduates to celebrate this chapter in life with some spectacular dining options, all fresh and all local! Enjoy a graduation sushi platter special at Chuck's Fish, or venture down the street for a taste of Gulf Coast seafood with a New Orleans flare at Half Shell Oyster House. Another elegant option that encompasses the vibrant life of this city is River. Have your cake and eat it too at this restaurant with dinner and a view of the Black Warrior River. And of course, one can never go wrong with a dinner at DePalma's to enjoy some delicious homemade bread and pasta made fresh to order.
What is a weekend getaway without souvenirs? For those die-hard Bama fans, you can stock up on some of the coolest Alabama gear at local stores like Bama Stuff and JCG Apparel. Be sure to look out for brand new alumni clothing! Not a Bama fan? Not a problem. Tuscaloosa is home to a variety of local favorites that are sure to impress guests and locals alike. If you enjoy shopping at unique boutiques you are in the right place. Effie's Inc. is nestled in the historic district downtown and is known for its outstanding customer service. Whether you are perfecting a special occasion outfit or just enhancing your wardrobe, Effie's carries the latest trends for a variety of lifestyles and ages. It also doesn't hurt that the entire website is 50% off (excluding new arrivals). Another hidden treasure in town is Pause Boutique. Enjoy endless jewelry, clothing, shoes, accessories, and more at this special local shop! For men's clothing, swing by University Blvd. and check out Pants Store and The Locker Room! Both stores provide stellar customer service and a vast selection of fashionable products that can appeal to everyone.
What is a quick weekend trip for some is a spectacular staycation for others. Regardless, Tuscaloosa can't wait to welcome you all with open arms (abiding by social distancing guidelines, of course). We hope this helps enhance your experience in our beloved city!
Another big weekend in Tuscaloosa is around the corner. Eric Church, The Black Jacket Symphony, and Alabama football headline a slate of exciting events. An entertainment district will be in effect in the downtown area on Friday and Saturday from 9 a.m. to 10 p.m., so feel free to grab a drink and visit some of Tuscaloosa's great downtown shopping locations.
You can kick off your weekend this Friday at the Tuscaloosa Amphitheater with country music mega-star Eric Church. Church will be continuing his tour playing hits like "Springsteen" and "Talladega". The event will take place rain or shine and will be one big party, so get ready for a good time.
The Tuscaloosa Amphitheater isn't the only ones putting on a concert on Friday. The Bama Theatre is presenting the Black Jacket Symphony as they perform a note-for-note rendition of the Grateful Dead's classic album American Beauty. You are sure to hear favorites like "Friend of the Devil," "Truckin'," and "Brokedown Palace." The Black Jacket Symphony will begin at 8 p.m. with doors opening at 7 p.m. Between these two concerts, downtown Tuscaloosa will be an exciting place to be on Friday night.
Kids will have plenty of exciting things to do this weekend as well. The Children's Hands-On Museum will kick off Saturday with Nickelodeon Worldwide Day of Play from 10 a.m. to 4 p.m. Special games and fun activities will be available throughout the museum for kids of all ages to enjoy.
Bryant-Denny stadium will turn on their lights Saturday evening as Alabama faces the Colorado State Rams in a 6:00 night game. Alabama comes in 2-0 after decisive victories over #10 Florida State and Fresno State. The Crimson Tide are a 28.5 point favorite, but the Rams have an offensive system that keeps Alabama on their toes.
Wrap your weekend on Sunday up with University of Alabama soccer action as the #19 ranked Crimson Tide square off against Chattanooga. The 7-1 Tide are on a five-game winning streak after a win over Tennessee Tech and will look to keep rolling this Sunday evening. The match will begin at 5 p.m. on inside the Alabama Soccer Complex.
We have tons more going on so check out our great upcoming events, and follow us on our social media pages (@visittuscaloosa) for more announcements and events. Tell your friends and we can't wait to see you around the One and Only Tuscaloosa!
It's going to be another great weekend in the One and Only Tuscaloosa! You can kick your weekend off this Friday at The University of Alabama as they host the inaugural Alabama Blues Weekend! Between July 8th and 9th, you can catch both concerts and masterclasses and even participate in sessions. The Live at the Plaza performers, Birmingham Seven, and others will be participating in the weekend event! Proceeds from the weekend will benefit Alabama Blues Project, an awesome non-profit organization preserving Blues music through interactive programs, after-school camps, clubs and advanced ensembles, reaching over 400 students annually from ages 6 to 18!
Also on Friday is the Green Scene Summer Movie Series featuring Finding Dory! This free community event provides an opportunity to educate citizens on the importance of keeping the community clean and litter free and encourages environmental stewardship while enjoying a popular children's movie on a big screen. Guests will receive a free bag of popcorn and refreshments provided by Coca-Cola Tuscaloosa! This event is geared toward families with children not in school during the summer as it begins at 1 PM!
Saturday night the place to be is the Bama Theatre! Comedian Relly Rell will leave you in stitches as he performs his stand-up act! The show will be hosted by "The Undisputed King of Underground Comedy" Mo Williamz and will also feature Brittany Escobar and Whodi! There will not only be comedy, but music too! Catch Zo, Merk, and CJ Da Don with a bow on top by DJ John Doe. Starting at 7 PM, you won't want to miss out on the fun!
Saturday is filled with great events. Across downtown at Grace Aberdean Habitat Alchemy will be the second annual Puppers & Pride! Between 10 am and 5 pm you can get your dog washed at this donation only Dog Wash! All donations will go to Druid City Pride and they guarantee each pup will leave smelling fresh and clean!
Wrap up your weekend with some rock as Rod Stewart performs at the Tuscaloosa Amphitheater! The British rocker will bring down the house with songs like Maggie May and Da Ya Think I'm Sexy! Stewart has had six consecutive number one albums in the UK and his tally of 62 UK hit singles includes 31 that reached the top ten, six of which gained the #1 position! Not only is he a good singer, but a knight too! He was knighted in the 2016 Birthday Honours for services to music and charity.
We have tons more going on so check out our great upcoming events, and follow us on our social media pages (@visittuscaloosa) for more announcements and events. Tell your friends and we can't wait to see you around the One and Only Tuscaloosa!