Interested in fishing in Tuscaloosa County? Longtime fisherman and native to the area, Dalton Bobo, shares insights and tips to springtime bass fishing in Tuscaloosa County.
Editor's Note: Dalton Bobo, longtime resident of Northport, Alabama, rose to nationwide bass-fishing fame at the 1997 Bassmaster Classic held on Logan Martin Lake near Birmingham, Ala. On the final day, Bobo went to the scales with the winning bag of bass. But before Bobo's limit of bass was weighed, the officials determined that one of his bass had died and imposed a 4-ounce penalty that was deducted from his total fish weight. He lost the Classic by 1 ounce and its $100,000 prize. However, that loss catapulted Bobo to a 14-year professional bass-fishing career, after which he guided for several years on the Black Warrior River in Tuscaloosa County.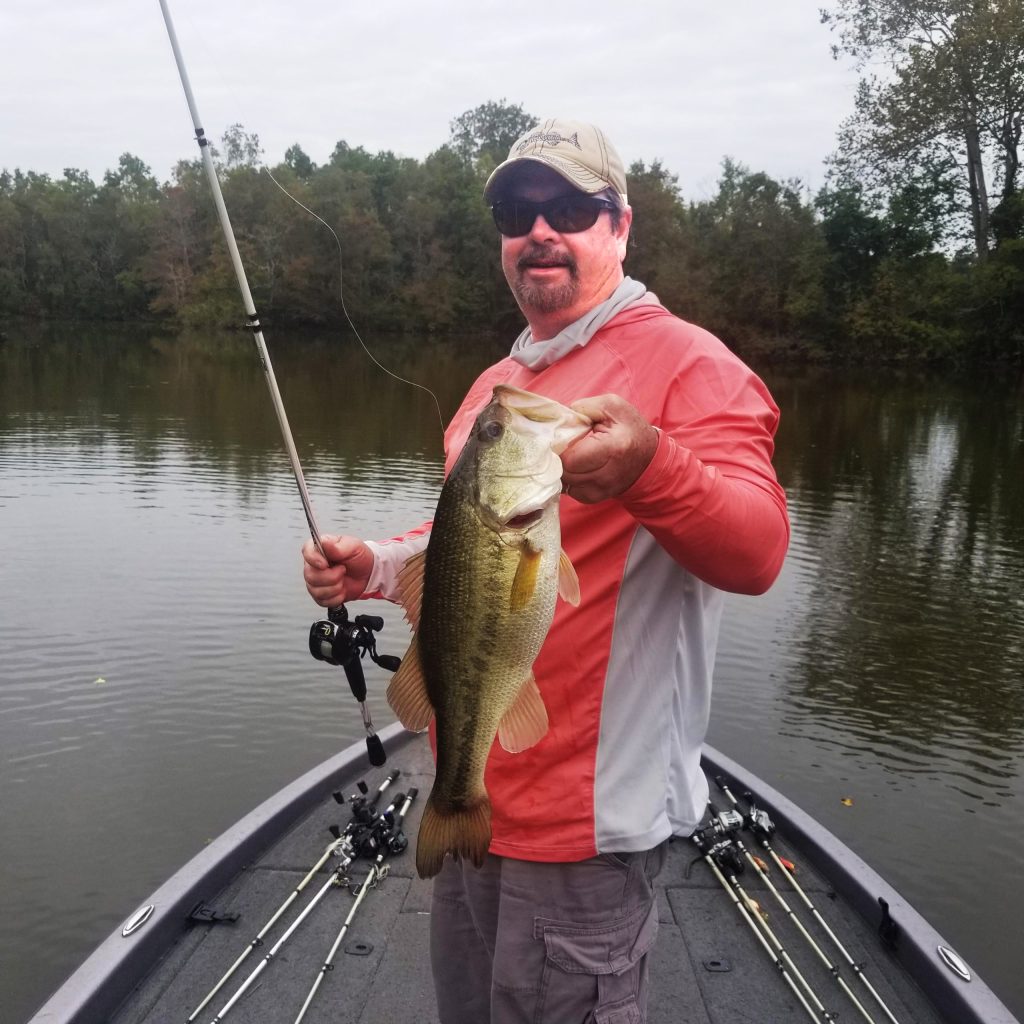 Tuscaloosa's Warrior River – The Best Place Bobo says to Train Tournament Bass Fishermen:
I enjoy fishing the Warrior River from below Lock 17 – the Holt Reservoir – all the way downriver. This section of the Warrior River can prepare a tournament fisherman for almost any type of water a bass angler may compete on, and I've fished here all my life.
What most people don't realize is that the Black Warrior River in Tuscaloosa County is a very-diverse fishery. Bankhead Lake (the reservoir above Lock 17) and Holt Lake (below Lock 17) on the River both can be considered highland-reservoir types of lakes or mountain lakes. Numerous creeks run into Bankhead and Holt, and many hollows dump fresh water into the Black Warrior River system after a rain. These two lakes are in the foothills of the Appalachian Mountains. They're fed by the Mulberry Fork and the Locust Fork that come together to create the Black Warrior River. The lower end of Holt Reservoir is almost in the city limits of Tuscaloosa. When you leave Holt Lake and go downriver, you're moving into Oliver Lake, which is more of a coastal plains kind of lake. The Black Warrior from Tuscaloosa south is a lowland type of river.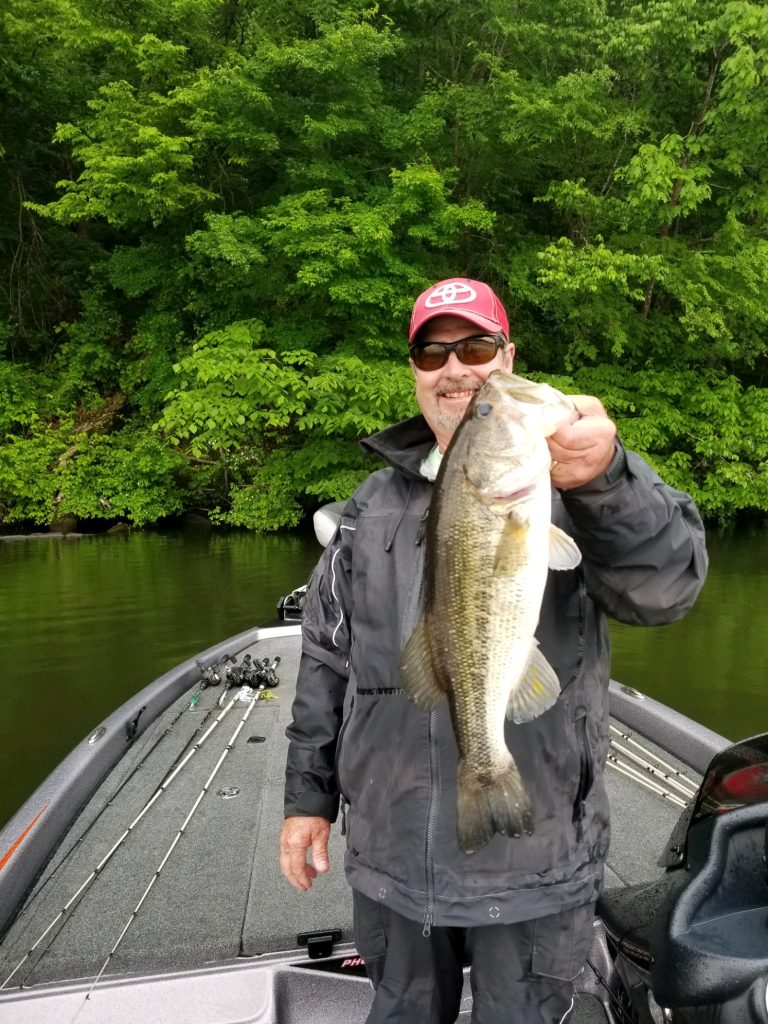 If a tournament angler learns to fish the upper lakes (Bankhead and Holt) of the Warrior River in Tuscaloosa County, he'll become schooled on how to fish highland reservoir types of lakes. If next he goes to just below the city of Tuscaloosa to the Oliver pool, he'll learn how to fish lowland lakes. The water at Oliver is more dingy, often contains a lot of stain and color and has natural creeks and oxbow lakes and sloughs coming off its main river channel.
Here in Tuscaloosa and Northport, Ala., we have one of the most-diverse fisheries anywhere in the nation. Also, in the upper portion of Bankhead Reservoir is Smith Lake Dam that backs up to Smith Lake – a big, clear, deep highland reservoir that feeds into the Black Warrior River. Because the water is pulled from the bottom of Smith Lake, even if the Tuscaloosa area has giant rains, the water can be gin clear above Bankhead Lock and Dam and the headwaters of Holt Reservoir. In fishing Tuscaloosa County, there's enough diversity to help train any tournament fisherman to fish a wide variety of water.
Bankhead and Holt Reservoirs Grow Big Bass:
To catch big bass, both Bankhead and Holt reservoirs in Tuscaloosa's Black Warrior River are where you can get your string stretched and make the drag on your reel squeal. These two impoundments have blueback herring in them that they've never had before. The blueback herring – a large forage fish – has helped to grow bass bigger and quicker than they've grown in the past, while feeding primarily on threadfish shad and bluegills.
Three years ago, most bass tournaments held on these two lakes would be won by a five-bass limit of 16-17 pounds. Now, three years later, a five-fish limit of 23-24 pounds of bass is needed to win a tournament at either lake. The big bass caught in any tournament there could weigh 9-10 pounds. For tournament fishermen who keep up with the stats on lakes and the tournament online, they know to even have a chance at winning, they'll have to have upwards of a five-fish limit of 25 pounds. And, if you expect to catch the big fish of the tournament, that big bass will have to weigh 8+ pounds. I really believe that the blueback herring that have been introduced to the lake is the main reason for the growth of the bass in those two reservoirs in the northern part of Tuscaloosa County.
A good number of saltwater stripers and hybrid striped bass live in Bankhead and Holt reservoirs too that definitely will bow your rod, stretch your string and make your reel sound like a siren going off when those big fish pull the drag so fast off your reel.
Lake Tuscaloosa:
Lake Tuscaloosa is a water-source lake for the cities of Tuscaloosa and Northport. Spotted bass, largemouth bass and some good-sized crappie fish live there. But the bass population and the size of those bass is declining.
Oliver Reservoir:
Below Holt in Tuscaloosa County is Oliver Reservoir that's more of a riverine kind of lake with little backwater and feeder creeks. Some 6-8 pound spotted bass have been weighed in at Oliver Lake during tournaments. When you leave Tuscaloosa and go downriver, for about 40 miles is typical river habitat with laid-down trees, stumps and grass, making Oliver one of my favorite places to fish for bass. Sandbars on Oliver are where the bass often tend to congregate. You can have a really fun day of bass fishing on this downriver stretch of the Black Warrior River below the city of Tuscaloosa. I catch about as many largemouths on this section of the river, as I do spotted bass.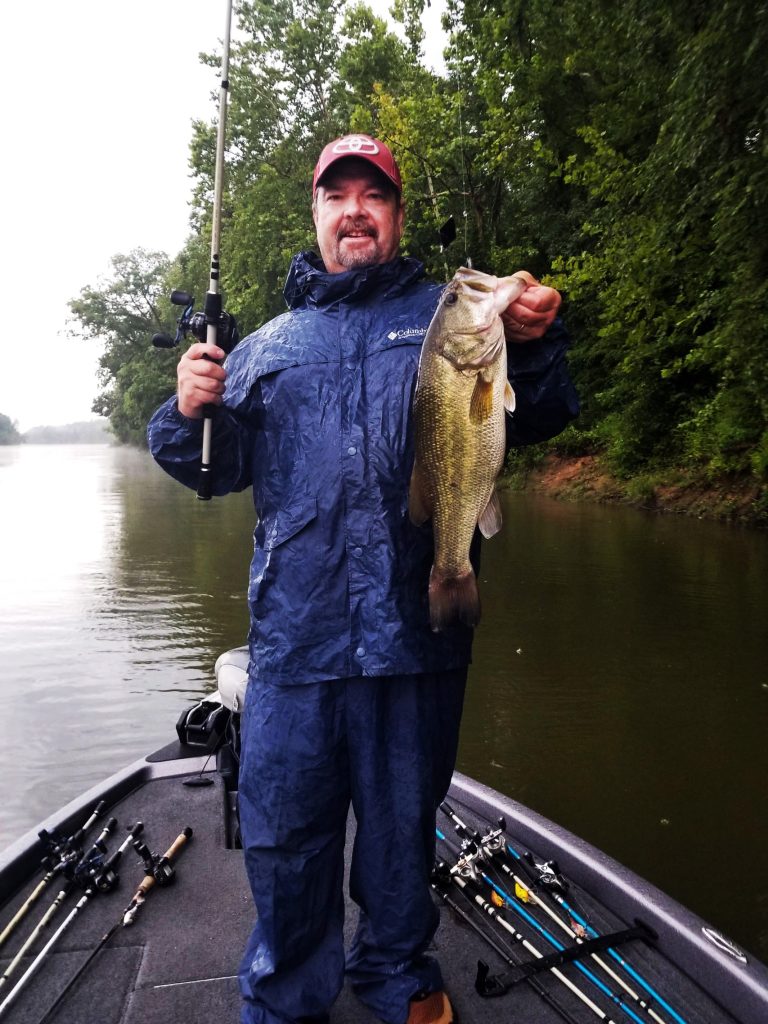 Below that 40-mile mark, you'll start finding creeks, backwater sloughs and numbers of cypress sloughs that hold good numbers of bass. On that lower end of the Black Warrior River from Akron to Demopolis, you'll find more sloughs and backwaters than are in that first 40 miles below Tuscaloosa.
Pluses for Bass Fishing at Bankhead, Holt and Oliver Lakes:
One of the plusses for bass fishing here in Tuscaloosa County is that you don't have to drive very far in a boat or a car from the cities of Tuscaloosa and Northport to experience some really-good bass fishing. All three reservoirs have some water generation (current) flowing through them, especially in the spring and summer. Current tends to make bass bite better. If you lock-up from the Oliver pool that's in the City of Tuscaloosa, you have about a 17-mile-long body of water in Holt Reservoir with plenty of creeks and hollows and natural runoffs where bass tend to hold, besides on the main river system.
Then you'll go into Bankhead. If you have a good day, and the bass are really biting, you may catch 40 or 50 fish – not on every day, but on many days. An average day will be catching 17 to 25 bass.
To catch some of the biggest bass in the Warrior River, fish in April. As the weather begins to warm up and the big momma bass are migrating to the banks, spinnerbaits and chatterbaits may produce a 7-9-pound bass for you. The last time I fished at Bankhead, I caught an 8-pound, 9-ounce bass.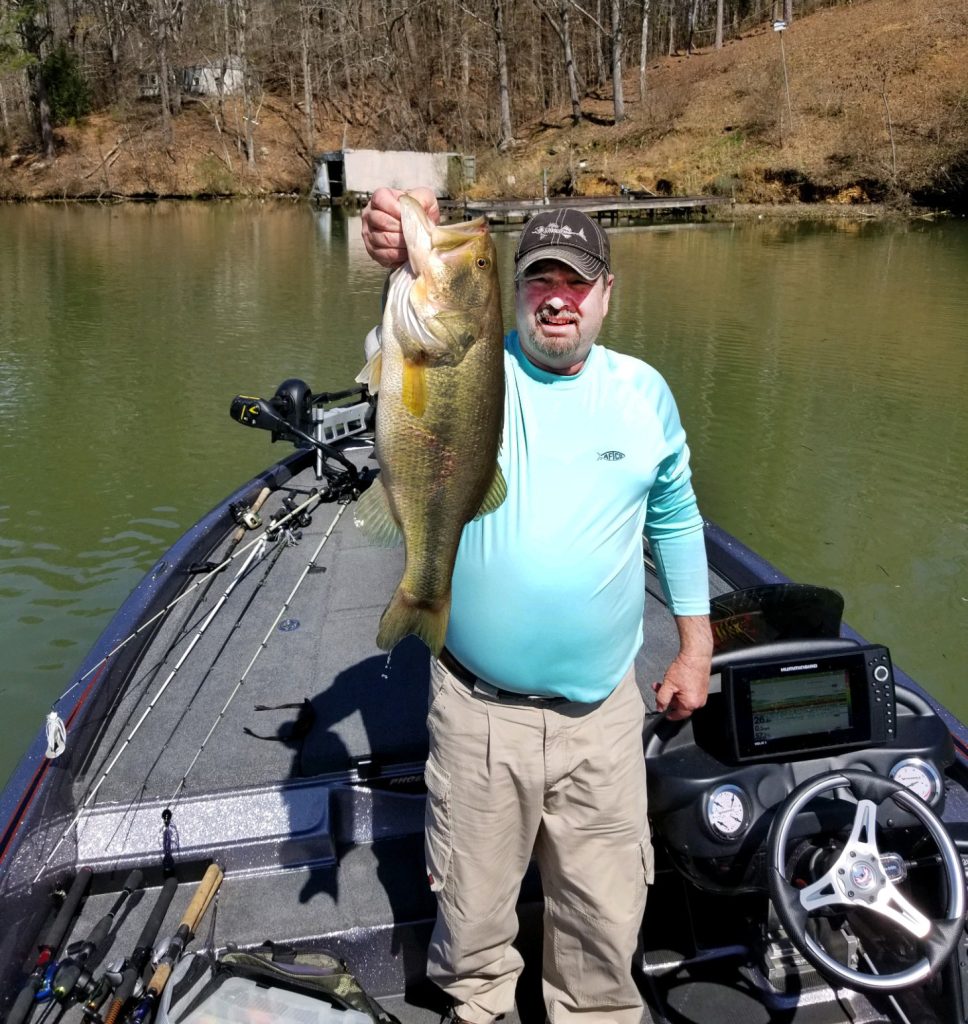 Adam Hollingsworth shared what he considers to be the best bass fishing spots in Tuscaloosa County during the months of April and May in Tuscaloosa County. Continue to read to learn more!
Editor's Note: The president of the UA Fishing Team with 57 members, 34-year-old Adam Hollingsworth, became a member in 2020. He was born and raised in Tuscaloosa, Alabama, and has fished the Black Warrior River since he was a child and camped at Fosters. Hollingsworth is a senior and will receive a degree in criminal justice in May, and will begin working on his master's degree. Hollingsworth served in the Army National Guard for 10 years, starting at age 17 in 2008, and was a certified law enforcement officer in the State of Alabama. He had two deployments to Iraq and Afghanistan. He became inactive military to attend college in 2019 to prepare to work with the U.S Marshal's Service after college and use his military and policing background. He rejoined the Alabama Army National Guard in October 2021. He'll continue to pursue that career path, unless he can become a full-time professional bass fisherman, which is his dream. To fish Tuscaloosa County's Black Warrior River, Hollingsworth likes Garmin's Active Captain and mentions that Navionics and Humminbird's LakeMaster are good choices.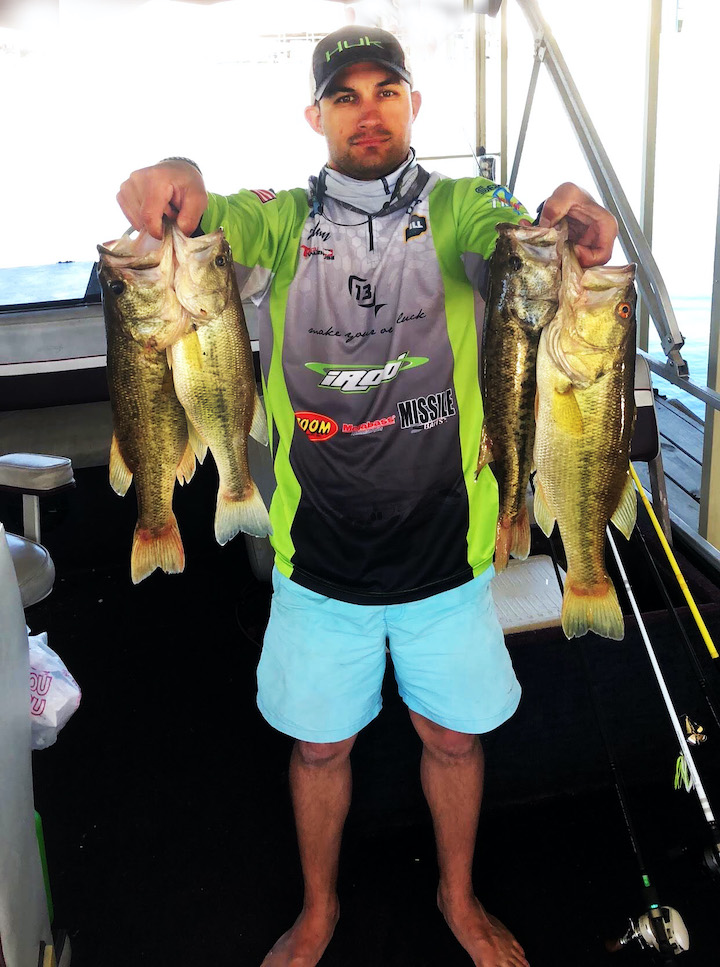 How I Fish and What I Catch at Bankhead Lake for Largemouth Bass, Spotted Bass, Saltwater Stripers and Hybrid Striped Bass
The Bankhead area of the Black Warrior River below Lock 17 is probably the best place to bass fish in Tuscaloosa County. However, cell-phone service can be spotty to non-existent there. If I could get phone service, I'd love to go up there more to fish for bass. It is important to note this because you never know what could happen to your boat and motor while in a tournament or recreational bass fishing and the challenge it may be to get in touch with someone.
BANKHEAD AROUND LOCK 17
I've seen photos of several bass caught at Bankhead below Lock 17 in the northernmost part of Tuscaloosa County that would weigh 12-pounds-plus each. If you fish below the Lock 17 dam, bed fishing should be hot in April. This is also an area where you can catch some nice spotted bass too, fishing the current coming out of the dam.
In April, I target largemouth bass around lily pads with a rubber frog. I'll also fish Yellow Creek above Lock 17 that homes nice-sized spotted bass. I'll use an Alabama rig or a small swimbait to catch both largemouths and spots there. But if you're fishing a bass tournament, you can't use an Alabama rig with its five swimbaits in most tournaments. Some tournaments do allow bass anglers to fish three swimbaits on your Alabama rig instead of five. When the water's stained, I like a pearl-colored swimbait to catch April and May bass. I also like to fish the tailrace below the Bankhead to catch saltwater stripers and hybrid stripers that will crash the Alabama Rig and a small swimbait. If you put in at a Rock Quarry on Holt Reservoir or at the landing right below Lock 17 dam and go north, you'll be at the tailrace. If the dam's not releasing much water, you can fish closer to the dam. As always, be sure to wear your life jacket to be safe.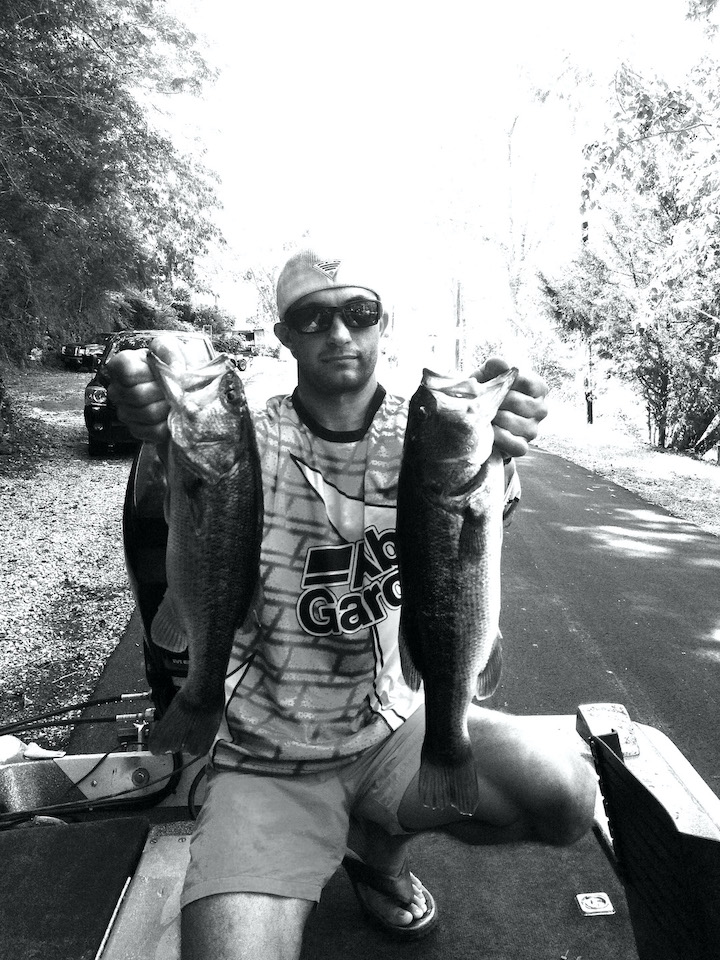 A point comes out near Lock 17 where the barges come out of the lock on the left side of the lock, as you look upriver. I'll fish the bank from that point all the way up to the lock and the spillway. Be very careful when fishing this area because the underwater rocks there can damage your motor. I've caught primarily spotted bass in this region – even some 4-1/2 to 5 pounders with 2-1/2-pound spots fairly common. I rarely catch any largemouths in that swift current. So much bait is in this area that it also attracts plenty of hybrid bass and saltwater striped bass. The biggest saltwater striper I've caught there weighed 40 pounds, and I've caught some large hybrids up there also.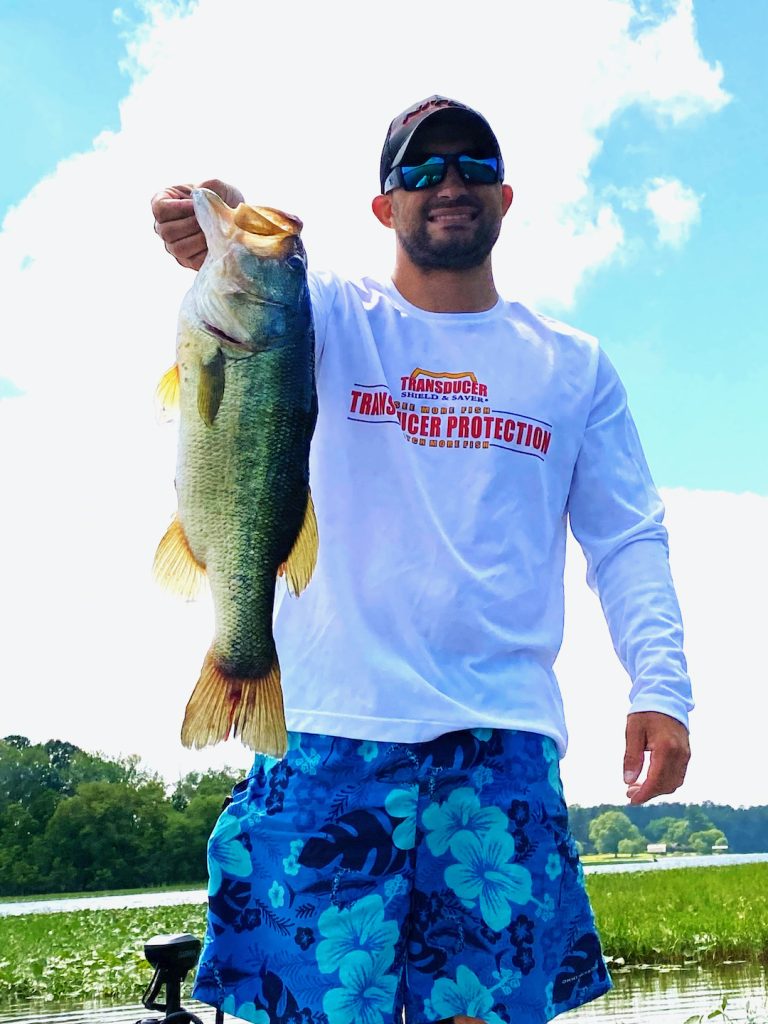 If the water is running at Lock 17, you'll lose numbers of Alabama rigs due to the many rocks in that region. When I'm fishing there, I fish with braided line instead of fluorocarbon or monofilament. In that section of the river, I'll fish a Keitech swimbait in a 3-point size on a 1/2-ounce jig head. I'll fish this swimbait on spinning tackle, cast it out and reel it back to the boat very slowly. If little current is running, your bait will sink faster to reach the target zone where the bass will be holding. If a lot of current is running, you'll have to cast the swimbait across the current and let the swimbait sink longer to reach the depths where the bass are concentrating.
You'll also find some holes in the tailrace, in the bottom at Lock 17 about 10-feet deep, and other holes even deeper. The bass sit in those holes and attack shad as they come over the lip of the break. I'll use a fluorocarbon leader to start with, but if I'm losing too-many swimbaits, I'll fish with a 15-pound-test Seaguar braid or the new Seaguar TactX Camo Braid line. What I like about this new TactX is that it's a braided line with an 8-pound-test fluorocarbon leader that comes packaged with it. I wouldn't fish a leader less than 8-pound test there because the bass in that current fight hard and can break smaller leaders.
BANKHEAD
At Bankhead, I prefer to fish with a 7' rod with 7 feet of A 15-pound-test fluorocarbon line tied to 15-pound-test braided line. I'll reel down 7' of that 15-pound-test fluorocarbon into my reel and then turn the handle of the reel until I have a 15-foot-long fluorocarbon leader. I like to cast a swimbait out and use my Garmin LiveScope to watch the swimbait fall to know when to start a slow retrieve.
Another lure I fish in the current up by the dam is a small Megabass Vision ONETEN+1 jerkbait. I'll fish it on a 6'6" or a 6'10" jerkbait rod made by iRod. In stained water, I like that lure in OB Stain Reaction or a pearl with chartreuse. In cleaner water, I prefer the Algney Bone, Natural Shad or GP Pro Blue II colors.
Where I Catch Bass at Holt Reservoir
When I fish closer to the cities of Tuscaloosa and Northport at Holt Reservoir, I like to fish Rocky Branch Creek on Holt Reservoir. The further you go back in this creek in April and May, the better the bass fishing will be. Rocky Branch Creek has a landing and a recreational area where people swim. When the bass are moving into Rocky Branch Creek from deep water for the spawn, I'll fish down the bank all the way to the back of the creek where the bass will be spawning. When they finish spawning, I'll fish along the banks of Rocky Branch and catch the bass when they're swimming back to their deep-water homes.
If you go all the way to the back of Rocky Branch, the creek splits. On the right-hand side of that creek is a deep channel, and I've caught a lot of good bass on jerkbaits there. I've also caught really-nice bass on the left side of the split. I like to fish these two splits all the way to the back of the creek where the water's running into the creek.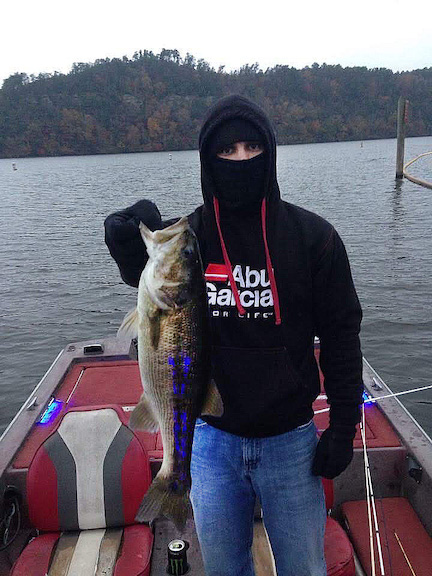 Another productive place to fish for bass at Rocky Branch is the point where those two creeks come together. I'll catch bass with a swim jig fishing that point. Also, I've caught some very-nice crappie there when fishing for bass. I caught 10 giant crappie in February 2022 while I was bass fishing. When I spotted them on my Garmin LiveScope, I thought they were bass because they were so big. The majority of those fish weighed 2-1/2 pounds, which was big for Warrior River crappie.
What About the Bass-Fishing Potential at the Warrior River Now and in the Future
I don't get to fish the Warrior River as much as I want to because of all the college tournaments I fish. I've got three out-of-town tournaments to fish in April. In an average month, I'll fish three to four tournaments on the weekends. Besides the collegiate tournaments, I'll be fishing BFL tournaments in the fall and some open tournaments as well.
The Black Warrior River in Tuscaloosa County is pretty much overlooked by most of the state's anglers, because they never see or hear anything about the quality bass fishing we have here. Most of the UA Fishing Team fishes collegiate tournaments, so they are gone on the weekend when tournaments are being held in Tuscaloosa. I think many anglers are fishing Lake Tuscaloosa, which doesn't have near as productive fishing as the river has. But they fish Lake Tuscaloosa mainly because they have cell-phone service there. If you fish out around Riverview on Oliver Reservoir, you'll have good cell service. There is cellphone service at Oliver, and I know Fosters has put in more cellphone towers.
I believe the Black Warrior River fishing from Lock 17 down to Moundville, Alabama, is a hidden gem in the bass-fishing world. If anglers had a bigger landing near Tuscaloosa and Northport where five to seven boats could put in, there would be more tournament fishing on the Black Warrior River in Tuscaloosa County than there is today.