Fishing in Tuscaloosa County
Editor's Note: 27-year-old Jalen Conner is a native of Tuscaloosa and has been fishing in Tuscaloosa County's Holt Reservoir for eight years. A criminal justice student at Tuscaloosa's Stillman College, Conner fishes two tournament trails – the S.A.B.A and the Jim Austin.
I like to fish the lower end of Oliver Lake during football season, when the University of Alabama plays its home games because the water in that section of the Black Warrior River tends to be a little-more stained at that time of the year. When most people are either at Alabama football games or deer hunting here in Alabama, my fishing coach and I can catch spotted bass all day long at Oliver. We may be the only boat on that section of the river at that time of the year.
We like to fish the creek mouths in the Moundville section of the Black Warrior River. When currents coming through Oliver Lake in the fall, bass like to hold in the creek mouths at that time of the year. They'll be feeding on shad and worms being brought to them by the upriver current. We can consistently catch 2–3-pound spotted bass and often even bigger spotted bass in the fall at Oliver.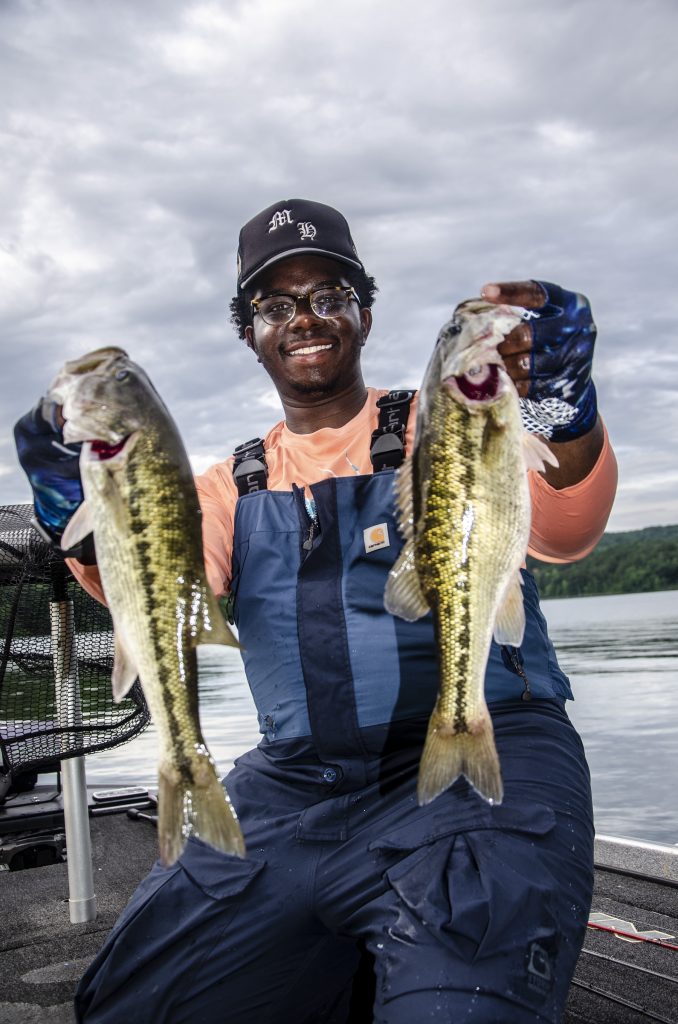 Fishing in Tuscaloosa County
Editor's Note: 34-year-old Adam Hollingsworth is the President of the University of Alabama Fishing Team and explains, "I went back to college because I spent the first years of my life after high school in the military and as a police officer and eventually wanted to become a U.S. Marshal. I currently have a degree in criminology and plan to start my master's degree at the University of Alabama in the fall of 2022."
When it comes to fishing in Tuscaloosa County, to catch summertime bass at Tuscaloosa County's Holt Reservoir, my primary lure is a Megabass Ito Vision 110+1 Jerkbait in a GP Pro Blue II color that I keep on my rod almost all year long. I'll be constantly casting and retrieving. This jerkbait runs about 10-15 feet deep, and I'll use a jerk-jerk-pause type of retrieve and keep the bait moving, until I get a strike. That tells me what cadence the bass want and whether they'll attack while the lure is moving or sitting still. I'll work this lure on an iRod Genesis II jerkbait-exclusive rod that's a medium-action 6'10" long rod. It has a soft tip that helps give the bass a little more of the lure when the bass is jumping and shaking the bait. My reel is a Lew's HyperMag reel with an 8.3:1 gear ratio, and my line is 10-pound Seaguar Tatsu.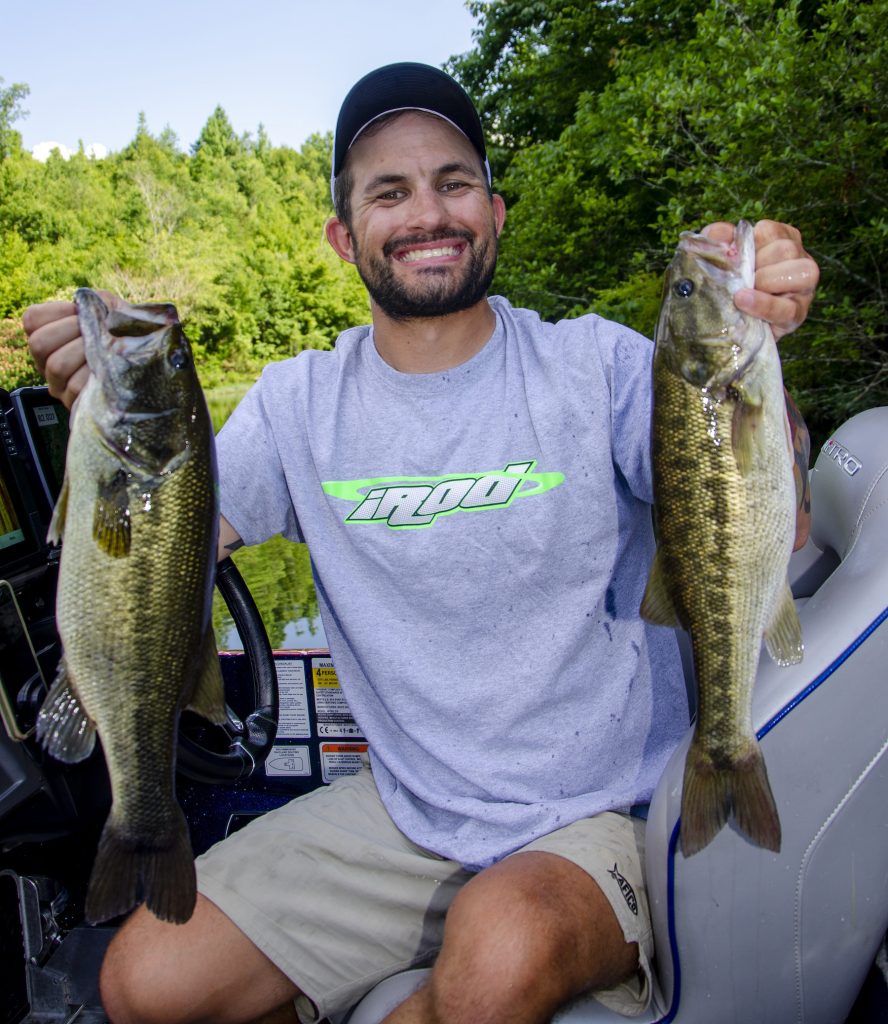 Another of my favorite lures is the Jackal Gavacho in a gill pattern. Since the bluegill are spawning during the summertime in shallow water, you'll see this bait I'm holding has numbers of bass teeth marks on it. I'll fish this lure with an iRod Croaker Crusher series, a technique-specific rod, 7'8" long that's heavy action. I'll pair that with Lew's HyperMag 7.5:1 gear ratio reel. So, if I hook into a 5-pound bass, I can winch it out of the cover. I'll fish with 50-pound test Power Pro braided line and tie the braid straight to the lure. I don't use a fluorocarbon leader.
I'll also fish in Tuscaloosa County in the summer at Holt with a Megabass Uoze Swim Jig with a 3/8-ounce head. If I'm fishing another lake somewhere with bigger bass, I'll use a 1/2-ounce head. I put a Rattlin' Chunk from Googan Squad and sometimes a Googan Squad Krackin' Craw as a trailer on this lure. I like the iRod Genesis III that's a stone-cold swim-and-vibrating jig rod. At Holt, I've caught bass weighing 5+ pounds, while using this set-up. My line is 20-pound-test Seaguar Tatsu, and my reel is a Lew's HyperMag with a 7.5:1 gear ratio. I fish lures in a bluegill pattern, since bluegills are spawning in the shallows during the summer months. I'll cast the Megabass Uoze Swim Jig right up against the bank in the summer. If the grass is scattered, I'll do what's called an "Alabama Shake," as I retrieve the bait. I'll also use this same lure on a steady retrieve because the lure has legs that kick as you retrieve it. This lure has a spinner on it, and I've caught bass with and without the spinner.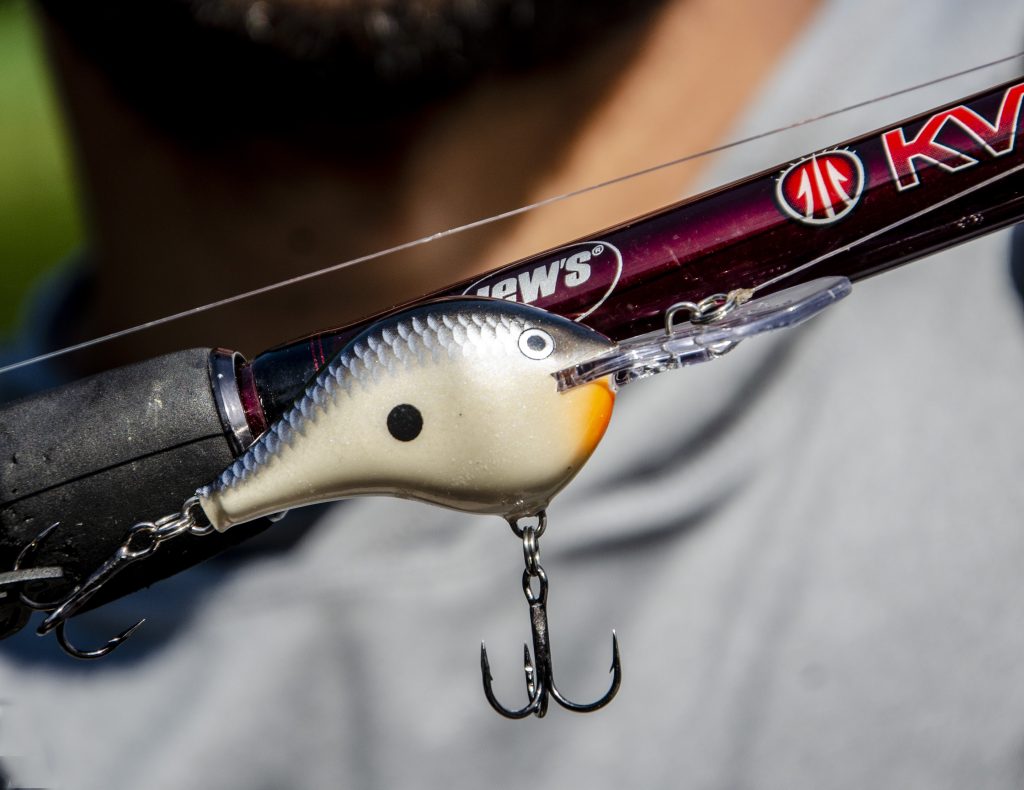 When I'm fishing in Tuscaloosa County deep in the summertime, I'll use the Rapala DT 8 that goes down further than 8-feet deep – sometimes to 12 feet when I fish it on 12-pound test Yozuri Hybrid Copolymer line. The color pattern is the Ike's Custom Penguin color. My rod will be the KVD 7'4" long, medium-heavy, moderate-action, made by Lew's. I also like Lew's Tournament MP Baitcasting Reel with a 6.8:1 gear ratio.
I like the shakey head jig and the drop shot rig that I fish on a medium-action, 7'1" iRod Genesis III Finesse fishing rod. I'll also fish a Zoom Baby Brush Hog and dip the tail in chartreuse dye with garlic in it. Sometimes I'll fish the Baby Brush Hog with a steady retrieve, and other times I'll let it fall to the bottom and use a steady retrieve, while waiting for the bass to grab hold of it. I feel like I always can pick up this lure and start catching bass with it.