Editor's Note: Adam Hollingsworth is the president of the University of Alabama Fishing Team and explains, "I went back to college because I spent the first years of my life after high school in the military and as a police officer. I eventually want to be a U.S. Marshal. I currently have a degree in criminology and plan to start my master's degree at the University of Alabama in the fall of 2022." 
In the future, the City of Northport, Alabama, while working together with others, is hoping to build a facility where 200 boats can launch and have a bait shop, as well as offer many parking spaces.
Right now, several boat ramps are close together on the lower end of Holt Lake. Rock Quarry Boat Ramp (https://www.recreation.gov/activitypass/4baaca95-f6a4-11ea-ab86-ea94e31cc891) and Rocky Branch Launch (https://www.recreation.gov/activitypass/cb0dde80-f6a4-11ea-bc4c-a2c064eb4d04), that's larger than Rock Quarry, are only one mile apart. Deerlick Creek Campground (https://www.recreation.gov/camping/campgrounds/232571) is located in-between these marinas and isn't as big. When you come out of Rock Quarry Boat Launch you'll see Eagle Cove Marina (https://marinas.com/view/marina/7ecqx9v_Eagle_Cove_Marina_and_RV_Park_Cottondale_AL_United_States), which is where anglers generally will meet to start a tournament. When you combine the capabilities of all the marinas right now, 100 boats can be launched for a tournament.
One of the best bass-fishing locations as you come out of Rock Quarry Marina and go north toward the Lock 17 Dam, is Red Eye, found on the right-hand bank as you go upriver and only a 10-minute ride. You'll go past a coal chute where coal is loaded on barges. Generally, barges are parked on the other side of Red Eye. Several sandbars come off of this spot, and one of them is very shallow. On the weekends, many pleasure-boat riders will park there and have a party. I've found that the outside edge is a good place to catch fish, and that the sandbar usually produces best when there's a current coming through the lake.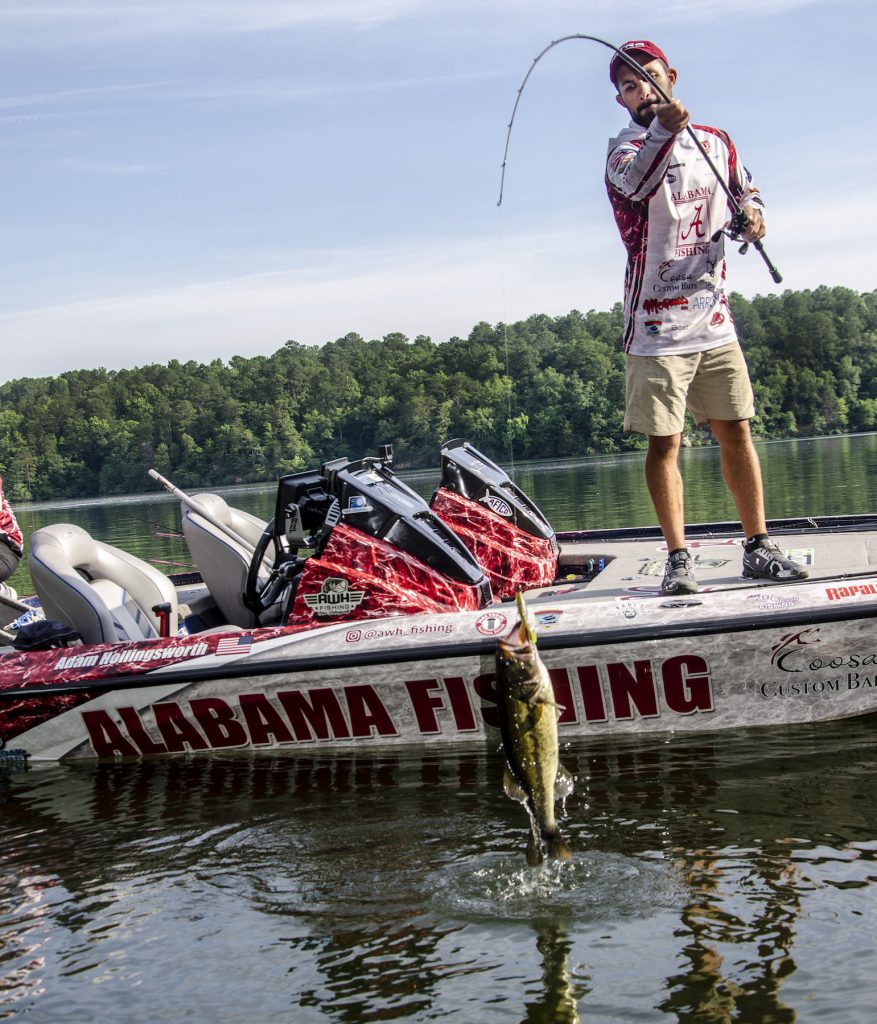 Editor's Note: Adam Hollingsworth is the president of the University of Alabama Fishing Team and explains, "I went back to college because I spent the first years of my life after high school in the military and as a police officer. I eventually want to be a U.S. Marshal. I currently have a degree in criminology and plan to start my master's degree at the University of Alabama in the fall of 2022. I love to fish for bass."
At night when the power plant at the Lock 17 isn't running, I can catch bass there with either a buzzbait or a spinner bait. Some of the best tournaments in the hot months are held at night when the spillways aren't running current. Also, you can dodge the heat of the day then, making bass fishing more fun. Most of the night tournaments begin just before dark and continue until after midnight.
My two favorite lures for fishing below Lock 17 at night are the Crusher Pro Buz buzzbait just before dark, and the Crusher Lures Moon Crusher spinner bait after dark. I prefer this spinner bait because the Moon Crusher increases my hook setting ratio. I also like its big thumper blade that triggers more bites when calling bass from long distances with the vibrations it gives off.
The two colors I like are black/hot pink and crushed tequila. I fish the Crusher Lures Moon Crusher on the edges of grass and over logs and other debris. I'll fish this lure on a 7' or a 7'3" iROD Lone Star Special in a medium-heavy action with a Lews Tournament Pro 7.5:1 gear ratio reel and PowerPro 20-pound-test braided line. 
Editor's Note: 27-year-old Jalen Conner is a native of Tuscaloosa and has been fishing Tuscaloosa County's Holt Reservoir for eight years. A criminal justice student at Tuscaloosa's Stillman College, Conner fishes two bass tournament trails – the S.A.B.A and the Jim Austin.
I'm often asked, "Why aren't more bass tournaments held on Holt and Oliver reservoirs?" I think many Alabamians don't even know where Holt or Oliver are located and probably never have read about where we fish, and what lures we use for bassing there. We're not like Guntersville Lake in North Alabama or Lake Eufaula in Southeast Alabama that have been publicized on TV and in magazines and social media. Holt and Oliver are like hidden gems on the Black Warrior River and are more community lakes that no one, except the community, knows about or fishes. Local anglers know about the great fishing available on the Warrior River in Tuscaloosa County at Holt and Oliver reservoirs. But, they don't tell anyone else, although some club tournaments are conducted here.
Another reason I believe other tournaments don't come to this section of the Black Warrior River is because most of our boat ramps are single or double. I realize that big tournaments generally are held in regions with at least five ramps and parking for 200 or more vehicles and trailers. I'd really like to see a fishing facility built here like the ones at Lake Guntersville and Lake Eufaula that bass fishermen could launch more than one or two boats from at a time and offer parking for spectators and participants.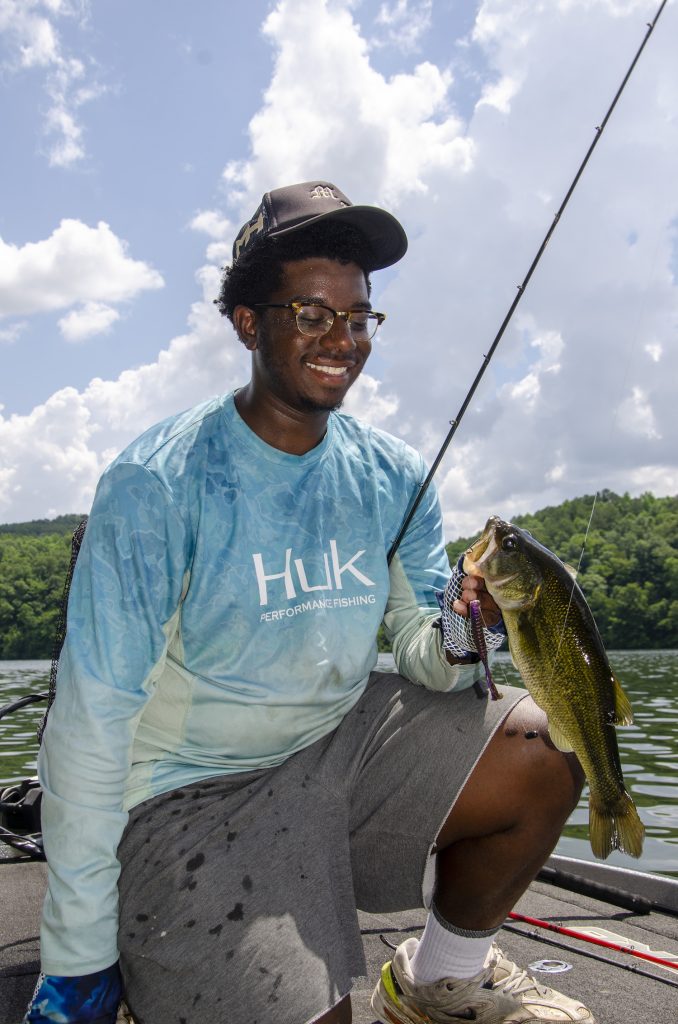 If I could create a fishing facility for Tuscaloosa County, I'd like a pavilion for contestants to bring their fish in their livewells on their boats to the weigh-in and then be able to drive their boats and vehicles to a parking lot with 200-300 parking spaces for boats and trailers. Also, I'd like to have access to restrooms near the boat launch and/or pavilion. In addition, there needs to be easy access to return the bass back into the water after each bag of fish is weighed.
I believe that realistically, this dream of mine and other Tuscaloosa County fishermen could come true in the next three or four years. The City of Northport is working to try and find enough available land to build a fishing facility like I've described and to work with the appropriate individuals or organizations that help secure the funds to build this type of facility. The facility will be for Tuscaloosa County residents and also attract larger bass-tournament trails to come here, fish in our waters, stay in our hotels and motels, eat some of the finest Southern food anywhere and meet some of the friendliest people in the world. Regardless of whether the actual site is, a fishing facility like this will help all of Tuscaloosa County.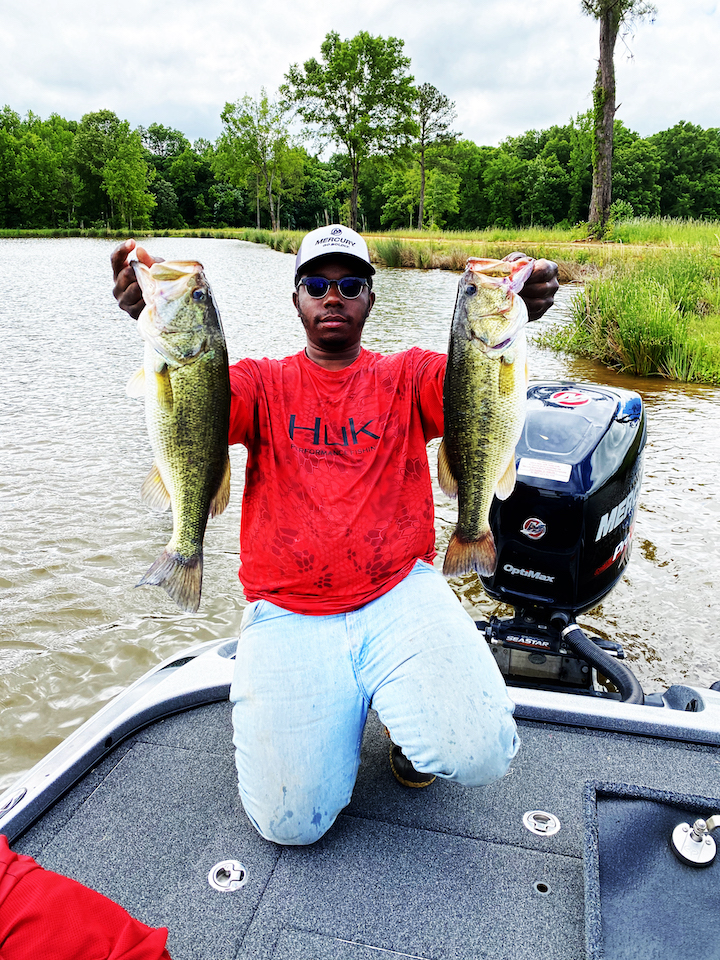 Editor's Note: Adam Hollingsworth is the president of the University of Alabama Fishing Team and explains, "I went back to college because I spent the first years of my life after high school in the military and as a police officer. I eventually want to be a U.S. Marshal. I currently have a degree in criminology and plan to start my master's degree at the University of Alabama in the fall of 2022." 
If you put your boat in at Rock Quarry Boat Ramp and go north, away from Holt Dam, you'll go around a bend, then on up a straightaway, and at the next opening on the right, that will be Pegasus Creek. You'll see a point and a shoal at the mouth of the creek. Bass like to stack-up at that point during the summer months. There's a main channel in this creek and two secondary creeks that feed into Pegasus on the right as you go up the creek. Then, you'll see that Pegasus opens-up into a big flat. Often, the bass will stack-up in those shallows chasing shad. You can catch bass on that bank. The main part of the channel is about 15-feet deep in the summer, and I'll primarily fish a Rapala DT-6 or a DT-8 crankbait there.
Less than a mile from Pegasus Creek, continuing north on the left-hand side of the river, you'll see plenty of grass that's a productive place to fish for bass, if the current is running and pushing the bass into the grass there. An underwater stump field is in that grass, and I usually come off-plane, so I won't hit those stumps. You can fish the grass and the stump row all the way down that grass line for bass.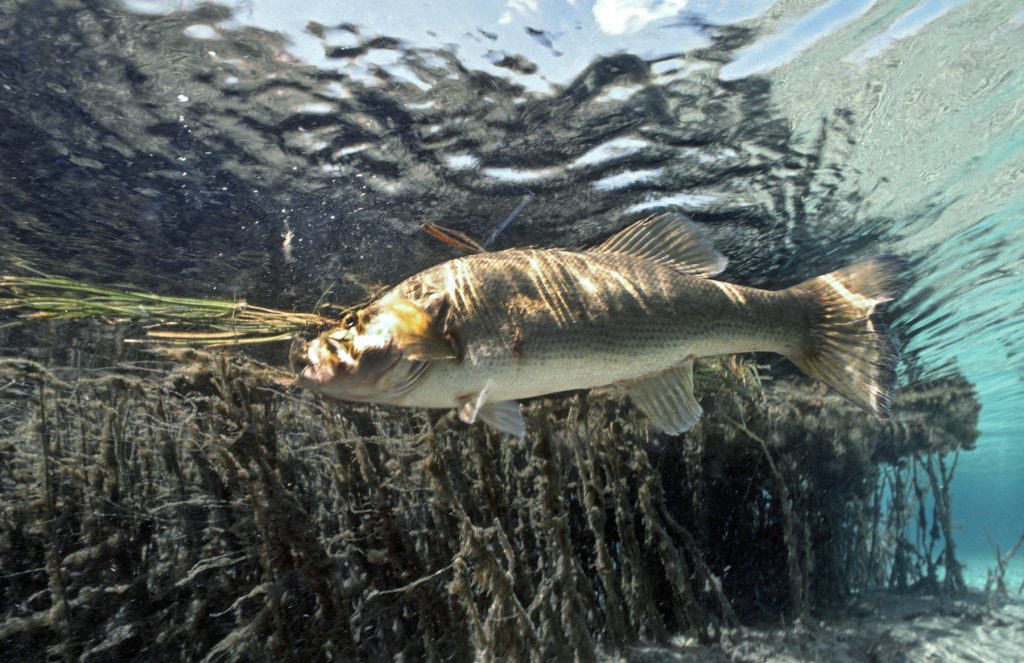 The next-productive spot I like to fish is about 2-miles upstream at Davis Creek – on the right-hand side of the river. I think that Davis Creek may be fed from a cold-water creek because there's usually a lot of clear water there. If the river's muddy, you can go into Davis Creek and identify where the muddy water and the clear water start to mix. A small ledge right at the mouth of Davis Creek is where the two, different-colored waters often mix. That's where I like to cast a crankbait. After I fish that area, I'll go up into Davis creek and start fishing a swim jig. 
When you come out of Davis Creek and go north, be sure to run your side-scan sonar to learn where old Lock 16 was located. Or, you may be able to find this old dam with your lake map or other up-to-date mapping functions. There are all types of underwater rubble where the dam blew out. You can fish the upcurrent side or the downcurrent side of old Lock 16. I like to fish with a jerkbait there. I've also enjoyed some really-good action fishing at night around this underwater dam.
You can tell when you're getting close to old Lock 16 because a boat ramp is on your right with a small swimming area. You can see some concrete on the right-hand side above the swimming area that once was a part of the old lock and dam. On the left-hand side is some concrete leftover from the bridge that was once there. The underwater rubble from Lock 16 is about 16- to 25-feet deep that provides an underwater current break where the bass like to hold and ambush baitfish as they come over the top of the underwater dam. I've caught spotted bass before in the middle of the dam at old Lock 16 and largemouths on either side of the dam near the bank.
When you leave old Lock 16 and continue upriver, you'll see Lock 17. When the power plant at the dam is generating current, that's when you can fish that current and catch some very-nice spotted bass.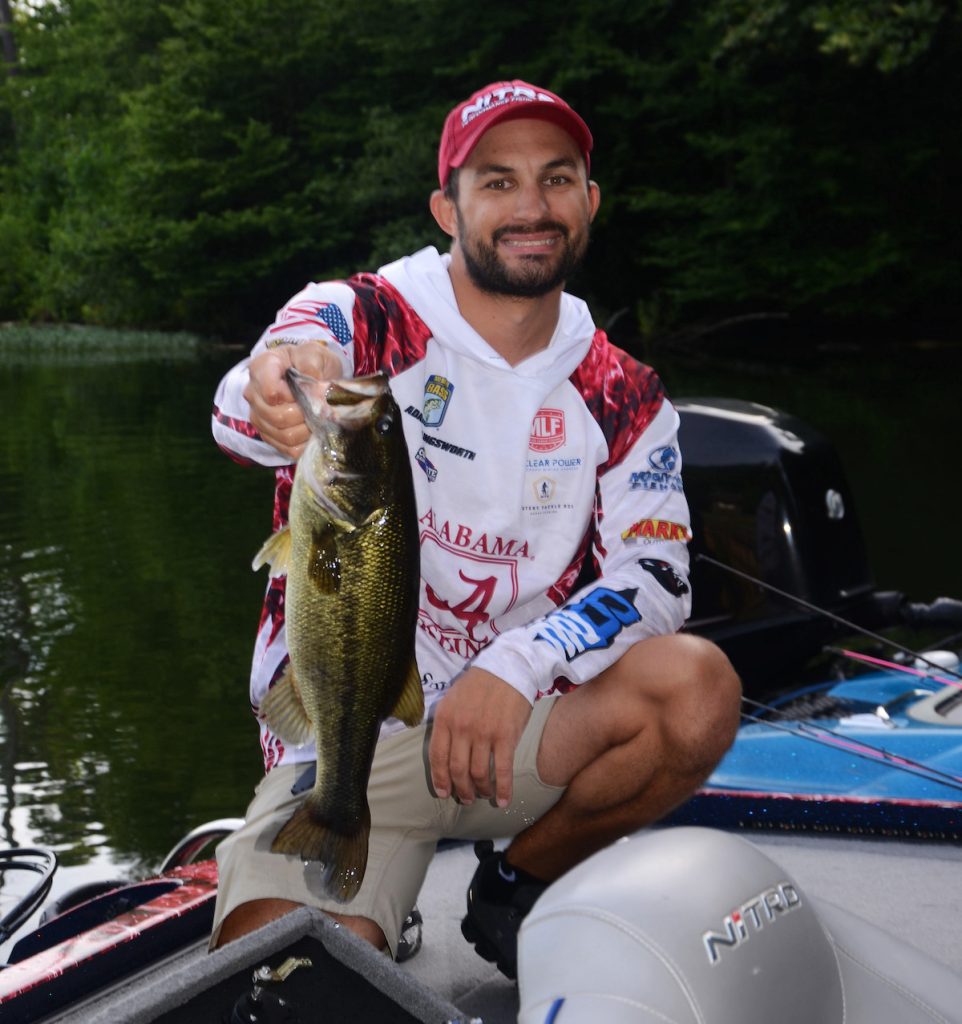 Editor's Note: 27-year-old Jalen Conner is a native of Tuscaloosa and has been fishing in Tuscaloosa County's Holt Reservoir for eight years. A criminal justice student at Tuscaloosa's Stillman College, Conner fishes two tournament trails – the S.A.B.A. and the Jim Austin.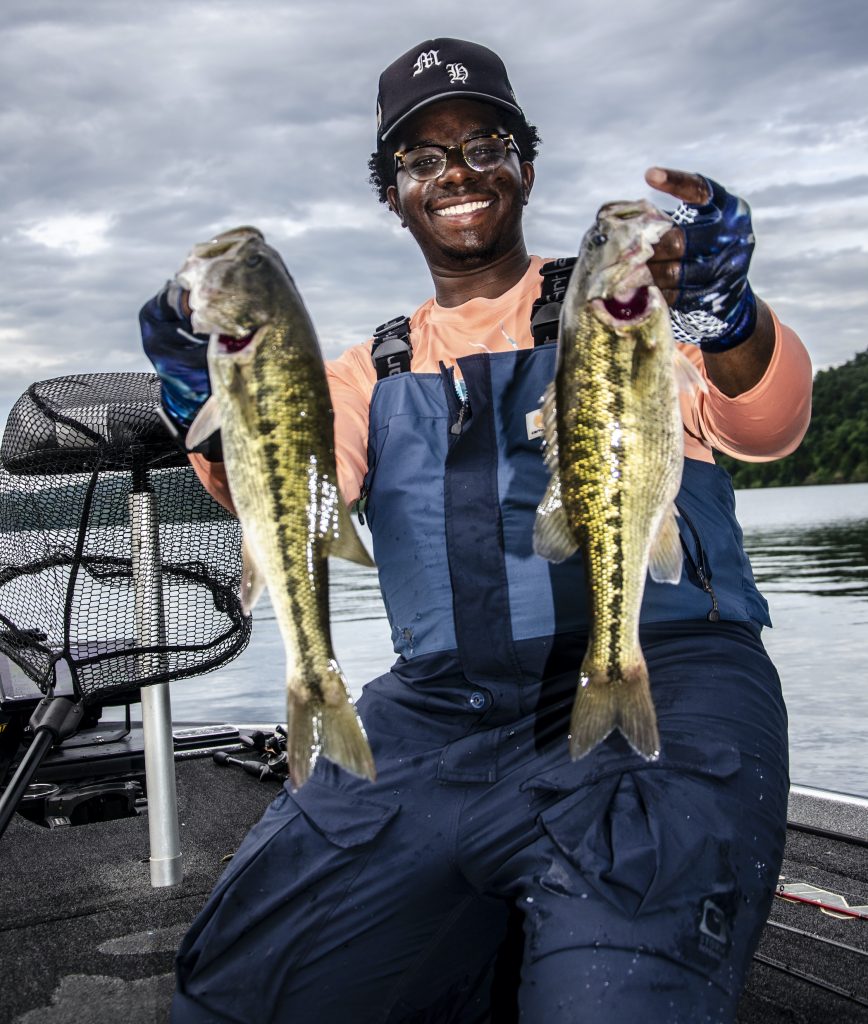 Fish the Bankhead Tailrace to Catch a Wide Variety of Fish:
When fishing in Tuscaloosa County, according to Conner, "When only the generators are running at Bankhead Lock and Dam, you can catch a wide variety of fish in the tailrace, including saltwater stripers, hybrid striped bass, white bass, catfish and crappie. I've seen a 65-pound blue catfish that was caught in that tailrace, and the tailrace homes plenty of eating-size cats too. I've also had some friends who have limited out quickly on catching crappie in the tailrace because they know where the eddy holes are, and the places where the crappie hold when the current's running.
Lock 17 Dam is the Bankhead tailrace border between Tuscaloosa County to the south and Walker County to the north. Numbers of spotted bass are in this tailrace when the current's running, especially when the floodgates are open and the power-generating plant is producing current at the same time. Depending on how much current is moving through the lake, the lake may be 3-4 feet high above normal pool. Once there's little or no current being released by Bankhead Dam, Holt Lake may be 3-4 feet below normal pool. When the current's running strong, and I want to catch largemouths, I'll go further downstream and fish mainly grass and bank cover." 
Fish Holt Lake with Jalen Conner and Outdoor Writer John E. Phillips:
The weatherman had promised a 50% chance of rain when Jalen Conner and I had set a date to fish Holt Reservoir. Because we both realized that the weatherman could be 50% wrong, we decided to go ahead and fish and carried our rain suits with us. We were fishing on the first Thursday in June, 2022. Although we ran almost the entire 20-mile stretch of the reservoir from Bankhead Dam to Holt Dam, we only saw three or four boats all day, with only one boat having a fisherman in it. We put in at Rock Quarry Landing with its boat ramps, restroom facilities and parking (more info here) and went upriver first. 
During the summer months, Conner believes that the best fishing is upriver.
"Another advantage we have when we fish this section of the river during the week is that we rarely, if ever, see jet skis or people water skiing. This section of the Black Warrior River in Tuscaloosa County is unknown to most Alabama anglers. If you enjoy fishing for bass in a river with plenty of grass, points, sandbars, quality backwater and pocket areas and underwater humps as well as islands and ledges in the middle of the river, then Holt Reservoir on the Black Warrior River near Tuscaloosa, is a hidden gem for you to bass fish."
This section of the Black Warrior River runs through some of the most-rural areas in Tuscaloosa County and receives little or no publicity. So, the fishing pressure is almost nonexistent during the week there.
As we continue to raise awareness around the opportunities to fish in Tuscaloosa County, especially along the Black Warrior River, Toby Wilson continues to share his advice and expertise.
Editor's Note: Toby Wilson is a management consultant and has been fishing the Black Warrior River in Tuscaloosa County for the last seven years. He's also heavily involved with high-school bass fishing in Tuscaloosa County with his three sons through Holy Spirit High School. His eldest, Garrett, is 18-years old, his son, Matthew is 16 years old, and his youngest son, Chase, is 15-years old.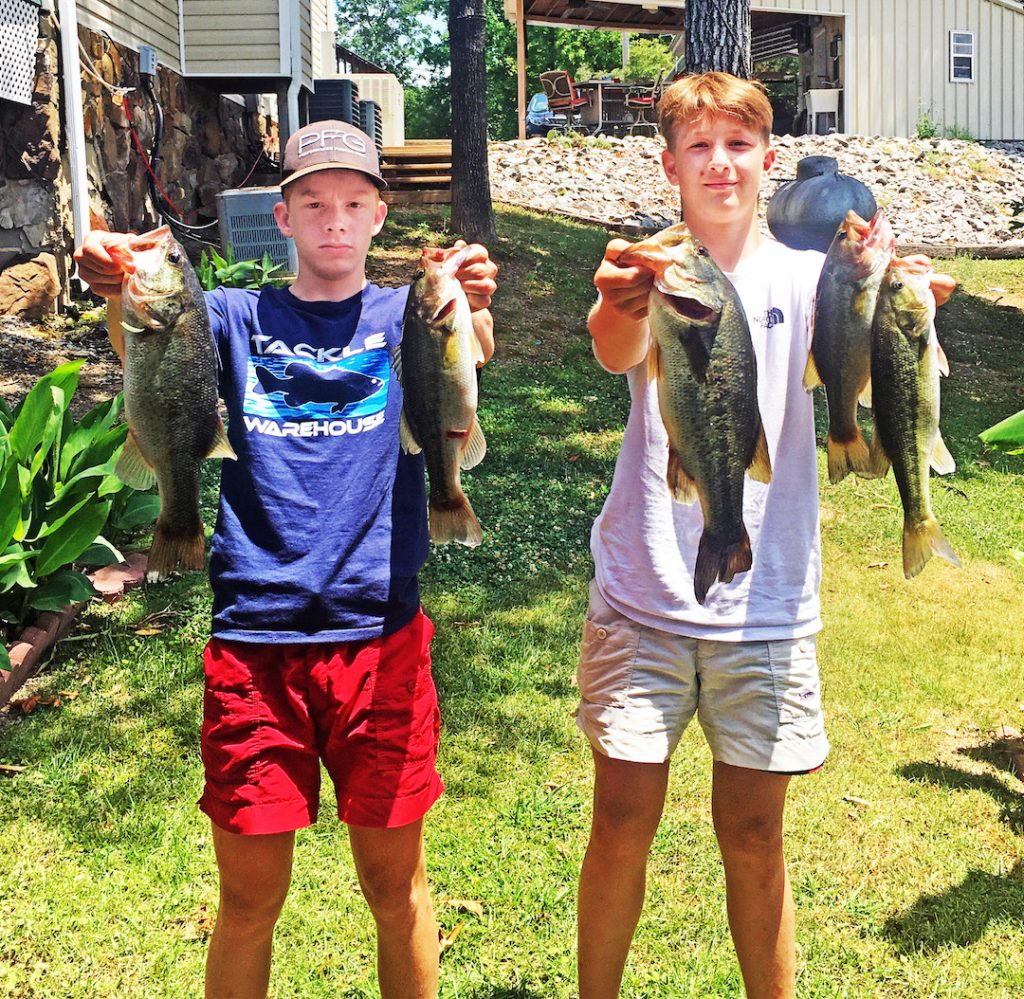 Toby Wilson: I have two sons who bass fish on the high-school circuit. I've been the coach for the Holy Spirit High School fishing team for almost six years. This year we have two people on the team, but we have had three before. I'm working on teaching the team how to fish well enough to move into the college circuits. But like most youngsters, they'd rather me take them places where I know bass are there to catch, rather than finding the bass themselves. My son Garrett already has reached-out to the fishing coach for the University of Alabama Fishing Team and will start there in the fall. I'm planning to help both of my sons to bass fish when they go to college too. I have two bass boats – one that was my dad's boat, and the other is mine.
John E. Phillips: Toby, if someone wants to fish in Tuscaloosa County on the Black Warrior River that runs the length of the county, where can they go to get the best information on tournament results, available fishing tournaments and high school and college programs?
Wilson: Check out Bob Hale's L&L Marine website. Bob keeps up with most of the tournaments in this area. Dustin Wright, the fishing coach for Tuscaloosa County Northside High School and the District Director for the Alabama Bass Nation, has information on tournaments located in Tuscaloosa too.
Phillips: To fish the Black Warrior River in Tuscaloosa County to catch bass, where and how will you fish, what lures will you use, and what strategies will you employ to produce the five-fish limit needed to be competitive in a tournament?
Wilson: In the spring of the year, the backwater areas that we have available to fish for bass can be very productive. These same regions may not be accessible in the winter, but in the spring and early summer, this section of the Warrior River has a lot of high water that gives anglers access to the backwaters that perhaps we can't fish during other times of the year.
When I want to fish in Tuscaloosa County, some of my favorite backwaters are in Oliver Lake, all the way down to Lock 6. There seems to be better backwater fishing near the town of Akron and Lock 8 than there is up toward the northern portion of Oliver. Many of these backwaters don't even have names. Because of the high water, you can find stained water in these backwater regions. The lures that work the best there for bass are lures that make a noise, like the chatterbait and the square bill crankbait. The most-productive color generally is white in both the chatterbait and the crankbait.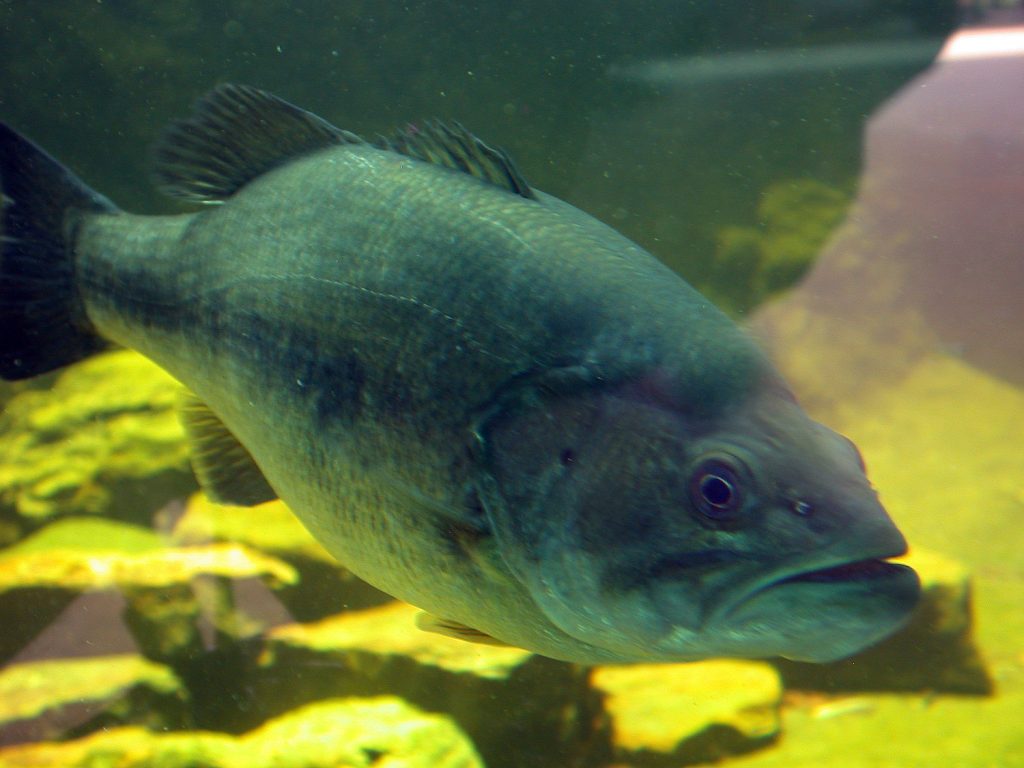 If you're interested in learning more about fishing on the Black Warrior River and particular baits that local fishermen have found to be beneficial, you've come to the right spot!
Editor's Note: Toby Wilson is a management consultant and has been fishing on the Black Warrior River in Tuscaloosa County for the last seven years. He's also heavily involved with high-school bass fishing in Tuscaloosa County with his three sons through Holy Spirit High School. His eldest, Garrett, is 18-years old, his son, Matthew is 16-years old, and his youngest son, Chase, is 15-years old.
John E. Phillips: What size of lures are you using to catch bass on the lower end of Oliver Lake?
Toby Wilson: I prefer to fish either a 3/8-ounce or a 1/2-ounce chatterbait with a white skirt and a soft-plastic Rage Tail trailer. Occasionally, I'll use a Z-Craw trailer as well.
Phillips: How are you fishing the chatterbait?
Wilson: Often we'll just cast and retrieve this lure. But there's a lot of wood in Oliver's backwater regions. We've found that banging the chatterbait up against logs in the water, fallen trees and any other type of wood may cause a bass to strike. Other times, we'll fish the chatterbait slowly on the bottom. If the grass hasn't grown-up to the surface, we'll fish the chatterbait through the lily-pad stems, the grass stems and the underwater stumps. We want the chatterbait to hit the wood and trigger a reaction strike.
Phillips: The other lure you mentioned was a square-bill crankbait. Which is your favorite square-bill crankbait lure, and how are you fishing it?
Wilson: I use quite a few different manufacturers. I like Booyah, Bomber, Bill Norman and Lucky Craft. My boys and I fish a variety of assorted colors, such as white, sexy shad and blue back with chartreuse sides. We primarily fish bright colors that the bass can see in Oliver's stained water.
Phillips: How are you working the square bills?
Wilson: We're trying to crank the square bills and bounce them off the wood cover.
Phillips: Most people don't like to run crankbaits through heavy wood cover because they're afraid they'll lose the crankbaits. How do you solve this problem?
Wilson: Some days you don't lose any lures, and on some days you lose a lot. The best thing to do is bring numbers of crankbaits with you when you're planning to fish the backwaters on Oliver Lake. We've learned that if we're not banging the square bills into the wood, we don't get as many strikes as we do when we crash the crankbaits into the wood cover off the main river channel.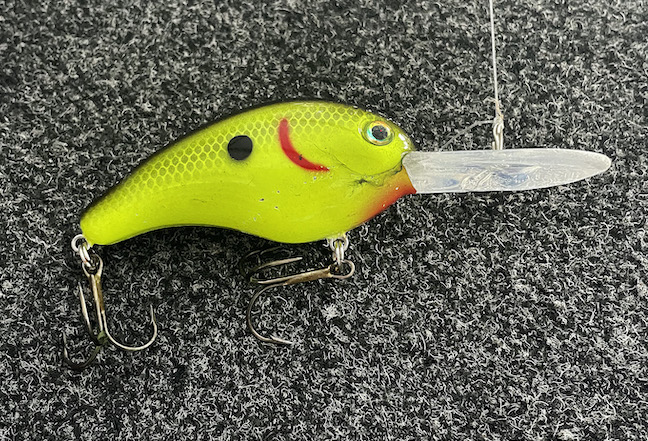 Phillips: Two effective ways to fish a crankbait through wood cover is to pause the crankbait as soon as it hits the cover or burn the crankbait through the cover. Which tactic do you think is the most-productive at Oliver?
Wilson: We let the bass tell us which retrieve they'll bite the best.
Phillips: What size bass are you catching in the backwater areas, and how many are you catching?
Wilson: Most of the average bass we catch will weigh 1-1/2-pounds to 4 pounds. But, every so often, we will catch a 5 pounder.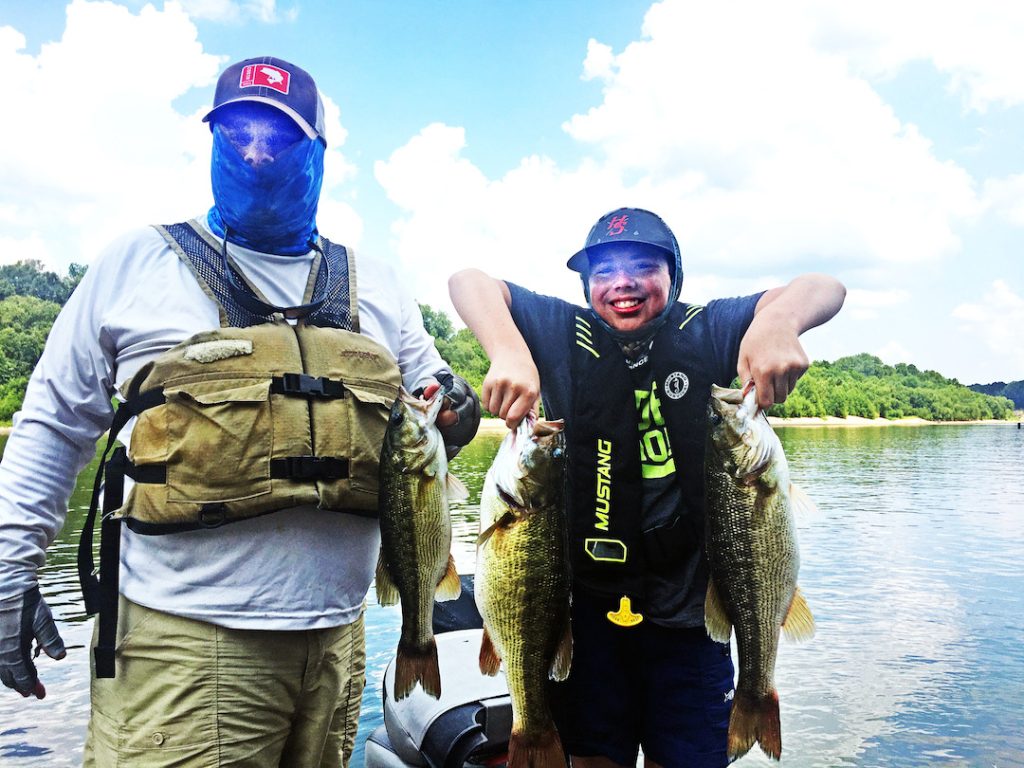 Interested in fishing in Tuscaloosa County? Longtime fisherman and native to the area, Dalton Bobo, shares insights and tips to springtime bass fishing in Tuscaloosa County.
Editor's Note: Dalton Bobo, longtime resident of Northport, Alabama, rose to nationwide bass-fishing fame at the 1997 Bassmaster Classic held on Logan Martin Lake near Birmingham, Ala. On the final day, Bobo went to the scales with the winning bag of bass. But before Bobo's limit of bass was weighed, the officials determined that one of his bass had died and imposed a 4-ounce penalty that was deducted from his total fish weight. He lost the Classic by 1 ounce and its $100,000 prize. However, that loss catapulted Bobo to a 14-year professional bass-fishing career, after which he guided for several years on the Black Warrior River in Tuscaloosa County.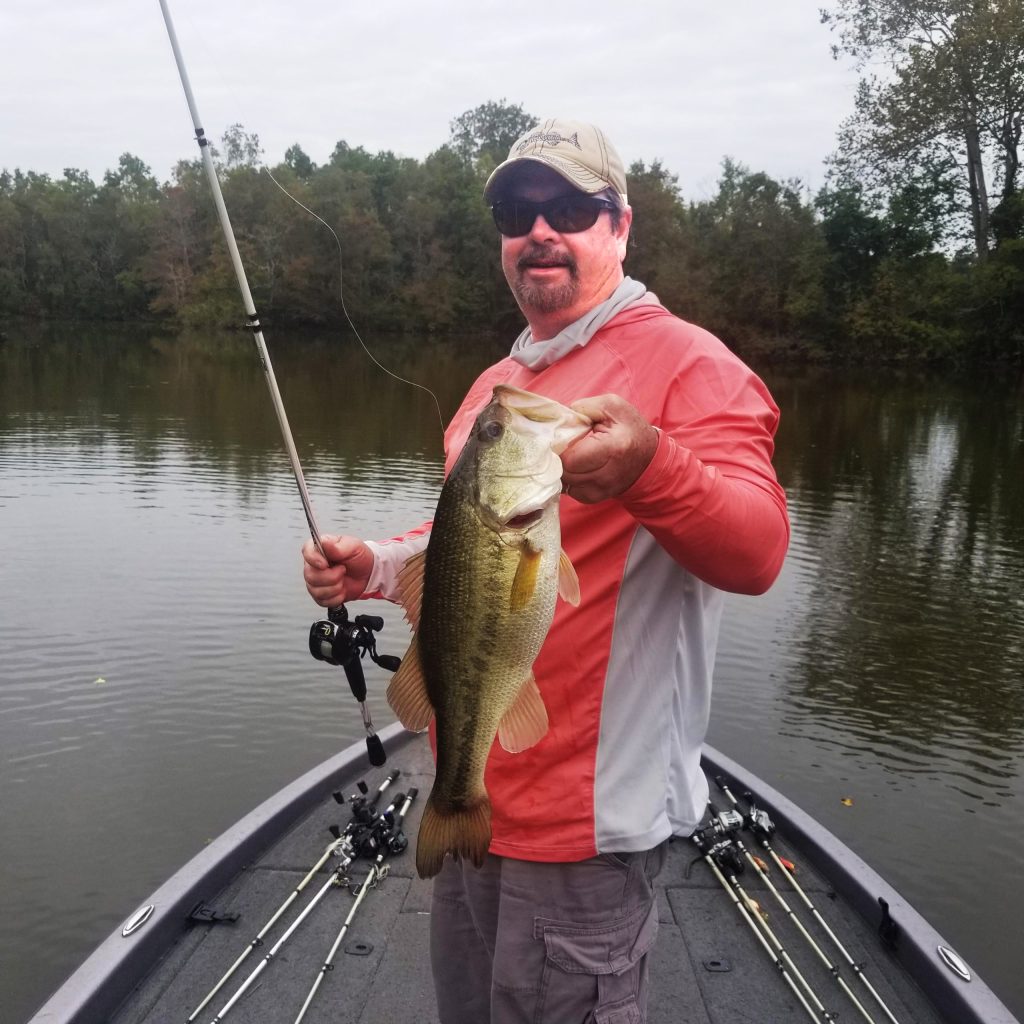 Tuscaloosa's Warrior River – The Best Place Bobo says to Train Tournament Bass Fishermen:
I enjoy fishing the Warrior River from below Lock 17 – the Holt Reservoir – all the way downriver. This section of the Warrior River can prepare a tournament fisherman for almost any type of water a bass angler may compete on, and I've fished here all my life.
What most people don't realize is that the Black Warrior River in Tuscaloosa County is a very-diverse fishery. Bankhead Lake (the reservoir above Lock 17) and Holt Lake (below Lock 17) on the River both can be considered highland-reservoir types of lakes or mountain lakes. Numerous creeks run into Bankhead and Holt, and many hollows dump fresh water into the Black Warrior River system after a rain. These two lakes are in the foothills of the Appalachian Mountains. They're fed by the Mulberry Fork and the Locust Fork that come together to create the Black Warrior River. The lower end of Holt Reservoir is almost in the city limits of Tuscaloosa. When you leave Holt Lake and go downriver, you're moving into Oliver Lake, which is more of a coastal plains kind of lake. The Black Warrior from Tuscaloosa south is a lowland type of river.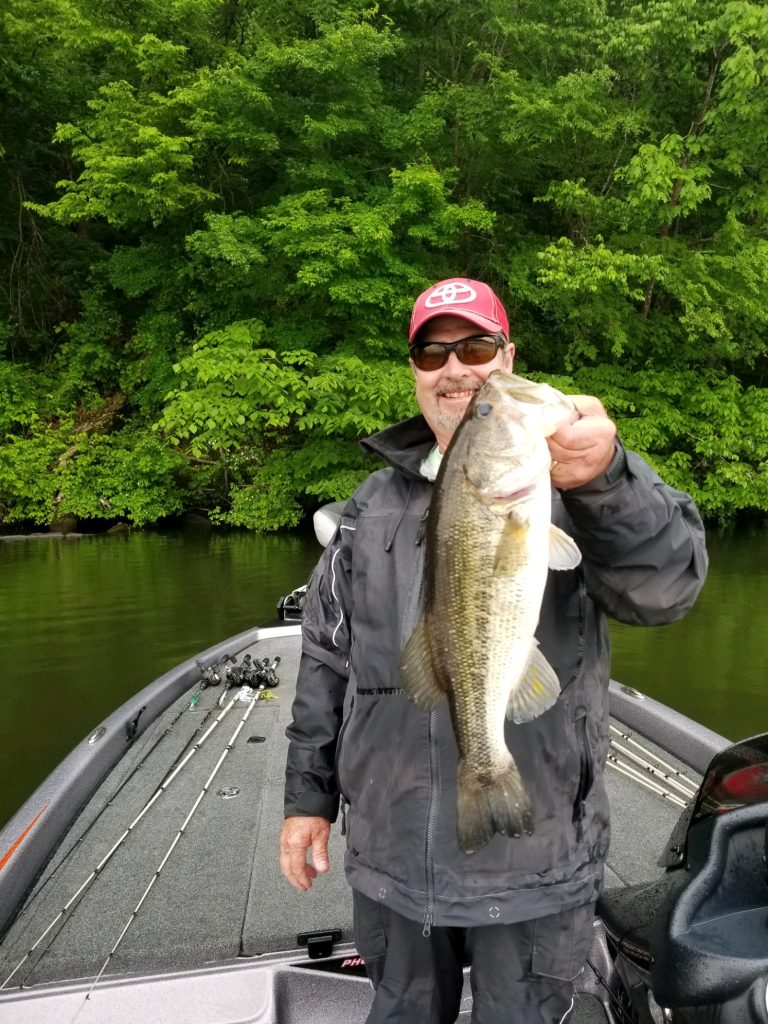 If a tournament angler learns to fish the upper lakes (Bankhead and Holt) of the Warrior River in Tuscaloosa County, he'll become schooled on how to fish highland reservoir types of lakes. If next he goes to just below the city of Tuscaloosa to the Oliver pool, he'll learn how to fish lowland lakes. The water at Oliver is more dingy, often contains a lot of stain and color and has natural creeks and oxbow lakes and sloughs coming off its main river channel.
Here in Tuscaloosa and Northport, Ala., we have one of the most-diverse fisheries anywhere in the nation. Also, in the upper portion of Bankhead Reservoir is Smith Lake Dam that backs up to Smith Lake – a big, clear, deep highland reservoir that feeds into the Black Warrior River. Because the water is pulled from the bottom of Smith Lake, even if the Tuscaloosa area has giant rains, the water can be gin clear above Bankhead Lock and Dam and the headwaters of Holt Reservoir. In fishing Tuscaloosa County, there's enough diversity to help train any tournament fisherman to fish a wide variety of water.
Bankhead and Holt Reservoirs Grow Big Bass:
To catch big bass, both Bankhead and Holt reservoirs in Tuscaloosa's Black Warrior River are where you can get your string stretched and make the drag on your reel squeal. These two impoundments have blueback herring in them that they've never had before. The blueback herring – a large forage fish – has helped to grow bass bigger and quicker than they've grown in the past, while feeding primarily on threadfish shad and bluegills.
Three years ago, most bass tournaments held on these two lakes would be won by a five-bass limit of 16-17 pounds. Now, three years later, a five-fish limit of 23-24 pounds of bass is needed to win a tournament at either lake. The big bass caught in any tournament there could weigh 9-10 pounds. For tournament fishermen who keep up with the stats on lakes and the tournament online, they know to even have a chance at winning, they'll have to have upwards of a five-fish limit of 25 pounds. And, if you expect to catch the big fish of the tournament, that big bass will have to weigh 8+ pounds. I really believe that the blueback herring that have been introduced to the lake is the main reason for the growth of the bass in those two reservoirs in the northern part of Tuscaloosa County.
A good number of saltwater stripers and hybrid striped bass live in Bankhead and Holt reservoirs too that definitely will bow your rod, stretch your string and make your reel sound like a siren going off when those big fish pull the drag so fast off your reel.
Lake Tuscaloosa:
Lake Tuscaloosa is a water-source lake for the cities of Tuscaloosa and Northport. Spotted bass, largemouth bass and some good-sized crappie fish live there. But the bass population and the size of those bass is declining.
Oliver Reservoir:
Below Holt in Tuscaloosa County is Oliver Reservoir that's more of a riverine kind of lake with little backwater and feeder creeks. Some 6-8 pound spotted bass have been weighed in at Oliver Lake during tournaments. When you leave Tuscaloosa and go downriver, for about 40 miles is typical river habitat with laid-down trees, stumps and grass, making Oliver one of my favorite places to fish for bass. Sandbars on Oliver are where the bass often tend to congregate. You can have a really fun day of bass fishing on this downriver stretch of the Black Warrior River below the city of Tuscaloosa. I catch about as many largemouths on this section of the river, as I do spotted bass.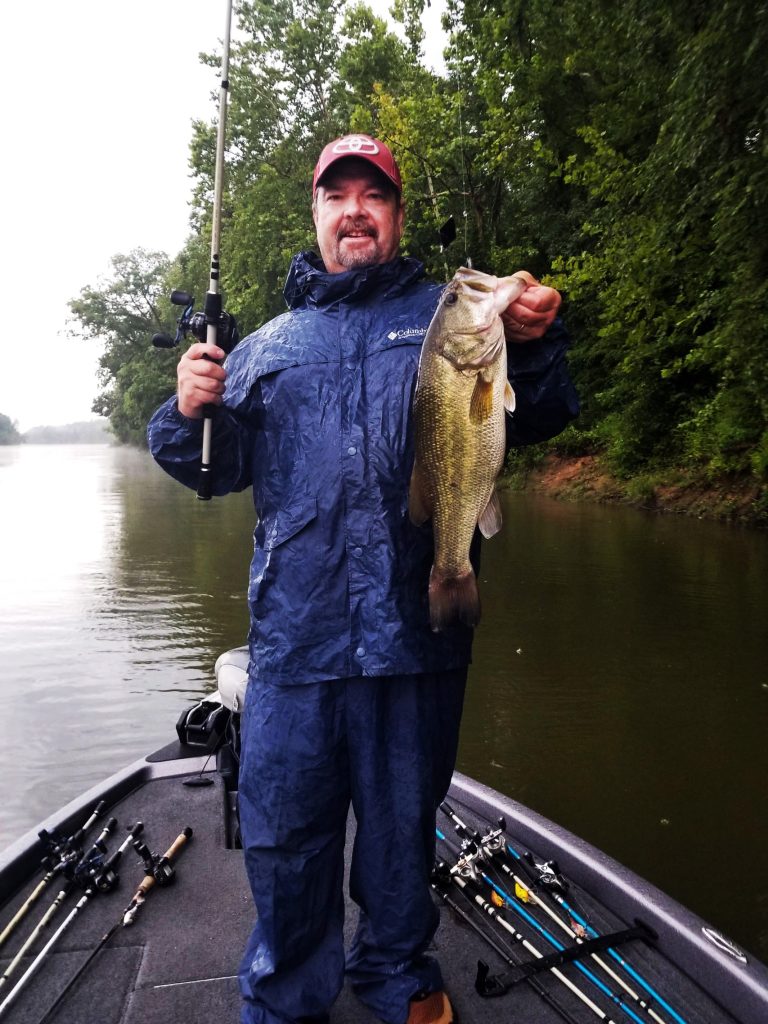 Below that 40-mile mark, you'll start finding creeks, backwater sloughs and numbers of cypress sloughs that hold good numbers of bass. On that lower end of the Black Warrior River from Akron to Demopolis, you'll find more sloughs and backwaters than are in that first 40 miles below Tuscaloosa.
Pluses for Bass Fishing at Bankhead, Holt and Oliver Lakes:
One of the plusses for bass fishing here in Tuscaloosa County is that you don't have to drive very far in a boat or a car from the cities of Tuscaloosa and Northport to experience some really-good bass fishing. All three reservoirs have some water generation (current) flowing through them, especially in the spring and summer. Current tends to make bass bite better. If you lock-up from the Oliver pool that's in the City of Tuscaloosa, you have about a 17-mile-long body of water in Holt Reservoir with plenty of creeks and hollows and natural runoffs where bass tend to hold, besides on the main river system.
Then you'll go into Bankhead. If you have a good day, and the bass are really biting, you may catch 40 or 50 fish – not on every day, but on many days. An average day will be catching 17 to 25 bass.
To catch some of the biggest bass in the Warrior River, fish in April. As the weather begins to warm up and the big momma bass are migrating to the banks, spinnerbaits and chatterbaits may produce a 7-9-pound bass for you. The last time I fished at Bankhead, I caught an 8-pound, 9-ounce bass.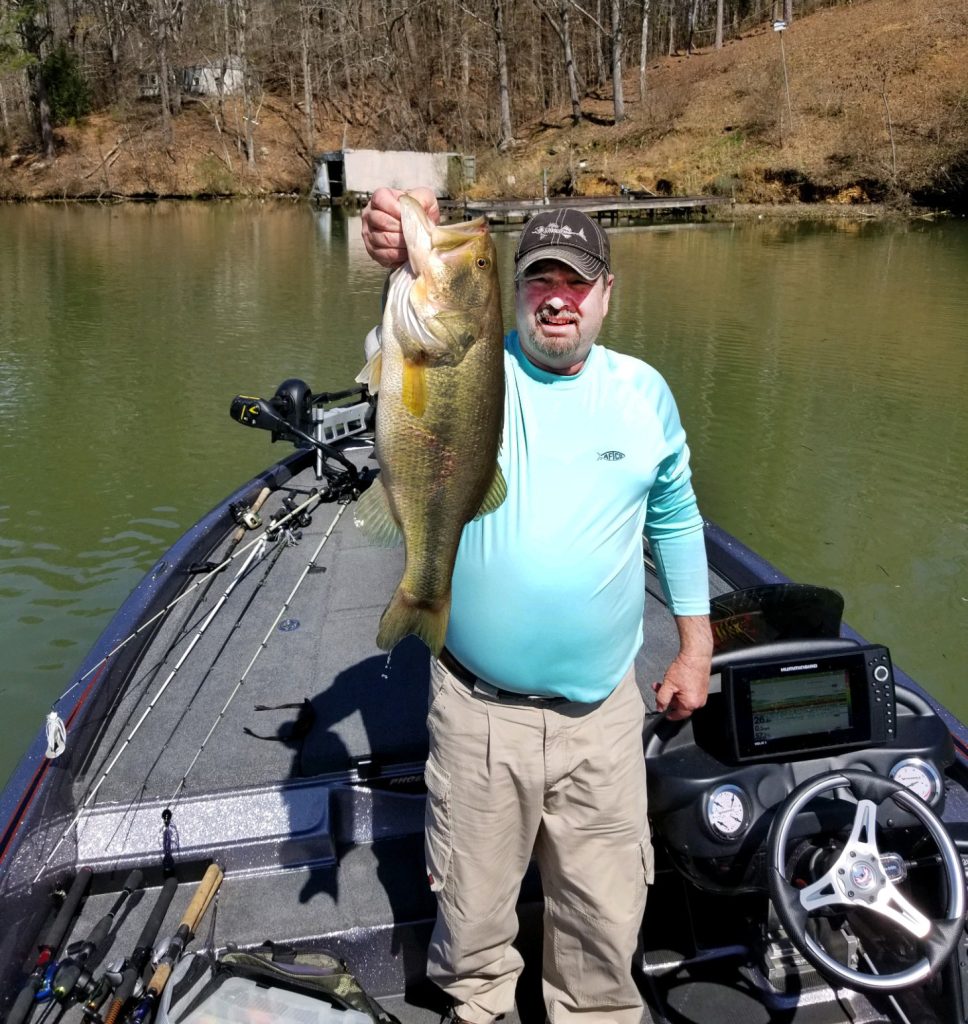 Adam Hollingsworth shared what he considers to be the best bass fishing spots in Tuscaloosa County during the months of April and May in Tuscaloosa County. Continue to read to learn more!
Editor's Note: The president of the UA Fishing Team with 57 members, 34-year-old Adam Hollingsworth, became a member in 2020. He was born and raised in Tuscaloosa, Alabama, and has fished the Black Warrior River since he was a child and camped at Fosters. Hollingsworth is a senior and will receive a degree in criminal justice in May, and will begin working on his master's degree. Hollingsworth served in the Army National Guard for 10 years, starting at age 17 in 2008, and was a certified law enforcement officer in the State of Alabama. He had two deployments to Iraq and Afghanistan. He became inactive military to attend college in 2019 to prepare to work with the U.S Marshal's Service after college and use his military and policing background. He rejoined the Alabama Army National Guard in October 2021. He'll continue to pursue that career path, unless he can become a full-time professional bass fisherman, which is his dream. To fish Tuscaloosa County's Black Warrior River, Hollingsworth likes Garmin's Active Captain and mentions that Navionics and Humminbird's LakeMaster are good choices.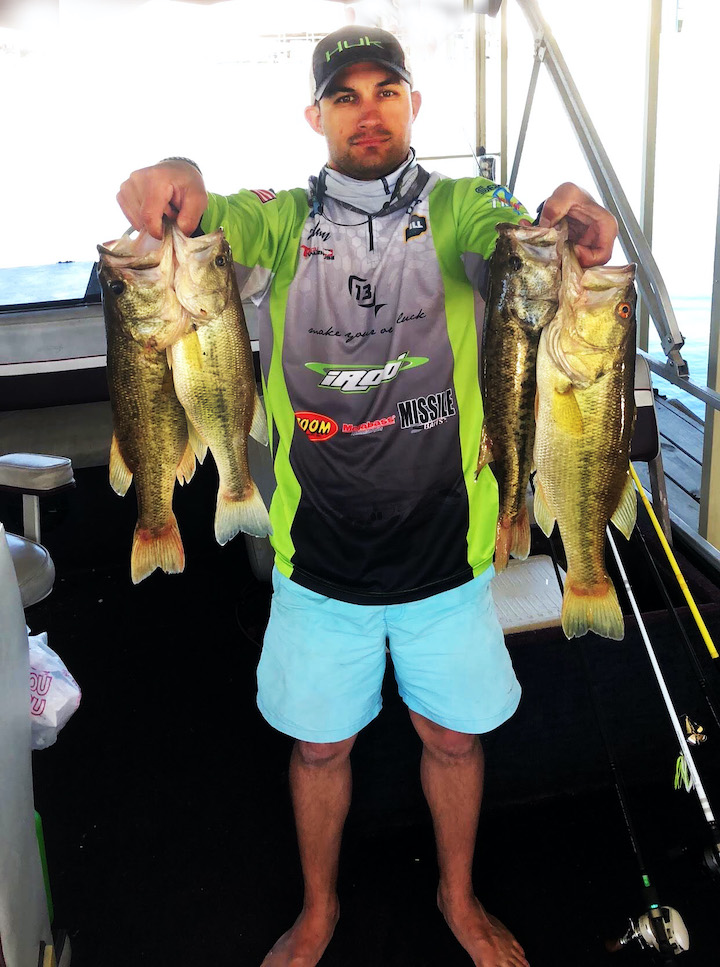 How I Fish and What I Catch at Bankhead Lake for Largemouth Bass, Spotted Bass, Saltwater Stripers and Hybrid Striped Bass
The Bankhead area of the Black Warrior River below Lock 17 is probably the best place to bass fish in Tuscaloosa County. However, cell-phone service can be spotty to non-existent there. If I could get phone service, I'd love to go up there more to fish for bass. It is important to note this because you never know what could happen to your boat and motor while in a tournament or recreational bass fishing and the challenge it may be to get in touch with someone.
BANKHEAD AROUND LOCK 17
I've seen photos of several bass caught at Bankhead below Lock 17 in the northernmost part of Tuscaloosa County that would weigh 12-pounds-plus each. If you fish below the Lock 17 dam, bed fishing should be hot in April. This is also an area where you can catch some nice spotted bass too, fishing the current coming out of the dam.
In April, I target largemouth bass around lily pads with a rubber frog. I'll also fish Yellow Creek above Lock 17 that homes nice-sized spotted bass. I'll use an Alabama rig or a small swimbait to catch both largemouths and spots there. But if you're fishing a bass tournament, you can't use an Alabama rig with its five swimbaits in most tournaments. Some tournaments do allow bass anglers to fish three swimbaits on your Alabama rig instead of five. When the water's stained, I like a pearl-colored swimbait to catch April and May bass. I also like to fish the tailrace below the Bankhead to catch saltwater stripers and hybrid stripers that will crash the Alabama Rig and a small swimbait. If you put in at a Rock Quarry on Holt Reservoir or at the landing right below Lock 17 dam and go north, you'll be at the tailrace. If the dam's not releasing much water, you can fish closer to the dam. As always, be sure to wear your life jacket to be safe.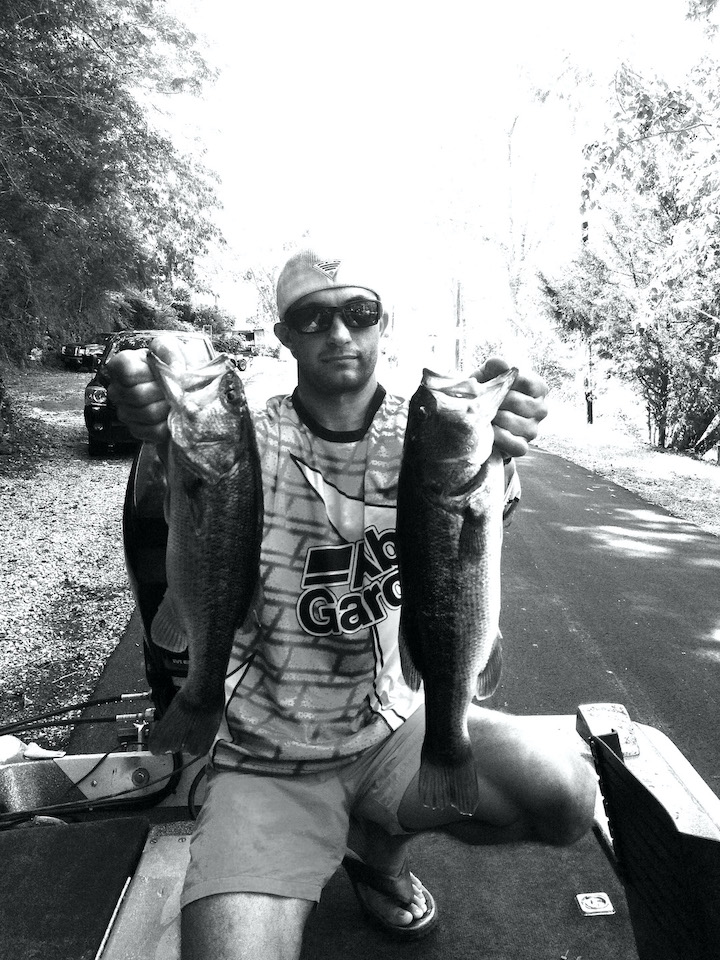 A point comes out near Lock 17 where the barges come out of the lock on the left side of the lock, as you look upriver. I'll fish the bank from that point all the way up to the lock and the spillway. Be very careful when fishing this area because the underwater rocks there can damage your motor. I've caught primarily spotted bass in this region – even some 4-1/2 to 5 pounders with 2-1/2-pound spots fairly common. I rarely catch any largemouths in that swift current. So much bait is in this area that it also attracts plenty of hybrid bass and saltwater striped bass. The biggest saltwater striper I've caught there weighed 40 pounds, and I've caught some large hybrids up there also.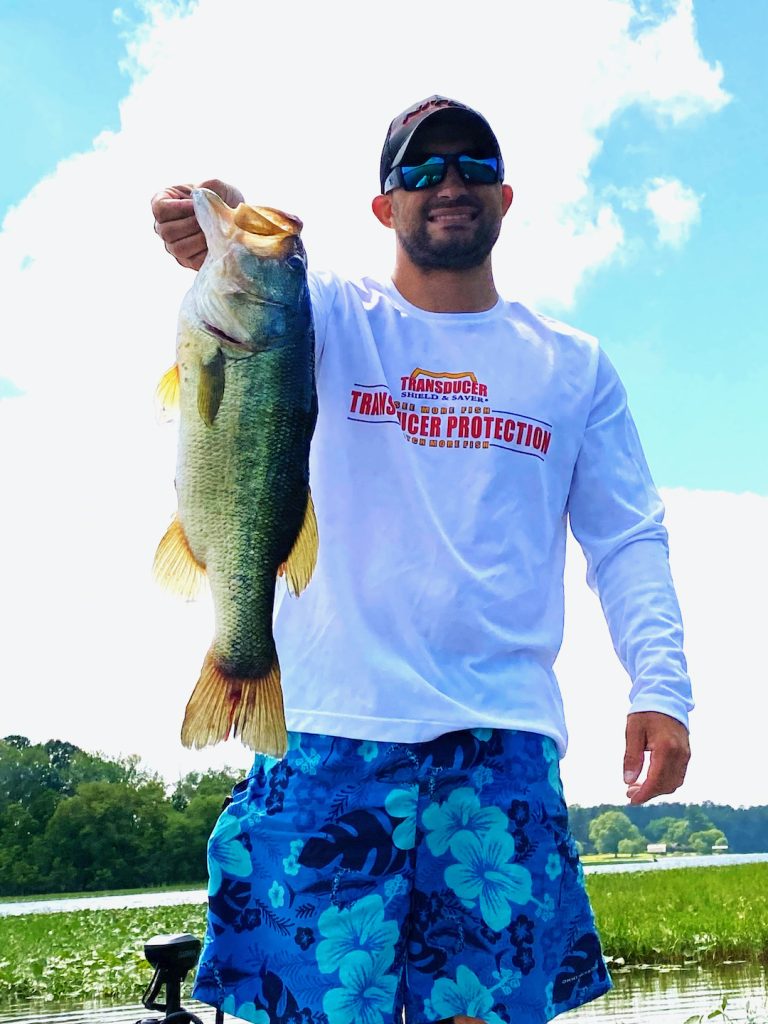 If the water is running at Lock 17, you'll lose numbers of Alabama rigs due to the many rocks in that region. When I'm fishing there, I fish with braided line instead of fluorocarbon or monofilament. In that section of the river, I'll fish a Keitech swimbait in a 3-point size on a 1/2-ounce jig head. I'll fish this swimbait on spinning tackle, cast it out and reel it back to the boat very slowly. If little current is running, your bait will sink faster to reach the target zone where the bass will be holding. If a lot of current is running, you'll have to cast the swimbait across the current and let the swimbait sink longer to reach the depths where the bass are concentrating.
You'll also find some holes in the tailrace, in the bottom at Lock 17 about 10-feet deep, and other holes even deeper. The bass sit in those holes and attack shad as they come over the lip of the break. I'll use a fluorocarbon leader to start with, but if I'm losing too-many swimbaits, I'll fish with a 15-pound-test Seaguar braid or the new Seaguar TactX Camo Braid line. What I like about this new TactX is that it's a braided line with an 8-pound-test fluorocarbon leader that comes packaged with it. I wouldn't fish a leader less than 8-pound test there because the bass in that current fight hard and can break smaller leaders.
BANKHEAD
At Bankhead, I prefer to fish with a 7' rod with 7 feet of A 15-pound-test fluorocarbon line tied to 15-pound-test braided line. I'll reel down 7' of that 15-pound-test fluorocarbon into my reel and then turn the handle of the reel until I have a 15-foot-long fluorocarbon leader. I like to cast a swimbait out and use my Garmin LiveScope to watch the swimbait fall to know when to start a slow retrieve.
Another lure I fish in the current up by the dam is a small Megabass Vision ONETEN+1 jerkbait. I'll fish it on a 6'6" or a 6'10" jerkbait rod made by iRod. In stained water, I like that lure in OB Stain Reaction or a pearl with chartreuse. In cleaner water, I prefer the Algney Bone, Natural Shad or GP Pro Blue II colors.
Where I Catch Bass at Holt Reservoir
When I fish closer to the cities of Tuscaloosa and Northport at Holt Reservoir, I like to fish Rocky Branch Creek on Holt Reservoir. The further you go back in this creek in April and May, the better the bass fishing will be. Rocky Branch Creek has a landing and a recreational area where people swim. When the bass are moving into Rocky Branch Creek from deep water for the spawn, I'll fish down the bank all the way to the back of the creek where the bass will be spawning. When they finish spawning, I'll fish along the banks of Rocky Branch and catch the bass when they're swimming back to their deep-water homes.
If you go all the way to the back of Rocky Branch, the creek splits. On the right-hand side of that creek is a deep channel, and I've caught a lot of good bass on jerkbaits there. I've also caught really-nice bass on the left side of the split. I like to fish these two splits all the way to the back of the creek where the water's running into the creek.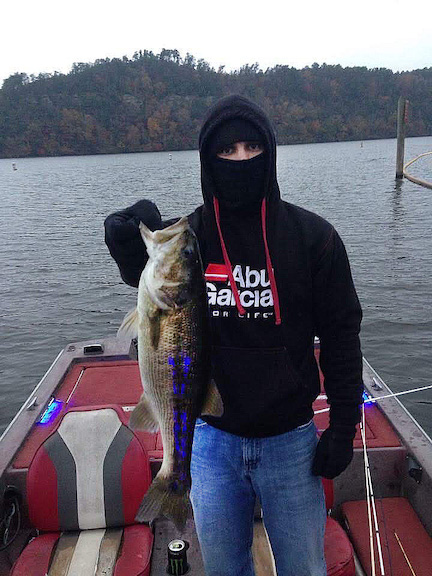 Another productive place to fish for bass at Rocky Branch is the point where those two creeks come together. I'll catch bass with a swim jig fishing that point. Also, I've caught some very-nice crappie there when fishing for bass. I caught 10 giant crappie in February 2022 while I was bass fishing. When I spotted them on my Garmin LiveScope, I thought they were bass because they were so big. The majority of those fish weighed 2-1/2 pounds, which was big for Warrior River crappie.
What About the Bass-Fishing Potential at the Warrior River Now and in the Future
I don't get to fish the Warrior River as much as I want to because of all the college tournaments I fish. I've got three out-of-town tournaments to fish in April. In an average month, I'll fish three to four tournaments on the weekends. Besides the collegiate tournaments, I'll be fishing BFL tournaments in the fall and some open tournaments as well.
The Black Warrior River in Tuscaloosa County is pretty much overlooked by most of the state's anglers, because they never see or hear anything about the quality bass fishing we have here. Most of the UA Fishing Team fishes collegiate tournaments, so they are gone on the weekend when tournaments are being held in Tuscaloosa. I think many anglers are fishing Lake Tuscaloosa, which doesn't have near as productive fishing as the river has. But they fish Lake Tuscaloosa mainly because they have cell-phone service there. If you fish out around Riverview on Oliver Reservoir, you'll have good cell service. There is cellphone service at Oliver, and I know Fosters has put in more cellphone towers.
I believe the Black Warrior River fishing from Lock 17 down to Moundville, Alabama, is a hidden gem in the bass-fishing world. If anglers had a bigger landing near Tuscaloosa and Northport where five to seven boats could put in, there would be more tournament fishing on the Black Warrior River in Tuscaloosa County than there is today.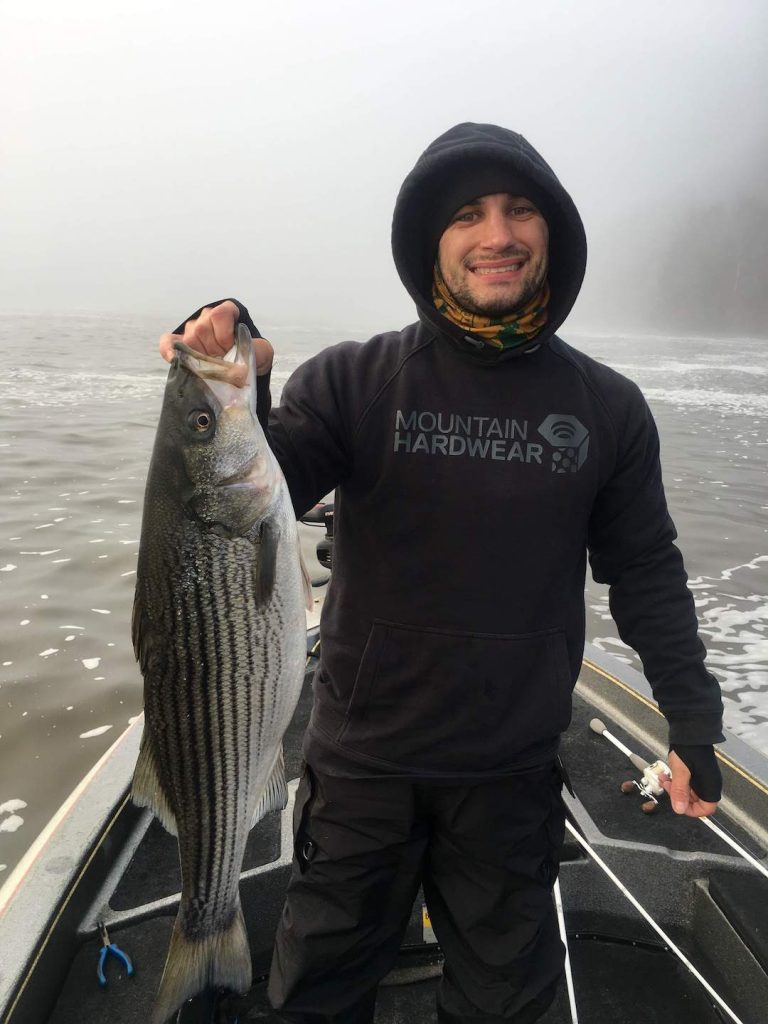 The season of summer has arrived and for many, it's a time that brings family and friends together. As Ralph Waldo Emerson once said, it's a great time to "live in the sunshine, swim in the sea, and drink in the wild air." With the summer heat steadily rising, the lakes and rivers remain in high demand.
Outdoor activities can undoubtedly be enjoyed year-round in Tuscaloosa, but there's just something special about fishing on a sweet summer night. As we recognize National Go Fishing Day today, we are excited to share some of Tuscaloosa's hidden gems as it relates to recreational fishing. So, bait up those fishing poles and get ready for the inside scoop on fishing in Tuscaloosa!
We recognize that one of the most frustrating parts about fishing is finding an access point, especially when you're in an unfamiliar area. That's why we called in an avid fisherman and TTS board member (and hotelier) Toby Wilson to give us all of his pro tips on fishing in and around West Alabama. These are some of his favorite spots to kick back, relax, catch some fish, and enjoy the beautiful views our area has to offer.
HOLT LAKE
Holt Reservoir is a modest 3,296-acre lake on the Black Warrior River and is located just north of Tuscaloosa from the Holt Lock and Dam upstream to Bankhead Dam. To access this more secluded body of water you can go to Lock 15 or Deerlick ramps. This place is for the fishermen that appreciate alone time with quiet waters!
BANKHEAD LAKE
This particular lake along the Black Warrior River begins in Walker County and forms the border between Jefferson and Tuscaloosa County. The quiet, peaceful feel is very similar to that at Holt Lake. In fact, Bankhead eventually empties into it and is the second largest lake on the Black Warrior River. Be prepared for about an hour and a half commute from downtown Tuscaloosa. It's well worth it though because the fish are plentiful in this secluded area with plenty of creeks and coves.
LAKE TUSCALOOSA
Of course, we couldn't leave out one of the most popular summer spots: Lake Tuscaloosa. Renowned in the area for its year-round fishing and boating culture, this lake stretches 5,885 acres in size. The easiest access points for this lake are Binion Creek, Sharpes Landing, and Rock Quarry.
RIVERVIEW
This stretch of the Black Warrior River in downtown Tuscaloosa is spectacular for fishing without having to drive very far. Riverview Boat Landing is a boat launch to access the river. The sky's the limit with this one. Some additional activities available are boating, hiking, backpacking, climbing, and animal sightseeing!
WARRIOR RIVER
To access this body of water from Northport the easiest way to do so is to use Oliver Lock and Dam, which is close to the old country club. One way to get there is through Airport Road where the Roll Tide trestle stands. Similar to the other bodies of water, smallmouth bass, largemouth bass, catfish, crappies, and so much more are available in this river.
Be sure to watch out for barges, and make sure you have your fishing license! Don't forget to bring your up to date boat registration as well. No fishing license? No problem. You can get your license by clicking here!
Important Addresses:
Holt Lock and Dam: 12397 Power Plant Rd Tuscaloosa 35406
Old Lock 15 Boat Ramp: North of Tuscaloosa on Holt Lake of the Black Warrior River
Deerlick Ramp, located within Deerlick Park: 12421 Deerlick Rd, Tuscaloosa, AL
Bankhead Dam: 19001 Lock 17 Rd N, Northport, AL 35475
Binion Creek: 16553 Binion Creek Heights, Northport, Al 35475
Sharpes Landing: 13662-13698 Sharpes Lake Road, Northport, AL 35473
Rock Quarry: 11857 Eagle Bluff Rd, Cottondale, Al 35453
Riverview Boat Landing: 599 7th Ave. NE, Tuscaloosa, AL 35401
Oliver Lock and Dam: Oliver Dam Road Northport Al, 35476
Black Warrior River Lock Phone Numbers (For navigation or water-level questions)
Bankhead Lock (205) 339-1921
Holt Lock (205) 553-1711
Oliver Lock (205) 758-4860
For additional resources, we encourage you to check out the Black Warrior Riverkeeper!
It's finally summertime in Tuscaloosa. This weekend offers a wide range of events for all members of the family. The Tuscaloosa Comedy Group kicks off the weekend on Friday at Wilhagan's Grill and Taproom. Also, on Friday, musician Casey Thrasher will perform at Rhythm and Brews. Saturday begins with the Farmers Market from 7:00 a.m. to noon. The Tuscaloosa Kids Triathlon starts Saturday morning, and The Great Black Warrior River Paddle-Boat Race is Saturday afternoon. Read more below to learn more about these fun events!
Tuscaloosa Comedy Group
The second annual "Stand up 4 Rachel" comedy fundraiser is set for this Friday, May 17, at Wilhagan's Grille and Taproom located in Temerson Square. General admission tickets, which provide entry and access to the dinner buffet, are now available for $25 each. A table of four can be reserved for $250, which brings premium reserved seating and dinner for four. The adults-only event also includes a cash bar. A DJ will begin the entertainment at 6:00 p.m., with the comedians starting at 7:00 p.m., and ending around 9:00 p.m. Tickets can be purchased by contacting organizers at StandUp4Rachel@gmail.com or by calling 205-292-8828. All proceeds will go to the Rachal Williams Foundation for the benefit of the Transverse Myelitis Foundation.
Casey Thrasher
Also, on Friday, May 17, American Idol contestant Casey Thrasher will perform at Rhythm and Brews at 9:00 p.m. Thrasher was on season 13 of the popular show, and made it to the top 15 male category. He has recently co-produced and released a self-titled album, which gives fans a chance to see into his life and show them a little about who he is as a person. Doors open at 5:00 p.m. and Thrasher comes on stage at 9:00 p.m.
The Great Black Warrior River Paddle-Wheel Boat Race
As we celebrate Tuscaloosa's Bicentennial, the monthly theme for May is Transportation. What better way to honor the role the river has played in our history than with a paddle-wheel boat race? Join us as two great riverboats go head-to-head, or bow-to-bow, between Manderson Landing and the Tuscaloosa Amphitheater. The historic Bama Belle, in her first race, takes on the highly decorated Pickett Hastings. The race begins Saturday, May 18 at 3:00 p.m. For those with an adventurous steak, you can purchase a ride on the Bama Belle during the race. Tickets are $20 and provide the best seat in the house. Visit http://www.bamabelle.org/ for tickets.
Tuscaloosa Kids Triathlon
The 7th Annual Tuscaloosa Kids Triathlon will be held this Saturday, May 18at 9:00 a.m. at Lake Lurleen State Park Children ages five to 16 will swim, bike, and run. The triathlon benefits the Secret Meals for Hungry Children. Secret Meals fill in food gaps over the weekend for local. Each Friday, a 3.5-pound food pack is slipped into student backpacks. The pack includes two breakfasts, two lunches, and two dinners. Bring your family and help promote healthy, active lifestyles for kids while supporting a great cause.
Tuscaloosa Farmers Market
If you haven't been to the Tuscaloosa Farmers Market yet, you should consider going this Saturday for a day filled with community, unbeatable prices, and one-of-a-kind merchandise. From fresh produce to unique art, there is something for everyone to enjoy. The Farmers Market is held at the Tuscaloosa RiverMarket every Saturday from 7:00 a.m. to noon. Wake up, grab a cup of coffee, and start the day off right at the Tuscaloosa Farmers Market.
Later This Summer
The Mercedes-Benz Druid City Music Festival
You have likely seen by now the incredible lineup of Big Boi, Blackberry Smoke, Turkuaz, Break Science and others for the Druid City Music Festival, but did you know that you can purchase tickets NOW? To read more about this exciting event and buy tickets, please visit the website here.
In the One and Only Tuscaloosa, there are so many places to go and things to see. These 10 things are popular among the locals and won't break the bank. So take a chance and try something new!
1. Children's Hands-On Museum (CHOM)
This museum has been providing children with fun activities and events since 1984. There are three floors of fun for children of all ages. The Great Pumpkin Party and the Monster Walk Scavenger Hunt are two events that are happening soon. Admission is less than $10! CHOM is a great place to take the kids and enjoy a day of fun!
2. Paul W. Bryant Museum
This museum is a blast from the past! Check out over a hundred years of Crimson Tide memorabilia and football history. Visit the Paul W. Bryant museum to see what it takes to be "nothing but a winner." Admission is $2 for adults and $1 for children.
3. Arboretum
If you're a dog lover then the arboretum is the place for you! The arboretum is sixty acres of the great outdoors. Check out the dog park, community garden, as well as the hiking trails. The best part is that it is completely free!
4. The Waysider
Take a trip to Paul "Bear" Bryant's favorite breakfast destination. It truly is the breakfast of champions. The restaurant is packed with decades of Alabama memorabilia. The Waysider offers made-from-scratch biscuits and gravy all for just under $3!
5. Homegrown Alabama Farmers Market
Edit: We regret to inform you his event will no longer happen. If you are interested in farmers' markets in Tuscaloosa then check out the Tuscaloosa Farmers' Market at the River Market.
6. Babes Donuts
A family-owned breakfast, brunch and coffee business located in Downtown Tuscaloosa. The menu features gourmet doughnuts unlike anything else you'll find in town. Flavors include: bacon maple, sourdough, Reese's Peanut Butter, Heath Bar sprinkle, Captain Crunch, Fruity Pebbles, S'mores, red velvet, blackberry cream cheese and others. Seasonal offerings can range from King Cakes during Mardi Gras to candied blood oranges. Stop by and grab a treat for under $10.
7. Steel City Pops
Nothing is better than a Steel City Popsicle on a hot Alabama summer day. They have many flavors to choose from, so there is a flavor for everyone. Flavors include: Arnold Palmer, Bosc Pear with Honey, Champagne White Tea, Cinnamon Apple, Cranberry Orange, Lime, Plum with Rosemary, Pomegranate, Strawberry Fig, Strawberry Lemonade, Avocado, Buttermilk, Carrot Cake, Chocolate, Coconut, Coffee, Maple Bacon, Bourbon, Pumpkin, Toasted Marshmallow, Vanilla Bean. All popsicles are $4.49 and under.
8. Black Warrior River
The Black Warrior River is absolutely stunning and the perfect place to go on a hot summer day. You can cast a line and catch some fish or bring your own boat and cruise the water. The Black Warrior is also perfect for paddle boarding or just floating down the river. Don't feel like getting in the water? That's fine because the Tuscaloosa River Walk runs along the river and offers beautiful scenery. It's the perfect place to get some exercise or take your dog for a walk.
9. City Café
For decades, locals and students alike have enjoyed the homemade cooking served up at City Café. At lunchtime, this restaurant is packed with locals stopping in for a tasty meal at a reasonable price. Stop in and enjoy a meat and three for under $10. You won't be disappointed, it's just like mama makes it.
10. Gallette's Yellowhammer
Stop by Gallette's and sip on a Tuscaloosa favorite. People from all over the United States have enjoyed Yellowhammer's from the One and Only Gallettes while in Tuscaloosa. The Yellowhammer is a staple on gameday at the University of Alabama. Their yellow cup is a popular accessory for the Crimson Tide fans walking around the quad. Visit Gallette's and try one for yourself.
Written by Rachel Horton