Fishing in Tuscaloosa County
Editor's Note: 27-year-old Jalen Conner is a native of Tuscaloosa and has been fishing in Tuscaloosa County's Holt Reservoir for eight years. A criminal justice student at Tuscaloosa's Stillman College, Conner fishes two tournament trails – the S.A.B.A and the Jim Austin.
I like to fish the lower end of Oliver Lake during football season, when the University of Alabama plays its home games because the water in that section of the Black Warrior River tends to be a little-more stained at that time of the year. When most people are either at Alabama football games or deer hunting here in Alabama, my fishing coach and I can catch spotted bass all day long at Oliver. We may be the only boat on that section of the river at that time of the year.
We like to fish the creek mouths in the Moundville section of the Black Warrior River. When currents coming through Oliver Lake in the fall, bass like to hold in the creek mouths at that time of the year. They'll be feeding on shad and worms being brought to them by the upriver current. We can consistently catch 2–3-pound spotted bass and often even bigger spotted bass in the fall at Oliver.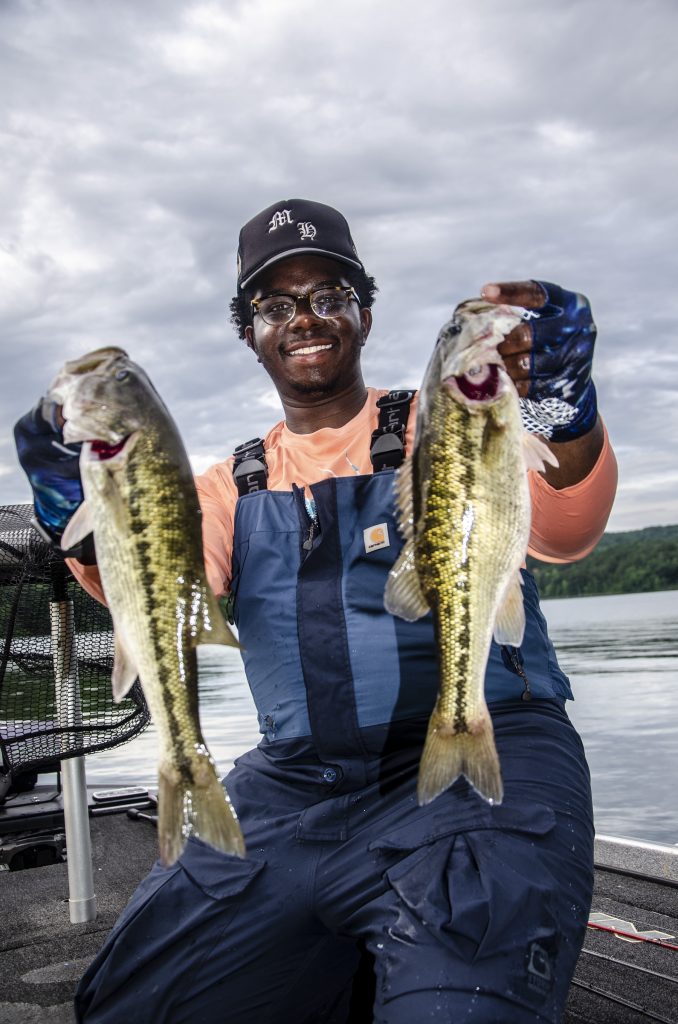 In 2009, the "Free the Hops" bill passed in Alabama allowing the sale of beer with an ABV content higher than 6.0%. A nearly five-year process provided Alabama with the opportunity to join 46 other states in the sale of high-gravity craft beer. In 2012, Tuscaloosa's city council also voted to change the city's zoning ordinance which allowed for brewpubs and breweries. This series of law changes provided a culture change and sparked a flourishing craft beer scene in the city of Tuscaloosa. Druid City Brewing Co., owned by Bo Hicks and Elliot Roberts, became the first official brewery in November of 2012.
Tuscaloosa is known to locals as "The Druid City" because of the giant water oaks lining the city streets in its early years, according to Encyclopedia of Alabama (Lewis, 2013). It's only fitting the first official brewery derived its name from this fact. Initially, the two co-owners worked out of an office space before deciding to open a taproom in July of 2013. Druid City Brewing Co. is known for its Downtown North Porter which is described as, "a full-bodied malt bomb with rich chocolate and vanilla flavors from beginning to end" on their website. Coming in at an ABV of 9.1 this distinctive beverage is sure to have you in a blissful state of mind after a few sips. Druid City has other local favorites such as the Lamplighter IPA, Druid City Pale Ale, Riverside Saison, Tuskaloosa Stout, and Druid City Wheat. Each of these brews is uniquely named after a feature specific to Tuscaloosa. They have a variety of fun events throughout the week such as trivia and open mic nights as well as live music on site. DCBC is also credited as the first to legally sell beer exclusively brewed and bottled in Tuscaloosa. The brewery hand-bottled 144 22-ounce bomber bottles and released them at local stores such as Loosa Brews, Spirits, and Corks & Tops in March of 2015.
A second brewery arrived on the scene in November of 2013 when four friends: Joe Fuller, Eric Hull, Jason Spikes, and Wayne Yarbrough founded Black Warrior Brewing Co. These four gentlemen realized their dream could become reality and started home brewing in Jason's basement. An extensive search eventually led to a perfect location to call home in the heart of Downtown Tuscaloosa. After months of hands-on work and renovation, they were able to open up the brewery named after the Black Warrior River which flows through Tuscaloosa County. Throughout the week Black Warrior has events such as trivia, movie nights, and American Outlaw watch parties. They have a vast selection of brews which makes it easy for everyone to find something they enjoy! Some of the local favorites include the Apricot Wheat, Crimson Ale, Broad Street Brown, Lock 17 IPA, Tashka Double IPA, and Sipsey Strawberry Blonde. No matter what style you prefer, you're sure to find something you'll fall in love with. Black Warrior Brewing Co. also distributes their Apricot Wheat and Lock 17 IPA throughout the area. This is the perfect way to take a little taste of Tuscaloosa with you wherever you go!
The newest brewery to arrive on the scene, Band of Brothers Brewing Co., opened its doors in September of 2015. Owned by brothers Jeremiah and Jeremey Donald and friend Quintin Brown this establishment provides a unique, easygoing atmosphere. With plenty of space to utilize, Band of Brothers frequently hosts live music, movie nights, games and much more! Their stellar selection of brews includes local favorites such as the Voodoo Mild, Monk on the Radio, and Station One Saison. Each of these beers provides a flavorful and noteworthy taste leaving you wanting more. Band of Brothers also distributes their Monk on the Radio Belgian ale to local craft beer hotspots such as Corks & Tops, Loosa Brews, and Cravings.
If you are in Tuscaloosa for a gameday at Bryant-Denny or concert at the Tuscaloosa Amphitheater, be sure to check out one of the many craft beer stores around town! They provide the perfect opportunity to take a taste of Tuscaloosa home with you. Loosa Brews features 63 different craft beers on tap with an even larger selection of bottled and canned beers to be bought for purchase. What better way to decide on which beer to take home than by trying it on draft first? Loosa Brews is a great place to bring the entire family! They have a plethora of arcade games for all ages to enjoy as well as a large back patio deck perfect for viewing the sunset.
With over 80 available draft beers from around the globe, Brass Tap is another must-visit for craft beer enthusiasts in the Tuscaloosa area! Some other places to purchase local craft beer include Corks & Tops located off of Bryant Dr. and Cravings located downtown off University Blvd. Both of these exceptional stores allow you to "build your own six pack" providing the opportunity to try a profusion of local specialties. Cravings also has a patio section in front of the store where customers can pour a cold one and enjoy the sights and sounds of Tuscaloosa.
Whether you're a craft beer connoisseur or new to the wonderful world of beer, Tuscaloosa's craft beer scene will leave you delightfully pleased. With plenty of places to #drinklocal, you can't go wrong in the quest for the perfect beer. Craft beer culture in Tuscaloosa is still young, but expanding at a rapid pace which is great news for all of us! If you're in town in the coming weeks for some Alabama football make sure to give one of these great locations a try.
Written by: Will Wyatt
There are great events all over Tuscaloosa this weekend! You can start your weekend early by heading to Green Bar tonight! Exit 27 comes all the way from South Carolina to deliver some Rock to Tuscaloosa! Of course, Green Bar not only brings in great bands but also has a great atmosphere and drink menu. Located right next to Wilhagans, it is the perfect place to ease into a great weekend!
The month of September starts this Friday and with it comes the First Friday Art Walk! Local galleries, businesses, and restaurants are open in the evening for the community to experience what downtown has to offer! Venture into local galleries and businesses like the Canterbury Episcopal Chapel, and others to see their currently running exhibits like "Faces And Places Of Rabbit Holes" or "Small Curious Wonders" at University Medical Center. Take note that Art Night at Kentuck Art Center will take place next week on the 7th. As a part of their Art Night, Kentuck will be opening an exhibition by Kathryn Mayo titled "We are Selma: The Selma Portrait Project by Kathryn Mayo".
Crimson Tide football is back this Saturday and with it comes all of the exciting festivities! The Children's Hands-On Museum is hosting a Kid's Tailgate Party where they can make mascot faces, spirit cookies, and will even have a concession stand! The unique museum in downtown is tailor made for the little ones, to introduce them to arts, crafts, and exciting exhibits in an interactive and exploring way! It provides fun for kids of all ages and they will never ever get the idea of calling a museum boring afterward!
You can wrap up your weekend Sunday evening at Black Warrior Brewing Company. Not only are they now pouring the One & Only Pale Ale, but they're also hosting Jerry Robbins for some live smooth jazz and blues! There is no better way to put a bow on the perfect weekend than with smooth jazz and a One & Only beer!
We have tons more going on so check out our great upcoming events, and follow us on our social media pages (@visittuscaloosa) for more announcements and events. Tell your friends and we can't wait to see you around the One and Only Tuscaloosa!
Tuscaloosa's coolest ongoing summer event is back! Live at the Plaza is an annual concert series that features amazing acts in live concerts on a stage at Government Plaza. Up and coming regional bands, as well as solo artists will rock the stage from April 28th through July 28th. Some changes have been made since last year's series, but it is still an absolute must-do for your summer in the one and only Tuscaloosa! Here are our top 5 reasons why:
1. Local Musicians
Tuscaloosa loves art in every way, and so it loves music! It is a special pleasure to host some up and coming bands from the region and even from Tuscaloosa itself. Let bands like the Nashville-based country/rock trio Campbell Station or the soul and funk of Lamont Landers Band from Alabama impress you with amazing homemade music. Or enjoy our friendly neighborhood country singer Matt Jones from Tuscaloosa, whose concerts capture the soul of the City! More acts will be announced soon, but this is already an amazing start!
2. Entertainment District
New this year is the entertainment district around Government Plaza. As it is not allowed to bring your own alcoholic beverages into the festival anymore, the district was made to be the perfect alternative. You can get your favorite adult beverages in approved go-cups and so can take them to the concerts and anywhere else within the district! Food and soft drinks are also available in the entertainment district. Participating local businesses are, for example, Alcove, Monarch, Black Warrior Brewery, and many others. The entertainment district opens each Friday at 4 pm!
3. Pet Friendly
A special plus about Live at the Plaza is that it is totally pet-friendly! Located on the meadow of the Plaza, the concerts are the perfect place to bring your furry friends. For sure they will love to spend a fun night out with their owners and meet new friends, human and pet alike! And of course, all dog moms and dads enjoy having their puppies around so take them out for the concerts! Other visitors will be delighted by some puppy love, too – promise!
4. Kick Back After a Hard Week
Held every Friday night from 6 pm to 9 pm, Live at the Plaza is THE perfect event to relax after a long week of work! You can make yourself just as comfortable as in your own living room: You're welcome to bring picnic blankets, pillows, lawn chairs and anything else you need to enjoy a leisure evening with your colleagues, friends or family. If somebody already made dinner at home – no problem! Bring them AND the food to the concert. As always, you are welcome to bring your own food, snacks, and soft drinks!
5. It's Free!
Let's sum up, with Live at the Plaza you can: Have a fantastic night outside. Listen to great live music from regional artists. Bring your whole family, including dogs. Bring your own food and soft drinks. Buy food and drinks from local restaurants and bars. Let down a hard week of work.
And now comes the final, the ultimate reason to not miss this event: It's absolutely free! You enjoy all these amazing things for free admission!
See you at the Plaza!