Welcome to Starkville: Mississippi's College Town!
We're excited for a fun SEC matchup, and we're glad you're making the trip from Tuscaloosa. An evening kickoff means you have all day to experience everything Starkville has to offer – from the Cotton District to the Community Market.
Kickstart your morning at one of our popular breakfast spots. NutriGroove is a local favorite for delicious smoothies, teas, bagels, wraps and toasts. The, you can head to The Coffee Depot for one of their signature lattes or espressos. They also serve smoothies, cookies, and other sweet treats.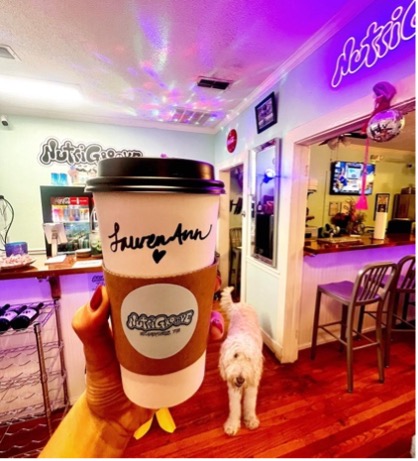 (NUTRIGROOVE)

Next, it's time to shop for fall weather essentials at some of the South's finest boutiques. Stop by B-Unlimited for t-shirts and accessories with Starkville flare or find the perfect gameday outfit at LA Green, a lifestyle boutique offering the latest in women's fashion.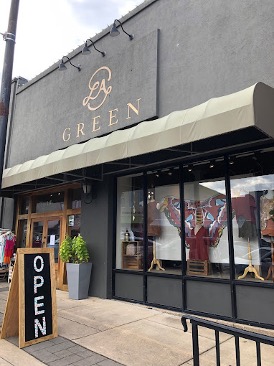 (LA GREEN)
Before you make your way to The Junction for tailgating, stop by the Cotton District to refuel with food and beverage. Little Dooey's has been a staple in our community for over 25 years. You'll find some of the best barbeque, burgers and catfish around – as well as an experience you won't forget.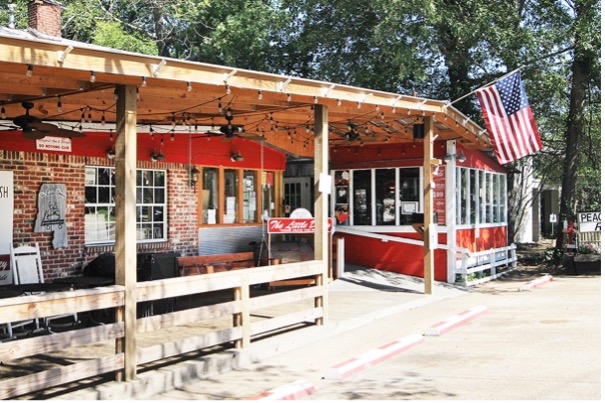 (LITTLE DOOEY'S)
There are plenty of bars to choose from in Mississippi's College Town. Tucked in an alley behind Restaurant Tyler, The Guest Room might be Starkville's best kept secret. They offer an intimate, seated experience, and feature one of the largest bourbon selections in the state. If you're more of the cold-beer-and-pizza type, look no further than Dave's Dark Horse Tavern.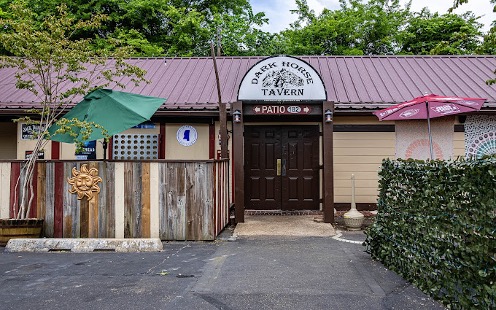 (Dark Horse Tavern)
No weekend in Starkville is complete without tailgating and visiting Mississippi State University. Make sure to head to The Junction, directly across from Davis Wade Stadium. Have a sweet treat at the MAFES Sale Store (or get some cheese to-go), less than a five-minute walk from the stadium. We recommend the muscadine ripple ice cream and Edam cheese!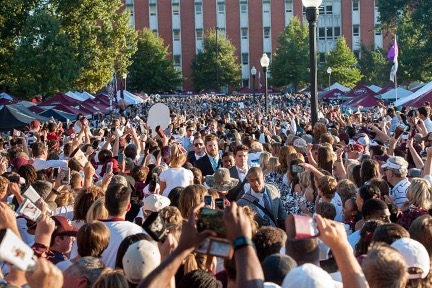 We're so glad to have you in Starkville for the weekend. Our home is your home – and we hope to see you again! For more information on where to shop, eat, play and stay, visit us online at https://www.starkville.org, and connect with us on our Facebook, Instagram, and Twitter. Be sure to download the Visit the SEC pass to check in and earn points towards prizes while you are in Starkville: Mississippi's College Town!
Editor's Note: This blog is part of the SEC Blog Exchange facilitated by the Cities of the SEC partnership. You can enjoy all of the communities SEC schools call home and earn prizes. Check out VisittheSEC.com to find out more.
Fall has arrived, and with it came that familiar crisp autumn air, which means the outdoors are calling our names! See for yourself  Tuscaloosa's breathtaking back yard…and it doesn't stop there, either. This city's stunning landscape paired with phenomenal local businesses elevates an already beautiful destination into a MUST-DO Road Trip. Whether you are looking to wind down with an outdoor picnic, take an adventure hiking through the fall foliage, or shop like there's no tomorrow, let these 10 reasons why Tuscaloosa should be your next weekend getaway guide your planning process. After all, you don't want the legendary Tuscaloosa Experience to pass you by!
1.jDowntown Tuscaloosa:
A recent addition to the city's outstanding coffee shop scene is about to open and we couldn't be more excited! Just Love Coffee prioritizes that sense of community as a business. The laid-back & relaxed atmosphere that makes Just Love Coffee Cafe so special was created to be different than the stuffy reputation of most specialty coffee shops. Downtown Tuscaloosa is a prime place to shop until you drop. Whether you are looking for your next gameday attire at The Pants Store, or searching for an antique accessory at Twice as Nice, this area is ideal for shopping at a vast variety of places that are all conveniently located!
2. Riverwalk
Offering a serene view of the Black Warrior River, the Riverwalk is also the place to hammock, picnic, or relax! There are numerous picnic tables, benches, and gazebos to provide a comfortable environment, allowing you to get the most out of your experience with the great outdoors of T-Town. Let your mind take a rest from all the hustle and bustle of everyday life. If you are looking to work up a sweat and take advantage of the cooler temperatures, there is also a running path along the Riverwalk to enjoy in the morning or throughout the day. In addition to these activities, the Riverwalk is located close to a number of restaurants to enjoy either at the start or at the end of a delightful Autumn day, like Market House Boutique, Another Broken Egg, and River. Be sure to carry a mask with you for safety if you intend to visit any of the restaurants or businesses on the Riverwalk!
3. Lake Harris
Lake Harris is one of the many nearby lakes that offers an incredible setting for a number of different outdoor activities. There are plenty of picnic areas and a beach, where one might spread out a blanket to enjoy their lunch or simply take in the scene. In addition to these spots, there are a number of trees gathered close by the bank, perfect for setting up a cozy hammock! For those who are looking to stay active, there is a 1.76-mile hike around the lake through the trees. As the weather cools down, this area will become a peaceful gathering place for all who wish to experience some of Tuscaloosa's many hidden gems.
4. Farmer's Market
The Tuscaloosa Farmers Market is a spectacular shopping spot where you can find anything from a hand-cut Maple & Walnut Cutting Board to a hand-poured Yellowhammer candle scented Alabama Shores, all within walking distance. Each Saturday from 7 a.m. to 12 p.m. local vendors of all specialties gather at the Tuscaloosa River Market to show off their wares to the community. If you plan on discovering the market's incredible vendors this Saturday, wear a mask and be prepared to follow all social distancing guidelines!
5. Children's Hands-on Museum
CHOM is a wonderful place in town where children explore, create, and discover something new every time they visit.  When we say "hands-on" we really mean it!  Learning through play is what CHOM'S exhibits are all about, where kids are encouraged to touch, feel, and play in fantastic exhibits.  Three floors of fun await with 24 exhibits, offering newborns and 13 year-olds alike an opportunity to completely immerse yourself in fun learning processes.
6. Kentuck Art Center
This local favorite offers a unique view into the minds of the endlessly talented local artists all around Tuscaloosa. From handmade, one-of-a-kind jewelry to kitchen pitchers, this gold mine is ideal for a one-stop-shop for all of your holiday gifts. The Kentuck Gallery Shop offers an incredible shopping experience unlike any other online and/or in-person! Also, the 49th Kentuck Festival of the Arts is open NOW until December 31, 2020. With over 180 artist shops specializing in categories like clay, glass, jewelry, mixed media, sculpture, and wood you are bound to find the perfect Christmas present for everyone on your list!
7. Bower's Park
Bower's Park is a nearby public park that offers quite a few activity opportunities, like a disc golf course or several fields for rent. Not much different from regular golf, disc golf is an active way to stay busy on a delightful weekend outside! Those looking to get into this sport need to be sure and purchase discs ahead of time, however. As far as a field for rent, Bower's Park has a number of different fields, baseball/softball or multipurpose, that can be rented out for a small gathering of friends to safely play a pickup game of baseball, softball, and more! Before visiting Bower's Park, be sure to bring along a mask in case of other visitors.
8. Civil Rights Trail
As temperatures slowly start to drop, it is prime time to spend the day walking around outside and exploring new places. Among the many adventures that await you in town is the Civil Rights Trail, where anyone has the opportunity to walk in the footsteps of history and learn about how the Civil Rights Movement shaped the City of Tuscaloosa. Located primarily in Downtown Tuscaloosa, this trail is perfect for staying active and demonstrates a profound learning opportunity for those who are not aware of the history of Tuscaloosa. Thanks to its proximity to Downtown Tuscaloosa, the Civil Rights Trail is also a good opportunity to discover local dining options, such as Reggae Flava and Brummi's Yummies. For more T-Town treasures along the trail check out the official guide here.
9. Government Plaza
If you are looking for a versatile area that offers wide-open spaces to safely enjoy this city, then the Government Plaza is the spot for you. Located in the heart of downtown, this 5-acre park makes social distancing a breeze. Soak in all of the cozy fall vibes while diving into a good book from Ernest and Hadley, grubbing on delicious Heat pizza, sipping on some Monarch coffee, or maybe even unwinding with your favorite yoga flow. After months on end of being trapped inside now is the time to relax and appreciate nature in all its wonder. If you want your furry friend to tag along, the sidewalks surrounding the park makes for the perfect path for walking with your furry friend.
10. Lake Tuscaloosa
This local hangout has everything you need for an unforgettable lake day with friends and family. Lake Tuscaloosa has earned its reputation as the perfect fishing spot with bass, sunfish, crappie, and more. If fishing isn't for you, stand on the shore, hike the lake's cliffs, or simply take in the captivating views! Only a short drive from the city, this lake makes pairing a morning out in nature and Rama Jama's iconic Southern breakfast unbelievably easy as well. You are bound to have a blast at this local treasure, especially in this beautiful fall weather.
When you're ready to plan your next road trip to T-Town check out all of the exceptional hotels this city has to offer!
Written by: Jamie Hoven
We're gearing up for another great weekend in Tuscaloosa! Start your weekend early tonight across the river at Kentuck Art Center! Kentuck is hosting their monthly Art Night! This month will feature the opening reception of "The Seven Deadly Sins" and artist talk with fiber artist Yvonne Wells in the Museum Gallery! You can lose yourself to dance as a band plays throughout the night, eat a cob oven pizza, and then top it off by learning more about Charlie Lucas as he discusses his art and answer questions!
It wouldn't be a complete weekend in Tuscaloosa without a great artist coming through town! Clint Black will be performing at the Bama Theatre Friday night! You can enjoy a rare, intimate evening with the man who has sold more than 20 million albums worldwide. Raised in the suburbs of Houston, Texas, Clint Black is the youngest of four brothers. He began performing with brother, Kevin at the family's backyard barbecues. After high school, he worked construction for a year and spent 10 years on the local nightclub circuit. He auditioned for a Nashville recording contract in 1988 and has been playing nationally ever since!
Crimson Tide football is back in Tuscaloosa this Saturday as Alabama takes on Fresno State! After a big win in Atlanta against Florida State, Alabama will be looking for a tune up before getting into SEC play. Alabama football, which was inaugurated in 1892, ranks as one of 10 winningest programs in US history and they don't plan on changing that anytime soon. You can also enjoy events like the Elephant Stomp, the Walk of Champions, and check out the Bryant Museum or grab a drink at Gallettes while you're in town for the game!
Finish your weekend off at the 5th Street Vintage Market! 5th Street Vintage Market is now held four times a year, rain or shine.  Markets are Sundays, 10 AM to 4 PM. Admission is free and concessions are available on site. Curated by This Ol' Thing Vintage, Grace Aberdean Habitat Alchemy, and DJ Tom Kat Kitten, 5th Street Vintage Market brings a one of a kind shopping experience to the area. We will feature many dealers from the region who specialize in vintage and handmade items, artworks and vinyl records! Prices for market goods can range from a few dollars to several hundred. While some vendors can accept credit cards, most require cash payments.
We have tons more going on so check out our great upcoming events, and follow us on our social media pages (@visittuscaloosa) for more announcements and events. Tell your friends and we can't wait to see you around the One and Only Tuscaloosa!
Interview with the One and Only: Courtney Poist – 2017 Nationals Cacchione Cup Qualifier
Favorite One and Only Restaurant: Chucks Fish
Favorite One and Only Attraction: Lake Tuscaloosa
The University of Alabama is home an incredible football team, but they aren't the only students that are championship bound this year. Courtney Poist, a 21-year-old Tuscaloosa native is competing in the 2017 Nationals Cacchione Cup today and representing the University of Alabama Equestrian Team. Courtney first got her start in Equestrian 15 years ago. Jumping from softball to basketball to gymnastics among others, she seemed to find equestrian by accident. After riding a pony at one of her friend's birthday parties she fell in love. Her mom then took her to a farm for her first lesson. She said that "Ironically my coach now, Ashley Morrison, was the first person that got me started in this sport. When I was only 6 years old, Ashley taught me my first lesson at her farm, Westminster. Ever since then, Ashley has been my trainer, mentor, and now collegiate coach." It seems to be working just fine for her as now she's on one of the biggest collegiate stages for her sport! When Courtney was growing up she was quite the athlete.
The University of Alabama's Equestrian Team has 16 horses that the athletes train on during the season. These horses are donated, leased or owned by the university. Of course, Courtney has a favorite and his name is Big. A "15-year-old, 17.2 hand bay Hanoverian gelding that was actually donated by the Auburn University's Equestrian program." If she has the choice, he's her go-to pick because of his extreme athleticism, smartness, and response that allows for performing the more technical movements. The facility the University leases is located on Culver Road right past Stillman College. The University's program has nearly doubled in size in the past two years. An incredible 80 students tried out for 30 spots which has made the program very competitive to get into compared to previous years.
I asked Courtney about a day in the life of training and it was actually quite extensive! Each practice (which is 2-3 times a week) the riders are responsible for cleaning their horses and tacking them up for their ride. This entails grooming, splinting or wrapping the horse's legs, and putting on all tack. Courtney said, "Since a horse is basically considered an athlete too, they require optimal care and preparation for practice to reduce the risk of injury." After prep, the riders walk the horse to the ring where their coach, Ashley Morrison, will run them through strengthening exercises (riding without stirrups), balance exercises (riding without hands or without vision), and flat and jumping exercises. After an hour to an hour and a half, practice is over, but the work is not. After dismount, "we are responsible for cooling down our houses, un-tacking, bathing and putting them back out to pasture." Courtney said that the entire process takes about two and a half hours from start to finish.
The most common statement she gets when people come to watch them ride is "All you do is sit on the horse and tell it to go." But in reality, equestrian is a much more complex sport. Each rider must create a bond with the horse, have proper aids, balance, and strength to keep the horse going. In addition to this, the rider must make all of their moves look effortless. She then said, "So yes, if it looks like we aren't doing anything, then we are doing it right!" To make it even harder, when riders compete they do not get to bring their own horses. At every meet, the teams are given a brief description of each horse and are allowed to watch them warm up before the competition. Once you mount the horse you draw, you must go immediately into the ring to compete!
With the motto "Attitude is everything", Courtney will ride fearlessly into the National Cacchione Cup with her coach. Since her coach has been her trainer since day one, Courtney says "It's safe to say that I am very close to my coach and couldn't be happier to have her standing by my side at (Intercollegiate Horse Show Association) Nationals." It's hard to believe that a University team is competing on the national level without much press, but hopefully, with the help of Tuscaloosa's One and Only Courtney Poist, The University of Alabama's Equestrian Team will soon have their day in the sun.
It is the heart of our one and only Tuscaloosa, visible from almost everywhere in town and the center of sports and fun: The University of Alabama's Bryant-Denny Stadium! Home of the Alabama Crimson Tide football team, it turns into the ultimate hotspot in town during football season. It doesn't stop there, as it is a special location year-round! We're going to show you why and take you on the behind the scenes tour through Bryant-Denny Stadium!
For somebody who has never been to the stadium, even standing in front of it is mind blowing: The walls rise so high, you can't seem to wrap your mind around this massive building! It was named after UA's former president George H. Denny and longtime coach Paul "Bear" Bryant. Entering the stadium at the south end zone, the first stop of the tour is the Donor Hall of Recognition, which is located right above the entrance. Here you can see all the generous donors that supported the UA Athletics Department with donations of one million dollars or more on beautiful portraits! The Crimson Tide Foundation itself gives away $16 Million of athletics scholarships every year, supporting young people in sports like football, baseball, soccer, golf, tennis, rowing and much more!
Next, on the tour you walk around the field on an upper level, getting a first glimpse on the field and the breathtaking view of Tuscaloosa from above the treetops!
While on the upper level, we learned some interesting facts such as Bryant-Denny-Stadium was opened in 1929 and meanwhile has a capacity of 101,821 seats – which makes it the 8th largest stadium in the world! Also, during a game day, the stadium puts out 10,000 gallons of fountain drinks and 18.000 bottles of water to go with the concessions, leading to a total of 1 ton of trash!
Up next is the press-room: Here you can see the seats for the reporters behind a giant glass pane with a perfect view of the field and you even can take a seat on the commentator's chairs! Located right next to it is the Presidential Box: An incredibly lavish lounge with seats for 200 of the UA president's closest friends. On the other side of the ranks, you can see another row of windows that contains the 159 Sky Boxes: Private lounges with up to 75 seats that can be rented – for the trifle of a $500,000 donation to get your name on the ten years long waiting list! You better hurry up to make your reservation!
In the maze of the inside of the stadium, the tour shows you The Zone, located right above the north end zone with a view on the Walk of Champions. Members can access that beautiful hall during games and it can also be rented for events, even for wedding receptions! Say I do and Roll Tide!
Then the tour finally enters the holy halls: The Crimson Tide's locker room!
Standing in the huge room with the noble wooden lockers and leather stools, you can literally feel the Tide's spirit!
Doing it like the players, you have to rub the nose of the Paul Bryant plaque and hit "WIN" above the doors before leaving the locker room for good luck! Then your way leads through the famous tunnel straight onto the field! You feel so incredibly small standing at that gateway, even without a hundred thousand fans cheering for you! And have you ever realized how gigantic the field goal is? You sure will do when you stand right underneath it!
Walking around the field, you can take pictures that are memories for eternity. Side fact: It takes 120 hours of work and 500 cans of dye to paint the lines and signs on the field! Right across the Crimson Tide's tunnel and locker, you can enter the one of the most iconic locations in the stadium: The Fail Room – which is nothing else than the locker room for the visiting teams. You can't miss the obvious differences to the Tide's locker room. But still, Alabama has one of the nicer, almost luxurious visitor locker rooms with stools and white walls – compared to Iowa, who for example painted theirs bright pink because of scientific proof that staring at it induced bad headaches.
And with that fun fact, the amazing tour comes to its end and leaves you feeling like a champion! Roll Tide!
Written By: Katharina Horvath – Intern