Take a timeout from your Tuscaloosa sports adventures and grab some grub at one of Tuscaloosa's finest sports-centric eateries!
The Historic Waysider: Best known as the place where legendary coach Bear Bryant ate breakfast (his favorite was country ham), The Waysider serves up southern meals in a historic red house near downtown Tuscaloosa. Visiting from the rival team? You can expect your pancakes to be served in the shape of an elephant.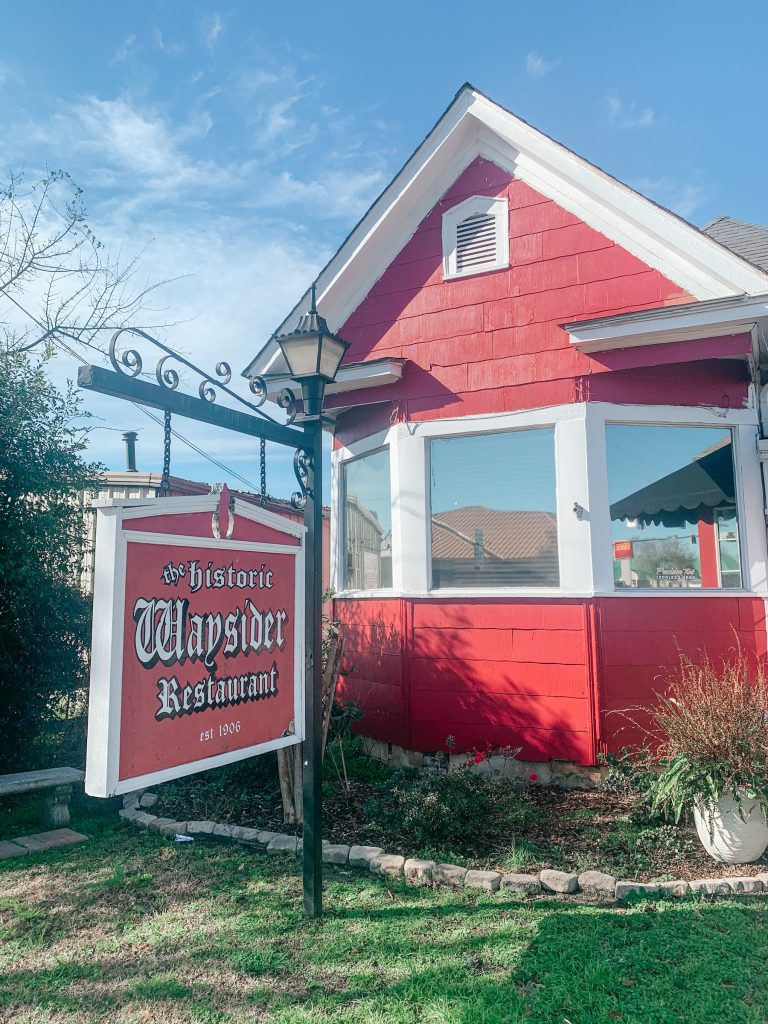 Nick's in the Sticks: No, not that Nick … Nick's in the Sticks is an iconic Tuscaloosa landmark known for delicious steaks, massive onion rings and its signature drink, The Nicodemus. Leave your mark on Tuscaloosa by adding a signed dollar bill to the ceiling.
Baumhower's Victory Grille: Owned by former Alabama star Bob Baumhower, this sports bar is home to "Hey Coach!", a live radio show broadcast from the restaurant, which allows you to get up-close with 'Bama's coaches.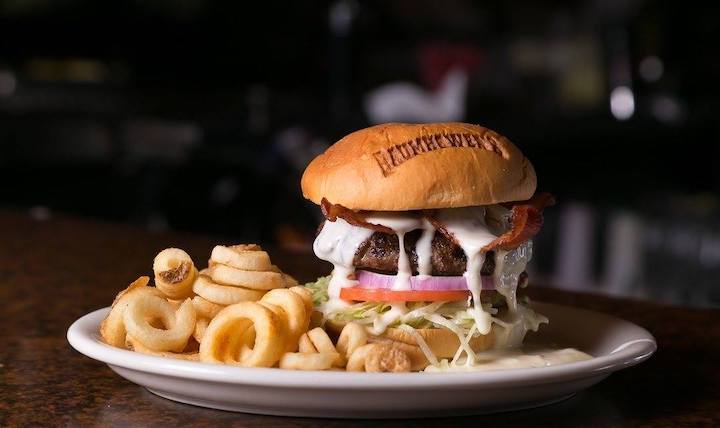 Ajian: Looking for fast-casual sushi? Try Ajian, owned by former Alabama quarterback A.J. McCaron, who led 'Bama to back-to-back national titles in 2011-12.
Rama Jama's: Located in the shadow of Bryant Denny Stadium, Rama Jama's is the place to go for fabulous food. Breakfast served all day, a wide variety of sandwiches, and the best sweet tea and milkshakes this side of heaven. Fan of a BLT? Kick off game day with a National Champion BLT – currently, that's 18 strips of bacon.
Dreamland Bar-B-Que: It all started with a dream when God visited John "Big Daddy" Bishop and told him to open a restaurant. The original Dreamland, built by the hands of Big Daddy and located in Tuscaloosa, opened in 1958. Since then, this BBQ joint has been nationally recognized for their hickory-fired ribs, white bread, and BBQ sauce. Today, the ribs are still prepared using the same technique Mr. Bishop used more than six decades ago. PS – Their banana pudding is pretty legendary, too.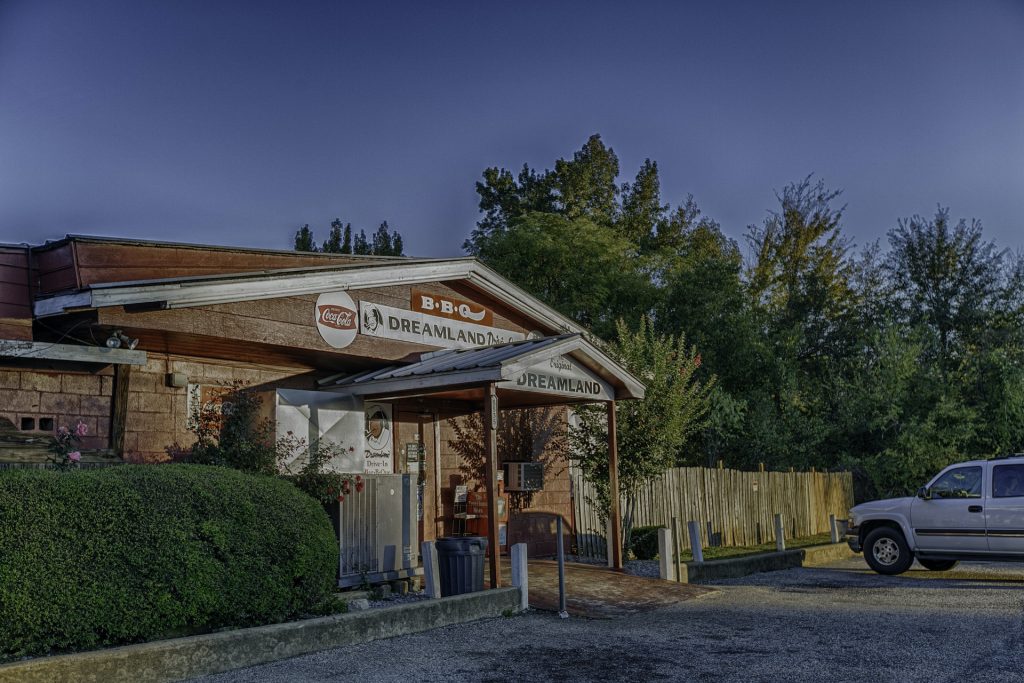 Gallettes: It wouldn't be gameday without indulging in a famous Yellow Hammer from Gallettes! This potent tailgate cocktail is served in iconic yellow plastic tumblers. While the recipe is a secret, some guess it's a mix of vodka, rum, amaretto, orange and pineapple juices.
Northport Spotlight – Billy's Sports Bar & Grill: With one location in Birmingham and their second location in Historic Downtown Northport, Billy's was designed to be comfortable. It's local's favorite spot for good food, live music, great drinks, and a relaxing atmosphere to catch your beloved sports teams on TV. During football season, Billy's offers a free shuttle to and from campus.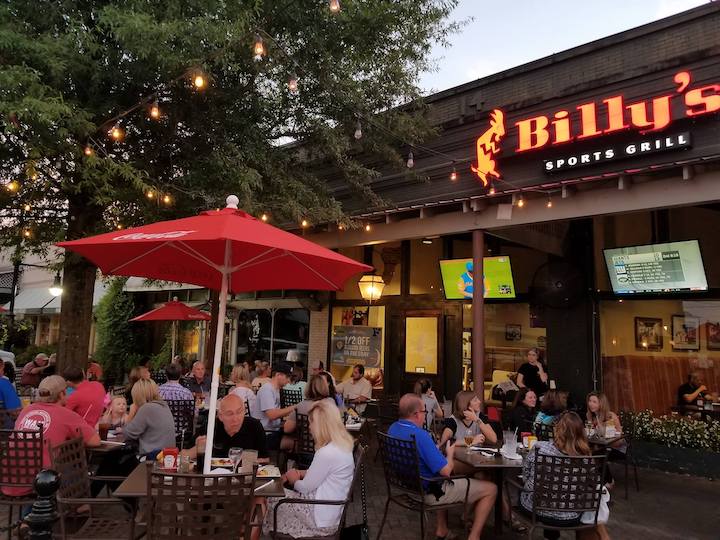 The Tuscaloosa and Northport communities are filled with incredible eateries and this is just a few of the many sports-related restaurants we have to offer! Check out our Eat page to find even more.
Love is in the air! It's almost Valentine's Day- fresh flower deliveries, a fun night on the town, or maybe just a Netflix night in. Either way, we have some fun ideas for you to make sure you get the final rose this Valentine's Day!
For the Foodies
Do you show love through food? Or maybe, you just love eating food. Well, do we have the perfect spots for you and your sweetheart to hit up this weekend! Everything from gourmet pasta to wine tasting, we got you covered!
For the Adventurers
Are you the type of couple that can't stand to be stuck inside? Maybe romantic candlelight dinners aren't for you- and that's perfectly okay! It's always exciting to get outdoors to enjoy nature but what better way to do that than with the one you care for. And on Valentine's Day nonetheless! Here's what we've got in mind for you:
Lake Nicol is home to several miles of trails that line the banks and cliffs of the lake. Strap on your good shoes and enjoy your partner's company while basking in the scenery of Lake Nicol!

Grab your favorite finger foods and head to the River Walk for an ultra-romantic picnic! Worried about finding the right spot to plant your blanket? The River Walk has many flat areas that are perfect for you to relax and enjoy the banks of the Black Warrior River!

Looking for excitement indoors? Bowlero has reinvented the old traditional bowling experience. The neon lights and music will surely make up for the fact that you have to wear bowling shoes! Go ahead and

snag your lane

while you can!

Swag Tuscaloosa

offers a unique t-shirt printing experience that is bound to make your Valentine's Day one to recall forever! I mean come on, who doesn't want a t-shirt to remember a great day!
For the Singles
If you're anything like me, you might be riding solo this Valentine's Day.
*Cue sad violin music*
Hey, it's all good! Pull the selfish card, make yourself your favorite meal, and pop on a little Netflix because this day is all about you! And let's be honest, who loves you more than you? Here are some Valentine's Day ideas that scream "I Am Single and I Love It":
Grab your favorite bottle of wine at

Craving's Specialty Grocery

. From reds to ros

é, Craving's has a variety that will fit any connoisseur's tastebuds.

Nothing screams "treat yourself" as a good face mask. But what about a face mask AND an amazing bottle of wine from Cravings? Now you're really talking my kinda talk!

Fall in love all over again with

Peterbrooke

and its vast array of fine chocolates. Head over to their store to snag yourself a delicious gift that you won't have to share with anyone but yourself! But really, who wants to share chocolate anyways?

To wind up your night, what could be more perfect than a good movie? Grab your wine and chocolates and get comfy while watching some of the hottest new flicks out to date. Want something seriously romantic? Try

A Walk to Remember

. Looking for something along the lines of a Rom-Com?

Someone Great

has been receiving rave reviews!
Whether you're taking one for the team this year or are feeling lovey-dovey with your partner, this Valentine's Day has opportunities for all kinds of enthusiasts. Don't be shy! Message us on
Facebook
or
Instagram
to share with us how you spent your romantic weekend!
Written By: Olivia Nonnengard