If you're looking for places to eat on gameday in Tuscaloosa, you've come to the right spot! Founded in 1958 in Tuscaloosa, Alabama, Dreamland is hailed as one of the best BBQ joints around and has been a legendary staple in our community and on game day since it began.  It's said that this famous joint serves ribs to over one million people per year. 
With a slogan of "Ain't nothing like 'em nowhere," they are most notably known for their hickory-smoked ribs – and it's true – there ain't nothing like 'em nowhere!  Over the years, Dreamland has expanded to 10 locations across Alabama, Georgia, and Florida.  While they have experienced growth, the original location in Tuscaloosa remains its most unique.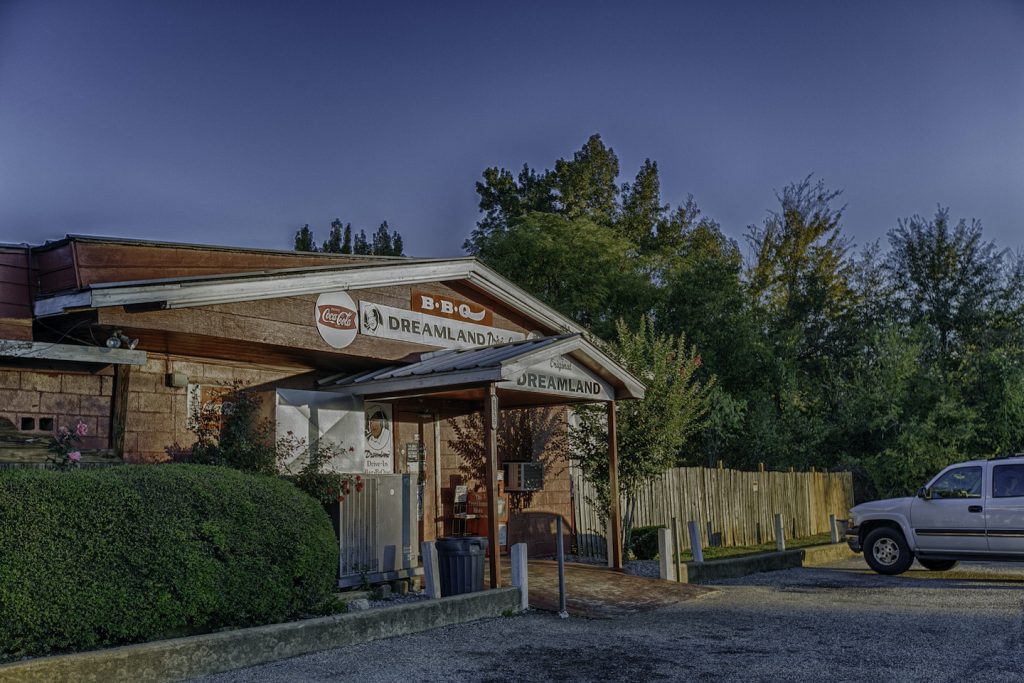 Dreamland truly started with a dream. Founded by John "Big Daddy" Bishop, Big Daddy said that God visited him and told him to open a restaurant and he obliged (lucky us!!). As Big Daddy embarked on this adventure, he began cooking in his front yard.  The original Dreamland, which was literally built by the hands of Big Daddy, would eventually open its doors, selling everything from ribs to burgers, and even postage stamps. But people quickly began to take note of the hickory-fried ribs, white bread, and signature barbecue sauce, and soon visitors were coming from all over.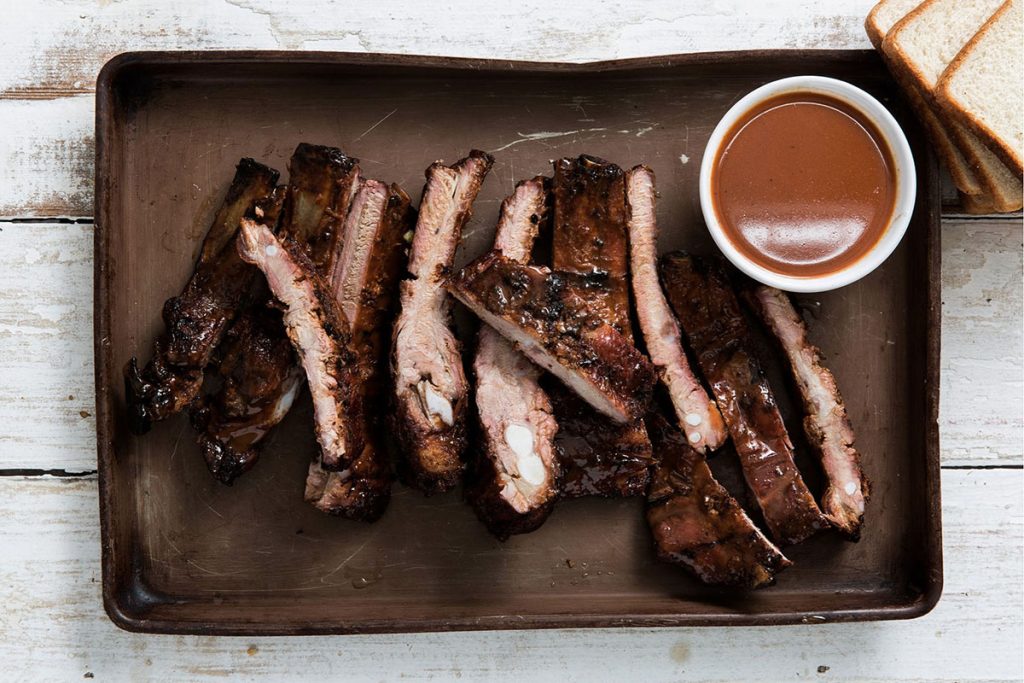 As you enter the rustic looking location, dubbed "the original", you are greeted with warm smiles and an invitation to "sit wherever you want". You'll notice license plates, Alabama football memorabilia, dollar bills and pictures on the ceilings and walls. On the tables you'll find their famous spice called "shake", which you can buy. The employees are dedicated – several at the original location have been there for years – and wake up at 5 am to begin preparing the food. One employee, Raymond, has been with Dreamland for over 45 years and Reggie, who manages the pit, has been there for 25 years! Knowing that many of their guests are limited on time, especially on game day, you can also expect quick and friendly service.
We had a chance to visit with the assistant general manager of the original Dreamland, Jasmine Lewis, and she shared that, "People come in from Texas, California, and all over to try our ribs and our sauce. We [the original location] are totally different from our other locations; we serve the same ribs, but everybody says it just tastes different here."
Speaking of the ribs… after six decades Dreamland still prepares them using the same technique. They roast the pig over a hickory wood fire pit and baste them with their signature vinegar-based barbecue sauce.  Also unique to Dreamland is the plain pieces of white bread served before every meal. No, it's not toasted and it doesn't have butter on it, but they serve it with their famous warm barbecue sauce for you to enjoy dipping the slices of bread into for an appetizer.Dreamland also makes what we believe is the best banana pudding we've ever had! It's made with crispy Nella wafers and creamy vanilla pudding that makes for a great dessert to end your meal (dreaming about it as we write this).  Jasmine confirmed that this, too, is her favorite menu item.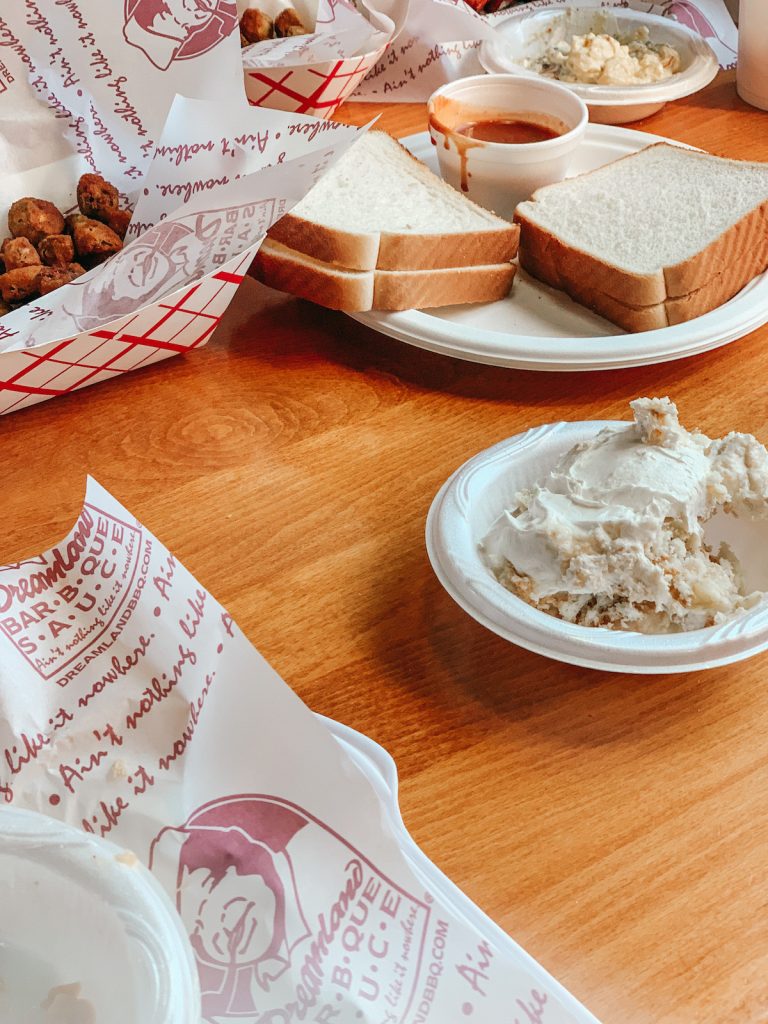 Fun Fact: Jasmine shared that, surprisingly, the busiest day for them is not game day but is actually the Fourth of July. Dreamland is filled with in-house guests, catering orders and their drive-thru, which was a positive outcome from COVID-19 [the drive-thru].
Today is also your lucky day because… drumroll please… on their website you can find detailed instruction on how to make their famous barbecue! You can also purchase many of Dreamland's staple sauces, rubs, and seasoning online or at one of their locations. The restaurant offers t-shirts, hats, and gold gear, available to ship anywhere in the U.S.
Now, we promise we're not exaggerating about how scrumptious this BBQ is, but if you don't believe us, here's what one Dreamland customer had to say!
"I've ate barbecue all over the US, let me say these ribs have everyone beat to a frazzle! Tender, juicy, and best flavor I've ever had! Beats Memphis barbecue hands down! And be sure to order the banana pudding for dessert."

Dreamland BBQ Customer
When it comes to places to eat on gameday in Tuscaloosa, there's certainly many options to select from. Whether you're traveling to Tuscaloosa or West Alabama for a gameday, or for other purposes, a stop at Dreamland BBQ is a must.  When it comes to spots uniquely local to Tuscaloosa, Dreamland is at the top of the list!  For more information about Dreamland BBQ, contact Dreamland Barbeque Tuscaloosa at 205-758-8135.
Final Insiders Tip: When you're ready to give the famous BBQ joint a try, know that the other locations serve the same menu items as the original Dreamland in addition to burgers and chicken options. Sides include mac and cheese, coleslaw, baked beans, and potato salad.
1. The River Walk
Disguised behind all of the commotions of Tuscaloosa lies the scenic River Walk. The 4.5 miles of path that runs directly next to the Black Warrior River serves as an ideal spot for picnics, dog walks, or leisurely strolls. Get out of the house, grab a friend, and go enjoy the view!
2. Dreamland BBQ
If you are from Tuscaloosa, or just Alabama itself, you know about this famous spot. Founded in 1958 by "Big Daddy" John Bishop, Dreamland has been a staple in Tuscaloosa's food scene, serving communities across the state and even the country. You can still visit the original Dreamland location at 5525 15th Avenue East in Tuscaloosa. Pro Tip: Get the banana pudding.
3. Civil Rights Trail
To understand the rich history of Tuscaloosa's civil rights history, it is crucial to examine the Civil Rights Trail. Many Alabamians are aware of the civil rights history that surrounds our state, but many might not be aware of the important events that took place in Tuscaloosa. The trail has 18 stops that tell of the extraordinary action that shaped this town forever. Visit https://civilrightstuscaloosa.org/trail/ to print your trail brochure.
4. Downtown
Downtown Tuscaloosa has maintained its southern charm over the many years of change. Find a stylish outfit at The Pants Store, indulge in a nice dinner at Depalma's, or sip on a craft cocktail at Sessions Bar. With dozens of businesses, new and old, its streets offer exciting experiences for everyone!
5. Lake Tuscaloosa
Right smack in the middle of Tuscaloosa you can fish, boat, or lie out with your friends at gorgeous Lake Tuscaloosa. This is the perfect spot for a quick, relaxing day trip with your friends or family. With 117 miles of shoreline, you sure won't run out of room to play!
6. Crimson Tide Football
Alabama football fans have the honor of being some of the loudest, rowdiest fans in all of college football. To be honest, it's hard to bite your tongue when your team has won 18 National Championships AND you have a larger stadium than Auburn.
7. The Strip
The Strip. Home to Quick Grill, the Yellow Hammer, and of course, Rounders. College kids love it, locals- well, probably don't hate it too much. This is truly the place to go if you want that thrilling nightlife experience with a hint of college kid energy. Experience the electric energy on the strip that adds such an exciting element to Tuscaloosa!
8. Nicks in the Sticks
Nothing beats family-owned cooking- especially family-owned SOUTHERN cooking. Nicks in the Sticks has been serving the Tuscaloosa community since 1953 and has gone down in history ever since. Even though the venue is quite small, they dish up big flavors. If you have the chance to go, don't forget to put a dollar bill on the ceiling!
9. Breweries
What's a good ole southern town without a good taproom? Tuscaloosa is home to 3 craft breweries: Loosa Brews, Druid City Brewing Company, and Black Warrior Brewing Company. New to the Tuscaloosa beer scene is The Grocery Brewpub that is set to open in the next few months!
10. The Immense History
While this one post could be a novel, T-Town has been a historical hotspot for centuries! Once the state capital in 1825, Tuscaloosa has been the home to the Creek Indian tribe and the site of a Civil War standoff. Grab a friend and discover the antiquity of Tuscaloosa throughout the many museums and tours offered throughout the town.
11. Kentuck Art Festival
Nothing screams fall in Tuscaloosa like changing leaves, football, and seasonal festivals. For 49 years, the Kentuck Art Center has been the epicenter of creativity for this community. The Kentuck Festival is filled with great music and art pieces from over 270 inspired creatives. While 2020 put a damper on the previous year's fun, we are hopeful for the new year and the continuation of the spirit of Kentuck!
12. Tuscaloosa Farmers Market
Shop local, eat local, enjoy local. Supporting the Tuscaloosa community has never been easier thanks to the farmers market's weekly Saturday appearance! Get your weekend fix of artisan bread, farm-fresh vegetables, and fabulous finds from your local small business owners at the Tuscaloosa Farmers Market- but remember to wear your mask!
13. The People
A deadly virus and a couple of tornados. It will take more than that to rock this town to its core! This community has endured so many hardships throughout the years. Yet still, we emerge stronger than ever and proud of the community we have built together! I could think of 1,000,000 reasons why I love Tuscaloosa, but 15 will have to do justice for now!