The Riverwalk is such a stunning trail that travels along to the Southern banks of the Black Warrior River. Whether you're walking your dog, going for a jog, biking, or just admiring the view, the Riverwalk is a great place to be with nature and to appreciate the jaw-dropping beauty of Tuscaloosa.
This trail offers park areas that are all pet-friendly. The pathway includes benches, gazebos, picnic tables, and hammock-friendly trees that visitors can enjoy. There are several open areas for playing frisbee, picnicking, or relaxing in a hammock reading your favorite book. It is well lit with street lamps lining the trail with access to an emergency phone if an accident occurs.
The Riverwalk starts at Capitol Park on the western end, rounds the beautiful Tuscaloosa Amphitheater, and finishes on the east side of Manderson Landing. The length of the trail stretches 2.5 miles one way! Eventually, the Southern Riverwalk will meet up with the new Northern Riverwalk (Randall Family Park & Trailhead) and will extend into West Tuscaloosa as well. When the time comes, these additional miles will be well-traveled by all, that's for sure!
One of the most iconic views on this trail is the historic train trestle bridge, which was once considered the country's longest at 3,600 feet. This bridge is simply stunning, especially as the sun sets, reflecting on the river that flows through the heart of our community. Its picturesque views has been the perfecting setting for proposals, family photos, picnics, and more.
Along the pathway, which offers many shady areas for a break from the heat, are shops and restaurants for people to enjoy during their visit to the Riverwalk. The Shops at Riverwalk Place is home to Another Broken Egg Café, Bellagio Nails Spa, River, Market House Boutique, and more! Near the Amphitheater, you'll also find Heritage House and Hotel Indigo. Along the trail, you'll find the Visit Tuscaloosa Visitor Center as well as the Farmers Market at the Tuscaloosa River Market, where fresh, local goods and produce are sold every Saturday.
There is hardly anything that competes with the breath-taking scenery on a bright, sunny day or the majestic sunset views along the Riverwalk. In the morning, you often catch The University of Alabama Rowing Team practice for their next regatta as they race up and down the river. During the spring, summer, and fall months, one can enjoy the sounds of a concert coming from the Amphitheater too. Simply put – it's the perfect place where all can come to gather, to exercise, to enjoy time alone or with family and friends. It truly is one of Tuscaloosa's best outdoor adventures, conveniently located in Downtown.
For information about the gazebo rental, contact Tuscaloosa County Park and Recreation Authority at 205-562-3210.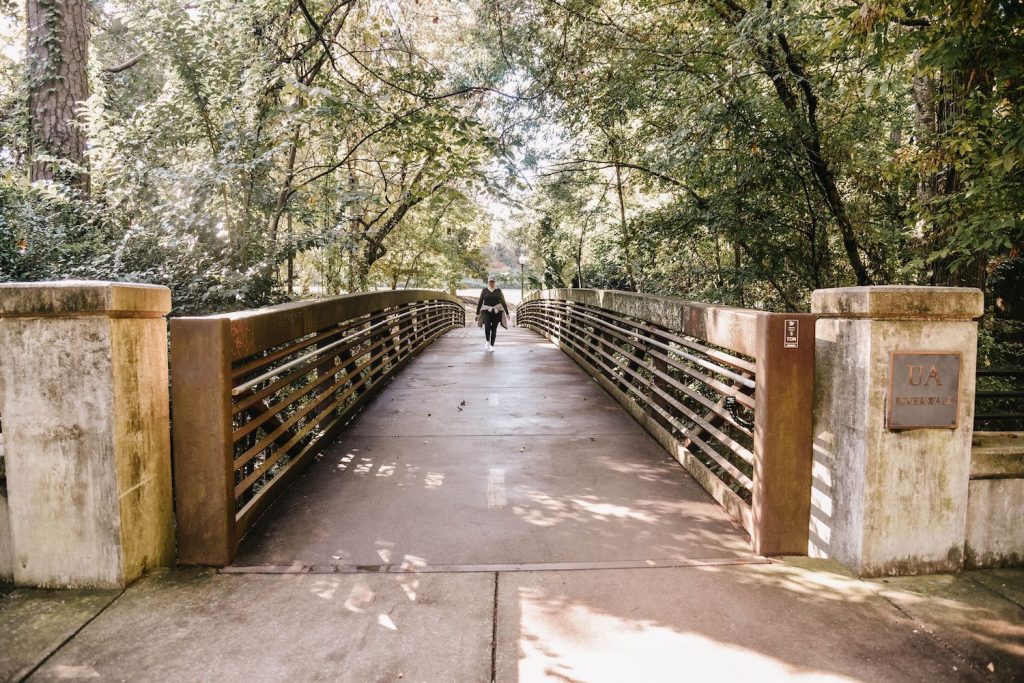 Safety is the top priority for returning to campus, but that does not mean sacrificing the ability to enjoy yourself and to enjoy new experiences, especially in the City of Tuscaloosa. There are plenty of ways to maintain a safe, physical distance while also enjoying what Tuscaloosa has to offer, whether it be the scenic views, rich history, or the one-of-a-kind businesses and restaurant culture of this city. Below, we have compiled a list of ways to stay socially active while also being socially distanced!
Lake Trips
The different lakes located around Tuscaloosa have been a regular relaxation spot for students over the years. In order to have a fun and peaceful time, visiting one of the nearby lakes is a modern time twist on a classic activity for UA students. These lakes are not only wonderful places to swim and rent kayaks for, but they are also a peaceful spot to read a book and enjoy the nature of the Tuscaloosa area. What better way to substitute a library table or a lakeside picnic table? These lakes offer services that allow you to either rent paddleboards for the day, paddle your own kayak around to the different scenic spots along the lakefront, or layout at the beach to continue working on your summer tan! The most popular lakes around the City of Tuscaloosa to check out are Lake Lurleen, Lake Nicol, and Lake Tuscaloosa.
Civil Rights Walk
The City of Tuscaloosa has a history intertwined with the Civil Rights movement, and there is a presence of that history all around Downtown Tuscaloosa. Traveling through history along the Civil Rights Walk is a way to stay active outdoors and be proactive about the history and importance of the Civil Rights Movement to our city. Visit (website) to locate the markers located around Downtown Tuscaloosa and learn more about the lasting impact that the Civil Rights Movement has made on the history and people of the City of Tuscaloosa. Visit here to learn more about the Civil Rights Trail of Tuscaloosa and how you can find more and more resources regarding the Civil Rights Movement in Tuscaloosa.
Historic Downtown Tuscaloosa
Downtown Tuscaloosa is a relaxing area of town where anyone is free to walk around and wander from door to door to find something they feel drawn to. There are numerous boutique stores and businesses where eclectic finds are inevitable. If you're looking for a new wardrobe, or maybe just some refreshing new pieces, check out Pause Boutique, Effie's Inc., or Pants Store!  Walking around Downtown Tuscaloosa is a peaceful yet adventurous activity for all to find unique local while staying active after months of quarantine. However, Downtown Tuscaloosa does feature a lot of locations that would require entering a building, so be sure to pack a mask and be safe when visiting indoor storefronts and shops.
Self-Guided UA Tour
The University of Alabama has a rich history that every student and resident of Tuscaloosa ought to learn and become familiar with. At the heart of it all is The Quad, which is filled to the brim with its own history but also offers one of the most picturesque areas of campus. A refreshing way to stay connected to the culture of the university while maintaining physical distancing outdoors is to take a stroll around the University of Alabama campus and soaking in the history of the many buildings and locations. Many locations, including the ones located on the Quad, include historical markers that indicate the historic significance of their existence (or previous existence) and offer a glimpse into what truly defines this university.
Riverwalk
Enjoy the scenic nature of the Black Warrior River from the comfort of a relaxing hammock or a light jog along the riverfront. The Riverwalk is 4.2 miles of a paved trail that offers visitors a place to enjoy the outdoors in a way that is safe and distanced from others, and versatile enough that anyone can find themselves enjoying an afternoon out and about. The Riverwalk is a great place to go on a quick run, exercise on a bike, and walk your dog, plus offers serene and scenic spots for reading a nice book or enjoying a delicious picnic. Whether you are wanting to stay physically active through exercise and movement or if you are wanting to simply sit outdoors and soak in the sunlight and fresh air, the Riverwalk is a must-do.
Golf and Disc Golf
In order to stay distanced while remaining active, certain sports offer more distanced situations than others, like golf or disc golf. There are several public golf course options located near Tuscaloosa including Ol' Colony, North River Yacht Club, The Links at Tuscaloosa, Indian Hills Country Club, Tall Pines, and Hidden Meadows. Each of these courses is available on weekends and offers a variety of offerings to satisfy the most serious players and to welcome the more introductory players. If you are more of a disc golfer than a traditional golfer, Bower's Park is the place to be, thanks to a full 18-hole course primarily located on wooded terrain and featuring beginner and professional tees for players of all skill ranges! Whether you are driving a golf ball or a disc, these activities are a safe way to get back into the swing of things!
Food Trucks
A staple of campus life is enjoying the food trucks that make their way onto campus or throughout Tuscaloosa. These days, food trucks are a great way to stay outdoors and distanced while also supporting local businesses of Tuscaloosa. Not only are you able to be smart about what you are eating, but you may discover a new favorite dish or new favorite dining destination! We offer a phenomenal variety with options like  Catch a Taste, Aces Tuscaloosa, Cheese Louise Tuscaloosa, and Urban Cookhouse. Food trucks appear in various locations around the city, so be sure to plan ahead of time to be aware of where certain trucks will be located and what their menu will look like! Remember to wear a mask at all times except when you are eating in order to maximize caution and ensure the safety of yourselves and those around you.
Local Farmers Markets
A health-conscious and locally-oriented outdoor activity that everyone can take advantage of is enjoying a farmers market. In Tuscaloosa, a few wonderful options for outdoor farmers markets are Homegrown Alabama Farmers Market, Ingram Farms, Northport Farmers Market, and the Curbside Farmers Market. Shopping at a farmers market can expose you to new flavors to up your cooking game, and they support the local farmers that stock the markets. Be sure to wear a mask while visiting local farmers markets for the health and safety of yourself and the vendors working the markets!