Take a timeout from your Tuscaloosa sports adventures and grab some grub at one of Tuscaloosa's finest sports-centric eateries!
The Historic Waysider: Best known as the place where legendary coach Bear Bryant ate breakfast (his favorite was country ham), The Waysider serves up southern meals in a historic red house near downtown Tuscaloosa. Visiting from the rival team? You can expect your pancakes to be served in the shape of an elephant.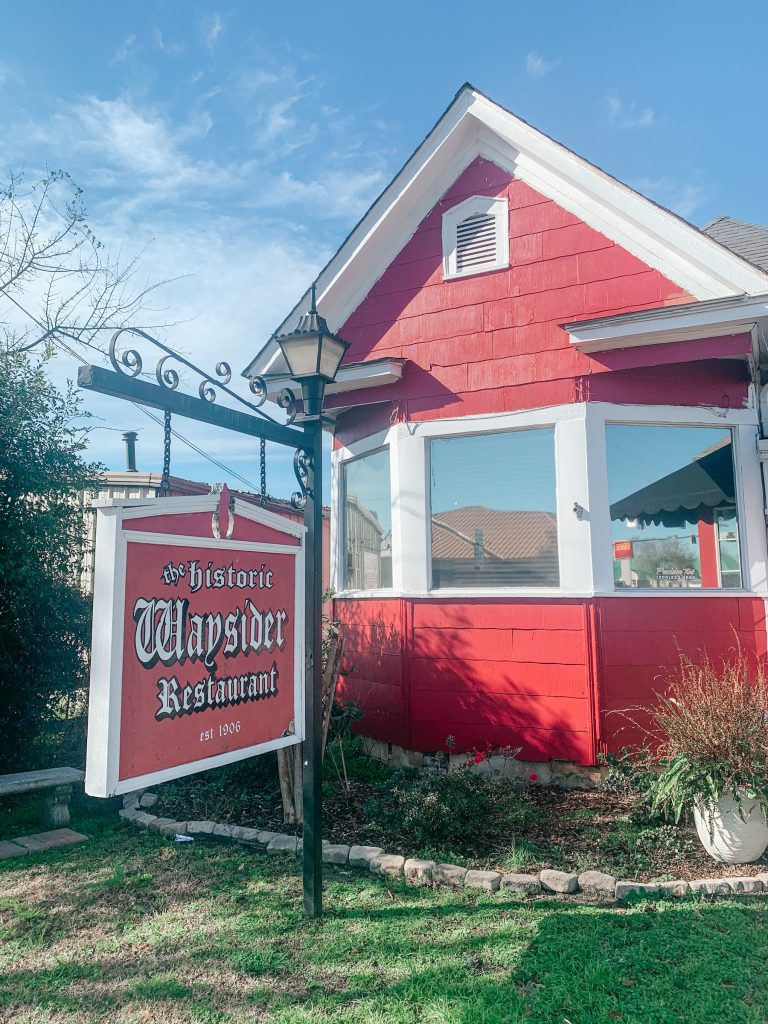 Nick's in the Sticks: No, not that Nick … Nick's in the Sticks is an iconic Tuscaloosa landmark known for delicious steaks, massive onion rings and its signature drink, The Nicodemus. Leave your mark on Tuscaloosa by adding a signed dollar bill to the ceiling.
Baumhower's Victory Grille: Owned by former Alabama star Bob Baumhower, this sports bar is home to "Hey Coach!", a live radio show broadcast from the restaurant, which allows you to get up-close with 'Bama's coaches.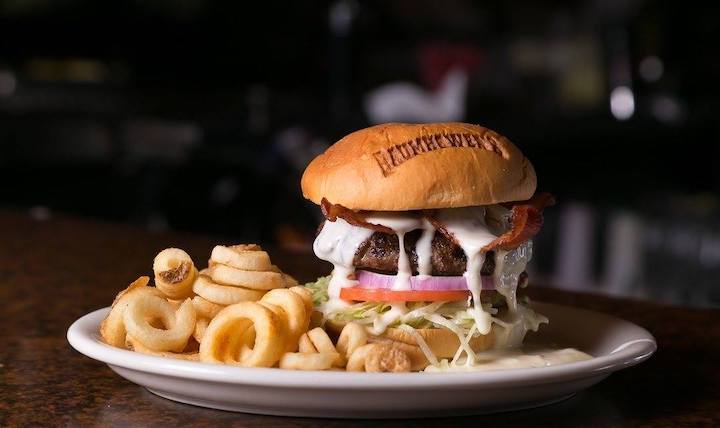 Ajian: Looking for fast-casual sushi? Try Ajian, owned by former Alabama quarterback A.J. McCaron, who led 'Bama to back-to-back national titles in 2011-12.
Rama Jama's: Located in the shadow of Bryant Denny Stadium, Rama Jama's is the place to go for fabulous food. Breakfast served all day, a wide variety of sandwiches, and the best sweet tea and milkshakes this side of heaven. Fan of a BLT? Kick off game day with a National Champion BLT – currently, that's 18 strips of bacon.
Dreamland Bar-B-Que: It all started with a dream when God visited John "Big Daddy" Bishop and told him to open a restaurant. The original Dreamland, built by the hands of Big Daddy and located in Tuscaloosa, opened in 1958. Since then, this BBQ joint has been nationally recognized for their hickory-fired ribs, white bread, and BBQ sauce. Today, the ribs are still prepared using the same technique Mr. Bishop used more than six decades ago. PS – Their banana pudding is pretty legendary, too.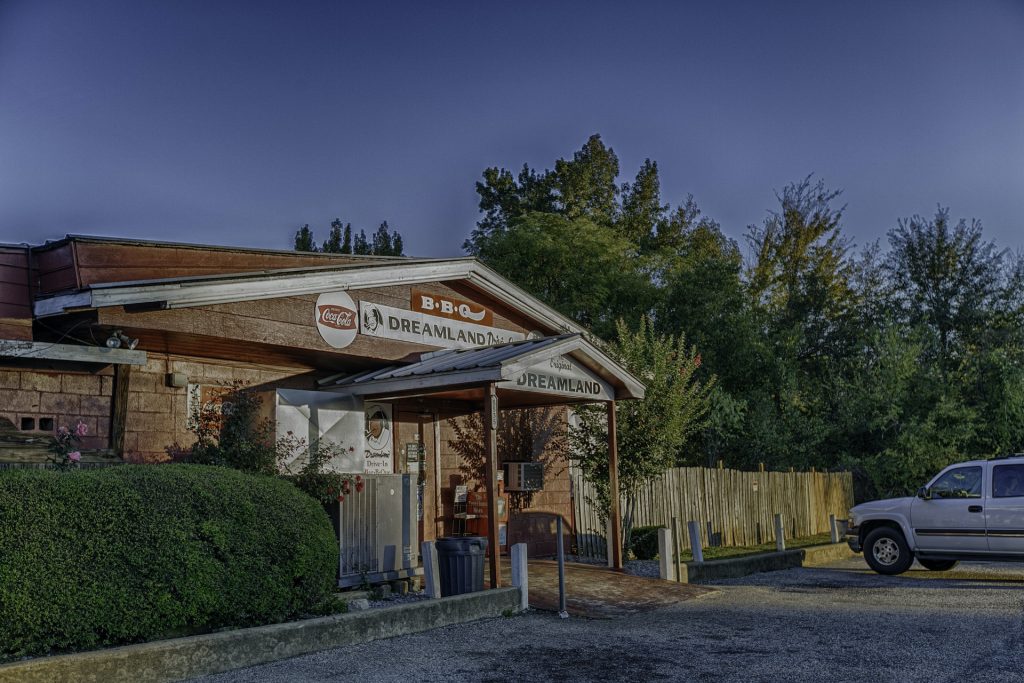 Gallettes: It wouldn't be gameday without indulging in a famous Yellow Hammer from Gallettes! This potent tailgate cocktail is served in iconic yellow plastic tumblers. While the recipe is a secret, some guess it's a mix of vodka, rum, amaretto, orange and pineapple juices.
Northport Spotlight – Billy's Sports Bar & Grill: With one location in Birmingham and their second location in Historic Downtown Northport, Billy's was designed to be comfortable. It's local's favorite spot for good food, live music, great drinks, and a relaxing atmosphere to catch your beloved sports teams on TV. During football season, Billy's offers a free shuttle to and from campus.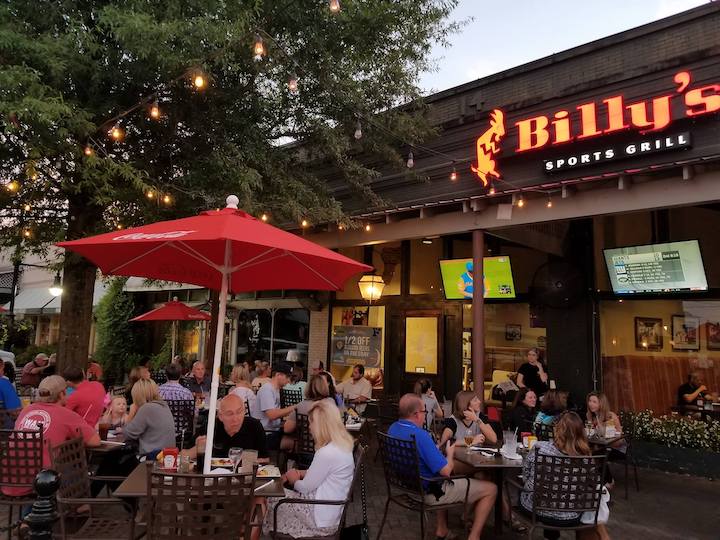 The Tuscaloosa and Northport communities are filled with incredible eateries and this is just a few of the many sports-related restaurants we have to offer! Check out our Eat page to find even more.
A person who lives and breathes the art of eating food. "Phone eats first" most definitely applies here.
It's a big world out there, with big flavors and big portion sizes! We know that Tuscaloosa fully embodies all things fun and football so it should come as no surprise that the food scene here is highly appreciated and curated for everyone's taste buds. There is no better way to embrace the Tuscaloosa food scene than listening to the advice of local fans/ foodies! After all, word of mouth is the best form of advertising, so here is what we have heard about the tastes of T-Town!
Anyone who says money can't buy you happiness clearly has not spent enough money on pizza!
Heat Pizza
, located in Government Plaza, serves up artisan pizzas and salads from the freshest ingredients in the area. Not only are the pizzas perfect, but Heat also makes some mean cocktails as well. Let's take a dive into one particular foodie favorite pizza- the Meat Lovers. Made with house red sauce, pepperoni, Italian sausage, bacon, ham, and fresh mozzarella, this pizza hits almost all of the points on the Food Pyramid. Thin crust, thick crust, or crispy, Heat isn't picky! Foodie secret, they put the pepperoni under the cheese to ensure the pizza is fully baked and the cheese is melted for you to eat properly. Highly acclaimed and famed- just check the Yelp reviews- Heat Pizza is a foodie's pizza paradise!
Our friends at
Ingram Farms
link with its Cajun connections every Spring to ship the best live crawfish, straight from the bayou, right here to Tuscaloosa. While you might be thinking, how much does a foodie love crawfish? The answer is a lot, especially if we have a southern foodie on our hands. A crawfish tastes like a mix between crab and lobster, but with an extra kick! Most orders come covered in garlic powder, paprika, and Old Bay (plus other spices) so be ready to defeat the heat! Tuscaloosa loves its crawfish so much that Ingram Farms hurries every year to keep its inventory stocked! A real foodie knows you get your order boiled and ready to eat for maximum enjoyment.
Pro tip
: Do
NOT
touch your eyes while or after eating crawfish and make sure to wash your hands thoroughly! Don't say we didn't warn you.
You might be saying to yourself, "TTS, yall talk a lot about Avenue Pub, what's the deal?"
Avenue Pub
is a foodie favorite here in Tuscaloosa and, as always, for some great reasons! Locals typically flock to Avenue Pub to get their burger and beer fix, but a true foodie knows there are big flavors beyond the burger. Foodie favorites include the Bacon Burger- no shock there- Thai Nachos, and its Fried Green Tomato BLT. The Thai Nachos are a twist on your normal version, with a spicy switch-up covered in peanut sauce and shredded chicken. Now if you're from Alabama, you're no stranger to fried green tomatoes and you've probably also seen the movie a handful of times. Avenue Pub's Fried Green Tomato BLT comes prepared extra crispy in between all of the fixings and rye bread. With delicious food to treat everyone's cravings and a fun atmosphere, it's no wonder why foodies flock to Avenue Pub!
Every foodie must get started with the most important meal of the day- breakfast!
The Waysider
has been serving Tuscaloosa for 70 years and is the oldest continuously serving restaurant in West Alabama. The atmosphere of this little old red house will make you feel at home or even like you're sitting at your grandma's table as you wait for your hot stack of pancakes to be served. Foodie to foodie, let's talk biscuits and gravy. The Waysider is known for its red-eye gravy- a true southern classic! The sweet and salty flavors pair perfectly with its buttery, flakey biscuits. While a keen foodie does love the eats, they also are looking for a great atmosphere! Here, guests feel at ease and taken care of. I mean, with 70 years in the business, The Waysider knows how to keep its audience happy!
We know there are so many foodie-approved hot spots here in Tuscaloosa, but we can't write the novel for you! Go out and explore the tastes of Tuscaloosa on your own! Chat with us @visittuscaloosa on Instagram and Facebook to share your foodie stories!
In the One and Only Tuscaloosa, there are so many places to go and things to see. These 10 things are popular among the locals and won't break the bank. So take a chance and try something new!
1. Children's Hands-On Museum (CHOM)
This museum has been providing children with fun activities and events since 1984. There are three floors of fun for children of all ages. The Great Pumpkin Party and the Monster Walk Scavenger Hunt are two events that are happening soon. Admission is less than $10! CHOM is a great place to take the kids and enjoy a day of fun!
2. Paul W. Bryant Museum
This museum is a blast from the past! Check out over a hundred years of Crimson Tide memorabilia and football history. Visit the Paul W. Bryant museum to see what it takes to be "nothing but a winner." Admission is $2 for adults and $1 for children.
3. Arboretum
If you're a dog lover then the arboretum is the place for you! The arboretum is sixty acres of the great outdoors. Check out the dog park, community garden, as well as the hiking trails. The best part is that it is completely free!
4. The Waysider
Take a trip to Paul "Bear" Bryant's favorite breakfast destination. It truly is the breakfast of champions. The restaurant is packed with decades of Alabama memorabilia. The Waysider offers made-from-scratch biscuits and gravy all for just under $3!
5. Homegrown Alabama Farmers Market
Edit: We regret to inform you his event will no longer happen. If you are interested in farmers' markets in Tuscaloosa then check out the Tuscaloosa Farmers' Market at the River Market.
6. Babes Donuts
A family-owned breakfast, brunch and coffee business located in Downtown Tuscaloosa. The menu features gourmet doughnuts unlike anything else you'll find in town. Flavors include: bacon maple, sourdough, Reese's Peanut Butter, Heath Bar sprinkle, Captain Crunch, Fruity Pebbles, S'mores, red velvet, blackberry cream cheese and others. Seasonal offerings can range from King Cakes during Mardi Gras to candied blood oranges. Stop by and grab a treat for under $10.
7. Steel City Pops
Nothing is better than a Steel City Popsicle on a hot Alabama summer day. They have many flavors to choose from, so there is a flavor for everyone. Flavors include: Arnold Palmer, Bosc Pear with Honey, Champagne White Tea, Cinnamon Apple, Cranberry Orange, Lime, Plum with Rosemary, Pomegranate, Strawberry Fig, Strawberry Lemonade, Avocado, Buttermilk, Carrot Cake, Chocolate, Coconut, Coffee, Maple Bacon, Bourbon, Pumpkin, Toasted Marshmallow, Vanilla Bean. All popsicles are $4.49 and under.
8. Black Warrior River
The Black Warrior River is absolutely stunning and the perfect place to go on a hot summer day. You can cast a line and catch some fish or bring your own boat and cruise the water. The Black Warrior is also perfect for paddle boarding or just floating down the river. Don't feel like getting in the water? That's fine because the Tuscaloosa River Walk runs along the river and offers beautiful scenery. It's the perfect place to get some exercise or take your dog for a walk.
9. City Café
For decades, locals and students alike have enjoyed the homemade cooking served up at City Café. At lunchtime, this restaurant is packed with locals stopping in for a tasty meal at a reasonable price. Stop in and enjoy a meat and three for under $10. You won't be disappointed, it's just like mama makes it.
10. Gallette's Yellowhammer
Stop by Gallette's and sip on a Tuscaloosa favorite. People from all over the United States have enjoyed Yellowhammer's from the One and Only Gallettes while in Tuscaloosa. The Yellowhammer is a staple on gameday at the University of Alabama. Their yellow cup is a popular accessory for the Crimson Tide fans walking around the quad. Visit Gallette's and try one for yourself.
Written by Rachel Horton