If you're traveling to Tuscaloosa for the Alabama /Ole Miss football game on Saturday, September 23, check out the details in the images below for Alabama Gameday info. For more information, you may also visit uagameday.com.
We hope that you enjoy your stay in Tuscaloosa and encourage you to come back and visit us again!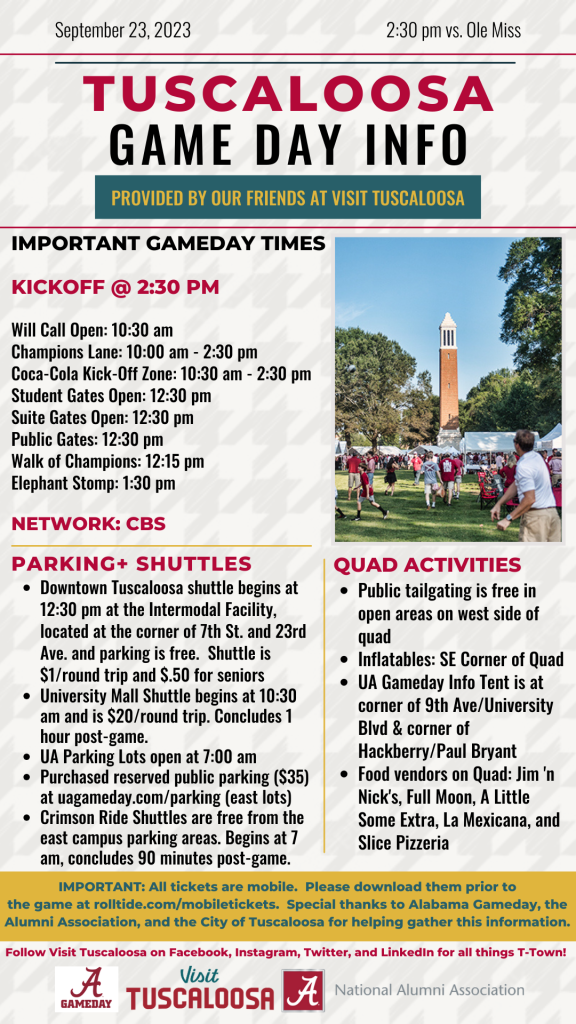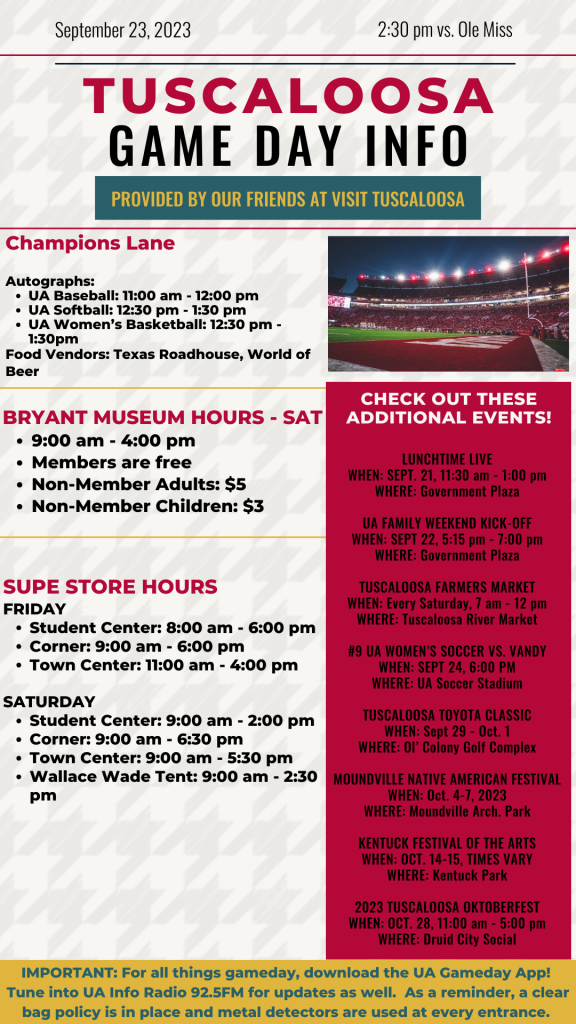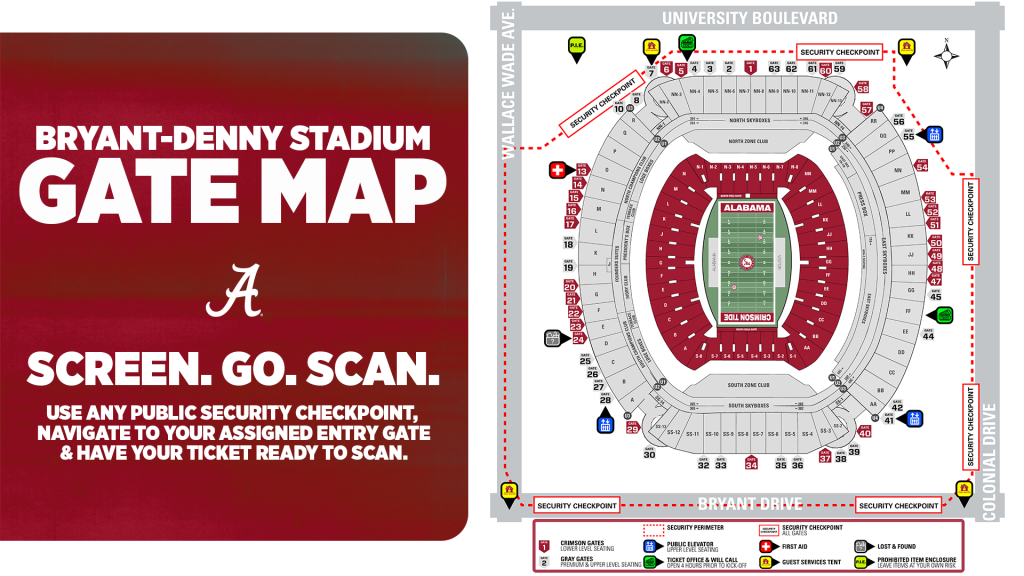 The ultimate gameday experience in Tuscaloosa, Alabama, home to The University of Alabama and the Crimson Tide, offers one of the most electric atmospheres that college football has to offer. Sometimes called "The City of Champions," Tuscaloosa is a vibrant community filled with local restaurants to satisfy every palate, a walkable downtown complete with live music, outdoor spaces to explore, and a destination that's easily accessible – no matter what direction you're coming from.
For a true taste of the game day experience, kick off the weekend with a trip to the Bryant Museum, where you'll find exhibits, artifacts, and memorabilia that traces the long history of The University of Alabama football. Once you're done taking in the knowledge of Alabama Football's legendary past, it's time to enjoy the beautiful campus. From the museum, walk over to the Quad for what will become a tailgating experience you won't soon forget. Hundreds of tents are filled with friends and family as they join in fellowship, indulge in great food and drinks, and cheer on other football teams across the nation as they await Alabama's kickoff.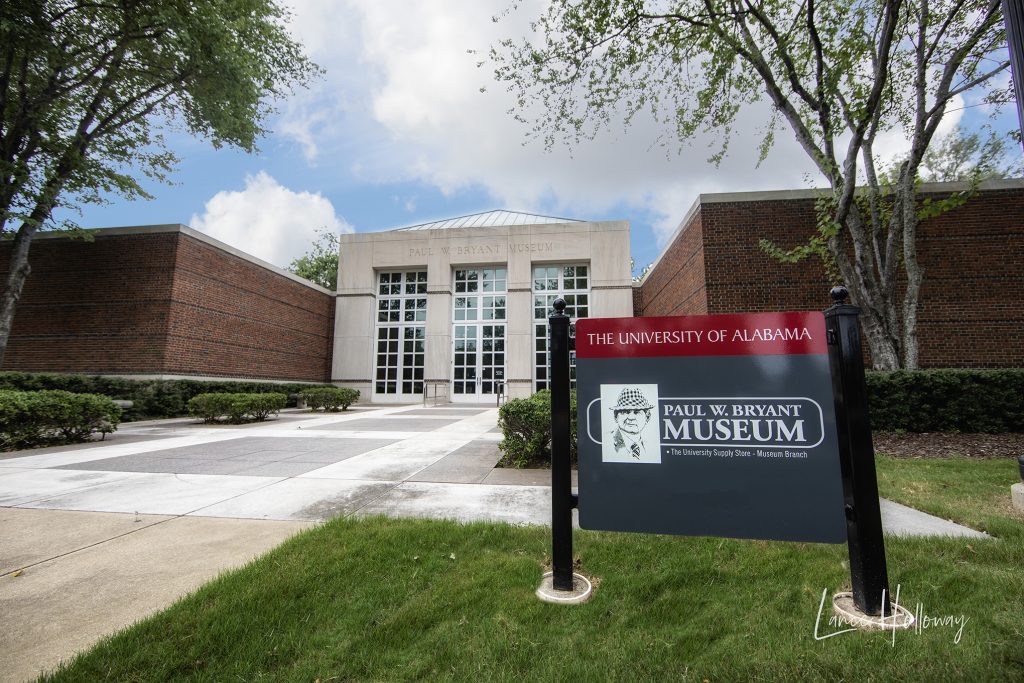 Another stop you won't want to miss is the Walk of Champions and the Coaches Walk, located at the north end of Bryant Denny Stadium. The Walk of Champions includes granite tablets commemorating the school's title seasons. But what makes it so special on game days takes place two hours and 15 minutes prior to kickoff. The Alabama team buses drop the players and coaches off at the walkway where thousands of fans greet them with smiles and roaring cheers to watch some of college football's most elite walk to the locker room.
After cheering on the Tide, it's time to experience the energetic nightlife in T-Town. While there are many options to select from, be sure to check out options located along The Strip, Downtown, or in Temerson Square, as well as a variety of other locations throughout the city. Many restaurants and bars feature live music, especially throughout game day weekends.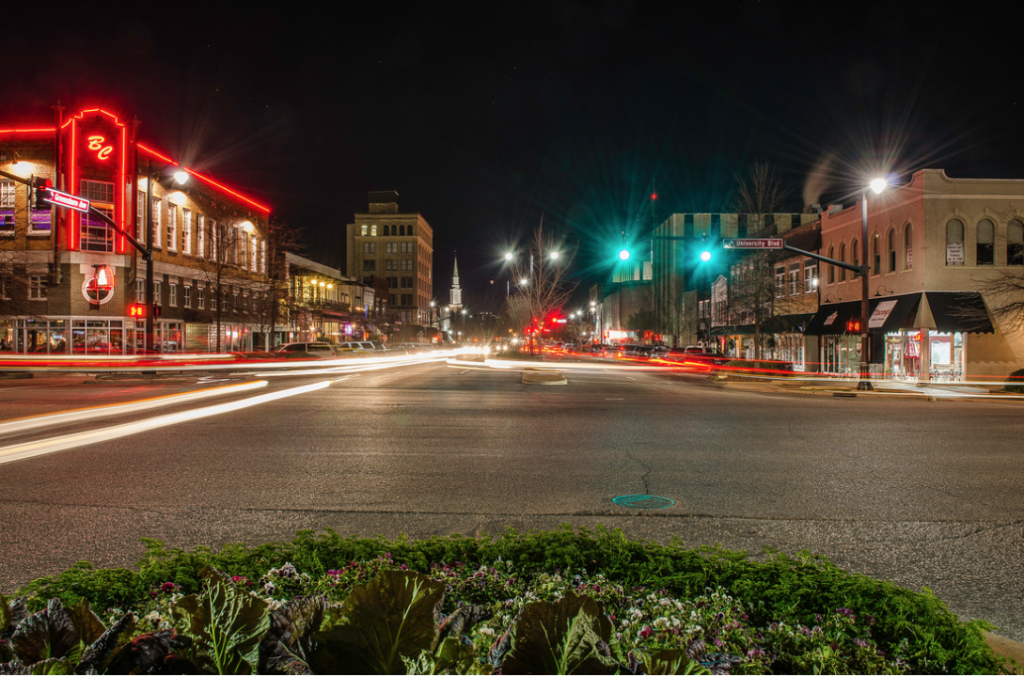 Whether you arrived to town early or have time before returning home, consider exploring the Tuscaloosa Civil Rights Trail. This self-guided, 18-stop trail includes many stories to help you understand Tuscaloosa's place in civil rights history, but most importantly, highlights the history of how Tuscaloosa's color barrier was broken by the courageous efforts of many black and a few white foot soldiers.
When planning your trip, search visittuscaloosa.com for all things Tuscaloosa. We welcome you with open arms and know you'll make legendary memories to last a lifetime while here. Roll Tide!
A Game Day Must: Don't miss out on a Denny Dog (aka Stadium Dog). Quite possibly the next best thing outside of the game itself and sold in Bryant Denny!
Photo Credit: Alabama Athletics
There is one thing we all miss from years past and that is attending events with our friends and family. As we slowly inch into the New Year, Tuscaloosa is offering a variety of different experiences that are exciting for all ages! Let's take a look at what's coming up this weekend.
It doesn't get much better than another Crimson Tide versus Auburn Tigers game down-home in Tuscaloosa. The University of Alabama's gymnastics team faces Auburn at 7:30 p.m. this Friday, Jan. 22, at the Coleman Coliseum. Want to see the Tide roll in person while maintaining social distance measures? Tickets will be available in the lobby 1.5 hours prior to the start of the meet. For those who can't attend or are taking health precautions, be sure to grab your favorite snack and tune into the SEC Network to watch the Tide turn!
You still can't get enough Tide action? Good news- The University's women's basketball team will challenge the Auburn Tigers this Sunday, Jan. 24. The start time is scheduled for 1 p.m. CST. Those who wish to cheer on the Tide, face mask-clad, can purchase tickets in the Coleman Coliseum lobby prior to the start of the game. Of course, if in-person events are not yet in your comfort zone, you can always show your support from home and tune in to ESPNU from your couch!
Tuscaloosa Farmers Market
Get your weekend fix of artisan bread, farm-fresh vegetables, and fabulous finds from your local small business owners at this weekend's farmers market. The Tuscaloosa Farmers Market takes place this Saturday, Jan. 23, from 7 a.m. to 12 p.m. Don't feel like leaving the warmth of your vehicle but want to still indulge in uniquely local goods? Curbside delivery is an option for a limited time. Remember, you can't buy happiness but you can buy local!
Lions, Tigers, and Dinosaurs? Oh My! Head over to The Children's Hands-On Museum to learn about one of the world's most fascinating wonders- dinosaurs! Hatching your own dino egg and digging for fossils is a great way to promote education in your little one while also creating fun memories with your family. With a mission of a dynamic learning experience that stimulates curiosity and creativity, CHOM is a perfect weekend day trip for all ages!
December has arrived in Tuscaloosa and there are tons of fantastic things to do all around town to safely celebrate the holiday season together with friends and family! Don't let the chilly temperatures deter you from all there is to do safely around town! From art shows and exhibitions to holiday celebrations, this upcoming weekend is full of holiday cheer and good times. See below for a list of a few local happenings around town perfect for family get-togethers, date nights, or more!
First Friday & Art Night
First Friday is still rolling through the holiday season and will be hosted throughout Downtown Tuscaloosa on Friday, December 4th throughout the evening. The First Friday Art Walk is a wonderful opportunity for visitors to enjoy fabulous works of art with friends and family while enjoying the backdrop of Downtown Tuscaloosa. Visit the First Friday website to learn more about participating art studios and admission information!
Christmas Tree Lighting at the Courthouse
The annual lighting of the Tuscaloosa Christmas tree at the Tuscaloosa County Courthouse will be happening the night of December 4th at 6 p.m. Information about the Christmas Tree Lighting Event can be found in their press release available here.
Super 7 State Football Championships
Friday will be the final night of the 2020 Alabama High School Super 7 State Football Championships, featuring the championship matchups of the 4A, 2A, and 6A divisions of high school football teams. These teams have battled their way to the opportunity for glory inside Bryant-Denny Stadium and will be giving it their all! For more information about the competing teams and ticket information, visit the Super 7 website specific to the Tuscaloosa event.
8×8 Holiday Art Show
This weekend, Tuscaloosa is home to the Fifth Annual 8×8 Holiday Art Show, an art show developed to support local Tuscaloosa-area artists. This art show has an interesting twist, however! All available artwork is required to be 8×8" and is sold at a retail price of $88! 100% of the proceeds go directly to local Tuscaloosa artists! This year's art show will take place on the evening of December 4th and 5th and requires ticketed admission for entry – visit the ticket page of the 8×8 Holiday Art Show for more information. In addition to the in-person art show, the 8×8 Holiday Art Show will also be hosting a virtual marketplace where patrons can browse through art pieces and make purchases from the comfort of their own homes!
We have a lot going on throughout the upcoming fall months and are excited to share more. Give us a follow on our social media pages (@visittuscaloosa) for more announcements and future events. We can't wait to see you around Tuscaloosa!
Football has returned to Tuscaloosa, and with it a ton of great events to give you a fun-filled weekend in the city of champions. We have live music, art events, musicals, and more! Get ready to enjoy a special weekend in Tuscaloosa!
Art Night at Kentuck
Just over the river from downtown Tuscaloosa rests Kentuck Art Center, the centerpiece of the local art community. One the first Thursday of each month they host a quaint little shindig to help you relax and explore their unique scene. They have live music, light hors-d'oeuvres and a chance to interact with a local artist and even purchase some of their beautiful art. Art night lasts from 5-8 on Thursday, but it will be the best three hours of your month, guaranteed. Check out their Facebook event to share this information with your friends! https://www.facebook.com/events/366189450947666/
First Friday Art Walk
The first Friday of the month is a special evening in downtown Tuscaloosa. Local art galleries open their doors late and invite the public in for a night of fun and exploration. With downtown being an entertainment district on Friday evenings, you can now grab your favorite drink from a local bar or restaurant and dig the local art scene. Galleries on your tour include Harrison Galleries, the Dinah Washington Cultural Arts Center, and local artist Caleb O'Connor's studio. For more information and hours visit http://firstfridaytuscaloosa.com/
Alabama Football vs. New Mexico State
The Crimson Tide how the New Mexico State Aggies in the Tide's first home game of the 2019 season. Alabama dominated Duke last week to the tune of 42-3, and look to build on that success before heading on the road for its first conference game of the season against South Carolina next week. Kickoff is at 3:00 p.m., and it will be a great day for some early tailgating before watching the Tide roll. Tickets are still available at rolltide.com. For more game day information, visit https://uagameday.com/gameday-information-2018/.
Fly By Radio at Rhythm & Brews
Fly By Radio has spent years traveling the southeast playing fraternities, sororities, special events, festivals, corporate, and weddings. From Motown to current jams, and everything in between, FBR will have you singing along to all the hits at Rhythm and Brews this Friday, September 6 beginning at 10 p.m. If you like Guns n' Roses, Metallica, and AC/DC, then this will be a great way to kick off your gameday weekend in Tuscaloosa. For more info visit https://www.rhythmnbrews.com/.
The Actor's Charitable Theatre presents "Cats."
"Jellicle Cats come out tonight, Jellicle Cats come one come all." Join the Actor's Charitable Theatre for their magical and moving production of Cats the Musical September 6-9 at The Bama Theatre. Based on T.S. Eliot's whimsical collection of poems, Old Possum's Book of Practical Cats, Andrew Lloyd Webber's popular musical brings together a tribe of Jellicle Cats on a moonlit evening, who must make the "Jellicle choice" to decide which of them will ascend to the mysterious Heaviside Layer to be reborn. Featuring such celebrated standards as the haunting "Memory," "Cats" was an international phenomenon and its original production is still the fourth-longest-running show on Broadway with a new revival that opened in summer 2016. You have plenty of opportunities to experience this musical over the weekend. This includes shows on Friday and Saturday, as well as two showings on Sunday. Visit http://theactonline.com/cats/ for showtimes and to purchase tickets.
Autumn is almost here, and that means football and fun in Tuscaloosa. When you aren't watching the Tide roll (or your favorite team), head out to see some live music or enjoy some fun activities with the kids.
Drew Ellis at Rhythm & Brews
Rhythm and Brews was packed with people to see Farmer's Daughter last weekend as part of the Druid City Music Festival, and they are keeping the great music going again this weekend. Drew Ellis will take the stage Saturday, August 31, playing his brand of traditional and outlaw country. The American veteran is a singer/songwriter of heartfelt songs that are influenced by war as well as everyday life. Drew lives what he sings, and that's why you won't want to miss him Saturday night at Rhythm & Brews. For more info visit this Facebook page. https://www.facebook.com/rhythmtuscaloosa/
The 9th Annual Johnny Shines Blues Festival
Tuscaloosa's got the blues this weekend at the Johnny Shines Blues Festival. This day-long event will have you singing and enjoying great live music from 8:00 a.m. to 10:00 p.m. on Saturday, August 31. This family-friendly event will have games and face painting for kids, The Little Miss Johnny Shines Beauty Pageant, food and lots of fun. Doors at 8 a.m., with a motorcycle contest from 9-10; Little Miss Johnny Shines 10-11; children's carnival from 10 to noon; church choirs at 3:30 p.m.; Drum Nation at 4; ABP at 4:45; Country Gold 5:15; Earl "Guitar" Williams 6:15; DuChaine 7:15; Carroline Shines and Impulse Band 8:15; and Little Jimmy Reed 9:15. For more information contact Carole Taylor At The McAbee Activity Center at 205-562-3235. Tickets are $10 in advance and $15 at the event.
Jazz in the Park
Jazz in the Park is a free concert series for the public that travels each weekend to various communities throughout the state of Alabama. This Sunday, September 1 from 6:00 p.m. to 9:00 p.m experience live jazz music in lovely Capitol Park courtsey of Magic City Smooth Jazz. This organization has put on over 125 free concerts to the public around Alabama. Don't miss your chance to enjoy a Sunday evening full of jazz.
Children's Hands-On Museum
It's a conundrum of a weekend this Saturday at the Children's Hands-On Museum with Brain Games. Kids will solve puzzles, be confounded by riddles, and can solve all the mysteries to win a prize. The event runs from 9:00 a.m. to 4:30 p.m.
The road to Alabama's eighteenth football national championship begins this beautiful spring weekend in Tuscaloosa at Bryant-Denny Stadium! The Tuscaloosa Amphitheater will be hosting Chris Young on Thursday night and Casting Crowns on Friday night. There are plenty of family events happening this weekend such as the Tuscaloosa Children's Theatre's presentation of "Peter Pan, Jr" and the Alabama Football Spring A-Day game. Get out and enjoy a fun-filled weekend in the One and Only.
Chris Young at the Tuscaloosa Amphitheater
If you're a country music fan you don't want to miss Thursday night at the Tuscaloosa Amphitheater. Chris Young's "Losing Sleep 2018 World Tour" is making a stop in Tuscaloosa, and he is bringing special guests Kane Brown, Morgan Evans and Dee Jay Silver with him. The show begins at 7:30 pm, and it's going to be one of the best shows of the spring! You can get in the door right now for $37, so purchase your ticket from www.tuscaloosaamphitheater.com before they are all gone!
Tuscaloosa Children's Theatre presents "Peter Pan, Jr."
Based on the Disney film and J.M. Barrie's enchanting play, Disney's Peter Pan JR. is a modern version of the timeless tale about a boy who wouldn't grow up… with no flying required! The score includes new arrangements of classic Disney songs and a story featuring one rousing adventure after another. Wendy Darling loves to tell stories to her brothers, Michael and John. But when her father announces she must move out of the nursery, Peter Pan comes to visit the children and whisks them away to Neverland. Their journey introduces them to the Lost Boys, Mermaids, Indians and even the infamous pirate, Captain Hook! It's Peter to the rescue when Wendy is taken captive by the dreaded captain, who has his own sinister plans in mind for our hero. There are multiple times that you can catch this presentation at the Bama Theatre. The times are Friday 7:00 pm- 9:00 pm, Saturday 2:00 pm- 4:00 pm, and 7:00 pm- 9:00 pm. Come out and show your support for the Tuscaloosa Children's Theatre.
Casting Crowns at the Tuscaloosa Amphitheater
Chris Young isn't the only artist playing the Amp this weekend. Casting Crowns will be back in town at the Tuscaloosa Amphitheater on Friday night for their "Very Next Thing" tour performing soulful praise and worship music. They will be joined by special guest "I Am They." The concert begins at 7:00 pm. Visit www.tuscaloosaamphitheater.com to purchase tickets. ​
Alabama Football's A-Day Spring Game
The 2018 Golden Flake A-Day Spring Football Game will be played on Saturday, April 21, at 1 p.m. The annual A-Day Game is the 15th and final practice of the spring and takes place at Bryant-Denny Stadium. Admission will once again be free to the public. After the scrimmage, you will have the chance to go onto the football and walk around or take pictures. Some of the other highlights of A-Day include the Walk of Fame ceremony, where the 2017 captains will set their hands and cleats in cement at Denny Chimes and an alumni flag football game with former star players. A-Day is the perfect family event, so come out and support the Crimson Tide as they begin their road to number eighteen.
Beans and Brews Crawfish Boil to benefit Habitat for Humanity
UPerk and Loosa Brews are partnering for a family-friendly crawfish boil featuring local bands, artists, and artisans to benefit the Tuscaloosa Habitat for Humanity. The crawfish boil is on Saturday at 4:00 pm to 9:00 pm, so make plans to swing by after the A-Day game for some crawfish and to support this wonderful organization that does so much for the Tuscaloosa community.
Follow us on social media (@visittuscaloosa) to stay up-to-date on important events. Tag us in your photos for a chance to be featured on our social media accounts. We love seeing Tuscaloosa through your eyes!
Another big weekend in the city of champions is around the corner, and we've got the low-down on all the fun events taking place. Friday is December 1, so that means First Friday Art Night will be taking over downtown T-town. Grab a drink from your favorite bar or restaurant and take a tour of the local art scene before seeing some live music at Green Bar.
First Friday Art Night in downtown Tuscaloosa has become a special monthly event to residents and visitors alike. Local artists and gallery owners showcase incredible works each month and this week will be no different. An entertainment district will be in effect until 10 p.m. so grab a drink from Catch-22 or your favorite bar or restaurant and head out to explore Tuscaloosa's vibrant art scene. Galleries involved include:
– Grace Aberdean Habitat Alchemy 6-9 p.m.
– O'Connor Art Studios 5:30-8:30 p.m.
– The Paul R. Jones Gallery 5:30-7:30 p.m.
– Uperk 5:30-8
– Dinah Washington Cultural Arts Center 5-8 p.m.
– Harrison Galleries 6-9 p.m.
These galleries would love the opportunity to host you, and some even provide hors-d'oeuvres. Best of all, the event is free, so you have no reason not to go, and you are guaranteed to stumble upon something that surprises and delights you.
When you're finished taking in the local art scene on Friday evening, head over to Green Bar where Admiral Snackbar will be rocking all night. This Tuscaloosa band plays some of the best rock around and has been influenced by Black Sabbath, Led Zeppelin, and Rage Against the Machine. As Tuscaloosa's music scene continues to develop its unique blend of sounds, keep an eye on Admiral Snackbar and their contributions. Bands like the Alabama Shakes and St. Paul & the Broken Bones used to play Green Bar, so you never know when you could see the next great Alabama band. The music starts around 11 and tickets are FREE!
Great local bands won't just be playing downtown this weekend. Angela and the Able Brothers Band mix acoustic guitars, smooth bass, and incredible vocals for your listening pleasure. The band has seemingly played everywhere this year and this Saturday will take their show to Band of Brothers Brewing. It's such a blast to watch a band perform next to the huge brewing equipment, and it makes Band of Brothers a special place to see Tuscaloosa's best bands. Head over around 7 and get lost in the music.
It wouldn't be a weekend in Tuscaloosa without Alabama sports. Coach Avery Johnson has the Crimson Tide Men's basketball team off to a scorching 5-1 start, with the only loss being mostly a 3 on 5 game where young bull Collin Sexton scored 40 points, an Alabama freshman. You have got to see this team play in person, and Sunday at 1 p.m. against UCF is your chance. Tickets can be purchased at RollTide.com and are only $15, which is a steal to watch this squad.
There are always fun events going on around town, so visit our event calendar at visittuscaloosa.xyz/events for a complete list.
LSU weekend is always a special weekend in Tuscaloosa, and this year is no different. There are tons of exciting things to do beginning on Friday at 5:30 with Tuscaloosa's First Friday Art Walk. Due to the success of the entertainment district the past few weekends, it will once again be in effect on Friday and Saturday from 9am-10pm each day. So get out, grab a drink, and explore the shops and art galleries that Tuscaloosa has to offer while you're in town for the game.
Tuscaloosa's local art scene comes alive on Friday night for the First Friday Art Walk. Experience the vibrant Tuscaloosa downtown area with drink-in-hand as you visit Harrison Galleries, the Paul R. Jones Gallery, O'Connor Art Studio and more! Check out the First Friday website and map your personalized art crawl. You may even stumble on an original Salvador Dali like we did!
Alabama has its biggest home game of the season on Saturday night when the 19th-ranked LSU Tigers come to town. Alabama is a 21-point favorite, but this is a rivalry where truly anything can happen. Alabama has beaten LSU six games in a row –including the national title game in 2011 – and LSU will once again be looking for revenge under the lights of Bryant-Denny Stadium. The game kicks off at 7:00 p.m. and will be televised by CBS.
Have you ever wanted to learn how to brew your own beer? Join Band of Brothers Brewing on November 4th at 1: 00 p.m. when The American Homebrew Association will be on site for Homebrew day! Learn to Homebrew Day brings together thousands of people from all over the world, and we encourage anyone who enjoys beer—from brewing beginners and hobbyists to professionals, to get involved," said Gary Glass, director, American Homebrewers Association.
The Children's Hands-On Museum always has something for the kids on Saturday, and this weekend is no different. Join them for River Discovery Days Saturday, November 4, 2017, from 10:00 a.m. to 4:00 p.m. as "Riverboat John" Ferguson performs with songs and stories about life on the River! Kids will learn about careers on the river, how to be a Captain, Navigator, Deckhand and more as they trace U.S. rivers, learning and having fun along the way.
Alabama football isn't the only sport in action this weekend. Come cheer on the Alabama volleyball team as they take on Georgia Sunday at noon. The Tide are looking to bounce back from a loss to Auburn against a good Georgia team that they've already beaten once this season, so it's a good opportunity to get their mojo back.  The match will be in historic Foster Auditorium which is a great venue to watch Crimson Tide volleyball.
We have tons going on during the upcoming holiday season, so make sure to check out our great upcoming events and follow us on our social media pages (@visittuscaloosa) for more announcements. Tell your friends and we can't wait to see you around the One and Only Tuscaloosa!
Also, check out our Gameday Fashion Blog for some great places around town to pick up your perfect gameday outfit.
In the One and Only Tuscaloosa, there are so many places to go and things to see. These 10 things are popular among the locals and won't break the bank. So take a chance and try something new!
1. Children's Hands-On Museum (CHOM)
This museum has been providing children with fun activities and events since 1984. There are three floors of fun for children of all ages. The Great Pumpkin Party and the Monster Walk Scavenger Hunt are two events that are happening soon. Admission is less than $10! CHOM is a great place to take the kids and enjoy a day of fun!
2. Paul W. Bryant Museum
This museum is a blast from the past! Check out over a hundred years of Crimson Tide memorabilia and football history. Visit the Paul W. Bryant museum to see what it takes to be "nothing but a winner." Admission is $2 for adults and $1 for children.
3. Arboretum
If you're a dog lover then the arboretum is the place for you! The arboretum is sixty acres of the great outdoors. Check out the dog park, community garden, as well as the hiking trails. The best part is that it is completely free!
4. The Waysider
Take a trip to Paul "Bear" Bryant's favorite breakfast destination. It truly is the breakfast of champions. The restaurant is packed with decades of Alabama memorabilia. The Waysider offers made-from-scratch biscuits and gravy all for just under $3!
5. Homegrown Alabama Farmers Market
Edit: We regret to inform you his event will no longer happen. If you are interested in farmers' markets in Tuscaloosa then check out the Tuscaloosa Farmers' Market at the River Market.
6. Babes Donuts
A family-owned breakfast, brunch and coffee business located in Downtown Tuscaloosa. The menu features gourmet doughnuts unlike anything else you'll find in town. Flavors include: bacon maple, sourdough, Reese's Peanut Butter, Heath Bar sprinkle, Captain Crunch, Fruity Pebbles, S'mores, red velvet, blackberry cream cheese and others. Seasonal offerings can range from King Cakes during Mardi Gras to candied blood oranges. Stop by and grab a treat for under $10.
7. Steel City Pops
Nothing is better than a Steel City Popsicle on a hot Alabama summer day. They have many flavors to choose from, so there is a flavor for everyone. Flavors include: Arnold Palmer, Bosc Pear with Honey, Champagne White Tea, Cinnamon Apple, Cranberry Orange, Lime, Plum with Rosemary, Pomegranate, Strawberry Fig, Strawberry Lemonade, Avocado, Buttermilk, Carrot Cake, Chocolate, Coconut, Coffee, Maple Bacon, Bourbon, Pumpkin, Toasted Marshmallow, Vanilla Bean. All popsicles are $4.49 and under.
8. Black Warrior River
The Black Warrior River is absolutely stunning and the perfect place to go on a hot summer day. You can cast a line and catch some fish or bring your own boat and cruise the water. The Black Warrior is also perfect for paddle boarding or just floating down the river. Don't feel like getting in the water? That's fine because the Tuscaloosa River Walk runs along the river and offers beautiful scenery. It's the perfect place to get some exercise or take your dog for a walk.
9. City Café
For decades, locals and students alike have enjoyed the homemade cooking served up at City Café. At lunchtime, this restaurant is packed with locals stopping in for a tasty meal at a reasonable price. Stop in and enjoy a meat and three for under $10. You won't be disappointed, it's just like mama makes it.
10. Gallette's Yellowhammer
Stop by Gallette's and sip on a Tuscaloosa favorite. People from all over the United States have enjoyed Yellowhammer's from the One and Only Gallettes while in Tuscaloosa. The Yellowhammer is a staple on gameday at the University of Alabama. Their yellow cup is a popular accessory for the Crimson Tide fans walking around the quad. Visit Gallette's and try one for yourself.
Written by Rachel Horton
Tomorrow begins a big weekend in Tuscaloosa! Bama football returns for homecoming, Druid City Pride weekend runs through Sunday, and the Children's Hands-On Museum always has something fun for the kids. The entertainment district will be in effect in Downtown Tuscaloosa again this weekend, so take the opportunity to get out, grab a drink, and explore Tuscaloosa's unique downtown area and events.
On Friday night downtown Tuscaloosa will be buzzing with excitement and activity. In addition to the area being an entertainment district from 9:00 a.m. to 10:00 p.m. Druid City Pride will host a block party from 5:30 p.m. to 9:00 p.m on 22nd Avenue between Alcove and Grace Aberdeen. Druid City Pride is a local organization dedicated to celebrating, serving, and supporting the LGBTQ+ community in Tuscaloosa. Great drinks from Alcove and Monarch, cornhole, and live music by incredible blues musician Janelle Frost will give you and your friends a fun place to unwind and kick off a great Pride weekend in Tuscaloosa. Come out and enjoy a good time!
The Crimson Tide returns home under the lights of Bryant-Denny this Saturday night to battle divisional foe Arkansas for homecoming. Alabama will kick off at 6:15 as a whopping 30.5-point favorite and will be looking to Coach Saban and the fans to make sure they haven't been affected by the "rat poison" that comes along with beating SEC teams 66-3. If you haven't purchased a ticket yet, don't worry. There are still some tickets left on rolltide.com. There are several special homecoming activities happening this weekend, such as a step show on Friday night at 8:30 p.m. and parade on Saturday at 1:00 p.m. Get out and enjoy the best gameday experience in all of college football.
The Children's Hands-On Museum always has fun events for the kids, and this weekend is no exception. On Saturday from 10 a.m. to 4 p.m. things will get spooky as Halloween takes over for the Goblin Gala. Kids will enjoy treats, activities, and games in a fun Halloween setting. The Children's Hands-On Museum is always providing fun things for kids to do in the One and Only Tuscaloosa. Stop by before the homecoming game on Saturday and get into the Halloween spirit.
Join Band Of Brothers Brewing Sunday, October 15th for Trucks By The Tracks with your favorite local food trucks. Band of Brothers is hosting Pastor's Kitchen, Simple Southern Cuisine, Get MIX'D, Lolly's Sugar Shack and more. This event is your chance to experience great beer, live music, and good company. What could be better? The brewery opens at 1:00 p.m. with food trucks arriving at 1:30. Live music performed by the Tarred and Feathered Band will begin at 2:00. It's going to be a large time!
The Alabama Crimson Tide soccer team is in town on Sunday afternoon taking on the Mississippi State Bulldogs at 5 p.m. Both teams are coming off of loses and will be fighting hard to get their schedule back on track. The Crimson Tide's record is 9-6-1 and the Bulldogs are 7-3-3. Sporting events at The University of Alabama are always a good time. As always, admission is free so it is a great event to take the whole family to.
We have tons more going on so check out our great upcoming events below, and follow us on our social media pages (@visittuscaloosa) for more announcements.
Contributors: Danny Owen & Rachel Horton
Dressing up for gameday is a tradition in Tuscaloosa. Some people get more dressed up for the Crimson Tide than they do for church on Sunday. Saturdays in the fall are basically a fashion show, and the quad is the catwalk. There are thousands of variations of crimson, white, and houndstooth outfits on display during football season. Here's a selection of stores in Tuscaloosa that offer Instagram-worthy outfits for gameday.
Midtown Village
This massive shopping center is home to more than 20 different clothing and shoe stores that offer a wide variety of styles. You won't leave Midtown without finding at least one outfit, or maybe just a cute pair of shoes. Az Well, Bevello, Francesca's, Lavish, and Soca are a few favorites of the ladies. There are several options for men as well, such as Alumni Hall, Kinnucan's, and the Nike Factory Store. Each of these stores and boutiques can hook you up with the perfect outfit to show off in Bryant-Denny.
Downtown Tuscaloosa
Downtown Tuscaloosa is the perfect clothing destination because it is in walking distance of the stadium. So if you've waited until the last minute to look for an outfit (*cough* Men *cough*) then don't worry because you can just snag an outfit on your way to the game. Effie's and Lucca have super cute outfits for women, while the Pant's Store and The Shirt Shoppe have great gameday options for both men and women. Any of these stores would be glad to help you find what you need to cheer on the Tide and bring in the Instagram likes.
The Strip
The Strip has several great places to find gameday outfits, but you might want to get there early. The Strip attracts thousands of people on Alabama Crimson Tide gamedays so naturally, the stores are filled to capacity. Ellie Crimson, Expeditions, and Alabama Express are several popular options to find outfits that will make you stand out of the crowd. So, although they are convenient you might want to visit those shops ahead of time because you don't want to miss out on all the great clothing options they have. Your social media accounts will thank you.
Written by Rachel Horton