If you're traveling to Tuscaloosa for the Alabama /Ole Miss football game on Saturday, September 23, check out the details in the images below for Alabama Gameday info. For more information, you may also visit uagameday.com.
We hope that you enjoy your stay in Tuscaloosa and encourage you to come back and visit us again!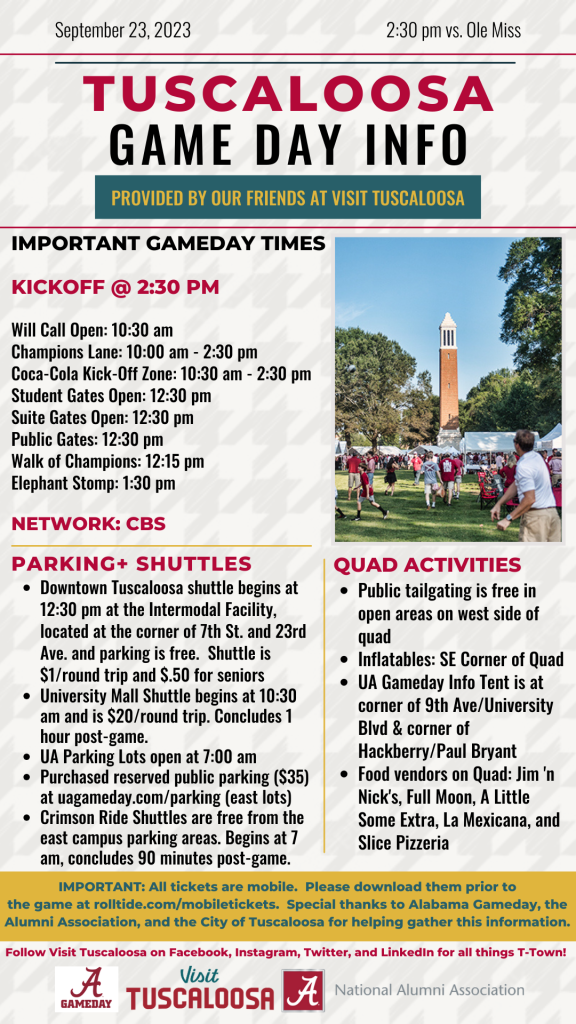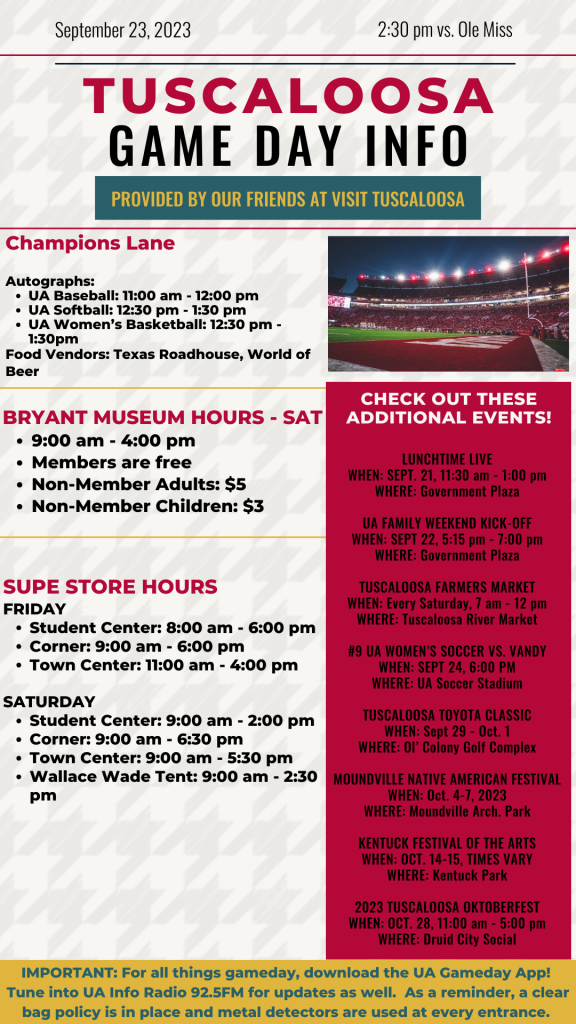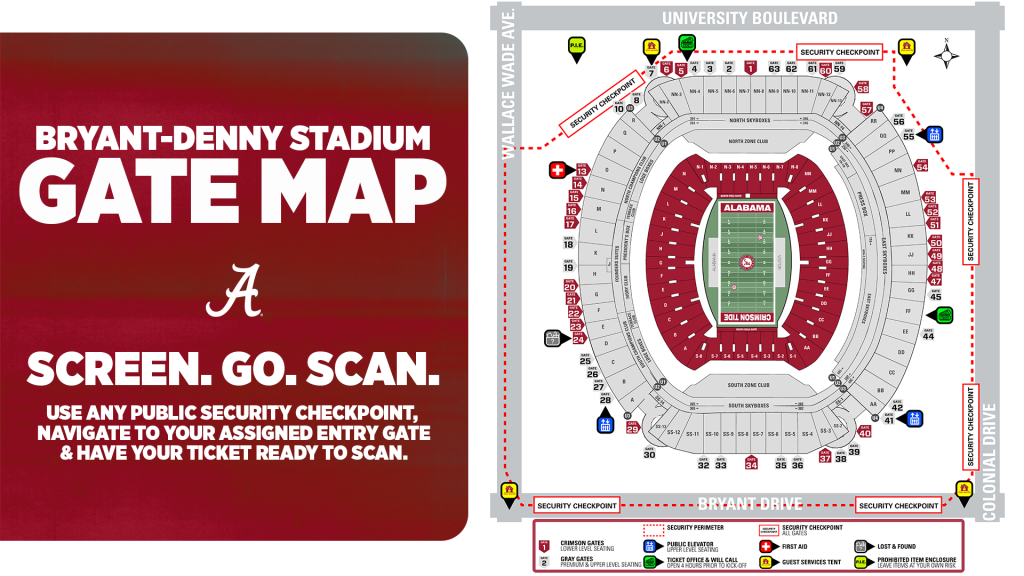 The ultimate gameday experience in Tuscaloosa, Alabama, home to The University of Alabama and the Crimson Tide, offers one of the most electric atmospheres that college football has to offer. Sometimes called "The City of Champions," Tuscaloosa is a vibrant community filled with local restaurants to satisfy every palate, a walkable downtown complete with live music, outdoor spaces to explore, and a destination that's easily accessible – no matter what direction you're coming from.
For a true taste of the game day experience, kick off the weekend with a trip to the Bryant Museum, where you'll find exhibits, artifacts, and memorabilia that traces the long history of The University of Alabama football. Once you're done taking in the knowledge of Alabama Football's legendary past, it's time to enjoy the beautiful campus. From the museum, walk over to the Quad for what will become a tailgating experience you won't soon forget. Hundreds of tents are filled with friends and family as they join in fellowship, indulge in great food and drinks, and cheer on other football teams across the nation as they await Alabama's kickoff.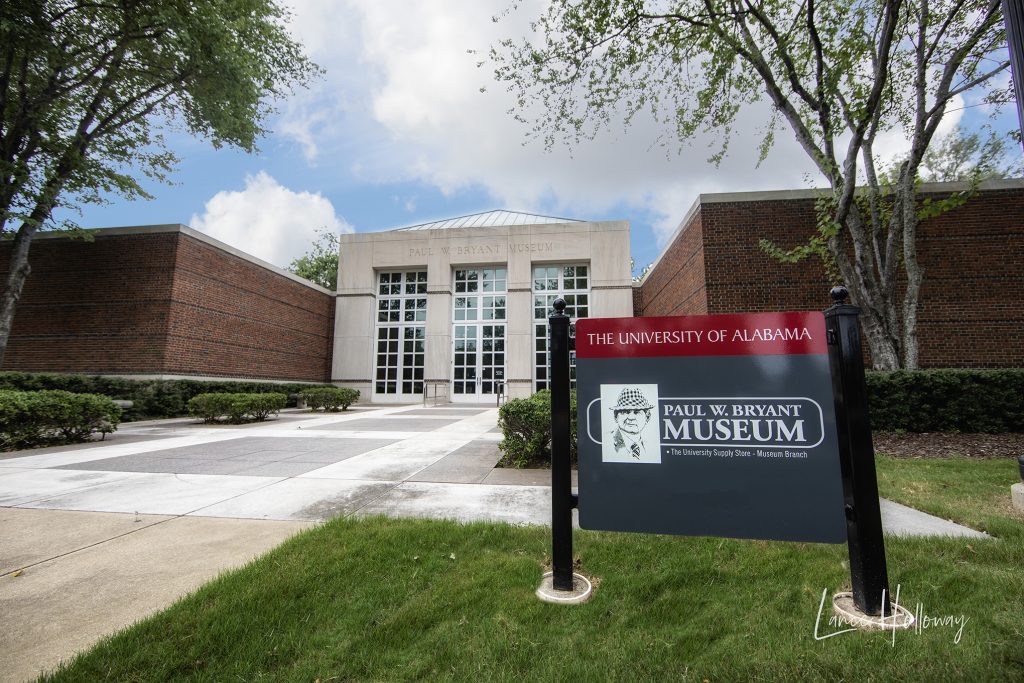 Another stop you won't want to miss is the Walk of Champions and the Coaches Walk, located at the north end of Bryant Denny Stadium. The Walk of Champions includes granite tablets commemorating the school's title seasons. But what makes it so special on game days takes place two hours and 15 minutes prior to kickoff. The Alabama team buses drop the players and coaches off at the walkway where thousands of fans greet them with smiles and roaring cheers to watch some of college football's most elite walk to the locker room.
After cheering on the Tide, it's time to experience the energetic nightlife in T-Town. While there are many options to select from, be sure to check out options located along The Strip, Downtown, or in Temerson Square, as well as a variety of other locations throughout the city. Many restaurants and bars feature live music, especially throughout game day weekends.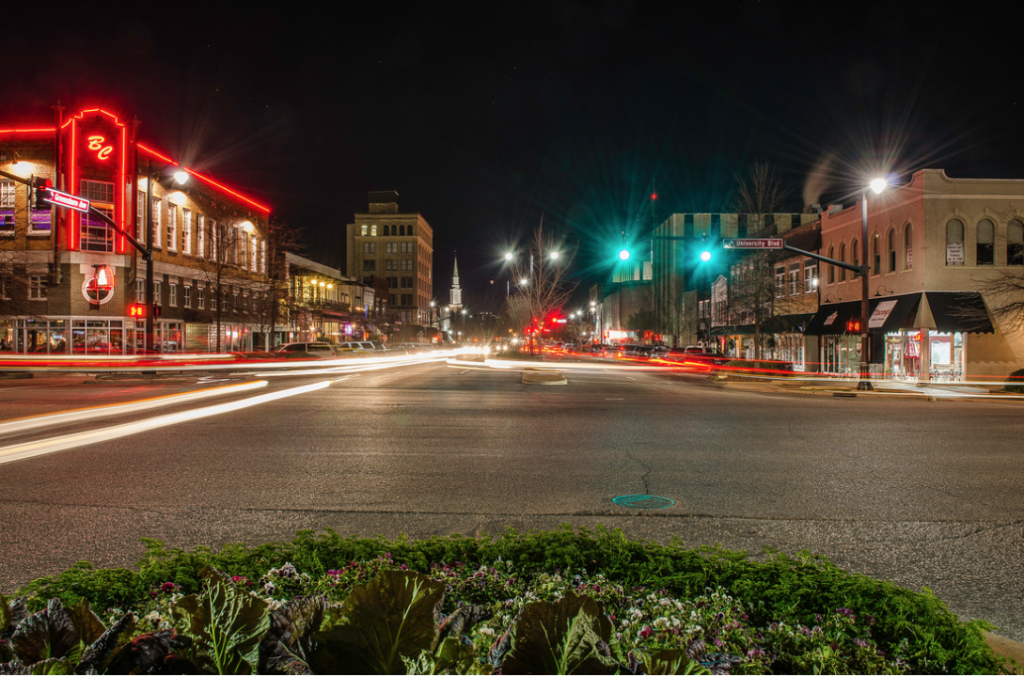 Whether you arrived to town early or have time before returning home, consider exploring the Tuscaloosa Civil Rights Trail. This self-guided, 18-stop trail includes many stories to help you understand Tuscaloosa's place in civil rights history, but most importantly, highlights the history of how Tuscaloosa's color barrier was broken by the courageous efforts of many black and a few white foot soldiers.
When planning your trip, search visittuscaloosa.com for all things Tuscaloosa. We welcome you with open arms and know you'll make legendary memories to last a lifetime while here. Roll Tide!
A Game Day Must: Don't miss out on a Denny Dog (aka Stadium Dog). Quite possibly the next best thing outside of the game itself and sold in Bryant Denny!
Photo Credit: Alabama Athletics
If you're looking for places to eat on gameday in Tuscaloosa, you've come to the right spot! Founded in 1958 in Tuscaloosa, Alabama, Dreamland is hailed as one of the best BBQ joints around and has been a legendary staple in our community and on game day since it began.  It's said that this famous joint serves ribs to over one million people per year. 
With a slogan of "Ain't nothing like 'em nowhere," they are most notably known for their hickory-smoked ribs – and it's true – there ain't nothing like 'em nowhere!  Over the years, Dreamland has expanded to 10 locations across Alabama, Georgia, and Florida.  While they have experienced growth, the original location in Tuscaloosa remains its most unique.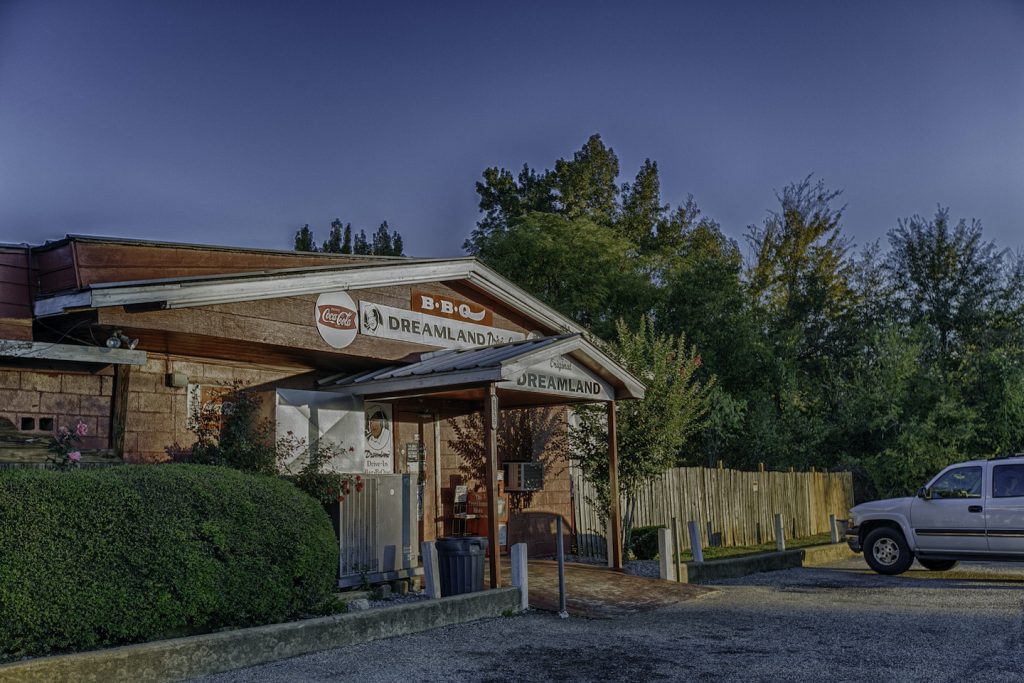 Dreamland truly started with a dream. Founded by John "Big Daddy" Bishop, Big Daddy said that God visited him and told him to open a restaurant and he obliged (lucky us!!). As Big Daddy embarked on this adventure, he began cooking in his front yard.  The original Dreamland, which was literally built by the hands of Big Daddy, would eventually open its doors, selling everything from ribs to burgers, and even postage stamps. But people quickly began to take note of the hickory-fried ribs, white bread, and signature barbecue sauce, and soon visitors were coming from all over.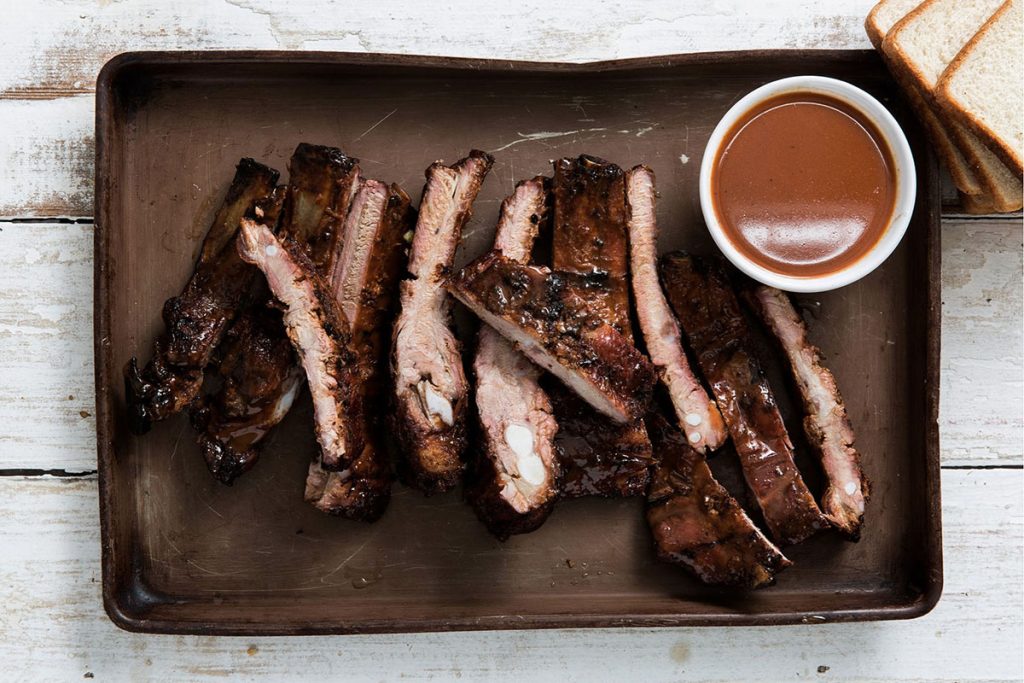 As you enter the rustic looking location, dubbed "the original", you are greeted with warm smiles and an invitation to "sit wherever you want". You'll notice license plates, Alabama football memorabilia, dollar bills and pictures on the ceilings and walls. On the tables you'll find their famous spice called "shake", which you can buy. The employees are dedicated – several at the original location have been there for years – and wake up at 5 am to begin preparing the food. One employee, Raymond, has been with Dreamland for over 45 years and Reggie, who manages the pit, has been there for 25 years! Knowing that many of their guests are limited on time, especially on game day, you can also expect quick and friendly service.
We had a chance to visit with the assistant general manager of the original Dreamland, Jasmine Lewis, and she shared that, "People come in from Texas, California, and all over to try our ribs and our sauce. We [the original location] are totally different from our other locations; we serve the same ribs, but everybody says it just tastes different here."
Speaking of the ribs… after six decades Dreamland still prepares them using the same technique. They roast the pig over a hickory wood fire pit and baste them with their signature vinegar-based barbecue sauce.  Also unique to Dreamland is the plain pieces of white bread served before every meal. No, it's not toasted and it doesn't have butter on it, but they serve it with their famous warm barbecue sauce for you to enjoy dipping the slices of bread into for an appetizer.Dreamland also makes what we believe is the best banana pudding we've ever had! It's made with crispy Nella wafers and creamy vanilla pudding that makes for a great dessert to end your meal (dreaming about it as we write this).  Jasmine confirmed that this, too, is her favorite menu item.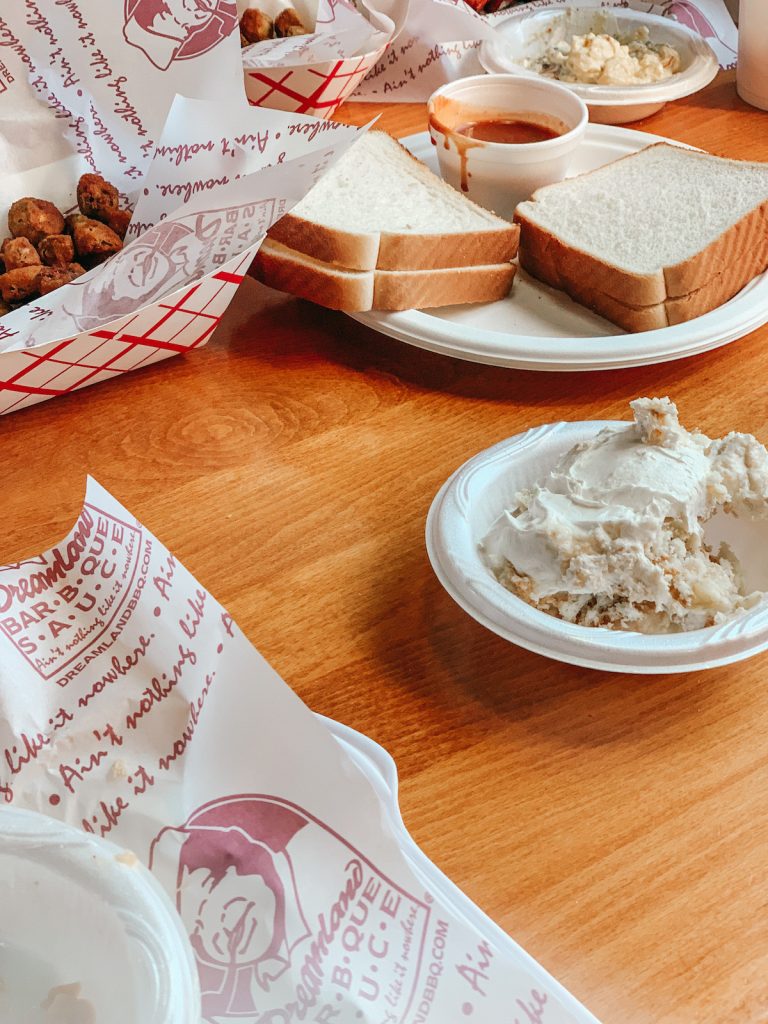 Fun Fact: Jasmine shared that, surprisingly, the busiest day for them is not game day but is actually the Fourth of July. Dreamland is filled with in-house guests, catering orders and their drive-thru, which was a positive outcome from COVID-19 [the drive-thru].
Today is also your lucky day because… drumroll please… on their website you can find detailed instruction on how to make their famous barbecue! You can also purchase many of Dreamland's staple sauces, rubs, and seasoning online or at one of their locations. The restaurant offers t-shirts, hats, and gold gear, available to ship anywhere in the U.S.
Now, we promise we're not exaggerating about how scrumptious this BBQ is, but if you don't believe us, here's what one Dreamland customer had to say!
"I've ate barbecue all over the US, let me say these ribs have everyone beat to a frazzle! Tender, juicy, and best flavor I've ever had! Beats Memphis barbecue hands down! And be sure to order the banana pudding for dessert."

Dreamland BBQ Customer
When it comes to places to eat on gameday in Tuscaloosa, there's certainly many options to select from. Whether you're traveling to Tuscaloosa or West Alabama for a gameday, or for other purposes, a stop at Dreamland BBQ is a must.  When it comes to spots uniquely local to Tuscaloosa, Dreamland is at the top of the list!  For more information about Dreamland BBQ, contact Dreamland Barbeque Tuscaloosa at 205-758-8135.
Final Insiders Tip: When you're ready to give the famous BBQ joint a try, know that the other locations serve the same menu items as the original Dreamland in addition to burgers and chicken options. Sides include mac and cheese, coleslaw, baked beans, and potato salad.
Now is the prime time to make the most out of your experience in Tuscaloosa! With the leaves beginning to transition into their Autumn attire, we are so excited to showcase just how beautiful this city is, especially this time of year. We have all kinds of different activities to enjoy this special season in T-Town, from monster celebrations at the Children's Hands-On Museum to local pumpkin patch explorations. Need a little guidance? We've got you covered. The only job left to do is bask in the autumn feels as you get inspired by this week's T-Town Weekend Itinerary!
SATURDAY:
Start off your gameday Saturday with a traditional T-Town breakfast at The Waysider, Tuscaloosa's oldest restaurant in town! Once a regular stop for the great Bear Bryant, this classic local joint is located on Greensboro Avenue. Experience a bit of T-Town's southern-style cooking with homemade biscuits, complimentary beignets (per request), or ham cooked to perfection. Not much of a breakfast person? No worries, The Waysider has delicious lunch items on the menu as well! Keep in mind that seating is limited, so be sure to budget for time as you may have to wait for a table! 
Alright, let's address the elephant in the room. You more than likely have a good idea of how you'll be spending your Saturday afternoon. No matter where you are or who you're with, celebrate your Bama pride by rolling with the tide as they face the Tennessee Vols at 2:30 p.m. If showing off your SAFE Saturday setup is your style, feel free to tag us on Instagram, Twitter, and Facebook!
It is no secret how we hope to be spending our Saturday evenings, so make sure you and your Crimson Tide Crew are stocked up on cigars! Tuscaloosa is home to several stellar cigar stores that are fully stocked and more than ready to celebrate with their patrons. Vitola Fine Cigars and R&R Cigars are some premier local spots to pick up exactly what you'll need for this weekend: cigars galore for beginners and seasoned professionals alike! As always, be mindful of health considerations and implications to enjoy smoking tobacco safely.
Celebrate Record Store Day this weekend by visiting one of our local favorites: Oz Music. This gem is home to all kinds of vinyl, CDs, and accessories to enjoy your music, your way! Whether you are a beginner looking to buy your first record or an experienced disc jockey looking for the next album to add to your collection, Oz can help you out. With an incredible, throwback atmosphere this place is a phenomenal way to find your new favorite record and celebrate this timeless holiday!
Do YOU have what it takes to be a monster? This Saturday, the Children's Hands-On Museum is hosting their very own Monster Mischief event for all admissions to the museum! Prepare for the Halloween holiday fun by discovering your inner monster and exploring the exciting exhibits of the Children's Hands-On Museum. For more information about the museum itself and all the exciting events coming in the future, visit the museum's website. Additionally, be sure to secure admission prior to arrival, and don't forget your masks before you safely enjoy all the exhibits within the museum!
SUNDAY:
With gameday behind you and Halloween less than a week away, it is imperative to secure a pumpkin for proper spooky festivities. There are a few wonderful pumpkin patches around Tuscaloosa County where you can enjoy the crisp fall air while picking out your new pumpkin pal! Griffin Farms and Tuscaloosa Barnyard are both home to dozens of perfectly prepared pumpkins! Whether this fall activity is for you, your friends, or your kids, everyone is bound to enjoy celebrating this year's spooky season the local way. Before arriving, check each pumpkin patch's listed hours of operation to make sure you arrive in time – and don't forget to pack your mask to safely browse through the pumpkin patches!
The City of Tuscaloosa has a history deeply-intertwined with the Civil Rights movement, and that presence remains all around Downtown Tuscaloosa. Traveling through history along the Civil Rights Trail is a great way to enjoy the great outdoors and discover the history and importance of the Civil Rights Movement to our community. Visit (website) to locate the markers located around Downtown Tuscaloosa and learn more about the lasting impact that the Civil Rights Movement has made on the history and people of the City of Tuscaloosa. Visit here to learn more about the Civil Rights Trail of Tuscaloosa and how you can find more and more resources regarding the Civil Rights Movement in Tuscaloosa.
#InternationalArtistDay is on Sunday AND Kentuck Virtual Market Place is open. You do the math. Shopping local artisans' creations and learning more about their art are both great ways to show your support and celebrate this holiday! If you feel comfortable, check out The Kentuck Center, the home of the local art in Tuscaloosa. Visit their website and/or safely in person to not miss a beat on a one-of-a-kind Christmas shopping experience. Now is the time to show your support for all the incredible local artists that give such vibrant color to this beloved and unique community!
Written by:
Will Baggett
Jamie Hoven
In the One and Only Tuscaloosa, there are so many places to go and things to see. These 10 things are popular among the locals and won't break the bank. So take a chance and try something new!
1. Children's Hands-On Museum (CHOM)
This museum has been providing children with fun activities and events since 1984. There are three floors of fun for children of all ages. The Great Pumpkin Party and the Monster Walk Scavenger Hunt are two events that are happening soon. Admission is less than $10! CHOM is a great place to take the kids and enjoy a day of fun!
2. Paul W. Bryant Museum
This museum is a blast from the past! Check out over a hundred years of Crimson Tide memorabilia and football history. Visit the Paul W. Bryant museum to see what it takes to be "nothing but a winner." Admission is $2 for adults and $1 for children.
3. Arboretum
If you're a dog lover then the arboretum is the place for you! The arboretum is sixty acres of the great outdoors. Check out the dog park, community garden, as well as the hiking trails. The best part is that it is completely free!
4. The Waysider
Take a trip to Paul "Bear" Bryant's favorite breakfast destination. It truly is the breakfast of champions. The restaurant is packed with decades of Alabama memorabilia. The Waysider offers made-from-scratch biscuits and gravy all for just under $3!
5. Homegrown Alabama Farmers Market
Edit: We regret to inform you his event will no longer happen. If you are interested in farmers' markets in Tuscaloosa then check out the Tuscaloosa Farmers' Market at the River Market.
6. Babes Donuts
A family-owned breakfast, brunch and coffee business located in Downtown Tuscaloosa. The menu features gourmet doughnuts unlike anything else you'll find in town. Flavors include: bacon maple, sourdough, Reese's Peanut Butter, Heath Bar sprinkle, Captain Crunch, Fruity Pebbles, S'mores, red velvet, blackberry cream cheese and others. Seasonal offerings can range from King Cakes during Mardi Gras to candied blood oranges. Stop by and grab a treat for under $10.
7. Steel City Pops
Nothing is better than a Steel City Popsicle on a hot Alabama summer day. They have many flavors to choose from, so there is a flavor for everyone. Flavors include: Arnold Palmer, Bosc Pear with Honey, Champagne White Tea, Cinnamon Apple, Cranberry Orange, Lime, Plum with Rosemary, Pomegranate, Strawberry Fig, Strawberry Lemonade, Avocado, Buttermilk, Carrot Cake, Chocolate, Coconut, Coffee, Maple Bacon, Bourbon, Pumpkin, Toasted Marshmallow, Vanilla Bean. All popsicles are $4.49 and under.
8. Black Warrior River
The Black Warrior River is absolutely stunning and the perfect place to go on a hot summer day. You can cast a line and catch some fish or bring your own boat and cruise the water. The Black Warrior is also perfect for paddle boarding or just floating down the river. Don't feel like getting in the water? That's fine because the Tuscaloosa River Walk runs along the river and offers beautiful scenery. It's the perfect place to get some exercise or take your dog for a walk.
9. City Café
For decades, locals and students alike have enjoyed the homemade cooking served up at City Café. At lunchtime, this restaurant is packed with locals stopping in for a tasty meal at a reasonable price. Stop in and enjoy a meat and three for under $10. You won't be disappointed, it's just like mama makes it.
10. Gallette's Yellowhammer
Stop by Gallette's and sip on a Tuscaloosa favorite. People from all over the United States have enjoyed Yellowhammer's from the One and Only Gallettes while in Tuscaloosa. The Yellowhammer is a staple on gameday at the University of Alabama. Their yellow cup is a popular accessory for the Crimson Tide fans walking around the quad. Visit Gallette's and try one for yourself.
Written by Rachel Horton
Dressing up for gameday is a tradition in Tuscaloosa. Some people get more dressed up for the Crimson Tide than they do for church on Sunday. Saturdays in the fall are basically a fashion show, and the quad is the catwalk. There are thousands of variations of crimson, white, and houndstooth outfits on display during football season. Here's a selection of stores in Tuscaloosa that offer Instagram-worthy outfits for gameday.
Midtown Village
This massive shopping center is home to more than 20 different clothing and shoe stores that offer a wide variety of styles. You won't leave Midtown without finding at least one outfit, or maybe just a cute pair of shoes. Az Well, Bevello, Francesca's, Lavish, and Soca are a few favorites of the ladies. There are several options for men as well, such as Alumni Hall, Kinnucan's, and the Nike Factory Store. Each of these stores and boutiques can hook you up with the perfect outfit to show off in Bryant-Denny.
Downtown Tuscaloosa
Downtown Tuscaloosa is the perfect clothing destination because it is in walking distance of the stadium. So if you've waited until the last minute to look for an outfit (*cough* Men *cough*) then don't worry because you can just snag an outfit on your way to the game. Effie's and Lucca have super cute outfits for women, while the Pant's Store and The Shirt Shoppe have great gameday options for both men and women. Any of these stores would be glad to help you find what you need to cheer on the Tide and bring in the Instagram likes.
The Strip
The Strip has several great places to find gameday outfits, but you might want to get there early. The Strip attracts thousands of people on Alabama Crimson Tide gamedays so naturally, the stores are filled to capacity. Ellie Crimson, Expeditions, and Alabama Express are several popular options to find outfits that will make you stand out of the crowd. So, although they are convenient you might want to visit those shops ahead of time because you don't want to miss out on all the great clothing options they have. Your social media accounts will thank you.
Written by Rachel Horton
Another big weekend in Tuscaloosa is around the corner. Eric Church, The Black Jacket Symphony, and Alabama football headline a slate of exciting events. An entertainment district will be in effect in the downtown area on Friday and Saturday from 9 a.m. to 10 p.m., so feel free to grab a drink and visit some of Tuscaloosa's great downtown shopping locations.
You can kick off your weekend this Friday at the Tuscaloosa Amphitheater with country music mega-star Eric Church. Church will be continuing his tour playing hits like "Springsteen" and "Talladega". The event will take place rain or shine and will be one big party, so get ready for a good time.
The Tuscaloosa Amphitheater isn't the only ones putting on a concert on Friday. The Bama Theatre is presenting the Black Jacket Symphony as they perform a note-for-note rendition of the Grateful Dead's classic album American Beauty. You are sure to hear favorites like "Friend of the Devil," "Truckin'," and "Brokedown Palace." The Black Jacket Symphony will begin at 8 p.m. with doors opening at 7 p.m. Between these two concerts, downtown Tuscaloosa will be an exciting place to be on Friday night.
Kids will have plenty of exciting things to do this weekend as well. The Children's Hands-On Museum will kick off Saturday with Nickelodeon Worldwide Day of Play from 10 a.m. to 4 p.m. Special games and fun activities will be available throughout the museum for kids of all ages to enjoy.
Bryant-Denny stadium will turn on their lights Saturday evening as Alabama faces the Colorado State Rams in a 6:00 night game. Alabama comes in 2-0 after decisive victories over #10 Florida State and Fresno State. The Crimson Tide are a 28.5 point favorite, but the Rams have an offensive system that keeps Alabama on their toes.
Wrap your weekend on Sunday up with University of Alabama soccer action as the #19 ranked Crimson Tide square off against Chattanooga. The 7-1 Tide are on a five-game winning streak after a win over Tennessee Tech and will look to keep rolling this Sunday evening. The match will begin at 5 p.m. on inside the Alabama Soccer Complex.
We have tons more going on so check out our great upcoming events, and follow us on our social media pages (@visittuscaloosa) for more announcements and events. Tell your friends and we can't wait to see you around the One and Only Tuscaloosa!
We're gearing up for another great weekend in Tuscaloosa! Start your weekend early tonight across the river at Kentuck Art Center! Kentuck is hosting their monthly Art Night! This month will feature the opening reception of "The Seven Deadly Sins" and artist talk with fiber artist Yvonne Wells in the Museum Gallery! You can lose yourself to dance as a band plays throughout the night, eat a cob oven pizza, and then top it off by learning more about Charlie Lucas as he discusses his art and answer questions!
It wouldn't be a complete weekend in Tuscaloosa without a great artist coming through town! Clint Black will be performing at the Bama Theatre Friday night! You can enjoy a rare, intimate evening with the man who has sold more than 20 million albums worldwide. Raised in the suburbs of Houston, Texas, Clint Black is the youngest of four brothers. He began performing with brother, Kevin at the family's backyard barbecues. After high school, he worked construction for a year and spent 10 years on the local nightclub circuit. He auditioned for a Nashville recording contract in 1988 and has been playing nationally ever since!
Crimson Tide football is back in Tuscaloosa this Saturday as Alabama takes on Fresno State! After a big win in Atlanta against Florida State, Alabama will be looking for a tune up before getting into SEC play. Alabama football, which was inaugurated in 1892, ranks as one of 10 winningest programs in US history and they don't plan on changing that anytime soon. You can also enjoy events like the Elephant Stomp, the Walk of Champions, and check out the Bryant Museum or grab a drink at Gallettes while you're in town for the game!
Finish your weekend off at the 5th Street Vintage Market! 5th Street Vintage Market is now held four times a year, rain or shine.  Markets are Sundays, 10 AM to 4 PM. Admission is free and concessions are available on site. Curated by This Ol' Thing Vintage, Grace Aberdean Habitat Alchemy, and DJ Tom Kat Kitten, 5th Street Vintage Market brings a one of a kind shopping experience to the area. We will feature many dealers from the region who specialize in vintage and handmade items, artworks and vinyl records! Prices for market goods can range from a few dollars to several hundred. While some vendors can accept credit cards, most require cash payments.
We have tons more going on so check out our great upcoming events, and follow us on our social media pages (@visittuscaloosa) for more announcements and events. Tell your friends and we can't wait to see you around the One and Only Tuscaloosa!
If you know of Tuscaloosa, you know someone whose got a story or two that took place in this one & only Locale. You can drive around the strip looking for a big flashy neon sign saying " Gallette's" you'll be hard pressed to find it. This hole in the wall is hidden to outsiders inside the Campus Party Store building. You'd never guess such an innocent yellow brick building could hold so much fun. Once inside, you find yourself surrounded with all the makings of a iconic dive bar, without hipster touches of an intended atmosphere. No, this place is only organic in that its history and mixology have born a Drink so infamous, our you can find replicas throughout town. The Yellowhammer. You wont find them served in repurposed mason jars, you'll find them in their bold yellow plastic cups will a hearty Roll Tide written across. These fruity drinks have a mild flavor, but pack a strong punch, one fitting the legends of the stadium that stands in the background of Gallette's.
After a couple of Yellowhammers, or anything the bar tosses up, you'll be bouncing along to the music that's never too quiet. More than likely you will be taken by surprise when the song sung in that classic dive bar unison isn't a Journey song, or even Sweet Home Alabama, but " Dixieland Delight". Gallette's patrons will serenade you, not only with every single lyric known by heart, but their own additional ones that shows how deep local pride runs. It'll seem like magic how each person of every creed comes together in this bar to boast and belt their Alabama pride with perfect tempo. You'll soon find your self swept in a tide of pride, and a community you'll grow all the more fond of. Whether you find your way to Gallette's during its peak season of Fall, or in the Spring when practically half of the entire gulf is brought to their patio for Crawfish Boils; you can bet you'll leave with more than a few tails and cocktails to rave about to anyone who mentions this one and only city.
Written by: Deven Wilson, TTS Public Relations Intern