Take a timeout from your Tuscaloosa sports adventures and grab some grub at one of Tuscaloosa's finest sports-centric eateries!
The Historic Waysider: Best known as the place where legendary coach Bear Bryant ate breakfast (his favorite was country ham), The Waysider serves up southern meals in a historic red house near downtown Tuscaloosa. Visiting from the rival team? You can expect your pancakes to be served in the shape of an elephant.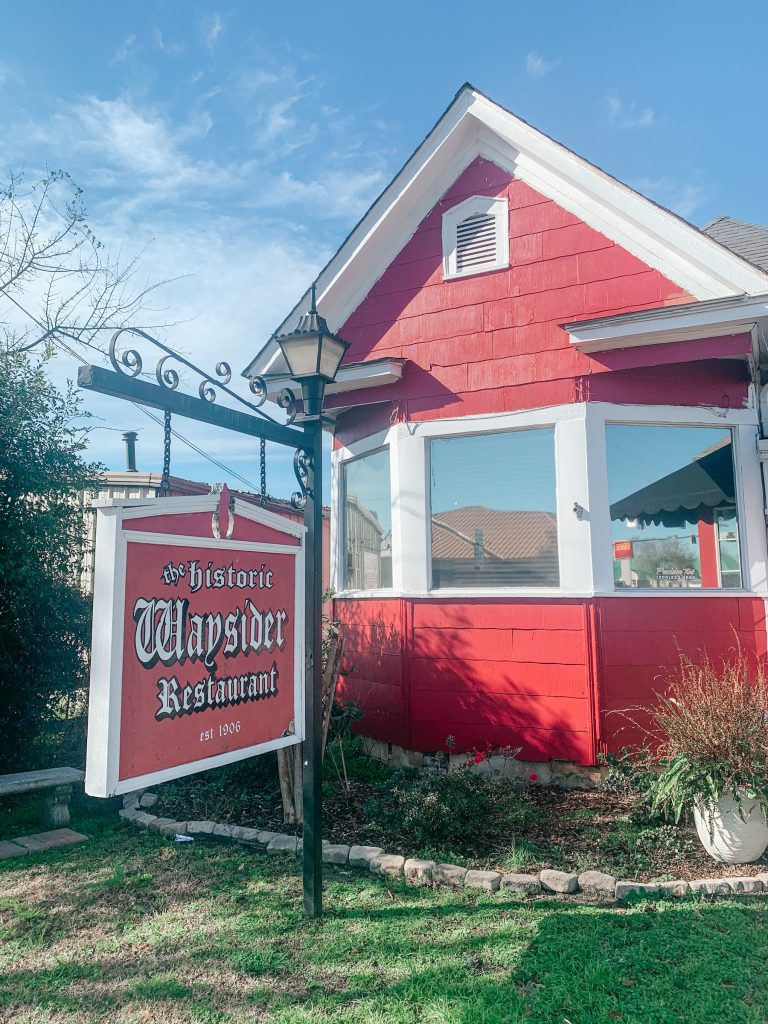 Nick's in the Sticks: No, not that Nick … Nick's in the Sticks is an iconic Tuscaloosa landmark known for delicious steaks, massive onion rings and its signature drink, The Nicodemus. Leave your mark on Tuscaloosa by adding a signed dollar bill to the ceiling.
Baumhower's Victory Grille: Owned by former Alabama star Bob Baumhower, this sports bar is home to "Hey Coach!", a live radio show broadcast from the restaurant, which allows you to get up-close with 'Bama's coaches.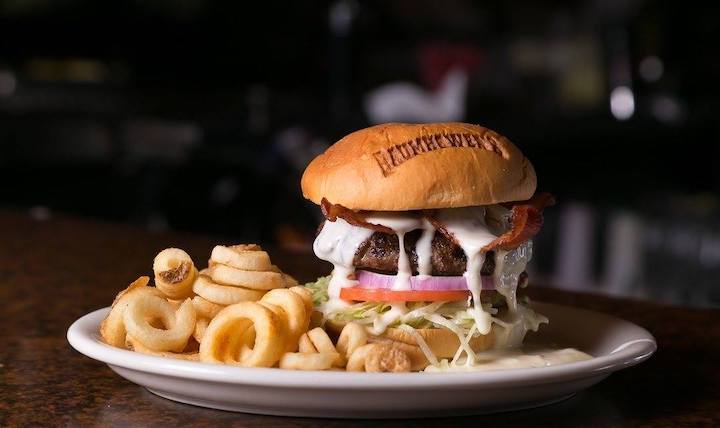 Ajian: Looking for fast-casual sushi? Try Ajian, owned by former Alabama quarterback A.J. McCaron, who led 'Bama to back-to-back national titles in 2011-12.
Rama Jama's: Located in the shadow of Bryant Denny Stadium, Rama Jama's is the place to go for fabulous food. Breakfast served all day, a wide variety of sandwiches, and the best sweet tea and milkshakes this side of heaven. Fan of a BLT? Kick off game day with a National Champion BLT – currently, that's 18 strips of bacon.
Dreamland Bar-B-Que: It all started with a dream when God visited John "Big Daddy" Bishop and told him to open a restaurant. The original Dreamland, built by the hands of Big Daddy and located in Tuscaloosa, opened in 1958. Since then, this BBQ joint has been nationally recognized for their hickory-fired ribs, white bread, and BBQ sauce. Today, the ribs are still prepared using the same technique Mr. Bishop used more than six decades ago. PS – Their banana pudding is pretty legendary, too.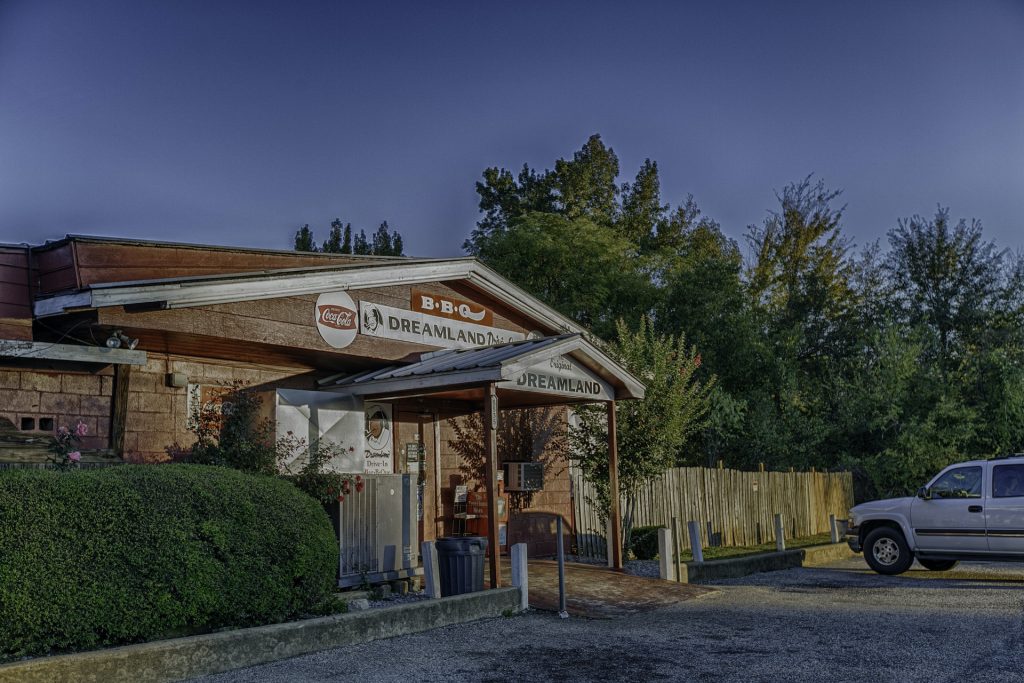 Gallettes: It wouldn't be gameday without indulging in a famous Yellow Hammer from Gallettes! This potent tailgate cocktail is served in iconic yellow plastic tumblers. While the recipe is a secret, some guess it's a mix of vodka, rum, amaretto, orange and pineapple juices.
Northport Spotlight – Billy's Sports Bar & Grill: With one location in Birmingham and their second location in Historic Downtown Northport, Billy's was designed to be comfortable. It's local's favorite spot for good food, live music, great drinks, and a relaxing atmosphere to catch your beloved sports teams on TV. During football season, Billy's offers a free shuttle to and from campus.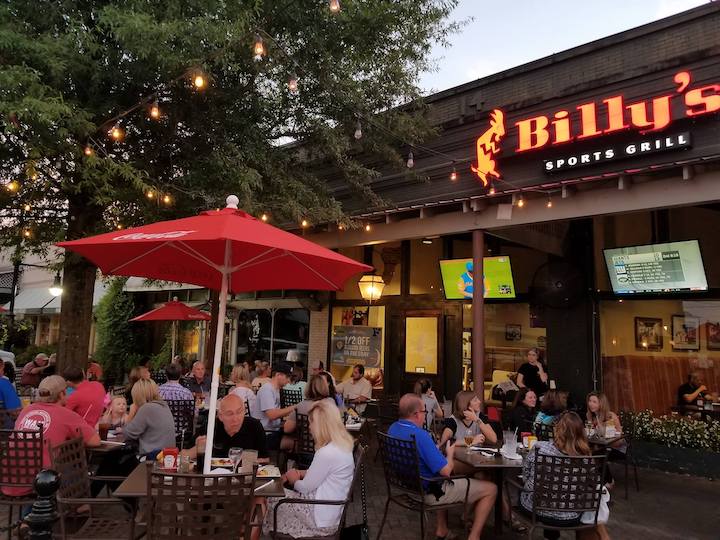 The Tuscaloosa and Northport communities are filled with incredible eateries and this is just a few of the many sports-related restaurants we have to offer! Check out our Eat page to find even more.
What many may not realize is that Tuscaloosa and surrounding communities, like Northport, offer several uniquely local spots to shop. Whether you're looking for back-to-school clothes, home decor, a night-out-on-the-town or gameday attire, or just simply want to visit some charming local boutiques, we think you'll find this information worthwhile!
Throughout the community, you can find a plethora of shopping options. However, for our purpose today, we highlight some specific areas and a few of the locations you will find!
Have a favorite spot that we missed? Come join the conversation on our social media!
Lavish is a female clothing and accessories store that has it all, and is just in time for rush and game days! This gold mine is full of unique tops, dresses, bottoms, and shoes. With this local gem, you don't have to worry about boring pieces, because at Lavish they strive to be ahead of the fashion curve with beautiful lush clothing. This is a must-see in Tuscaloosa, especially if you need a new wardrobe to spice up the new school year.
Alumni Hall has everything you need to cheer on the Crimson Tide. They have it all: great brands, selections, and deals on The University of Alabama apparel, merchandise, and gifts. Official sideline clothing from Nike, fashion and accessories for the ladies and a great kids' selection. It's the ultimate place for UA students, alumni, and fans to shop. They also offer 10 percent off for students and military with valid ID.
Bama Fever is your one-stop shop for all things Bama, with options for men, ladies, and kids. They even have Crimson tide options for your car, home, and tailgate. This uniquely local gem will have you walking out of there with some serious school spirit! They can bring the Crimson Tide straight to your kitchen, bedroom, or both. Let your love for the Tide shine with keychains, buttons, wallets, and purses.
High Tide Sports, LLC offers gifts, accessories, and apparel for any and all of the sports fans in your life. This local gem is a popular shop for both Alabama and Auburn fans alike. They specialize in spirit jerseys, tees, and tanks and carry a huge variety of brands, designs, and colors. As a family-owned business, all of its items are competitively priced.
Pause Boutique is a local legend in Tuscaloosa. From girls to plus size this place has a little something for everyone. The unique jewelry, clothing, shoes, bags and hats, cosmetics, and miscellaneous items make Pause such a wonderful addition to this community. They are open Tuesday through Friday 11-7, Saturday 10-6, and closed on Sunday and Monday.
For those men looking for dapper clothing and accessories, The Locker Room is the place to be! From Bama gear to the finest footwear, this local treasure is truly one-of-a-kind. They also carry the highest quality clothing such as Peter Millar, which is the perfect combination of comfort with high-end style. They've got a whole new wardrobe just waiting on you, with hats, cups, a Bama-themed bow tie, and so much more!
Lou & Co. is a place that the ladies of T-Town cannot get enough of. For those rushing, they even sell bid day gifts that looked like they dropped down from heaven. They also sell wall art, pillows, plush throws, a pajama set in addition to the clothing. Lou & Co. is filled with unique and specialty items, often locally or artisanally sourced, and always thoughtfully chosen by the owner herself.
Bradley's Market is a unique shop that has earned the love and appreciation of all of its customers. Their vast variety of items for sale is extremely unique, including seasonal goodies, home decor, florals, baby shower necessities, wellness products, wedding registries, and so much more. This unique local shop is the definition of class. Some of the fun items they have include Bees and Honey Puzzle, La Hammam Beach Towel, and a decorative Tuscaloosa Street Map!
Another incredibly unique shop in Northport is called Everlasting. From humble beginnings as a family-owned business, they bring their small-town charm for a fun shopping experience that feels as quality-driven as the products. With decorative accessories for your home, inspirational goods, original works from local artisans, handmade jewelry, and distinct gifts Everlasting has just a little bit of everything.
Whether you're looking to explore the outdoors or simply need an activity that allows for safe social distancing, Tuscaloosa is a hidden gem, especially as we work our way through the summer and come upon a beautiful fall season. If you're planning a trip to Tuscaloosa, we encourage you to check out the many local trails within our community. To help, we've identified a few uniquely local top picks below!
We'd love for you to tag @VisitTuscaloosa in any photos you take when you're here!
Lake Lurleen is a favorite of locals looking for relaxation and recreation alike! The park's trails are open to hikers and mountain bikers, and the park offers 91 campsites for those looking for an extended stay. If that isn't enough to draw you in, the park also boasts fishing, swimming, boating, and a beach. Whether it's walking your dog along the shoreline or renting a kayak, Lake Lurleen truly has something for everyone!
About 20 minutes from Tuscaloosa lies another paradise for those looking to enjoy the outdoors: Lake Nicol. This local favorite offers a chance to get off the beaten path and explore the wonder of mother nature. The many species of birds that call the area home make for excellent birdwatching. Visitors also enjoy kayaking, paddleboarding, and picnicking on the shore.
Hurricane Creek has been an important part of the Tuscaloosa community for decades. In fact, the park's popular Eagle Scout Trail was planned and blazed by local scouts. Explore this local favorite by canoeing down the creek, traversing the park's biking and hiking trails, or simply taking in the native plants and wildlife.
Located just 10 minutes east of The University of Alabama campus, the Arboretum has grown to become a perfect spot for an outdoor getaway. Dozens of native and non-native trees provide a nice shade to enjoy the nearly 60 acres of land, situated in the heart of Tuscaloosa. It's also located adjacent to the former University golf course and VA Center.
Munny Sokol Park trails offer over 11 miles of trails where the locals enjoy running, walking, or mountain biking. Located a short drive from downtown Tuscaloosa, Sokol Park offers scenic views and is good for all skill levels. The trail offers a number of activity options, where dogs are also allowed but must be kept on a leash. This park also contains a brand new all-inclusive playground so kids of all ages and abilities can enjoy Sokol.
The Riverwalk is perfect for those who don't want a strenuous hike. This is an excellent paved trail located along the southern bank of the Black Warrior River near Downtown Tuscaloosa. The pathway has plenty of benches, gazebos and hammock-friendly trees for quick breaks and picnics. and offers a playground near River and Another Broken Egg, and a splash pad near the old Bama Belle dock. The trail is well lit.
With summer at its peak, you might be looking for a quick family getaway with the kiddos before school starts again, and we think Tuscaloosa is the perfect spot! That's why we have pulled together some family-friendly activities that will leave everyone smiling, and make the planning much easier. Tuscaloosa has so much to offer for any age and it's our goal to share those stories! While some of the items listed are taking place this weekend, our email is packed with things to do at any time! Be sure to tag @VisitTuscaloosa in any photos you take when you're having fun at these local gems.
Paul W. Bryant Museum
The Paul W. Bryant Museum opened its doors to the public on October 8, 1988. The museum exhibits artifacts and memorabilia that trace the long history of University of Alabama football. State-of-the-art displays enhanced by videos highlighting great players, plays, and games are produced from the museum's archives. The museum is open Tuesday through Sunday from 9 a.m. until 4 p.m. Members and children under 5 are free, Adults: $5, Children (K-12): $3. Free admission to UA faculty, staff, and students! The Bryant Museum has moved to an online ticketing system. To make a reservation please click below.
This shelter has a program called Happy Hour where you can take a dog out for a day. This benefits the dog by getting some fresh air and exercise, but it is also guaranteed to brighten up your day. Check an approved dog out between the hours of 10 a.m. and 5 p.m., Monday or Tuesday or Thursday through Saturday. There are only a couple rules you must follow while participating in this program. You must be over 18 to participate, do not allow the animal off-leash, stay with the dog at all times, only one dog per car, and return the furry friend by 5:00 p.m.
Metro Animal Shelter
This shelter has a program called Happy Hour where you can take a dog out for a day. This benefits the dog by getting some fresh air and exercise, but it is also guaranteed to brighten up your day. Check an approved dog out between the hours of 10 a.m. and 5 p.m., Monday or Tuesday or Thursday through Saturday. There are only a couple rules you must follow while participating in this program. You must be over 18 to participate, do not allow the animal off-leash, stay with the dog at all times, only one dog per car, and return the furry friend by 5:00 p.m.
Explore the Galapagos at CHOM
Explore the Galapagos at Children's Hands-on Museum! Sail down to The Galapagos Islands and learn about this amazing ecosystem through crafts, activities, and games! All guests over two (2+) years must wear museum-approved masks from entry to exit. This event is a safe distancing event. Visitors are limited. Before you embark on this journey, learn more information below.
Taco Casa
It is difficult to capture all of the incredible foods available in Tuscaloosa, but there is one, in particular, that is a staple of our community: Taco Casa! Young and old adore this local treasure not only because of its delicious food but also for the laid-back environment and exceptional customer service. Whether you are craving a taco salad, a burrito, or the delicious taco burger, Taco Casa guarantees a positive experience for all.
Ladyelines Art Garage
This garage is just what this community needed, new and really exciting. The need for a place for children, babies, and adults alike to explore art through unstructured opportunities in an inspiring environment. Whether you want to go to a Parents Night Out event or bring your child to one of their painting classes, this place is perfect for encouraging learning and experiencing safe, new things. They even host birthday parties and have an Open Play to make sure every child is exhausted by the end of the day. Parents? You're welcome.
Bowlero Tuscaloosa
Bowlero has reinvented bowling with inventive dining, sports, entertainment, and recreational games. Grab your family and join the party! They have great food, a fun atmosphere, arcade, lounge seating, epic eats, and stellar design. No matter how old your kiddos are fun can be found around every corner.
Things are buzzing here in Tuscaloosa! Spring has sprung, the flowers are blooming, and the events are poppin'! We have an eclectic lineup for this weekend so follow along so you can be sure to hit the hot spots!
The Buzz About Bees Exhibit
A new exhibit is flying to the Alabama Museum of Natural History! The Buzz about Bees is a collaborative exhibit with the Alabama Museum of Natural History, the West Alabama Beekeepers Association, and the UA Bee Club. The exhibit focuses on the honey bee and features a live beehive that gives visitors an inside look at the honey bees' honey production and social structure. Head over to view the exhibit that opens Thursday, April 22nd, to get a chance to learn about these incredible creatures!
Stand Up Comedy at Half Shell
Stand Up Tuscaloosa is hosting their very first Comedy in a Half Shell show this Friday, April 23rd starting at 7:30 pm. Acts feature comic "Casio" Matt Mitchell from NBC's Last Comic Standing, Jay Leno, MTV, and Rick and Bubba as "Casio Kid". Birmingham's Peter Davenport who is a cohost of the Goulash Podcast with Chris Ivey will also perform!
Step Into The Rainforest at CHOM
Step into the rainforest this Saturday, April 24th at the Children's Hands-On Museum! You and your little one can learn how to make a terrarium, learn about venus fly traps, and rain forest animals! All activities are included in admission. For more information on location and hours, visit its website here.
A Rockin' Radio Show
Love radio rock hits? Like a capella harmony? Then this is the event for you! The hits brought to you in a unique format, live on stage this Saturday, April 24th! The Dixie district chorus champions, present rock radio hits in 4 part harmony with a presentation that will remind you of the great days of radio. To top that off, the classic Bama Theatre is the backdrop for this one-time-only event. Get your tickets fast as seating is limited. You won't want to miss this!
Piccolo Concert with Kim Scott
Here's another live concert to get excited about! Amazing piccolo soloist Kim Scott will be attending her live concert this Sunday, April 25th, for a sure-to-be fantastic performance! She is so excited to have the chance to feel the energy of a crowd, and is hoping to see you at Government Plaza from 4 pm! Don't forget this family-friendly event is also FREE to the public!
Friends, food, drinks, and amazing weather! Spring has sprung and so brings the perfect picnic opportunities. Tuscaloosa is home to multiple fantastic, laid-back picnic spots and the same goes for your picnic catering needs! Whether you're picking up some goodies for a relaxing afternoon on your back porch or finding a flat spot around town to lay out your favorite blanket, we have some great spots to check out for all of your picnic grab-and-go needs!
I bet you didn't know you can book a professional luxury picnic planner here in Tuscaloosa! Picnic Vibes Tuscaloosa is your go-to for all of your pre-planned picnic needs. It's as easy as choose your picnic vibe, choose your location, and show up! They have multiple packages for you to pick from that include everything from blankets, outdoor decor, place settings, food, and drinks. Wanting to spice up your afternoon? Picnic Vibes has an optional Bluetooth speaker and dessert options according to your package. This is a perfect option for a special afternoon get-together with your closest friends or for a birthday party! You can check out Picnic Vibe's website
here
.
Sage Juice Bar
is no stranger to fruits and veggies! Its juices and smoothies are made from 100% pressed fruits and vegetables to ensure maximum vitamins and minerals to keep your body strong and energized. You can indeed tell that juices are its specialty by the name, but Sage's food items are just as prize-winning! Stop by during lunch to grab your goods for a nice picnic out in Tuscaloosa's beautiful weather! There are many healthy options to choose from like a hearty wrap or a healthy grain bowl.
The Riverwalk
is not far from Sage's downtown location, so you can head on over to enjoy the beautiful water and nature surrounding! Fun fact: Sage's juice bottles and smoothie cups are 100% recyclable so not only are you enjoying a delicious drink, but you're also one step closer to helping our environment!
Maybe you're going for a Happy Hour picnic vibe!
Cravings
is the perfect place to stop by before hitting your picnic destination. With over 150 craft beer labels and over 100 different brands of wine, Cravings will have something that will be sure to have you and your friends excited! Cravings is your one-stop-shop for deli and specialty grocery items. Breakfast is a meal enjoyed all hours of the day and thanks to Cravings, you can order New York imported bagels all day! There are also many sandwiches and salads available if breakfast for lunch/dinner is not your thing. We guarantee you won't leave empty-handed. Fill your bag, build your own 6-pack, and head to your scenic spot to enjoy!
Picnic's don't always have to be finger foods and sandwiches! Pick up your grab-and-go food from
Reggae Flava
for an extra kick to spice up your picnic experience! Reggae Flavas serves up gourmet Caribbean cuisine here in T-Town. There are plenty of options seafood and vegetarian options to pick from as well as multiple chicken wing options to ensure that there is something for everyone! Reggae Flavas is an immigrant-owned business here in town that serves up big flavors that has a winning track record amongst this community. Check out its downtown location to grab your picnic cuisine and soak up the electric atmosphere before heading to your relaxing spot!
Check out these spots for your picnic day out!
1. The River Walk
Disguised behind all of the commotions of Tuscaloosa lies the scenic River Walk. The 4.5 miles of path that runs directly next to the Black Warrior River serves as an ideal spot for picnics, dog walks, or leisurely strolls. Get out of the house, grab a friend, and go enjoy the view!
2. Dreamland BBQ
If you are from Tuscaloosa, or just Alabama itself, you know about this famous spot. Founded in 1958 by "Big Daddy" John Bishop, Dreamland has been a staple in Tuscaloosa's food scene, serving communities across the state and even the country. You can still visit the original Dreamland location at 5525 15th Avenue East in Tuscaloosa. Pro Tip: Get the banana pudding.
3. Civil Rights Trail
To understand the rich history of Tuscaloosa's civil rights history, it is crucial to examine the Civil Rights Trail. Many Alabamians are aware of the civil rights history that surrounds our state, but many might not be aware of the important events that took place in Tuscaloosa. The trail has 18 stops that tell of the extraordinary action that shaped this town forever. Visit https://civilrightstuscaloosa.org/trail/ to print your trail brochure.
4. Downtown
Downtown Tuscaloosa has maintained its southern charm over the many years of change. Find a stylish outfit at The Pants Store, indulge in a nice dinner at Depalma's, or sip on a craft cocktail at Sessions Bar. With dozens of businesses, new and old, its streets offer exciting experiences for everyone!
5. Lake Tuscaloosa
Right smack in the middle of Tuscaloosa you can fish, boat, or lie out with your friends at gorgeous Lake Tuscaloosa. This is the perfect spot for a quick, relaxing day trip with your friends or family. With 117 miles of shoreline, you sure won't run out of room to play!
6. Crimson Tide Football
Alabama football fans have the honor of being some of the loudest, rowdiest fans in all of college football. To be honest, it's hard to bite your tongue when your team has won 18 National Championships AND you have a larger stadium than Auburn.
7. The Strip
The Strip. Home to Quick Grill, the Yellow Hammer, and of course, Rounders. College kids love it, locals- well, probably don't hate it too much. This is truly the place to go if you want that thrilling nightlife experience with a hint of college kid energy. Experience the electric energy on the strip that adds such an exciting element to Tuscaloosa!
8. Nicks in the Sticks
Nothing beats family-owned cooking- especially family-owned SOUTHERN cooking. Nicks in the Sticks has been serving the Tuscaloosa community since 1953 and has gone down in history ever since. Even though the venue is quite small, they dish up big flavors. If you have the chance to go, don't forget to put a dollar bill on the ceiling!
9. Breweries
What's a good ole southern town without a good taproom? Tuscaloosa is home to 3 craft breweries: Loosa Brews, Druid City Brewing Company, and Black Warrior Brewing Company. New to the Tuscaloosa beer scene is The Grocery Brewpub that is set to open in the next few months!
10. The Immense History
While this one post could be a novel, T-Town has been a historical hotspot for centuries! Once the state capital in 1825, Tuscaloosa has been the home to the Creek Indian tribe and the site of a Civil War standoff. Grab a friend and discover the antiquity of Tuscaloosa throughout the many museums and tours offered throughout the town.
11. Kentuck Art Festival
Nothing screams fall in Tuscaloosa like changing leaves, football, and seasonal festivals. For 49 years, the Kentuck Art Center has been the epicenter of creativity for this community. The Kentuck Festival is filled with great music and art pieces from over 270 inspired creatives. While 2020 put a damper on the previous year's fun, we are hopeful for the new year and the continuation of the spirit of Kentuck!
12. Tuscaloosa Farmers Market
Shop local, eat local, enjoy local. Supporting the Tuscaloosa community has never been easier thanks to the farmers market's weekly Saturday appearance! Get your weekend fix of artisan bread, farm-fresh vegetables, and fabulous finds from your local small business owners at the Tuscaloosa Farmers Market- but remember to wear your mask!
13. The People
A deadly virus and a couple of tornados. It will take more than that to rock this town to its core! This community has endured so many hardships throughout the years. Yet still, we emerge stronger than ever and proud of the community we have built together! I could think of 1,000,000 reasons why I love Tuscaloosa, but 15 will have to do justice for now!
Growing up, we all ordered chicken fingers off the kid's menu- this is probably where our adult obsession with the meal still resides. Fear not, there's nothing to be ashamed of! Fried chicken fingers are more than a childhood staple, they are a pick-me-up food, a "remind me of home" food, and of course a good option for some after drinks food with your buddies! Have you ever wondered about which chicken fingers in Tuscaloosa hold the ultra-exclusive title of being the best? Well look no further my friends, we have three options here that will make you wonder: Which is worth it?
Guthrie's – $5.76
Alabama loves Guthrie's. Like, I mean LOVES Guthrie's to an unhealthy obsession. Fast-food chicken fingers can be iffy, but Guthrie's does it right every single time and for only around $5. The golden fried chicken fingers are incredibly tender and have the perfect amount of fried crispiness on the outside. Plus, they have their "secret sauce" which sounds mysterious as always but is sheer perfection. It is not too sweet or too salty and tastes like a mixture of mayo, ketchup, and garlic- which initially doesn't sound prize-winning, but obviously, they are doing something right if people rant and rave about it! Being around for over 50 years has gained Guthrie's a notable presence in the whole state of Alabama. Pro tip: The workers in the back make sure you are getting the fried tenders straight out of the fryer, so be extremely careful before biting into one of these, or else you might accidentally hurt yourself. Don't say we didn't warn you!
Hoos Q – $7
Yes, Hoos Q is known for its barbeque but they also have some seriously delicious chicken fingers! The Chicken Finger Plate is served with five hand-breaded tenders and served with their version of a "special sauce". With 5 large chicken tenders, you will probably have enough to take home! The breaded tenders are juicy and perfectly cooked with a soft, easily tearable inside. Not too greasy, not too dry and the sauce is the perfect additive. This option is slightly more than Guthries, but you do get five big and flakey tenders. Any place with a "special sauce" seems to be a breadwinner so it's no question why Hoos Q is a contender!
Southern Ale House – $8
Weighing in only slightly more than the other two is Southern Ale House's chicken tenders. Of course, we are keeping up the theme with hand-breaded yumminess in our blog but there is a twist on these. Southern Ale House buttermilk brines their tenders before frying to add that extra punch of tenderness to the average chicken tender. Can you guess what else these are served with? If you thought of a special sauce, you're a winner! The "Slap 'Yo Mamma" sauce is a light tangy take on the average condiment choices. These tenders are perfectly fried, but definitely not dry. If you're looking for a good crunch to chicken ratio, Southern Ale House might be in your cards!
Quite honestly, we all love chicken and would probably eat chicken fingers on Thanksgiving if it were socially acceptable! All of these restaurants are well known for their takes on classic chicken tenders. Guthrie's is a long-time classic in the state of Alabama and has a history of serving up good meals and deals. Hoos Q shows us that it's not all about barbeque and that they can serve up a mean chicken tender basket. Southern Ale House serves up a marinated, crunchy chicken tender that seems to be a fan favorite as well. We know there cannot simply be one "best" of anything in this town, but we are thankful to have so many options within our community!
Agree with any of our three? Let us know! Have a rebuttal? Share with us your top chicken tender spot in Tuscaloosa!
Business

2020

Thanksgiving

Christmas Eve

Christmas Day

Ajian Sushi
Closed
Closed
Closed
Another Broken Egg
Closed
Open
Closed
Archibald & Woodrow's
Closed
Closed
Closed
Avenue Pub
Closed
Closed
Closed
Babe's Doughnut
Check back later
Check back later
Check back later
Baumhowers Restaurant
Closed
11 – 4
Closed
Blaze Pizza
Closed
Open???
Closed
Brick & Spoon
Check back later
Check back later
Check back later
Broadway Pizzeria
Check back later
Check back later
Check back later
Buffalo Phil's Wings
Closed
TBA
TBA
Catfish Heaven
Closed
Closed
Closed
Central Mesa
Closed
Closed
Closed
Chuck's Fish
Carry Out Only
Closed
Closed
Cravings
Closed
Closed
Closed
Depalma's Italian Cafe
Closed
Closed
Closed
Don Tono's
Closed
Closed
Closed
Dreamland BBQ – Northport
Closed
Closed
Closed
Dreamland BBQ – Tuscaloosa
Closed
til 3 pm
Closed
Druid City Social
Closed
Closed
Closed
Evangeline's
Check back later
Check back later
Check back later
Five Java
Closed
Closed
Closed
Flavaz Seafood & Soulfood
Closed
Closes at 5 pm
Closed
Freddy's Frozen Custard & Steakburgers
Closed
Close at 4 pm
Closed
Frutta Bowls
Closed
Closed
Closed
Full Moon BBQ
Closed
10 – 3
Closed
Glory Bound
Closed
Closed
Closed
Gourmade Kitchen
Closed
Closed
Closed
Half Shell Oyster House
Closed
11 – 8
Closed
Heat Pizza Bar
Closed
Closed
Closed
Heritage House
Closed
Check Social Media
Closed
Hokkaido
Check back later
Check back later
Check back later
Hoo's Q and Brew
Closed
Check Social Media
Closed
Hoo's Q
Closed
Check Social Media
Closed
Hooligans
Closed
Closed
Closed
Innisfree
Open
Closed
Closed
Jalapeno's Mexican Grill
Closed
Open Lunch
Closed
Jim 'N Nicks BBQ
Closed
till 3 pm
Closed
Juice Bar
Closed
Closed
Closed
Just Love Coffee
Closed
Shortened Hours
Closed
Kobe
Closed
Open
Closed
Legends Bistro
Open
Check back later
Check back later
Local Roots
Closed
Closed
Closed
Lookout Rooftop Bar
Check back later
Check back later
Check back later
Los Tarascos
Closed
Closed
Closed
Mellow Mushroom
Closed
Closed
Closed
Metro Diner
9 – 2
9 – 2
Closed
Moe's Original BBQ
Closed
Closed
Closed
Monarch Espresso
Check back later
Check back later
Check back later
Mr. Chen's
Closed
Open
Open
Mugshots Grill and Bar
Closed
Closed
Closed
Peach Pit Bar & Grill
Closed
Check Social Media
Closed
Pyro's Fire Fresh Pizza
Closed
til 2 pm
Closed
R Davidson Chophouse
11 – 8
Closed
Closed
Raised on Country
Closed
til 4 pm
Closed
Rama Jama's
Check back later
Check back later
Check back later
Reggae Flava
Closed
Closed
Closed
River
Closed
Closed
Closed
Rock N Roll Sushi
Check Website
Check Website
Check Website
Ruan Thai Exotic Thai Cuisine Rest.
Check back later
Check back later
Check back later
Sage Juice Bar
Closed
Open
Closed
Sharks Fish and Chicken
Check back later
Check back later
Check back later
Shoals Bar and Kitchen
Check back later
Check back later
Check back later
Side-by-Side
Check Website
Check Website
Check Website
Southern Ale House
Check back later
Check back later
Check back later
Surin of Thailand
Closed
Check back later
Closed
Sweet Home Food Bar
Closed
Check back later
Check back later
Swen Chinese Restaurant
Closed
Closed
Closed
Taco Casa
Open
Open
Closed
Taco Mama
Closed
til 4 pm
Closed
Taziki's Cafe
Closed
Open
Closed
The Juicy Crab
11 am – 4 pm
Open
11 am – 4 pm
The Waysider
Check back later
Check back later
Check back later
Turbo Coffee
Check back later
Check back later
Check back later
Twelve25
Check back later
Check back later
Check back later
UPerk
Closed
Closed
Closed
Urban Cookhouse
Closed
Check back later
Closed
Veracruz Mexican Grill
Closed
Check back later
Closed
VooDoo Wing Company
Closed
Closed
Closed
Wilhagan's
Closed
Closed
Closed
Wing Stop
5 pm – 12 am
Closed
Closed
World Of Beer
Closed
Check back later
Check back later
Zoe's Kitchen (all locations)
Check Website
Check Website
Check Website
The best time of year is steadily approaching and it seems that the gift list is growing longer by the second. That's where we come in to save the day. Over the next few weeks, we will be sharing some stellar local shops that will make this year's Christmas shopping a breeze. Not only will this guide save you loads of time, but it's also a way to show your love and support for the many phenomenal local businesses in Tuscaloosa! Want your favorite shop featured? Send us a direct message and let us know!
For your Brewery Buds…
There is always one kind of gift that gets put to good use with just about every recipient: alcohol. Whether you're searching for your favorite IPA or a unique kind of wine, we have what you're looking for in Tuscaloosa! Loosa is a spectacular local bar that offers 63-Taps that you can drink on-premise, or fill up in a growler and take home. They always keep 30 of the freshest draft beers from Alabama breweries plus rare beers from all over on tap. If alcohol isn't the direction you were thinking, check out their T-shirts, hats, and glassware! Whether you're a local or a first-time visitor a souvenir is always a great little reminder of your experience here in T-Town. 
For the Evermoving Explorers…
Although the temperatures are getting lower and lower, it is still important to stay active outside whether it is to exercise or for other sporting purposes! Staying outside and distanced is a safe and healthy way to enjoy activities with friends and family, so for all those outdoorsy companions, check out Woods and Water or Wagner's. Woods and Water is a store that fills every outdoorsy person's fantasies, whether for hunting, fishing, or other assorted outdoor activities! A local shoe store, Wagner's, has another seasonal gift guide for everyone to put a holiday spring in their loved ones' step this season! Browse through the wide selection of shoes and active outerwear divided into for him, for her, for girls, or for boys sections. 
For your Foodie Friends…
Wheww… Where do we even start? To gift a delightful dining experience and incredible Italian cuisine check out the local favorite Depalmas! If a brunch date is more your style, gift your friend with mimosas and a view at River, or with a Southern-styled breakfast at The Waysider. For that unpredictable foodie friend, a Cravings gift card can go a long way. The city's one-stop-shop for specialty candy, craft beer, wine, dessert, and so much more is located downtown for your convenience.
For the Auspicious Artists…
Bring the artistic wonder of Kentuck Arts Center to family and friends with the power of the Kentuck Festival of the Arts 2020 Virtual Marketplace. This virtual dream come true is available now until December 31st to safely celebrate local artists. With a wide variety of pieces and creations, the Virtual Marketplace is a fabulous way to browse and discover new tastes and trends within the art community all from the safety of your home. Not only is this a safe way to shop, but it also an incredible way to support local artists from around Tuscaloosa and all of West Alabama.
All Fired Up Ceramic Studio offers gift cards for visitors to purchase for their friends and family this upcoming holiday season or year-round for other celebrations! Gifts can come in the shape of gift cards for use at the All Fired Up studio or even take-home kits to move the ceramic fun to enjoy in the safety of your own home! All Fired Up is a delightful spot where you, along with friends or family, can stop by to create and paint your very own pottery creations together. This activity is a relaxing way to both blow off steam and express creativity through shape, color, and design! Visit All Fired Up's website to learn more about the store and their different gift offerings.
For the Reserved Relaxers…
In the chaos that has been 2020, many people are looking for ways to healthily unwind and enjoy time to themselves or just time in peace and quiet. Tuscaloosa is home to several spots where you can find the gift of "solace" to give to one of your closest companions. Ernest and Hadley offers gift cards, branded gifts, and even store memberships as part of their gift gallery and is sure to provide a thoughtful and easy gift to give a book lover or someone looking to read more heading into the new year. Monarch Espresso Bar is another way to give the gift of peace and quiet by offering gift cards to give to friends and family this holiday season.
Fall has arrived, and with it came that familiar crisp autumn air, which means the outdoors are calling our names! See for yourself  Tuscaloosa's breathtaking back yard…and it doesn't stop there, either. This city's stunning landscape paired with phenomenal local businesses elevates an already beautiful destination into a MUST-DO Road Trip. Whether you are looking to wind down with an outdoor picnic, take an adventure hiking through the fall foliage, or shop like there's no tomorrow, let these 10 reasons why Tuscaloosa should be your next weekend getaway guide your planning process. After all, you don't want the legendary Tuscaloosa Experience to pass you by!
1.jDowntown Tuscaloosa:
A recent addition to the city's outstanding coffee shop scene is about to open and we couldn't be more excited! Just Love Coffee prioritizes that sense of community as a business. The laid-back & relaxed atmosphere that makes Just Love Coffee Cafe so special was created to be different than the stuffy reputation of most specialty coffee shops. Downtown Tuscaloosa is a prime place to shop until you drop. Whether you are looking for your next gameday attire at The Pants Store, or searching for an antique accessory at Twice as Nice, this area is ideal for shopping at a vast variety of places that are all conveniently located!
2. Riverwalk
Offering a serene view of the Black Warrior River, the Riverwalk is also the place to hammock, picnic, or relax! There are numerous picnic tables, benches, and gazebos to provide a comfortable environment, allowing you to get the most out of your experience with the great outdoors of T-Town. Let your mind take a rest from all the hustle and bustle of everyday life. If you are looking to work up a sweat and take advantage of the cooler temperatures, there is also a running path along the Riverwalk to enjoy in the morning or throughout the day. In addition to these activities, the Riverwalk is located close to a number of restaurants to enjoy either at the start or at the end of a delightful Autumn day, like Market House Boutique, Another Broken Egg, and River. Be sure to carry a mask with you for safety if you intend to visit any of the restaurants or businesses on the Riverwalk!
3. Lake Harris
Lake Harris is one of the many nearby lakes that offers an incredible setting for a number of different outdoor activities. There are plenty of picnic areas and a beach, where one might spread out a blanket to enjoy their lunch or simply take in the scene. In addition to these spots, there are a number of trees gathered close by the bank, perfect for setting up a cozy hammock! For those who are looking to stay active, there is a 1.76-mile hike around the lake through the trees. As the weather cools down, this area will become a peaceful gathering place for all who wish to experience some of Tuscaloosa's many hidden gems.
4. Farmer's Market
The Tuscaloosa Farmers Market is a spectacular shopping spot where you can find anything from a hand-cut Maple & Walnut Cutting Board to a hand-poured Yellowhammer candle scented Alabama Shores, all within walking distance. Each Saturday from 7 a.m. to 12 p.m. local vendors of all specialties gather at the Tuscaloosa River Market to show off their wares to the community. If you plan on discovering the market's incredible vendors this Saturday, wear a mask and be prepared to follow all social distancing guidelines!
5. Children's Hands-on Museum
CHOM is a wonderful place in town where children explore, create, and discover something new every time they visit.  When we say "hands-on" we really mean it!  Learning through play is what CHOM'S exhibits are all about, where kids are encouraged to touch, feel, and play in fantastic exhibits.  Three floors of fun await with 24 exhibits, offering newborns and 13 year-olds alike an opportunity to completely immerse yourself in fun learning processes.
6. Kentuck Art Center
This local favorite offers a unique view into the minds of the endlessly talented local artists all around Tuscaloosa. From handmade, one-of-a-kind jewelry to kitchen pitchers, this gold mine is ideal for a one-stop-shop for all of your holiday gifts. The Kentuck Gallery Shop offers an incredible shopping experience unlike any other online and/or in-person! Also, the 49th Kentuck Festival of the Arts is open NOW until December 31, 2020. With over 180 artist shops specializing in categories like clay, glass, jewelry, mixed media, sculpture, and wood you are bound to find the perfect Christmas present for everyone on your list!
7. Bower's Park
Bower's Park is a nearby public park that offers quite a few activity opportunities, like a disc golf course or several fields for rent. Not much different from regular golf, disc golf is an active way to stay busy on a delightful weekend outside! Those looking to get into this sport need to be sure and purchase discs ahead of time, however. As far as a field for rent, Bower's Park has a number of different fields, baseball/softball or multipurpose, that can be rented out for a small gathering of friends to safely play a pickup game of baseball, softball, and more! Before visiting Bower's Park, be sure to bring along a mask in case of other visitors.
8. Civil Rights Trail
As temperatures slowly start to drop, it is prime time to spend the day walking around outside and exploring new places. Among the many adventures that await you in town is the Civil Rights Trail, where anyone has the opportunity to walk in the footsteps of history and learn about how the Civil Rights Movement shaped the City of Tuscaloosa. Located primarily in Downtown Tuscaloosa, this trail is perfect for staying active and demonstrates a profound learning opportunity for those who are not aware of the history of Tuscaloosa. Thanks to its proximity to Downtown Tuscaloosa, the Civil Rights Trail is also a good opportunity to discover local dining options, such as Reggae Flava and Brummi's Yummies. For more T-Town treasures along the trail check out the official guide here.
9. Government Plaza
If you are looking for a versatile area that offers wide-open spaces to safely enjoy this city, then the Government Plaza is the spot for you. Located in the heart of downtown, this 5-acre park makes social distancing a breeze. Soak in all of the cozy fall vibes while diving into a good book from Ernest and Hadley, grubbing on delicious Heat pizza, sipping on some Monarch coffee, or maybe even unwinding with your favorite yoga flow. After months on end of being trapped inside now is the time to relax and appreciate nature in all its wonder. If you want your furry friend to tag along, the sidewalks surrounding the park makes for the perfect path for walking with your furry friend.
10. Lake Tuscaloosa
This local hangout has everything you need for an unforgettable lake day with friends and family. Lake Tuscaloosa has earned its reputation as the perfect fishing spot with bass, sunfish, crappie, and more. If fishing isn't for you, stand on the shore, hike the lake's cliffs, or simply take in the captivating views! Only a short drive from the city, this lake makes pairing a morning out in nature and Rama Jama's iconic Southern breakfast unbelievably easy as well. You are bound to have a blast at this local treasure, especially in this beautiful fall weather.
When you're ready to plan your next road trip to T-Town check out all of the exceptional hotels this city has to offer!
Written by: Jamie Hoven
Great Grub
1. If savory Lamb Chops topped with Blackberry Reduction and a side of Garlic Mashed Potatoes and sautéed Kale sounds like your dream dinner, then you should definitely include Evangeline's in your T-Town itinerary. As one of the area's premier restaurants, this divine treasure provides exceptional service for private intimate dinners, social events, and corporate parties. From a small rehearsal dinner to a lavish party for friends and family, Evangeline's has the atmosphere to create the ideal experience.
2. Do you consider seafood, steak, & sushi three of your main food groups? If so, then Chuck's is most definitely calling you. Offering a diverse menu in trendy surrounds with a loft & full bar, this local favorite has a well-earned reputation as a T-Town staple. It is also perfect for special occasions like birthdays or anniversaries. Crowd favorites include the crab cakes, sushi, scallops, and pizza. With attentive service and an unforgettable dining experience, you'll always leave this happy and stuffed – and ready to come back again.
3. It would be a disservice to Tuscaloosa cuisine to discuss our incredible local dining without including Central Mesa. Established in 2017 by owner Craig Williams, this local treasure offers a Southern twist on traditional Latin-American dishes. The story of the restaurant is built upon a passion for providing fresh, great-tasting food and cocktails. Every dish is prepared in-house from scratch to ensure quality taste. The heart of the restaurant beats to provide a relaxed atmosphere and sense of community, where people can come and enjoy exceptional food and drink.
Awesome Arts
4. Ignite the creative in you and experience the Dinah Cultural Arts Center's current exhibit, Stephanie Kirkland: "Windswept: Abstract Landscapes". This moving collection of acrylic paintings was inspired during a road trip out West, which included hiking through Glacier, Zion, and Grand Canyon national parks. This week's gallery hours of 1:00 p.m.to 3:00 p.m. offers the last chance to witness this captivating creation firsthand. Trust us, you don't want to miss it!
5. Kentuck Art Center offers a unique view into the minds of the endlessly talented local artists all around Tuscaloosa. From handmade, one-of-a-kind jewelry to kitchen pitchers, this gold mine is ideal for a one-stop-shop for holiday gifts. The Kentuck Gallery Shop offers an incredible shopping experience either online or in-person!
Scenic Views 
6. Fall foliage peak is on the horizon and one of the best places to take in the changing season is the Riverwalk. This first-rate paved trail sits along the southern bank of the Black Warrior River near downtown Tuscaloosa and is suited for both walkers and bikers. Along the 4.5-mile trail, there are a variety of (dog-friendly) park areas, benches, gazebos, and trees for hammocks and picnics. The pathway also provides a playground near the Public Library and a splash pad at the Bama Bell dock for the kids. For nighttime walkers, it is well-lit with street lamps along the way.
7. Get a taste of the (tamer) Tide. Take in the jaw-dropping beauty of UA's campus in its most unique form: somewhat still and tranquil. Casually absorb the captivating architecture and elaborate landscaping that is so easy to take for granted during the football fan frenzy that accompanies one of the greatest dynasties in college football history. It offers another great place to enjoy the fall colors while viewing landmarks such as the President's Mansion, Denny Chimes, Bryant-Denny Stadium, and historic Foster Auditorium – where Malone-Hood Plaza and the Autherine Lucy Clock Tower celebrate the spot where the University of Alabama was first integrated.