The Riverwalk is such a stunning trail that travels along to the Southern banks of the Black Warrior River. Whether you're walking your dog, going for a jog, biking, or just admiring the view, the Riverwalk is a great place to be with nature and to appreciate the jaw-dropping beauty of Tuscaloosa.
This trail offers park areas that are all pet-friendly. The pathway includes benches, gazebos, picnic tables, and hammock-friendly trees that visitors can enjoy. There are several open areas for playing frisbee, picnicking, or relaxing in a hammock reading your favorite book. It is well lit with street lamps lining the trail with access to an emergency phone if an accident occurs.
The Riverwalk starts at Capitol Park on the western end, rounds the beautiful Tuscaloosa Amphitheater, and finishes on the east side of Manderson Landing. The length of the trail stretches 2.5 miles one way! Eventually, the Southern Riverwalk will meet up with the new Northern Riverwalk (Randall Family Park & Trailhead) and will extend into West Tuscaloosa as well. When the time comes, these additional miles will be well-traveled by all, that's for sure!
One of the most iconic views on this trail is the historic train trestle bridge, which was once considered the country's longest at 3,600 feet. This bridge is simply stunning, especially as the sun sets, reflecting on the river that flows through the heart of our community. Its picturesque views has been the perfecting setting for proposals, family photos, picnics, and more.
Along the pathway, which offers many shady areas for a break from the heat, are shops and restaurants for people to enjoy during their visit to the Riverwalk. The Shops at Riverwalk Place is home to Another Broken Egg Café, Bellagio Nails Spa, River, Market House Boutique, and more! Near the Amphitheater, you'll also find Heritage House and Hotel Indigo. Along the trail, you'll find the Visit Tuscaloosa Visitor Center as well as the Farmers Market at the Tuscaloosa River Market, where fresh, local goods and produce are sold every Saturday.
There is hardly anything that competes with the breath-taking scenery on a bright, sunny day or the majestic sunset views along the Riverwalk. In the morning, you often catch The University of Alabama Rowing Team practice for their next regatta as they race up and down the river. During the spring, summer, and fall months, one can enjoy the sounds of a concert coming from the Amphitheater too. Simply put – it's the perfect place where all can come to gather, to exercise, to enjoy time alone or with family and friends. It truly is one of Tuscaloosa's best outdoor adventures, conveniently located in Downtown.
For information about the gazebo rental, contact Tuscaloosa County Park and Recreation Authority at 205-562-3210.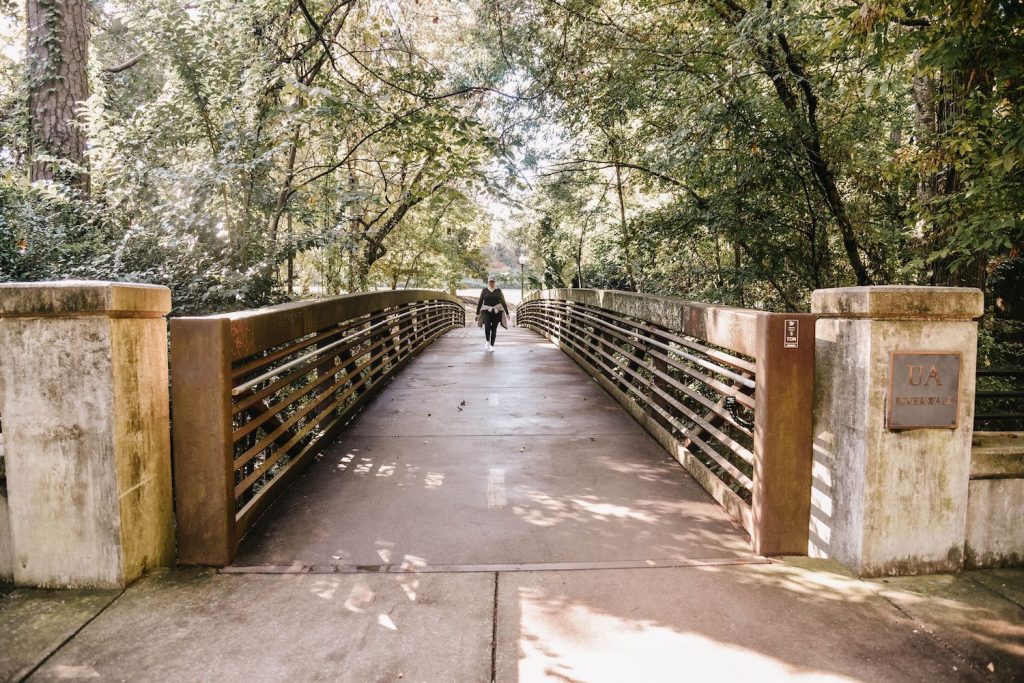 Great Grub
1. If savory Lamb Chops topped with Blackberry Reduction and a side of Garlic Mashed Potatoes and sautéed Kale sounds like your dream dinner, then you should definitely include Evangeline's in your T-Town itinerary. As one of the area's premier restaurants, this divine treasure provides exceptional service for private intimate dinners, social events, and corporate parties. From a small rehearsal dinner to a lavish party for friends and family, Evangeline's has the atmosphere to create the ideal experience.
2. Do you consider seafood, steak, & sushi three of your main food groups? If so, then Chuck's is most definitely calling you. Offering a diverse menu in trendy surrounds with a loft & full bar, this local favorite has a well-earned reputation as a T-Town staple. It is also perfect for special occasions like birthdays or anniversaries. Crowd favorites include the crab cakes, sushi, scallops, and pizza. With attentive service and an unforgettable dining experience, you'll always leave this happy and stuffed – and ready to come back again.
3. It would be a disservice to Tuscaloosa cuisine to discuss our incredible local dining without including Central Mesa. Established in 2017 by owner Craig Williams, this local treasure offers a Southern twist on traditional Latin-American dishes. The story of the restaurant is built upon a passion for providing fresh, great-tasting food and cocktails. Every dish is prepared in-house from scratch to ensure quality taste. The heart of the restaurant beats to provide a relaxed atmosphere and sense of community, where people can come and enjoy exceptional food and drink.
Awesome Arts
4. Ignite the creative in you and experience the Dinah Cultural Arts Center's current exhibit, Stephanie Kirkland: "Windswept: Abstract Landscapes". This moving collection of acrylic paintings was inspired during a road trip out West, which included hiking through Glacier, Zion, and Grand Canyon national parks. This week's gallery hours of 1:00 p.m.to 3:00 p.m. offers the last chance to witness this captivating creation firsthand. Trust us, you don't want to miss it!
5. Kentuck Art Center offers a unique view into the minds of the endlessly talented local artists all around Tuscaloosa. From handmade, one-of-a-kind jewelry to kitchen pitchers, this gold mine is ideal for a one-stop-shop for holiday gifts. The Kentuck Gallery Shop offers an incredible shopping experience either online or in-person!
Scenic Views 
6. Fall foliage peak is on the horizon and one of the best places to take in the changing season is the Riverwalk. This first-rate paved trail sits along the southern bank of the Black Warrior River near downtown Tuscaloosa and is suited for both walkers and bikers. Along the 4.5-mile trail, there are a variety of (dog-friendly) park areas, benches, gazebos, and trees for hammocks and picnics. The pathway also provides a playground near the Public Library and a splash pad at the Bama Bell dock for the kids. For nighttime walkers, it is well-lit with street lamps along the way.
7. Get a taste of the (tamer) Tide. Take in the jaw-dropping beauty of UA's campus in its most unique form: somewhat still and tranquil. Casually absorb the captivating architecture and elaborate landscaping that is so easy to take for granted during the football fan frenzy that accompanies one of the greatest dynasties in college football history. It offers another great place to enjoy the fall colors while viewing landmarks such as the President's Mansion, Denny Chimes, Bryant-Denny Stadium, and historic Foster Auditorium – where Malone-Hood Plaza and the Autherine Lucy Clock Tower celebrate the spot where the University of Alabama was first integrated.
Oh, 2020… There's not much to say about this hot mess express of a year. During the past dreadfully long several months, COVID-19 has managed to do one thing right: prioritize health as a nation. I'm not talking about physical health alone, I'm referring to mental health as well. Despite the obvious physical health risks brought on by COVID, social isolation and quarantine can also deeply affect one's mood and mentality. Although we wished farewell to Self-Care Month when Spooky Season arrived, this upcoming Saturday marks World Mental Health Day! That's why we have taken the time to dive into some of the many ways to nourish your mental health in T-Town!
Body
It is so important to take care of your physical health while working on your mental health as they are deeply intertwined. Contrary to popular belief, taking good care of your body doesn't have to feel like a chore! There are endless ways to get moving and enjoy yourself in T-Town. Don't believe us? Check out some of our suggestions below to get the inside scoop on local products and services to improve one's mental health!
For beginners and pros alike yoga can help manage mental health by keeping your mind at ease and body engaged. There are a few awesome different yoga studios available with enjoyment! Yoga Bliss is a yoga studio just down the street from The Strip that offers a great variety of classes. The selection ranges from entry-level Beginner Fundamentals, specialized classes like Yoga Nidra, and classes like EveryBODY, which is designed to be useful for all who attend. Visit the Yoga Bliss website above for more information on pricing and registration! There are many other nice studios around the city as well including Painted Lotus Yoga and Wellness! For a slightly more intense workout, check out The Barre Code, Pure Barre, and HotWorx.
Regular exercise and fresh air have the dual benefit of improving your physical health and encouraging growth in your mental state as well. By staying active and keeping your blood flowing, you're allowing the brain to relax a bit while it is fully engaged in the actions. This kind of mindfulness has been proven to improve focus, mood, and overall mentality throughout the day! Although attending a local gym or taking specialized exercise classes are incredible ways to boost your mental health, there are a plethora of other places around the city to stay active as well.
The Riverwalk along the Black Warrior River is not only a delightful spot to relax, but it is also a prime location for a light jog, intense running session, or quick outdoor workout! Lake Tuscaloosa and Lake Nicol are a great outdoor choice, too, offering a number of activities like hiking, swimming, or even paddleboarding! All of these spots not only offer somewhere to get your blood flowing but also make the perfect setting to relax and meditate by the water. A little fresh air and peace and quiet can help calm the senses.
Spirit 
Another helpful way to manage and monitor your mental health is to treat yourself to a local spa or salon on occasion. By prioritizing self-care in your routine your self-worth and psyche can improve significantly. It is important to know what specific activities help you feel as relaxed as possible, so don't hesitate to explore all the many local options available! Treat yourself to a day of pampering to commemorate World Mental Health Day at one of the following locations around Tuscaloosa!
For those that enjoy relaxation in a traditional sense, there is nothing better than a classic spa day to show yourself a little TLC. Not only would a massage ease the nerves, but a manicure and a pedicure couldn't hurt either! In Tuscaloosa, Spa Belle La Vie and Nancy Taylor Day Spa are just a few of the many serene locations where visitors can enjoy massage therapy, beauty treatments, and even salon services. For the guys out there who respect the power of proper pampering, visit Greasy Hands Barbershop for hot shaves, clean cuts, and a relaxing atmosphere!
If pampering is the way to go for you, what better way than discovering a responsible and fun way to clean yourself: soap! The Left Hand Soap Company is a local soap workshop in Downtown Tuscaloosa that produces specialized soaps, shampoos, and other natural cleaning products since 1999. Due to COVID-19, visitors are not allowed to inside the workshop, but products are available for purchase online for pick-up! Visit the Left-Hand Soap Company website to view the various products and swag available.
Mind
Staying focused on a calming and/or mentally-stimulating activity can be an exceptional tool to properly manage your mental health. This includes listening to music, reading a new book, or learning something new! Whether or not you are already passionate about music or books, these activities are widely available for anyone to pick up and enjoy on the daily. Music and books come in a number of different genres and subjects, so there are endless ways to enjoy both activities! Additionally, learning something new stimulates the mind and creates a sense of accomplishment, like learning to ride a bike or finishing a good book!
Stop by the Tuscaloosa Public Library or Ernest & Hadley's to get lost between the pages of a new book! Both of these spots are home to a wide collection of titles, familiar or new, and are available for all to enjoy. In addition to books, both the library and the bookstore host events/virtual events where patrons can learn more about authors and other literary greats related to the titles they have checked out or would like to explore. Sit back, relax, and keep your mind sharp with a great book!
For those that enjoy turning their records on and sitting idle on their couch for a blissful afternoon, Oz Music is a must-visit shop in Tuscaloosa. Oz Music has all anyone could need to become a major album collector and listener, from record players and cleaning supplies to throwback vinyl and brand new records! CDs are still available for those who prefer that method of jamming their favorite tunes.
Learning is a great way to exercise and stimulate the mind if you are needing a break from your everyday troubles. Learning about something new opens up your mind to new experiences and emotions, which has the dual benefit of improving your mental health and expanding your knowledge base! Three special destinations in town, the Paul R. Jones Gallery, Harrison Galleries, and the Paul W. Bryant Museum,  provide a safe haven to learn about new perspectives and stories you've have yet to discover. All of these museums are exciting places to dive deeper into the diverse history and art of this area.
Mental health remains a significant topic in our nation as the unexpected isolation that came with COVID-19 continues to affect mental health. This meaningful topic affects millions and deserves extensive evaluation. Before this can happen, we must not be afraid to seek or offer help. If you or anyone you know is suffering from mental health distress, contact your medical provider for more information on services to help treat these challenges, or learn more at MentalHealth.gov.
Written by: Jamie Hoven & Will Baggett
The City of Tuscaloosa is one of the most picturesque college towns in the South, and there is no question as to why! Denny Chimes, the Black Warrior River, and Woods Quad are only a few of the beautiful locations around the city that are perfect for photography and social media content. We have pulled together a list of 10 spots in and around the City of Tuscaloosa that are sure to spice up your photo album and give your social media feed a boost!
           Empty Lot between Monarch and Alcove
At first glance, visiting the lot between Monarch Espresso Bar and Alcove Bar may not seem to be the right location for an Instagram photoshoot, but with the right ideas, it can make your followers do a double take! The lot between Monarch and Alcove is vacant and is mostly used for outdoor seating, but there is an abundance of exposed brick, just waiting to be used as a backdrop. This brick background along with the greenery of the area offers just the right amount of rustic aesthetic that your following won't begin to believe you are just blocks away from Downtown Tuscaloosa!
           Grace Aberdean Habitat Alchemy Mural
Located at the corner of 9th Street and 22nd Avenue in Downtown Tuscaloosa is a furniture store: Grace Aberdean Habitat Alchemy. This delightful furniture shop is local and community-oriented, serving the purpose of selling vintage and recycled furniture in an expressive and frugal way. However, for a unique and exciting new addition to your social media repertoire, check out the mural located on the side of the shop's building! The mural is painted on an exposed brick wall, so it has the added benefit of being rustic and artsy at the same time, adding an interesting subject to your photography.
           Old Bama Logo on the Side of Gas Station
If you are looking for a unique setting for your upcoming Instagram post, but want to keep rolling out your support of the Crimson Tide, take a quick trip out to Skyland Boulevard near the Walmart Neighborhood Market (not the Walmart Supercenter). Located across the street from the Neighborhood Market store is a gas station that features a mural of an old Alabama Athletics logo that is nothing short of a masterpiece. Timing is crucial for this backdrop as it is located in the parking lot and your shot might be obscured by a car or two. Once the timing is right, get your shots in and show off your Tide Pride!
           Kentuck's Green Fence
In Historic Northport near the Kentuck Art Center, there is a bright green fence along the side of the sidewalk between two buildings that sticks out among the historic and rustic feel of the area. This fence, adorned with a snake-like decoration, is a delightful backdrop to use when looking for your next Instagram post! The sweet, lime green backdrop of this fence is perfect for showing off multi-colored outfits and high energy subjects to complement its unique location amidst historic buildings. Be careful taking pictures in this spot due to the proximity to the busy road in and out of Northport!
           Private Parking Deck on Greensboro
Located just off Greensboro Avenue by Five Bar is a private parking deck that services patrons of all the nearby businesses and restaurants, but why not use it as the setting of your next Instagram post? This space offers an unexpected backdrop to your social media content, but its unexpected nature is its distinctiveness! The walls feature red stenciled writing over the spaces,
           Walkway between Bryant Conference Center and Alumni Hall
Hidden among two university buildings towards the edge of campus, this spot between Bryant Conference Center and Alumni Hall is a secluded area with trees, grass, and benches for a variety of potential Instagram-worthy pictures. This area between the buildings provides a more private space to share everyday pictures of yourself and friends, without having the ordeal of others walking in and around your shot! This spot is also a great place to experiment with shadows in your photos, given that it is located between buildings and has a number of trees in the area, so be creative!
           Shelby Hall corridor
Shelby Quad is one of the most picturesque spots on the University of Alabama campus. It only makes sense that the interior areas of Shelby Hall would also offer beautiful new perspectives to mix into your social media feed. Walking into the front lobby of Shelby Hall, you are welcomed by a massive lobby that is already photo-worthy, but as you explore more into the building, you will discover the corridors throughout the building and between buildings that provide incredible framing for anything from graduation pictures to simple everyday Instagram posts!
           The Westervelt Company
The headquarters of The Westervelt Company is one of the more unique spots to find around the Tuscaloosa area. This is because it is a fully-designed, elaborate Japanese garden! The Japanese gardens at the Westervelt Company were designed and built by the previous occupying company's president, Jack Warner, who returned from World War 2 having been enamored with the architecture and design of Japan. The Japanese gardens and accompanying buildings are currently used as the headquarters of The Westervelt Company, but double as a beautiful expression of Japanese architecture and design that will take your photography and Instagram feeds all the way to Japan!
           Marr's Spring
Located behind B.B. Comer Hall and the Ferguson Student Center is Marr's Spring, a small park with a pathway through it where peace and quiet can be found amidst the chaos of the University of Alabama campus. This park features a small pond and a bridge over two cisterns, surrounded by a number of towering trees, offering a natural setting in the middle of campus away from the hustle and bustle of the campus. Discover how beautiful this area is for photography and social media content by visiting at Golden Hour or even on a peaceful, rainy day!
         Lake Harris Dam Trail
For those who are looking to get outdoors for their photography and social media content, the Waterfall Branch Trail is a wonderfully obscure option! This trail is located Northeast of town on Lake Harris and if you follow along the hiking trail there, you will find the wonderful backdrop of nature for your Fall photos as we get later and later into the year. In addition to the trails through the woods, the views of Lake Harris also make for picturesque backdrops!
Written By: Will Baggett
Edited By: Jamie Hoven
Summer is winding down and so are the temperatures, which means the outdoors are calling our names! Getting outdoors is important as we navigate our increasingly-virtual lifestyles thanks to COVID-19, so we figured we would compile a list of outdoor adventures for you to discover around Tuscaloosa. This city is a beautiful landscape that only gets better as Autumn starts to sweep across the country, elevating already beautiful outdoor destinations into breathtaking views! Whether you are looking to wind down with an outdoor picnic or take an adventure hiking through the fall foliage, check out this list of outdoor adventures around Tuscaloosa!
Lake Harris
Lake Harris is one of the many nearby lakes that offers an incredible setting for a number of different outdoor activities. There are plenty of picnic areas and a beach, where one might spread out a blanket to enjoy their lunch or simply take in the scene. In addition to these spots, there are a number of trees gathered close by the bank, perfect for setting up a cozy hammock! For those who are looking to stay active, there is a 1.76-mile hike around the lake through the trees. As the weather cools down, this area will become a peaceful gathering place for all who wish to experience some of Tuscaloosa's many hidden gems. 
     2. Bower's Park
Bower's Park is a nearby public park that offers quite a few activity opportunities, like a disc golf course or several fields for rent. Not much different from regular golf, disc golf is an active way to stay busy on a delightful weekend outside! Those looking to get into this sport need to be sure and purchase discs ahead of time, however. As far as a field for rent, Bower's Park has a number of different fields, baseball/softball or multipurpose, that can be rented out for a small gathering of friends to safely play a pickup game of baseball, softball, and more! Before visiting Bower's Park, be sure to bring along a mask in case of other visitors. 
    3. Riverwalk
Offering a serene view of the Black Warrior River, the Riverwalk is also the place to hammock, picnic, or relax! There are numerous picnic tables, benches, and gazebos to provide a comfortable environment, allowing you to get the most out of your experience with the great outdoors of T-Town. Let your mind take a rest from all the hustle and bustle of everyday life. If you are looking to work up a sweat and take advantage of the cooler temperatures, there is also a running path along the Riverwalk to enjoy in the morning or throughout the day. In addition to these activities, the Riverwalk is located close to a number of restaurants to enjoy either at the start or at the end of a delightful Autumn day, like Market House Boutique, Another Broken Egg, and River. Be sure to carry a mask with you for safety if you intend to visit any of the restaurants or businesses on the Riverwalk!
    4. Civil Rights Trail
As Summer draws to a close and temperatures start to drop, it is prime time to spend the day outside walking around and exploring new places. Among the many adventures that await in Tuscaloosa is the Civil Rights Trail, where anyone has the opportunity to walk in the footsteps of history and learn about how the Civil Rights Movement shaped the City of Tuscaloosa. Located primarily in Downtown Tuscaloosa, this trail is perfect for staying active and demonstrates a profound learning opportunity for those who are not aware of the history of Tuscaloosa. Thanks to its proximity to Downtown Tuscaloosa, the Civil Rights Trail is also a good opportunity to discover local dining options, such as Reggae Flava and Brummi's Yummies. For more T-Town treasures along the trail check out the official guide here.
     5. Government Plaza
If you are looking for a versatile area that offers safe ways to enjoy this city then the Government Plaza is the spot for you. Located in the heart of downtown, this 5-acre park makes social distancing a breeze. Enjoy the crisp Autumn air while diving into a good book from Ernest and Hadley, grubbing on delicious Heat pizza, sipping on some Monarch coffee, or maybe even unwinding with your favorite yoga flow. After months on end of being trapped inside now is the time to relax and appreciate nature in all its wonder. If you want your furry friend to tag along, the sidewalks surrounding the park makes for the perfect path for dog-walking. 
    6. Lake Tuscaloosa
This local hangout has everything you need for an unforgettable lake day with friends and family. Lake Tuscaloosa has earned its reputation as the perfect fishing spot with bass, sunfish, crappie, and more. If fishing isn't for you, stand on the shore, hike the lake's cliffs, take in the captivating views, or dip into the refreshing water! You are bound to have a blast in this comfortable weather. Only a short drive from the city, this lake makes pairing a morning out in nature and Rama Jama's iconic Southern breakfast unbelievably easy.
Written By: Will Baggett
Edited By: Jamie Hoven
Do you feel like mixing it up this weekend? Well, then you're in luck! Take a journey back in time and discover the City of Tuscaloosa's critical role in the Civil Rights Movement. Enjoy the great outdoors and the energetic vibe of Downtown Tuscaloosa while uncovering this city's diverse history on Tuscaloosa's Civil Rights Trail!
This trail is a collection of 18 sites scattered throughout Downtown Tuscaloosa, exhibiting key locations where the Civil Rights Movement and pivotal moments in the struggle of Black Americans took place in Tuscaloosa. From historical political sites to memorial sites named for famous Black Americans, the Civil Rights Trail celebrates the heroes of the movement and makes for an incredible outdoor walk through time.
Below, we have put together a rough timeline of a walk along our local Civil Rights Trail, including pro tips along the way. In addition to the trail itself, we have included several nearby Black-owned businesses to visit for decadent meals and delicious treats! Follow along with this brochure guide for more information about each of the incredible stops throughout the journey.
10:00 am
Start your day at Capitol Park (1) amongst the rubble of a building where the Alabama State government met from 1826 to 1846. This building was where many of the slave codes were legislated and enacted to protect and promote white supremacy throughout the State of Alabama. The remains of the old legislative building are a somber reminder of what happened in Tuscaloosa and all that came afterward in the following century during the Civil Rights Movement.
10:30 am
Close by Capitol Park is the second stop on the Civil Rights trail: The Lynching and Old Jail (2) stop. Designated by a historical marker, this old jailhouse building served as the county jail from 1856 to 1890 and held both white and black prisoners. However, through its years of operation, lynchings of Black prisoners occurred – eight of which are chronicled by the historical marker found at this site.
11:00 am
A short walk away is a newly opened food truck-turned-restaurant, Reggae Flava. This fresh addition to Timmerson Square is a popular Black-owned restaurant that serves up delicious Caribbean flavor for all its patrons. Whether you're craving tender Oxtail or Pineapple BBQ Jerk Salmon, you'll have no trouble finding your new favorite dish.
12:00 pm
After indulging a hearty meal of Caribbean cuisine, head to the corner of University Boulevard and Lurleen Wallace Boulevard to find the next stop on the Civil Rights Trail: The Druid Theatre and Hollywood (3) stop. The then newly-integrated theatre was the site of two angry white mobs in response to the Civil Rights Act in 1964. These incidents brought Tuscaloosa into the national spotlight, sparking outrage among many.
12:30 pm
Nearby is another stop along the trail: The Mob at the Flagpole (4). This designated meeting location during the Civil Rights movement was the hub for students and local citizens to gather and express their discontent as the status quo was being challenged in the City of Tuscaloosa. Most notably, this flagpole was where a mob met to respond to the integration of the University of Alabama in 1955 when Autherine Lucy was admitted to the college.
Another few stops along the Civil Rights Trail to consider at this point are Woolworth and Sit-Ins, (5) First Black Legislator: Shandy Jones (6), and the Kress Building and Bus Boycott (7).
1:30 pm
The next stop of the Civil Rights Trail is the Paul R. Jones Museum (8), a museum created by a powerful figurehead in the history of Civil Rights in Tuscaloosa. Paul R. Jones was once denied admission to the University of Alabama Law School in 1949 based on his race but then went on to fight for the Civil Rights Movement in the South. The museum is a collection of African-American art pieces donated by Jones to the University of Alabama in 2008 at a value of $5 million. The Paul R. Jones Museum is a beautiful expression of the journey he endured facing racism head-on. This magnificent exhibition of modern African-American art rotates different pieces in and out, with new shows regularly. 
The Alston Building (9) is famous for two things, Governors George and Lurleen Wallace were married here, and Robert K. Shelton ran the United Klans of America from a three-room suite on the fourth floor. 
2:00 pm
At the midpoint of your walk along the Civil Rights Trail, you can stop by Brummies
 Yummies for a quick sweet treat! Brummi's Yummies is another Black-owned business in town located along the Civil Rights Trail. This delightful bakery has several sweet treats to satisfy your cravings, whether it is Cookie Dough Brownies, Orange Dreamsicle Cupcakes, or other unforgettable treats. It is a great place to stop by and take a rest before enjoying the remainder of Tuscaloosa's Civil Rights Trail.
2:30 pm
The next stop on the trail is the Dinah Washington Cultural Arts Center (10).
In the Southeast portion of Downtown Tuscaloosa, there are other additional stops to be made along the Civil Rights Trail: The County Courthouse and Marchers (11), Greensboro Avenue Churches (12), Bluefront District (13), Bailey Tabernacle CME Church (14), and Hunter Chapel AME Zion Church (15), the oldest African American church organized in Tuscaloosa. It was also the first church to host Dr. Martin Luther King, Jr. who spoke here in 1955. 
3:30 pm
First African Baptist Church (16) is one of the last stops along the Civil Rights Trail and is one of the more important ones. First African Baptist Church was the site of "Bloody Tuesday", which was a violent attack on peaceful protesters by Tuscaloosa Police and white extremists who had been deputized. Built as a haven for Black worshippers upset with the discriminatory practices of the First Baptist Church, this church has stood at the corner of 4th Street and 24th Avenue since 1900 and is an important milestone along the Civil Rights Trail of Tuscaloosa.
Another stop to visit after First African Baptist Church is the Murphy-Collins House (17). Originally the private home of Tuscaloosa's first black mortician, it is now a museum focusing on the life of African-Americans in the 1900s. Read more about this stop in the brochure guide linked above. 
4:30 pm
The Howard-Linton Barbershop (18) is the final stop and is one of the more unique spots along the trail. The owner of the barbershop, the late Reverend Thomas Linton, was a powerful figure in the fight for Civil Rights in Tuscaloosa, working closely with Martin Luther King Jr. and Robert F. Kennedy throughout the Civil Rights Movement. Additionally, this barbershop was the hiding place for Autherine Lucy when she was escaping the mob of white citizens after she attempted to integrate the University of Alabama. Reverend Linton's shop is filled with mementos and artifacts that showcase the struggle of Black Americans living in Tuscaloosa and the South throughout the Civil Rights Movement. 
5:30 pm
After you have finished your day along the Civil Rights Trail of Tuscaloosa, be sure to head to one of the many Black-owned restaurants in Tuscaloosa to show your support! There are many different restaurants around Tuscaloosa with delicious dinner meal offerings, including Archibald & Woodrow's BBQ, Catfish Heaven, KSV, and King's Kitchen.
Written By: Will Baggett
Edited By: Jamie Hoven
Tuscaloosa Mural
The Tuscaloosa mural on The Strip is the perfect backdrop for your next photo! Its vibrant colors spell out the city's name, but there's more than meets the eye! Jason Tetlak, the mural's artist, created a technique he calls "red reveal." When the mural is viewed through a red lens, the word "Tuscaloosa" changes into the phrase "Druid City." The mural is painted on the side of Egan's Bar, a Tuscaloosa favorite for over 40 years. If you're feeling hot after taking your pictures, stop in and cool off with one of their mixed drinks or local craft brews!
The Riverwalk
The Riverwalk is a paved trail that offers captivating views of the Black Warrior River. With multiple park spots, including benches and outdoor tables, it's the perfect place for a photo session or a picnic! The Riverwalk is only a short drive from downtown, making it easy to grab a bite from a restaurant like Reggae Flava on the way! Reggae Flava offers a variety of gourmet Jamaican cuisine options, including jerk chicken, curry shrimp, and fish tacos. After filling up on amazing food, make sure you take some beautiful photos!
Hurricane Creek Park
Hurricane Creek Park is a local favorite that makes for a gorgeous setting spending time outdoors and capturing the splendor of nature! The scenery is breathtaking, making this park the ideal place to practice your portrait or nature photography. While you're there, make sure you enjoy everything the great outdoors has to offer! Take a dip in the creek, walk along one of the park's hiking and bike trails, or simply sit on the creek bank and take in the tremendous surroundings.
Brown's Greenhouses
While it may seem out of the ordinary, greenhouses can make for a striking backdrop that brings personality and pop in to all of your photos! In 1984 Tuscaloosa was blessed with Brown's Greenhouses, a local plant nursery with an expansive selection of indoor plants, shrubs, flowers, and vegetables. Pose with some hanging baskets, stand among the rows of luscious flowers, and explore all 16 of the greenhouses to discover your absolute favorite herb! When it comes to purchasing plants, Brown's Greenhouses not only has stellar quality but outstanding prices as well.
Black Warrior Railroad Bridge
The railroad bridge that crosses the Black Warrior River would be a fantastic area for your next photoshoot! Located a short drive from downtown behind the Tuscaloosa Amphitheater, the wooden and steel truss bridge dates back to 1898. While you're near downtown, be sure to stop by Alcove International Tavern and grab a drink to find sweet relief from the sizzling summer heat! Alcove offers a wide variety of local craft beers and mixed drinks at reasonable prices, and visitors have raved about the bar's laid-back and unique atmosphere!
Capitol Park
Capitol Park is a historic park in Tuscaloosa that's perfect for taking photos while learning about the city's history! Capitol Park is the first stop on Tuscaloosa's 18-stop Civil Rights History Trail. When Tuscaloosa was the capital of Alabama, Capitol Park was the home of the city's leading governmental buildings. Only two columns and a foundation remain, and the location is a favorite of many photographers in the area. If you find yourself drained snapping photo after photo, you're in luck! Nearby is Babe's Doughnuts, a coffee shop and bakery that serves homemade doughnuts, breakfast bowls and sandwiches, and specialty coffees. Stop in for a sweet treat and a pick-me-up on your way to or from Capitol Park!
The University of Alabama
The University of Alabama has countless iconic spots throughout campus for breathtaking photographs! The Quad, President's Mansion, Bryant-Denny Stadium, Denny Chimes, and many more Capstone classics make this an ideal photography destination. While you're visiting campus, take the short walk down to The Strip and grab a bite to eat from one of the local restaurants. If you're looking for Thai food and sushi, grab a to-go meal from Surin of Thailand! From California rolls to fried rice, they have something for everyone to enjoy. College students love it for its reasonable prices and expansive menu. If you're in the mood for a drink, stop by Gallettes! Known for their famous Yellowhammer cocktail, Gallettes offers specials on wells along with mixed drinks and more!
Van de Graaff Arboretum and Historic Bridge Park
Van de Graff Arboretum and Historic Bridge Park is a beautiful outdoor setting for your next photo session! Located a short drive from Tuscaloosa in Northport, the park's King Bowstring Bridge is the perfect backdrop. The park prides itself on this historic feature, as the bridge is one of the four spans that crossed the Black Warrior River from 1882 to 1896. Van De Graaff park also has a variety of outdoor activities to enjoy! Hiking, fishing, and camping are just a few of the many amenities that are offered.