As we continue to raise awareness around the opportunities to fish in Tuscaloosa County, especially along the Black Warrior River, Toby Wilson continues to share his advice and expertise.
Editor's Note: Toby Wilson is a management consultant and has been fishing the Black Warrior River in Tuscaloosa County for the last seven years. He's also heavily involved with high-school bass fishing in Tuscaloosa County with his three sons through Holy Spirit High School. His eldest, Garrett, is 18-years old, his son, Matthew is 16 years old, and his youngest son, Chase, is 15-years old.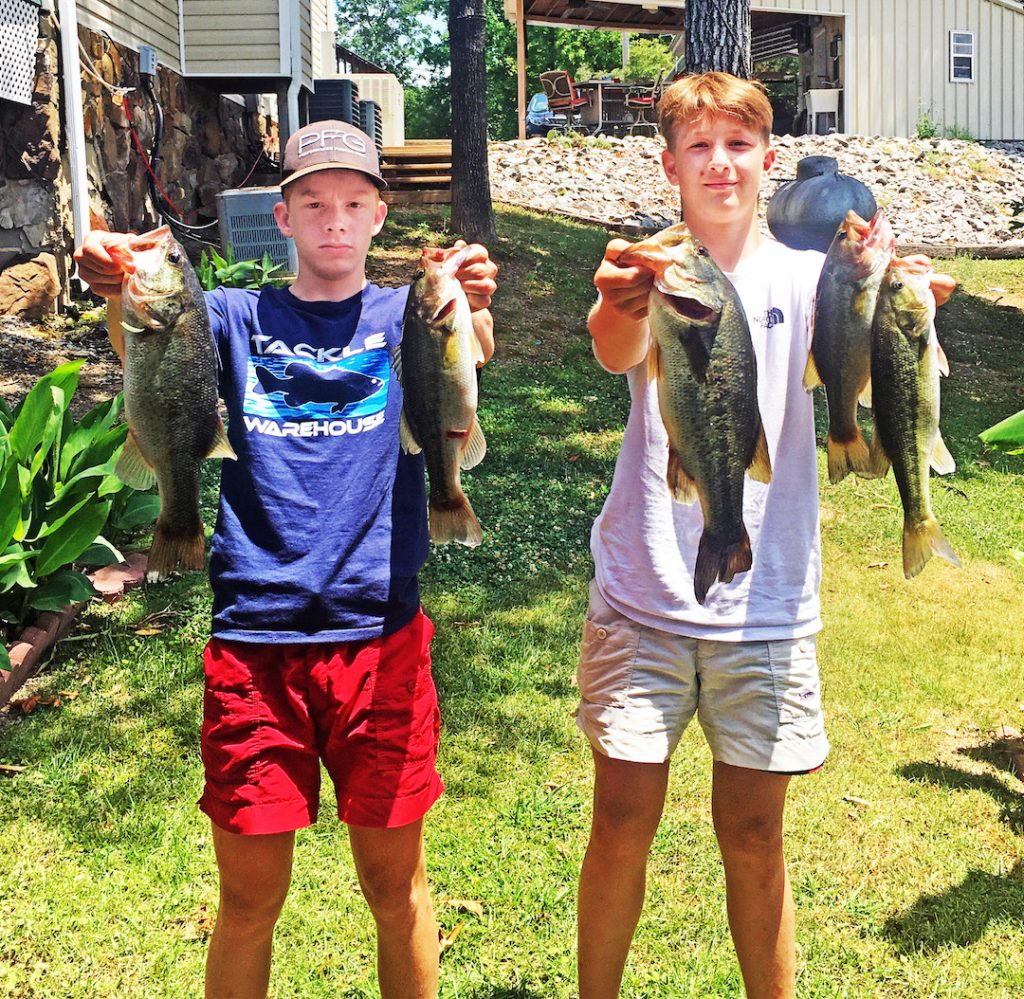 Toby Wilson: I have two sons who bass fish on the high-school circuit. I've been the coach for the Holy Spirit High School fishing team for almost six years. This year we have two people on the team, but we have had three before. I'm working on teaching the team how to fish well enough to move into the college circuits. But like most youngsters, they'd rather me take them places where I know bass are there to catch, rather than finding the bass themselves. My son Garrett already has reached-out to the fishing coach for the University of Alabama Fishing Team and will start there in the fall. I'm planning to help both of my sons to bass fish when they go to college too. I have two bass boats – one that was my dad's boat, and the other is mine.
John E. Phillips: Toby, if someone wants to fish in Tuscaloosa County on the Black Warrior River that runs the length of the county, where can they go to get the best information on tournament results, available fishing tournaments and high school and college programs?
Wilson: Check out Bob Hale's L&L Marine website. Bob keeps up with most of the tournaments in this area. Dustin Wright, the fishing coach for Tuscaloosa County Northside High School and the District Director for the Alabama Bass Nation, has information on tournaments located in Tuscaloosa too.
Phillips: To fish the Black Warrior River in Tuscaloosa County to catch bass, where and how will you fish, what lures will you use, and what strategies will you employ to produce the five-fish limit needed to be competitive in a tournament?
Wilson: In the spring of the year, the backwater areas that we have available to fish for bass can be very productive. These same regions may not be accessible in the winter, but in the spring and early summer, this section of the Warrior River has a lot of high water that gives anglers access to the backwaters that perhaps we can't fish during other times of the year.
When I want to fish in Tuscaloosa County, some of my favorite backwaters are in Oliver Lake, all the way down to Lock 6. There seems to be better backwater fishing near the town of Akron and Lock 8 than there is up toward the northern portion of Oliver. Many of these backwaters don't even have names. Because of the high water, you can find stained water in these backwater regions. The lures that work the best there for bass are lures that make a noise, like the chatterbait and the square bill crankbait. The most-productive color generally is white in both the chatterbait and the crankbait.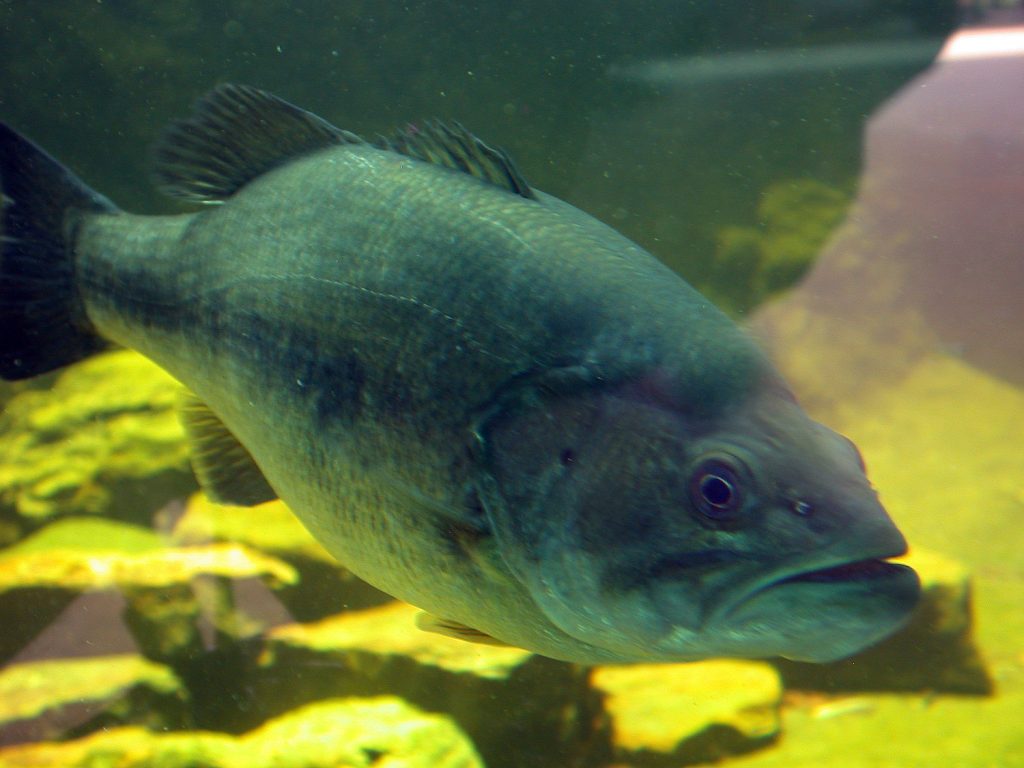 If you're interested in learning more about fishing on the Black Warrior River and particular baits that local fishermen have found to be beneficial, you've come to the right spot!
Editor's Note: Toby Wilson is a management consultant and has been fishing on the Black Warrior River in Tuscaloosa County for the last seven years. He's also heavily involved with high-school bass fishing in Tuscaloosa County with his three sons through Holy Spirit High School. His eldest, Garrett, is 18-years old, his son, Matthew is 16-years old, and his youngest son, Chase, is 15-years old.
John E. Phillips: What size of lures are you using to catch bass on the lower end of Oliver Lake?
Toby Wilson: I prefer to fish either a 3/8-ounce or a 1/2-ounce chatterbait with a white skirt and a soft-plastic Rage Tail trailer. Occasionally, I'll use a Z-Craw trailer as well.
Phillips: How are you fishing the chatterbait?
Wilson: Often we'll just cast and retrieve this lure. But there's a lot of wood in Oliver's backwater regions. We've found that banging the chatterbait up against logs in the water, fallen trees and any other type of wood may cause a bass to strike. Other times, we'll fish the chatterbait slowly on the bottom. If the grass hasn't grown-up to the surface, we'll fish the chatterbait through the lily-pad stems, the grass stems and the underwater stumps. We want the chatterbait to hit the wood and trigger a reaction strike.
Phillips: The other lure you mentioned was a square-bill crankbait. Which is your favorite square-bill crankbait lure, and how are you fishing it?
Wilson: I use quite a few different manufacturers. I like Booyah, Bomber, Bill Norman and Lucky Craft. My boys and I fish a variety of assorted colors, such as white, sexy shad and blue back with chartreuse sides. We primarily fish bright colors that the bass can see in Oliver's stained water.
Phillips: How are you working the square bills?
Wilson: We're trying to crank the square bills and bounce them off the wood cover.
Phillips: Most people don't like to run crankbaits through heavy wood cover because they're afraid they'll lose the crankbaits. How do you solve this problem?
Wilson: Some days you don't lose any lures, and on some days you lose a lot. The best thing to do is bring numbers of crankbaits with you when you're planning to fish the backwaters on Oliver Lake. We've learned that if we're not banging the square bills into the wood, we don't get as many strikes as we do when we crash the crankbaits into the wood cover off the main river channel.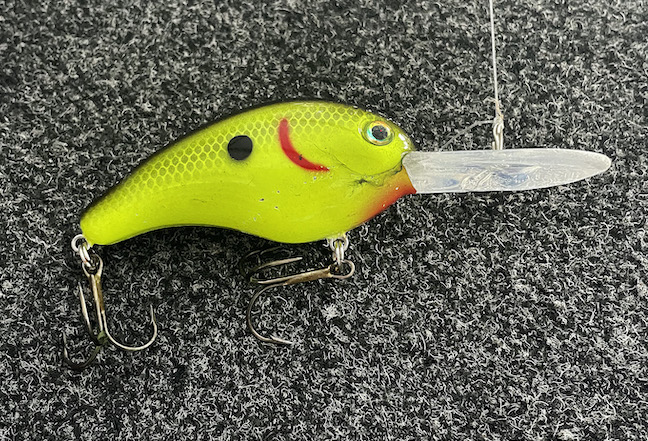 Phillips: Two effective ways to fish a crankbait through wood cover is to pause the crankbait as soon as it hits the cover or burn the crankbait through the cover. Which tactic do you think is the most-productive at Oliver?
Wilson: We let the bass tell us which retrieve they'll bite the best.
Phillips: What size bass are you catching in the backwater areas, and how many are you catching?
Wilson: Most of the average bass we catch will weigh 1-1/2-pounds to 4 pounds. But, every so often, we will catch a 5 pounder.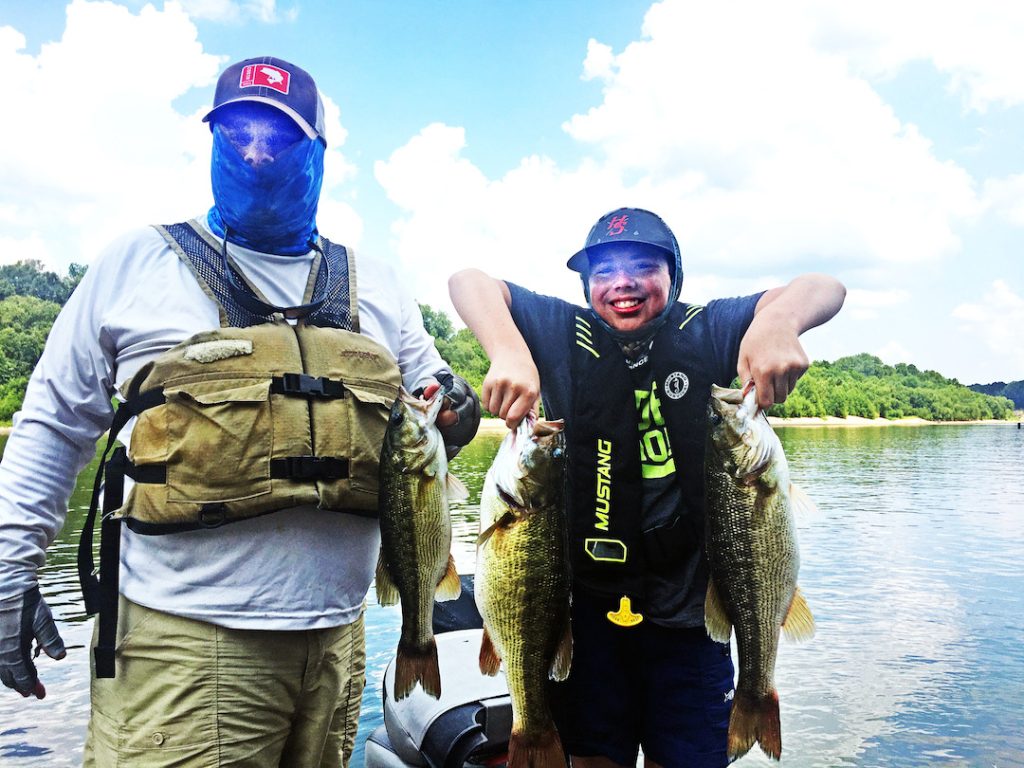 Interested in fishing in Tuscaloosa County? Longtime fisherman and native to the area, Dalton Bobo, shares insights and tips to springtime bass fishing in Tuscaloosa County.
Editor's Note: Dalton Bobo, longtime resident of Northport, Alabama, rose to nationwide bass-fishing fame at the 1997 Bassmaster Classic held on Logan Martin Lake near Birmingham, Ala. On the final day, Bobo went to the scales with the winning bag of bass. But before Bobo's limit of bass was weighed, the officials determined that one of his bass had died and imposed a 4-ounce penalty that was deducted from his total fish weight. He lost the Classic by 1 ounce and its $100,000 prize. However, that loss catapulted Bobo to a 14-year professional bass-fishing career, after which he guided for several years on the Black Warrior River in Tuscaloosa County.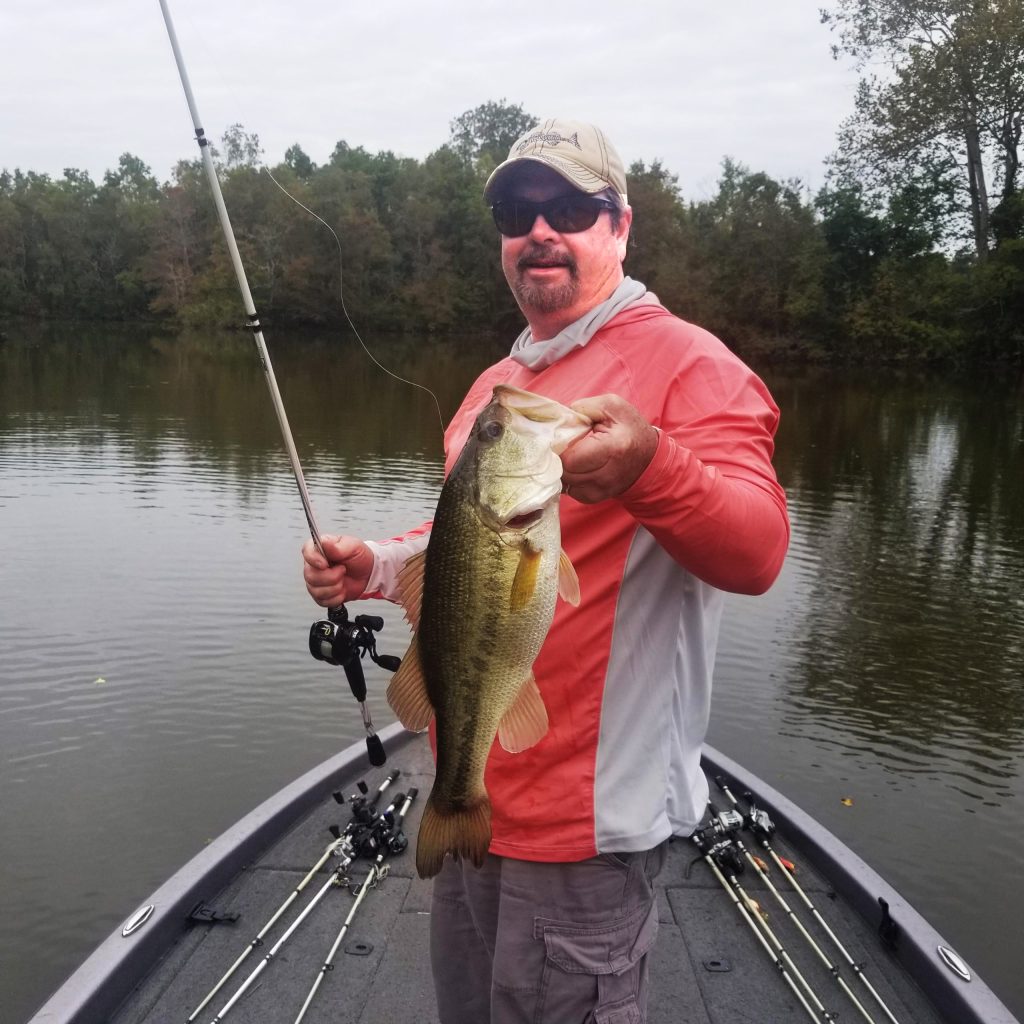 Tuscaloosa's Warrior River – The Best Place Bobo says to Train Tournament Bass Fishermen:
I enjoy fishing the Warrior River from below Lock 17 – the Holt Reservoir – all the way downriver. This section of the Warrior River can prepare a tournament fisherman for almost any type of water a bass angler may compete on, and I've fished here all my life.
What most people don't realize is that the Black Warrior River in Tuscaloosa County is a very-diverse fishery. Bankhead Lake (the reservoir above Lock 17) and Holt Lake (below Lock 17) on the River both can be considered highland-reservoir types of lakes or mountain lakes. Numerous creeks run into Bankhead and Holt, and many hollows dump fresh water into the Black Warrior River system after a rain. These two lakes are in the foothills of the Appalachian Mountains. They're fed by the Mulberry Fork and the Locust Fork that come together to create the Black Warrior River. The lower end of Holt Reservoir is almost in the city limits of Tuscaloosa. When you leave Holt Lake and go downriver, you're moving into Oliver Lake, which is more of a coastal plains kind of lake. The Black Warrior from Tuscaloosa south is a lowland type of river.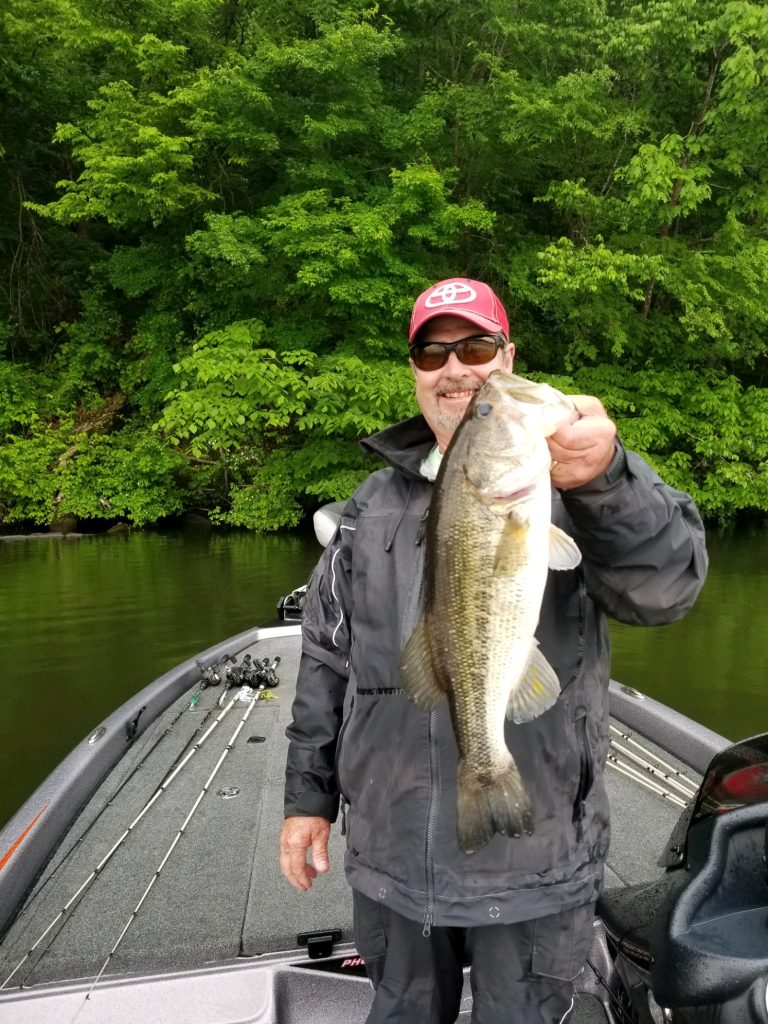 If a tournament angler learns to fish the upper lakes (Bankhead and Holt) of the Warrior River in Tuscaloosa County, he'll become schooled on how to fish highland reservoir types of lakes. If next he goes to just below the city of Tuscaloosa to the Oliver pool, he'll learn how to fish lowland lakes. The water at Oliver is more dingy, often contains a lot of stain and color and has natural creeks and oxbow lakes and sloughs coming off its main river channel.
Here in Tuscaloosa and Northport, Ala., we have one of the most-diverse fisheries anywhere in the nation. Also, in the upper portion of Bankhead Reservoir is Smith Lake Dam that backs up to Smith Lake – a big, clear, deep highland reservoir that feeds into the Black Warrior River. Because the water is pulled from the bottom of Smith Lake, even if the Tuscaloosa area has giant rains, the water can be gin clear above Bankhead Lock and Dam and the headwaters of Holt Reservoir. In fishing Tuscaloosa County, there's enough diversity to help train any tournament fisherman to fish a wide variety of water.
Bankhead and Holt Reservoirs Grow Big Bass:
To catch big bass, both Bankhead and Holt reservoirs in Tuscaloosa's Black Warrior River are where you can get your string stretched and make the drag on your reel squeal. These two impoundments have blueback herring in them that they've never had before. The blueback herring – a large forage fish – has helped to grow bass bigger and quicker than they've grown in the past, while feeding primarily on threadfish shad and bluegills.
Three years ago, most bass tournaments held on these two lakes would be won by a five-bass limit of 16-17 pounds. Now, three years later, a five-fish limit of 23-24 pounds of bass is needed to win a tournament at either lake. The big bass caught in any tournament there could weigh 9-10 pounds. For tournament fishermen who keep up with the stats on lakes and the tournament online, they know to even have a chance at winning, they'll have to have upwards of a five-fish limit of 25 pounds. And, if you expect to catch the big fish of the tournament, that big bass will have to weigh 8+ pounds. I really believe that the blueback herring that have been introduced to the lake is the main reason for the growth of the bass in those two reservoirs in the northern part of Tuscaloosa County.
A good number of saltwater stripers and hybrid striped bass live in Bankhead and Holt reservoirs too that definitely will bow your rod, stretch your string and make your reel sound like a siren going off when those big fish pull the drag so fast off your reel.
Lake Tuscaloosa:
Lake Tuscaloosa is a water-source lake for the cities of Tuscaloosa and Northport. Spotted bass, largemouth bass and some good-sized crappie fish live there. But the bass population and the size of those bass is declining.
Oliver Reservoir:
Below Holt in Tuscaloosa County is Oliver Reservoir that's more of a riverine kind of lake with little backwater and feeder creeks. Some 6-8 pound spotted bass have been weighed in at Oliver Lake during tournaments. When you leave Tuscaloosa and go downriver, for about 40 miles is typical river habitat with laid-down trees, stumps and grass, making Oliver one of my favorite places to fish for bass. Sandbars on Oliver are where the bass often tend to congregate. You can have a really fun day of bass fishing on this downriver stretch of the Black Warrior River below the city of Tuscaloosa. I catch about as many largemouths on this section of the river, as I do spotted bass.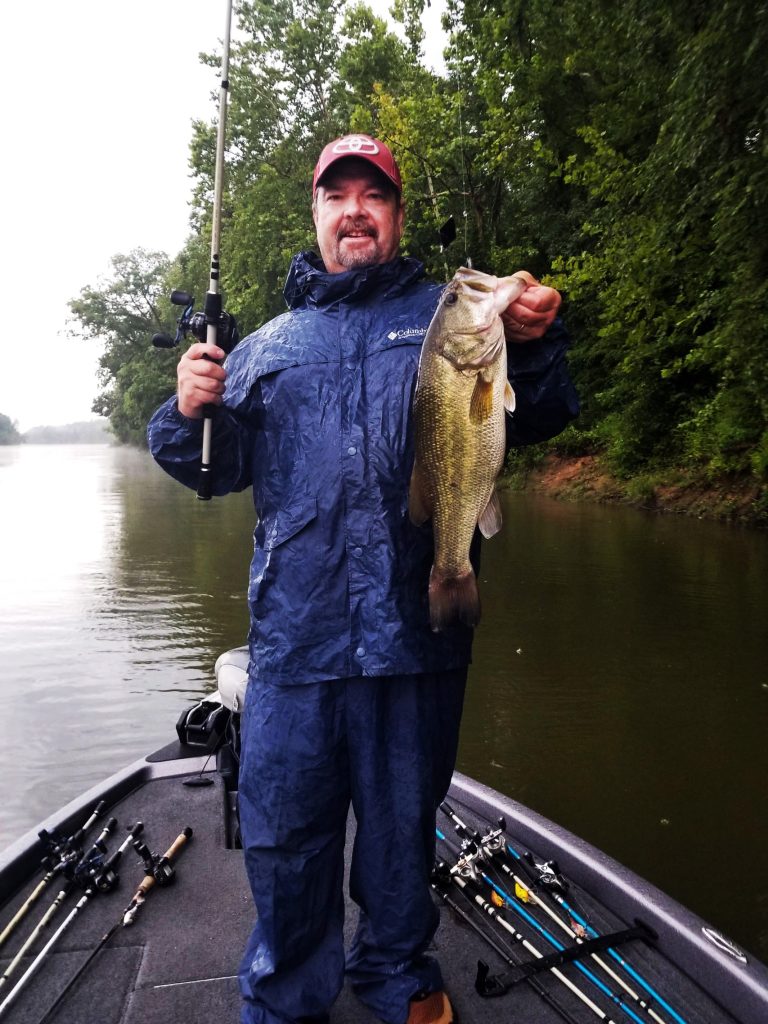 Below that 40-mile mark, you'll start finding creeks, backwater sloughs and numbers of cypress sloughs that hold good numbers of bass. On that lower end of the Black Warrior River from Akron to Demopolis, you'll find more sloughs and backwaters than are in that first 40 miles below Tuscaloosa.
Pluses for Bass Fishing at Bankhead, Holt and Oliver Lakes:
One of the plusses for bass fishing here in Tuscaloosa County is that you don't have to drive very far in a boat or a car from the cities of Tuscaloosa and Northport to experience some really-good bass fishing. All three reservoirs have some water generation (current) flowing through them, especially in the spring and summer. Current tends to make bass bite better. If you lock-up from the Oliver pool that's in the City of Tuscaloosa, you have about a 17-mile-long body of water in Holt Reservoir with plenty of creeks and hollows and natural runoffs where bass tend to hold, besides on the main river system.
Then you'll go into Bankhead. If you have a good day, and the bass are really biting, you may catch 40 or 50 fish – not on every day, but on many days. An average day will be catching 17 to 25 bass.
To catch some of the biggest bass in the Warrior River, fish in April. As the weather begins to warm up and the big momma bass are migrating to the banks, spinnerbaits and chatterbaits may produce a 7-9-pound bass for you. The last time I fished at Bankhead, I caught an 8-pound, 9-ounce bass.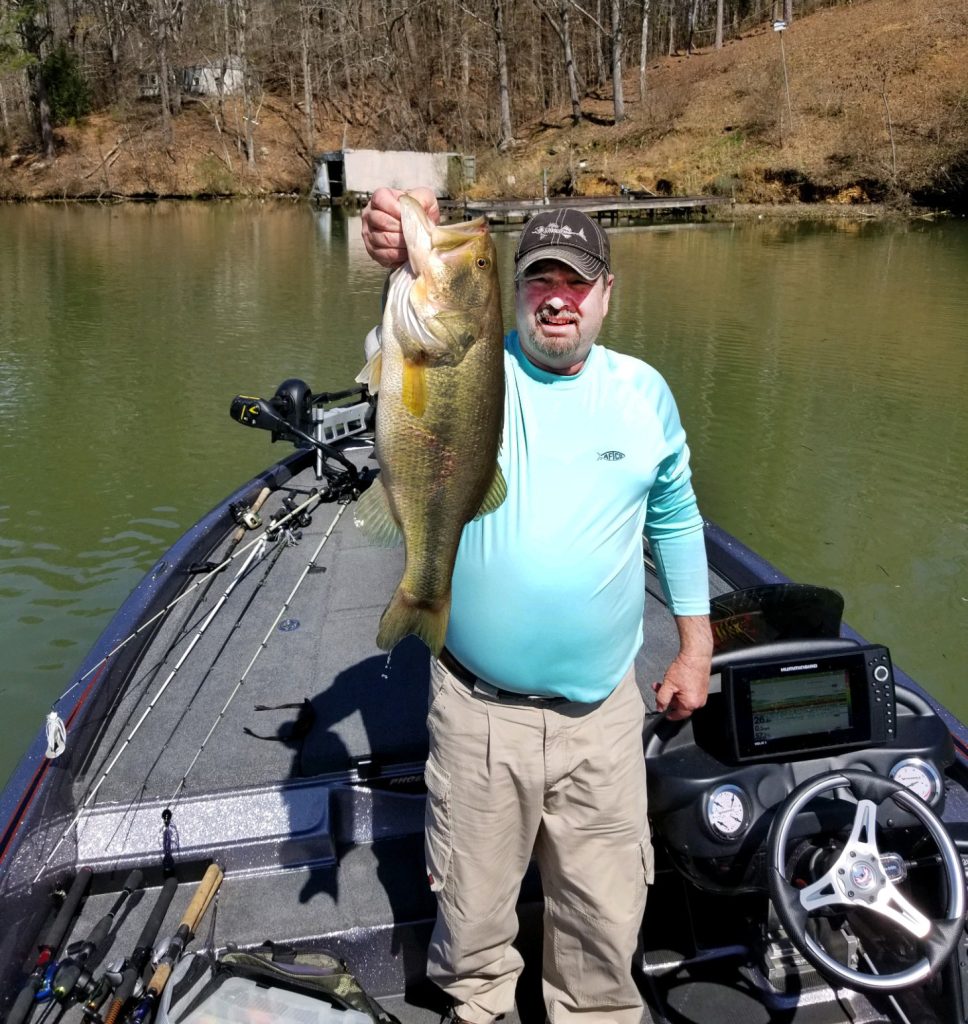 Whether you are a die-hard fan of golf or have never set foot on a golf course, golf is a peaceful activity that nearly everyone can enjoy! Not only is it the perfect sport for the Fall weather, but it is also a COVID-safe outdoor activity to safely enjoy with a close group of friends. We have gathered a list of four public courses located near or around Tuscaloosa that feature full 18-hole courses, as well as places for you to gear up before your round. Set aside some time to take a break and take a swing at some of the sensational and serene public golf courses around the City of Tuscaloosa! Some of these courses even have rentable clubs so call ahead to reserve them if you're in need of a set. While planning your day on the links, as always, bring a mask along with you in case you will be indoors around others!
Hidden Meadows is a public golf course in Tuscaloosa that winds in and out of tree-lined fairways and a fairly-tricky terrain through and through. Although it may prove to be a test for players, this golf course is a beautiful setting to enjoy a pickup round of golf with friends on a peaceful weekend morning! This public course is located in Northeast Northport and features a Par-72 course with up to 6,828 yards of golf from its pro-level tees.
Characterized as "Affordable Championship Golf", The Links AT Tuscaloosa Golf & Country Club is a great and affordable option for anyone looking to have a relaxing day on the course with a few friends! This course is a Par-71 with 6,195 yards of golf, located south of town near Lake Mimosa. The natural beauty of this course is what sets it apart from others, located right next to Mimosa Lake and featuring elevated areas for wonderful views. This course has its challenges but is considered to be enjoyable for golfers of every age and every skill level. So pull a group of close friends together and plan a trip over to The Links AT Tuscaloosa for an afternoon of driving and thriving on the golf course!
Tall Pines Golf Club at Woodland Forrest Country Club
The Tall Pines Golf Club is a Par-71 golf course located on the Southeast side of Tuscaloosa that features professionally-curated landscapes all along the course. It is open all year-round, so it is the perfect course to truly hone your golf skills while enjoying time with friends or family outdoors. In addition to its fine golf course, Tall Pines Golf Club has a regular rotation of food trucks and events available to its visitors, so be sure to check their Facebook page ahead of time to see what is being featured! Tall Pines Golf Club is not only a wonderful place to bring friends for a round of golf, but it also a fantastic course to enjoy a round of family fun!
The Ol' Colony Golf Course is a Par-72 championship course located North of town that features up to 6,494 yards of golf for pros and beginners alike! The landscape of this course features Bermuda grass fairways and greens, with 25 acres of lakes that sneak up on you on several holes. This championship course has earned the title of "Best Public Course in Alabama" by Golf Digest and "Top 50 in the USA" by Golf Week and is sure to live up to the hype. This golf course features The Bounce Back Grille, a food concession available to golfers enjoying the course. Additionally, Ol' Colony features a Pro Shop for all of your golfing needs, featuring: golf-appropriate clothing, top-tier equipment, and must-needed accessories
Before heading out to the links to enjoy a day of golfing, make sure to stock up on the right gear for the activity! Golf is an outdoor sport and many courses have dress codes, so it is important to be dressed in the proper attire before heading out to your tee time. Tuscaloosa is home to several retailers with a wide selection of golf-ready attire from dri-fit polos to athletic baseball caps, with many of them sporting Crimson Tide colors and logos. If you're around downtown, you may want to swing into The Shirt Shop, The Locker Room, or Christopher Mobley to name a few of our great retailers. All located within one mile of each other either on University Boulevard or in Downtown Tuscaloosa, there's no better way to feel better about your game than by simply looking confident while you're doing it!
Written by: Will Baggett
Safety is the top priority for returning to campus, but that does not mean sacrificing the ability to enjoy yourself and to enjoy new experiences, especially in the City of Tuscaloosa. There are plenty of ways to maintain a safe, physical distance while also enjoying what Tuscaloosa has to offer, whether it be the scenic views, rich history, or the one-of-a-kind businesses and restaurant culture of this city. Below, we have compiled a list of ways to stay socially active while also being socially distanced!
Lake Trips
The different lakes located around Tuscaloosa have been a regular relaxation spot for students over the years. In order to have a fun and peaceful time, visiting one of the nearby lakes is a modern time twist on a classic activity for UA students. These lakes are not only wonderful places to swim and rent kayaks for, but they are also a peaceful spot to read a book and enjoy the nature of the Tuscaloosa area. What better way to substitute a library table or a lakeside picnic table? These lakes offer services that allow you to either rent paddleboards for the day, paddle your own kayak around to the different scenic spots along the lakefront, or layout at the beach to continue working on your summer tan! The most popular lakes around the City of Tuscaloosa to check out are Lake Lurleen, Lake Nicol, and Lake Tuscaloosa.
Civil Rights Walk
The City of Tuscaloosa has a history intertwined with the Civil Rights movement, and there is a presence of that history all around Downtown Tuscaloosa. Traveling through history along the Civil Rights Walk is a way to stay active outdoors and be proactive about the history and importance of the Civil Rights Movement to our city. Visit (website) to locate the markers located around Downtown Tuscaloosa and learn more about the lasting impact that the Civil Rights Movement has made on the history and people of the City of Tuscaloosa. Visit here to learn more about the Civil Rights Trail of Tuscaloosa and how you can find more and more resources regarding the Civil Rights Movement in Tuscaloosa.
Historic Downtown Tuscaloosa
Downtown Tuscaloosa is a relaxing area of town where anyone is free to walk around and wander from door to door to find something they feel drawn to. There are numerous boutique stores and businesses where eclectic finds are inevitable. If you're looking for a new wardrobe, or maybe just some refreshing new pieces, check out Pause Boutique, Effie's Inc., or Pants Store!  Walking around Downtown Tuscaloosa is a peaceful yet adventurous activity for all to find unique local while staying active after months of quarantine. However, Downtown Tuscaloosa does feature a lot of locations that would require entering a building, so be sure to pack a mask and be safe when visiting indoor storefronts and shops.
Self-Guided UA Tour
The University of Alabama has a rich history that every student and resident of Tuscaloosa ought to learn and become familiar with. At the heart of it all is The Quad, which is filled to the brim with its own history but also offers one of the most picturesque areas of campus. A refreshing way to stay connected to the culture of the university while maintaining physical distancing outdoors is to take a stroll around the University of Alabama campus and soaking in the history of the many buildings and locations. Many locations, including the ones located on the Quad, include historical markers that indicate the historic significance of their existence (or previous existence) and offer a glimpse into what truly defines this university.
Riverwalk
Enjoy the scenic nature of the Black Warrior River from the comfort of a relaxing hammock or a light jog along the riverfront. The Riverwalk is 4.2 miles of a paved trail that offers visitors a place to enjoy the outdoors in a way that is safe and distanced from others, and versatile enough that anyone can find themselves enjoying an afternoon out and about. The Riverwalk is a great place to go on a quick run, exercise on a bike, and walk your dog, plus offers serene and scenic spots for reading a nice book or enjoying a delicious picnic. Whether you are wanting to stay physically active through exercise and movement or if you are wanting to simply sit outdoors and soak in the sunlight and fresh air, the Riverwalk is a must-do.
Golf and Disc Golf
In order to stay distanced while remaining active, certain sports offer more distanced situations than others, like golf or disc golf. There are several public golf course options located near Tuscaloosa including Ol' Colony, North River Yacht Club, The Links at Tuscaloosa, Indian Hills Country Club, Tall Pines, and Hidden Meadows. Each of these courses is available on weekends and offers a variety of offerings to satisfy the most serious players and to welcome the more introductory players. If you are more of a disc golfer than a traditional golfer, Bower's Park is the place to be, thanks to a full 18-hole course primarily located on wooded terrain and featuring beginner and professional tees for players of all skill ranges! Whether you are driving a golf ball or a disc, these activities are a safe way to get back into the swing of things!
Food Trucks
A staple of campus life is enjoying the food trucks that make their way onto campus or throughout Tuscaloosa. These days, food trucks are a great way to stay outdoors and distanced while also supporting local businesses of Tuscaloosa. Not only are you able to be smart about what you are eating, but you may discover a new favorite dish or new favorite dining destination! We offer a phenomenal variety with options like  Catch a Taste, Aces Tuscaloosa, Cheese Louise Tuscaloosa, and Urban Cookhouse. Food trucks appear in various locations around the city, so be sure to plan ahead of time to be aware of where certain trucks will be located and what their menu will look like! Remember to wear a mask at all times except when you are eating in order to maximize caution and ensure the safety of yourselves and those around you.
Local Farmers Markets
A health-conscious and locally-oriented outdoor activity that everyone can take advantage of is enjoying a farmers market. In Tuscaloosa, a few wonderful options for outdoor farmers markets are Homegrown Alabama Farmers Market, Ingram Farms, Northport Farmers Market, and the Curbside Farmers Market. Shopping at a farmers market can expose you to new flavors to up your cooking game, and they support the local farmers that stock the markets. Be sure to wear a mask while visiting local farmers markets for the health and safety of yourself and the vendors working the markets!
Get ready for crystal clear skies and sunny days this weekend in Tuscaloosa! Now is the perfect time to explore the unique, local gems of this incredible city. Whether you are savoring brunch at a local cafe, capturing a captivating view of Black Warrior River, or rocking out to some live music at your favorite bar, this town has what you need to make this weekend unforgettable.
The River Market
Visit the Tuscaloosa River Market Saturday for fresh, local produce and homemade goodies. Check out Savory Occasions table for warm bread pudding, or cool down with Tori's Water Ice snow cones with flavors like tropical rainbow, green apple, cherry, pineapple, blue raspberry, and mango. Curbside pick-up is still available for select vendors. If you plan to attend, don't forget your facemask! You will not be able to shop the market without it.
Live Music
Double down on tunes this weekend at Alcove International! Make plans Friday for the sweet sounds of SouthTown starting at 10 PM. They cover classic rock, blues, and dance songs. Saturday night get ready for some rock and roll performed by Non-GMO at 10 PM.
You can catch The Brick and Hubba Show at Rhythm and Brews tonight, and Carson Carlisle Saturday at 10 PM!
If you don't feel like spending money, The Actor's Charitable Theatre (ACT) will present a free concert in Capitol Park tonight at 7 PM! Come check it out for a night of live entertainment with your family and friends!
The Great Outdoors
Balance yourself and rent a paddleboard at Lake Nicol! What better way to soak up the rays? Tuscaloosa Paddleboard provides high-quality YOLO boards, and guaranteed fun. This is a great way to enjoy the outdoors and simultaneously get in a great workout! Plus, the view is a spectacular bonus. If you'd rather stay on dry land, check out their local trails and explore the beauty that Tuscaloosa has to offer. Pack a lunch and a picnic blanket to make the most out of these warm summer days.
Try Something New
Grab your brunch crew and head over to Another Broken Egg to enjoy their brand-new menu! Start off with sweet beignets with orange marmalade sauce, and a refreshing summertime cocktail. The Watermelon Cucumber Cooler is the perfect treat for a beautiful weekend!
If you are craving something a little more Southern and traditional, we've got the perfect place for you! Mae's Southern Café uses authentic family recipes for every dish. Need help deciding what to order? Mae's is famous for their fall off the bone ribs, smoked for 3 hours, and worth every bite! You can't complete a southern meal without Mae's sweet tea. Brewed, steeped, and sweetened to perfection every time.
This Saturday marks the 28th annual National Trails Day! There is no better place to celebrate this holiday than Tuscaloosa. We encourage you to explore the beautiful local trails within our community. Lucky for you, we have listed below some of the many spots in Tuscaloosa to admire our city's extraordinary trails.
Lake Lurleen  
Lake Lurleen is a favorite of locals looking for relaxation and recreation alike! The park's trails are open to hikers and mountain bikers, and the park offers 91 campsites for those looking for an extended stay. If that isn't enough to draw you in, the park also boasts fishing, swimming, boating, and a beach. Whether it's walking your dog among the shoreline or renting a kayak, Lake Lurleen truly has something for everyone!
Lake Nicol
About 20 minutes from Tuscaloosa lies another paradise for those looking to enjoy the outdoors: Lake Nicol. This local favorite offers a chance to get off the beaten path and explore the wonder of mother nature. The many species of birds that call the area home make for excellent birdwatching. Visitors also enjoy kayaking, paddleboarding, and picnicking on the shore.
Lake Harris
Located outside of the city, Lake Harris is an amazing way to spend National Trail Day. The park features high cliffs, two dams, swimming spots, and a beach. The park's main hiking trail leads visitors across the lake's two dams, and the lake itself is known for its bass fishing. Lake Harris is an excellent local spot for your next outdoor adventure!
Hurricane Creek
Hurricane Creek has been an important part of the Tuscaloosa community for decades. In fact, the park's popular Eagle Scout Trail was planned and blazed by local scouts. Explore this local favorite by canoeing down the creek, traversing the park's biking and hiking trails, or simply taking in the native plants and wildlife.
Van de Graaff Arboretum & Historic Bridge Park
Van de Graaff Arboretum and Historic Bridge Park is located in Northport, a short drive from Tuscaloosa. The historic 1882 King Bowstring Bridge is a focal point of the park, and there is also a short hiking trail for visitors to explore. Camping, fishing, and boating are offered, and kayaks and canoes are available to rent onsite seasonally.
The play, Inherit the Wind, is happening Friday at 7:30 p.m. and Saturday at 2 p.m. at Theatre Tuscaloosa. This play is based on the events of the Scopes Monkey Trials, Inherit the Wind pits two lawyers against one another as the state prosecutes a teacher for discussing the theory of evolution in the classroom.
The Easton Bama Bash softball tournament is happening all weekend. Alabama softball is taking on Wichita State at 5 p.m. and Penn State at 7 p.m. Friday. On Saturday, the Crimson Tide will take on Louisville at 2:30 p.m. and Penn State at 5 p.m.
The Servant of Two Masters is performing this weekend at the Marian Gallaway Theatre. The show starts at 7:30 p.m. on both Friday and Saturday. Watch a young man, Truffaldino, seize his opportunities among mistaken identities and disguises.
If you like southern jam blues, then check out Joey Fletcher and his band Friday night at Egans Bar. The performance starts at 10 p.m. elaborate on type of music. Joey is one of the most respected slide guitarists in the country and has performed all over the U.S. from dive bars to festivals.
Crunch Fitness is having an Open House on Saturday and Sunday, where you can check out the gym, workout, and listen to live music. This event is free for everyone, whether you are a member or not.
Get your kids together and celebrate Mardi Gras on Saturday at the Children's Hands-on Museum. This family-friendly event lets the kids get crafty and try some king cake.
All Fired Up is having a clay penguin sculpting event on Saturday at 10 a.m. Each penguin comes with a scarf and an adoption certificate. $1 of every certificate will be donated to the Global Penguin Society.
It's girl scout cookie season! Houndstooth is doing a Girl Scout cookie and whiskey pairing on Sunday from 2 p.m. until 4 p.m. The chocolate, peanut butter, and graham cracker flavors highlight the whiskey notes.
Tomorrow we will be sharing all the spots you can watch the fight between Deontay Wilder and Fury.