The Riverwalk is such a stunning trail that travels along to the Southern banks of the Black Warrior River. Whether you're walking your dog, going for a jog, biking, or just admiring the view, the Riverwalk is a great place to be with nature and to appreciate the jaw-dropping beauty of Tuscaloosa.
This trail offers park areas that are all pet-friendly. The pathway includes benches, gazebos, picnic tables, and hammock-friendly trees that visitors can enjoy. There are several open areas for playing frisbee, picnicking, or relaxing in a hammock reading your favorite book. It is well lit with street lamps lining the trail with access to an emergency phone if an accident occurs.
The Riverwalk starts at Capitol Park on the western end, rounds the beautiful Tuscaloosa Amphitheater, and finishes on the east side of Manderson Landing. The length of the trail stretches 2.5 miles one way! Eventually, the Southern Riverwalk will meet up with the new Northern Riverwalk (Randall Family Park & Trailhead) and will extend into West Tuscaloosa as well. When the time comes, these additional miles will be well-traveled by all, that's for sure!
One of the most iconic views on this trail is the historic train trestle bridge, which was once considered the country's longest at 3,600 feet. This bridge is simply stunning, especially as the sun sets, reflecting on the river that flows through the heart of our community. Its picturesque views has been the perfecting setting for proposals, family photos, picnics, and more.
Along the pathway, which offers many shady areas for a break from the heat, are shops and restaurants for people to enjoy during their visit to the Riverwalk. The Shops at Riverwalk Place is home to Another Broken Egg Café, Bellagio Nails Spa, River, Market House Boutique, and more! Near the Amphitheater, you'll also find Heritage House and Hotel Indigo. Along the trail, you'll find the Visit Tuscaloosa Visitor Center as well as the Farmers Market at the Tuscaloosa River Market, where fresh, local goods and produce are sold every Saturday.
There is hardly anything that competes with the breath-taking scenery on a bright, sunny day or the majestic sunset views along the Riverwalk. In the morning, you often catch The University of Alabama Rowing Team practice for their next regatta as they race up and down the river. During the spring, summer, and fall months, one can enjoy the sounds of a concert coming from the Amphitheater too. Simply put – it's the perfect place where all can come to gather, to exercise, to enjoy time alone or with family and friends. It truly is one of Tuscaloosa's best outdoor adventures, conveniently located in Downtown.
For information about the gazebo rental, contact Tuscaloosa County Park and Recreation Authority at 205-562-3210.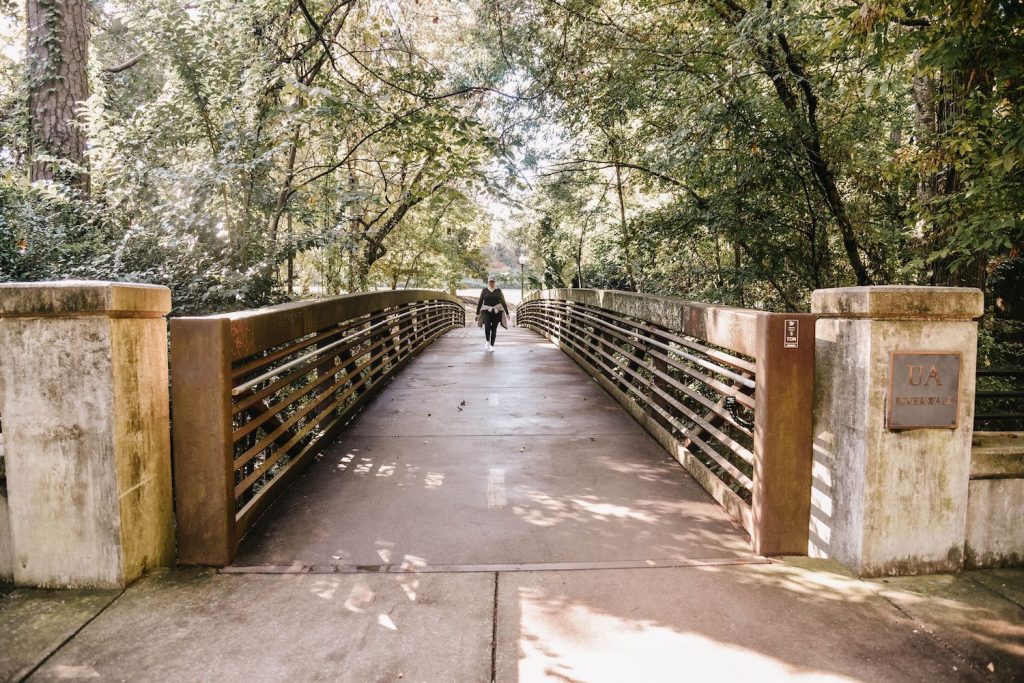 Great Grub
1. If savory Lamb Chops topped with Blackberry Reduction and a side of Garlic Mashed Potatoes and sautéed Kale sounds like your dream dinner, then you should definitely include Evangeline's in your T-Town itinerary. As one of the area's premier restaurants, this divine treasure provides exceptional service for private intimate dinners, social events, and corporate parties. From a small rehearsal dinner to a lavish party for friends and family, Evangeline's has the atmosphere to create the ideal experience.
2. Do you consider seafood, steak, & sushi three of your main food groups? If so, then Chuck's is most definitely calling you. Offering a diverse menu in trendy surrounds with a loft & full bar, this local favorite has a well-earned reputation as a T-Town staple. It is also perfect for special occasions like birthdays or anniversaries. Crowd favorites include the crab cakes, sushi, scallops, and pizza. With attentive service and an unforgettable dining experience, you'll always leave this happy and stuffed – and ready to come back again.
3. It would be a disservice to Tuscaloosa cuisine to discuss our incredible local dining without including Central Mesa. Established in 2017 by owner Craig Williams, this local treasure offers a Southern twist on traditional Latin-American dishes. The story of the restaurant is built upon a passion for providing fresh, great-tasting food and cocktails. Every dish is prepared in-house from scratch to ensure quality taste. The heart of the restaurant beats to provide a relaxed atmosphere and sense of community, where people can come and enjoy exceptional food and drink.
Awesome Arts
4. Ignite the creative in you and experience the Dinah Cultural Arts Center's current exhibit, Stephanie Kirkland: "Windswept: Abstract Landscapes". This moving collection of acrylic paintings was inspired during a road trip out West, which included hiking through Glacier, Zion, and Grand Canyon national parks. This week's gallery hours of 1:00 p.m.to 3:00 p.m. offers the last chance to witness this captivating creation firsthand. Trust us, you don't want to miss it!
5. Kentuck Art Center offers a unique view into the minds of the endlessly talented local artists all around Tuscaloosa. From handmade, one-of-a-kind jewelry to kitchen pitchers, this gold mine is ideal for a one-stop-shop for holiday gifts. The Kentuck Gallery Shop offers an incredible shopping experience either online or in-person!
Scenic Views 
6. Fall foliage peak is on the horizon and one of the best places to take in the changing season is the Riverwalk. This first-rate paved trail sits along the southern bank of the Black Warrior River near downtown Tuscaloosa and is suited for both walkers and bikers. Along the 4.5-mile trail, there are a variety of (dog-friendly) park areas, benches, gazebos, and trees for hammocks and picnics. The pathway also provides a playground near the Public Library and a splash pad at the Bama Bell dock for the kids. For nighttime walkers, it is well-lit with street lamps along the way.
7. Get a taste of the (tamer) Tide. Take in the jaw-dropping beauty of UA's campus in its most unique form: somewhat still and tranquil. Casually absorb the captivating architecture and elaborate landscaping that is so easy to take for granted during the football fan frenzy that accompanies one of the greatest dynasties in college football history. It offers another great place to enjoy the fall colors while viewing landmarks such as the President's Mansion, Denny Chimes, Bryant-Denny Stadium, and historic Foster Auditorium – where Malone-Hood Plaza and the Autherine Lucy Clock Tower celebrate the spot where the University of Alabama was first integrated.
Whether you are a die-hard fan of golf or have never set foot on a golf course, golf is a peaceful activity that nearly everyone can enjoy! Not only is it the perfect sport for the Fall weather, but it is also a COVID-safe outdoor activity to safely enjoy with a close group of friends. We have gathered a list of four public courses located near or around Tuscaloosa that feature full 18-hole courses, as well as places for you to gear up before your round. Set aside some time to take a break and take a swing at some of the sensational and serene public golf courses around the City of Tuscaloosa! Some of these courses even have rentable clubs so call ahead to reserve them if you're in need of a set. While planning your day on the links, as always, bring a mask along with you in case you will be indoors around others!
Hidden Meadows is a public golf course in Tuscaloosa that winds in and out of tree-lined fairways and a fairly-tricky terrain through and through. Although it may prove to be a test for players, this golf course is a beautiful setting to enjoy a pickup round of golf with friends on a peaceful weekend morning! This public course is located in Northeast Northport and features a Par-72 course with up to 6,828 yards of golf from its pro-level tees.
Characterized as "Affordable Championship Golf", The Links AT Tuscaloosa Golf & Country Club is a great and affordable option for anyone looking to have a relaxing day on the course with a few friends! This course is a Par-71 with 6,195 yards of golf, located south of town near Lake Mimosa. The natural beauty of this course is what sets it apart from others, located right next to Mimosa Lake and featuring elevated areas for wonderful views. This course has its challenges but is considered to be enjoyable for golfers of every age and every skill level. So pull a group of close friends together and plan a trip over to The Links AT Tuscaloosa for an afternoon of driving and thriving on the golf course!
Tall Pines Golf Club at Woodland Forrest Country Club
The Tall Pines Golf Club is a Par-71 golf course located on the Southeast side of Tuscaloosa that features professionally-curated landscapes all along the course. It is open all year-round, so it is the perfect course to truly hone your golf skills while enjoying time with friends or family outdoors. In addition to its fine golf course, Tall Pines Golf Club has a regular rotation of food trucks and events available to its visitors, so be sure to check their Facebook page ahead of time to see what is being featured! Tall Pines Golf Club is not only a wonderful place to bring friends for a round of golf, but it also a fantastic course to enjoy a round of family fun!
The Ol' Colony Golf Course is a Par-72 championship course located North of town that features up to 6,494 yards of golf for pros and beginners alike! The landscape of this course features Bermuda grass fairways and greens, with 25 acres of lakes that sneak up on you on several holes. This championship course has earned the title of "Best Public Course in Alabama" by Golf Digest and "Top 50 in the USA" by Golf Week and is sure to live up to the hype. This golf course features The Bounce Back Grille, a food concession available to golfers enjoying the course. Additionally, Ol' Colony features a Pro Shop for all of your golfing needs, featuring: golf-appropriate clothing, top-tier equipment, and must-needed accessories
Before heading out to the links to enjoy a day of golfing, make sure to stock up on the right gear for the activity! Golf is an outdoor sport and many courses have dress codes, so it is important to be dressed in the proper attire before heading out to your tee time. Tuscaloosa is home to several retailers with a wide selection of golf-ready attire from dri-fit polos to athletic baseball caps, with many of them sporting Crimson Tide colors and logos. If you're around downtown, you may want to swing into The Shirt Shop, The Locker Room, or Christopher Mobley to name a few of our great retailers. All located within one mile of each other either on University Boulevard or in Downtown Tuscaloosa, there's no better way to feel better about your game than by simply looking confident while you're doing it!
Written by: Will Baggett
Oh, 2020… There's not much to say about this hot mess express of a year. During the past dreadfully long several months, COVID-19 has managed to do one thing right: prioritize health as a nation. I'm not talking about physical health alone, I'm referring to mental health as well. Despite the obvious physical health risks brought on by COVID, social isolation and quarantine can also deeply affect one's mood and mentality. Although we wished farewell to Self-Care Month when Spooky Season arrived, this upcoming Saturday marks World Mental Health Day! That's why we have taken the time to dive into some of the many ways to nourish your mental health in T-Town!
Body
It is so important to take care of your physical health while working on your mental health as they are deeply intertwined. Contrary to popular belief, taking good care of your body doesn't have to feel like a chore! There are endless ways to get moving and enjoy yourself in T-Town. Don't believe us? Check out some of our suggestions below to get the inside scoop on local products and services to improve one's mental health!
For beginners and pros alike yoga can help manage mental health by keeping your mind at ease and body engaged. There are a few awesome different yoga studios available with enjoyment! Yoga Bliss is a yoga studio just down the street from The Strip that offers a great variety of classes. The selection ranges from entry-level Beginner Fundamentals, specialized classes like Yoga Nidra, and classes like EveryBODY, which is designed to be useful for all who attend. Visit the Yoga Bliss website above for more information on pricing and registration! There are many other nice studios around the city as well including Painted Lotus Yoga and Wellness! For a slightly more intense workout, check out The Barre Code, Pure Barre, and HotWorx.
Regular exercise and fresh air have the dual benefit of improving your physical health and encouraging growth in your mental state as well. By staying active and keeping your blood flowing, you're allowing the brain to relax a bit while it is fully engaged in the actions. This kind of mindfulness has been proven to improve focus, mood, and overall mentality throughout the day! Although attending a local gym or taking specialized exercise classes are incredible ways to boost your mental health, there are a plethora of other places around the city to stay active as well.
The Riverwalk along the Black Warrior River is not only a delightful spot to relax, but it is also a prime location for a light jog, intense running session, or quick outdoor workout! Lake Tuscaloosa and Lake Nicol are a great outdoor choice, too, offering a number of activities like hiking, swimming, or even paddleboarding! All of these spots not only offer somewhere to get your blood flowing but also make the perfect setting to relax and meditate by the water. A little fresh air and peace and quiet can help calm the senses.
Spirit 
Another helpful way to manage and monitor your mental health is to treat yourself to a local spa or salon on occasion. By prioritizing self-care in your routine your self-worth and psyche can improve significantly. It is important to know what specific activities help you feel as relaxed as possible, so don't hesitate to explore all the many local options available! Treat yourself to a day of pampering to commemorate World Mental Health Day at one of the following locations around Tuscaloosa!
For those that enjoy relaxation in a traditional sense, there is nothing better than a classic spa day to show yourself a little TLC. Not only would a massage ease the nerves, but a manicure and a pedicure couldn't hurt either! In Tuscaloosa, Spa Belle La Vie and Nancy Taylor Day Spa are just a few of the many serene locations where visitors can enjoy massage therapy, beauty treatments, and even salon services. For the guys out there who respect the power of proper pampering, visit Greasy Hands Barbershop for hot shaves, clean cuts, and a relaxing atmosphere!
If pampering is the way to go for you, what better way than discovering a responsible and fun way to clean yourself: soap! The Left Hand Soap Company is a local soap workshop in Downtown Tuscaloosa that produces specialized soaps, shampoos, and other natural cleaning products since 1999. Due to COVID-19, visitors are not allowed to inside the workshop, but products are available for purchase online for pick-up! Visit the Left-Hand Soap Company website to view the various products and swag available.
Mind
Staying focused on a calming and/or mentally-stimulating activity can be an exceptional tool to properly manage your mental health. This includes listening to music, reading a new book, or learning something new! Whether or not you are already passionate about music or books, these activities are widely available for anyone to pick up and enjoy on the daily. Music and books come in a number of different genres and subjects, so there are endless ways to enjoy both activities! Additionally, learning something new stimulates the mind and creates a sense of accomplishment, like learning to ride a bike or finishing a good book!
Stop by the Tuscaloosa Public Library or Ernest & Hadley's to get lost between the pages of a new book! Both of these spots are home to a wide collection of titles, familiar or new, and are available for all to enjoy. In addition to books, both the library and the bookstore host events/virtual events where patrons can learn more about authors and other literary greats related to the titles they have checked out or would like to explore. Sit back, relax, and keep your mind sharp with a great book!
For those that enjoy turning their records on and sitting idle on their couch for a blissful afternoon, Oz Music is a must-visit shop in Tuscaloosa. Oz Music has all anyone could need to become a major album collector and listener, from record players and cleaning supplies to throwback vinyl and brand new records! CDs are still available for those who prefer that method of jamming their favorite tunes.
Learning is a great way to exercise and stimulate the mind if you are needing a break from your everyday troubles. Learning about something new opens up your mind to new experiences and emotions, which has the dual benefit of improving your mental health and expanding your knowledge base! Three special destinations in town, the Paul R. Jones Gallery, Harrison Galleries, and the Paul W. Bryant Museum,  provide a safe haven to learn about new perspectives and stories you've have yet to discover. All of these museums are exciting places to dive deeper into the diverse history and art of this area.
Mental health remains a significant topic in our nation as the unexpected isolation that came with COVID-19 continues to affect mental health. This meaningful topic affects millions and deserves extensive evaluation. Before this can happen, we must not be afraid to seek or offer help. If you or anyone you know is suffering from mental health distress, contact your medical provider for more information on services to help treat these challenges, or learn more at MentalHealth.gov.
Written by: Jamie Hoven & Will Baggett
Safety is the top priority for returning to campus, but that does not mean sacrificing the ability to enjoy yourself and to enjoy new experiences, especially in the City of Tuscaloosa. There are plenty of ways to maintain a safe, physical distance while also enjoying what Tuscaloosa has to offer, whether it be the scenic views, rich history, or the one-of-a-kind businesses and restaurant culture of this city. Below, we have compiled a list of ways to stay socially active while also being socially distanced!
Lake Trips
The different lakes located around Tuscaloosa have been a regular relaxation spot for students over the years. In order to have a fun and peaceful time, visiting one of the nearby lakes is a modern time twist on a classic activity for UA students. These lakes are not only wonderful places to swim and rent kayaks for, but they are also a peaceful spot to read a book and enjoy the nature of the Tuscaloosa area. What better way to substitute a library table or a lakeside picnic table? These lakes offer services that allow you to either rent paddleboards for the day, paddle your own kayak around to the different scenic spots along the lakefront, or layout at the beach to continue working on your summer tan! The most popular lakes around the City of Tuscaloosa to check out are Lake Lurleen, Lake Nicol, and Lake Tuscaloosa.
Civil Rights Walk
The City of Tuscaloosa has a history intertwined with the Civil Rights movement, and there is a presence of that history all around Downtown Tuscaloosa. Traveling through history along the Civil Rights Walk is a way to stay active outdoors and be proactive about the history and importance of the Civil Rights Movement to our city. Visit (website) to locate the markers located around Downtown Tuscaloosa and learn more about the lasting impact that the Civil Rights Movement has made on the history and people of the City of Tuscaloosa. Visit here to learn more about the Civil Rights Trail of Tuscaloosa and how you can find more and more resources regarding the Civil Rights Movement in Tuscaloosa.
Historic Downtown Tuscaloosa
Downtown Tuscaloosa is a relaxing area of town where anyone is free to walk around and wander from door to door to find something they feel drawn to. There are numerous boutique stores and businesses where eclectic finds are inevitable. If you're looking for a new wardrobe, or maybe just some refreshing new pieces, check out Pause Boutique, Effie's Inc., or Pants Store!  Walking around Downtown Tuscaloosa is a peaceful yet adventurous activity for all to find unique local while staying active after months of quarantine. However, Downtown Tuscaloosa does feature a lot of locations that would require entering a building, so be sure to pack a mask and be safe when visiting indoor storefronts and shops.
Self-Guided UA Tour
The University of Alabama has a rich history that every student and resident of Tuscaloosa ought to learn and become familiar with. At the heart of it all is The Quad, which is filled to the brim with its own history but also offers one of the most picturesque areas of campus. A refreshing way to stay connected to the culture of the university while maintaining physical distancing outdoors is to take a stroll around the University of Alabama campus and soaking in the history of the many buildings and locations. Many locations, including the ones located on the Quad, include historical markers that indicate the historic significance of their existence (or previous existence) and offer a glimpse into what truly defines this university.
Riverwalk
Enjoy the scenic nature of the Black Warrior River from the comfort of a relaxing hammock or a light jog along the riverfront. The Riverwalk is 4.2 miles of a paved trail that offers visitors a place to enjoy the outdoors in a way that is safe and distanced from others, and versatile enough that anyone can find themselves enjoying an afternoon out and about. The Riverwalk is a great place to go on a quick run, exercise on a bike, and walk your dog, plus offers serene and scenic spots for reading a nice book or enjoying a delicious picnic. Whether you are wanting to stay physically active through exercise and movement or if you are wanting to simply sit outdoors and soak in the sunlight and fresh air, the Riverwalk is a must-do.
Golf and Disc Golf
In order to stay distanced while remaining active, certain sports offer more distanced situations than others, like golf or disc golf. There are several public golf course options located near Tuscaloosa including Ol' Colony, North River Yacht Club, The Links at Tuscaloosa, Indian Hills Country Club, Tall Pines, and Hidden Meadows. Each of these courses is available on weekends and offers a variety of offerings to satisfy the most serious players and to welcome the more introductory players. If you are more of a disc golfer than a traditional golfer, Bower's Park is the place to be, thanks to a full 18-hole course primarily located on wooded terrain and featuring beginner and professional tees for players of all skill ranges! Whether you are driving a golf ball or a disc, these activities are a safe way to get back into the swing of things!
Food Trucks
A staple of campus life is enjoying the food trucks that make their way onto campus or throughout Tuscaloosa. These days, food trucks are a great way to stay outdoors and distanced while also supporting local businesses of Tuscaloosa. Not only are you able to be smart about what you are eating, but you may discover a new favorite dish or new favorite dining destination! We offer a phenomenal variety with options like  Catch a Taste, Aces Tuscaloosa, Cheese Louise Tuscaloosa, and Urban Cookhouse. Food trucks appear in various locations around the city, so be sure to plan ahead of time to be aware of where certain trucks will be located and what their menu will look like! Remember to wear a mask at all times except when you are eating in order to maximize caution and ensure the safety of yourselves and those around you.
Local Farmers Markets
A health-conscious and locally-oriented outdoor activity that everyone can take advantage of is enjoying a farmers market. In Tuscaloosa, a few wonderful options for outdoor farmers markets are Homegrown Alabama Farmers Market, Ingram Farms, Northport Farmers Market, and the Curbside Farmers Market. Shopping at a farmers market can expose you to new flavors to up your cooking game, and they support the local farmers that stock the markets. Be sure to wear a mask while visiting local farmers markets for the health and safety of yourself and the vendors working the markets!