Take a timeout from your Tuscaloosa sports adventures and grab some grub at one of Tuscaloosa's finest sports-centric eateries!
The Historic Waysider: Best known as the place where legendary coach Bear Bryant ate breakfast (his favorite was country ham), The Waysider serves up southern meals in a historic red house near downtown Tuscaloosa. Visiting from the rival team? You can expect your pancakes to be served in the shape of an elephant.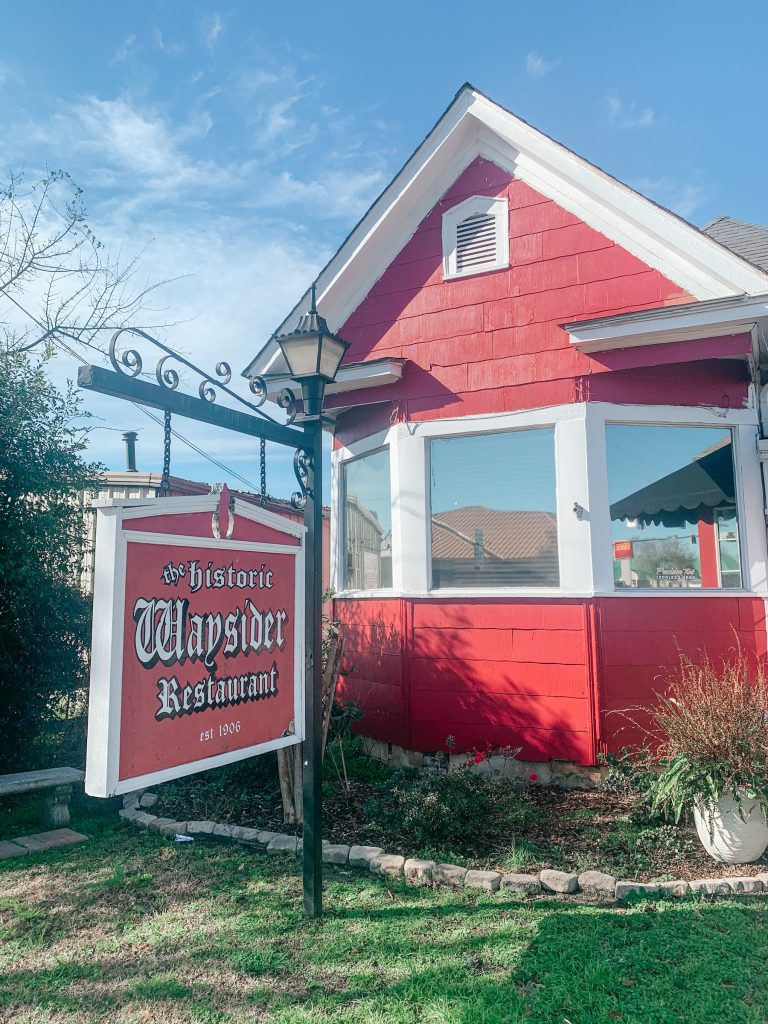 Nick's in the Sticks: No, not that Nick … Nick's in the Sticks is an iconic Tuscaloosa landmark known for delicious steaks, massive onion rings and its signature drink, The Nicodemus. Leave your mark on Tuscaloosa by adding a signed dollar bill to the ceiling.
Baumhower's Victory Grille: Owned by former Alabama star Bob Baumhower, this sports bar is home to "Hey Coach!", a live radio show broadcast from the restaurant, which allows you to get up-close with 'Bama's coaches.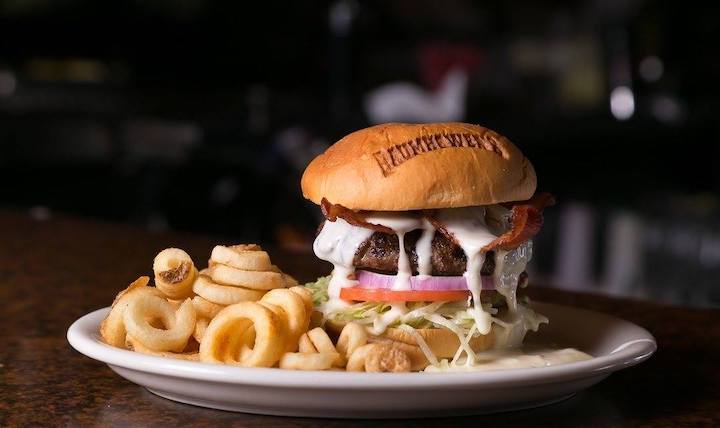 Ajian: Looking for fast-casual sushi? Try Ajian, owned by former Alabama quarterback A.J. McCaron, who led 'Bama to back-to-back national titles in 2011-12.
Rama Jama's: Located in the shadow of Bryant Denny Stadium, Rama Jama's is the place to go for fabulous food. Breakfast served all day, a wide variety of sandwiches, and the best sweet tea and milkshakes this side of heaven. Fan of a BLT? Kick off game day with a National Champion BLT – currently, that's 18 strips of bacon.
Dreamland Bar-B-Que: It all started with a dream when God visited John "Big Daddy" Bishop and told him to open a restaurant. The original Dreamland, built by the hands of Big Daddy and located in Tuscaloosa, opened in 1958. Since then, this BBQ joint has been nationally recognized for their hickory-fired ribs, white bread, and BBQ sauce. Today, the ribs are still prepared using the same technique Mr. Bishop used more than six decades ago. PS – Their banana pudding is pretty legendary, too.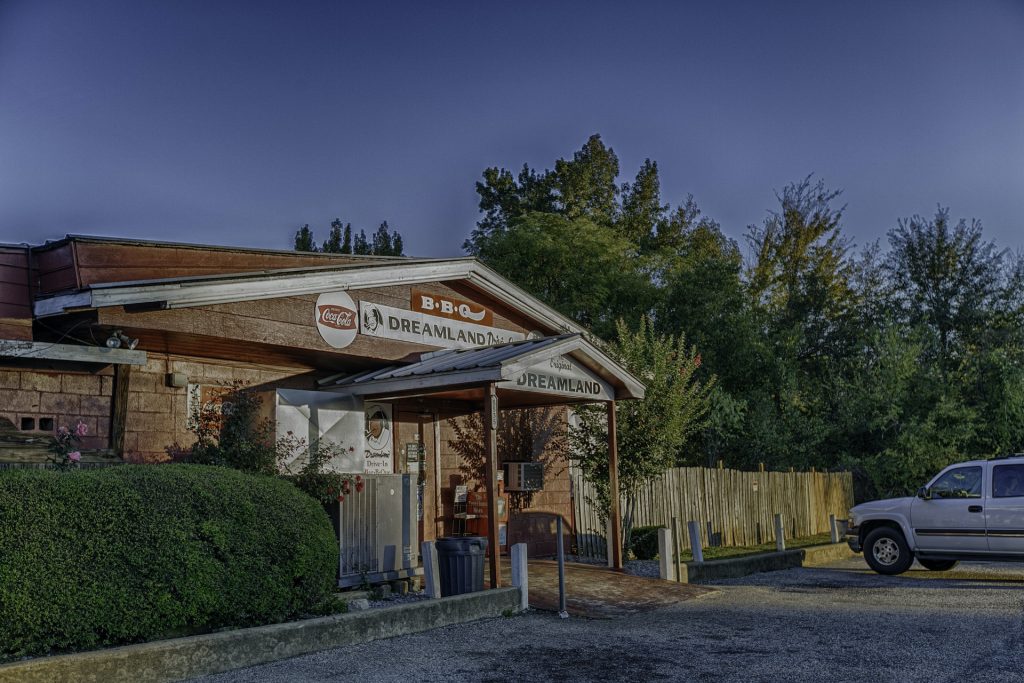 Gallettes: It wouldn't be gameday without indulging in a famous Yellow Hammer from Gallettes! This potent tailgate cocktail is served in iconic yellow plastic tumblers. While the recipe is a secret, some guess it's a mix of vodka, rum, amaretto, orange and pineapple juices.
Northport Spotlight – Billy's Sports Bar & Grill: With one location in Birmingham and their second location in Historic Downtown Northport, Billy's was designed to be comfortable. It's local's favorite spot for good food, live music, great drinks, and a relaxing atmosphere to catch your beloved sports teams on TV. During football season, Billy's offers a free shuttle to and from campus.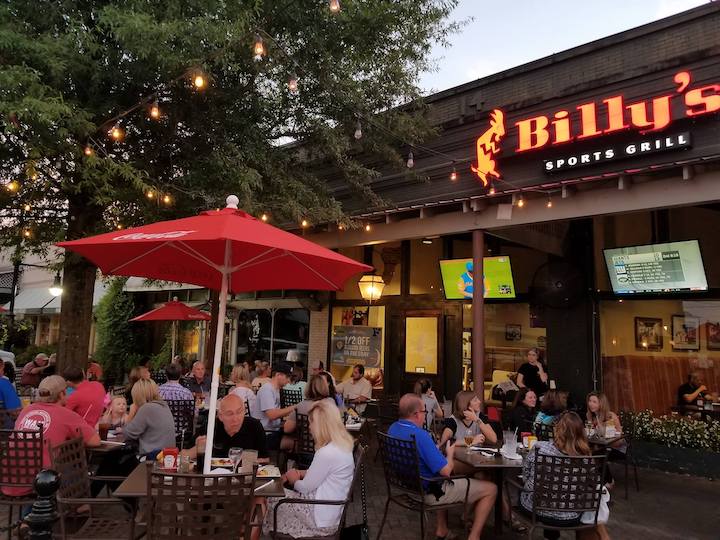 The Tuscaloosa and Northport communities are filled with incredible eateries and this is just a few of the many sports-related restaurants we have to offer! Check out our Eat page to find even more.
For Sharon Thomas Ransom, barbecue is in her bones. She began learning the craft at age five, when her parents opened a barbecue restaurant in the back of their house. Today – five decades later – she owns and operates Thomas Rib Shack in the community she loves. Thomas Rib Shack is just one of many local restaurants in Tuscaloosa and Northport.
Ransom is as fixed in the community as her barbecue. A natural conversationalist, she entertains her customers and employees all day at the restaurant, and she enjoys being with people. "I love my community," she said. "We're resilient. We bounce back."
About five minutes from downtown, you'll find Thomas Rib Shack, a meat-and-three restaurant that's never really advertised, but has thrived for 50+ years.
The food speaks for itself.
"If you have good food, the people will come, " says Sharon Thomas. Born-and-raised in Tuscaloosa, she's got a lot of friends, because every person that walks through the door is an old or new one, starting at 10 am and not lightening up 'til they sell out.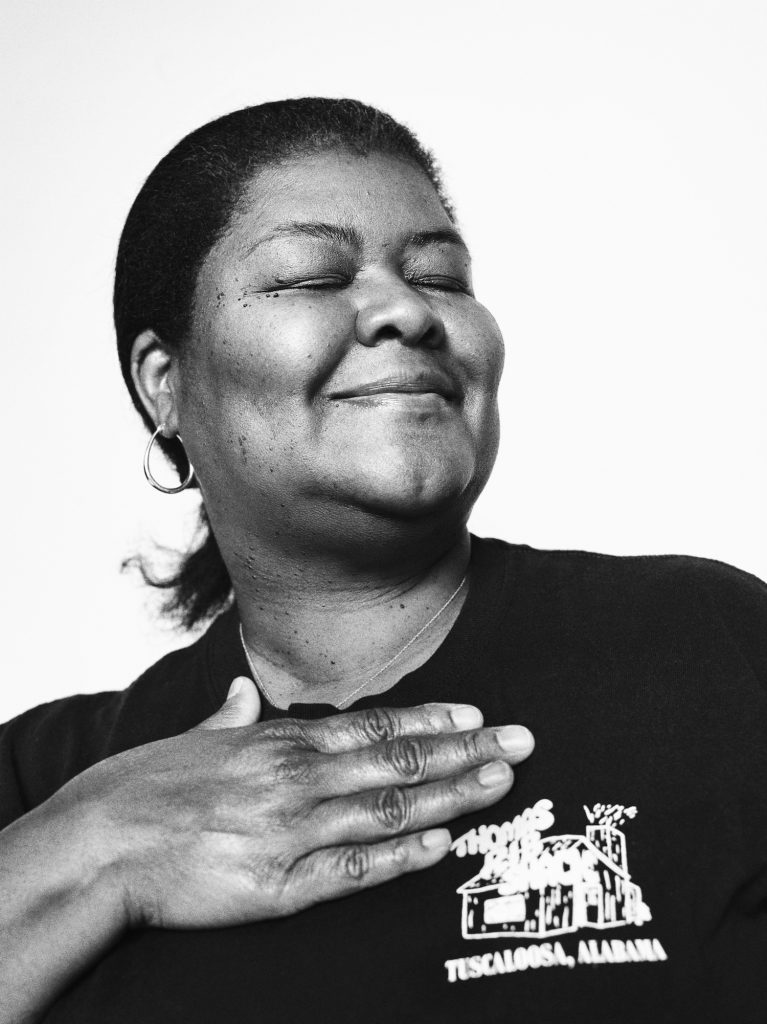 The Southern dishes are down-home, authentic, and consistent, served up in a family-first atmosphere (yep, her kids work there too). Classic fried chicken, fall-off-the-bone ribs, mac-and-cheese, cornbread, and even pig's feet and chitlins.
Sharon remembers her parents perfecting their famous BBQ sauce in the kitchen when she was just 11 years old, and it's been the same ever since. That's what keeps people coming back for more.
What you can expect: "Nothing fancy. Just us." And that's more than enough.
A positive outlook: Recently interviewed on her experience during COVID-19, Sharon shared that the most important lesson she learned was to stay focused, stay faithful, and stay committed, she said. "No matter how bad things look, don't give up. The darkest hours are just before the dawn."
For a true taste of the south, try Thomas Rib Shack!
Evangeline's hit the local restaurant scene by storm, and for good reason! The restaurant is considered to be one of the city's premier fine dining establishments. Best of all, Tuscaloosa Tourism and Sports is giving a $50 Evangeline's gift card to one lucky winner next week on Instagram or Facebook! Join us as we show you everything that Evangeline's has to offer.
Evangeline's has a wide selection of dinner options that are sure to satisfy any visitor. The restaurant offers one of the best filet mignons in Tuscaloosa. Served with a garlic-infused potato puree, sautéed broccolini, and jumbo lump crab mornay sauce, the dish is both sophisticated and delicious. If you're in the mood for lighter fare, try the summer peach salad. A bed of romaine and organic mixed greens is topped with peaches, strawberries, blueberries, candied pecans, goat cheese, and a house-made peach and poppy seed dressing to create this delightful and summery salad. Craving seafood? Evangeline's has that too! Their phenomenal crab cakes are a must, so much so that al.com included them in 100 dishes to eat in Alabama before you die. If you're looking for a nice dinner in Tuscaloosa, Evangeline's is one of the perfect places in town!
Evangeline's also serves dessert to ensure that you finish your meal on a sweet note. There are a few classic options on the menu, including chocolate cake and peanut butter pie, but Evangeline's offers so much more than classic treats! Lemon sorbet is the perfect option for those looking for something to complement the Tuscaloosa summer heat. There are even a couple of cheesecake options! Try blueberry cheesecake to get that summer feeling that accompanies fresh berries, or choose the praline pecan cheesecake for an irresistibly sweet crunch. No matter what you choose, rest easy knowing that each option is fresh and delicious.
There's a lot that goes into making Evangeline's the pinnacle of high class, including its atmosphere and high-quality ingredients. White tablecloths paired with a black ceiling emanate big-city sophistication, while the shot glass votives that sit on each table bring back the warmth that's expected in southern towns like Tuscaloosa. Make sure you dress up to match that comfortable classiness, whether that means your Sunday best or your finest eveningwear. Keeping with the high-quality vibe, Evangeline's also uses local produce in all of their dishes. Their fresh fruits and veggies are sourced from Katie Farms in Coker, Alabama. The atmosphere and high-quality dishes at Evangeline's combine to make something totally unique, making the restaurant a must-visit!
| | | |
| --- | --- | --- |
| Business | Christmas Eve | Christmas Day |
| 301 Bistro, Bar & Beer Garden | 11am-3pm | closed |
| Another Broken Egg | 7am-2pm | closed |
| Avenue Pub | closed | closed |
| Baumhowers Restaurant | 11am-4pm | closed |
| Broadway Pizzeria | 11am-7pm | closed |
| Buffalo Phil's Wings | closed | closed |
| Central Mesa | closed | closed |
| Chuck's Fish | closed | closed |
| Chuy's Tex-Mex | 11am-3pm | closed |
| City Cafe | closed | closed |
| Cravings | closed | closed |
| Cypress Inn | closed | closed |
| Depalma's Italian Cafe | closed | closed |
| Dreamland BBQ – Tuscaloosa | til 3pm | closed |
| Dreamland BBQ – Northport | til 3pm | closed |
| Edelweiss | 8am-12pm | closed |
| Evangeline's | closed | closed |
| Five | 10am-3 pm | closed |
| Freddy's Frozen Custard & Steakburgers | 10:30am-4pm | closed |
| Full Moon BBQ | til 3pm | closed |
| Glory Bound | closed | closed |
| Heat Pizza Bar | closed | closed |
| Hoo's Q | closed | closed |
| Iguana Grill | regular hours | closed |
| Innisfree | closed | closed |
| Jalapeno's Mexican Grill | 11am-3pm | closed |
| Jim 'N Nicks BBQ | 10:30-3pm | closed |
| La Hacienda El Mexicana | closed | closed |
| Levee Bar & Grill | closed | closed |
| Miss Dots Tuscaloosa | closed | closed |
| Moe's Original BBQ | closed | closed |
| Mooyah Burgers Fries & Shakes | unknown | closed |
| Mr. Chen's | regular hours | closed |
| Mugshots Grill and Bar | closed | closed |
| Pyro's Fire Fresh Pizza | 10:30-2pm | closed |
| Rama Jama's | unknown | closed |
| River | closed | closed |
| Ruan Thai Exotic Thai Cuisine Rest. | closed | closed |
| O'Henrys Coffee | 7am-5pm | closed |
| Side-by-Side | 11am-9pm | 11am-11pm |
| Southern Ale House | closed | closed |
| Subs-N-You | closed | closed |
| Surin of Thailand | regular hours | closed |
| Sweet Home Food Bar | closed | closed |
| Swen Chinese Restaurant | closed | closed |
| Taco Mama | til 4 | closed |
| Taziki's Cafe | 11am-3pm | closed |
| The Front Porch | closed | closed |
| Wilhagan's | closed | closed |
| Zoe's Kitchen (all locations) | closed | closed |