If you're looking for places to eat on gameday in Tuscaloosa, you've come to the right spot! Founded in 1958 in Tuscaloosa, Alabama, Dreamland is hailed as one of the best BBQ joints around and has been a legendary staple in our community and on game day since it began.  It's said that this famous joint serves ribs to over one million people per year. 
With a slogan of "Ain't nothing like 'em nowhere," they are most notably known for their hickory-smoked ribs – and it's true – there ain't nothing like 'em nowhere!  Over the years, Dreamland has expanded to 10 locations across Alabama, Georgia, and Florida.  While they have experienced growth, the original location in Tuscaloosa remains its most unique.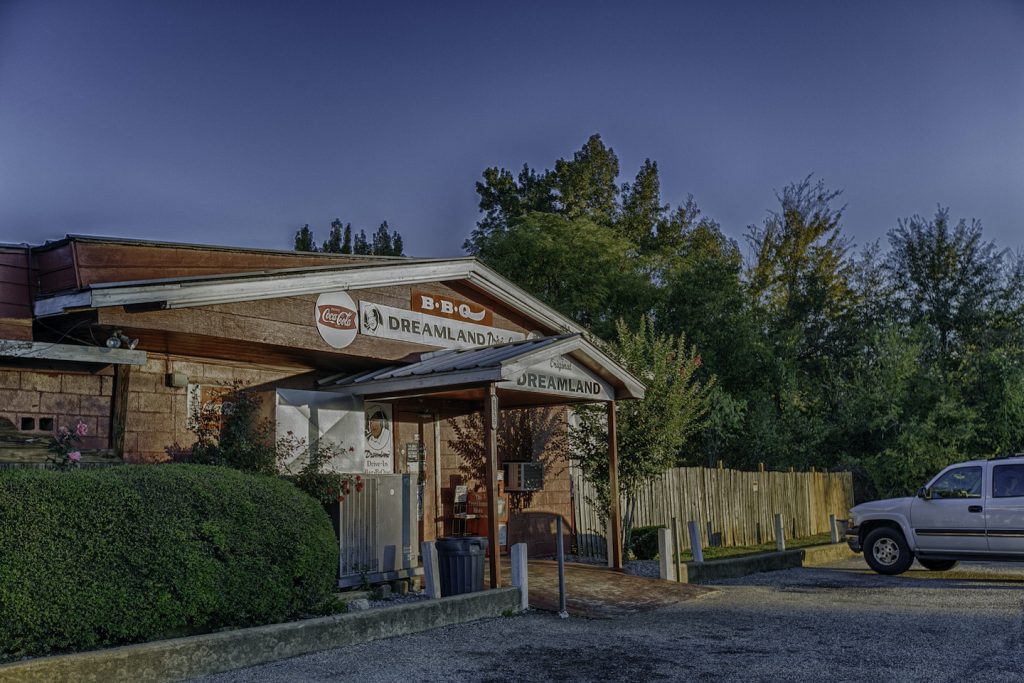 Dreamland truly started with a dream. Founded by John "Big Daddy" Bishop, Big Daddy said that God visited him and told him to open a restaurant and he obliged (lucky us!!). As Big Daddy embarked on this adventure, he began cooking in his front yard.  The original Dreamland, which was literally built by the hands of Big Daddy, would eventually open its doors, selling everything from ribs to burgers, and even postage stamps. But people quickly began to take note of the hickory-fried ribs, white bread, and signature barbecue sauce, and soon visitors were coming from all over.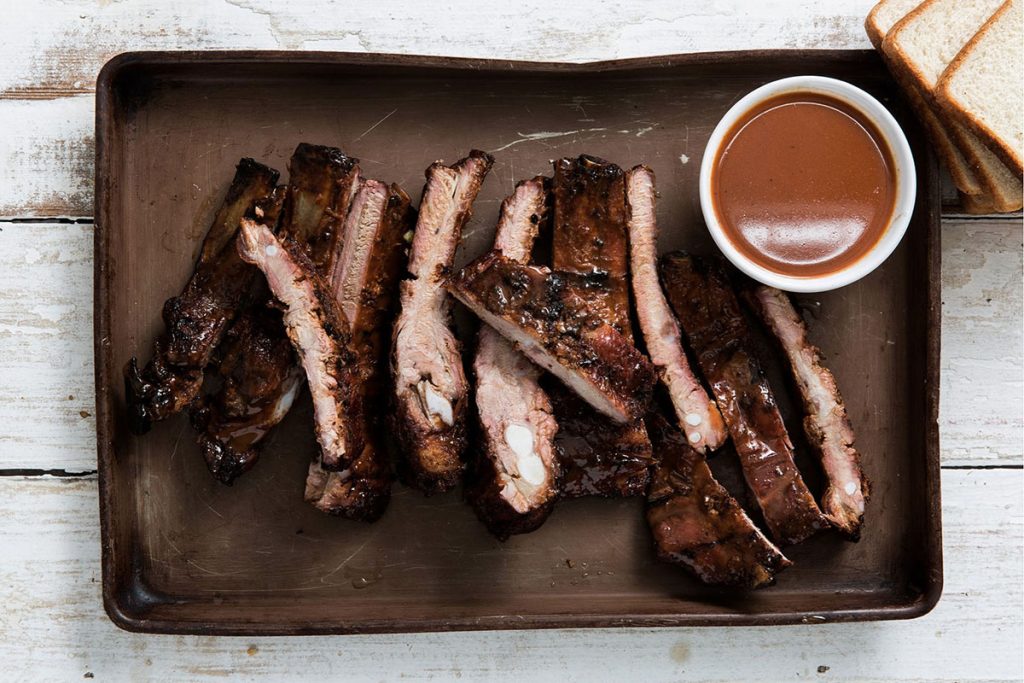 As you enter the rustic looking location, dubbed "the original", you are greeted with warm smiles and an invitation to "sit wherever you want". You'll notice license plates, Alabama football memorabilia, dollar bills and pictures on the ceilings and walls. On the tables you'll find their famous spice called "shake", which you can buy. The employees are dedicated – several at the original location have been there for years – and wake up at 5 am to begin preparing the food. One employee, Raymond, has been with Dreamland for over 45 years and Reggie, who manages the pit, has been there for 25 years! Knowing that many of their guests are limited on time, especially on game day, you can also expect quick and friendly service.
We had a chance to visit with the assistant general manager of the original Dreamland, Jasmine Lewis, and she shared that, "People come in from Texas, California, and all over to try our ribs and our sauce. We [the original location] are totally different from our other locations; we serve the same ribs, but everybody says it just tastes different here."
Speaking of the ribs… after six decades Dreamland still prepares them using the same technique. They roast the pig over a hickory wood fire pit and baste them with their signature vinegar-based barbecue sauce.  Also unique to Dreamland is the plain pieces of white bread served before every meal. No, it's not toasted and it doesn't have butter on it, but they serve it with their famous warm barbecue sauce for you to enjoy dipping the slices of bread into for an appetizer.Dreamland also makes what we believe is the best banana pudding we've ever had! It's made with crispy Nella wafers and creamy vanilla pudding that makes for a great dessert to end your meal (dreaming about it as we write this).  Jasmine confirmed that this, too, is her favorite menu item.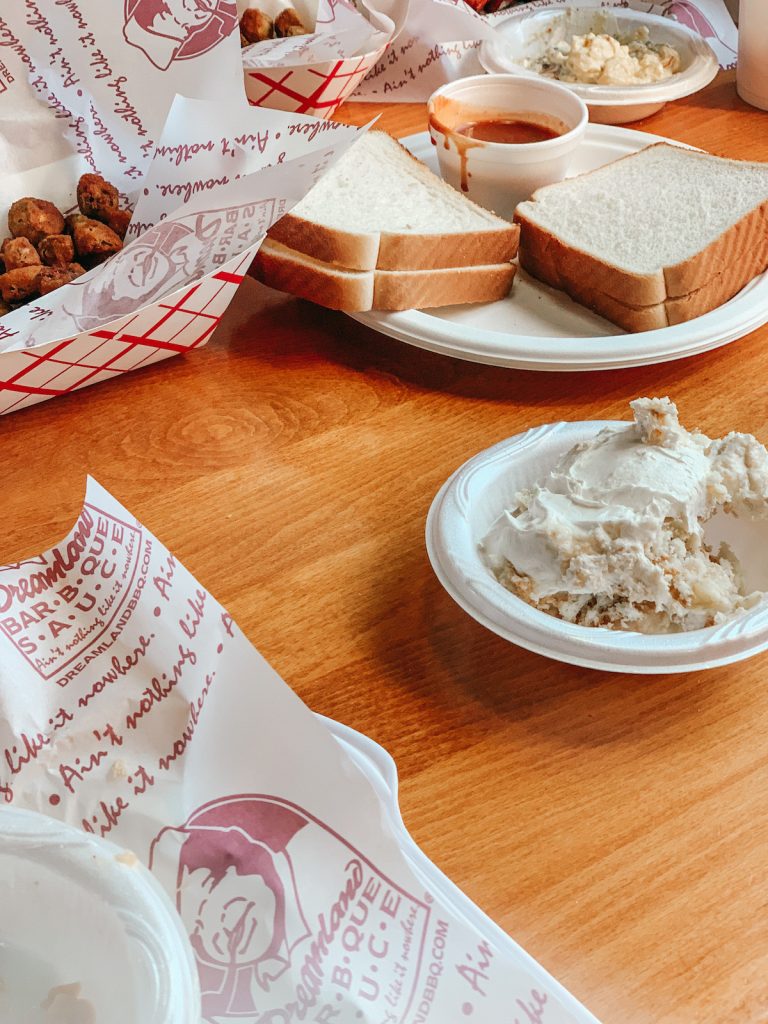 Fun Fact: Jasmine shared that, surprisingly, the busiest day for them is not game day but is actually the Fourth of July. Dreamland is filled with in-house guests, catering orders and their drive-thru, which was a positive outcome from COVID-19 [the drive-thru].
Today is also your lucky day because… drumroll please… on their website you can find detailed instruction on how to make their famous barbecue! You can also purchase many of Dreamland's staple sauces, rubs, and seasoning online or at one of their locations. The restaurant offers t-shirts, hats, and gold gear, available to ship anywhere in the U.S.
Now, we promise we're not exaggerating about how scrumptious this BBQ is, but if you don't believe us, here's what one Dreamland customer had to say!
"I've ate barbecue all over the US, let me say these ribs have everyone beat to a frazzle! Tender, juicy, and best flavor I've ever had! Beats Memphis barbecue hands down! And be sure to order the banana pudding for dessert."

Dreamland BBQ Customer
When it comes to places to eat on gameday in Tuscaloosa, there's certainly many options to select from. Whether you're traveling to Tuscaloosa or West Alabama for a gameday, or for other purposes, a stop at Dreamland BBQ is a must.  When it comes to spots uniquely local to Tuscaloosa, Dreamland is at the top of the list!  For more information about Dreamland BBQ, contact Dreamland Barbeque Tuscaloosa at 205-758-8135.
Final Insiders Tip: When you're ready to give the famous BBQ joint a try, know that the other locations serve the same menu items as the original Dreamland in addition to burgers and chicken options. Sides include mac and cheese, coleslaw, baked beans, and potato salad.
Business

2020

Thanksgiving

Christmas Eve

Christmas Day

Ajian Sushi
Closed
Closed
Closed
Another Broken Egg
Closed
Open
Closed
Archibald & Woodrow's
Closed
Closed
Closed
Avenue Pub
Closed
Closed
Closed
Babe's Doughnut
Check back later
Check back later
Check back later
Baumhowers Restaurant
Closed
11 – 4
Closed
Blaze Pizza
Closed
Open???
Closed
Brick & Spoon
Check back later
Check back later
Check back later
Broadway Pizzeria
Check back later
Check back later
Check back later
Buffalo Phil's Wings
Closed
TBA
TBA
Catfish Heaven
Closed
Closed
Closed
Central Mesa
Closed
Closed
Closed
Chuck's Fish
Carry Out Only
Closed
Closed
Cravings
Closed
Closed
Closed
Depalma's Italian Cafe
Closed
Closed
Closed
Don Tono's
Closed
Closed
Closed
Dreamland BBQ – Northport
Closed
Closed
Closed
Dreamland BBQ – Tuscaloosa
Closed
til 3 pm
Closed
Druid City Social
Closed
Closed
Closed
Evangeline's
Check back later
Check back later
Check back later
Five Java
Closed
Closed
Closed
Flavaz Seafood & Soulfood
Closed
Closes at 5 pm
Closed
Freddy's Frozen Custard & Steakburgers
Closed
Close at 4 pm
Closed
Frutta Bowls
Closed
Closed
Closed
Full Moon BBQ
Closed
10 – 3
Closed
Glory Bound
Closed
Closed
Closed
Gourmade Kitchen
Closed
Closed
Closed
Half Shell Oyster House
Closed
11 – 8
Closed
Heat Pizza Bar
Closed
Closed
Closed
Heritage House
Closed
Check Social Media
Closed
Hokkaido
Check back later
Check back later
Check back later
Hoo's Q and Brew
Closed
Check Social Media
Closed
Hoo's Q
Closed
Check Social Media
Closed
Hooligans
Closed
Closed
Closed
Innisfree
Open
Closed
Closed
Jalapeno's Mexican Grill
Closed
Open Lunch
Closed
Jim 'N Nicks BBQ
Closed
till 3 pm
Closed
Juice Bar
Closed
Closed
Closed
Just Love Coffee
Closed
Shortened Hours
Closed
Kobe
Closed
Open
Closed
Legends Bistro
Open
Check back later
Check back later
Local Roots
Closed
Closed
Closed
Lookout Rooftop Bar
Check back later
Check back later
Check back later
Los Tarascos
Closed
Closed
Closed
Mellow Mushroom
Closed
Closed
Closed
Metro Diner
9 – 2
9 – 2
Closed
Moe's Original BBQ
Closed
Closed
Closed
Monarch Espresso
Check back later
Check back later
Check back later
Mr. Chen's
Closed
Open
Open
Mugshots Grill and Bar
Closed
Closed
Closed
Peach Pit Bar & Grill
Closed
Check Social Media
Closed
Pyro's Fire Fresh Pizza
Closed
til 2 pm
Closed
R Davidson Chophouse
11 – 8
Closed
Closed
Raised on Country
Closed
til 4 pm
Closed
Rama Jama's
Check back later
Check back later
Check back later
Reggae Flava
Closed
Closed
Closed
River
Closed
Closed
Closed
Rock N Roll Sushi
Check Website
Check Website
Check Website
Ruan Thai Exotic Thai Cuisine Rest.
Check back later
Check back later
Check back later
Sage Juice Bar
Closed
Open
Closed
Sharks Fish and Chicken
Check back later
Check back later
Check back later
Shoals Bar and Kitchen
Check back later
Check back later
Check back later
Side-by-Side
Check Website
Check Website
Check Website
Southern Ale House
Check back later
Check back later
Check back later
Surin of Thailand
Closed
Check back later
Closed
Sweet Home Food Bar
Closed
Check back later
Check back later
Swen Chinese Restaurant
Closed
Closed
Closed
Taco Casa
Open
Open
Closed
Taco Mama
Closed
til 4 pm
Closed
Taziki's Cafe
Closed
Open
Closed
The Juicy Crab
11 am – 4 pm
Open
11 am – 4 pm
The Waysider
Check back later
Check back later
Check back later
Turbo Coffee
Check back later
Check back later
Check back later
Twelve25
Check back later
Check back later
Check back later
UPerk
Closed
Closed
Closed
Urban Cookhouse
Closed
Check back later
Closed
Veracruz Mexican Grill
Closed
Check back later
Closed
VooDoo Wing Company
Closed
Closed
Closed
Wilhagan's
Closed
Closed
Closed
Wing Stop
5 pm – 12 am
Closed
Closed
World Of Beer
Closed
Check back later
Check back later
Zoe's Kitchen (all locations)
Check Website
Check Website
Check Website
Ahhhhh, October! The time for pumpkin-spiced lattes, hammocking, and celebrating the spooky season. But don't stop there. Now is also the prime time to immerse yourself in different cultures to recognize their significant influence in our local community. With Día de los Muertos, or Day of the Dead, steadily approaching, we wanted to highlight the Hispanic heritage that makes Tuscaloosa such an eclectic and unique town. This beautiful culture contributes significantly to various aspects of our lives, whether it be the music we listen to, the food we eat, or the art we cherish. Here in the City of Tuscaloosa, we want to honor and showcase the incredible Hispanic businesses and the overall importance of Hispanic culture to our community and its people.
Food: 
Many are familiar with Hispanic food options and may regularly visit them from time to time, but how authentic is the experience? Explore Hispanic heritage with your tastebuds by visiting the incredible Hispanic-owned restaurants all around T-Town! We have pooled together a list of Hispanic restaurants for patrons to enjoy delicious, authentic dishes around the clock, including Antojitos Izcalli, La Bomba, and Tienda La Michoacana. These restaurants feature a diverse offering of homemade Hispanic and Mexican dishes along with plenty more for you to discover and enjoy!
La Bamba, located on McFarland Boulevard, is a classic Mexican restaurant in town that features Hispanic dishes, a fantastic selection of margarita flavors, and family packs that make last-minute meals a breeze. Another local favorite is Antijitos Izcalli on the corner of McFarland Boulevard and Hargrove Road. This Hispanic-owned restaurant is guaranteed to blow your mind with exquisite and mouth-watering homemade dishes. Looking for a quick stop for some authentic Hispanic food? Carniceria Y Tienda La Mexican is the Mexican restaurant for you, featuring its own roaming food truck! This restaurant/food truck offers a menu of homemade Mexican dishes, from classic dishes like quesadillas and nachos to more adventurous tastes like authentic Mexican tamales.
Ice Cream:
Summer may be over, but there is never a wrong time to treat yourself to a frozen sweet! The two following locations are just a few of the many wonderful local Hispanic-owned businesses that offer a unique fusion of bold Hispanic tastes and classic ice cream flavors. Discover your new favorite treats to satisfy that sweet tooth at La Real Michoacana and Las Piñas! These ice cream shops are incredible places to experience authentic Hispanic frozen treats and to support Hispanic businesses in and around the one and only Tuscaloosa.
La Real Michoacana is an inventive ice cream and sweet treat stop that loves to explore and experiment with new flavors daily. They are even open to requests for new flavors they do not have on hand! Visit their Facebook page for more information about the delicious offerings and decadent new flavors featured at La Real Michoacana. Las Piñas is a family-owned business located near Bowlero that combines Mexican and American flavors into their 100% homemade frozen treats. With the incredible addition of Mexican flavors and spices, you can discover a new flavor profile that will blow you away!
Grocery Store/Multipurpose:
In addition to treats and sweets, be sure to stop by these local stops to pick up Hispanic foods and flavors to add the perfect touch to your home-cooked meals! These are stores that offer specially-collected Hispanic foods, spices, and seasonings to add that indescribable Hispanic flair to everyday dishes or new recipes you'd like to try out! Before heading to these stores, be sure to plan ahead and read up on what foods you would like to whip up. Don't forget to bring along a mask to wear while you shop!
There are several stores in the Tuscaloosa area that offer Hispanic-oriented foods and groceries, including: la Tienda Latina El Puerto, la Esperanza Tienda y Panaderia, and la Tienda Sabor Latino. These stores offer a wide variety of cooking ingredients and also freshly-made desserts for the instant gratification we all need every now and then! Each of these stores is Hispanic-owned by Tuscaloosa residents, so they are the one-stop shops to learn more about Hispanic culture and support the local community!
When visiting these restaurants, shops, and stores, it is important to call ahead to verify hours and up-to-date COVID-19 protocols. Additionally, although masks are not needed while seated and eating, don't forget to bring it along for walking through the restaurants and shops! While you're supporting Hispanic Heritage within our local community, feel free to tag @visittuscaloosa to any photos or posts about your experience! We can't wait to see all of your adventures exploring this culture while showing your support for the Tuscaloosa community.
Written By:
Will Baggett & Jamie Hoven
Black Belt Adventures recently created a weekend tour of Alabama's Black Belt, showcasing the region's best eateries, pit stops, and local goods. The Flavors of the Black Belt Adventure of course passes through Tuscaloosa, stopping by some of the city's best restaurants and unique locations along the way. To see what made the cut and to take your own adventure through Tuscaloosa, follow along with us!
Archibald and Woodrow's BBQ
Archibald and Woodrow's BBQ began serving the Tuscaloosa community from a small cinderblock building in 1962. Three generations later, the restaurant is known across the country for serving some of the best barbecue and ribs that the South has to offer. Archibald and Woodrow's barbecued ribs, pork, and chicken are known for their trademark hickory-smoked flavor, and their house-made sides and sauces complement each item perfectly. If you're looking for authentic Southern barbecue in Tuscaloosa, give Archibald and Woodrow's a try!
Avenue Pub
Avenue Pub has been serving refined pub classics and a variety of craft beers to the Tuscaloosa community since 2014. Dishes like fish and chips and fried green tomato BLTs are made in-house with locally sourced ingredients, creating simple but memorable dishes. Make sure you try one of their local beer options while you're there! The restaurant's laid-back atmosphere creates a sense of community with every guest, making Avenue Pub the perfect place to visit for a casual and welcoming dining experience.
Central Mesa
In 2017, Central Mesa began serving authentic Latin American food with a Southern twist in downtown Tuscaloosa. From hot chicken tacos inspired by the classic Nashville dish to beer-battered cod tacos that are straight from the Atlantic Ocean, Central Mesa offers one of the city's most unique menus. The restaurant prides itself on serving fresh and delicious dishes alongside clean cocktails in a laid back atmosphere. If you're looking for a unique fusion dining experience, Central Mesa is the place to be!
Chuck's Fish
Chuck's Fish opened in downtown Tuscaloosa in 2006 with the intention of showing off the best seafood that the Gulf of Mexico has to offer. The restaurant is named in honor of UA graduate Chuck Morgan, a civil rights attorney who fought against racial inequality during the peak of the Civil Rights Movement. Along with freshly harvested seafood, Chuck's Fish also offers naturally-raised beef and an award-winning sushi bar. If you're looking for a high-quality dining experience with a great atmosphere, look no further than Chuck's Fish!
Depalma's 
Depalma's is Tuscaloosa's premier destination for Italian cuisine that is both authentic and delicious. Since 1995, Depalma's has been serving pastas, pizzas, calzones, and other entrees to locals and visitors alike. They also offer a wide drink selection as well as desserts, including Depalma's famous white chocolate bread pudding. The restaurant's cozy atmosphere coupled with its prime location in the heart of downtown Tuscaloosa makes it a must-try during your next visit!
Dreamland BBQ
Since 1958, Dreamland BBQ has been serving hickory-fired ribs and other barbecued favorites to the Tuscaloosa area. Over the years, Dreamland has become one of the most celebrated barbeque restaurants in the South. While they're known for their iconic ribs, white bread, and sauce combination, Dreamland also serves barbeque sandwiches, smoked sausages, half chickens, and more! Check their online menu for availability at each location, and keep Dreamland in mind the next time you're craving barbeque!
River
Located on the banks of the Black Warrior River, River is Tuscaloosa's top destination for urban dining with beautiful views. Since 2016, River has been serving tender steaks, savory flatbreads, specialty oysters, and more to the Tuscaloosa community. River prides itself on its great food and personal service, and its spacious dining terrace makes the perfect backdrop for a refined dining experience. If you're looking for fine dining with beautiful riverfront views, choose River!
Along the Way
Besides some of the best dining in the South, Tuscaloosa also has some great sights and spots to visit! The Alabama Museum of Natural History has been celebrating the state's natural history through exhibits, teaching programs, and service for over 150 years. While on The University of Alabama's campus, stop by the Paul W. "Bear" Bryant Museum to learn more about the campus's famous football history. See some of the program's most memorable moments displayed through state-of-the-art exhibits. To satisfy your artsy side, visit the Kentuck Art Center to learn more about the creativity of the Tuscaloosa community or enjoy one of their year-round programs. Round off your tour around Tuscaloosa with a drink at Black Warrior Brewing Company, which offers a large variety of craft beers and wines that are made in-house.
Black Belt Adventures' many trails focus on the food, drinks, stays, and sights you'll encounter on your trip, and shopping lists tell what local goodies you'll want to pick up along the way. While on your adventure, make sure to enter Black Belt Adventures' Feed Your Adventure Photo Contest! Simply snap a photo along one of their trails and upload your photo to their website. More information can be found on their website's Flavors Photo Contest page. View the full brochure here and happy trails!
Let's face it: because of the coronavirus pandemic, vacationing likely looks a bit different for everyone. Thankfully, there are other options. A staycation means you can still spend a weekend away from home without ever having to leave the city, and planning one is easy in Tuscaloosa! With so many local restaurants, shops, and unique locations to enjoy, there's no shortage of things to do. We've compiled a schedule below to help you plan your next Tuscaloosa staycation!
Check-in Time
Located in the heart of downtown and only a short walk from lots of bars and restaurants downtown, Home2 Suites is a beautiful hotel with a modern atmosphere. With a spectacular view of the downtown Tuscaloosa nightlife, there are several amenities that make this hotel a top choice. Enjoy free, hot breakfast, free wi-fi, free parking, and the indoor pool!
Candlewood Suites is another fine hotel for your weekend staycation. With a convenient location near Interstates 20 and 59, you can check out one of Tuscaloosa's many attractions including The University of Alabama campus, a plethora of museums, nature trails, and plenty of unique shops! Experience top-notch customer service, spotless rooms, luxurious beds, and a great pool! Enjoy all that this special hotel has to offer by making a reservation online today!
Along the banks of the Black Warrior River and just minutes away from campus and downtown, enjoy a breathtaking view at Residence Inn on Rice Mine Loop.  This hotel is devoted to giving guests an amazing experience from start to finish, including great amenities like complimentary Wi-Fi, a free breakfast buffet, complimentary grocery delivery service, a grilling patio with fire pits, 24-hour fitness center, and an indoor pool. This hotel is also pet-friendly, so bring along the whole family for this staycation!
Out and About
If you're looking to spend some time in the great outdoors this weekend, look no further than Lake Lurleen. The park is located only 20 minutes outside of town, and visitors can enjoy activities such as hiking, swimming, fishing, kayaking, just to name a few. Lake Lurleen is also known for its birding trails, and don't forget to stop by the park's Nature Center to learn more about the region's plants and wildlife!
Sokol Park is another outdoor spot that's perfect for a weekend afternoon. The park is located a short drive from Tuscaloosa in Northport. Sokol Park offers a wide variety of facilities, including multipurpose fields, bike trails, and a track. There's also a dog park if you want to bring your favorite furry friend!
If shopping is more your speed, Earnest & Hadley Booksellers is a hidden Tuscaloosa gem. With a wide selection of used, new, and collectible books for sale, you're sure to find the perfect one for you! Earnest & Hadley also offers books from local authors, including fiction and nonfiction works. Stop by the store today, or shop online if you're looking to social distance!
Dining Out
For a laid-back dining experience, GloryBound in downtown Tuscaloosa is a local favorite. With over 15 types of gyros to choose from, including chicken bacon ranch, surf-n-turf, and veggie, this restaurant can satisfy any craving! In 2014 & 2015 Restaurant Hospitality ranked the pepperjack gyro as one of the best sandwiches in America! Enjoy the juicy rotisserie seared beef and lamb wrapped with lettuce and onions topped with pepperjack cheese, crispy bacon, and phenomenal comeback sauce!
If you're interested in fine dining in a classy atmosphere, stop by R. Davidson Chophouse! This restaurant is located downtown and has a number of sophisticated dishes. From jumbo lump crab cakes to the RD Chophouse burger, their expansive menu ensures that there's something for everyone! Make your reservation online on their website, or order takeout if you'd prefer to eat at home.
Out on the Town
If you're looking for a sweet treat, Brummi's Yummies is open downtown and ready to serve you some of their homemade baked goods! Custom cakes and cupcakes are their specialties, but banana pudding, cheesecakes, and brownies are also available. No matter what you're in the mood for, Brummi's Yummies is sure to satisfy your sweet tooth!
If you're looking for after-dinner drinks this weekend, drop by Nocturnal Tavern! This local gothic-styled club/bar is located in the dark little corner of Tuscaloosa. Enjoy the mysterious atmosphere and Victorian-style as you choose between domestic and imported beverages, as well as a variety of mixed drinks. They open at 5:00 p.m., so don't hesitate to get the party started a little earlier this weekend.
June has officially arrived, and with it have also arrived the long, hot summer days that the South is known for. Thankfully, Tuscaloosa has plenty of things to help you make the most of this time! If you haven't made any plans for this weekend, check out the options below to see how you can get a taste of what the city has to offer.
These aren't the only ones open
Many local bars and breweries have reopened their doors to the public! Local hotspots like Loosa Brews, Innisfree, and Black Warrior Brewing Company are all open to customers this weekend. If you're still looking to stay home, curbside pickup service is available from all three locations.
Get a Sweet Treat
Pick up some baked goods to enjoy this weekend! Tuscaloosa has a couple of standout options to satisfy your cravings. Edgar's Bakery, Whimsy Cookie Co., and Mi Casita Bakery are a few excellent options if you're looking to indulge in the sweeter side of things.  If ice-cream is more up your alley, check out Las Piñas behind Bowlero.
Experience the Outdoors
If you're interested in spending some time outdoors, Tuscaloosa has some beautiful parks for you to enjoy. Lake Lurleen and Lake Nicol are two local hotspots that have so much to offer. Enjoy activities such as hiking, fishing, boating, swimming, and picnicking only a short drive from the city!
Take a Class
For our older readers looking to stay in this weekend, The University of Alabama's Osher Lifelong Learning Institute, or OLLI, is offering classes on a variety of subjects. With topics including architecture, international relations, and retirement, there's sure to be something for everyone. Visit their website to learn how to sign up for one this weekend!
Stay Home
Still not comfortable leaving the house just yet? No worries! You can experience some of Tuscaloosa's most historic locations thanks to virtual tours from the Tuscaloosa County Preservation Society. Check out the Battle-Friedman House, The Old Tavern, and more from the comfort of your own home!
Sometimes the weekend is the perfect time to indulge in some self-care. Treat yourself to some Salt Soaks from Left Hand Soap Company and wind down. Scents like lavender or rosemary mint are guaranteed to help you relax. Salt Soaks are available online for shipping or pick up.
The summer season of open roads and clear blue skies is quickly approaching. The time is now to relax, explore, and treat yourself. This year, try something different: a staycation! Now more than ever is the perfect time to experience Tuscaloosa as if you were a tourist in your hometown. We've taken it upon ourselves to plan the perfect Tuscaloosa staycation for you. After all, having an excellent staycation in Tuscaloosa is simple with all of the amazing stops just outside your front door!
9 A.M.: Breathe Easy
The greatest way to truly feel out of your mundane routine is to get some much-needed pampering at a spa. Tuscaloosa has several great spots ranging from the pinnacle of luxury, to more cozy and affordable that can give you that all so needed feeling.
Across the river, Spa Belle La Vie is a luxurious oasis for self-indulging in some elaborate pampering. They have facials, massages, and therapies like seaweed wraps and salt scrubs designed to wash away all your stress and give you a renewed, relaxed state of mind.
Chancee's Spa is a hidden gem on the south side of downtown that is tucked away in a quaint brick home. The wellness spa specializes in massages and facials that are much more affordable for those who want to treat themselves without having to break the bank.
2 P.M.: Check-in
The next step in planning a staycation is finding the perfect getaway. Tuscaloosa has a couple of standout options that can serve as your home away from home.
Located on The University of Alabama's campus, Hotel Capstone is a historic, full-service hotel within a short drive from downtown. Great dining is just outside your door with a contemporary restaurant and lounge on-site for your convenience. Legends Bistro offers a diverse menu with affordable options for even the most discerning of palates.
The Embassy Suites Hotel is minutes from Capitol Park and Murphy African American Museum. The suite-style lodging and luxurious bar/lounge give the hotel a sense of comfort and hospitality. The indoor pool and Side by Side restaurant all contribute to why this hotel would be the perfect place for a staycation.
4 P.M.: Explore
Our city's natural beauty offers a wide range of places and hidden gems to enjoy the great outdoors during your staycation.
Just 20 minutes outside of town is the grand dame of lakes –Lake Lurleen. Take a quick drive out and explore the rustic beauty of the woods with the shimmering waters gracing the shorelines and beaches. The park features more than 23 miles of multi-use trails that are open to both hikers and mountain bikers. The park also features a Nature Center, fishing, facilities, and paddle boats.
While a popular hangout for students, there's no denying the beauty found up along the cliffs of Lake Nicol. The lake is left open to explore with meandering paths along the cliffs and the open waters to canoe or swim around. It can feel like a totally different world far from any civilization without having to go too far from home.
7 P.M.: Dinner
There's no better way to end a day in Tuscaloosa than at one of the city's locally-owned restaurants.
Depalma's is a Tuscaloosa gem with Italian pasta classics as well as pizza and calzones on the menu. For an appetizer, be sure to try their stuffed mushrooms or breadsticks! For now, you are able to take all of these delicacies straight to your hotel room to feast in peace!
If you're looking for a more laid-back atmosphere, Avenue Pub is just around the corner! Kick back, grab a drink on tap, and be sure to enjoy some phenomenal pub food like the iconic Thai Nachos or the Bacon Burger.
10 P.M.: Drinks 
After dinner, Tuscaloosa has many local breweries and bars where you can grab drinks.
Loosa Brews is a locally-owned bar and retailer that has been specializing in quality craft beer since 2014. They offer 63 taps and have a full-service arcade, including a large number of classic arcade machines and pinball machines.
Black Warrior Brewing Company is another great downtown option for after-dinner drinks. The brewery and tap-room have been a staple in Tuscaloosa since 2012 and serve their own beer and wine creations.
During this time of fear and uncertainty, the kindest side of human nature can prevail. To provide some light relief in these difficult times, we've compiled a list of positive stories in our very own Tuscaloosa. Let these stories serve as a reminder of the strength, resilience, and kindness of our community.
LEND A HAND
University of Alabama students are using their extra time this semester to help others. UA junior Michael Arundel organized Leave It To Us, a nonprofit organization that helps senior citizens practice social distancing by using volunteers to go grocery shopping for them for free. The nonprofit was originated in Arundel's hometown of Chicago and has recently expanded to Tuscaloosa and Birmingham. Those interested in volunteering for either the Tuscaloosa or Birmingham chapters of Leave It To Us can go to https://www.covidseniorshoppers.com/.
LOAVES AND FISHES
Loaves and Fishes food distribution program, which is overseen by Grace Presbyterian Church, has been helping hungry people in the Tuscaloosa area every month for more than 20 years. Social distancing requirements may have changed the interaction in the program, but not its outcome. Sheppard and her team of volunteers passed out between 300 and 400 bags of food on Tuesday. To help ensure that enough food and resources exist to help those in need, anyone wishing to donate can visit https://www.gracetuscaloosa.org/ and donate to either the church or directly to the Loaves and Fishes program.
FINANCIAL HELP FOR WEST ALABAMA SMALL BUSINESSES
This week the Chamber of Commerce announced more than $140,000 has been dispersed to more than 60 West Alabama businesses. That money can be used for several things such as rent, insurance, and other needs to help keep these businesses open despite struggles faced by COVID-19. Small business owner Audrey Vermilyea, of Monarch Espresso Bar, says "it's been a huge help. It has been very encouraging".
FREE LUNCH
American Lunch, a nonprofit organization, is in front of FIVE every day at 11 AM giving out lunches to anyone at NO cost. To support their cause and stay up-to-date on what they have been doing, check out their Instagram page at https://www.instagram.com/americanlunch1/.
FREE OIL CHANGE FOR DCH EMPLOYEES
Auto Tech and Tires is offering free oil changes for DCH Tuscaloosa and DCH Northport employees in the month of April. You can set up an appointment by calling (205)248-7695 or online at https://autotechandtires.com/.
HELPING SERVICE WORKERS IN TUSCALOOSA
Every Monday for the next five weeks, several organizations will come together to feed dozens of service workers in Tuscaloosa. They will be feeding families from 11-1 PM at Beulah Baptist Church. The meals are for individuals who did not have time to plan for the negative financial effects of the COVID-19 pandemic. This program is funded primarily through donations if you'd like to help. For more information or to donate, call Earnestine Tucker at 205-345-0201.
BLUE, THANK YOU
Last Thursday night the city of Tuscaloosa joined the national #LightItBlue movement to honor frontline health care workers during the COVID-19 pandemic. Tuscaloosa City Hall, the Tuscaloosa River Market, the Downtown Intermodal Facility and the fountain at Alberta Park were all proudly lit with blue lights.
We want to genuinely thank you for assisting in keeping Tuscaloosa safe while continuing to show appreciation for your community. To help with the scenery, here are some downloadable Tuscaloosa Zoom backgrounds to help you stay #TtownStrong wherever you may be: https://www.dropbox.com/sh/z4edmej2kqu96ii/AADckj_9I76Li0tzstx35Q-ia?dl=0.
To ensure the health and safety of residents in the midst of the coronavirus pandemic, bars, restaurants, and breweries have stopped serving food or drink on-site for one week, but many are still open for take-out only. With UA closing its doors for the spring semester and canceling May graduation, local businesses need support now more than ever.
The City of Tuscaloosa and the Chamber of Commerce of West Alabama have worked together to come up with a plan that supports local businesses. We know that some people are not comfortable with leaving their home right now. Here are some ways you can help at varying levels of comfort:
● Purchase gift cards to use when the coronavirus is no longer a concern
● Order take out or delivery through the restaurant or business itself or through a service like Crimson2Go, where you have the option of 'no contact delivery'
● Write reviews if you've had a positive experience
● Share posts on social media
● Shop online if a local business accepts online orders
● If your income hasn't been affected by the coronavirus consider donating to a
a local business that could need it
● Tip generously
● If you are a business with employees working extended hours, consider bringing in meals from a local restaurant
If there's one thing we're certain of in these unprecedented times, it's that residents of Tuscaloosa come together when faced with hardship. We choose to live here for many reasons both quantifiable and intangible and will always support our community.
Show us how you're supporting local businesses by tagging #TuscaLocal on social media and visit ​https://tuscaloosachamber.com/support-local/​ for updates and a list of local businesses that could use your help.
The City of Tuscaloosa has been very proactive to protect the community against the threat of COVID-19. While traveling may be on hold for some, our residents have the perfect opportunity for a staycation! SEC opening weekend for UA baseball has been canceled, but there are still plenty of other things to do this weekend for a Tuscaloosa staycation!
Friday 3/13
Don't let Friday the 13th get in your way of a good night! Rhythm and Brews is hosting cover band, 'Get Sideways' Friday night. Come rock out and get a little sideways! If you're looking for something to do with the entire family, Victory Blessing Christain Center is hosting Family Fun Night at 6:30 p.m. Come out and enjoy food, board games, and fellowship.
Saturday 3/14
It's Pi Day and you don't have to be a math wiz to take advantage of sweet deals. All Fired Up is a paint pottery studio that is fun for all ages. Get creative, and a free slice of pie while supplies last when you spend $20 or more.
Sunday 3/15
Drop into All Fired Up anytime from 12 p.m. to 5 p.m. Sunday to create an Easter clay imprint. Imprints are $18 and for children 3 and under.UA students are officially on spring break, take advantage of the stillness of the city and take back your favorite restaurants. Visit Buffalo Phil's on Sunday, where you can get a $2 mimosa, $3 bloody mary, $3 champagne, or $5.50 Philibuster.
Meal Deals
Drink Deals
Sunday
Complimentary beignets at Waysider. Check out brunch locations here. 
$5 margaritas at Central Mesa.
 

Monday

$5 burgers with a side at World of Beer.

$4 Pitchers of Bud Light, Budweiser, Shock top, Sweetwater 420, and Yuengling at Buffalo Phil's.
Tuesday

$2 sushi at Chuck's.

½ price wine glasses and bottles at Chophouse.
Wednesday
½ price wings at Innisfree.
$5 draft beer and wells at River.
Thursday
Buy one get one free boneless Thursdays at Buffalo Wild Wings.
$5 signature cocktails at Heat Pizza.
Friday
$10 Chicken Philly Po'boy at Brick and Spoon.
$2 tallboys at The Filling Station.
Saturday
½ price burgers at Chophouse.
$3 White Claws at Copper Top.