Fishing in Tuscaloosa County
Editor's Note: 27-year-old Jalen Conner is a native of Tuscaloosa and has been fishing in Tuscaloosa County's Holt Reservoir for eight years. A criminal justice student at Tuscaloosa's Stillman College, Conner fishes two tournament trails – the S.A.B.A and the Jim Austin.
I like to fish the lower end of Oliver Lake during football season, when the University of Alabama plays its home games because the water in that section of the Black Warrior River tends to be a little-more stained at that time of the year. When most people are either at Alabama football games or deer hunting here in Alabama, my fishing coach and I can catch spotted bass all day long at Oliver. We may be the only boat on that section of the river at that time of the year.
We like to fish the creek mouths in the Moundville section of the Black Warrior River. When currents coming through Oliver Lake in the fall, bass like to hold in the creek mouths at that time of the year. They'll be feeding on shad and worms being brought to them by the upriver current. We can consistently catch 2–3-pound spotted bass and often even bigger spotted bass in the fall at Oliver.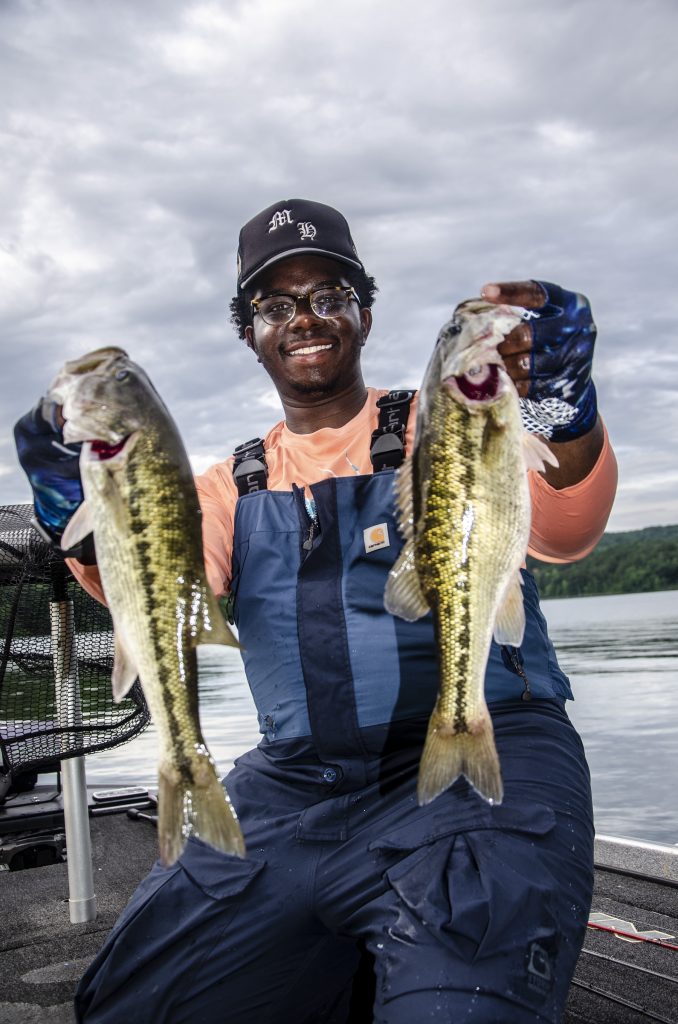 Fishing in Tuscaloosa County
Editor's Note: 34-year-old Adam Hollingsworth is the President of the University of Alabama Fishing Team and explains, "I went back to college because I spent the first years of my life after high school in the military and as a police officer and eventually wanted to become a U.S. Marshal. I currently have a degree in criminology and plan to start my master's degree at the University of Alabama in the fall of 2022."
When it comes to fishing in Tuscaloosa County, to catch summertime bass at Tuscaloosa County's Holt Reservoir, my primary lure is a Megabass Ito Vision 110+1 Jerkbait in a GP Pro Blue II color that I keep on my rod almost all year long. I'll be constantly casting and retrieving. This jerkbait runs about 10-15 feet deep, and I'll use a jerk-jerk-pause type of retrieve and keep the bait moving, until I get a strike. That tells me what cadence the bass want and whether they'll attack while the lure is moving or sitting still. I'll work this lure on an iRod Genesis II jerkbait-exclusive rod that's a medium-action 6'10" long rod. It has a soft tip that helps give the bass a little more of the lure when the bass is jumping and shaking the bait. My reel is a Lew's HyperMag reel with an 8.3:1 gear ratio, and my line is 10-pound Seaguar Tatsu.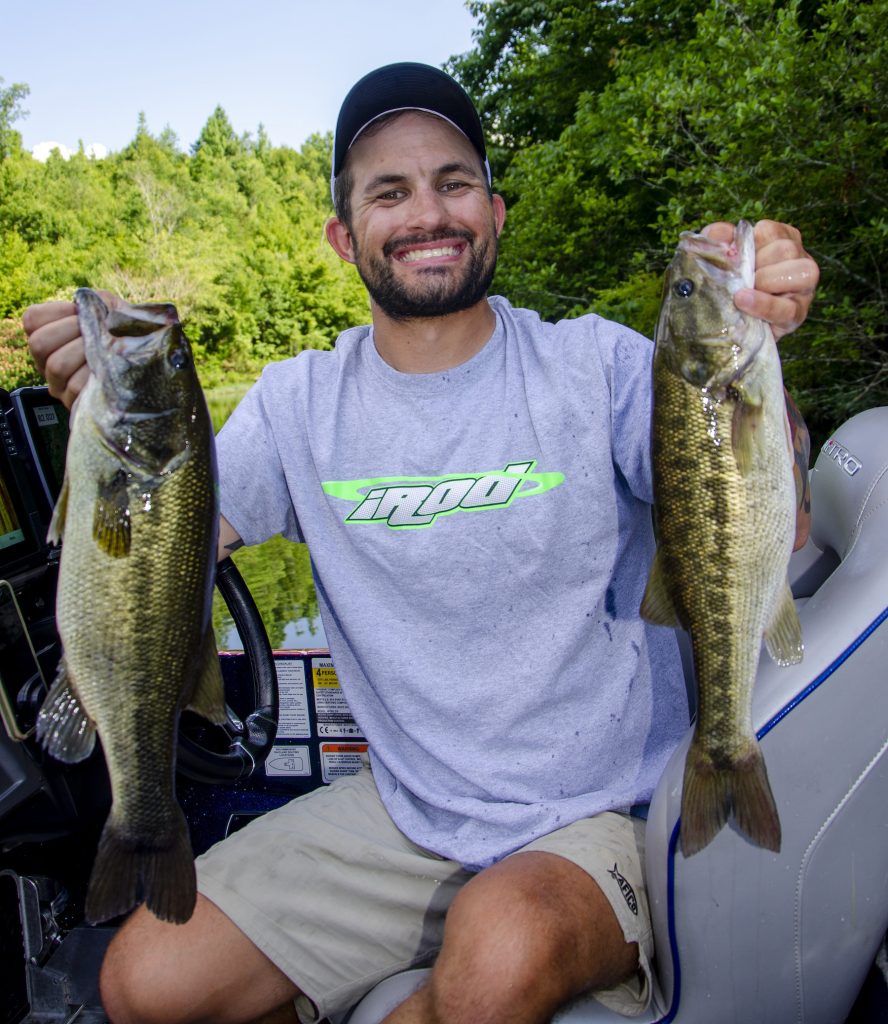 Another of my favorite lures is the Jackal Gavacho in a gill pattern. Since the bluegill are spawning during the summertime in shallow water, you'll see this bait I'm holding has numbers of bass teeth marks on it. I'll fish this lure with an iRod Croaker Crusher series, a technique-specific rod, 7'8" long that's heavy action. I'll pair that with Lew's HyperMag 7.5:1 gear ratio reel. So, if I hook into a 5-pound bass, I can winch it out of the cover. I'll fish with 50-pound test Power Pro braided line and tie the braid straight to the lure. I don't use a fluorocarbon leader.
I'll also fish in Tuscaloosa County in the summer at Holt with a Megabass Uoze Swim Jig with a 3/8-ounce head. If I'm fishing another lake somewhere with bigger bass, I'll use a 1/2-ounce head. I put a Rattlin' Chunk from Googan Squad and sometimes a Googan Squad Krackin' Craw as a trailer on this lure. I like the iRod Genesis III that's a stone-cold swim-and-vibrating jig rod. At Holt, I've caught bass weighing 5+ pounds, while using this set-up. My line is 20-pound-test Seaguar Tatsu, and my reel is a Lew's HyperMag with a 7.5:1 gear ratio. I fish lures in a bluegill pattern, since bluegills are spawning in the shallows during the summer months. I'll cast the Megabass Uoze Swim Jig right up against the bank in the summer. If the grass is scattered, I'll do what's called an "Alabama Shake," as I retrieve the bait. I'll also use this same lure on a steady retrieve because the lure has legs that kick as you retrieve it. This lure has a spinner on it, and I've caught bass with and without the spinner.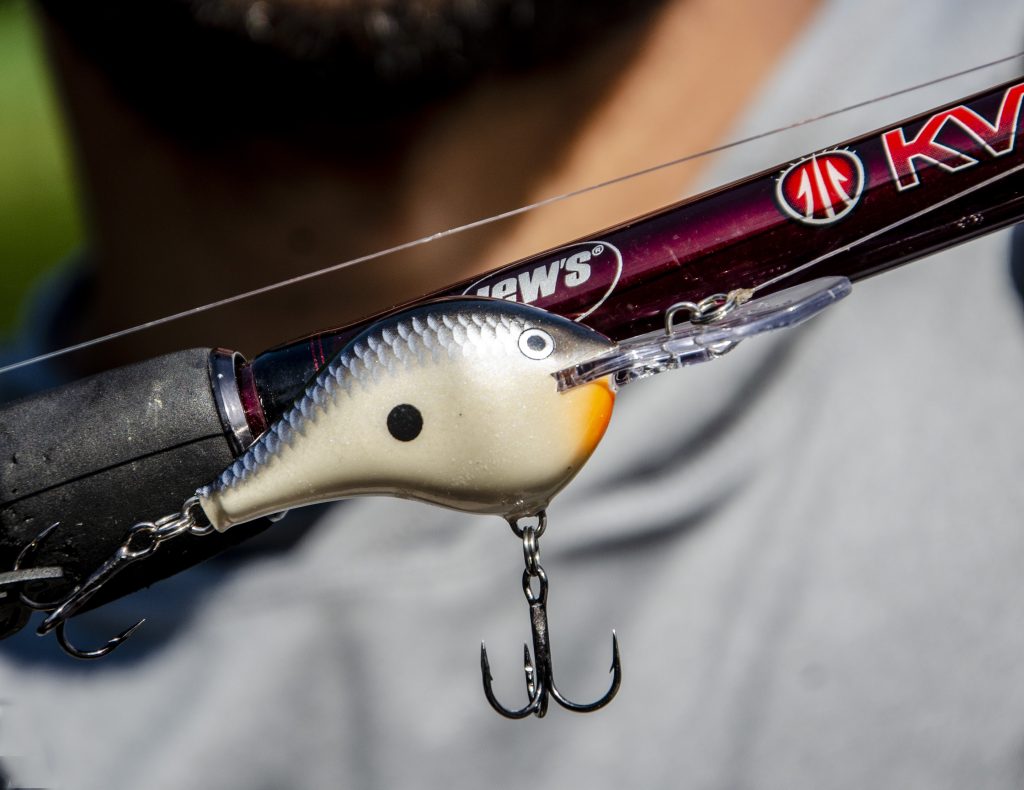 When I'm fishing in Tuscaloosa County deep in the summertime, I'll use the Rapala DT 8 that goes down further than 8-feet deep – sometimes to 12 feet when I fish it on 12-pound test Yozuri Hybrid Copolymer line. The color pattern is the Ike's Custom Penguin color. My rod will be the KVD 7'4" long, medium-heavy, moderate-action, made by Lew's. I also like Lew's Tournament MP Baitcasting Reel with a 6.8:1 gear ratio.
I like the shakey head jig and the drop shot rig that I fish on a medium-action, 7'1" iRod Genesis III Finesse fishing rod. I'll also fish a Zoom Baby Brush Hog and dip the tail in chartreuse dye with garlic in it. Sometimes I'll fish the Baby Brush Hog with a steady retrieve, and other times I'll let it fall to the bottom and use a steady retrieve, while waiting for the bass to grab hold of it. I feel like I always can pick up this lure and start catching bass with it.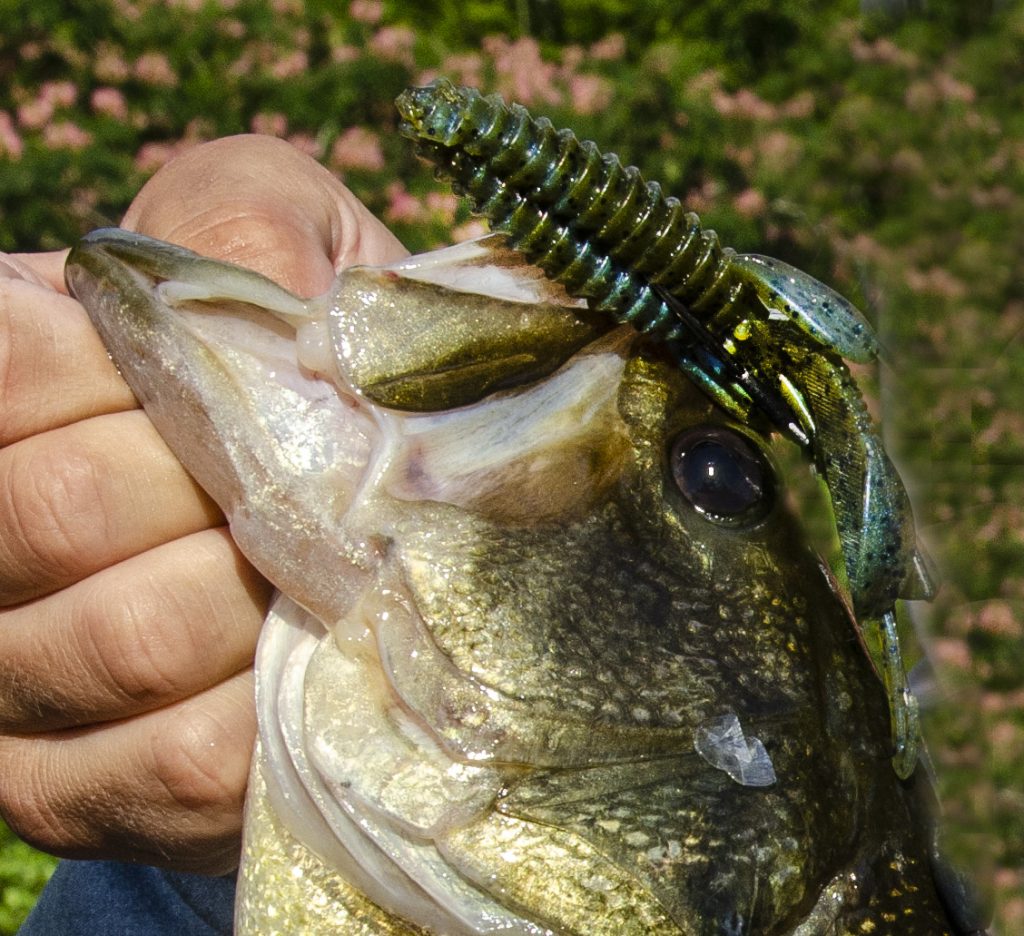 We're approaching summertime in Tuscaloosa which means things are heating up and the idea of staying indoors becomes less appealing with each passing day. To help you out we've created a list of some of our favorite restaurants in town that offer superb outdoor seating areas so you can enjoy the summer heat and thrilling atmospheres all day long.
If you're looking for somewhere to eat brunch while enjoying the nice breeze of an Alabama morning, Another Broken Egg is a great option! Located on the River Walk, Another Broken Egg offers a beautiful river view from its terrace. Scrumptious menu items such as omelets, waffles, sandwiches and black bean benedict are sure to send your taste buds into a craze.
2. Local Roots
Local Roots offers customers the full outdoor eating experience. The traveling food truck takes pride in serving southern food made from local ingredients. The food truck travels all over Tuscaloosa serving some of the most delicious burgers and tacos this city has to offer. You can find its weekly schedules online to find out where it will be located each day. Its most frequent location is in downtown Tuscaloosa and features picnic tables for assembling. This is the perfect way to enjoy delectable food and the beautiful scenery that is downtown Tuscaloosa.
This one of a kind pizza place is a local favorite. Located on the first floor of the downtown parking garage, it has a distinctive outdoor seating area facing the communal lawn at the downtown plaza! The modern vibe and exclusive pizzas have proven to be a huge hit in Tuscaloosa. Heat provides a menu that features exclusive items such as the Thai Chicken and Reuben pizzas and a large list of specialty cocktails. This is the perfect place to enjoy a spontaneous lunch or casual dinner with a view and a cocktail!
4. River
Surrounded by the exquisite views of the Black Warrior River is Tuscaloosa's newest trending restaurant, River! River offers a picturesque outdoor experience. It has areas for both lounging and eating on its outdoor terrace and features canopies and fire pits to enhance the already remarkable atmosphere. With chefs that cook up some of the best oysters, steaks, and flatbreads in town, River is the perfect place to enjoy all the perks that come with dining outdoors this season!
5. Taco Mama
If you have a job that requires you to sit inside on all of these beautiful Alabama summer days, Taco Mama is your perfect lunchtime escape! With one of the most popular patios in Tuscaloosa, Taco Mama is home to specialty tacos, burritos and quesadillas. If you're feeling lively enough, you can even order one of Taco Mama's specialty margaritas to accentuate your meal before returning to the office. As the experts at this taco bar say, "stay hungry and be thirsty!"
With its distinctive charm, specialty cocktails and mouthwatering cuisine, 301 Bistro is sure to be a hit with your mom this Mother's Day! The renovated train station offers an eclectic vibe with fresh, locally grown food options that combine the flavors of German, Southern, and Creole cuisine. On Sundays, the bistro features a jazz trio, "The Voodoo Saints," and a special brunch menu that offers exclusive items such as shrimp-and-grits, French toast, and mimosas! This Mother's Day let your mom take a break from cooking and let the masters at 301 Bistro take over.
After your mom enjoys brunch at 301 Bistro, take her over to the 250-acre man-made lake located just on the outskirts of Tuscaloosa where she can enjoy the sweet heat of an Alabama spring. After all the time she spends indoors cooking and cleaning up after the family, she is guaranteed to enjoy some much needed time outdoors. Lake Lurleen State Park offers paddleboat and canoe rentals as well as numerous hiking trails and swimming areas certain to provide just the adventure your mom is looking for this weekend.
If your mom isn't so much a fan of the outdoors and prefers the splendor of art and history, the Tuscaloosa Museum of Art is the way to go this Mother's Day. The art begins with the exterior of the building that portrays unique architecture designed to resemble a Japanese temple. Inside, your mom can find a large variety of collections featuring themes from the American Revolution and Civil War. The museum offers one of the greatest private collections of American art, and the best part of all- it's completely free to tour. So if you're looking for a splendid and inexpensive way to impress your mom this Mother's Day, there's no better place than the Tuscaloosa Museum of Art.
Let's be honest, all our moms deserve a little pampering, especially on Mother's Day. Village Nail Bar is the latest hit in Tuscaloosa for all who love a good Mani-Pedi. While there, your mom can enjoy a glass of wine or champagne while the pros at Village Nail Bar work on glamming her up. Your mom is guaranteed to be feeling like the queen she is while receiving a hand and foot massage during her Mani-Pedi services. If that doesn't seem like enough, your mom can take it a step further and enjoy a luxurious facial before she leaves. So if your mom needs a little indulgence and a lot of relaxation, Village Nail Bar is the place to take her this holiday.
Dinner on the Town
Your mom probably cooks dinner almost every night so on Mother's Day let someone else do the cooking, and take her out to one of Tuscaloosa's treasured restaurants. If your mom is interested in an upscale place that also offers an exciting atmosphere take her to the locally renowned restaurant, Chuck's Fish where she can enjoy a delicious seafood entrée. She can sink her teeth into one of the astonishing dishes such as parmesan-crusted grouper or blackened fish tacos. She can finish off the meal with one of Chuck's signature cocktail like a Crimson Mule or Strawberry Manhattan. If your mom prefers a quieter restaurant with a classier atmosphere, she will certainly enjoy one of Tuscaloosa's newest culinary treasures, River. This restaurant is surrounded by the beautiful views of the Black Warrior River and features family recipes made from locally grown ingredients your mom is sure to savor. She can relish the southern cuisine from appetizers such as smoked catfish dip, or enjoy the splendid flavor of a flat iron steak. Dinner at one of these amazing restaurants is sure to bring your mom's special day to a flavorful end.
Written By: Bailee Kennamer – Intern
Living in town, it can feel you have to get used to the highs and lows of tourists. Fall and sometimes spring can see heavy amounts of visitors from all over, taking control of the town. Bringing with them big city crowds to our small college town, it's easy to feel like you want to leave when they start coming in. Summer, however, is open roads and clear skies. Why not take advantage of this quite season down home and finally see the side of Tuscaloosa all those visitors get to enjoy. Not to mention going on trips can be costly! Why risk the pain of travel when your backyard is a growing destination? Embrace the serenity of summer and explore town like a true tourist. The wait times downtown are dwindling, the roads are clearing up, and you can enjoy the finer side of Tuscaloosa.
Explore the cool waters
Living here, it can feel like you've seen it all, but I can assure you there is something out there you still haven't done. Every local by now has experienced something on the campus grounds, but Tuscaloosa is far more than just the University of Alabama.
There's a good chance you may have skipped or even forgotten that there are great choices for some waterside adventures. Our natural beauty offers a wide arrange of places and hidden gems to get out into some cool and refreshing waters without having to head always to the Gulf.
Just 20 minutes outside of town is the grand dame of lakes – Lake Lurleen. Take a quick drive out and explore the rustic beauty of the woods with the shimmering waters gracing the shorelines and beaches. It's a perfect day getaway for any family or friends who want to be close to the waters without the crowds of Gulf Shores
While a popular hangout for students, there's no denying the beauty found up along the cliffs of Lake Nicol. The lake is left open to explore with meandering paths along the cliffs and the open waters to canoe or swim around. It can feel like a totally different world far from any civilization without having to go too far from home.
Explore this rugged creek that feeds the Black Warrior and gets lost among the towering trees and rustic old rail bridge that looms over the waters. Hurricane Creek is an untamed stretch of rolling waters that feels like you're the first person to ever see it while being a quick drive out east from town. Be careful, as some of it cuts through private property, but there are many online guides for how to safely see this untouched stretch of water and wetlands
Sip and Sample
Around town and at many local bars you may be noticing more and more labels of craft beer being made in our fair city. Microbreweries have found their way into Tuscaloosa and have made quite a home here. Take advantage of this wealth of wheaty waters and sample the best of t-town's brewers.
Band of Brothers Brewing Company
Down by the Drish house circle, Band of Brothers is the latest addition to the beer scene in Tuscaloosa. With a great space that is all too often filled with great events, live music, or both while food trucks make their way outside. Band of Brothers is a One and Only experience everyone needs to try.
In the same shopping center as local favorite Mr. Chens, this classic brewery is home to the iconic chalk murals. Admire the art over a frothy pint of local beer, and be sure to check when their awesome events like comedy shows and games are going on to add to the true Druid City Brewing excitement.
Their downtown location and second story game room make this brewery an outpost of grown up fun, with childhood games like full-size Jenga and Cornhole. For those who abstain from drinking, try their Root Beer made in house. It's a soft drink classic that tastes like summer and is a far better choice than water.
Breakout and jump around!
Beat the heat by checking out these awesome local attractions that are sure to be both amazing memories and just all out fun
With their new location, Breakout Tuscaloosa offers more than just their puzzle rooms with a new laser tag section! Chase each other around, or band together to solve some of the trickier escape rooms set in abandoned hotels and haunted houses.
Go back to that old-school excitement of childhood summers bouncing around at Upsurge. Jump from each trampoline inside the giant warehouse with obstacle courses and deep foam pits to try to escape. It's the ultimate indoor adventure you can find in town!
Breathe Easy
The greatest way to truly feel out of your routine is to get some much-needed pampering. Getting out, and having others take care of you is something everyone deserves to experience at least once, and one of the best ways is to head towards a spa. Tuscaloosa has several great spots ranging from the pinnacle of luxury, to more cozy and affordable that can give you that all so needed feeling.
Across the river, there is a luxurious oasis for self-indulging in some elaborate pampering. With facials, massages, and therapies like seaweed wraps and salt scrubs designed to wash away all your stress and give you a renewed relaxed state of mind.
Located down on 15th, this one and only spa offer wonderful services from beauty to message with a level of dedicated care and attention. From the standard massage services to Neuromuscular Therapy. This special service focuses on trigger points to work out the pain and bring back a calming sense of relief.
This hidden gem on the south side of downtown is tucked away in an old tiny brick home. The wellness spa specializes in massage and facials that cost in much more affordable range for those who want to treat themselves without having to hit their wallet too hard.
Redefine your Dining
It can be all too easy to want to avoid downtown, or any crowd when all the tourists come to town for Fall, or to simply settle down with the same local haunts. A Staycation is the chance to break out some fine clothes, and explore beyond just the entrees and turn dinner into a long flavorful event. With various plates and dishes, it's a chance to truly enjoy the growing food scene here in Tuscaloosa
At the west end of Temerson Square, the Chophouse has brought downtown that old school steakhouse with modern takes on classic dishes. With all to addicting lobster mac n cheese, to one of the best steaks this side of Nick's in the Sticks. Alongside all the far too tempting dishes, their cocktails almost outdo the food in terms of rich flavors.
While the whole interior of this latest eatery is beautiful, ask and wait to sit on the outdoor patio that overlooks the river at sunset and re-encounter what makes this southern city so special. The Black Warrior reflects the multiple shades of pinks and reds while each and every dish at River comes along with graceful presentation and overwhelming flavor. River blends the classic taste of Southern cuisine with global influences that bring the food scene in town to another level, with an atmosphere that can't be beat
Yes, DePalma's. This Italian classic has been sitting on that corner of University and 23rd Ave longer than the graduates of 2017 have been alive. However, I bet it's been a good while since you've waited the infamous wait times during dinner for this Italian treat. When was the last time you've gone and really had a feast built for a Tuscan family of 10? Do more than glance over the starters and begin your extravagant dinner with a sea of bread and cheeses that'll leave you stuffed and happy. Do DePalma's the right way, Italian style.
Rest Easy
A staycation can involve sleeping at home, but that's not really a treat. Staying at home means you are the maid, room service, the bartender, and bell boy all at once. Plus you're more concerned with the bills and maintenance than anything else when you're at home, so why not break out of your rut and into some fresh linen.  Hotel rates in Tuscaloosa drop once graduation is done with, and in the past couple of years, we've seen superior stays rise up in the skyline. Sample what it's like to really come into town, and get away from always having to make your bed for a change
Treat yo' Self
From Boutique to blissful, there are plenty of refined stays in town to feel ritzy in. With well-known names to a local hidden gem, you can really get away without the added costs of getting away.
You may forget that across the river is Tuscaloosa's most serene and eclectic resort. Filled with historic antiques collected by Jack Warner, this resort style hotel is far from the hustle of downtown and acts as a wooded oasis. Inside the cozy and charming inn features comfy rooms and unique sights like the 1850 Apothecary Room. This dining lounge is an authentic hand carved paneled room from 1850 and was found in President Grant's hometown Apothecary in Galina Il. From the Russian tea room to the gardens, this hotel is truly a Tuscaloosa experience to have.
Hard to miss as one of the recent additions to the downtown skyline, this hotel tends to be a popular choice and it's hard not to see why. The suite-style lodging and free happy hour in the bar give the hotel a sense of comfort and hospitality while being right in the center of town. The indoor pool and Side by Side restaurant all contribute to why this hotel sits as an anchor in Tuscaloosa tourism.
In the new Riverfront Village development, this boutique style hotel offers incredible views of the Black Warrior with a refined sense of modern style. With chic rooms and intimate eatery in the lobby, Hotel Indigo brings a new level of hospitality to town. Be sure to relax atop the hotel in their roof top bar with some crafty cocktails and savory appetizers as the sun sets over town.
Ball on a Budget
All over town, we have amazing hotels representing national and regional chains that offer comfort on a budget. There are so many excellent choices that will be happy to bring you a hospitable stay without breaking the bank.
However you choose to do your staycation, there is something out in town that you may have never considered trying until now. With all the growth Tuscaloosa has seen, it can be easy to feel lost in your hometown, or pushed aside during the excitement of Fall. Don't be afraid to try something new and change up how you see this amazing college town that offers so much in such little space. Leave the chores at home, silence your phone, and unplug without having to leave city limits. If there is something you've dreamed of doing that isn't on this list, and can only be found in T-Town, by all means, do it! Life is short and meant to be enjoyed, and we, by all means, have amenities to enjoy. Vacations don't have to break the bank, and there is more to the city than what meets the eye. Ask anyone who comes to visit, and they will likely share stories that you still have to try, so why not take advantage of being a local and see the other side of the city. While there is no wrong time to treat yourself, take advantage of the down times in in the Druid City and explore your local scene with the carefree attitude of a tourist!
Written By: Deven Wilson – Intern