When it comes to Tuscaloosa it's easy to find things to do no matter the time of year. Whether it's attending collegiate athletic events, experiencing a theatrical performance at the Bama Theatre, dancing the night away at the Tuscaloosa Amphitheater, or spending hours exploring our great outdoors at one of our many parks, lakes, or rivers, our visitors are always welcome with open arms and warm hellos.
Below you'll find information (and some discount codes!) for eight events in Tuscaloosa, taking place in 2023.
FIDDLE FEST – THE SOUTHEAST FIDDLE CHAMPIONSHIP
About the Fiddle Fest: Held annually on the campus of Shelton State Community College, this family-friendly atmosphere celebrates the rich sounds of bluegrass and its talented musicians. Old-time music and fiddle music have rich histories in West Alabama with many fiddlers such as Dix Hollis, Y.Z. Hamilton, A.K. Callahan, and more connected to the area. Open to the public to enjoy, contestants will compete for over $7,500 in prize money. The Fiddle Fest will feature music from Iron Horse and will also offer arts, crafts, and other activities.
Date: Saturday, February 25, 2023
Website: https://thefiddlefest.com
VISIT TUSCALOOSA HALF MARATHON & 5K
About the Tuscaloosa Half: Now in its 11th year, the Visit Tuscaloosa Half Marathon and 5k will offer runners an exciting 13.1- and 3.1-mile course that traverses the streets of T-Town. Runners will enjoy a sampling of the rolling hills along the Black Warrior River, the Tuscaloosa Riverwalk, portions of The University of Alabama campus (including a great view of Bryant Denny Stadium), and some of the City's quaint historic downtown neighborhoods. Sign up today for the largest road race in West Alabama, taking place on Saturday, March 25.
Date: Saturday, March 25, 2023
Website: https://www.tuscaloosahalf.com
DISCOUNT CODE: Receive $10 off with the registration code VisitTCL
Code expires Saturday, January 14, 2023
TUSCALOOSA GAUNTLET
About the Tuscaloosa Gauntlet: Join the Alabama Marines Foundation for their 2nd Annual Tuscaloosa Gauntlet obstacle course race. The racecourse is just a bit over the 5k distance (3.1 miles) and will feature 20+ obstacles, include a Marine regulation O-Course. This one-of-a-kind obstacle course race provides every participant a challenge worth celebrating and directly benefits the Alabama Marines Foundation. Check out this video promotion to learn more and register today!
Date: Saturday, April 1, 2023
Website: https://www.tuscaloosagauntlet.com
DISCOUNT CODE: Receive $10 off with the registration code VisitTCL
DRUID CITY ARTS FESTIVAL (DCAF) PRESENTED BY CADENCE BANK
About DCAF: What started as a one-day arts festival put together by a group of Alabama students has become a staple in the Tuscaloosa community over the past decade. DCAF's goal is to provide a quality arts and music festival, while also educating, engaging, and inspiring both youth and adults about the arts and humanities within the community. Many undiscovered artists who are now in textbooks, galleries, and museums have exhibited at DCAF over the years. Guests can expect a free two-day festival with live music, 70+ artists, and delicious local food.
Date: Friday, March 31 – Saturday, April 1, 2023
Website: https://www.druidcityartsfestival.com
TUSCALOOSA MAYOR'S CUP 5K FOR PRE-K
About the Mayor's Cup: Since 2007, over 1,000 runners, joggers and walkers have joined together each year to support Pre-K in Tuscaloosa through this annual race. Having raised almost $325,000 to provide resources for preschoolers throughout the Tuscaloosa area, the Mayor's Cup is a simple and fun way for the entire community to get together and get involved in supporting education. This 5k course highlights Downtown Tuscaloosa, parts of The University of Alabama including the Walk of Champions, and historic neighborhoods.
Date: Saturday, April 29, 2023
Website: http://www.tuscaloosamayorscup.com
WEST ALABAMA FOOD AND WINE FESTIVAL
About the West Alabama Food and Wine Festival: Benefiting the West Alabama Food Bank, the West Alabama Food and Wine Festival showcases the community's best local restaurants with tasting tables that highlight signature dishes. Wine tastings are also provided by local distributors to introduce trendy and season varietals. After such significant growth in attendance over the years, the 2023 festival will now be held in Historic Downtown Northport. This community festival is great for both residents and visitors and is put together by a wonderful group of community volunteers. Tickets can be purchased online.
Date: Sunday, April 30, 2023
Website: https://westalabamafoodandwine.org
KENTUCK FESTIVAL OF THE ARTS
About Kentuck Festival: Kentuck has a rich 52-year history as a nationally known crossroads of creativity and community. The two-day festival has its roots in folk art and features 270+ artists, live music, spoken word, activities for children, folk and contemporary craft demonstrations, food trucks, and local craft brews. This festival has been claimed as one of the "Best of Bama 2022" events by Alabama Magazine and has been featured in publications such as the Smithsonian Magazine, Southern Living, and more! Located in Downtown Northport, this is a festival that you just don't want to miss.
Date: Saturday, October 14 – Sunday, October 15, 2023
Website: https://www.kentuck.org/the-festival
AHSAA SUPER 7 STATE FOOTBALL CHAMPIONSHIPS
About Super 7: Bringing the best Alabama high school football athletes to Tuscaloosa! The Alabama High School Athletic Association Super 7 State Football Championships are one of the most exciting and highly anticipated sporting events in the state. Over the course of three days, the final two teams from each of Alabama's seven classifications will compete to be crowned as the new state champions, and in 2023 it's taking place in Bryant-Denny Stadium.
Date: Wednesday, November 29 – Friday, December 1, 2023
Below are additional resources to help you keep up with all of the fun events happening in T-Town.
COMMUNITY ART NIGHTS:
Tuscaloosa and Northport's art scene continues to grow. While there are many galleries and events throughout the year, each community is home to a monthly art night featuring artists, live music, local food, and more.
– Kentuck hosts Art Night the first Thursday of each month.
– The First Friday Art Walk is hosted the first Friday of each month at various locations in Downtown Tuscaloosa.
While this is just a highlight of events taking place in 2023, there really is no such thing as a timeout in Tuscaloosa County. Seated in the heart of West Alabama, the area offers something for sports enthusiasts, outdoor adventurers, history buffs, foodies, and for the artists at heart. Ready to plan your next trip to Tuscaloosa? Request a visitor guide today!
Take a timeout from your Tuscaloosa sports adventures and grab some grub at one of Tuscaloosa's finest sports-centric eateries!
The Historic Waysider: Best known as the place where legendary coach Bear Bryant ate breakfast (his favorite was country ham), The Waysider serves up southern meals in a historic red house near downtown Tuscaloosa. Visiting from the rival team? You can expect your pancakes to be served in the shape of an elephant.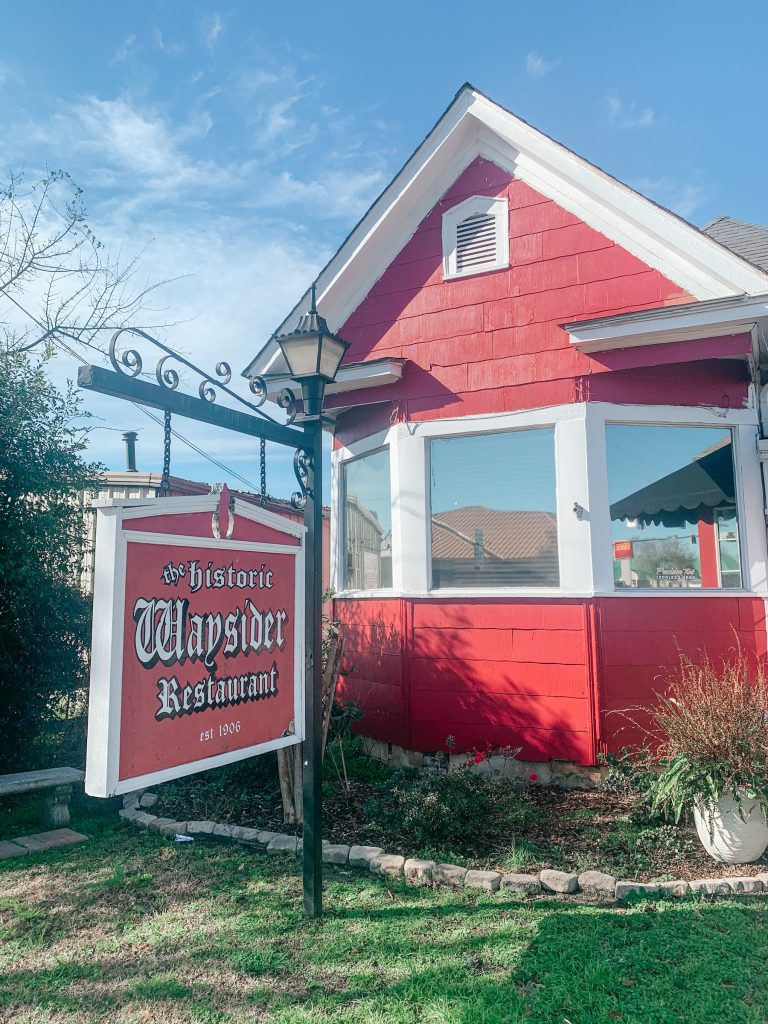 Nick's in the Sticks: No, not that Nick … Nick's in the Sticks is an iconic Tuscaloosa landmark known for delicious steaks, massive onion rings and its signature drink, The Nicodemus. Leave your mark on Tuscaloosa by adding a signed dollar bill to the ceiling.
Baumhower's Victory Grille: Owned by former Alabama star Bob Baumhower, this sports bar is home to "Hey Coach!", a live radio show broadcast from the restaurant, which allows you to get up-close with 'Bama's coaches.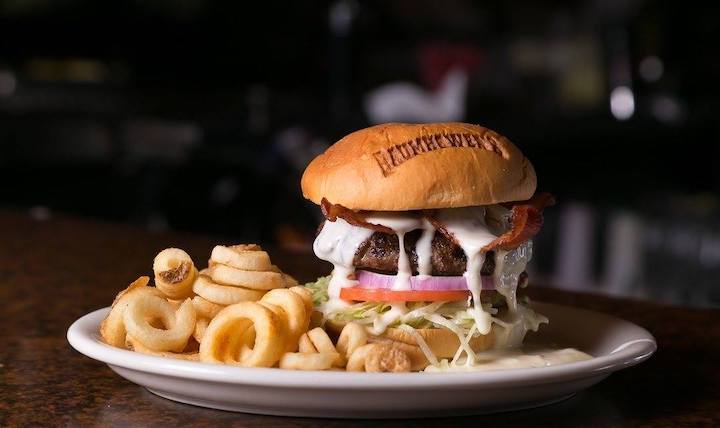 Ajian: Looking for fast-casual sushi? Try Ajian, owned by former Alabama quarterback A.J. McCaron, who led 'Bama to back-to-back national titles in 2011-12.
Rama Jama's: Located in the shadow of Bryant Denny Stadium, Rama Jama's is the place to go for fabulous food. Breakfast served all day, a wide variety of sandwiches, and the best sweet tea and milkshakes this side of heaven. Fan of a BLT? Kick off game day with a National Champion BLT – currently, that's 18 strips of bacon.
Dreamland Bar-B-Que: It all started with a dream when God visited John "Big Daddy" Bishop and told him to open a restaurant. The original Dreamland, built by the hands of Big Daddy and located in Tuscaloosa, opened in 1958. Since then, this BBQ joint has been nationally recognized for their hickory-fired ribs, white bread, and BBQ sauce. Today, the ribs are still prepared using the same technique Mr. Bishop used more than six decades ago. PS – Their banana pudding is pretty legendary, too.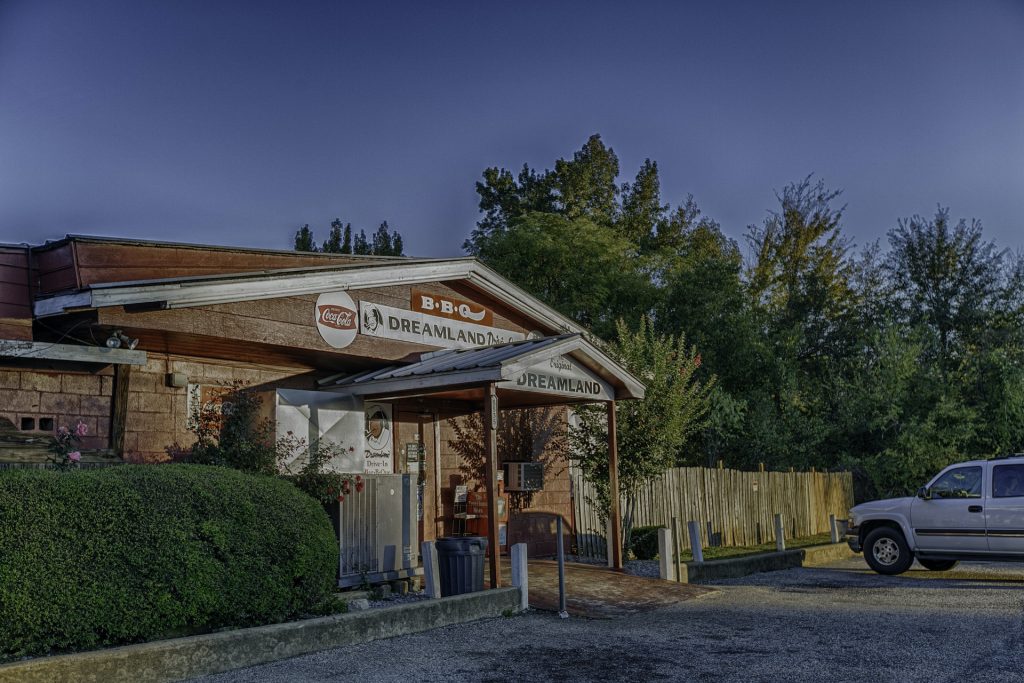 Gallettes: It wouldn't be gameday without indulging in a famous Yellow Hammer from Gallettes! This potent tailgate cocktail is served in iconic yellow plastic tumblers. While the recipe is a secret, some guess it's a mix of vodka, rum, amaretto, orange and pineapple juices.
Northport Spotlight – Billy's Sports Bar & Grill: With one location in Birmingham and their second location in Historic Downtown Northport, Billy's was designed to be comfortable. It's local's favorite spot for good food, live music, great drinks, and a relaxing atmosphere to catch your beloved sports teams on TV. During football season, Billy's offers a free shuttle to and from campus.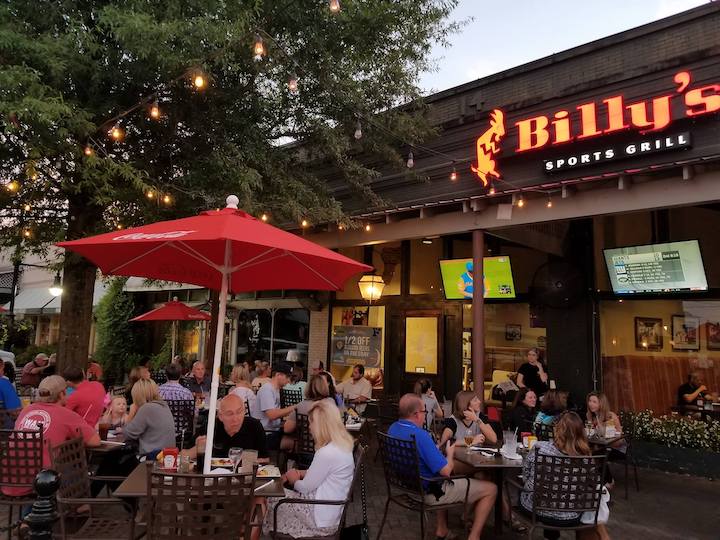 The Tuscaloosa and Northport communities are filled with incredible eateries and this is just a few of the many sports-related restaurants we have to offer! Check out our Eat page to find even more.
It is officially springtime in the One and Only and we are celebrating with a weekend full of events. Alcove International Tavern is kicking off the weekend with live music from H.A.R.D. and Seismos. Get your running shoes on because the Tuscaloosa Half Marathon is in town this weekend. Band of Brothers Brewing Co. is hosting the Alabama Blues Project. Tuscaloosa's roller derby squad the Druid City Dames begin a new season battling the Mississippi Brawl Stars. Wrap up the weekend with Brantley Gilbert at the Tuscaloosa Amphitheater. Downtown Tuscaloosa will be an entertainment district on Friday and Saturday from 11 a.m. to 11 p.m. so grab a drink and walk over to the Government Plaza for live music and much more Friday night!
H.A.R.D. with Seismos at Alcove International Tavern
H.A.R.D. (Have a Rad Day) hails all the way from Nashville, TN. Fresh off their recent single release, "Bellyacher," they're traveling south to deliver their patented brand of sweet guitar harmonies, denim jackets, and leg kicks! Come spend your Thursday evening with these talented good old boys as they blow the roof off of Alcove International Tavern. Local Support will be provided by Tuscaloosa's own, Seismos, and the cover is only $5. The music starts at 8:00 pm.
Tuscaloosa Half Marathon Expo and Race
• Come enjoy Tuscaloosa's government plaza the night before the big race for an expo with food trucks, live music, kid zone featuring activities from the Children's Hands-On Museum, and local beer! The expo is 4-8 p.m. on Friday night. Kick off the weekend with some fun for the whole family. You can pick up your race packet here, or if you aren't running the "half" just come hang out and enjoy live music by Tarred and Feathered from 6-8 p.m.
• The Tuscaloosa Half Marathon is part of a three-part rivalry series. Experience running through these beautiful cities with rich football history and receive your one of a kind Half Marathon Rivalry Series bling when you run all three races. After you complete the Tuscaloosa Half Marathon you will receive your Half Marathon Rivalry Series medal at the finish line!
Alabama Blues Project: Evening of Art & Blues 2018 at Band of Brothers Brewing Co.
Come out on Saturday, March 24th at 7 pm at Band Of Brothers Brewing Co. and enjoy another cultural explosion at the 11th annual Alabama Blues Project fundraiser! Blues and art enthusiasts are encouraged to attend this special occasion to support the preservation of Alabama Blues. This event will feature a silent auction, performances by Caroline Shines (daughter of the Legendary Bluesman Johnny Shines), and ABP Advanced Band, former students and instructors. Tickets are $25 and children 10 years old and under are free. You can purchase a ticket for the event at Band of Brothers Brewing Co., Oz Music, and Manna Grocery. For more information contact info@alabamablues.org.
Druid City Dames Roller Derby vs. Mississippi Brawl Stars
Tuscaloosa's roller derby squad the Druid City Dames are gearing up to do battle against the Mississippi Brawl Stars. This family-friendly event is Saturday night at the Super Skate on McFarland Boulevard. Doors open at 4:45 pm and the bout begins at 5:30 pm. There is limited seating, but you are welcome to bring a chair. Tickets are $10 online and $13 at the door. Visit druidcitydames.com for more information. Come out and support our hometown team!
Brantley Gilbert at the Tuscaloosa Amphitheater
Brantley Gilbert will be at the Tuscaloosa Amphitheater Saturday night. The music begins at 7:00 pm with Aaron Lewis and Josh Phillips opening the show. Brantley Gilbert is an American country singer, songwriter and record producer from Jefferson, Georgia. He was originally signed to Colt Ford's label, Average Joes Entertainment, where he released "Modern Day Prodigal Son" and "Halfway to Heaven." He is now signed to the Valory division of Big Machine Records where he has released three studio albums—a deluxe edition of Halfway to Heaven, Just as I Am, and The Devil Don't Sleep. He also wrote Jason Aldean's singles "My Kinda Party" and "Dirt Road Anthem." Visit TuscaloosaAmphitheater.com to purchase tickets to this amazing concert!
Follow us on social media (@visittuscaloosa) to stay up-to-date on important events. Tag us in your photos for a chance to be featured on our social media accounts. We love seeing Tuscaloosa through your eyes!