Adam Hollingsworth shared what he considers to be the best bass fishing spots in Tuscaloosa County during the months of April and May in Tuscaloosa County. Continue to read to learn more!
Editor's Note: The president of the UA Fishing Team with 57 members, 34-year-old Adam Hollingsworth, became a member in 2020. He was born and raised in Tuscaloosa, Alabama, and has fished the Black Warrior River since he was a child and camped at Fosters. Hollingsworth is a senior and will receive a degree in criminal justice in May, and will begin working on his master's degree. Hollingsworth served in the Army National Guard for 10 years, starting at age 17 in 2008, and was a certified law enforcement officer in the State of Alabama. He had two deployments to Iraq and Afghanistan. He became inactive military to attend college in 2019 to prepare to work with the U.S Marshal's Service after college and use his military and policing background. He rejoined the Alabama Army National Guard in October 2021. He'll continue to pursue that career path, unless he can become a full-time professional bass fisherman, which is his dream. To fish Tuscaloosa County's Black Warrior River, Hollingsworth likes Garmin's Active Captain and mentions that Navionics and Humminbird's LakeMaster are good choices.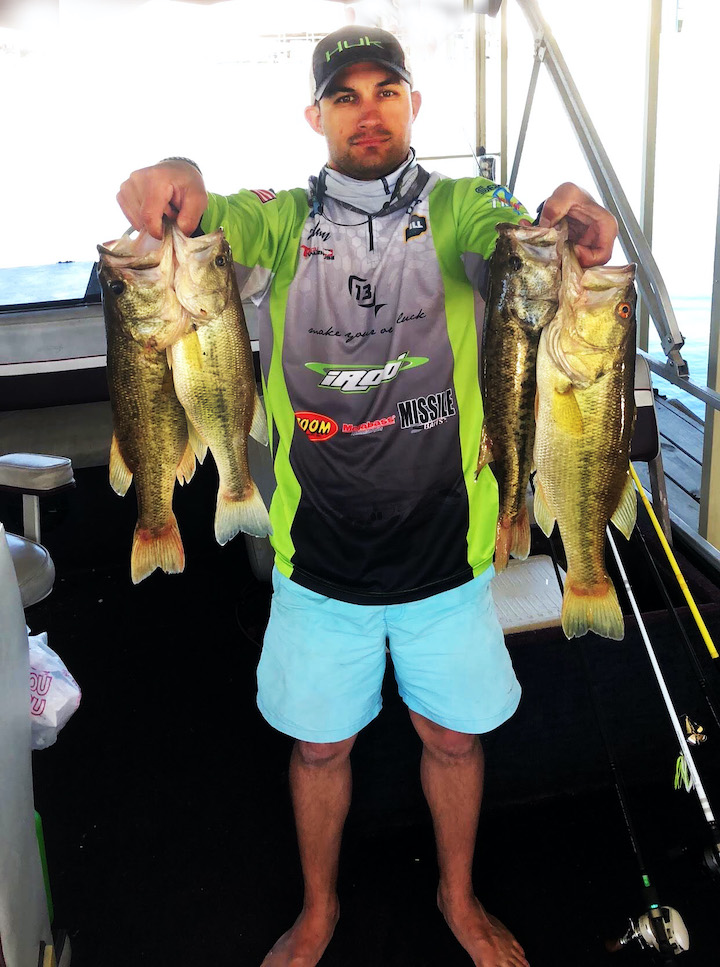 How I Fish and What I Catch at Bankhead Lake for Largemouth Bass, Spotted Bass, Saltwater Stripers and Hybrid Striped Bass
The Bankhead area of the Black Warrior River below Lock 17 is probably the best place to bass fish in Tuscaloosa County. However, cell-phone service can be spotty to non-existent there. If I could get phone service, I'd love to go up there more to fish for bass. It is important to note this because you never know what could happen to your boat and motor while in a tournament or recreational bass fishing and the challenge it may be to get in touch with someone.
BANKHEAD AROUND LOCK 17
I've seen photos of several bass caught at Bankhead below Lock 17 in the northernmost part of Tuscaloosa County that would weigh 12-pounds-plus each. If you fish below the Lock 17 dam, bed fishing should be hot in April. This is also an area where you can catch some nice spotted bass too, fishing the current coming out of the dam.
In April, I target largemouth bass around lily pads with a rubber frog. I'll also fish Yellow Creek above Lock 17 that homes nice-sized spotted bass. I'll use an Alabama rig or a small swimbait to catch both largemouths and spots there. But if you're fishing a bass tournament, you can't use an Alabama rig with its five swimbaits in most tournaments. Some tournaments do allow bass anglers to fish three swimbaits on your Alabama rig instead of five. When the water's stained, I like a pearl-colored swimbait to catch April and May bass. I also like to fish the tailrace below the Bankhead to catch saltwater stripers and hybrid stripers that will crash the Alabama Rig and a small swimbait. If you put in at a Rock Quarry on Holt Reservoir or at the landing right below Lock 17 dam and go north, you'll be at the tailrace. If the dam's not releasing much water, you can fish closer to the dam. As always, be sure to wear your life jacket to be safe.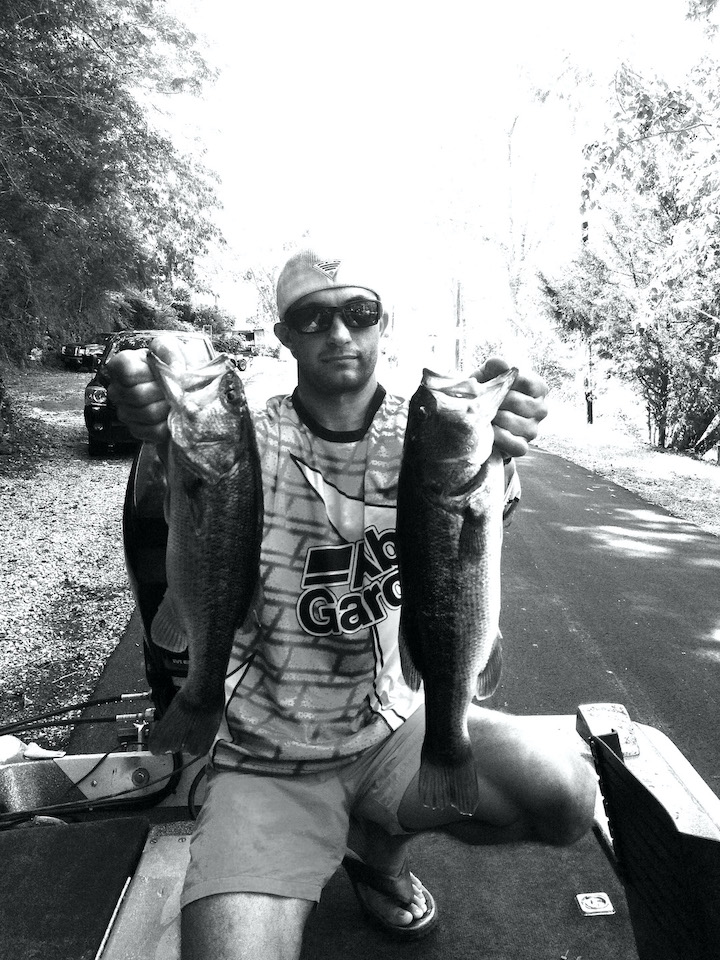 A point comes out near Lock 17 where the barges come out of the lock on the left side of the lock, as you look upriver. I'll fish the bank from that point all the way up to the lock and the spillway. Be very careful when fishing this area because the underwater rocks there can damage your motor. I've caught primarily spotted bass in this region – even some 4-1/2 to 5 pounders with 2-1/2-pound spots fairly common. I rarely catch any largemouths in that swift current. So much bait is in this area that it also attracts plenty of hybrid bass and saltwater striped bass. The biggest saltwater striper I've caught there weighed 40 pounds, and I've caught some large hybrids up there also.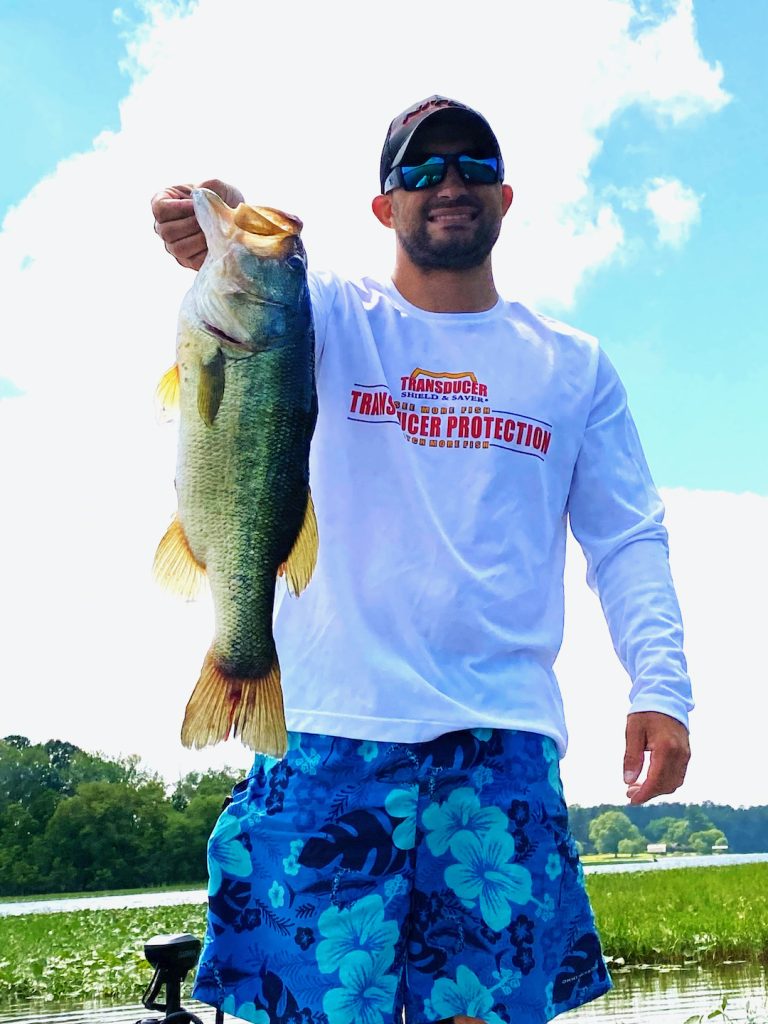 If the water is running at Lock 17, you'll lose numbers of Alabama rigs due to the many rocks in that region. When I'm fishing there, I fish with braided line instead of fluorocarbon or monofilament. In that section of the river, I'll fish a Keitech swimbait in a 3-point size on a 1/2-ounce jig head. I'll fish this swimbait on spinning tackle, cast it out and reel it back to the boat very slowly. If little current is running, your bait will sink faster to reach the target zone where the bass will be holding. If a lot of current is running, you'll have to cast the swimbait across the current and let the swimbait sink longer to reach the depths where the bass are concentrating.
You'll also find some holes in the tailrace, in the bottom at Lock 17 about 10-feet deep, and other holes even deeper. The bass sit in those holes and attack shad as they come over the lip of the break. I'll use a fluorocarbon leader to start with, but if I'm losing too-many swimbaits, I'll fish with a 15-pound-test Seaguar braid or the new Seaguar TactX Camo Braid line. What I like about this new TactX is that it's a braided line with an 8-pound-test fluorocarbon leader that comes packaged with it. I wouldn't fish a leader less than 8-pound test there because the bass in that current fight hard and can break smaller leaders.
BANKHEAD
At Bankhead, I prefer to fish with a 7' rod with 7 feet of A 15-pound-test fluorocarbon line tied to 15-pound-test braided line. I'll reel down 7' of that 15-pound-test fluorocarbon into my reel and then turn the handle of the reel until I have a 15-foot-long fluorocarbon leader. I like to cast a swimbait out and use my Garmin LiveScope to watch the swimbait fall to know when to start a slow retrieve.
Another lure I fish in the current up by the dam is a small Megabass Vision ONETEN+1 jerkbait. I'll fish it on a 6'6" or a 6'10" jerkbait rod made by iRod. In stained water, I like that lure in OB Stain Reaction or a pearl with chartreuse. In cleaner water, I prefer the Algney Bone, Natural Shad or GP Pro Blue II colors.
Where I Catch Bass at Holt Reservoir
When I fish closer to the cities of Tuscaloosa and Northport at Holt Reservoir, I like to fish Rocky Branch Creek on Holt Reservoir. The further you go back in this creek in April and May, the better the bass fishing will be. Rocky Branch Creek has a landing and a recreational area where people swim. When the bass are moving into Rocky Branch Creek from deep water for the spawn, I'll fish down the bank all the way to the back of the creek where the bass will be spawning. When they finish spawning, I'll fish along the banks of Rocky Branch and catch the bass when they're swimming back to their deep-water homes.
If you go all the way to the back of Rocky Branch, the creek splits. On the right-hand side of that creek is a deep channel, and I've caught a lot of good bass on jerkbaits there. I've also caught really-nice bass on the left side of the split. I like to fish these two splits all the way to the back of the creek where the water's running into the creek.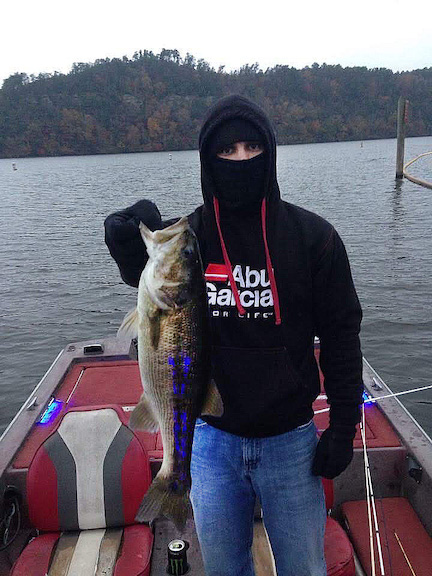 Another productive place to fish for bass at Rocky Branch is the point where those two creeks come together. I'll catch bass with a swim jig fishing that point. Also, I've caught some very-nice crappie there when fishing for bass. I caught 10 giant crappie in February 2022 while I was bass fishing. When I spotted them on my Garmin LiveScope, I thought they were bass because they were so big. The majority of those fish weighed 2-1/2 pounds, which was big for Warrior River crappie.
What About the Bass-Fishing Potential at the Warrior River Now and in the Future
I don't get to fish the Warrior River as much as I want to because of all the college tournaments I fish. I've got three out-of-town tournaments to fish in April. In an average month, I'll fish three to four tournaments on the weekends. Besides the collegiate tournaments, I'll be fishing BFL tournaments in the fall and some open tournaments as well.
The Black Warrior River in Tuscaloosa County is pretty much overlooked by most of the state's anglers, because they never see or hear anything about the quality bass fishing we have here. Most of the UA Fishing Team fishes collegiate tournaments, so they are gone on the weekend when tournaments are being held in Tuscaloosa. I think many anglers are fishing Lake Tuscaloosa, which doesn't have near as productive fishing as the river has. But they fish Lake Tuscaloosa mainly because they have cell-phone service there. If you fish out around Riverview on Oliver Reservoir, you'll have good cell service. There is cellphone service at Oliver, and I know Fosters has put in more cellphone towers.
I believe the Black Warrior River fishing from Lock 17 down to Moundville, Alabama, is a hidden gem in the bass-fishing world. If anglers had a bigger landing near Tuscaloosa and Northport where five to seven boats could put in, there would be more tournament fishing on the Black Warrior River in Tuscaloosa County than there is today.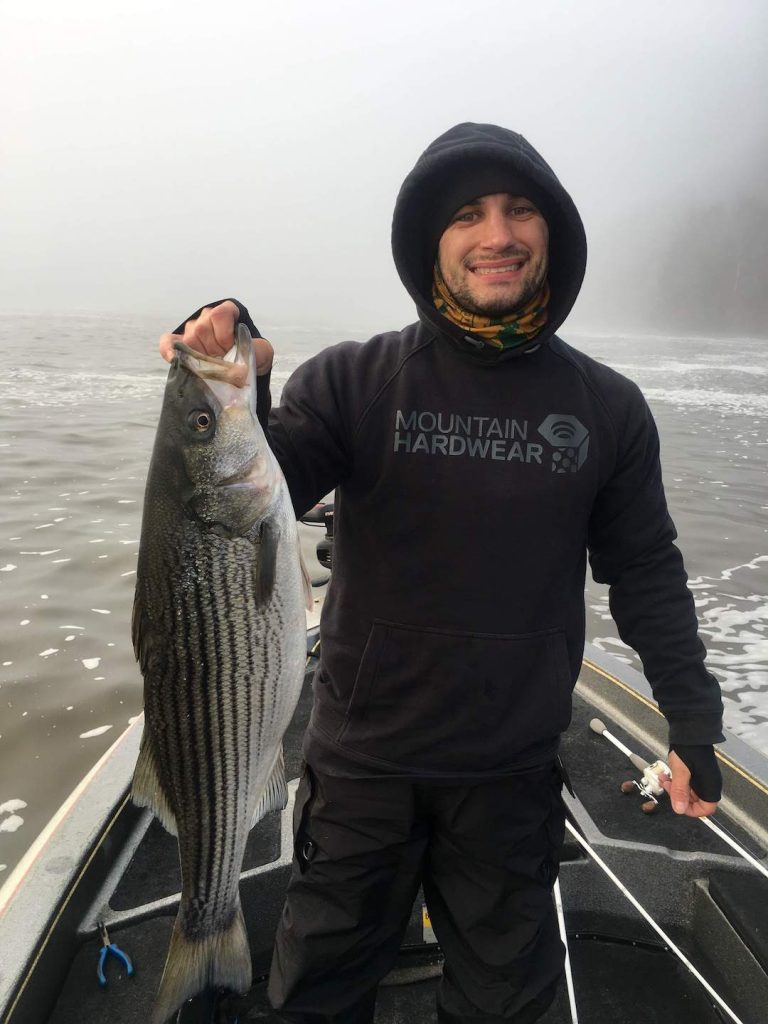 While a college town known for barbecue and big games may not sound like a place for healthy, athletic people, you'd be surprised to find just how active and healthy we can get here in the deep fried south. Tuscaloosa is a proudly named runners city with a plethora of trails and is home to some of the most flavorful healthy food in the state. With the Triathlon on the same day as Alabama Roots Fest, you'll find the city in full swing with a buzzing downtown and live music from Robert Randolph and the Family Band in Government Plaza!
Explore nature!
If you aren't used to the springs in Alabama, you might not know that the outdoors can be immaculate in April, and this weekend will be no different. From Lake Nicol's cliffs to Lake Lurleen's sandy shores, you'll feel at one with nature without having to go more than 20 minutes from downtown.
Take some tea time!
Like any college town, we have an abundance of third wave coffee shops like Monarch or Heritage House that serve some fine brews, but for those who like the serenity of a fresh batch of tea or house-made kombucha, welcome to Tea Town. Located in historic downtown Northport, Tea Town started as a tea bike at our farmers market, then became the brick and mortar hang out for live poetry and original tea mixes.
Pedal over to our bike shops!
Worried your bike needs some last minute repairs or just want to spend some quality shopping time? We have great local and regional stores to meet your needs.
Velocity Pro Cycle in Temerson Square is a fixture in our cycling community with events and races around town.
Queen City Cycles in Pinehurst is known for its quality care when it comes to bike repair. They are dedicated to the art of the bicycle, bringing a love that has really elevated the sport in our city.
Trek Bicycle Store is located in Midtown Village and offers Trek bikes and apparel along with repairs and maintenance. Perfect for those loyal to the Trek brand
I can Escher you we have good art
We have such a thriving art scene in Tuscaloosa, from our growing gallery collections to our museums there's more than enough art to go around. For some classical and historic works like original John Singer Sargent works to up and coming local artists there is truly something for everyone to enjoy.
Located in the historic district of downtown Northport, Kentuck dedicates themselves to nurturing our city's art scene. With their recently renovated space, they have constantly changing exhibits and collections that you'll find it rare to see the same thing twice. The art campus has over four buildings with free Wi-Fi to make a true art space that's open to everyone. Hours are: Tues-Fri 10 am-6 pm and Saturday 10 am-4:30 pm
A gift to the city by the late Jack Warner of the Westervelt Company, Mr. Warner was a true lover of the arts with his massive collection that he graciously donated to both his hometown and to a wing in the Met in New York, as well as his private collection in his home. The Tuscaloosa Museum of Art is on the Westervelt campus off of Jack Warner Parkway with a wide collection of original American art.
Find a Foodie Oasis
We are not without some incredible eateries in Tuscaloosa beyond the standard southern classics. With new places popping up, there is always an exciting new element to our foodie scene.
Be on the look out or follow them on Twitter to see with this beloved food truck is going to be around town. With a dedication to great local food, they offer healthier choices with some flavorful salads to more indulgent delights like their crispy pork belly with rice buns.
With options from hot chicken bao buns to their latest Japanese style pancake, there are exotic dishes inspired by the culinary world of international street food. One of their more popular dishes is their veggie burger that has people considering making the switch to living meatless with the savory treat.
We're getting ready for another great weekend in Tuscaloosa! The Alabama gymnastics and women's basketball teams are gearing up for some competitive SEC matches. Tuscaloosa native Ham Bagby returns home to jam at Green Bar, and CHOM is celebrating the Chinese New Year with arts and crafts for the children. Don't forget to tag @VisitTuscaloosa in all your photos from the weekend for a chance for them to be featured on our social media accounts.
Alabama Gymnastics vs. Kentucky
Join Alabama gymnastics for a high-energy matchup against the Kentucky Wildcats for a thrilling meet against a conference team. Take your kids and enjoy the performance by Alabama's talented gymnasts. Head to Coleman Coliseum this Friday, Feb. 16 at 7:30 p.m. to enjoy the fun. Visit rolltide.com to purchase a ticket.
Ham Bagby + The Seige at Green Bar
Ham Bagby returns to his hometown of Tuscaloosa on Friday night for a special show at Green Bar. Ham nails the southern rock vibe and actually sounds a lot like the Drive-by Truckers. Doors open at 8 pm for this 10 pm show. Tickets are $8 and you can get them at greenbarttown.com.

Chinese New Year at CHOM
Celebrate Chinese New Year at the Children's Hands-On Museum this Saturday from 10 am to 4 pm. There will be tons of creative activities for the kids to enjoy such as, making your own dragon, finding out your zodiac animal, making a mask and learning to write your name in Chinese. Bring the kids out for a day of fun!

Alabama Women's Basketball vs. Auburn
The Alabama Women's Basketball team is ready to roll against their rival, the Auburn Tigers. The action begins at 4 pm Sunday afternoon in Coleman Coliseum. Come out and support the Crimson Tide in this SEC matchup. Visit rolltide.com to purchase tickets.
There are plenty of other events going on this weekend and every weekend in Tuscaloosa. Go to visittuscaloosa.xyz/events to see them all!
LSU weekend is always a special weekend in Tuscaloosa, and this year is no different. There are tons of exciting things to do beginning on Friday at 5:30 with Tuscaloosa's First Friday Art Walk. Due to the success of the entertainment district the past few weekends, it will once again be in effect on Friday and Saturday from 9am-10pm each day. So get out, grab a drink, and explore the shops and art galleries that Tuscaloosa has to offer while you're in town for the game.
Tuscaloosa's local art scene comes alive on Friday night for the First Friday Art Walk. Experience the vibrant Tuscaloosa downtown area with drink-in-hand as you visit Harrison Galleries, the Paul R. Jones Gallery, O'Connor Art Studio and more! Check out the First Friday website and map your personalized art crawl. You may even stumble on an original Salvador Dali like we did!
Alabama has its biggest home game of the season on Saturday night when the 19th-ranked LSU Tigers come to town. Alabama is a 21-point favorite, but this is a rivalry where truly anything can happen. Alabama has beaten LSU six games in a row –including the national title game in 2011 – and LSU will once again be looking for revenge under the lights of Bryant-Denny Stadium. The game kicks off at 7:00 p.m. and will be televised by CBS.
Have you ever wanted to learn how to brew your own beer? Join Band of Brothers Brewing on November 4th at 1: 00 p.m. when The American Homebrew Association will be on site for Homebrew day! Learn to Homebrew Day brings together thousands of people from all over the world, and we encourage anyone who enjoys beer—from brewing beginners and hobbyists to professionals, to get involved," said Gary Glass, director, American Homebrewers Association.
The Children's Hands-On Museum always has something for the kids on Saturday, and this weekend is no different. Join them for River Discovery Days Saturday, November 4, 2017, from 10:00 a.m. to 4:00 p.m. as "Riverboat John" Ferguson performs with songs and stories about life on the River! Kids will learn about careers on the river, how to be a Captain, Navigator, Deckhand and more as they trace U.S. rivers, learning and having fun along the way.
Alabama football isn't the only sport in action this weekend. Come cheer on the Alabama volleyball team as they take on Georgia Sunday at noon. The Tide are looking to bounce back from a loss to Auburn against a good Georgia team that they've already beaten once this season, so it's a good opportunity to get their mojo back.  The match will be in historic Foster Auditorium which is a great venue to watch Crimson Tide volleyball.
We have tons going on during the upcoming holiday season, so make sure to check out our great upcoming events and follow us on our social media pages (@visittuscaloosa) for more announcements. Tell your friends and we can't wait to see you around the One and Only Tuscaloosa!
Also, check out our Gameday Fashion Blog for some great places around town to pick up your perfect gameday outfit.
In the One and Only Tuscaloosa, there are so many places to go and things to see. These 10 things are popular among the locals and won't break the bank. So take a chance and try something new!
1. Children's Hands-On Museum (CHOM)
This museum has been providing children with fun activities and events since 1984. There are three floors of fun for children of all ages. The Great Pumpkin Party and the Monster Walk Scavenger Hunt are two events that are happening soon. Admission is less than $10! CHOM is a great place to take the kids and enjoy a day of fun!
2. Paul W. Bryant Museum
This museum is a blast from the past! Check out over a hundred years of Crimson Tide memorabilia and football history. Visit the Paul W. Bryant museum to see what it takes to be "nothing but a winner." Admission is $2 for adults and $1 for children.
3. Arboretum
If you're a dog lover then the arboretum is the place for you! The arboretum is sixty acres of the great outdoors. Check out the dog park, community garden, as well as the hiking trails. The best part is that it is completely free!
4. The Waysider
Take a trip to Paul "Bear" Bryant's favorite breakfast destination. It truly is the breakfast of champions. The restaurant is packed with decades of Alabama memorabilia. The Waysider offers made-from-scratch biscuits and gravy all for just under $3!
5. Homegrown Alabama Farmers Market
Edit: We regret to inform you his event will no longer happen. If you are interested in farmers' markets in Tuscaloosa then check out the Tuscaloosa Farmers' Market at the River Market.
6. Babes Donuts
A family-owned breakfast, brunch and coffee business located in Downtown Tuscaloosa. The menu features gourmet doughnuts unlike anything else you'll find in town. Flavors include: bacon maple, sourdough, Reese's Peanut Butter, Heath Bar sprinkle, Captain Crunch, Fruity Pebbles, S'mores, red velvet, blackberry cream cheese and others. Seasonal offerings can range from King Cakes during Mardi Gras to candied blood oranges. Stop by and grab a treat for under $10.
7. Steel City Pops
Nothing is better than a Steel City Popsicle on a hot Alabama summer day. They have many flavors to choose from, so there is a flavor for everyone. Flavors include: Arnold Palmer, Bosc Pear with Honey, Champagne White Tea, Cinnamon Apple, Cranberry Orange, Lime, Plum with Rosemary, Pomegranate, Strawberry Fig, Strawberry Lemonade, Avocado, Buttermilk, Carrot Cake, Chocolate, Coconut, Coffee, Maple Bacon, Bourbon, Pumpkin, Toasted Marshmallow, Vanilla Bean. All popsicles are $4.49 and under.
8. Black Warrior River
The Black Warrior River is absolutely stunning and the perfect place to go on a hot summer day. You can cast a line and catch some fish or bring your own boat and cruise the water. The Black Warrior is also perfect for paddle boarding or just floating down the river. Don't feel like getting in the water? That's fine because the Tuscaloosa River Walk runs along the river and offers beautiful scenery. It's the perfect place to get some exercise or take your dog for a walk.
9. City Café
For decades, locals and students alike have enjoyed the homemade cooking served up at City Café. At lunchtime, this restaurant is packed with locals stopping in for a tasty meal at a reasonable price. Stop in and enjoy a meat and three for under $10. You won't be disappointed, it's just like mama makes it.
10. Gallette's Yellowhammer
Stop by Gallette's and sip on a Tuscaloosa favorite. People from all over the United States have enjoyed Yellowhammer's from the One and Only Gallettes while in Tuscaloosa. The Yellowhammer is a staple on gameday at the University of Alabama. Their yellow cup is a popular accessory for the Crimson Tide fans walking around the quad. Visit Gallette's and try one for yourself.
Written by Rachel Horton
Another big weekend in Tuscaloosa is around the corner. Eric Church, The Black Jacket Symphony, and Alabama football headline a slate of exciting events. An entertainment district will be in effect in the downtown area on Friday and Saturday from 9 a.m. to 10 p.m., so feel free to grab a drink and visit some of Tuscaloosa's great downtown shopping locations.
You can kick off your weekend this Friday at the Tuscaloosa Amphitheater with country music mega-star Eric Church. Church will be continuing his tour playing hits like "Springsteen" and "Talladega". The event will take place rain or shine and will be one big party, so get ready for a good time.
The Tuscaloosa Amphitheater isn't the only ones putting on a concert on Friday. The Bama Theatre is presenting the Black Jacket Symphony as they perform a note-for-note rendition of the Grateful Dead's classic album American Beauty. You are sure to hear favorites like "Friend of the Devil," "Truckin'," and "Brokedown Palace." The Black Jacket Symphony will begin at 8 p.m. with doors opening at 7 p.m. Between these two concerts, downtown Tuscaloosa will be an exciting place to be on Friday night.
Kids will have plenty of exciting things to do this weekend as well. The Children's Hands-On Museum will kick off Saturday with Nickelodeon Worldwide Day of Play from 10 a.m. to 4 p.m. Special games and fun activities will be available throughout the museum for kids of all ages to enjoy.
Bryant-Denny stadium will turn on their lights Saturday evening as Alabama faces the Colorado State Rams in a 6:00 night game. Alabama comes in 2-0 after decisive victories over #10 Florida State and Fresno State. The Crimson Tide are a 28.5 point favorite, but the Rams have an offensive system that keeps Alabama on their toes.
Wrap your weekend on Sunday up with University of Alabama soccer action as the #19 ranked Crimson Tide square off against Chattanooga. The 7-1 Tide are on a five-game winning streak after a win over Tennessee Tech and will look to keep rolling this Sunday evening. The match will begin at 5 p.m. on inside the Alabama Soccer Complex.
We have tons more going on so check out our great upcoming events, and follow us on our social media pages (@visittuscaloosa) for more announcements and events. Tell your friends and we can't wait to see you around the One and Only Tuscaloosa!
We're gearing up for another great weekend in Tuscaloosa! Start your weekend early tonight across the river at Kentuck Art Center! Kentuck is hosting their monthly Art Night! This month will feature the opening reception of "The Seven Deadly Sins" and artist talk with fiber artist Yvonne Wells in the Museum Gallery! You can lose yourself to dance as a band plays throughout the night, eat a cob oven pizza, and then top it off by learning more about Charlie Lucas as he discusses his art and answer questions!
It wouldn't be a complete weekend in Tuscaloosa without a great artist coming through town! Clint Black will be performing at the Bama Theatre Friday night! You can enjoy a rare, intimate evening with the man who has sold more than 20 million albums worldwide. Raised in the suburbs of Houston, Texas, Clint Black is the youngest of four brothers. He began performing with brother, Kevin at the family's backyard barbecues. After high school, he worked construction for a year and spent 10 years on the local nightclub circuit. He auditioned for a Nashville recording contract in 1988 and has been playing nationally ever since!
Crimson Tide football is back in Tuscaloosa this Saturday as Alabama takes on Fresno State! After a big win in Atlanta against Florida State, Alabama will be looking for a tune up before getting into SEC play. Alabama football, which was inaugurated in 1892, ranks as one of 10 winningest programs in US history and they don't plan on changing that anytime soon. You can also enjoy events like the Elephant Stomp, the Walk of Champions, and check out the Bryant Museum or grab a drink at Gallettes while you're in town for the game!
Finish your weekend off at the 5th Street Vintage Market! 5th Street Vintage Market is now held four times a year, rain or shine.  Markets are Sundays, 10 AM to 4 PM. Admission is free and concessions are available on site. Curated by This Ol' Thing Vintage, Grace Aberdean Habitat Alchemy, and DJ Tom Kat Kitten, 5th Street Vintage Market brings a one of a kind shopping experience to the area. We will feature many dealers from the region who specialize in vintage and handmade items, artworks and vinyl records! Prices for market goods can range from a few dollars to several hundred. While some vendors can accept credit cards, most require cash payments.
We have tons more going on so check out our great upcoming events, and follow us on our social media pages (@visittuscaloosa) for more announcements and events. Tell your friends and we can't wait to see you around the One and Only Tuscaloosa!
The One and Only Tuscaloosa is packed with great events this weekend! Kick your weekend off early with Kentuck tonight as they host their Art Night! You can lose yourself to dance as a band plays throughout the night, eat a cob oven pizza, and then top it off by learning more about their featured artist, Bryce Speed as he presents his paintings titled "Bury the Hatchet". This monthly event is always a huge hit as you can enjoy local artists under the trees in their beautiful courtyard!
The art continues into Friday as Tuscaloosa's art galleries, studios, and other local businesses open their doors for the First Friday Art Crawl! The Historic Drish House is putting on a beautiful event for First Friday as they exhibit ceramic sculpture by Mallorie Roberts. Find more art downtown in places such as the Dinah Washington Cultural Arts Center and Harrison Galleries. At Harrison Galleries, you can find incredible work by Daniel Livingston and observe it while eating catered food from Five Bar and listening to a fantastic jazz trio!
Also on Friday night is the legendary Kenny Chesney as he takes the stage at the Tuscaloosa Amphitheater! Kenny Chesney released his first album in 1994 and hasn't slowed down since with 20 albums to date! With more than 40 top 10 singles and 29 reaching number one, he is definitely a can't miss artist! Kenny will be bringing along special guest Midland who have only released one single to date. Not only will Kenny Chesney be there, but also a band that can see their stock rising fast!
Like every weekend, the Farmers Market will be taking place at the Tuscaloosa River Market Saturday morning! Vendors set up ripe red tomatoes and famous Chilton County peaches. Musicians sit propped up against the door, playing guitars as you walk in, and freshly brewed iced tea is for sale to help battle the heat! Additionally, local Food Trucks, bakers, artists, and craftsmen gather here to sell their gourmet grub, fresh-baked yeast rolls, homemade jams and jellies and hand-carved cutting boards. Popular summer foods include tomatoes, Chilton County peaches, squash, corn, and local honey!
Wrap things up Saturday with the kids! The Children's Hands-On Museum will be hosting their Summer Fiesta! Complete with fiesta food, music by DJ Chuckie, folklore, and crafts, this event will be a blast for kids! All of CHOM's events are included in admission so there's no need to worry about extra fees. If you like keeping the kids busy, this is the event for you!
We have tons more going on so check out our great upcoming events, and follow us on our social media pages (@visittuscaloosa) for more announcements and events. Tell your friends and we can't wait to see you around the One and Only Tuscaloosa!
There have been some incredible weekends in Tuscaloosa recently and this one is no different! Kick your weekend off at Green Bar this Thursday as they play host to "The Hollows"! When the first notes reach your ears, whether from a sweet and breezy mandolin, a whiskey-tuned banjo, or an unrepentant guitar, it will seem to you that the sound of The Hollows is uniquely New York: a contradictory, harmonic melting pot that takes all of its roots, twists them around, and produces something else, something new. This scruffy ensemble of multi-instrumentalists might just as soon swap glockenspiels, trumpets, and harmonicas as plug in a squawking electric guitar or an airy, spacey synthesizer. The result is a veritable junkyard of instruments and musical personalities, a carnival on wheels, a one-man band in six bodies that owns the stage with all the mobile, rhythmic ease of a seasoned railroad gang!
Keep the music going this Friday at the Government Plaza in downtown Tuscaloosa for "Live at the Plaza" featuring Tarred & Feathered! A perfect event for families and friends alike, it will be complete with great music, delicious food, and tasty drinks! Tarred & Feathered is a cover band made up of old buddies who love playing live music together and have unique ways of covering the old & new favorites with a raw but full sound. With three-part harmony, they ensure their covers never fall flat!
Get ready to rumble on Saturday as the Druid City Dames host their first ever home bout in Tuscaloosa! Roller Derby is surely a sight to see and if you're unfamiliar with it, here is a brief description: Roller derby is a contact sport played by two teams of five members roller skating in the same direction around a track. Gameplay consists of a series of short matchups (jams) in which both teams designate a jammer who scores points by lapping members of the opposing team. The teams attempt to hinder the opposing jammer while assisting their own jammer—in effect, playing both offense and defense simultaneously. Head out to the Super Skate on McFarland Blvd and watch the ladies of Druid City Dames as they look to take down the Southern Harm Derby Dames!
If roller derby isn't quite your cup of tea, you can catch Tyrese as he performs at the Tuscaloosa Amphitheater! In 1998, his self-titled album went platinum with the singles Nobody Else, Lately, and Sweet Lady, earning him his first Grammy nomination for the Best R&B Male Vocal Performance! He became busy with TV and film roles before releasing other popular albums in between 2002 and the present. He is also an accomplished author, and will be releasing his third book soon! This soul filled Amphitheater is the place to be this Saturday so don't miss out!
Finally, wrap up your weekend with Band of Brothers Brewing Co. as they host "Trucks by the Tracks"! All of the local food truck favorites like Local Roots, Archibald & Woodrow's BBQ, SouthFresh Mobile Catfish Kitchen, Pastor's Kitchen, Get Mix'd and more! great beer, live music, and good company – who could ask for more?
We have tons more going on so check out our great upcoming events, and follow us on our social media pages (@visittuscaloosa) for more announcements and events. Tell your friends and we can't wait to see you around the One and Only Tuscaloosa!
Father's Day is fast approaching and if you're having trouble thinking of the perfect way to celebrate your dad this year, we've come up with a few suggestions we hope will help.
1. Golf at Ol' Colony Golf Course
What dad doesn't love to golf? This Father's Day hit the course with your dad and relieve a little stress. Spend the day bonding over 18 holes, and learn some pointers from the old pro. If 18 holes sounds like a bit too much, you and your dad can choose to enjoy 9 holes, or just a basket at the driving range instead. Either way, golf is a great excuse to spend time with your dad and pick up a few tips to improve your game.
2. Take a shot at Tuscaloosa Shooting Sports
Tuscaloosa Shooting Sports just opened in 2015 and has been a hit with Tuscaloosa's residents ever since. The facility features driving ranges from 50 to 300 yards and 20 covered shooting positions. If this isn't enough, there is also four handgun bunkers with two metal targets. Whether your dad is an expert with a firearm or just beginning, the range has everything he needs to sharpen his aim. This is the perfect way to enjoy a little friendly competition with your dad this holiday.
Let your old man take a break from the grill this Father's Day and head over to The Avenue Pub for a meal cooked up by the experts. The Avenue Pub's Bacon Burger has made headlines all across the state of Alabama and it will definitely entertain your dad's taste buds this weekend.
With the relaxed atmosphere, delicious food and endless beer list, your dad will savor the opportunity to let someone else work the grill and pour the beer,
4. Fish for dinner at Lake Tuscaloosa
Lake Tuscaloosa is home to hundreds of aquatic wildlife and the perfect place to cast a line this Father's Day. You and your dad can look for a secluded spot along the banks of the river or rent a canoe, kayak or even a pontoon boat to float in while you hunt for some dinner.  Take your dad and take a break from the city crowds this holiday, and enjoy a peaceful afternoon catching fish and floating along.
 5. Take a flight at Loosa Brews
Let your dad be the beer enthusiast that he is and take him for an enjoyable evening at Loosa Brews. He can choose from over 60 craft beers, most of which are brewed in Alabama. If he's in the mood to try several he can order a flight, and if he really wants to heighten the experience, he can indulge in some competition with arcade games such as pinball, ring toss, and ping pong. At the end of the night, after he beats you in all the arcade games, you can reward him with a growler of his favorite beer.
And because we couldn't just stop at five and leave out one of the best events of the entire weekend, we've added one more to the list.
6. Super Dad Day at Children's Hands-on Museum
If you've got small kids and need a way to make Father's Day special for both Dad and kids, this event is perfect. Take them to Super Dad Day where the kids can dress up in their favorite costumes, make gifts for Dad and meet Batman. This is the perfect event for Dad's who just want to spend the holiday with their little ones.
We're gearing up for another great weekend in the One and Only Tuscaloosa! Kick your weekend off a little early and join a family fun night of local and nationally acclaimed tap dancers this Thursday! "Tap into the Night" is produced and directed by Gregg Russell, emmy nominated choreographer and founder of L.A. based Tap Sounds Underground. Gregg has worked with such stars as: Bette Midler, Gene Kelly, The Nicholas Brothers, Michael Jackson, Gregory Hines, and Kenny Ortega. It's not every day that you can watch world class tap dancing in Tuscaloosa which makes this a program you shouldn't miss out on!
Friday night you can catch "Mulan" by the Actor's Charitable Theater! The Summer Camp program will be presenting this play all weekend long at the Bama Theater! For those who haven't seen the famous Disney movie, the story starts soon after the Huns have invaded China, and it is up to the misfit Mulan and her mischievous dragon sidekick, Mushu, to save the Emperor! Defying the village matchmaker, Mulan takes up arms and disguises herself as a boy in order to spare her father from having to serve in the army. As the great battle with the Huns approaches, Mulan must choose between revealing her true identity as a girl or saving all of China with her clever plan.
Kick off your Saturday with the Tuscaloosa Farmers Market! Located at the beautiful Tuscaloosa River Market, you can find anything from the famous Chilton County peaches to freshly brewed iced tea! Musicians sit propped up against the door, playing guitars as you walk in and put together a great atmosphere as you shop for your produce. Additionally, local Food Trucks, bakers, artists, and craftsmen gather here to sell their gourmet grub, fresh-baked yeast rolls, homemade jams and jellies and hand-carved cutting boards. Popular summer foods include tomatoes, Chilton County peaches, squash, corn, and local honey!
You can wrap up your weekend with Band of Brothers Brewing Co. this Saturday as they welcome Earl Guitar Williams & The Juke Band! Known in and around his hometown of Bessemer, Earl Guitar Williams is no stranger to blues lovers. He is recognized for the electrifying sound of his guitar and harmonica. Earl discovered his interest in music at the tender age of seven, and crafted his own guitar by using a cigar box, broomstick, and fishing cord. This marked the beginning of Earl's musical career. At the age of nine Earl became a regular fixture on the porch of Mr. Gip, now a backyard juke joint in Bessemer, Al. Earl currently plays in numerous venues and with various blues artists!
We have tons more going on so check out our great upcoming events, and follow us on our social media pages (@visittuscaloosa) for more announcements and events. Tell your friends and we can't wait to see you around the One and Only Tuscaloosa!
According to reliable sources, there are almost 20% children living among the Tuscaloosa population – which is more than you think! The city has countless schools and daycares, so we know where the little ones spend their time while the parents are at work, but what about the more fun parts of the day, free time and weekends? Playing in the own backyard or doing sports activities is already fun, no question. Now, how about something more special for your kids to spend their precious free time? Tuscaloosa provides tons of amazing places and activities that are children-friendly!
It should be pretty safe to say that all children love animals. Maybe yours are lucky and have a dog or a cat around the home, but when do they have the opportunity to experience all kinds of other animals, too? There is a unique and amazing place in Tuscaloosa that makes it possible: The Tuscaloosa Barnyard! At this petting and fun farm 30 minutes outside of town, you can get in touch with bunnies, ducks, lambs, ponies, pigs and many other cute animals! It also provides a pool, a splash pad, wagon rides and more. During the summers, the Barnyard even turns into a summer camp!
2. The Children's Hands-On Museum
You can't start early enough to introduce your kids to arts and culture! "CHOM" is where children explore, create, and discover every time they visit. This unique museum in downtown is tailor made for the little ones, to introduce them to arts, crafts, and exciting exhibits in an interactive and exploring way! It provides fun for kids of all ages and they will never ever get the idea of calling a museum boring afterward!
If you are looking for some indoor fun instead, you should check out the bowling alley Bama Lanes on 15th Street! They help kids of all ages to get familiar with the balls, even the very little ones. Whether you rent a couple of lanes for a birthday party or just play on a random day, there's always a good time ahead at the bowling ally! And if anybody gets hungry, just grab something to eat right on site. Pause your game to enjoy burgers, wings and more at their amazing grill, or take your snack popcorn to the lane and let it support you while you take on your kids for 10 frames!
As the days are getting hotter, it's a good idea to look for some water to cool off! Did you know that there is a great beach just a few miles outside of town? The beautiful Lake Lurleen offers not only campsites, fishing, and paddling board rentals – it also provides a sandy beach that children love! The water is clean and refreshing, and there is a sectioned off zone in which it is absolutely safe to splash and swim. The sand is also a perfect playground! On site, you can also find bathrooms and some picnic tables to rest, eat and gain some new energy. Drive out and enjoy a one-day beach vacation!
Last but not least, go back to that old-school excitement of childhood summers bouncing around at Upsurge. Jump from each trampoline inside the giant warehouse with obstacle courses and deep foam pits to try to escape. Not only will your kids love it, but they will also wear you out as you jump along with them! It's the ultimate adventure for you and your children and right down the road!
Written By: Katharina Horvath – Intern