Where to Find Summertime Bass in Holt Reservoir with Adam Hollingsworth
Editor's Note: Adam Hollingsworth is the president of the University of Alabama Fishing Team and explains, "I went back to college because I spent the first years of my life after high school in the military and as a police officer. I eventually want to be a U.S. Marshal. I currently have a degree in criminology and plan to start my master's degree at the University of Alabama in the fall of 2022." 
If you put your boat in at Rock Quarry Boat Ramp and go north, away from Holt Dam, you'll go around a bend, then on up a straightaway, and at the next opening on the right, that will be Pegasus Creek. You'll see a point and a shoal at the mouth of the creek. Bass like to stack-up at that point during the summer months. There's a main channel in this creek and two secondary creeks that feed into Pegasus on the right as you go up the creek. Then, you'll see that Pegasus opens-up into a big flat. Often, the bass will stack-up in those shallows chasing shad. You can catch bass on that bank. The main part of the channel is about 15-feet deep in the summer, and I'll primarily fish a Rapala DT-6 or a DT-8 crankbait there.
Less than a mile from Pegasus Creek, continuing north on the left-hand side of the river, you'll see plenty of grass that's a productive place to fish for bass, if the current is running and pushing the bass into the grass there. An underwater stump field is in that grass, and I usually come off-plane, so I won't hit those stumps. You can fish the grass and the stump row all the way down that grass line for bass.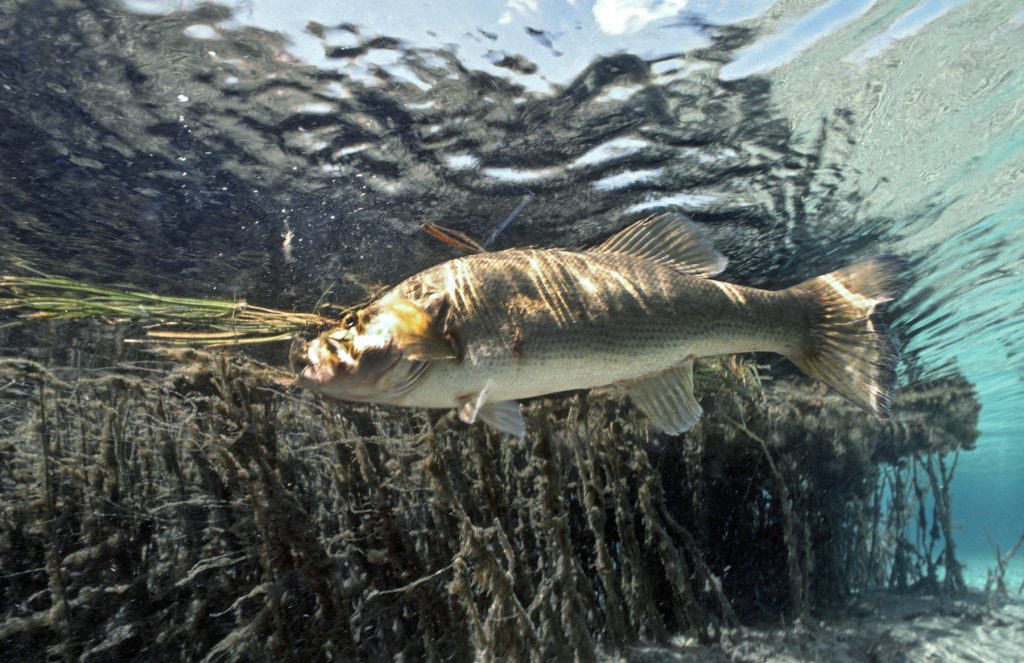 The next-productive spot I like to fish is about 2-miles upstream at Davis Creek – on the right-hand side of the river. I think that Davis Creek may be fed from a cold-water creek because there's usually a lot of clear water there. If the river's muddy, you can go into Davis Creek and identify where the muddy water and the clear water start to mix. A small ledge right at the mouth of Davis Creek is where the two, different-colored waters often mix. That's where I like to cast a crankbait. After I fish that area, I'll go up into Davis creek and start fishing a swim jig. 
When you come out of Davis Creek and go north, be sure to run your side-scan sonar to learn where old Lock 16 was located. Or, you may be able to find this old dam with your lake map or other up-to-date mapping functions. There are all types of underwater rubble where the dam blew out. You can fish the upcurrent side or the downcurrent side of old Lock 16. I like to fish with a jerkbait there. I've also enjoyed some really-good action fishing at night around this underwater dam.
You can tell when you're getting close to old Lock 16 because a boat ramp is on your right with a small swimming area. You can see some concrete on the right-hand side above the swimming area that once was a part of the old lock and dam. On the left-hand side is some concrete leftover from the bridge that was once there. The underwater rubble from Lock 16 is about 16- to 25-feet deep that provides an underwater current break where the bass like to hold and ambush baitfish as they come over the top of the underwater dam. I've caught spotted bass before in the middle of the dam at old Lock 16 and largemouths on either side of the dam near the bank.
When you leave old Lock 16 and continue upriver, you'll see Lock 17. When the power plant at the dam is generating current, that's when you can fish that current and catch some very-nice spotted bass.