Unusual Cold Front Doesn't Stop Local Bass Angler
Unusual cold front doesn't stop bass angler Adam Hollingsworth and Outdoor Writer David Rainer
Editor's Note: On a spring trip to Holt Lake on the Black Warrior River in Tuscaloosa County, Adam Hollingsworth, captain of the University of Alabama's Fishing Team, was guiding David Rainer with Alabama's Department of Conservation went bass-fishing on the Black Warrior River. They weren't able to get started until 9:00 am, so they missed the early-morning bite. However, perseverance and bulldog-type attitudes allowed them to find bass, get photos and enable Rainier to get his story on fishing this section of the Warrior River. 
Adam Hollingsworth explains: 
How the Bassing Day Started:
We put in at Rock Quarry Landing on Holt and went north all the way up to Lock 17 Dam, which is the tailrace of Bankhead Lock and Dam. We found a few bass holding in the grass, but we had a tough time catching those fish – even though we saw them on my Garmin LiveScope. I know many anglers don't understand the value of LiveScope, but as a tournament fisherman, I've learned to use it to find bass and hopefully catch them. However, just because I can see them on LiveScope doesn't mean those bass will bite. I much prefer to catch bass that I can see either with my eyes or electronics than to cast to spots where I only hope there's a bass.
We tried fishing a point below the grass, but we didn't see any bass or get any bites. We went across the lake and fished the rock wall there, where a current was being generated by the power plant. Because of recent rains, a strong current was coming out of the hydroelectric power plant, and I thought that the current might have moved the bass further down the lake. These places were where I'd caught bass before, and I strongly believed that we would catch bass there on this trip. But, since the water and bass conditions had changed, I knew we had to switch tactics to find the bass that day, instead of continuing to fish the sites where I'd caught bass upriver in the past.
We moved down to mid-lake and went past Davis Creek and around one of the bends before pinpointing a small point that turned into another creek. The creek didn't have a name, but we went into it, and saw bass on my LiveScope and shad on which the bass were feeding. The water temperature was about 68 degrees in most places, and in some, it was 70 degrees. 
We went to a little grassy spot further down the lake and had one bass follow my lure. But the fish wouldn't bite it. I was fishing with a jig, while David Rainer was fishing with a spinner bait. I swam a jig down beside a log, and a bass then came out and followed my jig but stopped. Then that same bass came out from under that log and followed David's spinner bait, tapped it but didn't get it in its mouth.
How We Fished for Bass at Pegues Creek:
As we went back down the river toward Rock Quarry Landing, we spotted an area with a number of docks. I tried a jerkbait and several other lures but couldn't get another bass bite. Therefore, we went down the river to Pegues Creek. The weather was really getting hot, so we pulled up to a dock where we had some shade, took a break, ate our lunch and did our interview. I told David, "We're going to the back of this creek. Generally we can catch some bass there."
We started fishing the back of Pegues Creek and spotted another angler who was fly fishing. He told us, "The bluegills are really hitting, but I haven't caught a bass." We noticed that the water there was cleaner than it had been on the river. We met yet another bass fisherman, who had spotted some bass in another section of the creek. He'd hooked a bass on the bed but didn't land it. He said he had some bass following his swim jig that wouldn't take it.
Next we went to the opposite side of the creek to keep from interfering with that angler's fishing. I changed baits from using a white swim jig and/or a black-and-blue swim jig to a color that better imitated a bluegill. I went around a point headed to a secondary creek, and a bass took my bait around the rock wall bluff. Even though the bass only weighed about 1 pound, that fish told me that the bass were on a bluegill bite. I kept casting that bluegill-colored swimbait, and David continued to cast his spinner bait. We saw some big bass in Pegues Creek that were on the beds, but they just didn't want to eat our baits. I had a few more bass follow my bait, and some smaller bass attacking it. I told David, "Let's go fish some sand."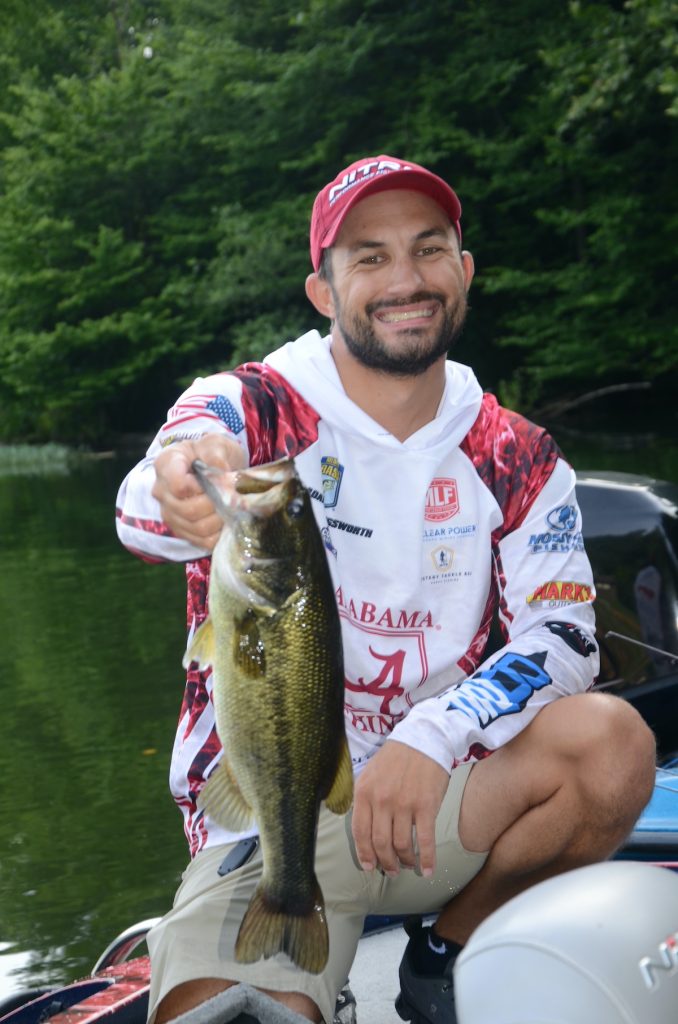 What We Learned at Redeye Creek:
We headed to Redeye Creek by turning left out of Pegues, going upriver toward Rock Quarry, and passing a little creek mouth where I always had success in finding and catching bass. This little creek is right at the coal chutes that bring the coal from the land and load it into the barges. This is a cold-water creek and has a little sandy shoal on it.
The first time I cast my jerkbait out, I caught a 2-pound, spotted bass. I used my LiveScope to scan that shoal and saw that there were several spotted bass holding in that area. Two casts later, I caught another spotted bass. We went to the back of this creek where the water was very shallow. Although I had bass following my jerkbait back to the boat, they wouldn't attack the jerkbait.
What We Learned at Daniel Creek:
We came out of Pegues and went downriver to Daniel Creek to the Warrior Met Coal Barge Loadout. Although this little creek had been shallow in the past, as I looked at it with my sonar, it apparently had been dragged and was now deeper than it had been in the past. I cast my jerkbait into the mouth of the creek and used a jerk-jerk-pause type of retrieve. A bass drilled my jerkbait. I could tell it was a really-nice bass, but it pulled off my lure before I could get it in the boat.
We went some further, and I caught and landed a 3-1/2 pound spotted bass. I saw about two more of that same size following the one I'd just caught. Because we couldn't get to the deeper depth quick enough, I decided to jerk the spot into the boat with my rod. However, it came off my hooks before I got it to the boat.
We continued back into Daniel Creek, and I had several good strikes. But a lot of debris had washed in from upriver. I changed lures to fish with a rubber frog. I had several bass blow-up on the frog and lost a little one.
What Happened at Eagle Cove Marina:
Next we left Daniel Creek, returned to Rock Quarry Landing and turned into Eagle Cove Marina, which is just past Rocky Branch, going upriver. The water was very-stained, and there was a lot of debris on the surface. So, I couldn't see any bass. David said, "We've had a good day, we've caught a few bass, we've lost more bass, and I've got a good story and good photos. Let's call it a day."