The Tuscaloosa area is the newest addition to Alabama's All-in-One Ticket program. This new program delivers multi-day passes to some of the best experiences in each given city or region, offering the convenience of a digital ticket while saving money on your next adventure.
Tuscaloosa is featuring a three-day multi-attraction pass that opens doors at four of the best museums in town and all of the adventures of a nearby state park. Discover what each of these family attractions hold for your visit to T-Town!
Travel through eras of time in this fossil and specimen-rich venue. The many wonderful exhibits provide explorative learning opportunities for the curious and adventurous. Learn all about what Alabama looked like with each passing age and view natural wonders, like the Hodges Meteorite. If your timing is right, be sure to join one of the museum's fossil expeditions for a small extra fee.
The oldest building located on The University of Alabama's campus, the Gorgas House is one of only four buildings to survive the destruction of campus during the Civil War. Built in 1829, the Gorgas House has served many purposes in its nearly 200 years. Learn more about the family it's named for through the 19th century artifacts held here.
Enjoy the outdoors at this 1,625-acre state park that offers nearly every type of fun to be had outside. Hike, bike, fish, swim and paddle your way around Lake Lurleen. Equipment is available for rent, and if you're looking for the stars, enjoy one of the 91 campsites for excellent sky views and relaxation.
If you've visited the natural history museum, you've already met the animals of Alabama. Now move forward to when the area was first inhabited by people. One of the most significant Native American heritage sites in the U.S. Moundville Archaeological Park has a museum and trails to show you how this regions native peoples built a thriving city.
No trip to Tuscaloosa is complete without paying homage to arguably the greatest coach in college football. Named for Coach Paul Bear Bryant, the museum houses thousands of pieces of memorabilia that tell the legacy of the Crimson Tide and those that have led the team throughout the years.
Finally, the Tuscaloosa All-in-One ticket includes a bonus — Mildred Westervelt Warner Transportation Museum. The museum is currently free to the public, making it a delight for everyone. Architecture enthusiasts are sure to spy the art deco of the historic Queen City Pool House, the home of the transportation museum.
Make your plans to join us in Tuscaloosa and include the All-in-One ticket in your itinerary! You have three days to see all the sites once you start using it, and we're sure you'll find plenty more to keep you going while you're here.
Thank you to our partners at Buffalo Rock Pepsi for sponsoring this content.

Not every city gives residents and visitors the space to choose their favorite beverage or try a new place while strolling the streets. But not every city knows how to roll like Tuscaloosa.
The City of Tuscaloosa's weekend downtown entertainment district allows adults of legal drinking age to leave an establishment with their beverage. The DED includes Tuscaloosa Amphitheatre, Government Plaza, Tuscaloosa River Market, and the dozens of restaurants, bars, breweries and taprooms in between.
The Definite Dos to help you navigate your weekend fun:
1. Do keep the boundaries.
Know which area you can take your to-go beverage around. A city map provides the general outline of the district and street signs designate the area as well.
2. Do know the time.
The DED is only in effect on Fridays and Saturdays 11 a.m. to 11 p.m. and Sundays noon to 9:30 p.m.
3. Do carry the right cup.
Make sure your drink is in the City-approved cup before leaving an establishment.
A few don'ts to keep you safe and your evening light:
1. Don't carry your beverage out of the district or into your vehicle.
2. Don't leave with any other type of barware or glassware.
3. Don't carry more than one beverage out the door.
Finally, do take advantage of all the great entertainment, shopping, dining and events that take place in the DED! Attend a concert in Government Plaza, take in First Friday Art Walk or maybe have fun with a progressive dinner at several restaurants.

You can keep up with events taking place downtown by visiting our Events Calendar at https://visittuscaloosa.com/events/.
Spring break is here, and it's time to make the most of it! Whether you're visiting from out of town or being a hometown tourist, there are plenty of activities in Tuscaloosa to meet your interests or pique a new one. We're so much more than a college town — see for yourself!
Saturdays start at the River Market
Local vendors gather for the Farmer's Market on Saturday morning to sell early spring vegetables, eggs, beef, flowers, cakes, soaps, fruits and so much more! Grab a breakfast burrito from a food truck and browse for fresh ingredients to host your own cooking challenge at home or snack on throughout the week.
Whittle down your TBR
If your idea of an escape is into the pages of a good book, there are some wonderful places to grab the latest release or have fun hunting the stacks for a classic. In addition to Tuscaloosa's Barnes & Noble storefront, check out the Friends of the Library Bookstore located on the side of the main branch and Ernest & Hadley Booksellers, who frequently host author events.
Camp under the stars
Tuscaloosa has some amazing camping opportunities to get you outside and looking up. National, state and local parks offer low-cost camping along the water with the comfort of being close to town if you forget the marshmallows. Get outside at Deerlick Creek, Van de Graaff Arboretum or Lake Lurleen State Park.
Flex your creativity
Get messy making your own masterpiece! Kentuck Art Center offers art workshops year-round for all ages; make some family memories learning How To Draw Caricature. Or head to the Art Garage for open play art sessions or ready-to-go creative boxes to take home. Both have spring break kid camps available.
Get outside
There are so many great ways to get outside around Tuscaloosa, but it's hard to beat a few hours slinging plastic on the disc golf course at Bowers Park. Or if a scavenger hunt is more your cup of tea, take a Monster Walk downtown and along the River Walk. There are plenty of spots to stop for a tasty treat or delicious lunch along the way.
Live it up downtown
Speaking of downtown, Tuscaloosa's is not to be overlooked. Shops, boutiques, galleries, too many delicious restaurants to name and some of the best craft beverages you'll find anywhere entice the senses to linger here.
Gather your tribe
After you take in one of Tuscaloosa's spectacular sunsets, get together with friends and family for good times and a little competition at Civil Axe Throwing, Bowlero or Shindig Family Entertainment Center. If you have energy to burn, UpSurge Trampoline Park makes an exciting way to use it up. And if you want to test your mettle as a team, always check out Escape Tuscaloosa for the challenge.
Thank you to our partners at Buffalo Rock Pepsi for sponsoring this content.

Valentine's Day is here and the best news is that Tuscaloosa offers all you need to bring the woo! These five date ideas give you the setting to bring the romance. Combine a couple of them or use it as a springboard to customize a special treat for your Valentine.
1. The Pampered
Massaged Life & Wellness Academy
Book a couple's massage to enjoy each other's company in a peaceful, completely relaxing environment that invites you into rest together. This family-owned massage school provides full massage services at two price points – student provided or professional – allowing this to fit into anyone's budget. Be sure to book two appointments when you schedule a couple's massage.
2. The Hands-On
Crimson Kitchen – A Valentine's Cooking Class
Partner with your sweetie to learn new cooking techniques and recipes. You'll enjoy plenty to eat and have recipes to take home to repeat the experience again later. This is an advantage of living in a college town! Crimson Kitchen is a part of The University of Alabama's Dining Services.
3. The Classic
There's no going wrong with a romantic dinner at one of Tuscaloosa's long-standing romantic traditions. Be sure to make your reservations soon, and if you're looking for a quiet dinner, book early in the evening.
4. The Adventure
Take your love's breath away with a spectacular sunset from Lake Nicol's cliffs. Woo them with your attention to details by packing a picnic, a blanket, and if you want it to be a surprise, their walking shoes. You won't have to walk far though. Just at the top of the trail is a ledge to watch the sunset's colors do their magic. To the left is a bench, or turn right for a little more rugged walk further out.
5. The Escape
Pull out all the stops to give them the "wow!" Tuscaloosa's newest boutique hotel offers a Valentine's Day special for a king standard room that includes a $100 food/drink credit to the in-house Forté restaurant or rooftop bar, Valentine's basket in the room and breakfast for two. Everything you need in one package!
Whatever date matches you and your sweetheart's style, don't forget to include the traditional Valentine touches. For local flowers and chocolates, swing by Tide Wholesale Floral Company to build your own bouquet and hand select your sweets at Peterbrooke Chocolatier.
Thank you to our partners at Wilson Hospitality for sponsoring this content.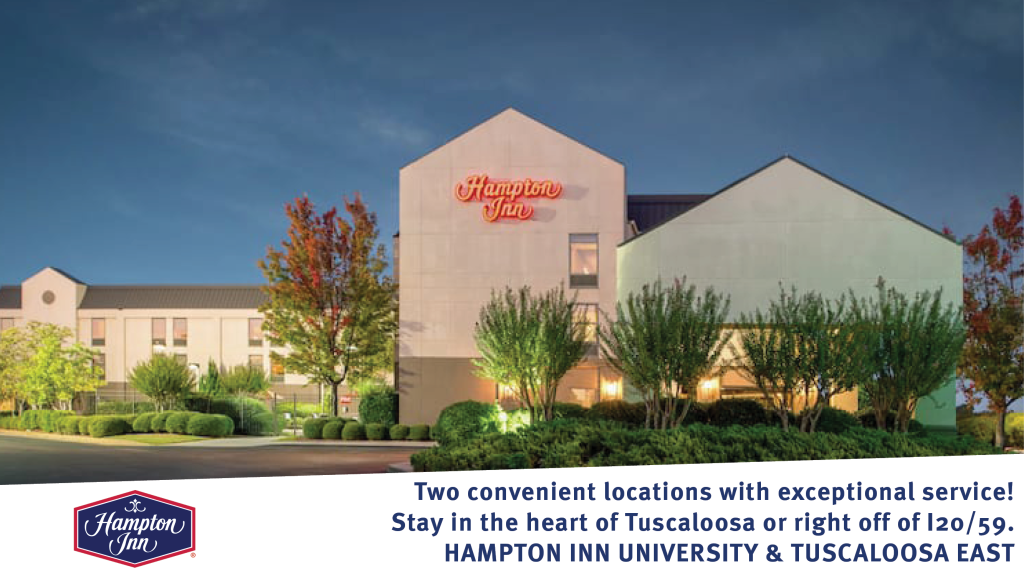 Tuscaloosa, AL – Several Tuscaloosa County hotel and hospitality partners were recognized as well-deserved industry leaders during an event last week hosted by Visit Tuscaloosa at the Dinah Washington Cultural Arts Center.
On Thursday, November 3, Visit Tuscaloosa hosted the second annual Tuscaloosa Tourism Bash, an event designed to celebrate the hospitality and tourism industry and an opportunity to recognize exceptional hospitality partners. President and CEO Kelsey Rush, along with the Visit Tuscaloosa team, had the honor of surprising five individuals as Tuscaloosa County Hospitality Champions of the Year award recipients. There were four award categories: Hotel General Manager of the Year, Restaurant General Manager of the Year, Hotel Sales Professional of the Year and Archibald-Williams Hospitality Trailblazer.
The Hotel General Manager of the Year, Chereé Slaten, works for Triad Property Management. This award recognizes a hotel owner or general manager who shows exemplary customer and community service, is excellent in employee relations and motivates a team to pursue greatness.
Holding 14 years of experience with Triad Property Management, Slaten currently is the Regional Director of Operations. In her nomination, colleagues spoke highly of her leadership skills, diligence and positive approach.
The video announcing Slaten's selection, which was shown at the event, can be viewed here: https://youtu.be/0LsaUuc0IWQ
The Restaurant General Manager of the Year, Craig Williams, own and operates The Avenue Pub and The Wine Market. This award recognizes a restaurant owner or general manager who shows exemplary customer and community service, is excellent in employee relations and motivates a team to pursue greatness.
Williams was lauded for his spirit of hospitality and advocacy for the city's restaurant scene. It also was noted that Williams regularly serves in the role of mentor to his staff, student interns and others across the industry.
The video announcing Williams' selection can be viewed here: https://youtu.be/Vz2h7qqUEnw
The Hotel Sales Professional of the Year, Heather Dill, comes from Embassy Suites by Hilton Tuscaloosa Downtown. Designed to recognize an individual who promotes and demonstrates excellence in the field of sales in hotels, this honoree goes above and beyond to build customer relationships, is creative in developing new business, and is a team player that motivates their team to excel.
Along with a well-established history of sales success, Dill was recognized for civic engagement. She serves as an adjunct faculty member at The University of Alabama and has served prominently on several committees, including an active role on the Elevate Advisory Committee for Cultural Arts and Tourism and on the West Alabama Chamber of Commerce Board of Directors.
The video announcing Dill's selection can be viewed here: https://youtu.be/70S_yK2JpEA
The final recipients for Tourism Bash were awarded Archibald-Williams Hospitality Trailblazers. These individuals support the community's hospitality industry or are in a non-managerial position at a hotel and put care into action and personify the heart of hospitality.
The first recipient, Sandra Fincher, has served Tuscaloosa's hospitality sector with distinction for more than a decade. Currently a Housekeeper Extraordinaire at Holiday Inn Express & Suites University, her colleagues recognized her commitment to guest service, teamwork and dependability.
The video announcing Fincher's selection can be viewed here: https://youtu.be/m8JX16YWaCg
Heide Patton with Travelodge Tuscaloosa was the evening's final honoree. Currently a night audit clerk, her nomination cited Patton's courteous nature and proactive approach have endeared to coworkers as well as guests for more than 20 years.
The video announcing Patton's selection can be viewed here: https://youtu.be/TtH24SCOBBI
"It is a genuine privilege to celebrate Tuscaloosa's hospitality workers and honor some of the industry's key contributors," said Kelsey Rush, president and CEO of Visit Tuscaloosa. "As Tuscaloosa hosts more visitors than ever and the city enters an exciting season of development and prosperity, Visit Tuscaloosa will continue to shine a light on the pivotal role this group plays in our experience economy."
As Tuscaloosa's destination organization, Visit Tuscaloosa is a community asset that strengthens the economic position and vitality of Tuscaloosa County through promotion, programming and advocacy. These efforts ultimately provide opportunity for our residents and create awareness for our destination. Visit Tuscaloosa's sales and marketing efforts generate revenue for the community and enhance Tuscaloosa's public image as a dynamic place to live, work, play and visit.
###