If you're traveling to Tuscaloosa for the Alabama /Ole Miss football game on Saturday, September 23, check out the details in the images below for Alabama Gameday info. For more information, you may also visit uagameday.com.
We hope that you enjoy your stay in Tuscaloosa and encourage you to come back and visit us again!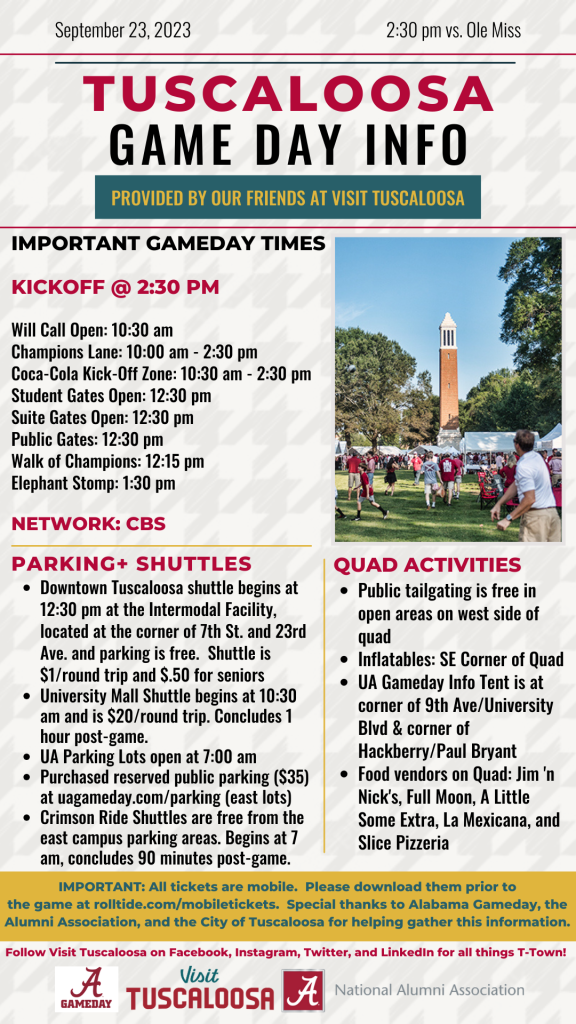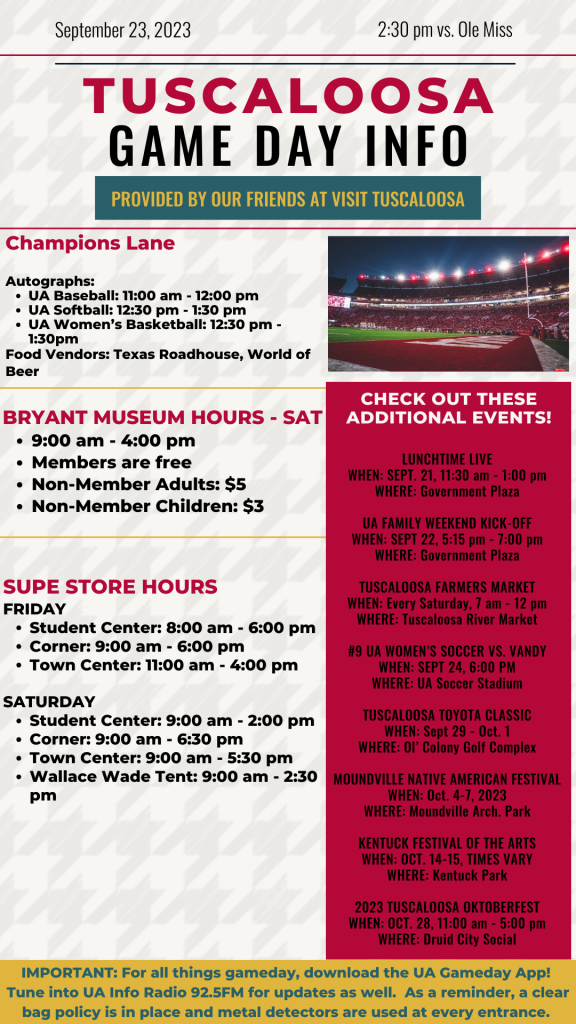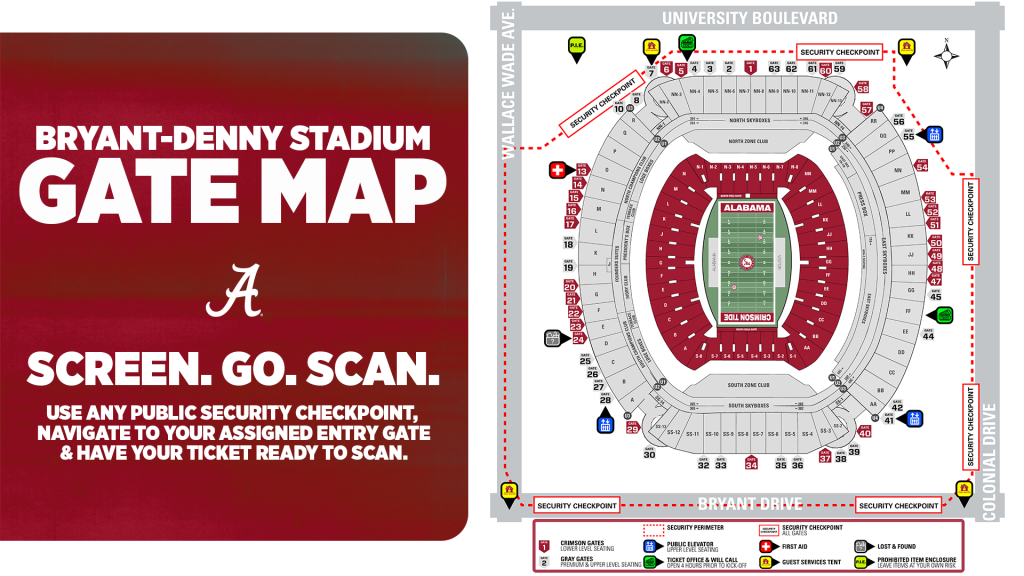 Adam Hollingsworth shared what he considers to be the best bass fishing spots in Tuscaloosa County during the months of April and May in Tuscaloosa County. Continue to read to learn more!
Editor's Note: The president of the UA Fishing Team with 57 members, 34-year-old Adam Hollingsworth, became a member in 2020. He was born and raised in Tuscaloosa, Alabama, and has fished the Black Warrior River since he was a child and camped at Fosters. Hollingsworth is a senior and will receive a degree in criminal justice in May, and will begin working on his master's degree. Hollingsworth served in the Army National Guard for 10 years, starting at age 17 in 2008, and was a certified law enforcement officer in the State of Alabama. He had two deployments to Iraq and Afghanistan. He became inactive military to attend college in 2019 to prepare to work with the U.S Marshal's Service after college and use his military and policing background. He rejoined the Alabama Army National Guard in October 2021. He'll continue to pursue that career path, unless he can become a full-time professional bass fisherman, which is his dream. To fish Tuscaloosa County's Black Warrior River, Hollingsworth likes Garmin's Active Captain and mentions that Navionics and Humminbird's LakeMaster are good choices.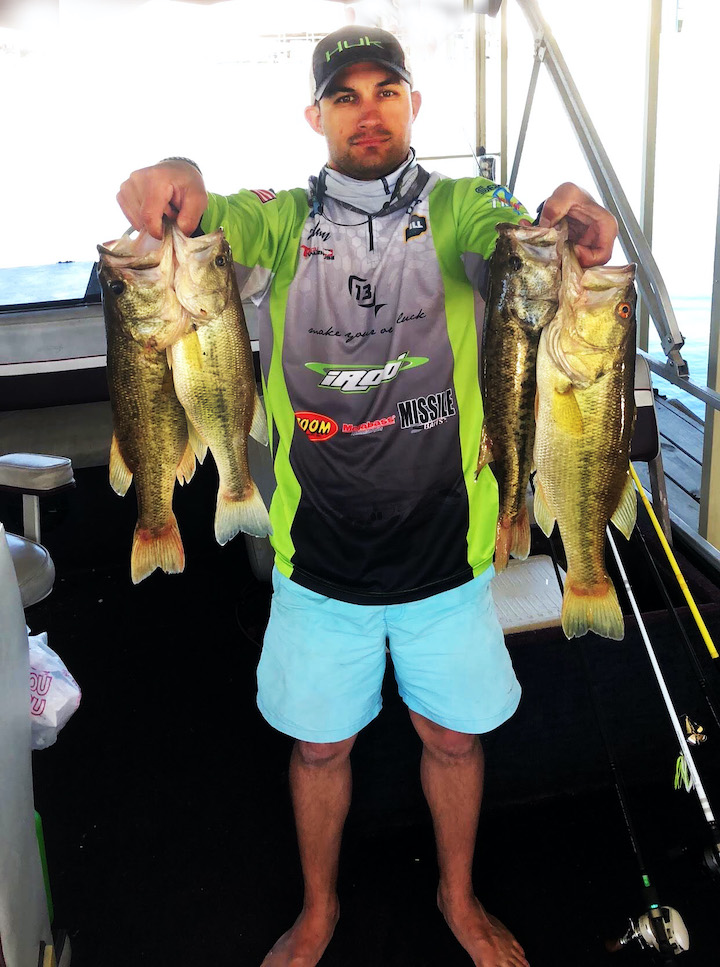 How I Fish and What I Catch at Bankhead Lake for Largemouth Bass, Spotted Bass, Saltwater Stripers and Hybrid Striped Bass
The Bankhead area of the Black Warrior River below Lock 17 is probably the best place to bass fish in Tuscaloosa County. However, cell-phone service can be spotty to non-existent there. If I could get phone service, I'd love to go up there more to fish for bass. It is important to note this because you never know what could happen to your boat and motor while in a tournament or recreational bass fishing and the challenge it may be to get in touch with someone.
BANKHEAD AROUND LOCK 17
I've seen photos of several bass caught at Bankhead below Lock 17 in the northernmost part of Tuscaloosa County that would weigh 12-pounds-plus each. If you fish below the Lock 17 dam, bed fishing should be hot in April. This is also an area where you can catch some nice spotted bass too, fishing the current coming out of the dam.
In April, I target largemouth bass around lily pads with a rubber frog. I'll also fish Yellow Creek above Lock 17 that homes nice-sized spotted bass. I'll use an Alabama rig or a small swimbait to catch both largemouths and spots there. But if you're fishing a bass tournament, you can't use an Alabama rig with its five swimbaits in most tournaments. Some tournaments do allow bass anglers to fish three swimbaits on your Alabama rig instead of five. When the water's stained, I like a pearl-colored swimbait to catch April and May bass. I also like to fish the tailrace below the Bankhead to catch saltwater stripers and hybrid stripers that will crash the Alabama Rig and a small swimbait. If you put in at a Rock Quarry on Holt Reservoir or at the landing right below Lock 17 dam and go north, you'll be at the tailrace. If the dam's not releasing much water, you can fish closer to the dam. As always, be sure to wear your life jacket to be safe.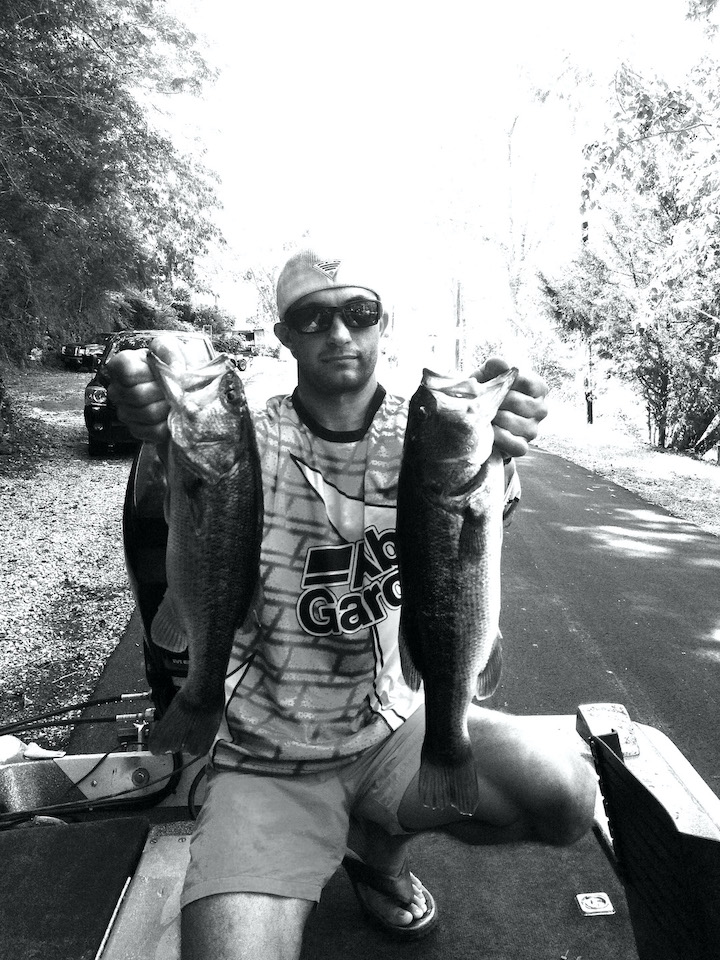 A point comes out near Lock 17 where the barges come out of the lock on the left side of the lock, as you look upriver. I'll fish the bank from that point all the way up to the lock and the spillway. Be very careful when fishing this area because the underwater rocks there can damage your motor. I've caught primarily spotted bass in this region – even some 4-1/2 to 5 pounders with 2-1/2-pound spots fairly common. I rarely catch any largemouths in that swift current. So much bait is in this area that it also attracts plenty of hybrid bass and saltwater striped bass. The biggest saltwater striper I've caught there weighed 40 pounds, and I've caught some large hybrids up there also.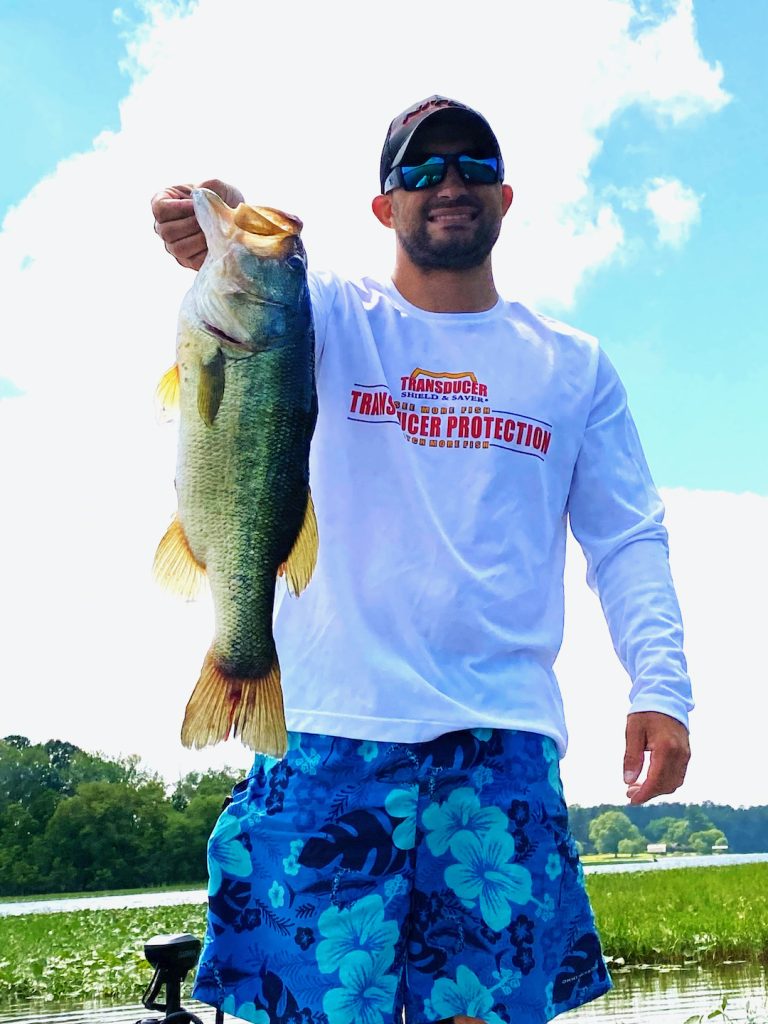 If the water is running at Lock 17, you'll lose numbers of Alabama rigs due to the many rocks in that region. When I'm fishing there, I fish with braided line instead of fluorocarbon or monofilament. In that section of the river, I'll fish a Keitech swimbait in a 3-point size on a 1/2-ounce jig head. I'll fish this swimbait on spinning tackle, cast it out and reel it back to the boat very slowly. If little current is running, your bait will sink faster to reach the target zone where the bass will be holding. If a lot of current is running, you'll have to cast the swimbait across the current and let the swimbait sink longer to reach the depths where the bass are concentrating.
You'll also find some holes in the tailrace, in the bottom at Lock 17 about 10-feet deep, and other holes even deeper. The bass sit in those holes and attack shad as they come over the lip of the break. I'll use a fluorocarbon leader to start with, but if I'm losing too-many swimbaits, I'll fish with a 15-pound-test Seaguar braid or the new Seaguar TactX Camo Braid line. What I like about this new TactX is that it's a braided line with an 8-pound-test fluorocarbon leader that comes packaged with it. I wouldn't fish a leader less than 8-pound test there because the bass in that current fight hard and can break smaller leaders.
BANKHEAD
At Bankhead, I prefer to fish with a 7' rod with 7 feet of A 15-pound-test fluorocarbon line tied to 15-pound-test braided line. I'll reel down 7' of that 15-pound-test fluorocarbon into my reel and then turn the handle of the reel until I have a 15-foot-long fluorocarbon leader. I like to cast a swimbait out and use my Garmin LiveScope to watch the swimbait fall to know when to start a slow retrieve.
Another lure I fish in the current up by the dam is a small Megabass Vision ONETEN+1 jerkbait. I'll fish it on a 6'6" or a 6'10" jerkbait rod made by iRod. In stained water, I like that lure in OB Stain Reaction or a pearl with chartreuse. In cleaner water, I prefer the Algney Bone, Natural Shad or GP Pro Blue II colors.
Where I Catch Bass at Holt Reservoir
When I fish closer to the cities of Tuscaloosa and Northport at Holt Reservoir, I like to fish Rocky Branch Creek on Holt Reservoir. The further you go back in this creek in April and May, the better the bass fishing will be. Rocky Branch Creek has a landing and a recreational area where people swim. When the bass are moving into Rocky Branch Creek from deep water for the spawn, I'll fish down the bank all the way to the back of the creek where the bass will be spawning. When they finish spawning, I'll fish along the banks of Rocky Branch and catch the bass when they're swimming back to their deep-water homes.
If you go all the way to the back of Rocky Branch, the creek splits. On the right-hand side of that creek is a deep channel, and I've caught a lot of good bass on jerkbaits there. I've also caught really-nice bass on the left side of the split. I like to fish these two splits all the way to the back of the creek where the water's running into the creek.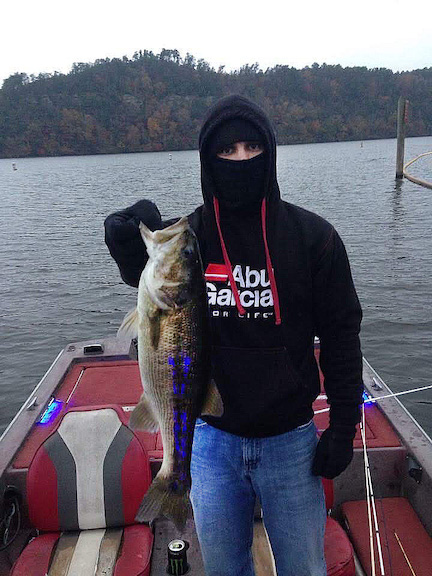 Another productive place to fish for bass at Rocky Branch is the point where those two creeks come together. I'll catch bass with a swim jig fishing that point. Also, I've caught some very-nice crappie there when fishing for bass. I caught 10 giant crappie in February 2022 while I was bass fishing. When I spotted them on my Garmin LiveScope, I thought they were bass because they were so big. The majority of those fish weighed 2-1/2 pounds, which was big for Warrior River crappie.
What About the Bass-Fishing Potential at the Warrior River Now and in the Future
I don't get to fish the Warrior River as much as I want to because of all the college tournaments I fish. I've got three out-of-town tournaments to fish in April. In an average month, I'll fish three to four tournaments on the weekends. Besides the collegiate tournaments, I'll be fishing BFL tournaments in the fall and some open tournaments as well.
The Black Warrior River in Tuscaloosa County is pretty much overlooked by most of the state's anglers, because they never see or hear anything about the quality bass fishing we have here. Most of the UA Fishing Team fishes collegiate tournaments, so they are gone on the weekend when tournaments are being held in Tuscaloosa. I think many anglers are fishing Lake Tuscaloosa, which doesn't have near as productive fishing as the river has. But they fish Lake Tuscaloosa mainly because they have cell-phone service there. If you fish out around Riverview on Oliver Reservoir, you'll have good cell service. There is cellphone service at Oliver, and I know Fosters has put in more cellphone towers.
I believe the Black Warrior River fishing from Lock 17 down to Moundville, Alabama, is a hidden gem in the bass-fishing world. If anglers had a bigger landing near Tuscaloosa and Northport where five to seven boats could put in, there would be more tournament fishing on the Black Warrior River in Tuscaloosa County than there is today.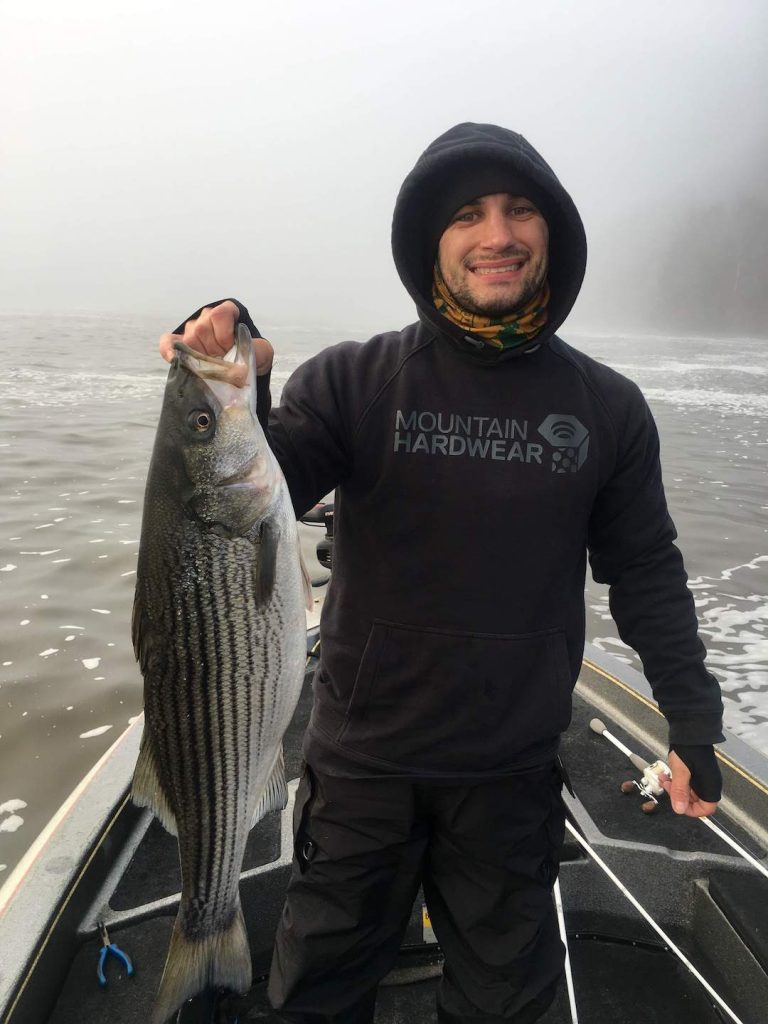 The Riverwalk is such a stunning trail that travels along to the Southern banks of the Black Warrior River. Whether you're walking your dog, going for a jog, biking, or just admiring the view, the Riverwalk is a great place to be with nature and to appreciate the jaw-dropping beauty of Tuscaloosa.
This trail offers park areas that are all pet-friendly. The pathway includes benches, gazebos, picnic tables, and hammock-friendly trees that visitors can enjoy. There are several open areas for playing frisbee, picnicking, or relaxing in a hammock reading your favorite book. It is well lit with street lamps lining the trail with access to an emergency phone if an accident occurs.
The Riverwalk starts at Capitol Park on the western end, rounds the beautiful Tuscaloosa Amphitheater, and finishes on the east side of Manderson Landing. The length of the trail stretches 2.5 miles one way! Eventually, the Southern Riverwalk will meet up with the new Northern Riverwalk (Randall Family Park & Trailhead) and will extend into West Tuscaloosa as well. When the time comes, these additional miles will be well-traveled by all, that's for sure!
One of the most iconic views on this trail is the historic train trestle bridge, which was once considered the country's longest at 3,600 feet. This bridge is simply stunning, especially as the sun sets, reflecting on the river that flows through the heart of our community. Its picturesque views has been the perfecting setting for proposals, family photos, picnics, and more.
Along the pathway, which offers many shady areas for a break from the heat, are shops and restaurants for people to enjoy during their visit to the Riverwalk. The Shops at Riverwalk Place is home to Another Broken Egg Café, Bellagio Nails Spa, River, Market House Boutique, and more! Near the Amphitheater, you'll also find Heritage House and Hotel Indigo. Along the trail, you'll find the Visit Tuscaloosa Visitor Center as well as the Farmers Market at the Tuscaloosa River Market, where fresh, local goods and produce are sold every Saturday.
There is hardly anything that competes with the breath-taking scenery on a bright, sunny day or the majestic sunset views along the Riverwalk. In the morning, you often catch The University of Alabama Rowing Team practice for their next regatta as they race up and down the river. During the spring, summer, and fall months, one can enjoy the sounds of a concert coming from the Amphitheater too. Simply put – it's the perfect place where all can come to gather, to exercise, to enjoy time alone or with family and friends. It truly is one of Tuscaloosa's best outdoor adventures, conveniently located in Downtown.
For information about the gazebo rental, contact Tuscaloosa County Park and Recreation Authority at 205-562-3210.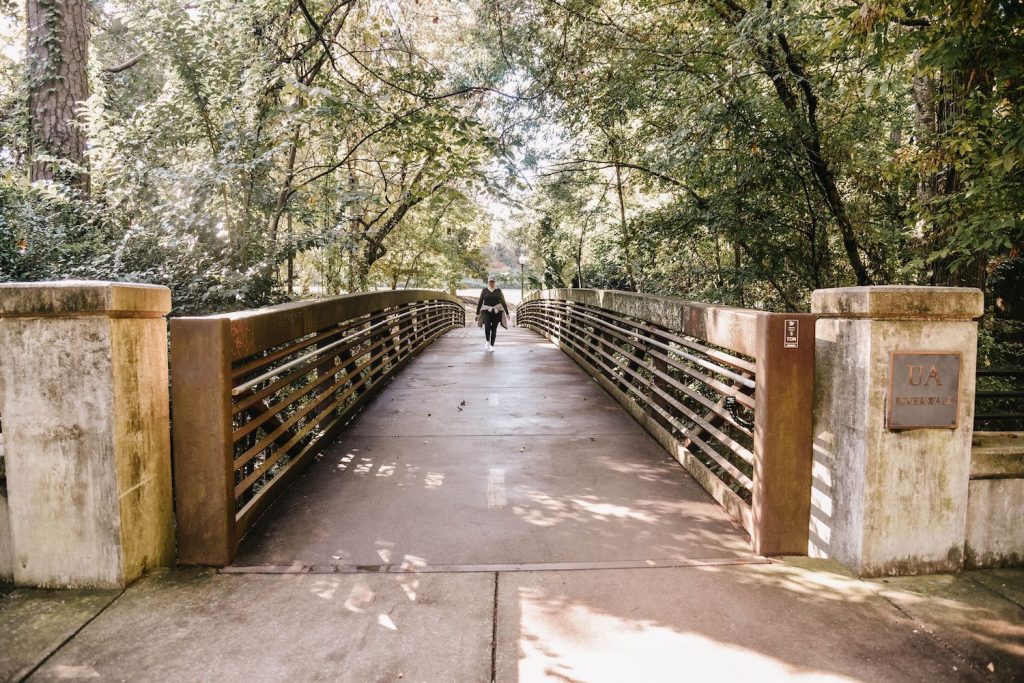 We get it, putting together an itinerary can be overwhelming with vast options to select from. And in Tuscaloosa, the tide rolls all year long with things to do, people to see, and places to be! So, we want to share Tuscaloosa itineraries to help. Up first, a 48-hour, fun-filled schedule that offers you a taste of all things Alabama. While the itinerary below would be best suited during a non-football weekend, you can certainly hit these spots while in town for a football weekend, too! Either way, this itinerary is pretty legendary…
Day 1
8:30 am – There's nothing like specialty coffee and doughnuts to kickstart your day! Babe's Doughnuts serves unique donuts such as Heath Bar donuts, fruity pebbles, and even rich red velvet, yum! They also have stellar breakfast wraps.
9:30 am – Now it's time to learn about Alabama football. Roll Tide! The Paul W Bryant Museum exhibits artifacts and memorabilia that trace their long history. The museum includes state-of-the-art displays enhanced by videos highlighting great players, plays, and games, and is open Tuesday – Sunday. Members and children under 5 are free. Non-member admission for an adult is $5 and children (K-12) are $3.
11:00 am – If it's a nice day, stroll down Paul W Bryant Drive after exiting the Bryant Museum. Walking out the door, you'll be greeted by Sewell-Thomas Stadium, Coleman Coliseum, the Mal M. Moore Athletic Facility, and more. It's the heart of Alabama's athletic facilities. Continue west down Bryant Drive as you make your way towards Rama Jama's – the perfect bama-fied restaurant for lunch. Rama Jama's is a sports-centric bar and grill for American eats including all-day breakfast, sandwiches, and shakes. We're talking about the Large Touchdown Burger Platter, an 8oz burger with a fried egg, choice of hash browns or french fries, and a drink.
1:00 pm – Now let's head for the Quad! As you walk from Rama Jama's hit up Bryant Denny Stadium, the Walk of Champions, the legendary Coaches Walk, and Tuska. This whole area offers many Instagram-worthy photo opps! As you mosey on to the Quad, which is also home to our beloved Denny Chimes, you'll find a 22-acre quadrangle in the center of UA. Take time to soak up the sun and explore that area of campus. Surrounding Denny Chimes you'll find hand and footprints of past Alabama team captains in the concrete.
3:30 pm – Another classic part of an "Alabama Gameday" experience is Gallettes. You must try one of their famous gameday Yellowhammers! The atmosphere is easygoing and it's a refueling hang out spot loved by locals and visitors alike.
6:00 pm – Who's hungry for steak? One of Tuscaloosa's beloved local gems is Nicks in the Sticks. With traditions like their famous "Nicodemus" and pinning dollar bills to the ceiling, this classic joint is almost always packed out, so come a little early and enjoy yourself. Our mouths are watering just thinking about that filet wrapped in bacon and their dinner rolls.
8:00 pm – Now you're ready for some live music, right? Temerson Square is a tremendous place to scout out local, live music! From country to rock and alternative, there will be such a wide variety of music. You'll have many options to end the night with in this area.


Day 2
7:30 am – If you enjoy a good run or walk, hit up the Tuscaloosa Riverwalk or campus – or both! There's something so motivational about running along the Walk of Champions. It's like you can feel the presence of legends right there.
9:00 am – Another incredible breakfast joint is The Waysider. You feel like you're at home the moment you step in – much like how legendary Coach Paul "Bear" Bryant felt when he at there, too. Their customer service always guarantees a happy visit, too. Be sure to check out the homemade biscuits and beignets or their incredible sugar-cured ham!
10:30 am – Now it's time to buy some Alabama swag. Check out the University's Supe Store to find some of the best Bama gear. Speaking of Alabama swag, another spot to explore (if you didn't yesterday) is The Strip. While it's home to many bars and restaurants, there are a few other spots you can purchase gameday attire.
1:00 pm – Lunchtime (so much food!) Local Tip: Innisfree goes far beyond a bar. They have some of the most delicious grub that never fails to surprise people! For example, the secret menu item is the Irish Gold Chicken Fingers, which are out of this world. On gamedays, this spot is packed with fans as the bar boasts many TVs, making it perfect to keep up with all-things sports.
2:30 pm – Now it's time to explore the beautiful and revitalized area of Downtown. If you have the kiddos with you, the Children's Hands-On Museum is a great place that allows little ones to explore, create, and discover! There are also a plethora of storefronts, eateries, and attractions to entertain those of all ages. Some long-time retail spots downtown include The Locker Room, The Pants Store, and The Shirt Shop.
4:30 pm – Before heading to dinner, you might want to take a quick break in the downtown area. If you're looking for a park, head over to Government Plaza. Need a quick drink, a solid charcuterie board, or something sweet? Check out The Wine Market.
6:00 pm – It's dinner time! Baumhowers Victory Grille is one of those places you can't miss while in town. If you're an avid Alabama fan, you'll probably recognize that name. Alabama football legend Bob Baumhower is the owner of this local spot and the restaurant is home to the weekly radio show "Hey Coach with Nick Saban" during football season!

8:00 pm – There's nothing like ending the day with drinks at a friendly, homey brewery. We have two local breweries in town that both offer wonderful atmospheres. But if Black Warrior Brewery and Druid City Brewing Company aren't your style, don't fret, our website can help with that. Fun fact: Druid City is famous for their wall-art and it's not uncommon for you to see art featuring legends like Coach Nick Saban or Bear Bryant. It's another perfect spot for a selfie in T-Town. For a starry night, Hotel Indigo's The Lookout Rooftop Bar is a beautiful place to admire the city from above with a beautiful view of the Black Warrior River.
While Tuscaloosa offers a unique blend of sports, history, outdoor adventures, music, and food for every palate, we hope that you enjoyed this "Alabama" themed itinerary featuring legendary history, popular gameday spots, and just all-around one-of-a-kind experiences that only Tuscaloosa has to offer. Stay tuned for more!
Ready to plan your trip? Request a free Visitor's Guide by clicking here!
Fall has arrived, and with it came that familiar crisp autumn air, which means the outdoors are calling our names! See for yourself  Tuscaloosa's breathtaking back yard…and it doesn't stop there, either. This city's stunning landscape paired with phenomenal local businesses elevates an already beautiful destination into a MUST-DO Road Trip. Whether you are looking to wind down with an outdoor picnic, take an adventure hiking through the fall foliage, or shop like there's no tomorrow, let these 10 reasons why Tuscaloosa should be your next weekend getaway guide your planning process. After all, you don't want the legendary Tuscaloosa Experience to pass you by!
1.jDowntown Tuscaloosa:
A recent addition to the city's outstanding coffee shop scene is about to open and we couldn't be more excited! Just Love Coffee prioritizes that sense of community as a business. The laid-back & relaxed atmosphere that makes Just Love Coffee Cafe so special was created to be different than the stuffy reputation of most specialty coffee shops. Downtown Tuscaloosa is a prime place to shop until you drop. Whether you are looking for your next gameday attire at The Pants Store, or searching for an antique accessory at Twice as Nice, this area is ideal for shopping at a vast variety of places that are all conveniently located!
2. Riverwalk
Offering a serene view of the Black Warrior River, the Riverwalk is also the place to hammock, picnic, or relax! There are numerous picnic tables, benches, and gazebos to provide a comfortable environment, allowing you to get the most out of your experience with the great outdoors of T-Town. Let your mind take a rest from all the hustle and bustle of everyday life. If you are looking to work up a sweat and take advantage of the cooler temperatures, there is also a running path along the Riverwalk to enjoy in the morning or throughout the day. In addition to these activities, the Riverwalk is located close to a number of restaurants to enjoy either at the start or at the end of a delightful Autumn day, like Market House Boutique, Another Broken Egg, and River. Be sure to carry a mask with you for safety if you intend to visit any of the restaurants or businesses on the Riverwalk!
3. Lake Harris
Lake Harris is one of the many nearby lakes that offers an incredible setting for a number of different outdoor activities. There are plenty of picnic areas and a beach, where one might spread out a blanket to enjoy their lunch or simply take in the scene. In addition to these spots, there are a number of trees gathered close by the bank, perfect for setting up a cozy hammock! For those who are looking to stay active, there is a 1.76-mile hike around the lake through the trees. As the weather cools down, this area will become a peaceful gathering place for all who wish to experience some of Tuscaloosa's many hidden gems.
4. Farmer's Market
The Tuscaloosa Farmers Market is a spectacular shopping spot where you can find anything from a hand-cut Maple & Walnut Cutting Board to a hand-poured Yellowhammer candle scented Alabama Shores, all within walking distance. Each Saturday from 7 a.m. to 12 p.m. local vendors of all specialties gather at the Tuscaloosa River Market to show off their wares to the community. If you plan on discovering the market's incredible vendors this Saturday, wear a mask and be prepared to follow all social distancing guidelines!
5. Children's Hands-on Museum
CHOM is a wonderful place in town where children explore, create, and discover something new every time they visit.  When we say "hands-on" we really mean it!  Learning through play is what CHOM'S exhibits are all about, where kids are encouraged to touch, feel, and play in fantastic exhibits.  Three floors of fun await with 24 exhibits, offering newborns and 13 year-olds alike an opportunity to completely immerse yourself in fun learning processes.
6. Kentuck Art Center
This local favorite offers a unique view into the minds of the endlessly talented local artists all around Tuscaloosa. From handmade, one-of-a-kind jewelry to kitchen pitchers, this gold mine is ideal for a one-stop-shop for all of your holiday gifts. The Kentuck Gallery Shop offers an incredible shopping experience unlike any other online and/or in-person! Also, the 49th Kentuck Festival of the Arts is open NOW until December 31, 2020. With over 180 artist shops specializing in categories like clay, glass, jewelry, mixed media, sculpture, and wood you are bound to find the perfect Christmas present for everyone on your list!
7. Bower's Park
Bower's Park is a nearby public park that offers quite a few activity opportunities, like a disc golf course or several fields for rent. Not much different from regular golf, disc golf is an active way to stay busy on a delightful weekend outside! Those looking to get into this sport need to be sure and purchase discs ahead of time, however. As far as a field for rent, Bower's Park has a number of different fields, baseball/softball or multipurpose, that can be rented out for a small gathering of friends to safely play a pickup game of baseball, softball, and more! Before visiting Bower's Park, be sure to bring along a mask in case of other visitors.
8. Civil Rights Trail
As temperatures slowly start to drop, it is prime time to spend the day walking around outside and exploring new places. Among the many adventures that await you in town is the Civil Rights Trail, where anyone has the opportunity to walk in the footsteps of history and learn about how the Civil Rights Movement shaped the City of Tuscaloosa. Located primarily in Downtown Tuscaloosa, this trail is perfect for staying active and demonstrates a profound learning opportunity for those who are not aware of the history of Tuscaloosa. Thanks to its proximity to Downtown Tuscaloosa, the Civil Rights Trail is also a good opportunity to discover local dining options, such as Reggae Flava and Brummi's Yummies. For more T-Town treasures along the trail check out the official guide here.
9. Government Plaza
If you are looking for a versatile area that offers wide-open spaces to safely enjoy this city, then the Government Plaza is the spot for you. Located in the heart of downtown, this 5-acre park makes social distancing a breeze. Soak in all of the cozy fall vibes while diving into a good book from Ernest and Hadley, grubbing on delicious Heat pizza, sipping on some Monarch coffee, or maybe even unwinding with your favorite yoga flow. After months on end of being trapped inside now is the time to relax and appreciate nature in all its wonder. If you want your furry friend to tag along, the sidewalks surrounding the park makes for the perfect path for walking with your furry friend.
10. Lake Tuscaloosa
This local hangout has everything you need for an unforgettable lake day with friends and family. Lake Tuscaloosa has earned its reputation as the perfect fishing spot with bass, sunfish, crappie, and more. If fishing isn't for you, stand on the shore, hike the lake's cliffs, or simply take in the captivating views! Only a short drive from the city, this lake makes pairing a morning out in nature and Rama Jama's iconic Southern breakfast unbelievably easy as well. You are bound to have a blast at this local treasure, especially in this beautiful fall weather.
When you're ready to plan your next road trip to T-Town check out all of the exceptional hotels this city has to offer!
Written by: Jamie Hoven
Visit Tuscaloosa continues to monitor the rapidly changing situation related to the spread of COVID-19. We understand that concerns for health, safety, and the impact on meeting attendance, among other issues, affects our community. Our main priority is the health and safety (physically, economically, and socially) of the residents and visitors of the Tuscaloosa community.
According to the City of Tuscaloosa, there are several steps you can take to protect yourself from getting sick:
Wash your hands often with soap and water for at least 20 seconds. If soap and water are not available, use an alcohol-based hand sanitizer.
Avoid touching your eyes, nose, and mouth with unwashed hands.
Avoid close contact with people who are sick.
Stay home when you are sick.
Cover your cough or sneeze with a tissue, then throw the tissue in the trash.
Clean and disinfect frequently touched objects and surfaces.
We encourage all travelers and attendees to follow the guidelines recommended by the Centers for Disease Control and Prevention.
We want to encourage residents of Tuscaloosa to continue supporting local restaurants while maintaining safe social-distancing practices. The Chamber of Commerce of West Alabama has compiled a spreadsheet of independent & local restaurants offering take-out, drive-thru, & delivery options. Find the list here, and check back as this spreadsheet continues to grow: tuscaloosachamber.com/support-local
Latest News
Follow these links for real-time updates and information:
On March 12, the Southeastern Conference announced the suspension of regular-season competition for teams in all sports on SEC campuses, as well as SEC championship events, until March 30. This includes all SEC events at Texas A&M University. To learn more, visit rolltide.com.
On April 2, the Governor of Alabama announced a statewide stay-at-home order. This went into effect on Saturday, April 3 at 5:00 P.M. The new order allows people to travel to obtain necessary supplies, including food, medication and equipment needed to work from home, and products needed to maintain safety, sanitation and essential maintenance of a home or residence.
Health Authorities and Academics
Looking for more information? Here is a shortlist of trusted resources.
It's a weekend of music, sports, and celebrating in the City of Champions. Band of Brothers hosts award-winning blues artist Diedra the Alabama Blues Queen, Alabama men's and women's basketball play conference games, and the football team's national title celebration will take place on Saturday at 2:00 p.m. on the steps of Bryant-Denny Stadium. Also, Monday brings with it a special event unique to Tuscaloosa. It's D.A.T.E. Week! Check out the info below so you can plan your weekend accordingly. The weather is even going to warm up so you can get out and have some fun after this cold spell, so we know you're itching to get out and get down.
Diedre The Alabama Blues Queen at Band of Brothers Brewing Company | Friday, January 19 | 7:00-10:00
Diedra The Alabama Blues Queen is a 15-time Blues Award Winning and Nominated International Artist and a 2014 International Blues Challenge Finalist. Together with her band that includes husband and Alabama Blues Hall of Fame member Keithen Ruff, she belts out blues hits like "Born Under a Bad Sign." Battered Wild Food Truck will be on site, so you can grab a nice local brew, listen to the best blues around, and grub!
Alabama Men's Basketball vs. Mississippi State | Saturday, January 20 | 7:30
The Tide iced the hottest team in the country on Wednesday when they snapped Auburn's 14-game winning streak behind John Petty's 27 points on eight three-pointers. Alabama now has a nice 4-game winning streak of their own, and look to keep it rolling against Mississippi State on Saturday. Come out and see this special Tide squad before these Freshmen go pro!
Alabama Women's Basketball vs. Vanderbilt | Sunday, January 21 | 2:00
At 13-5 through eighteen games, Alabama is having a great year under 5th-year coach Kristy Curry. Most impressive is the Tide's 9-1 record in Coleman Coliseum so far. Come see as the squad continues its climb to the top of the conference against Vanderbilt on Sunday. If you enjoy winning, you can't miss this Alabama team at home. General Admission (All Ages) is $5, so don't miss out.
D.A.T.E Week | January 22-26
We have a special event for you beginning Monday of next week (1/22). It's D.A.T.E Week! Local businesses will have special promotions on Diamonds, Arrangements, Tastes, and Entertainment (D.A.T.E.). Your SO would love some pretty flowers and a nice dinner out. Or perhaps they would love to do something fun with you like attend a chocolate making class, a wine pairing, or mixology class. All of this is going on and more during D.A.T.E Week! Visit our website TtownDateWeek.com for a full list of participating locations and start planning your special night out today!
Have a blast in the City of Champions this weekend, and check out visittuscaloosa.xyz/events for more upcoming events!
It's another great weekend filled with exciting events in Tuscaloosa! Alabama football and basketball are in action, and there is live music and performances for those so inclined. The entertainment district downtown has gone so well that it has been extended. This Friday and Saturday you will be able to head downtown, grab a drink, and explore the wonderful shops and art galleries in the area so don't miss out!
Alabama rolls into its last home game of the season with at least ten wins for the tenth straight season, but this team is hungry for more against a Mercer team that gave Auburn fits earlier this year. Saturday is senior day in Bryant-Denny Stadium, so come and support the seniors who have compiled an incredible career record of 50-4 with a chance to cement their legacy with these accomplishments: a 55-4 record, four straight SEC titles, and two national titles. Don't miss a great opportunity to come cheer on JK Scott, Rashan Evans, Hootie Jones, Tony Brown, Da'Shawn Hand, Levi Wallace, and Shaun Dion Hamilton. The game kicks at 11:00 so come out and enjoy a nice day in Tuscaloosa afterward.
Green Bar does a great job of hosting great bands every weekend, and this Saturday night they present a three-piece homegrown Tuscaloosa band King's German Legion that will blow your socks off. This blues-rock band puts you in the mind of the Black Keys with a heavy base and distorted, finger-blistering guitar work. Tickets are $5.00 at greenbarttown.com and the music starts at 10:30.
Moundville Archaeological Park and the Office of Archaeological Research are hosting an event this Saturday at Moundville Park! They invite you to come and help catalog and wash real artifacts that have been found recently at Moundville. You never know what you might get your hands on! The event runs from 10 a.m. – 4 p.m. on Saturday. There will be light snacks and water provided. The event is free with park admission ($8).
Wind your weekend down by taking in one of the most famous American plays of all time presented by UA Theatre and Dance. August: Osage County is a story about one of the most dysfunctional families you will ever encounter. It will hopefully make your own family seem tame by comparison when you are sitting around the Thanksgiving table arguing about politics next week, and you'll be glad to have the perspective. The show begins at 2 p.m. on Sunday at the Marian Gallaway Theatre on Alabama's campus. You can get tickets here: https://theatre.ua.edu/productions/august-osage-county/
Alabama has rocketed off to a 2-0 start with wins over Memphis and Lipscomb. The Tide's young freshmen look as good as advertised and could lead the Tide to a special season in 2017-2018. The next opponent in their way on their journey to the top is Alabama A&M. Collin Sexton and John Petty are two players you have to see to believe, and your next chance is this Friday night at 7:00. Don't miss the best basketball squad Alabama has had in 13 years!
There are always fun events going on around town, so visit our event calendar at visittuscaloosa.xyz/events for a complete list.
LSU weekend is always a special weekend in Tuscaloosa, and this year is no different. There are tons of exciting things to do beginning on Friday at 5:30 with Tuscaloosa's First Friday Art Walk. Due to the success of the entertainment district the past few weekends, it will once again be in effect on Friday and Saturday from 9am-10pm each day. So get out, grab a drink, and explore the shops and art galleries that Tuscaloosa has to offer while you're in town for the game.
Tuscaloosa's local art scene comes alive on Friday night for the First Friday Art Walk. Experience the vibrant Tuscaloosa downtown area with drink-in-hand as you visit Harrison Galleries, the Paul R. Jones Gallery, O'Connor Art Studio and more! Check out the First Friday website and map your personalized art crawl. You may even stumble on an original Salvador Dali like we did!
Alabama has its biggest home game of the season on Saturday night when the 19th-ranked LSU Tigers come to town. Alabama is a 21-point favorite, but this is a rivalry where truly anything can happen. Alabama has beaten LSU six games in a row –including the national title game in 2011 – and LSU will once again be looking for revenge under the lights of Bryant-Denny Stadium. The game kicks off at 7:00 p.m. and will be televised by CBS.
Have you ever wanted to learn how to brew your own beer? Join Band of Brothers Brewing on November 4th at 1: 00 p.m. when The American Homebrew Association will be on site for Homebrew day! Learn to Homebrew Day brings together thousands of people from all over the world, and we encourage anyone who enjoys beer—from brewing beginners and hobbyists to professionals, to get involved," said Gary Glass, director, American Homebrewers Association.
The Children's Hands-On Museum always has something for the kids on Saturday, and this weekend is no different. Join them for River Discovery Days Saturday, November 4, 2017, from 10:00 a.m. to 4:00 p.m. as "Riverboat John" Ferguson performs with songs and stories about life on the River! Kids will learn about careers on the river, how to be a Captain, Navigator, Deckhand and more as they trace U.S. rivers, learning and having fun along the way.
Alabama football isn't the only sport in action this weekend. Come cheer on the Alabama volleyball team as they take on Georgia Sunday at noon. The Tide are looking to bounce back from a loss to Auburn against a good Georgia team that they've already beaten once this season, so it's a good opportunity to get their mojo back.  The match will be in historic Foster Auditorium which is a great venue to watch Crimson Tide volleyball.
We have tons going on during the upcoming holiday season, so make sure to check out our great upcoming events and follow us on our social media pages (@visittuscaloosa) for more announcements. Tell your friends and we can't wait to see you around the One and Only Tuscaloosa!
Also, check out our Gameday Fashion Blog for some great places around town to pick up your perfect gameday outfit.
In the One and Only Tuscaloosa, there are so many places to go and things to see. These 10 things are popular among the locals and won't break the bank. So take a chance and try something new!
1. Children's Hands-On Museum (CHOM)
This museum has been providing children with fun activities and events since 1984. There are three floors of fun for children of all ages. The Great Pumpkin Party and the Monster Walk Scavenger Hunt are two events that are happening soon. Admission is less than $10! CHOM is a great place to take the kids and enjoy a day of fun!
2. Paul W. Bryant Museum
This museum is a blast from the past! Check out over a hundred years of Crimson Tide memorabilia and football history. Visit the Paul W. Bryant museum to see what it takes to be "nothing but a winner." Admission is $2 for adults and $1 for children.
3. Arboretum
If you're a dog lover then the arboretum is the place for you! The arboretum is sixty acres of the great outdoors. Check out the dog park, community garden, as well as the hiking trails. The best part is that it is completely free!
4. The Waysider
Take a trip to Paul "Bear" Bryant's favorite breakfast destination. It truly is the breakfast of champions. The restaurant is packed with decades of Alabama memorabilia. The Waysider offers made-from-scratch biscuits and gravy all for just under $3!
5. Homegrown Alabama Farmers Market
Edit: We regret to inform you his event will no longer happen. If you are interested in farmers' markets in Tuscaloosa then check out the Tuscaloosa Farmers' Market at the River Market.
6. Babes Donuts
A family-owned breakfast, brunch and coffee business located in Downtown Tuscaloosa. The menu features gourmet doughnuts unlike anything else you'll find in town. Flavors include: bacon maple, sourdough, Reese's Peanut Butter, Heath Bar sprinkle, Captain Crunch, Fruity Pebbles, S'mores, red velvet, blackberry cream cheese and others. Seasonal offerings can range from King Cakes during Mardi Gras to candied blood oranges. Stop by and grab a treat for under $10.
7. Steel City Pops
Nothing is better than a Steel City Popsicle on a hot Alabama summer day. They have many flavors to choose from, so there is a flavor for everyone. Flavors include: Arnold Palmer, Bosc Pear with Honey, Champagne White Tea, Cinnamon Apple, Cranberry Orange, Lime, Plum with Rosemary, Pomegranate, Strawberry Fig, Strawberry Lemonade, Avocado, Buttermilk, Carrot Cake, Chocolate, Coconut, Coffee, Maple Bacon, Bourbon, Pumpkin, Toasted Marshmallow, Vanilla Bean. All popsicles are $4.49 and under.
8. Black Warrior River
The Black Warrior River is absolutely stunning and the perfect place to go on a hot summer day. You can cast a line and catch some fish or bring your own boat and cruise the water. The Black Warrior is also perfect for paddle boarding or just floating down the river. Don't feel like getting in the water? That's fine because the Tuscaloosa River Walk runs along the river and offers beautiful scenery. It's the perfect place to get some exercise or take your dog for a walk.
9. City Café
For decades, locals and students alike have enjoyed the homemade cooking served up at City Café. At lunchtime, this restaurant is packed with locals stopping in for a tasty meal at a reasonable price. Stop in and enjoy a meat and three for under $10. You won't be disappointed, it's just like mama makes it.
10. Gallette's Yellowhammer
Stop by Gallette's and sip on a Tuscaloosa favorite. People from all over the United States have enjoyed Yellowhammer's from the One and Only Gallettes while in Tuscaloosa. The Yellowhammer is a staple on gameday at the University of Alabama. Their yellow cup is a popular accessory for the Crimson Tide fans walking around the quad. Visit Gallette's and try one for yourself.
Written by Rachel Horton
Tomorrow begins a big weekend in Tuscaloosa! Bama football returns for homecoming, Druid City Pride weekend runs through Sunday, and the Children's Hands-On Museum always has something fun for the kids. The entertainment district will be in effect in Downtown Tuscaloosa again this weekend, so take the opportunity to get out, grab a drink, and explore Tuscaloosa's unique downtown area and events.
On Friday night downtown Tuscaloosa will be buzzing with excitement and activity. In addition to the area being an entertainment district from 9:00 a.m. to 10:00 p.m. Druid City Pride will host a block party from 5:30 p.m. to 9:00 p.m on 22nd Avenue between Alcove and Grace Aberdeen. Druid City Pride is a local organization dedicated to celebrating, serving, and supporting the LGBTQ+ community in Tuscaloosa. Great drinks from Alcove and Monarch, cornhole, and live music by incredible blues musician Janelle Frost will give you and your friends a fun place to unwind and kick off a great Pride weekend in Tuscaloosa. Come out and enjoy a good time!
The Crimson Tide returns home under the lights of Bryant-Denny this Saturday night to battle divisional foe Arkansas for homecoming. Alabama will kick off at 6:15 as a whopping 30.5-point favorite and will be looking to Coach Saban and the fans to make sure they haven't been affected by the "rat poison" that comes along with beating SEC teams 66-3. If you haven't purchased a ticket yet, don't worry. There are still some tickets left on rolltide.com. There are several special homecoming activities happening this weekend, such as a step show on Friday night at 8:30 p.m. and parade on Saturday at 1:00 p.m. Get out and enjoy the best gameday experience in all of college football.
The Children's Hands-On Museum always has fun events for the kids, and this weekend is no exception. On Saturday from 10 a.m. to 4 p.m. things will get spooky as Halloween takes over for the Goblin Gala. Kids will enjoy treats, activities, and games in a fun Halloween setting. The Children's Hands-On Museum is always providing fun things for kids to do in the One and Only Tuscaloosa. Stop by before the homecoming game on Saturday and get into the Halloween spirit.
Join Band Of Brothers Brewing Sunday, October 15th for Trucks By The Tracks with your favorite local food trucks. Band of Brothers is hosting Pastor's Kitchen, Simple Southern Cuisine, Get MIX'D, Lolly's Sugar Shack and more. This event is your chance to experience great beer, live music, and good company. What could be better? The brewery opens at 1:00 p.m. with food trucks arriving at 1:30. Live music performed by the Tarred and Feathered Band will begin at 2:00. It's going to be a large time!
The Alabama Crimson Tide soccer team is in town on Sunday afternoon taking on the Mississippi State Bulldogs at 5 p.m. Both teams are coming off of loses and will be fighting hard to get their schedule back on track. The Crimson Tide's record is 9-6-1 and the Bulldogs are 7-3-3. Sporting events at The University of Alabama are always a good time. As always, admission is free so it is a great event to take the whole family to.
We have tons more going on so check out our great upcoming events below, and follow us on our social media pages (@visittuscaloosa) for more announcements.
Contributors: Danny Owen & Rachel Horton
In 2009, the "Free the Hops" bill passed in Alabama allowing the sale of beer with an ABV content higher than 6.0%. A nearly five-year process provided Alabama with the opportunity to join 46 other states in the sale of high-gravity craft beer. In 2012, Tuscaloosa's city council also voted to change the city's zoning ordinance which allowed for brewpubs and breweries. This series of law changes provided a culture change and sparked a flourishing craft beer scene in the city of Tuscaloosa. Druid City Brewing Co., owned by Bo Hicks and Elliot Roberts, became the first official brewery in November of 2012.
Tuscaloosa is known to locals as "The Druid City" because of the giant water oaks lining the city streets in its early years, according to Encyclopedia of Alabama (Lewis, 2013). It's only fitting the first official brewery derived its name from this fact. Initially, the two co-owners worked out of an office space before deciding to open a taproom in July of 2013. Druid City Brewing Co. is known for its Downtown North Porter which is described as, "a full-bodied malt bomb with rich chocolate and vanilla flavors from beginning to end" on their website. Coming in at an ABV of 9.1 this distinctive beverage is sure to have you in a blissful state of mind after a few sips. Druid City has other local favorites such as the Lamplighter IPA, Druid City Pale Ale, Riverside Saison, Tuskaloosa Stout, and Druid City Wheat. Each of these brews is uniquely named after a feature specific to Tuscaloosa. They have a variety of fun events throughout the week such as trivia and open mic nights as well as live music on site. DCBC is also credited as the first to legally sell beer exclusively brewed and bottled in Tuscaloosa. The brewery hand-bottled 144 22-ounce bomber bottles and released them at local stores such as Loosa Brews, Spirits, and Corks & Tops in March of 2015.
A second brewery arrived on the scene in November of 2013 when four friends: Joe Fuller, Eric Hull, Jason Spikes, and Wayne Yarbrough founded Black Warrior Brewing Co. These four gentlemen realized their dream could become reality and started home brewing in Jason's basement. An extensive search eventually led to a perfect location to call home in the heart of Downtown Tuscaloosa. After months of hands-on work and renovation, they were able to open up the brewery named after the Black Warrior River which flows through Tuscaloosa County. Throughout the week Black Warrior has events such as trivia, movie nights, and American Outlaw watch parties. They have a vast selection of brews which makes it easy for everyone to find something they enjoy! Some of the local favorites include the Apricot Wheat, Crimson Ale, Broad Street Brown, Lock 17 IPA, Tashka Double IPA, and Sipsey Strawberry Blonde. No matter what style you prefer, you're sure to find something you'll fall in love with. Black Warrior Brewing Co. also distributes their Apricot Wheat and Lock 17 IPA throughout the area. This is the perfect way to take a little taste of Tuscaloosa with you wherever you go!
The newest brewery to arrive on the scene, Band of Brothers Brewing Co., opened its doors in September of 2015. Owned by brothers Jeremiah and Jeremey Donald and friend Quintin Brown this establishment provides a unique, easygoing atmosphere. With plenty of space to utilize, Band of Brothers frequently hosts live music, movie nights, games and much more! Their stellar selection of brews includes local favorites such as the Voodoo Mild, Monk on the Radio, and Station One Saison. Each of these beers provides a flavorful and noteworthy taste leaving you wanting more. Band of Brothers also distributes their Monk on the Radio Belgian ale to local craft beer hotspots such as Corks & Tops, Loosa Brews, and Cravings.
If you are in Tuscaloosa for a gameday at Bryant-Denny or concert at the Tuscaloosa Amphitheater, be sure to check out one of the many craft beer stores around town! They provide the perfect opportunity to take a taste of Tuscaloosa home with you. Loosa Brews features 63 different craft beers on tap with an even larger selection of bottled and canned beers to be bought for purchase. What better way to decide on which beer to take home than by trying it on draft first? Loosa Brews is a great place to bring the entire family! They have a plethora of arcade games for all ages to enjoy as well as a large back patio deck perfect for viewing the sunset.
With over 80 available draft beers from around the globe, Brass Tap is another must-visit for craft beer enthusiasts in the Tuscaloosa area! Some other places to purchase local craft beer include Corks & Tops located off of Bryant Dr. and Cravings located downtown off University Blvd. Both of these exceptional stores allow you to "build your own six pack" providing the opportunity to try a profusion of local specialties. Cravings also has a patio section in front of the store where customers can pour a cold one and enjoy the sights and sounds of Tuscaloosa.
Whether you're a craft beer connoisseur or new to the wonderful world of beer, Tuscaloosa's craft beer scene will leave you delightfully pleased. With plenty of places to #drinklocal, you can't go wrong in the quest for the perfect beer. Craft beer culture in Tuscaloosa is still young, but expanding at a rapid pace which is great news for all of us! If you're in town in the coming weeks for some Alabama football make sure to give one of these great locations a try.
Written by: Will Wyatt