For Sharon Thomas Ransom, barbecue is in her bones. She began learning the craft at age five, when her parents opened a barbecue restaurant in the back of their house. Today – five decades later – she owns and operates Thomas Rib Shack in the community she loves. Thomas Rib Shack is just one of many local restaurants in Tuscaloosa and Northport.
Ransom is as fixed in the community as her barbecue. A natural conversationalist, she entertains her customers and employees all day at the restaurant, and she enjoys being with people. "I love my community," she said. "We're resilient. We bounce back."
About five minutes from downtown, you'll find Thomas Rib Shack, a meat-and-three restaurant that's never really advertised, but has thrived for 50+ years.
The food speaks for itself.
"If you have good food, the people will come, " says Sharon Thomas. Born-and-raised in Tuscaloosa, she's got a lot of friends, because every person that walks through the door is an old or new one, starting at 10 am and not lightening up 'til they sell out.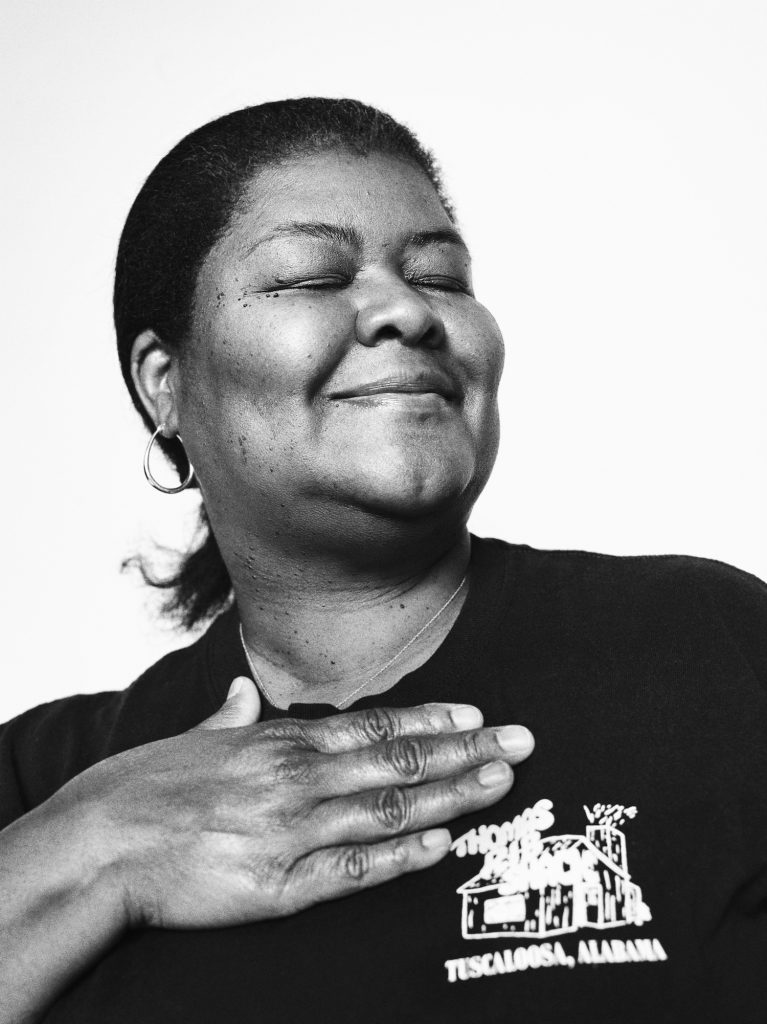 The Southern dishes are down-home, authentic, and consistent, served up in a family-first atmosphere (yep, her kids work there too). Classic fried chicken, fall-off-the-bone ribs, mac-and-cheese, cornbread, and even pig's feet and chitlins.
Sharon remembers her parents perfecting their famous BBQ sauce in the kitchen when she was just 11 years old, and it's been the same ever since. That's what keeps people coming back for more.
What you can expect: "Nothing fancy. Just us." And that's more than enough.
A positive outlook: Recently interviewed on her experience during COVID-19, Sharon shared that the most important lesson she learned was to stay focused, stay faithful, and stay committed, she said. "No matter how bad things look, don't give up. The darkest hours are just before the dawn."
For a true taste of the south, try Thomas Rib Shack!
If you're looking for places to eat on gameday in Tuscaloosa, you've come to the right spot! Founded in 1958 in Tuscaloosa, Alabama, Dreamland is hailed as one of the best BBQ joints around and has been a legendary staple in our community and on game day since it began.  It's said that this famous joint serves ribs to over one million people per year. 
With a slogan of "Ain't nothing like 'em nowhere," they are most notably known for their hickory-smoked ribs – and it's true – there ain't nothing like 'em nowhere!  Over the years, Dreamland has expanded to 10 locations across Alabama, Georgia, and Florida.  While they have experienced growth, the original location in Tuscaloosa remains its most unique.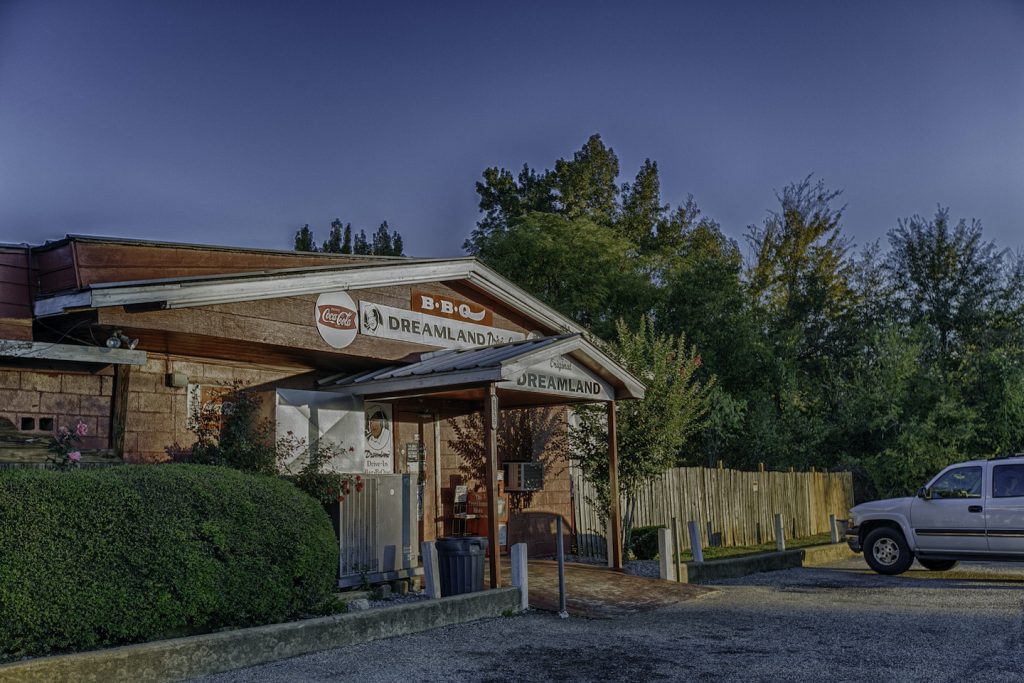 Dreamland truly started with a dream. Founded by John "Big Daddy" Bishop, Big Daddy said that God visited him and told him to open a restaurant and he obliged (lucky us!!). As Big Daddy embarked on this adventure, he began cooking in his front yard.  The original Dreamland, which was literally built by the hands of Big Daddy, would eventually open its doors, selling everything from ribs to burgers, and even postage stamps. But people quickly began to take note of the hickory-fried ribs, white bread, and signature barbecue sauce, and soon visitors were coming from all over.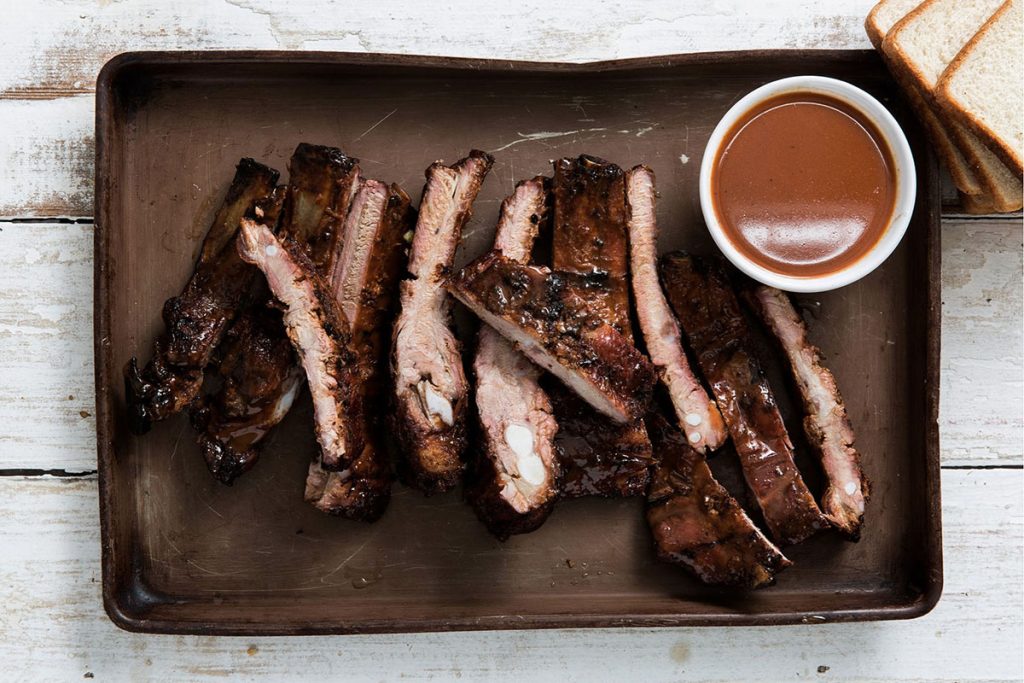 As you enter the rustic looking location, dubbed "the original", you are greeted with warm smiles and an invitation to "sit wherever you want". You'll notice license plates, Alabama football memorabilia, dollar bills and pictures on the ceilings and walls. On the tables you'll find their famous spice called "shake", which you can buy. The employees are dedicated – several at the original location have been there for years – and wake up at 5 am to begin preparing the food. One employee, Raymond, has been with Dreamland for over 45 years and Reggie, who manages the pit, has been there for 25 years! Knowing that many of their guests are limited on time, especially on game day, you can also expect quick and friendly service.
We had a chance to visit with the assistant general manager of the original Dreamland, Jasmine Lewis, and she shared that, "People come in from Texas, California, and all over to try our ribs and our sauce. We [the original location] are totally different from our other locations; we serve the same ribs, but everybody says it just tastes different here."
Speaking of the ribs… after six decades Dreamland still prepares them using the same technique. They roast the pig over a hickory wood fire pit and baste them with their signature vinegar-based barbecue sauce.  Also unique to Dreamland is the plain pieces of white bread served before every meal. No, it's not toasted and it doesn't have butter on it, but they serve it with their famous warm barbecue sauce for you to enjoy dipping the slices of bread into for an appetizer.Dreamland also makes what we believe is the best banana pudding we've ever had! It's made with crispy Nella wafers and creamy vanilla pudding that makes for a great dessert to end your meal (dreaming about it as we write this).  Jasmine confirmed that this, too, is her favorite menu item.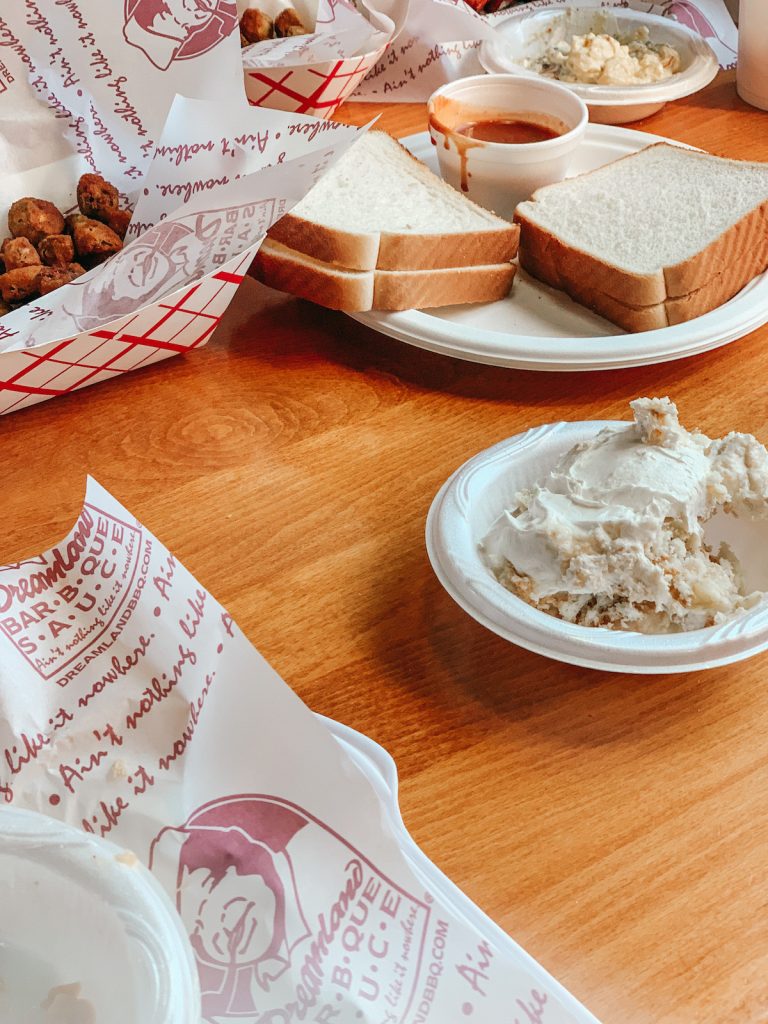 Fun Fact: Jasmine shared that, surprisingly, the busiest day for them is not game day but is actually the Fourth of July. Dreamland is filled with in-house guests, catering orders and their drive-thru, which was a positive outcome from COVID-19 [the drive-thru].
Today is also your lucky day because… drumroll please… on their website you can find detailed instruction on how to make their famous barbecue! You can also purchase many of Dreamland's staple sauces, rubs, and seasoning online or at one of their locations. The restaurant offers t-shirts, hats, and gold gear, available to ship anywhere in the U.S.
Now, we promise we're not exaggerating about how scrumptious this BBQ is, but if you don't believe us, here's what one Dreamland customer had to say!
"I've ate barbecue all over the US, let me say these ribs have everyone beat to a frazzle! Tender, juicy, and best flavor I've ever had! Beats Memphis barbecue hands down! And be sure to order the banana pudding for dessert."

Dreamland BBQ Customer
When it comes to places to eat on gameday in Tuscaloosa, there's certainly many options to select from. Whether you're traveling to Tuscaloosa or West Alabama for a gameday, or for other purposes, a stop at Dreamland BBQ is a must.  When it comes to spots uniquely local to Tuscaloosa, Dreamland is at the top of the list!  For more information about Dreamland BBQ, contact Dreamland Barbeque Tuscaloosa at 205-758-8135.
Final Insiders Tip: When you're ready to give the famous BBQ joint a try, know that the other locations serve the same menu items as the original Dreamland in addition to burgers and chicken options. Sides include mac and cheese, coleslaw, baked beans, and potato salad.
Tuscaloosa's food truck scene has certainly evolved over the past few years, and we're totally here for it! Whether you're attending a local festival, exploring The University of Alabama's beautiful campus, or simply frequenting some of our neighborhoods, it's likely you'll see a food truck out and about. If you're like us, there's just something special about a delicious meal cooked to perfection and served with a smile and at the convenience of "on-the-go". Today, we want to share six local food trucks that you can find hitting the streets of T-Town.
Just remember, there are many more food trucks in Tuscaloosa than the ones we're covering, especially depending on the time of the year (ie: football season – roll tide!).
Catch a Taste
Serving with love and devotion to make great food is the goal of this food truck. It's nearly impossible to leave this place without a smile. They move around day-to-day, so you can click here to view their schedule. Whether you're looking for a beef wrap combo or a wing platter, you will be more than satisfied as soon as you catch a taste.
Bean Me Up Scottie
This little gem is relatively new to town, but word travels fast when the food is incredible. This organic eatery has unique delicacies like vegan cupcakes, mac and cheese burger, and the classic BLT sandwich. All of their meat is plant-based for those vegetarians and vegans out there. With deserts like Zucchini bread and banana nut bread, this place can cure just about any craving! Their schedule will be posted soon on their Facebook page.
Cheese Louise
This local gourmet grilled cheese food truck specializes in, none other than, spectacular sandwiches. They have earned quite the reputation around town and have lived up to the hype. This place puts a bit of a spin on the American icon. Just imagine, you order the Macdaddy, which is filled with Colby jack cheese, bacon, and chipotle sauce on freshly toasted white bread. Yum!! For the full menu and more details check out their website here.
Little Poblano
Hungry for tacos and tamales in Tuscaloosa? This Poblano food truck has just what you want to satisfy even the deepest hunger. They offer an incredible chicken roasted in an orange tinga sauce, guacamole, pickled red onion, marinated cabbage, and house crema. And if that's not your style, the classic quesadilla never disappoints with chicken tinga, cheese, and roasted poblanos. For more information on Little Poblano click here.
Big Tasty
One of the more classic food trucks that roam T-Town is Big Tasty, serving a wide range of hot dogs and hamburgers. They offer quality services that go a long way to ensuring that your order is to perfection. Not to mention the rave reviews they receive about their customer service going above and beyond. If hamburgers and hot dogs aren't your thing, they also serve a mouth-watering wing combo, served with a side and a drink. For more details check out their website.
Urban Cookhouse
When the official food truck of Urban Cookhouse roams Tuscaloosa, we all know what that means… it's time to grub! They're serving up your favorite UC Classics, now on the go! Check out their website to find our next stop! Whether you're craving something healthy like Berry Good salad and wrap or something hardy, Applewood bacon, avocado, lettuce, and tomatoes with aioli on toasted white bread, you're sure to be satisfied with all the variety of options here.
Blenz Bowls
A smoothie bowl concept that has everyone talking on campus! Their specialty is healthy, happy, good food because the fuel we put in our body matters. Blenz Bowls tries to bring us the best fuel available and we think it's pretty good! They can typically be found on campus Monday through Friday during the school year and actually have a storefront location in the Student Center as well. Check out their Instagram page for current locations or visit their website today!
Archibald's Food Truck
Arguably some of the best wings in West Alabama, the Archibald's Food Truck can often be found around the community and at several local events! They are a locally owned barbecue food truck but their business (Archibald & Woodrow's BBQ) has been around for over 60 years now. They were established in 1962 and is now being run by the third-generation! Over the years, the meat and sauce has stayed the same. Check out their Facebook page or their website to learn more.
Graduation is around the corner and that means it's about to be a topsy-turvy world in many ways! One important part of that "weekend of all weekends" is that the parents visit the kids in their college town! So, expect to see tons of proud and excited parents, siblings, grandparents, aunts and uncles here in our one and only Tuscaloosa, to celebrate the success of their Graduates!
There are some important rules when it comes to treating and feeding the family in this unique situation, and we decided to focus on the most important aspect: Taking them to dinner. Or more precisely: Them taking you to dinner! As a Tuscaloosa local, the choice of the restaurant should be yours and you should choose wisely because the parents will probably be paying! Here are our top 5 places to have a family dinner at graduation weekend in Tuscaloosa!
1. Dreamland Barbeque
Let's begin with the perfect place to impress your family with some authentic southern food: Barbeque! It's one of the easiest things to fall in love with when you move to Alabama, and will likely crave it after they leave! Dreamland is the local hero among the Barbeque places in Tuscaloosa. The southern chain understands the Alabama spirit like no other and is known for its delicious ribs that literally fall off the bone! Grab your parents, grandparents, siblings and anyone else that will visit you for graduation and take them out for a fun dinner with some delicious ribs and white bread along with their famous homemade Dreamland BBQ sauce!
2. Cypress Inn
Parents visit = parents pay, right? Take that chance and let them take you out for a sartorial graduation dinner at the fabulous Cypress Inn! Of course, it will be your parent's pleasure, too, because the Cypress Inn is one of the most scenic and impressive restaurants in town: Located directly on the Black Warrior River it provides a lovely view from the elevated restaurant and even terrace to sit outside! After dining you might take a walk through the gardens or down the steps and enjoy the wooden boat dock. Or just have another drink at the terrace, celebrate and watch the boats on the river.
3. Chuck's Fish
It might be old fashioned, but fish is still considered to be a dish for special occasions. And what occasion could be more special than your graduation! So, take your family to the heart of downtown Tuscaloosa and enjoy delicious specialties at Chuck's Fish! Their Sushi Bar is one of the best in town, always fresh and with tailor-made creations exactly for your taste! Or sit downstairs in the main restaurant and enjoy classics as well as novel dishes with fresh fish, caught around the corner in Florida! The seafood creations are also definitely worth trying – who could say no to crab cakes, oysters, and fish tacos? Finally, end a perfect evening with your favorite cocktails from their fantastic bar!
4. Southern Ale House
If you want to give your family an authentic southern dining experience without focusing on Barbeque too much, the Southern Ale House is a great place to take them! In a warm and inviting atmosphere, it serves both classic and contemporary interpretations of Southern cuisine. Besides amazing burgers and birds, you should order their variety of homemade biscuits – the ultimate southern side! Another highlight is – as the name says – the selection of beer! Alongside local brews from Birmingham and Gadsden, American classics as well as international specialties like French and German beer, the Southern Ale House has got more than ten different ales! That makes assuredly one favorite beer for everyone in the family!
5. Evangeline's
Last but not least, we can't help but recommend Evangeline's, another lovely casual upscale restaurant. Located right across the bridge on McFarland in Northport, it is also close to campus. A little hidden in the alleys of Tuscaloosa Galleria, you walk past a beautiful fountain and the scenic white buildings with striped awnings before entering the restaurant. The atmosphere inside is almost magical, the interior and decorations with hundreds of little lights are very unique. They serve various gourmet dishes that come in surprisingly big portions – so don't hesitate to bring the always-hungry dads or brothers! On a warm night, you might return to the outside again and enjoy a glass of wine in the alley, covered by more lights and listening to the fountain.
Written By: Katharina Horvath – Intern