Fishing in Tuscaloosa County
Editor's Note: 27-year-old Jalen Conner is a native of Tuscaloosa and has been fishing in Tuscaloosa County's Holt Reservoir for eight years. A criminal justice student at Tuscaloosa's Stillman College, Conner fishes two tournament trails – the S.A.B.A and the Jim Austin.
I like to fish the lower end of Oliver Lake during football season, when the University of Alabama plays its home games because the water in that section of the Black Warrior River tends to be a little-more stained at that time of the year. When most people are either at Alabama football games or deer hunting here in Alabama, my fishing coach and I can catch spotted bass all day long at Oliver. We may be the only boat on that section of the river at that time of the year.
We like to fish the creek mouths in the Moundville section of the Black Warrior River. When currents coming through Oliver Lake in the fall, bass like to hold in the creek mouths at that time of the year. They'll be feeding on shad and worms being brought to them by the upriver current. We can consistently catch 2–3-pound spotted bass and often even bigger spotted bass in the fall at Oliver.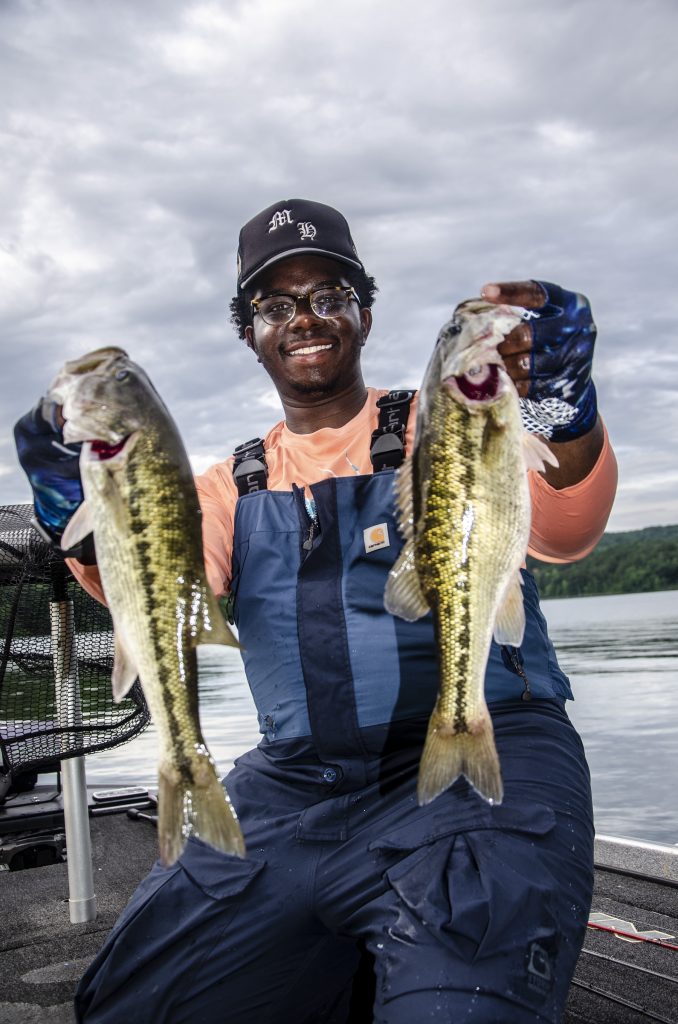 It's another great weekend filled with exciting events in Tuscaloosa! Alabama football and basketball are in action, and there is live music and performances for those so inclined. The entertainment district downtown has gone so well that it has been extended. This Friday and Saturday you will be able to head downtown, grab a drink, and explore the wonderful shops and art galleries in the area so don't miss out!
Alabama rolls into its last home game of the season with at least ten wins for the tenth straight season, but this team is hungry for more against a Mercer team that gave Auburn fits earlier this year. Saturday is senior day in Bryant-Denny Stadium, so come and support the seniors who have compiled an incredible career record of 50-4 with a chance to cement their legacy with these accomplishments: a 55-4 record, four straight SEC titles, and two national titles. Don't miss a great opportunity to come cheer on JK Scott, Rashan Evans, Hootie Jones, Tony Brown, Da'Shawn Hand, Levi Wallace, and Shaun Dion Hamilton. The game kicks at 11:00 so come out and enjoy a nice day in Tuscaloosa afterward.
Green Bar does a great job of hosting great bands every weekend, and this Saturday night they present a three-piece homegrown Tuscaloosa band King's German Legion that will blow your socks off. This blues-rock band puts you in the mind of the Black Keys with a heavy base and distorted, finger-blistering guitar work. Tickets are $5.00 at greenbarttown.com and the music starts at 10:30.
Moundville Archaeological Park and the Office of Archaeological Research are hosting an event this Saturday at Moundville Park! They invite you to come and help catalog and wash real artifacts that have been found recently at Moundville. You never know what you might get your hands on! The event runs from 10 a.m. – 4 p.m. on Saturday. There will be light snacks and water provided. The event is free with park admission ($8).
Wind your weekend down by taking in one of the most famous American plays of all time presented by UA Theatre and Dance. August: Osage County is a story about one of the most dysfunctional families you will ever encounter. It will hopefully make your own family seem tame by comparison when you are sitting around the Thanksgiving table arguing about politics next week, and you'll be glad to have the perspective. The show begins at 2 p.m. on Sunday at the Marian Gallaway Theatre on Alabama's campus. You can get tickets here: https://theatre.ua.edu/productions/august-osage-county/
Alabama has rocketed off to a 2-0 start with wins over Memphis and Lipscomb. The Tide's young freshmen look as good as advertised and could lead the Tide to a special season in 2017-2018. The next opponent in their way on their journey to the top is Alabama A&M. Collin Sexton and John Petty are two players you have to see to believe, and your next chance is this Friday night at 7:00. Don't miss the best basketball squad Alabama has had in 13 years!
There are always fun events going on around town, so visit our event calendar at visittuscaloosa.xyz/events for a complete list.
It might not apparent at first, but Tuscaloosa is a city with a fascinating and rich history! While Alabama Football's history is rich enough for an article all its own, this is not one of them! There are scenic old mansions, hidden gardens, Native American history and even ruins to discover in the one and only Tuscaloosa! Let us take you on a short trip through town on which you can you can see, touch and live Tuscaloosa history!
1.) Moundville
Let's start furthest back in time: The most represented Native Americans in Alabama were the Mississippians. The mound building culture settled their second largest town down by the Black Warrior River in Central Alabama and it was an important political and religious center back in the height of their era! Since 1999, you can discover the ancient lives of the Mississippians in their former village at the Moundville Archeological Park and Museum, 20 minutes south of Tuscaloosa. Marvel at unearthed treasured found on the site, stroll through the mounds and learn everything about the culture!

2.) Capitol Ruins
You probably wouldn't expect to find ruins in the middle of downtown, right? Just follow University Boulevard to the west end of downtown and you will find the stunning capitol ruins. Before the capitol of Alabama had moved to Montgomery in 1847, it was located here in Tuscaloosa! After that, the majestic building served other functions, until a fatal incident in 1923: It was accidentally set on fire and nearly completely burned down. But that left us one of the most magical places in town today: The ruins still show the capitol's stone foundation alongside a few wall fragments.
3.) Paul W. Bryant Museum
As the hometown of the University of Alabama, Tuscaloosa will forever be connected with football, the most successful department of the UA Athletics! The Crimson Tide is 26 times SEC Champion and 16 times National Champion – no need to explain the fascination for football itself! Aside from everything around Bama's most legendary coach, Paul "Bear" Bryant, the museum also offers an exhibit about "The Tide through time", beginning in 1892!!
 4.) Battle-Friedman House
This Building is a hidden gem in Tuscaloosa, and also has an impressive story to tell – a piece of history in his nicest appearance! Built even before Civil War, in 1835, it is one of the oldest mansions in town! The North Carolina native Alfred Battle and Hungarian Bernard Friedman, who bought it from Battle in the late 19th century, served as the house's namesakes and created themselves a monument. The House and its beautiful gardens can be visited for a small admission and also be rented for private events. It has even served as a location for music videos! The scenic beauty of this house is just undeniable.
5.) Denny Chimes
This legendary campanile in the center of UA campus has been an emblem for not only the University but also for Tuscaloosa as a City for almost a Century now! Since it was built in 1929, the chimes traditionally ring every 15 minutes and also play other songs. Surrounding the tower is another piece of UA history: The walk of fame, where captains of the football team have placed their hand and footprints in cement since 1948. It is worth to take a closer look next time you stroll by – you're going to feel the history!
Written By: Katharina Horvath – Intern
Indigenous people once ruled the area around Tuscaloosa, and further south along the Black Warrior River is the ancient ruins of a once great native city. The actual name of the locale is lost, but what archeologists have found it was once one of the largest cities in North America. Dated to around 1000 AD to 1450 Ad, the Mississippian culture occupied the site and on it, they built grand mounds inside a plaza.
These mounds were used from as little as civic buildings, burial sites, to grand plots for the elites of the city to cast their homes upon. They towered above the dwellings of the common people, and the elites lived luxuriously above. The city itself rose from a simple port to a cultural and political capital of the native lands. The city would rise to be the second largest mound city, right behind Cahokia in Illinois. Sadly, the grandeur of the impressive city would fall. European settlers would colonize and eventually the site would be found abandoned. It wasn't until the 1930s that the government took interest in preserving the site thanks to the Civilian Conservation Corps.
The ruins became open to the public in 1939 and would change to be called the Moundville Archeological Park by 1991. Today, you drive from Tuscaloosa towards the sleepy community of Moundville and find the park. Once there you'll find the open field of the former great plaza and the grass-covered mounds still towering above. The University of Alabama currently runs the museum on site and provides a wonderful collection of preserved pieces of the lost culture. You're welcome to explore and hike around the site, even climb to the top of the tallest remaining mound.
The ruins have a subtle beauty to their simplicity. They look almost alien rising out of the ground above the fields, and yet you can't help but look in awe. To think of what was once a bustling hub of civilization now quietly resting over the river. Head towards the river bluff for an impressive vantage point overlooking the waters as they flow towards the gulf and back to Tuscaloosa. Try and picture the excitement of all the people of the Native American cultures meeting and trading along the shore. What it must have been to be in the Chicago of mound cities. Take it in, and appreciate how both permanent and fragile our world is. These sites remain to remind us that our worlds can fade out, but there will always be ways to remember them. Go out and explore the ruins, and connect with a world time left behind.