If you're traveling to Tuscaloosa for the Alabama / Auburn football game on Saturday, November 26, check out the details in the images below for Alabama Gameday info. For more information, you may also visit uagameday.com.
We hope that you enjoy your stay in Tuscaloosa and encourage you to come back and visit us again!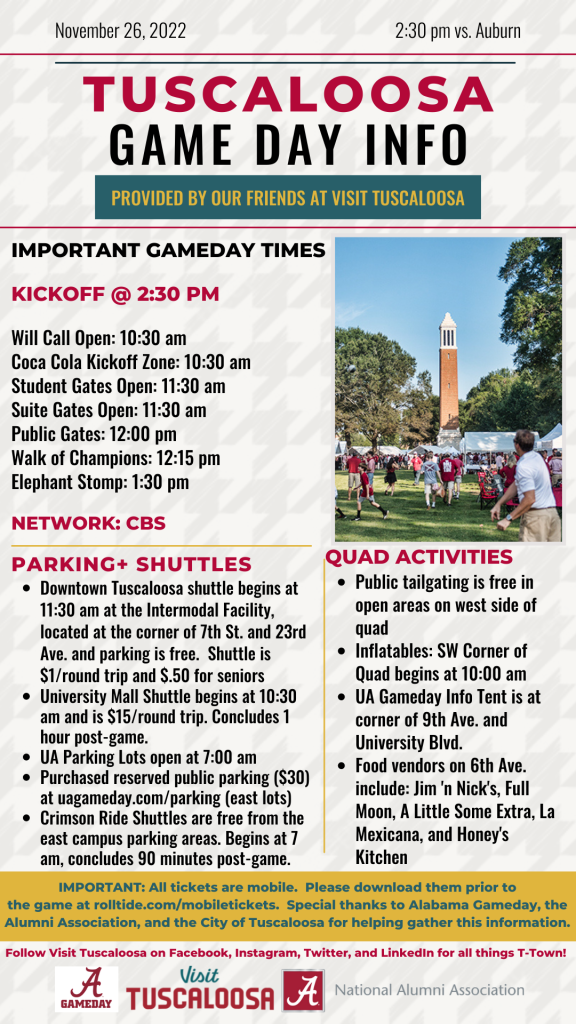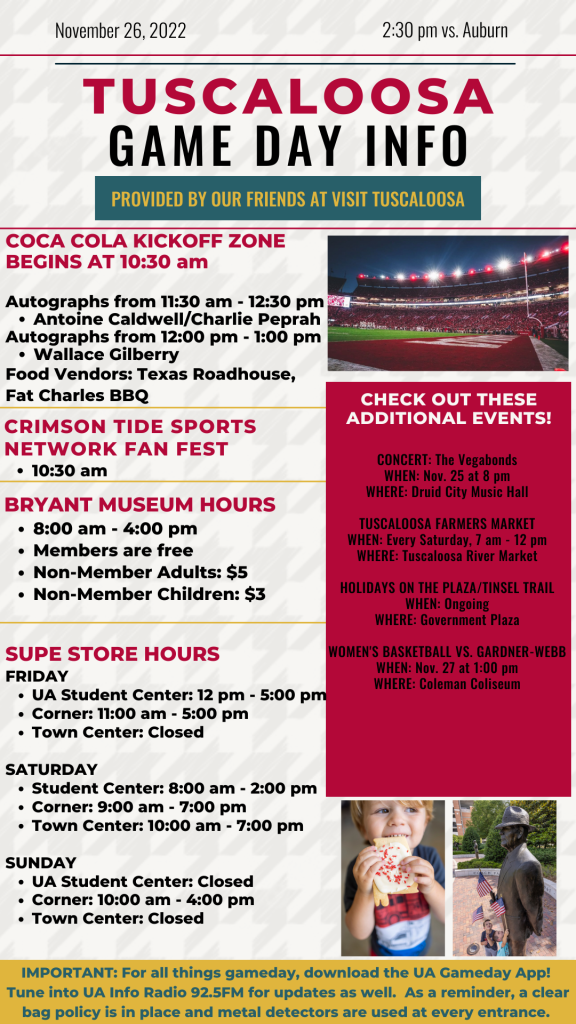 Editor's Note: Russell Jones of Coker, Alabama, is a USCG Certified Guide on the Black Warrior River in Tuscaloosa County, as part of the Alabama Guide Service. When fishing on the Black Warrior River, Tailrace fishing below Bankhead and Holt dams can be outstanding during certain times of the year because you can catch a wide variety of fish at night, as well as during the day. The success of tailrace fishing is dependent on how much current is being generated by the hydroelectric plants, the spillways and/or both. The amount of current and the color of the water in the tailraces will dictate how you should fish, and what lures you should use. You can contact Russell Jones at 205-454-7313; www.alabamaguideservices.com; and Facebook –https://www.facebook.com/AlabamaGuideService/.
The Alabama Rig holds five jig heads with a soft, plastic swimbait attached to each jig head. In Alabama, you can use all five jig heads on your Alabama Rig. However, in other states, you only may be able to use two or three jig heads. I'll place 1/4-ounce shaky head jigs on each one of the five wires of the Alabama Rig. Some anglers prefer a lighter jig head, but I like the 1/4-ounce to get the rig down quicker to where I think the fish are holding, as well as keeping it off the bottom, by reeling fairly fast. I use either 3.5 NetBait Little Spanky swimbaits on the jig heads or True Bass Hollow Body swimbaits. The True Bass swimbaits are tougher than the Little Spanky ones and somewhat more expensive. When I'm fishing with the Little Spanky ones, I like the bright, pearl-colored bodies. When the river's water is clear, I like the True Bass colors that resemble a shad better than the Little Spanky ones.
I fish the Alabama Rig on a flipping stick big frog rod that's either 7'6" or a 7'11" long. I use 50-pound-test braided line. Some people prefer to use a monofilament line, but I'm more comfortable using braided line, like Berkley's Power Pro braid. The secret to catching fish on the Alabama Rig in the tailrace is to reel it fast enough to keep it from getting hung in the bottom, yet slowly enough to get it down close to the bottom. The first time I start throwing it, I may get hung-up a couple of times, but I usually can pop my line and get the rig off of whatever it's hung.
For instance, if I'm fishing a 20-foot bottom, I want the Alabama Rig to be between 15 – 20 feet deep, possibly 18 feet. If I'm fishing in 8-10 feet of water, I try to keep the Alabama Rig in 6-7 feet of water. The Alabama Rig also has blades on it that give the bait a lot of flash. Using this bait, I catch a wide variety of fish. I've caught 20-pound catfish, 15–20 pound stripers, hybrid striped bass – often two or three at a time – largemouth bass, spotted bass, drum and skipjacks (hickory shad). However, I'm really targeting spotted bass and have caught three spotted bass on one Alabama Rig before at the same time. The biggest was a 3-pounder, and the other two were 12-14 inches long. I've also caught two, 4-pound spotted bass on the same Alabama Rig at the same time.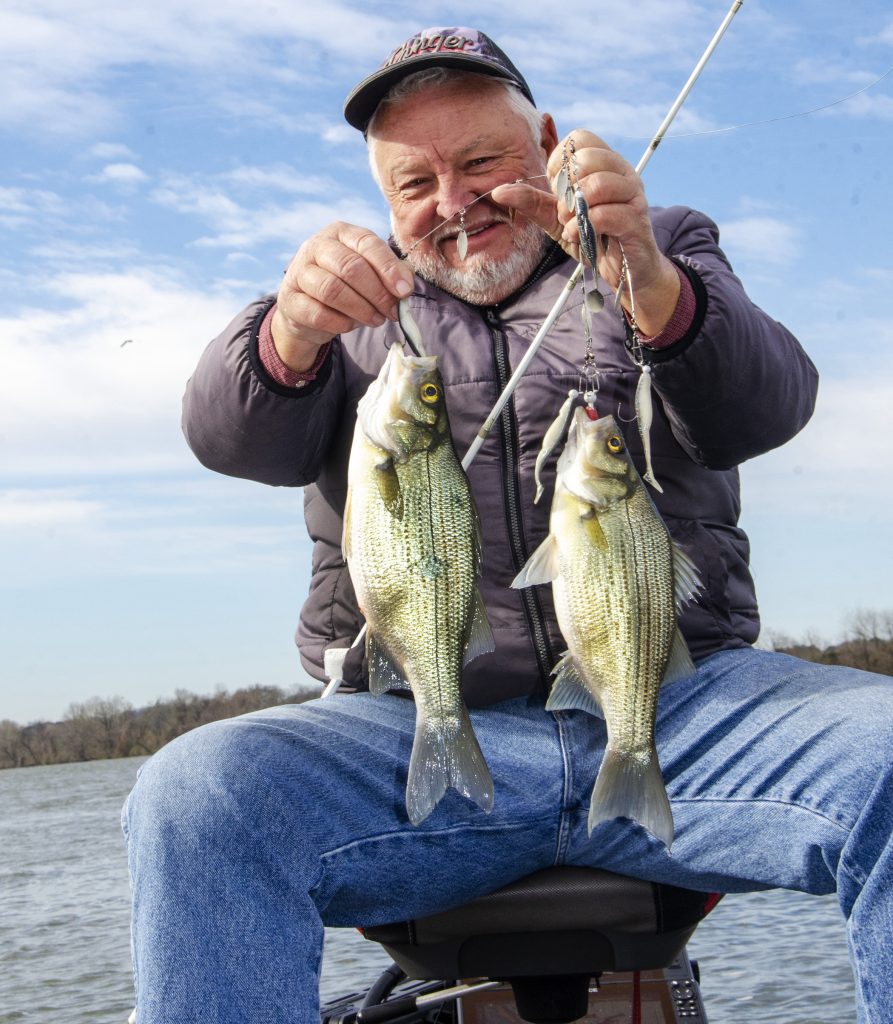 Editor's Note: Adam Hollingsworth is the president of the University of Alabama Fishing Team and explains, "I went back to college because I spent the first years of my life after high school in the military and as a police officer. I eventually want to be a U.S. Marshal. I currently have a degree in criminology and plan to start my master's degree at the University of Alabama in the fall of 2022." 
In the future, the City of Northport, Alabama, while working together with others, is hoping to build a facility where 200 boats can launch and have a bait shop, as well as offer many parking spaces.
Right now, several boat ramps are close together on the lower end of Holt Lake. Rock Quarry Boat Ramp (https://www.recreation.gov/activitypass/4baaca95-f6a4-11ea-ab86-ea94e31cc891) and Rocky Branch Launch (https://www.recreation.gov/activitypass/cb0dde80-f6a4-11ea-bc4c-a2c064eb4d04), that's larger than Rock Quarry, are only one mile apart. Deerlick Creek Campground (https://www.recreation.gov/camping/campgrounds/232571) is located in-between these marinas and isn't as big. When you come out of Rock Quarry Boat Launch you'll see Eagle Cove Marina (https://marinas.com/view/marina/7ecqx9v_Eagle_Cove_Marina_and_RV_Park_Cottondale_AL_United_States), which is where anglers generally will meet to start a tournament. When you combine the capabilities of all the marinas right now, 100 boats can be launched for a tournament.
One of the best bass-fishing locations as you come out of Rock Quarry Marina and go north toward the Lock 17 Dam, is Red Eye, found on the right-hand bank as you go upriver and only a 10-minute ride. You'll go past a coal chute where coal is loaded on barges. Generally, barges are parked on the other side of Red Eye. Several sandbars come off of this spot, and one of them is very shallow. On the weekends, many pleasure-boat riders will park there and have a party. I've found that the outside edge is a good place to catch fish, and that the sandbar usually produces best when there's a current coming through the lake.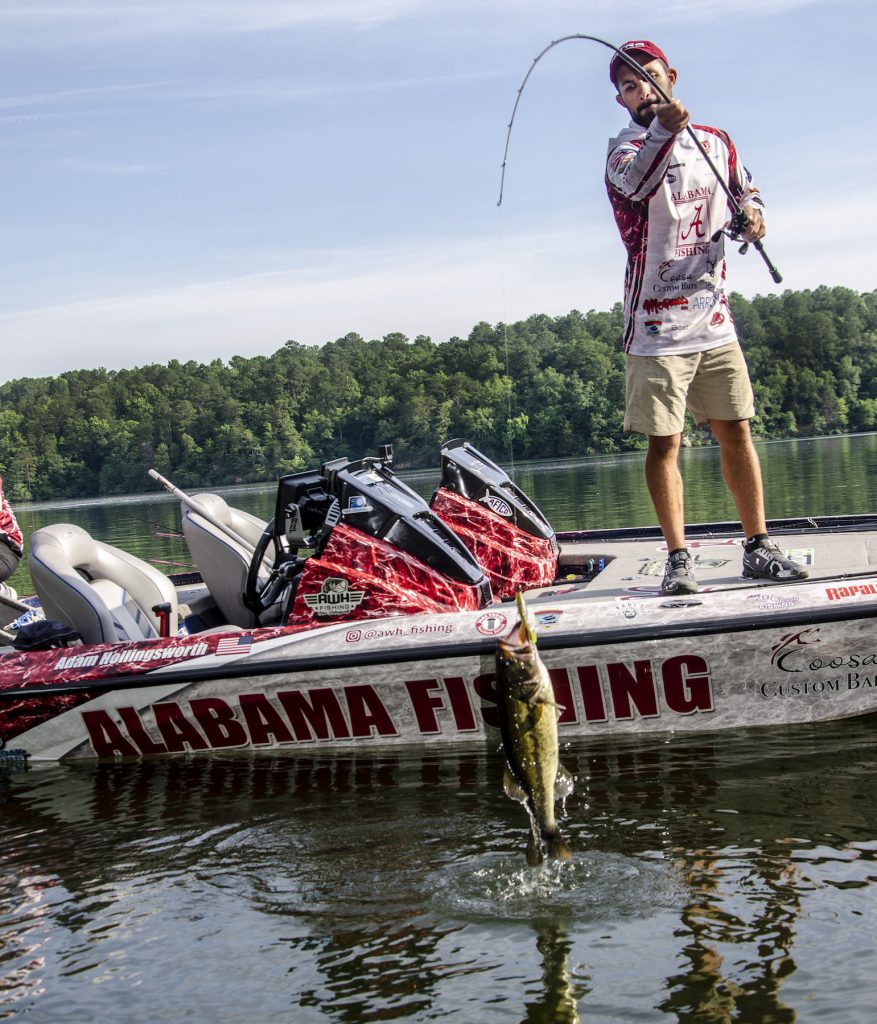 Editor's Note: Adam Hollingsworth is the president of the University of Alabama Fishing Team and explains, "I went back to college because I spent the first years of my life after high school in the military and as a police officer. I eventually want to be a U.S. Marshal. I currently have a degree in criminology and plan to start my master's degree at the University of Alabama in the fall of 2022. I love to fish for bass."
At night when the power plant at the Lock 17 isn't running, I can catch bass there with either a buzzbait or a spinner bait. Some of the best tournaments in the hot months are held at night when the spillways aren't running current. Also, you can dodge the heat of the day then, making bass fishing more fun. Most of the night tournaments begin just before dark and continue until after midnight.
My two favorite lures for fishing below Lock 17 at night are the Crusher Pro Buz buzzbait just before dark, and the Crusher Lures Moon Crusher spinner bait after dark. I prefer this spinner bait because the Moon Crusher increases my hook setting ratio. I also like its big thumper blade that triggers more bites when calling bass from long distances with the vibrations it gives off.
The two colors I like are black/hot pink and crushed tequila. I fish the Crusher Lures Moon Crusher on the edges of grass and over logs and other debris. I'll fish this lure on a 7' or a 7'3" iROD Lone Star Special in a medium-heavy action with a Lews Tournament Pro 7.5:1 gear ratio reel and PowerPro 20-pound-test braided line. 
Editor's Note: 27-year-old Jalen Conner is a native of Tuscaloosa and has been fishing Tuscaloosa County's Holt Reservoir for eight years. A criminal justice student at Tuscaloosa's Stillman College, Conner fishes two bass tournament trails – the S.A.B.A and the Jim Austin.
I'm often asked, "Why aren't more bass tournaments held on Holt and Oliver reservoirs?" I think many Alabamians don't even know where Holt or Oliver are located and probably never have read about where we fish, and what lures we use for bassing there. We're not like Guntersville Lake in North Alabama or Lake Eufaula in Southeast Alabama that have been publicized on TV and in magazines and social media. Holt and Oliver are like hidden gems on the Black Warrior River and are more community lakes that no one, except the community, knows about or fishes. Local anglers know about the great fishing available on the Warrior River in Tuscaloosa County at Holt and Oliver reservoirs. But, they don't tell anyone else, although some club tournaments are conducted here.
Another reason I believe other tournaments don't come to this section of the Black Warrior River is because most of our boat ramps are single or double. I realize that big tournaments generally are held in regions with at least five ramps and parking for 200 or more vehicles and trailers. I'd really like to see a fishing facility built here like the ones at Lake Guntersville and Lake Eufaula that bass fishermen could launch more than one or two boats from at a time and offer parking for spectators and participants.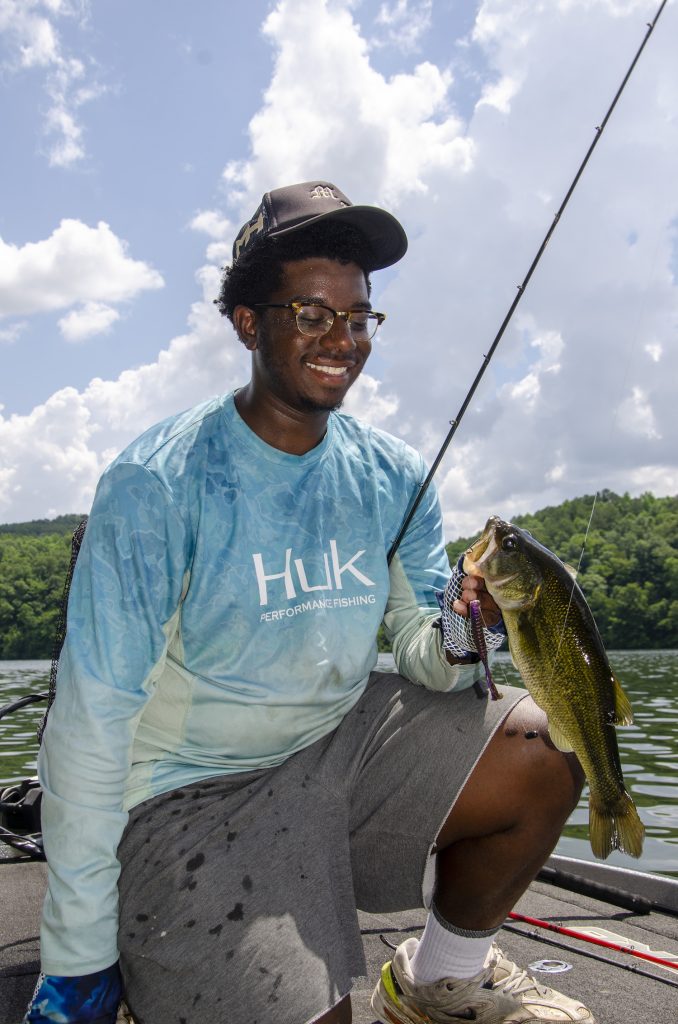 If I could create a fishing facility for Tuscaloosa County, I'd like a pavilion for contestants to bring their fish in their livewells on their boats to the weigh-in and then be able to drive their boats and vehicles to a parking lot with 200-300 parking spaces for boats and trailers. Also, I'd like to have access to restrooms near the boat launch and/or pavilion. In addition, there needs to be easy access to return the bass back into the water after each bag of fish is weighed.
I believe that realistically, this dream of mine and other Tuscaloosa County fishermen could come true in the next three or four years. The City of Northport is working to try and find enough available land to build a fishing facility like I've described and to work with the appropriate individuals or organizations that help secure the funds to build this type of facility. The facility will be for Tuscaloosa County residents and also attract larger bass-tournament trails to come here, fish in our waters, stay in our hotels and motels, eat some of the finest Southern food anywhere and meet some of the friendliest people in the world. Regardless of whether the actual site is, a fishing facility like this will help all of Tuscaloosa County.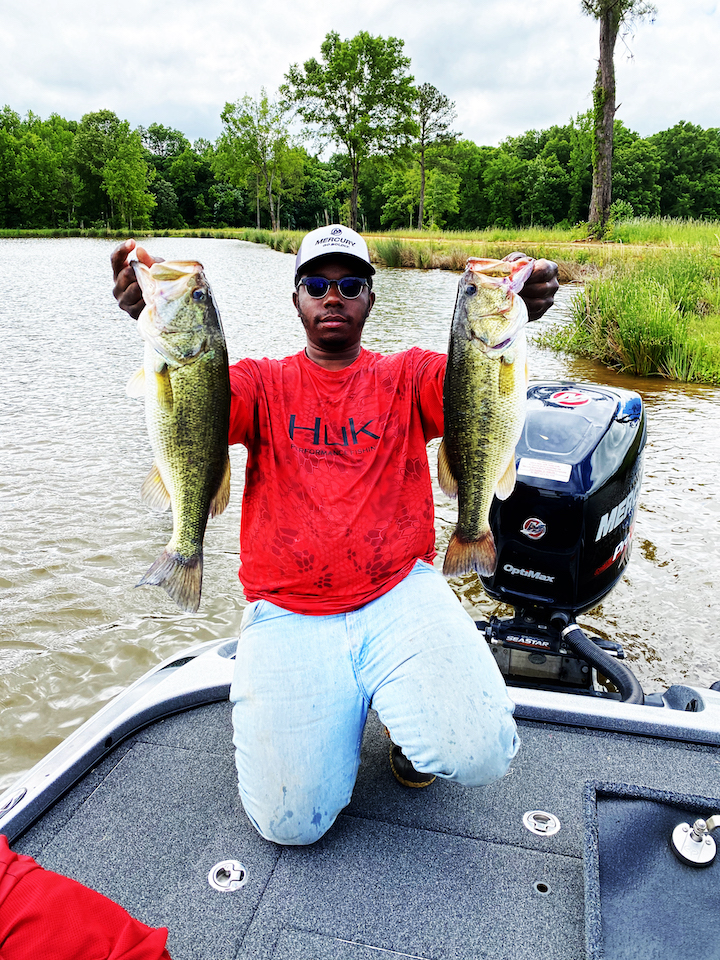 Editor's Note: Adam Hollingsworth is the president of the University of Alabama Fishing Team and explains, "I went back to college because I spent the first years of my life after high school in the military and as a police officer. I eventually want to be a U.S. Marshal. I currently have a degree in criminology and plan to start my master's degree at the University of Alabama in the fall of 2022." 
If you put your boat in at Rock Quarry Boat Ramp and go north, away from Holt Dam, you'll go around a bend, then on up a straightaway, and at the next opening on the right, that will be Pegasus Creek. You'll see a point and a shoal at the mouth of the creek. Bass like to stack-up at that point during the summer months. There's a main channel in this creek and two secondary creeks that feed into Pegasus on the right as you go up the creek. Then, you'll see that Pegasus opens-up into a big flat. Often, the bass will stack-up in those shallows chasing shad. You can catch bass on that bank. The main part of the channel is about 15-feet deep in the summer, and I'll primarily fish a Rapala DT-6 or a DT-8 crankbait there.
Less than a mile from Pegasus Creek, continuing north on the left-hand side of the river, you'll see plenty of grass that's a productive place to fish for bass, if the current is running and pushing the bass into the grass there. An underwater stump field is in that grass, and I usually come off-plane, so I won't hit those stumps. You can fish the grass and the stump row all the way down that grass line for bass.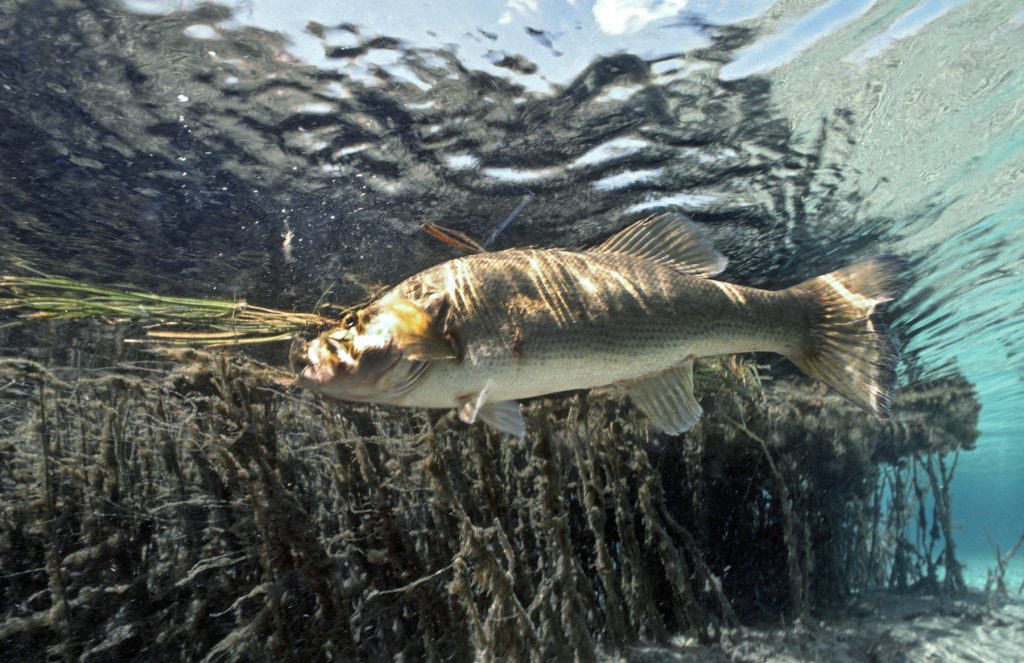 The next-productive spot I like to fish is about 2-miles upstream at Davis Creek – on the right-hand side of the river. I think that Davis Creek may be fed from a cold-water creek because there's usually a lot of clear water there. If the river's muddy, you can go into Davis Creek and identify where the muddy water and the clear water start to mix. A small ledge right at the mouth of Davis Creek is where the two, different-colored waters often mix. That's where I like to cast a crankbait. After I fish that area, I'll go up into Davis creek and start fishing a swim jig. 
When you come out of Davis Creek and go north, be sure to run your side-scan sonar to learn where old Lock 16 was located. Or, you may be able to find this old dam with your lake map or other up-to-date mapping functions. There are all types of underwater rubble where the dam blew out. You can fish the upcurrent side or the downcurrent side of old Lock 16. I like to fish with a jerkbait there. I've also enjoyed some really-good action fishing at night around this underwater dam.
You can tell when you're getting close to old Lock 16 because a boat ramp is on your right with a small swimming area. You can see some concrete on the right-hand side above the swimming area that once was a part of the old lock and dam. On the left-hand side is some concrete leftover from the bridge that was once there. The underwater rubble from Lock 16 is about 16- to 25-feet deep that provides an underwater current break where the bass like to hold and ambush baitfish as they come over the top of the underwater dam. I've caught spotted bass before in the middle of the dam at old Lock 16 and largemouths on either side of the dam near the bank.
When you leave old Lock 16 and continue upriver, you'll see Lock 17. When the power plant at the dam is generating current, that's when you can fish that current and catch some very-nice spotted bass.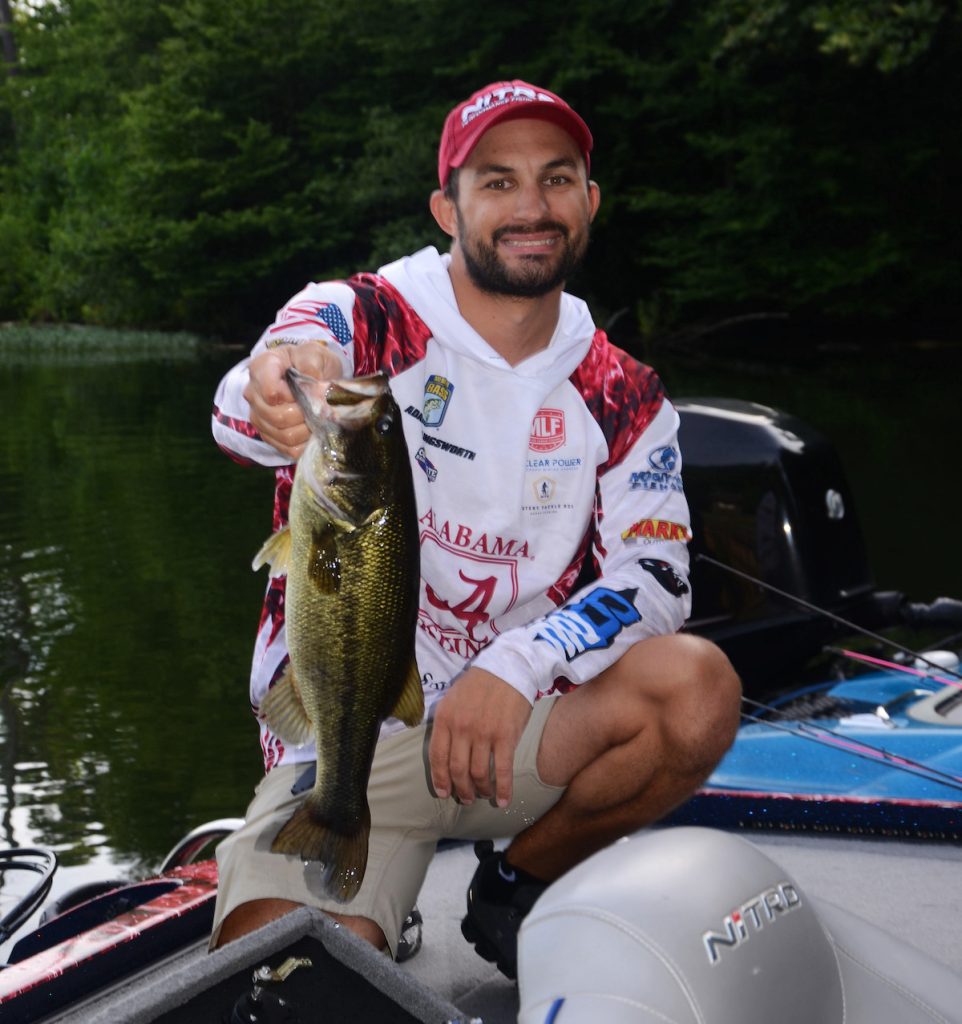 Fishing in Tuscaloosa County
Editor's Note: 34-year-old Adam Hollingsworth is the President of the University of Alabama Fishing Team and explains, "I went back to college because I spent the first years of my life after high school in the military and as a police officer and eventually wanted to become a U.S. Marshal. I currently have a degree in criminology and plan to start my master's degree at the University of Alabama in the fall of 2022."
When it comes to fishing in Tuscaloosa County, to catch summertime bass at Tuscaloosa County's Holt Reservoir, my primary lure is a Megabass Ito Vision 110+1 Jerkbait in a GP Pro Blue II color that I keep on my rod almost all year long. I'll be constantly casting and retrieving. This jerkbait runs about 10-15 feet deep, and I'll use a jerk-jerk-pause type of retrieve and keep the bait moving, until I get a strike. That tells me what cadence the bass want and whether they'll attack while the lure is moving or sitting still. I'll work this lure on an iRod Genesis II jerkbait-exclusive rod that's a medium-action 6'10" long rod. It has a soft tip that helps give the bass a little more of the lure when the bass is jumping and shaking the bait. My reel is a Lew's HyperMag reel with an 8.3:1 gear ratio, and my line is 10-pound Seaguar Tatsu.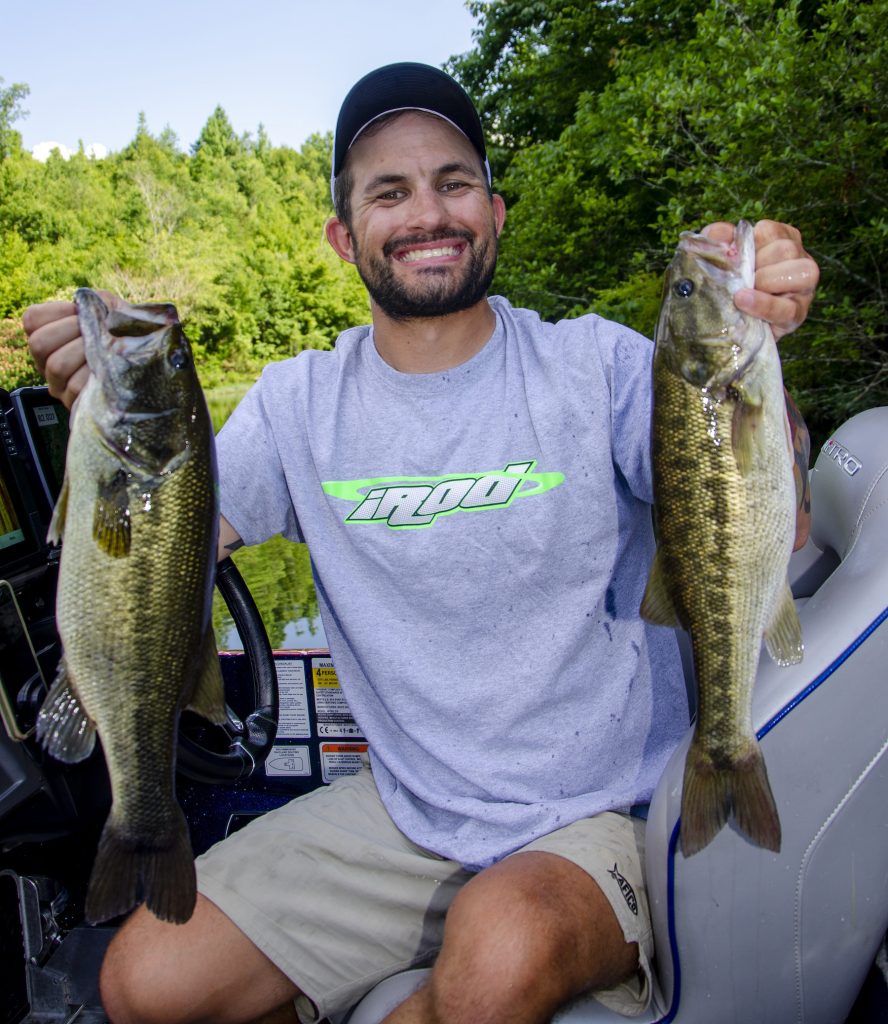 Another of my favorite lures is the Jackal Gavacho in a gill pattern. Since the bluegill are spawning during the summertime in shallow water, you'll see this bait I'm holding has numbers of bass teeth marks on it. I'll fish this lure with an iRod Croaker Crusher series, a technique-specific rod, 7'8" long that's heavy action. I'll pair that with Lew's HyperMag 7.5:1 gear ratio reel. So, if I hook into a 5-pound bass, I can winch it out of the cover. I'll fish with 50-pound test Power Pro braided line and tie the braid straight to the lure. I don't use a fluorocarbon leader.
I'll also fish in Tuscaloosa County in the summer at Holt with a Megabass Uoze Swim Jig with a 3/8-ounce head. If I'm fishing another lake somewhere with bigger bass, I'll use a 1/2-ounce head. I put a Rattlin' Chunk from Googan Squad and sometimes a Googan Squad Krackin' Craw as a trailer on this lure. I like the iRod Genesis III that's a stone-cold swim-and-vibrating jig rod. At Holt, I've caught bass weighing 5+ pounds, while using this set-up. My line is 20-pound-test Seaguar Tatsu, and my reel is a Lew's HyperMag with a 7.5:1 gear ratio. I fish lures in a bluegill pattern, since bluegills are spawning in the shallows during the summer months. I'll cast the Megabass Uoze Swim Jig right up against the bank in the summer. If the grass is scattered, I'll do what's called an "Alabama Shake," as I retrieve the bait. I'll also use this same lure on a steady retrieve because the lure has legs that kick as you retrieve it. This lure has a spinner on it, and I've caught bass with and without the spinner.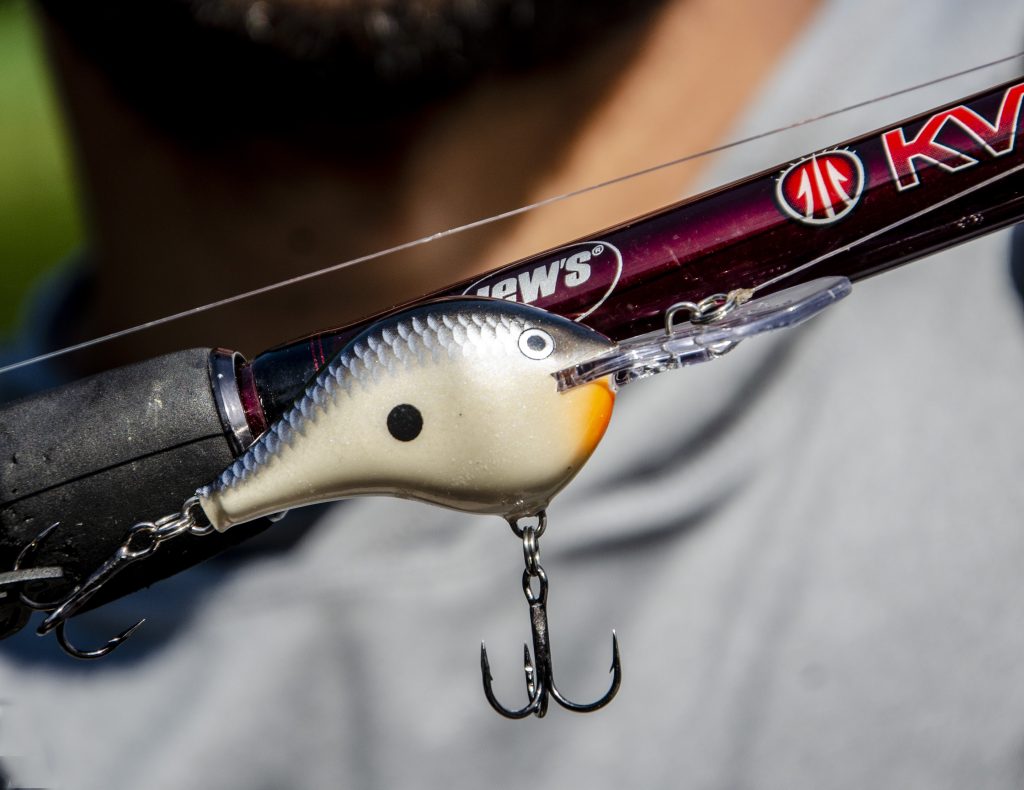 When I'm fishing in Tuscaloosa County deep in the summertime, I'll use the Rapala DT 8 that goes down further than 8-feet deep – sometimes to 12 feet when I fish it on 12-pound test Yozuri Hybrid Copolymer line. The color pattern is the Ike's Custom Penguin color. My rod will be the KVD 7'4" long, medium-heavy, moderate-action, made by Lew's. I also like Lew's Tournament MP Baitcasting Reel with a 6.8:1 gear ratio.
I like the shakey head jig and the drop shot rig that I fish on a medium-action, 7'1" iRod Genesis III Finesse fishing rod. I'll also fish a Zoom Baby Brush Hog and dip the tail in chartreuse dye with garlic in it. Sometimes I'll fish the Baby Brush Hog with a steady retrieve, and other times I'll let it fall to the bottom and use a steady retrieve, while waiting for the bass to grab hold of it. I feel like I always can pick up this lure and start catching bass with it.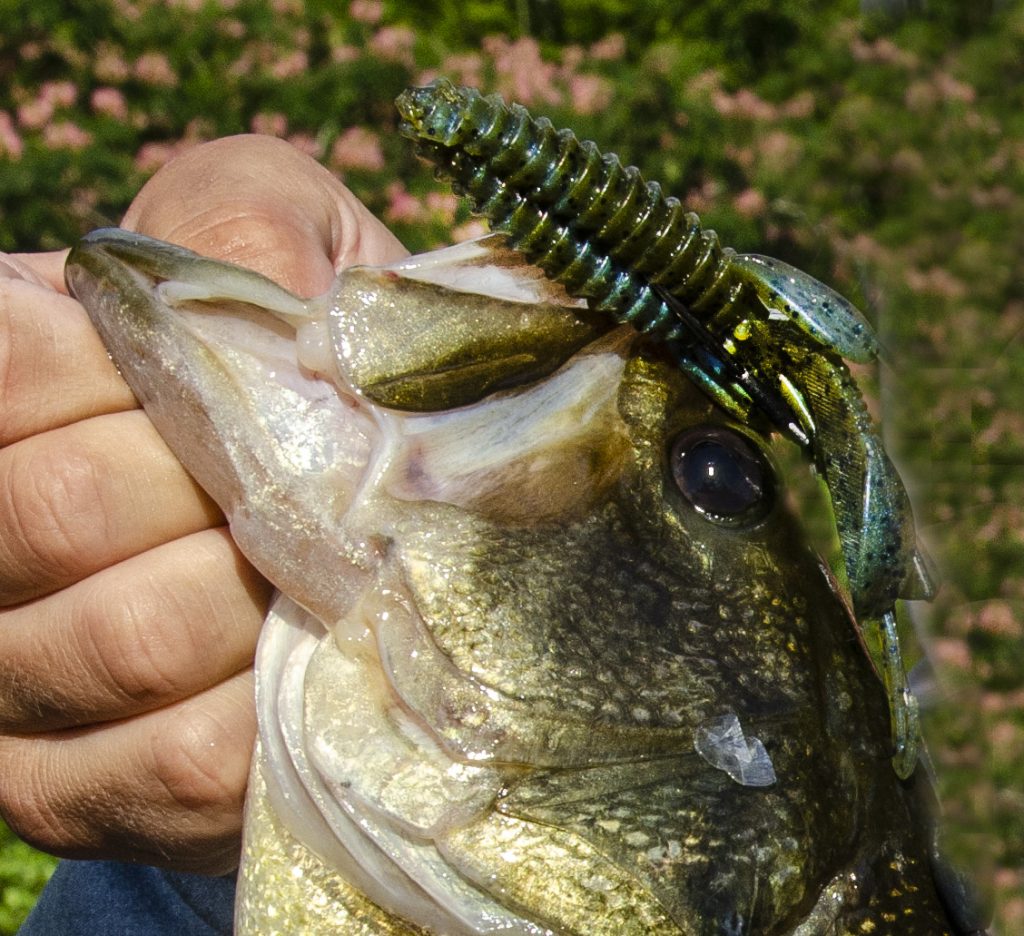 There really is no such thing as a timeout in Tuscaloosa – and we're totally okay with that!  While our friends up North or in the Midwest experience winter snowstorms, our ideal southern location in West Alabama is a prime setting for events year-round.
While the University of Alabama is bursting with all sorts of events this semester, Tuscaloosa is also home to many winter and spring activities that are perfect for those living here or visiting. Whether you're looking for something that's indoors or outdoors, family-friendly, or for young adults, we hope you'll consider a visit to our City.
Continue reading to learn about seven upcoming events that we're looking forward to in Tuscaloosa!
Theatre Tuscaloosa Presents On Golden Pond
Date: Friday, February 25th (opening date)
This classic play inspired the Academy Award-winning film with Henry Fonda and Katherine Hepburn. Norman is a curmudgeon with a strained relationship with his daughter, Chelsea. Together for their 48th summer at Golden Pond, he and his wife nevertheless agree to care for Billy, the son of Chelsea's fiancé, and a most unexpected relationship blooms.
To learn more or to purchase your ticket, click here.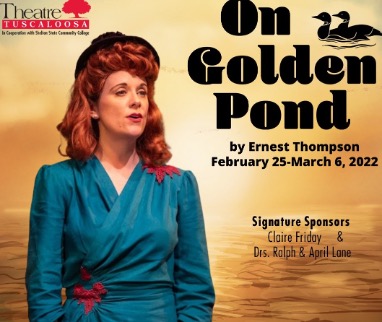 Tuscaloosa Tourism & Sports Half Marathon + 5K
Date: Saturday, March 26th
On March 26th, join us as we celebrate 10 years of West Alabama's premier 13.1-mile running event featuring a great course, good food, friendly staff and volunteers, and a run to remember! As you run throughout the heart of Tuscaloosa, you'll enjoy scenic views, experience some of Tuscaloosa's most historic neighborhoods, and get some phenomenal selfie opportunities with many Alabama-related iconic spots like Bryant Denny Stadium and Denny Chimes. All runners will have access to a post-race party full of beverages and food! Registration is open for the half marathon and 5k.
For more information or to register, click here.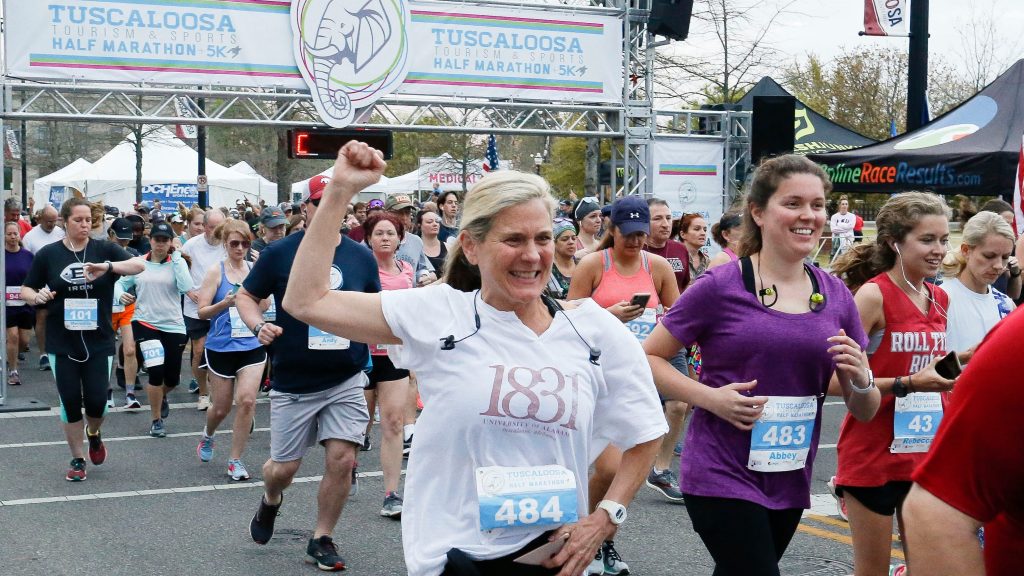 West Alabama Food & Wine Festival
Date: Thursday, April 7th
The 8th Annual West Alabama Food & Wine Festival will showcase some of the best local restaurants with tasting tables that highlight signature dishes. Wine tastings are provided by local distributors to introduce trendy and seasonal varietals. The event takes place along the scenic Black Warrior River at the Tuscaloosa River Market and benefits the West Alabama Food Bank! Details are actively being finalized, so be sure to visit their website to learn more and to purchase a ticket.
Access the West Alabama Food & Wine Festival website here.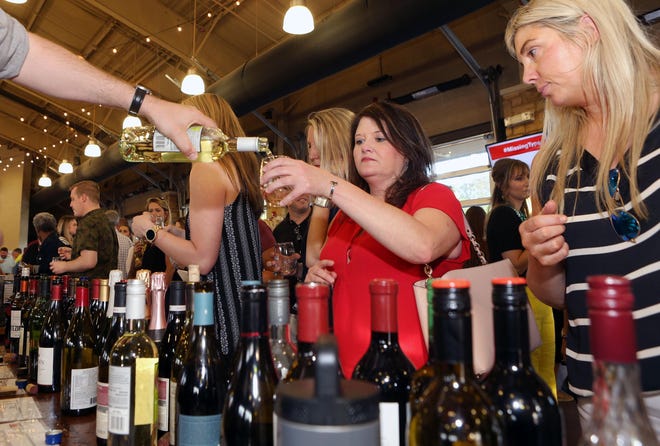 Inaugural Tuscaloosa Gauntlet – A Marine-Inspired 5k Obstacle Course
Date: Saturday, April 9th
The Alabama Marines Foundation is excited to host the inaugural Tuscaloosa Gauntlet event. This is a Marine-inspired 5k obstacle course that is open for anyone to participate – even including a youth heat! If you're a fan of obstacle races, you'll love to hear that this course is one-of-a-kind in Alabama and will feature the Marine's "O Course" as one of the 20+ obstacles. They have partnered with Phoenix Races and it is an OCRWC Qualifier. This race will give all who participate a purpose and a challenge worth celebrating!
To learn more and to register, click here.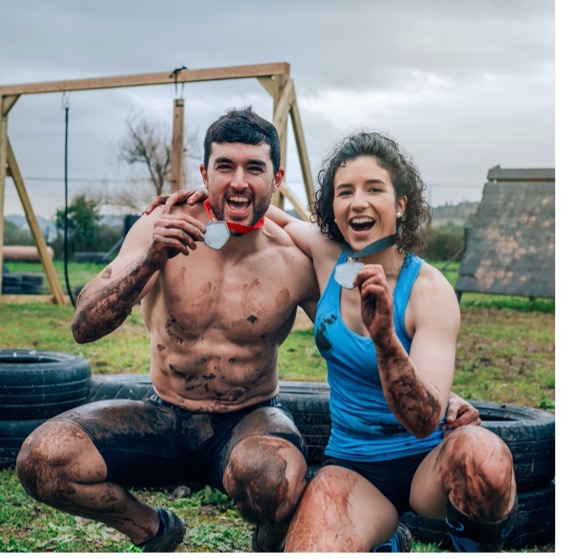 Golden Flake A-Day
Date: Saturday, April 16th
Three months is just too long without football season – but we are in luck! This Spring game, a long-standing University of Alabama and Tuscaloosa tradition, is our annual college football exhibition game that takes place at the conclusion of spring practice. Played at the one and only Bryant Denny Stadium, fans get a preview for the upcoming football season for free. Continuing with tradition, the captains from the previous seasons' team will also be honored at the annual Walk of Fame ceremony at the base of Denny Chimes, in addition to many other activities!
Check out the Crimson Tide's 2022 football schedule and A-Day details by clicking here.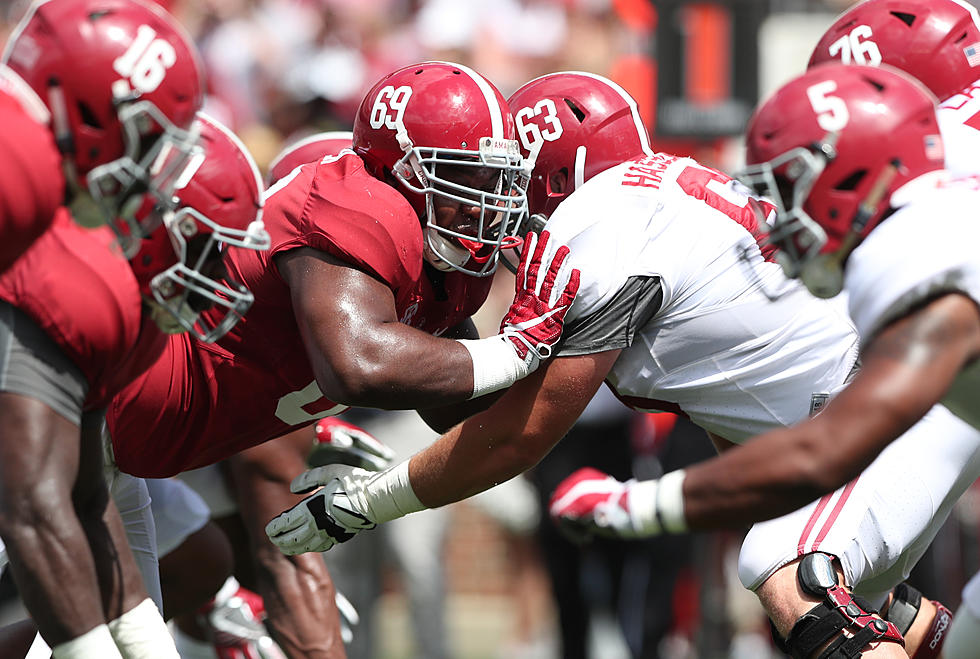 Tuscaloosa Mayor's Cup 5k for Pre-K presented by Mercedes-Benz U.S. International
Date: Saturday, April 30th
On Saturday, April 30th, over 1,000 runners and walkers will gather in Downtown Tuscaloosa for a great cause. Since the inaugural race in 2007, the Mayor's Cup has raised over $325,000 for the Tuscaloosa Pre-K Initiative. The race 3.1 miles and begins and ends at Government Plaza. We are thrilled to have this annual race return in 2022!
For more information or to register, click here.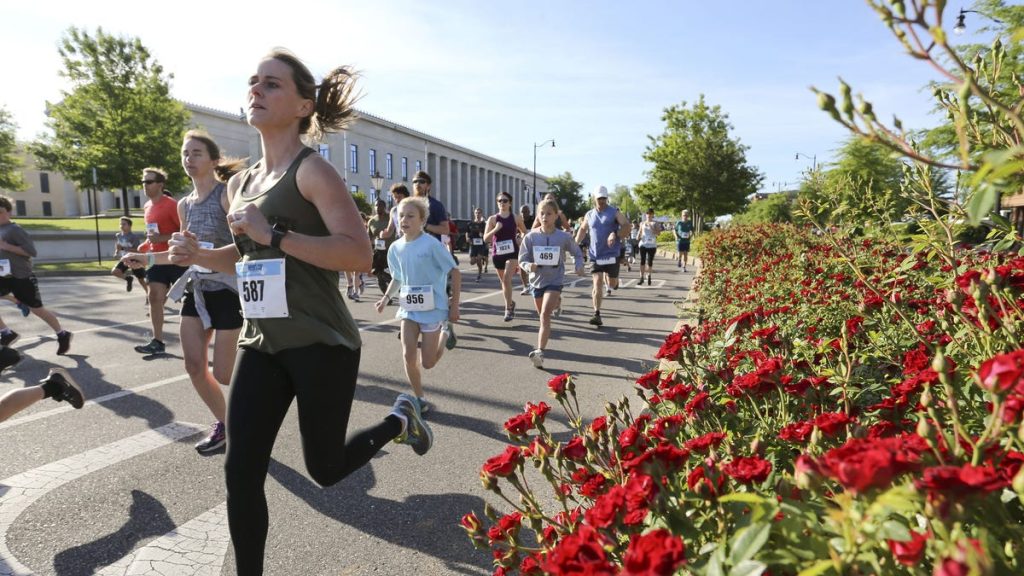 Druid City Arts Festival presented by Cadence Bank
Date: Friday and Saturday, May 20-21
Located in the heart of Downtown Tuscaloosa at Government Plaza, the Druid City Arts Festival (DCAF) is a local favorite that we look forward to each year! Spring will have arrived and it's the perfect time to enjoy art, music, and food of all kinds. No matter your age, this festival has something for everyone (plus it's free to attend – bonus!). If you have children bring them along! They will have the opportunity to explore the Kids Zone, giving them a chance to show off their creativity too.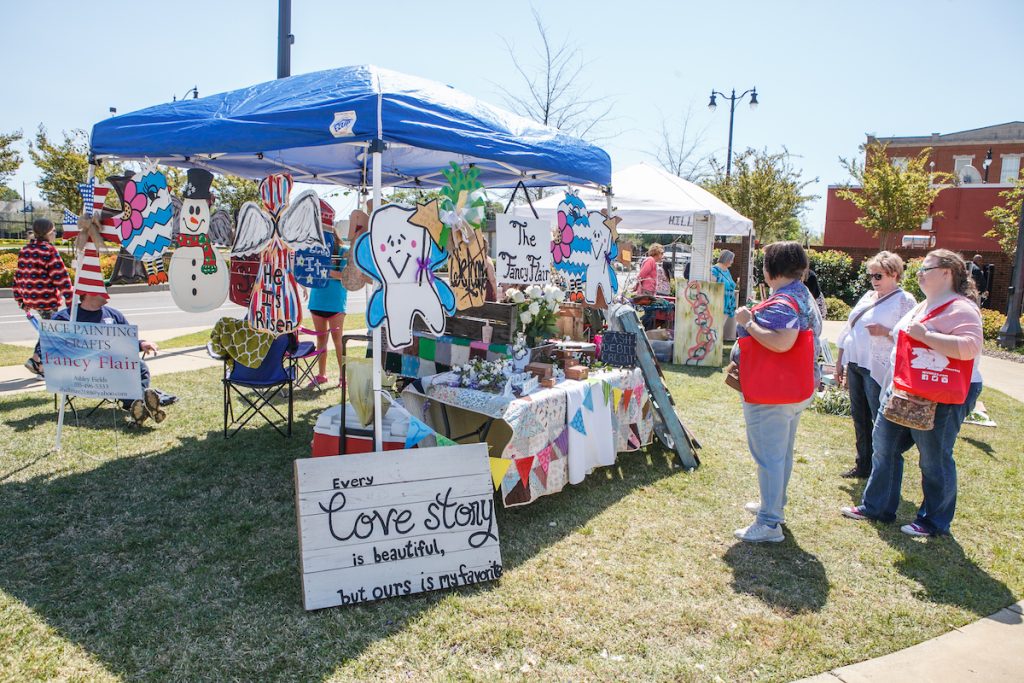 As always, never miss an event in Tuscaloosa or Northport with our Visit Tuscaloosa Events Calendar!
What many may not realize is that Tuscaloosa and surrounding communities, like Northport, offer several uniquely local spots to shop. Whether you're looking for back-to-school clothes, home decor, a night-out-on-the-town or gameday attire, or just simply want to visit some charming local boutiques, we think you'll find this information worthwhile!
Throughout the community, you can find a plethora of shopping options. However, for our purpose today, we highlight some specific areas and a few of the locations you will find!
Have a favorite spot that we missed? Come join the conversation on our social media!
Lavish is a female clothing and accessories store that has it all, and is just in time for rush and game days! This gold mine is full of unique tops, dresses, bottoms, and shoes. With this local gem, you don't have to worry about boring pieces, because at Lavish they strive to be ahead of the fashion curve with beautiful lush clothing. This is a must-see in Tuscaloosa, especially if you need a new wardrobe to spice up the new school year.
Alumni Hall has everything you need to cheer on the Crimson Tide. They have it all: great brands, selections, and deals on The University of Alabama apparel, merchandise, and gifts. Official sideline clothing from Nike, fashion and accessories for the ladies and a great kids' selection. It's the ultimate place for UA students, alumni, and fans to shop. They also offer 10 percent off for students and military with valid ID.
Bama Fever is your one-stop shop for all things Bama, with options for men, ladies, and kids. They even have Crimson tide options for your car, home, and tailgate. This uniquely local gem will have you walking out of there with some serious school spirit! They can bring the Crimson Tide straight to your kitchen, bedroom, or both. Let your love for the Tide shine with keychains, buttons, wallets, and purses.
High Tide Sports, LLC offers gifts, accessories, and apparel for any and all of the sports fans in your life. This local gem is a popular shop for both Alabama and Auburn fans alike. They specialize in spirit jerseys, tees, and tanks and carry a huge variety of brands, designs, and colors. As a family-owned business, all of its items are competitively priced.
Pause Boutique is a local legend in Tuscaloosa. From girls to plus size this place has a little something for everyone. The unique jewelry, clothing, shoes, bags and hats, cosmetics, and miscellaneous items make Pause such a wonderful addition to this community. They are open Tuesday through Friday 11-7, Saturday 10-6, and closed on Sunday and Monday.
For those men looking for dapper clothing and accessories, The Locker Room is the place to be! From Bama gear to the finest footwear, this local treasure is truly one-of-a-kind. They also carry the highest quality clothing such as Peter Millar, which is the perfect combination of comfort with high-end style. They've got a whole new wardrobe just waiting on you, with hats, cups, a Bama-themed bow tie, and so much more!
Lou & Co. is a place that the ladies of T-Town cannot get enough of. For those rushing, they even sell bid day gifts that looked like they dropped down from heaven. They also sell wall art, pillows, plush throws, a pajama set in addition to the clothing. Lou & Co. is filled with unique and specialty items, often locally or artisanally sourced, and always thoughtfully chosen by the owner herself.
Bradley's Market is a unique shop that has earned the love and appreciation of all of its customers. Their vast variety of items for sale is extremely unique, including seasonal goodies, home decor, florals, baby shower necessities, wellness products, wedding registries, and so much more. This unique local shop is the definition of class. Some of the fun items they have include Bees and Honey Puzzle, La Hammam Beach Towel, and a decorative Tuscaloosa Street Map!
Another incredibly unique shop in Northport is called Everlasting. From humble beginnings as a family-owned business, they bring their small-town charm for a fun shopping experience that feels as quality-driven as the products. With decorative accessories for your home, inspirational goods, original works from local artisans, handmade jewelry, and distinct gifts Everlasting has just a little bit of everything.
With summer at its peak, you might be looking for a quick family getaway with the kiddos before school starts again, and we think Tuscaloosa is the perfect spot! That's why we have pulled together some family-friendly activities that will leave everyone smiling, and make the planning much easier. Tuscaloosa has so much to offer for any age and it's our goal to share those stories! While some of the items listed are taking place this weekend, our email is packed with things to do at any time! Be sure to tag @VisitTuscaloosa in any photos you take when you're having fun at these local gems.
Paul W. Bryant Museum
The Paul W. Bryant Museum opened its doors to the public on October 8, 1988. The museum exhibits artifacts and memorabilia that trace the long history of University of Alabama football. State-of-the-art displays enhanced by videos highlighting great players, plays, and games are produced from the museum's archives. The museum is open Tuesday through Sunday from 9 a.m. until 4 p.m. Members and children under 5 are free, Adults: $5, Children (K-12): $3. Free admission to UA faculty, staff, and students! The Bryant Museum has moved to an online ticketing system. To make a reservation please click below.
This shelter has a program called Happy Hour where you can take a dog out for a day. This benefits the dog by getting some fresh air and exercise, but it is also guaranteed to brighten up your day. Check an approved dog out between the hours of 10 a.m. and 5 p.m., Monday or Tuesday or Thursday through Saturday. There are only a couple rules you must follow while participating in this program. You must be over 18 to participate, do not allow the animal off-leash, stay with the dog at all times, only one dog per car, and return the furry friend by 5:00 p.m.
Metro Animal Shelter
This shelter has a program called Happy Hour where you can take a dog out for a day. This benefits the dog by getting some fresh air and exercise, but it is also guaranteed to brighten up your day. Check an approved dog out between the hours of 10 a.m. and 5 p.m., Monday or Tuesday or Thursday through Saturday. There are only a couple rules you must follow while participating in this program. You must be over 18 to participate, do not allow the animal off-leash, stay with the dog at all times, only one dog per car, and return the furry friend by 5:00 p.m.
Explore the Galapagos at CHOM
Explore the Galapagos at Children's Hands-on Museum! Sail down to The Galapagos Islands and learn about this amazing ecosystem through crafts, activities, and games! All guests over two (2+) years must wear museum-approved masks from entry to exit. This event is a safe distancing event. Visitors are limited. Before you embark on this journey, learn more information below.
Taco Casa
It is difficult to capture all of the incredible foods available in Tuscaloosa, but there is one, in particular, that is a staple of our community: Taco Casa! Young and old adore this local treasure not only because of its delicious food but also for the laid-back environment and exceptional customer service. Whether you are craving a taco salad, a burrito, or the delicious taco burger, Taco Casa guarantees a positive experience for all.
Ladyelines Art Garage
This garage is just what this community needed, new and really exciting. The need for a place for children, babies, and adults alike to explore art through unstructured opportunities in an inspiring environment. Whether you want to go to a Parents Night Out event or bring your child to one of their painting classes, this place is perfect for encouraging learning and experiencing safe, new things. They even host birthday parties and have an Open Play to make sure every child is exhausted by the end of the day. Parents? You're welcome.
Bowlero Tuscaloosa
Bowlero has reinvented bowling with inventive dining, sports, entertainment, and recreational games. Grab your family and join the party! They have great food, a fun atmosphere, arcade, lounge seating, epic eats, and stellar design. No matter how old your kiddos are fun can be found around every corner.
We get it – summer in the South is hot and humid! But, you're in luck if you live in the area or are visiting! If you're looking to take a dip outside of your normal community pool, we invite you to "beat the heat" with these seven swimming holes in the Tuscaloosa area! One of the greatest assets of our area is that it's home to many secret and not-so-secret swimming spots that have you feeling like you've entered an oasis in your own backyard.
Be sure to tag @VisitTuscaloosa in any photos you take when you're having fun at these local gems.
Hurricane Creek
Hurricane Creek Park, located on Highway 216, is a local favorite for cooling down in Tuscaloosa's scorching sun. Hurricane Creek Park is open to the public from dawn to dusk. This spot is a wonderful place to explore native plants and aquatic wildlife, or spend time enjoying nature and soaking up the sun with friends and family! Visitors are encouraged to wear rubber-soled shoes so that they will not slip on the shale which exists along part of the stream. The water is usually deep enough to do some serious swimming if you're up for it! If not, there is a shallow, flat end to sit, relax, and unwind!
The Cliffs at Lake Nicol
Beyond the Lake Nicol Spillway near North River lies The Cliffs at Lake Nicol. This lake is relatively small, but packs a big punch when it comes to fun in the sun and aquatic activities! While its swimming holes are a crowd-pleaser, Lake Nicol is also known as a great beginner's spot for those who want to canoe or paddleboard and is exceptional for bird watchers. Beware, this location is called "The Cliffs" for a reason, but do not get too caught up in the lure of thrilling excitement. There is a $500 fine for those who take their chances and jump off of Lake Nicol's cliffs. Plus, this is extremely unsafe, so you're better off wading in the beautiful waters!
Lake Lurleen State Park
Lake Lurleen is a Tuscaloosa icon for its camp grounds, hiking trails, and fishing spots, but it is also home to a perfect sandy lakefront beach! Beat the heat when you head over to its waterfront to have a relaxing day on the "beach"! Lake Lurleen's swimming spots are open from 7 am to 9 pm every day and offer small boat rentals for a minimal cost. Admission to the state park is $3 per adult or $1 for children and seniors (children under age 6 admitted free).
Lake Harris
Lake Harris has been a famous swimming spot for University of Alabama students for decades, and for a great reason! Hosting high cliffs, two dams, hiking trails, a beach, and lots of water to swim, you'll never get bored of this Tuscaloosa hotspot! Lake Harris is a tranquil place to relax, swim with friends, and enjoy a sunset picnic. The swimming area is open one hour prior to sunrise and an hour after sunset. This is a spot that has something for everyone!
Lake Tuscaloosa
By now, we all know that Lake Tuscaloosa is a hotbed for fun outdoor activities! Surrounded by hills and southern pines, Lake Tuscaloosa is a scenic spot to lay out and sunbathe, relax on a boat with friends and family, or to paddleboard the afternoon away. While this lake is popular with boats and watercraft, that doesn't mean you still can't enjoy the water on your own! Or if you are feeling adventurous, and have your boating license, you can rent a pontoon boat to take on the open waters! Pier 43 on Lake Tuscaloosa has various boats to choose from to make sure you have the best fit for your sun-filled day!
The Harrison Taylor Splash Pad
While the Harrison Taylor Splash Pad is not a nature-filled natural swimming hole, it is still an outdoor aquatic adventure for your little ones! The splash pad offers many water devices to keep your kids cool and entertained while the heat is high! Staying out of the sun is also a convenience thanks to the many shaded pavilions surrounding the Harrison Taylor Splash Pad. The park is open from Noon – 5 p.m. six days a week and 1 p.m. to 5 p.m. on Sundays. Grab a cooler and head on over! Daily user fee is $5 per person and under 2 is free.
UA Arboretum
We can't forget our furry friends when the heat starts to rise! Puppies deserve to cool off too and the University of Alabama Arboretum is the perfect spot for you and your pup! Before Tuscaloosa's official dog park opened, UA's Arboretum served residents dogs looking to burn off some extra energy. The pond, located a short walk from the entrance, still serves as an unofficial dog park of sorts. You can often find several dogs and their owners staying cool in the water and playing fetch by the pond's side! As always, we ask that you pick up after your pups to help keep the area clean!
The City of Tuscaloosa and the Tuscaloosa County Park and Recreation Authority will host a Fourth of July Celebration on the River on Sunday, July 4, from 6 to 9 p.m. at the Tuscaloosa Amphitheater. This free, family-friendly event is open to the public and will include live music, kids' activities, fireworks, and more.
The PARA kids' zone, which will be located inside the Amphitheater, will open at 6 p.m. with games and activities for all ages. The Tuscaloosa Symphony Orchestra will perform around 7:45 p.m. Fireworks will begin at 9 p.m. after brief remarks from Mayor Walt Maddox.
"We are thrilled to bring back our City's celebration of the birth of our nation this Fourth of July, after having a scaled-down event last year," Mayor Maddox says. "Now that we can safely gather outdoors, the City of Tuscaloosa can celebrate this important day in a way that would make the founding fathers proud."
Limited parking will be available in the grass lot by the Amphitheater. Attendees may also park in the free Downtown Intermodal Facility and take a shuttle or walk to the Amphitheater. Because of construction in the area, Tuscaloosa Police will be on-site directing traffic.
The Amphitheater's clear bag policy will be in effect for this event. To receive text alerts for weather and event information the day of the event, guests can text "TUSC4TH" to 888-777. To learn more, please visit Tuscaloosa.com/COTR.