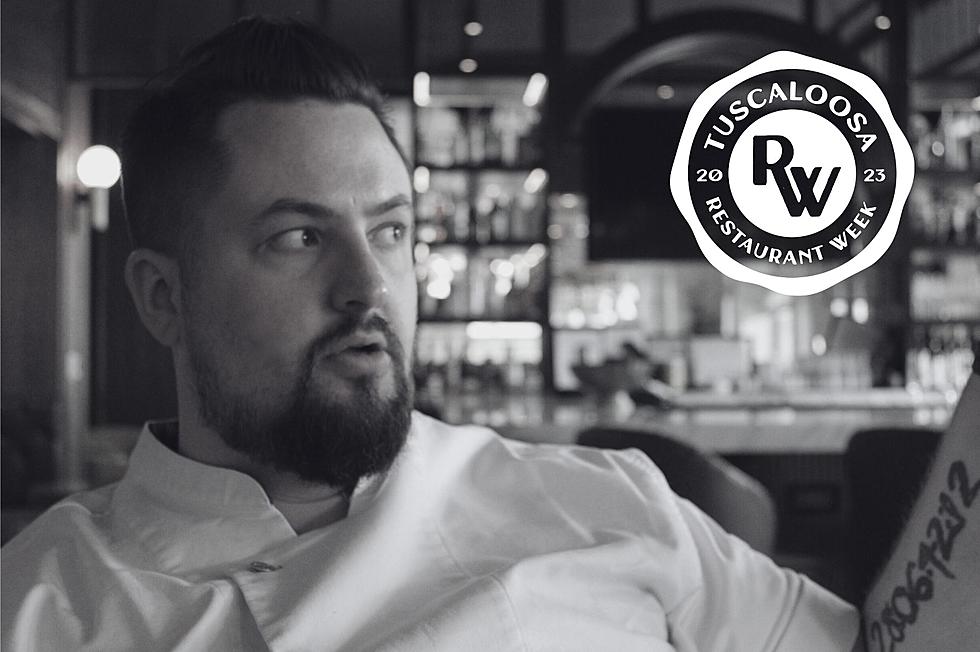 Executive Chef Jacob Stull
Executive Chef Jacob Stull wants Forté: Cuts & Cocktails to be the first eatery of its kind in Tuscaloosa in every sense of the word – both locally unprecedented and a trailblazer for other establishments to follow.
The French brasserie opened last year on the ground floor of the ultra-luxe Alamite, a boutique hotel built downtown with the backing and blessings of Nick and Terry Saban.
There, Stull offers an ever-rotating seasonal menu that honors his own French heritage and strives to push the boundaries of what cuisine can be in a city with a reputation for a very different kind of food.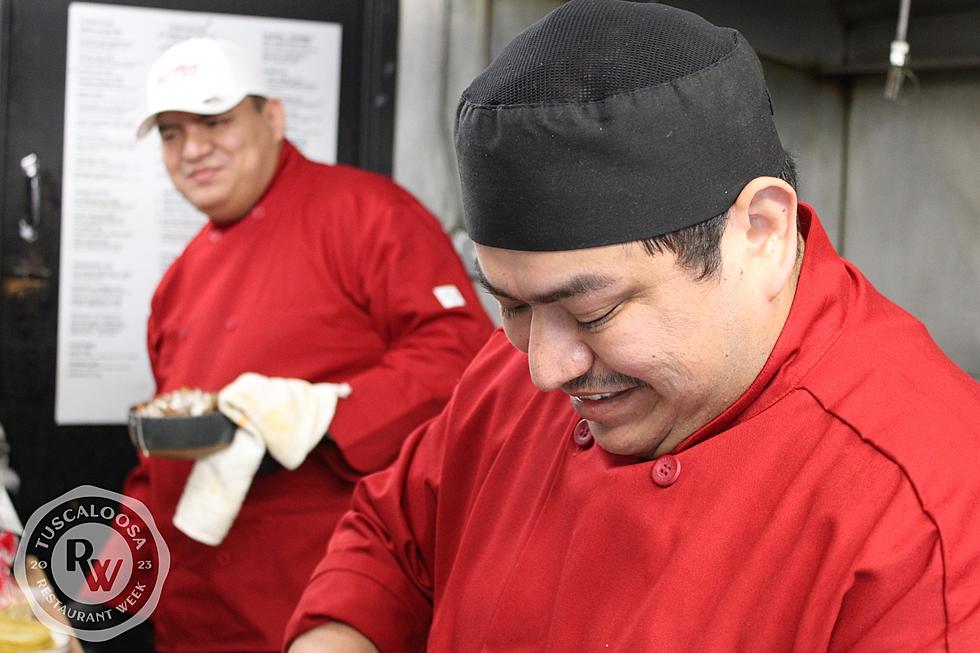 Jalapeños Mexican Grill
Perhaps the story of Jalapeño's and its co-owner Jheovanny Gomez is so appealing is because, at its core, it's the realization of the American Dream.
Gomez is a Colombia native who followed his then-girlfriend to the United States in 1999 and made his home here in west Alabama. Gomez told the Thread he took a job at a restaurant to pay for classes as he studied English and considered becoming a computer engineer.
He believes God had other plans for him. The job he took introduced him to businessman Wayne Grimball and his son Justin, who were impressed enough with Jheovanny that very soon, they he proposed going into business together.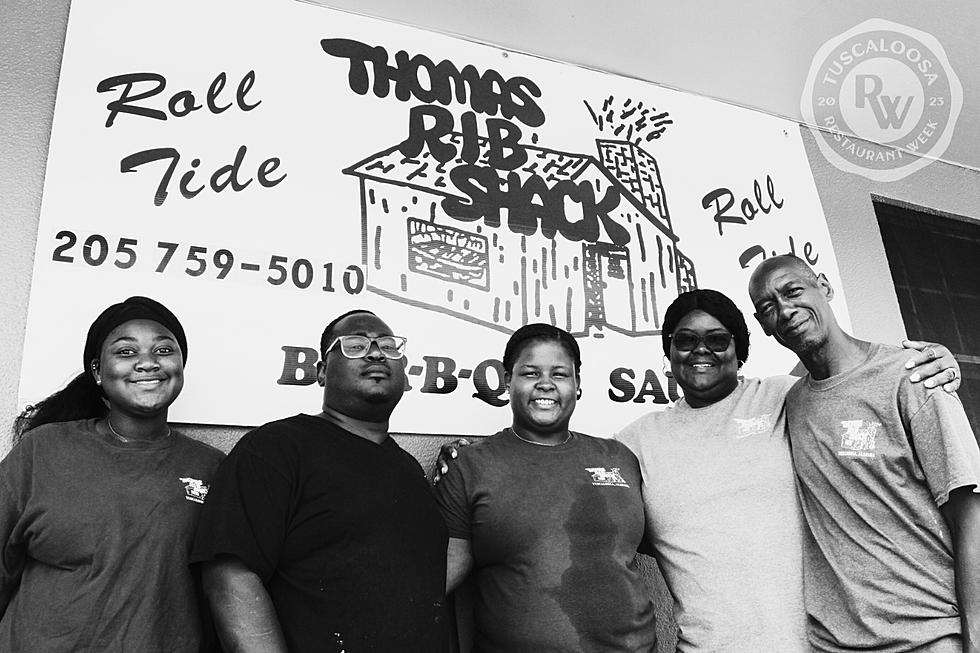 Thomas Rib Shack
Thomas Rib Shack is as unpretentious as any restaurant in Tuscaloosa. Two dozen people would fill its dining room on the west side of 15th Street between the county jail and Stillman College, where the picture menu on the wall is decades old and looks the part.
There, Sharon Thomas and her family have been making legendary soul food for more than 50 years, making the Rib Shack one of the oldest restaurants in the city.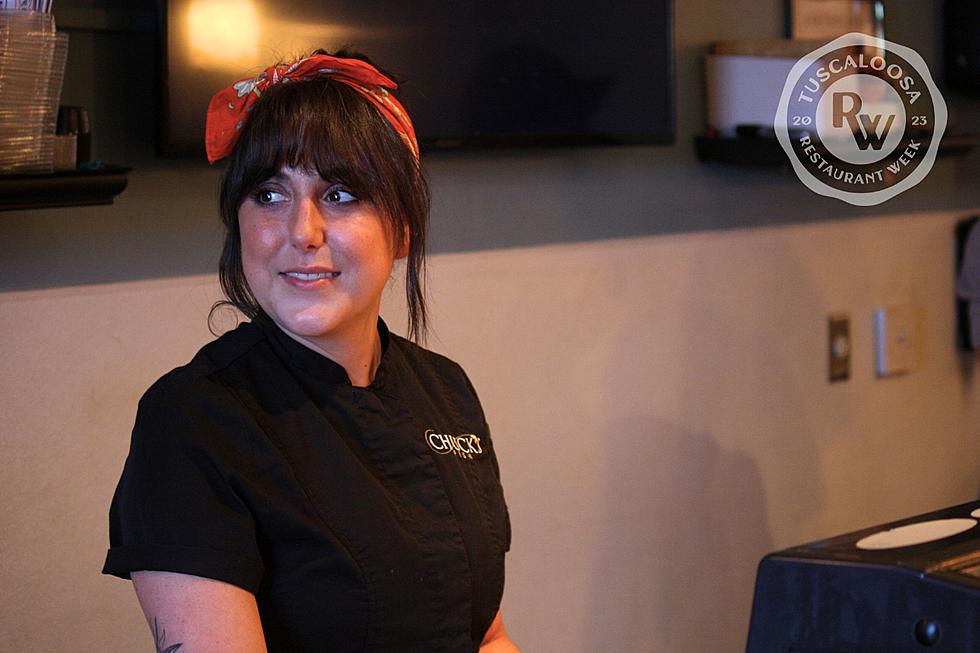 Chuck's Fish
There's a photo of the late Chuck Morgan displayed in the Tuscaloosa restaurant bearing his name that shows him standing proudly next to some huge mackerel that, if you didn't know better, might lead you to believe he was a lifelong angler.
Erin Barfield, a longtime manager at Chuck's and its sister restaurant FIVE, said the giant catch is rumored to be the only fish the restaurant's namesake ever caught.
No fishmonger, Chuck was a prominent Civil Rights attorney who argued nine cases in front of the Supreme Court of the United States and helped overturn Muhammad Ali's 1967 conviction for draft evasion. among countless other triumphs.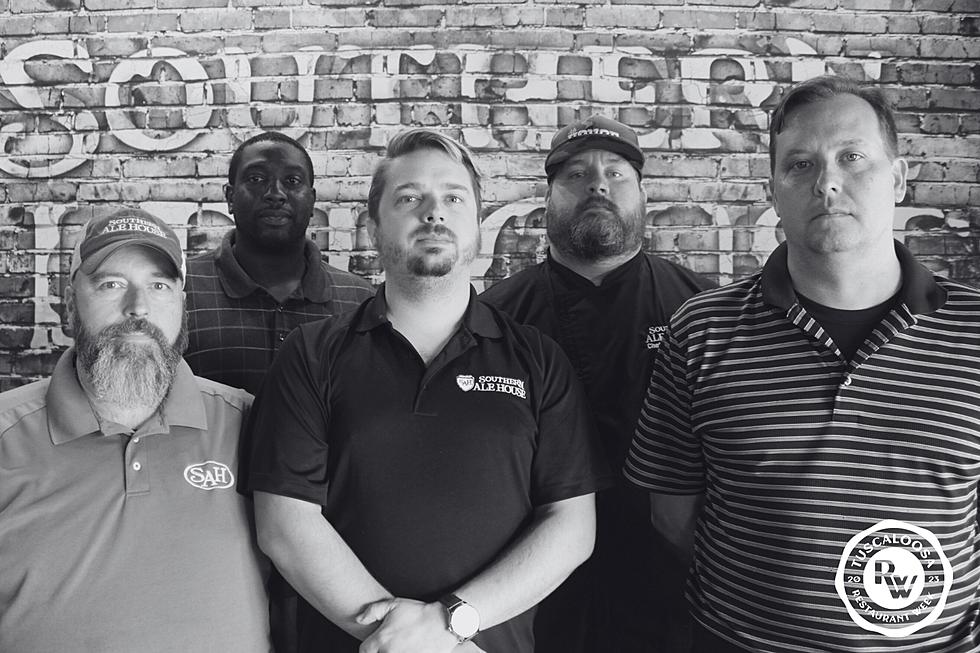 Southern Ale House
Especially for visitors, most restaurants in Tuscaloosa fall into one of two categories.
First, you've got institutions that have been here forever, decades-old places that have become synonymous with the city itself. Then there's a second group, an always-shifting slate of eateries that might not have been open the last time you visited and may not be around whenever you return.
At Southern Ale House, a group of friends finds themselves somewhere in the middle of both extremes, overseeing a popular restaurant that has earned a loyal, local customer base since it opened in March 2014.
---
Visit Tuscaloosa thanks Townsquare Media, the official media partner of Tuscaloosa Restaurant Week 2023.

Tuscaloosa continues to become a dynamic place to visit with the addition of many new and wonderful restaurants and bars that opened in 2022.  As you prepare your 2023 travel plans and add Tuscaloosa to the bucket list, be sure to consider one of our newest places to eat and drink in Tuscaloosa while you're in town!
New places to eat and drink in Tuscaloosa
BISTRO 17
If you're looking for a spot with a fabulous Gluten free menu, Bistro-17 has you covered. The team at Bistro 17 has curated a menu that offers healthy American comfort food, with many of those Gluten free. The restaurant is conveniently located close to City Hall on University Blvd. in Downtown Tuscaloosa.
Website:  https://bistroseventeen.com
Address:  2217 University Blvd. Tuscaloosa, AL 35401
DOMO
Located along the banks of the Black Warrior River, Domo serves as a takeaway market offering meat, cheese, seafood, and wine. Their Sandwich menu, Charcuterie Board, and Boxes make for a great picnic along the Riverwalk or at one of Tuscaloosa's many parks.
Website:  https://domodomodomo.com
Address:  1650 Jack Warner Parkway Suite 1008 Tuscaloosa, AL 35401
FORTE CUTS & COCKTAILS
One of Tuscaloosa's newest dining destinations, this modern brasserie serves French-inspired staples and classic cuts on a Brasserie meets Steakhouse inspired menu. Chef Jacob Stull offers elevated classics that are paired alongside a thoughtful wine list and an excellent bar program. Located in The Alamite, this Downtown Tuscaloosa spot is open for breakfast, lunch, and dinner and reservations can be made.
Website:  https://www.fortetcl.com
Address:  2321 6th St. Tuscaloosa, AL 35401
HOMEWOOD BAGEL CO.
Handcrafted, boiled, and baked fresh daily. A staple in Homewood, Alabama, this spot is now open daily for breakfast and lunch in Tuscaloosa, with bagels and cream cheese, bagel sandwiches and wraps, other baked goods and gourmet coffee. Located on 15th street in the former Hoo's Q restaurant, this family-owned bagel shop was a great addition to the Tuscaloosa community this year.
Website: https://www.homewoodbagelco.com
Address:  101 15th St. East Tuscaloosa, AL 35401
JALAPEÑOS DOWNTOWN COCINA & TEQUILA BAR
If you're looking for Alabama's largest Tequila selection, the new Jalapeños Downtown location is where you need to be. Jalapeños has been a longtime favorite in Tuscaloosa and Northport for years and when the opportunity presented itself to return to their very original location they couldn't pass it up. This Downtown location in Temerson Square features some of Jalapeños favorite Mexican dishes with unique additions, margaritas, Spanish wines, signature cocktails and … Tequila!
Website:  https://iris-badger-f482.squarespace.com
Address:  405 23rd Ave. Tuscaloosa, AL 35401
ROLL CALL
If you're seeking an elevated rooftop experience with views of Downtown Tuscaloosa and Bryant Denny Stadium, Roll Call is your new spot! Located above The Alamite, the team serves creative cocktails, local and craft beers, artisanal wines, small plates menu led by Executive Chef Jacob Stull, and good spirits. We'll meet you at the top!
Website:  https://www.rollcalltcl.com
Address:  2321 6th St. Tuscaloosa, AL 35401
SOCAL CANTINA
If you're looking for a Cali-Mex restaurant, then SoCal Cantina is the spot for you. The best of Miami has brought its award-winning margaritas and tacos to Tuscaloosa. With two bars, a wide selection of Southern California style bites and specialty margaritas made with only the freshest ingredients, it's certainly a one-of-a-kind vibe! Born as a pop-up in the heart of Miami, SoCal Cantina was built with one main goal – to be a place where good vibes, mixed with outstanding food and drinks could hang out in harmony.
Website:  https://www.socal-taco.com/location/socal-cantina-tuscaloosa/
Address:  2308 University Blvd. Tuscaloosa, AL 35401
THE VEGANISH MARKET
Owned by a Tuscaloosa local and female entrepreneur, Yazmyn Rozier, the Veganish Market offers many gluten free, dairy free, and plant based items.  On the menu you can find anything from plant-based ice cream to small plates and bowls, smoothies, and mock tails.  The idea behind Veganish was to not only create a menu that caters to the vegan community but also the vegetarians, pescatarians, flexitarians, and those transitioning into a plant-based lifestyle.
Website:  https://www.theveganishmarket.com
Address:  2128 University Blvd. Suite B. Tuscaloosa, AL 35401
---
DESSERT
MO'BAY BEIGNET COMPANY
Based out of Mobile, Alabama, Mo'Bay Beignet Co.'s original hot and fresh beignets, signature syrups and freshly brewed coffees is something you just don't want to miss out on! Located in Temerson Square, Mo'Bay's hours allow for guests to enjoy their treats for breakfast or for a must-have late night snack.
Website:  https://mobaybeignetco.com
Address:  401 23rd Ave. Tuscaloosa, AL 35401 
---
DRINKS
ATOMIC COCKTAIL BAR
Another new spot opened in Temerson Square is Atomic Cocktail Bar. As a lively cocktail bar, they are proud to serve high-end cocktails, beer, and wine. You'll find Atomic located directly below Dillard's Chophouse. You'll find the entrance on the side of the building located on Greensboro Avenue.
Website: https://www.instagram.com/atomic_cocktailbar_tuscaloosa/
Address:  2330 4th St. Tuscaloosa, AL 35401
BOBAMANIA MIDTOWN VILLAGE
Locally owned in Tuscaloosa, BobaMania has become quite the popular treat in and around Tuscaloosa! Now with their second location in Midtown Village, the Bubble Tea House's most popular drink is the Brown Sugar Boba Tea and the most popular topping is the Strawberry popping boba. They're open seven days a week making it easy to give it a try anytime!
Website:  https://bobamania.com
Address (Downtown):  1914 University Blvd. Tuscaloosa, AL 35401
Address (Midtown Village):  1800 McFarland Blvd. E, Suite 434, Tuscaloosa, AL 35404
---
COMING SOON!
STRANGE BREW COFFEEHOUSE
What started out as a place for college students quickly became a place for the whole community in Starkville, Mississippi. Coming soon to The Strip in Tuscaloosa, this coffee spot focuses on customer service and makes sure the Strange Brew experience is the best. All of their coffees are roasted in small batches with care and are delicious. In addition to coffee, they enjoy coming up with fun baked goodies that will change seasonally. This new location will be located next to the iconic Gallettes bar.
Website: https://strangebrewcoffeehouse.myshopify.com
WE DAT'S CHICKEN & SHRIMP
We love when Alabama's sports legends invest back in the Tuscaloosa community! JaMychal Green, an Alabama native and a star for the Crimson Tide's Basketball team from 2008 until 2012, will be at the helm of this new restaurant opening on The Strip. Guests will find We Dat's in the former home of Little Italy, which was a staple on The Strip for years. Already doing business with multiple locations around New Orleans, We Dat's will specialize in Cajun-style chicken, shrimp and catfish with loaded sides to match. Take-home spice mixes and sauces will also be available for sale.
Website: https://wedatschickenandshrimp.com
This is just a quick glimpse into some of the many new places eat and drink in Tuscaloosa that opened during 2022.  Ready to plan your visit?  Request a visitor's guide today, or explore some of our upcoming community events.
Roll Tide!
Tuscaloosa, AL – Tuscaloosa Tourism and Sports (TTS) has partnered with the Bama-Q Grilling Series to host Grilling in T-Town on Saturday, July 9th at Druid City Social as an official Steak Cookoff Association (SCA) competition. With the goal of creating more opportunities for family-friendly events that unite the community through food sport, TTS is working with local private chef and traveling food judge Alison Hudnall and experienced food sport promoters, Alabama Coasting and Bama-Q productions, to bring this SCA sanctioned event to Downtown Tuscaloosa.
Admission is free to the public and guests will enjoy food trucks, a sampling tent, local vendors, cold drinks, live music, and a family-friendly atmosphere.
This SCA-sanctioned event and World Food Championship qualifier invites top-tier traveling competitors as a way to promote food sport tourism to the City of Tuscaloosa. Local businesses, organizations, and amateur backyard cooks are invited and encouraged to register to compete as well. The top-performing locals will be recognized and eligible to win special prize packs. The competition will also feature a World Food Championships qualifying event with the best dessert taking home a golden ticket to the World Food Championships Finals in Dallas.
To ensure a level playing field, all steaks for the competition are provided by local sponsor Northriver Cattle Co. and are included in the competitor registration fee. Judging will be completely blind.
Food sport has become a new American pastime.  As food sport has grown, various sanctioning bodies have emerged across a large range of cooking styles, methodologies, and categories of food. KCBS, FBA, MBN, IBCA, SCA, PNWBA, WFC are just a few sanctioning bodies that offer both seasoned chefs and everyday cooks a chance to take home a win. With cash prizes up for grabs, many have turned to food sport as a way to monetize a hobby. Each sanctioned competition offers up another opportunity for any competitor to land themselves a spot on a national stage.​
Learn more about the SCA format and rules by visiting https://www.grillinttown.com or by contacting David Calametti. Click here for the SCA registration link.
Take a timeout from your Tuscaloosa sports adventures and grab some grub at one of Tuscaloosa's finest sports-centric eateries!
The Historic Waysider: Best known as the place where legendary coach Bear Bryant ate breakfast (his favorite was country ham), The Waysider serves up southern meals in a historic red house near downtown Tuscaloosa. Visiting from the rival team? You can expect your pancakes to be served in the shape of an elephant.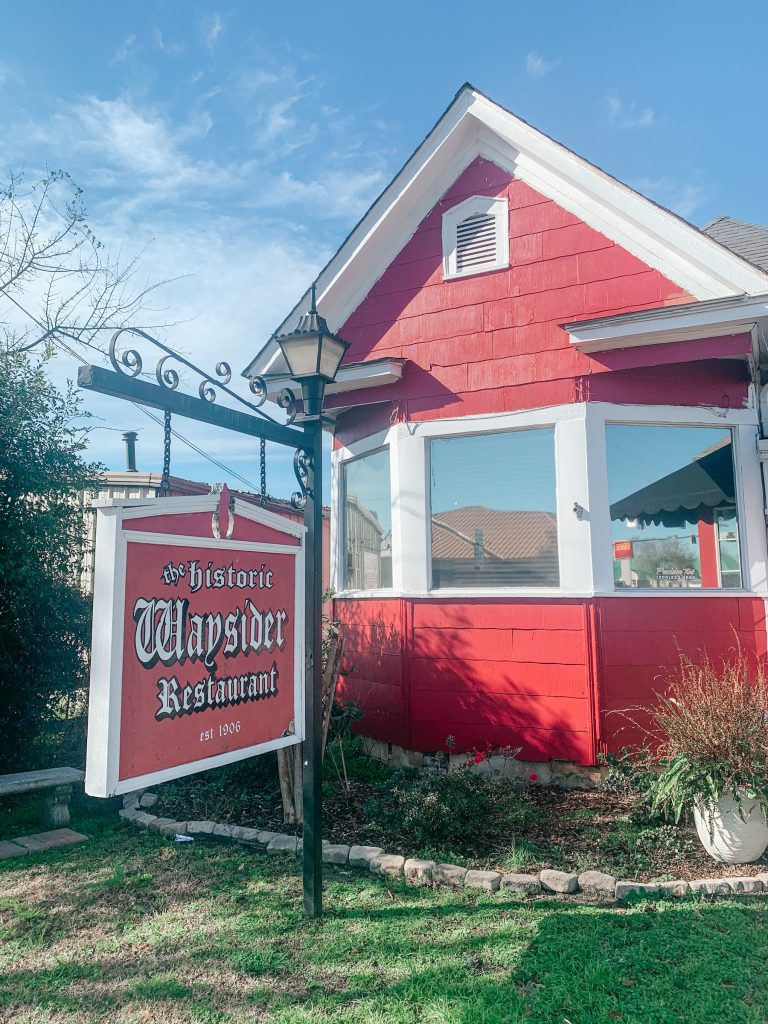 Nick's in the Sticks: No, not that Nick … Nick's in the Sticks is an iconic Tuscaloosa landmark known for delicious steaks, massive onion rings and its signature drink, The Nicodemus. Leave your mark on Tuscaloosa by adding a signed dollar bill to the ceiling.
Baumhower's Victory Grille: Owned by former Alabama star Bob Baumhower, this sports bar is home to "Hey Coach!", a live radio show broadcast from the restaurant, which allows you to get up-close with 'Bama's coaches.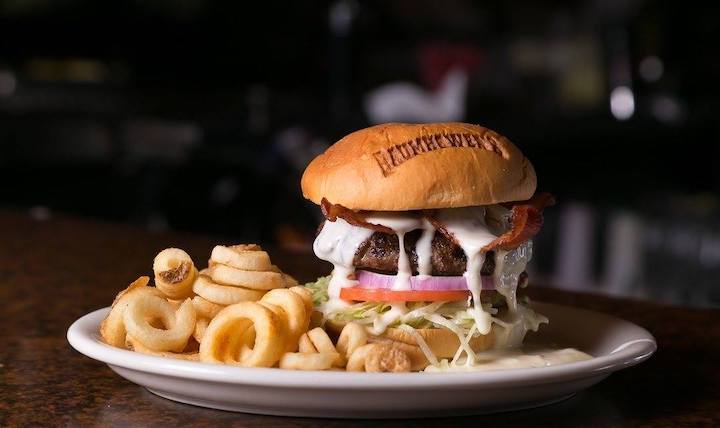 Ajian: Looking for fast-casual sushi? Try Ajian, owned by former Alabama quarterback A.J. McCaron, who led 'Bama to back-to-back national titles in 2011-12.
Rama Jama's: Located in the shadow of Bryant Denny Stadium, Rama Jama's is the place to go for fabulous food. Breakfast served all day, a wide variety of sandwiches, and the best sweet tea and milkshakes this side of heaven. Fan of a BLT? Kick off game day with a National Champion BLT – currently, that's 18 strips of bacon.
Dreamland Bar-B-Que: It all started with a dream when God visited John "Big Daddy" Bishop and told him to open a restaurant. The original Dreamland, built by the hands of Big Daddy and located in Tuscaloosa, opened in 1958. Since then, this BBQ joint has been nationally recognized for their hickory-fired ribs, white bread, and BBQ sauce. Today, the ribs are still prepared using the same technique Mr. Bishop used more than six decades ago. PS – Their banana pudding is pretty legendary, too.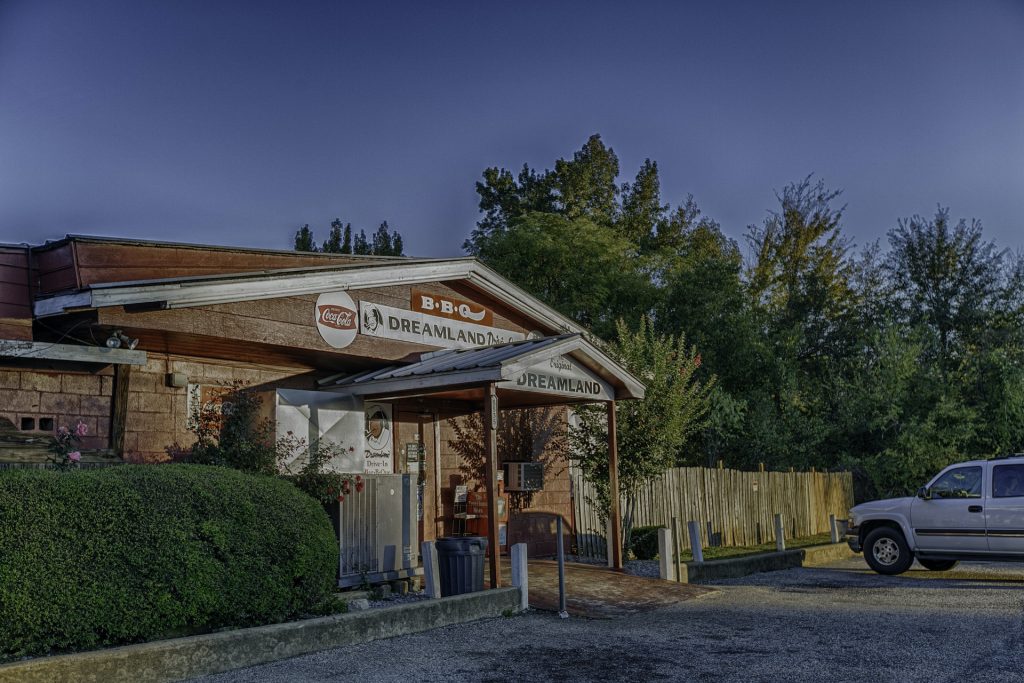 Gallettes: It wouldn't be gameday without indulging in a famous Yellow Hammer from Gallettes! This potent tailgate cocktail is served in iconic yellow plastic tumblers. While the recipe is a secret, some guess it's a mix of vodka, rum, amaretto, orange and pineapple juices.
Northport Spotlight – Billy's Sports Bar & Grill: With one location in Birmingham and their second location in Historic Downtown Northport, Billy's was designed to be comfortable. It's local's favorite spot for good food, live music, great drinks, and a relaxing atmosphere to catch your beloved sports teams on TV. During football season, Billy's offers a free shuttle to and from campus.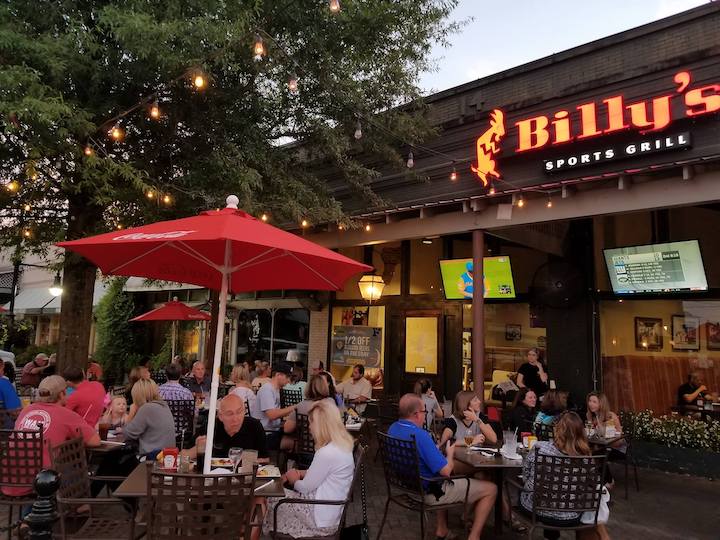 The Tuscaloosa and Northport communities are filled with incredible eateries and this is just a few of the many sports-related restaurants we have to offer! Check out our Eat page to find even more.
For Sharon Thomas Ransom, barbecue is in her bones. She began learning the craft at age five, when her parents opened a barbecue restaurant in the back of their house. Today – five decades later – she owns and operates Thomas Rib Shack in the community she loves. Thomas Rib Shack is just one of many local restaurants in Tuscaloosa and Northport.
Ransom is as fixed in the community as her barbecue. A natural conversationalist, she entertains her customers and employees all day at the restaurant, and she enjoys being with people. "I love my community," she said. "We're resilient. We bounce back."
About five minutes from downtown, you'll find Thomas Rib Shack, a meat-and-three restaurant that's never really advertised, but has thrived for 50+ years.
The food speaks for itself.
"If you have good food, the people will come, " says Sharon Thomas. Born-and-raised in Tuscaloosa, she's got a lot of friends, because every person that walks through the door is an old or new one, starting at 10 am and not lightening up 'til they sell out.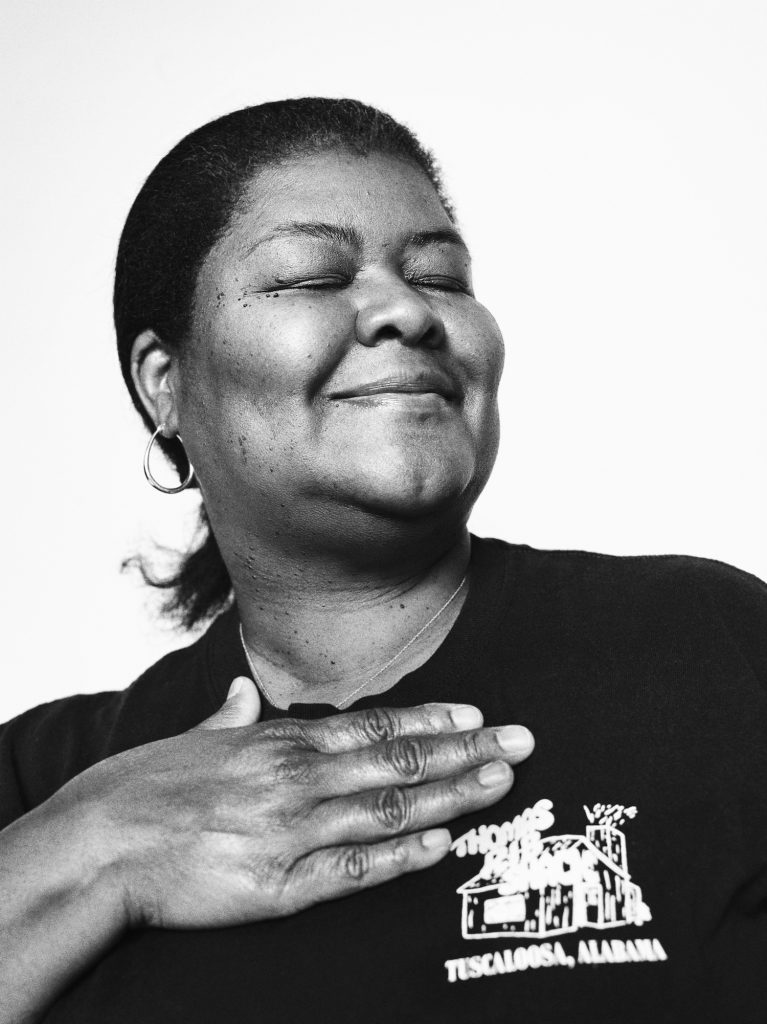 The Southern dishes are down-home, authentic, and consistent, served up in a family-first atmosphere (yep, her kids work there too). Classic fried chicken, fall-off-the-bone ribs, mac-and-cheese, cornbread, and even pig's feet and chitlins.
Sharon remembers her parents perfecting their famous BBQ sauce in the kitchen when she was just 11 years old, and it's been the same ever since. That's what keeps people coming back for more.
What you can expect: "Nothing fancy. Just us." And that's more than enough.
A positive outlook: Recently interviewed on her experience during COVID-19, Sharon shared that the most important lesson she learned was to stay focused, stay faithful, and stay committed, she said. "No matter how bad things look, don't give up. The darkest hours are just before the dawn."
For a true taste of the south, try Thomas Rib Shack!
If you're looking for places to eat on gameday in Tuscaloosa, you've come to the right spot! Founded in 1958 in Tuscaloosa, Alabama, Dreamland is hailed as one of the best BBQ joints around and has been a legendary staple in our community and on game day since it began.  It's said that this famous joint serves ribs to over one million people per year. 
With a slogan of "Ain't nothing like 'em nowhere," they are most notably known for their hickory-smoked ribs – and it's true – there ain't nothing like 'em nowhere!  Over the years, Dreamland has expanded to 10 locations across Alabama, Georgia, and Florida.  While they have experienced growth, the original location in Tuscaloosa remains its most unique.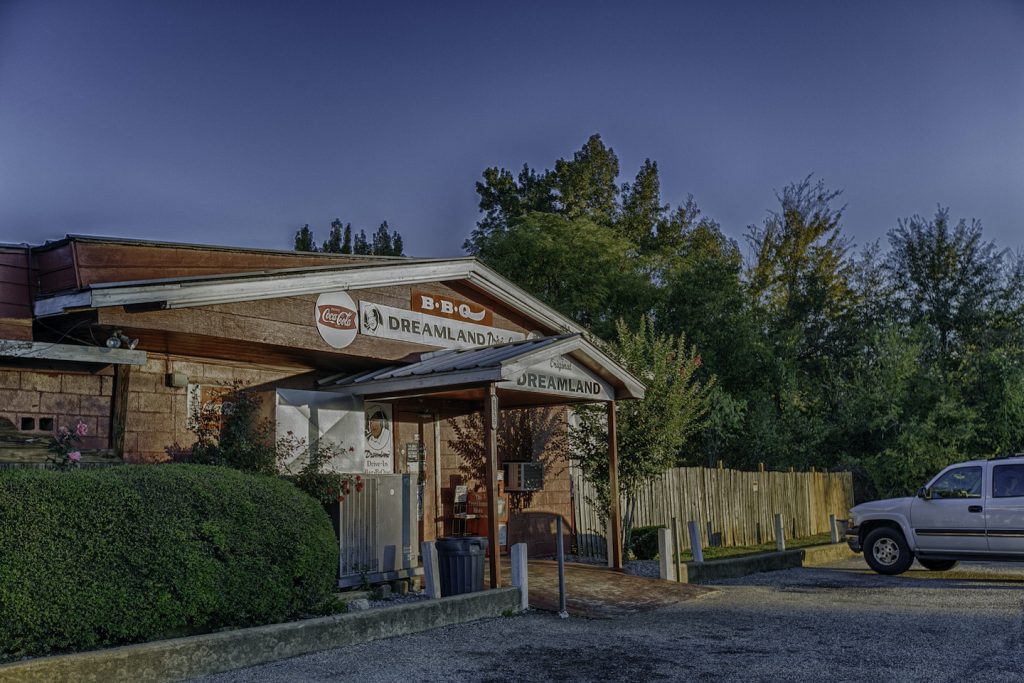 Dreamland truly started with a dream. Founded by John "Big Daddy" Bishop, Big Daddy said that God visited him and told him to open a restaurant and he obliged (lucky us!!). As Big Daddy embarked on this adventure, he began cooking in his front yard.  The original Dreamland, which was literally built by the hands of Big Daddy, would eventually open its doors, selling everything from ribs to burgers, and even postage stamps. But people quickly began to take note of the hickory-fried ribs, white bread, and signature barbecue sauce, and soon visitors were coming from all over.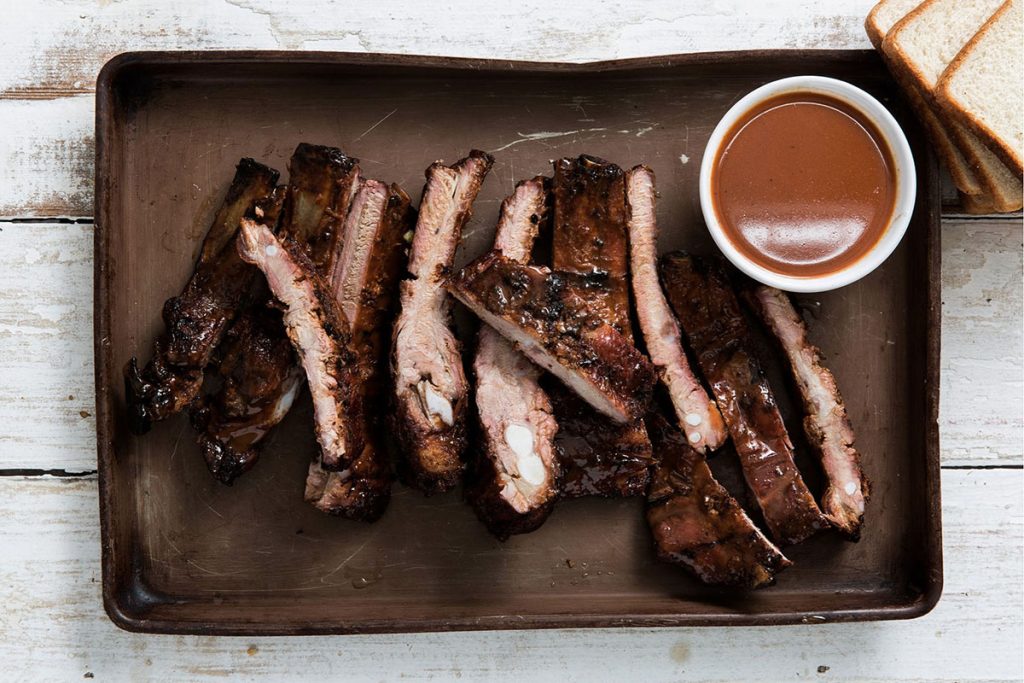 As you enter the rustic looking location, dubbed "the original", you are greeted with warm smiles and an invitation to "sit wherever you want". You'll notice license plates, Alabama football memorabilia, dollar bills and pictures on the ceilings and walls. On the tables you'll find their famous spice called "shake", which you can buy. The employees are dedicated – several at the original location have been there for years – and wake up at 5 am to begin preparing the food. One employee, Raymond, has been with Dreamland for over 45 years and Reggie, who manages the pit, has been there for 25 years! Knowing that many of their guests are limited on time, especially on game day, you can also expect quick and friendly service.
We had a chance to visit with the assistant general manager of the original Dreamland, Jasmine Lewis, and she shared that, "People come in from Texas, California, and all over to try our ribs and our sauce. We [the original location] are totally different from our other locations; we serve the same ribs, but everybody says it just tastes different here."
Speaking of the ribs… after six decades Dreamland still prepares them using the same technique. They roast the pig over a hickory wood fire pit and baste them with their signature vinegar-based barbecue sauce.  Also unique to Dreamland is the plain pieces of white bread served before every meal. No, it's not toasted and it doesn't have butter on it, but they serve it with their famous warm barbecue sauce for you to enjoy dipping the slices of bread into for an appetizer.Dreamland also makes what we believe is the best banana pudding we've ever had! It's made with crispy Nella wafers and creamy vanilla pudding that makes for a great dessert to end your meal (dreaming about it as we write this).  Jasmine confirmed that this, too, is her favorite menu item.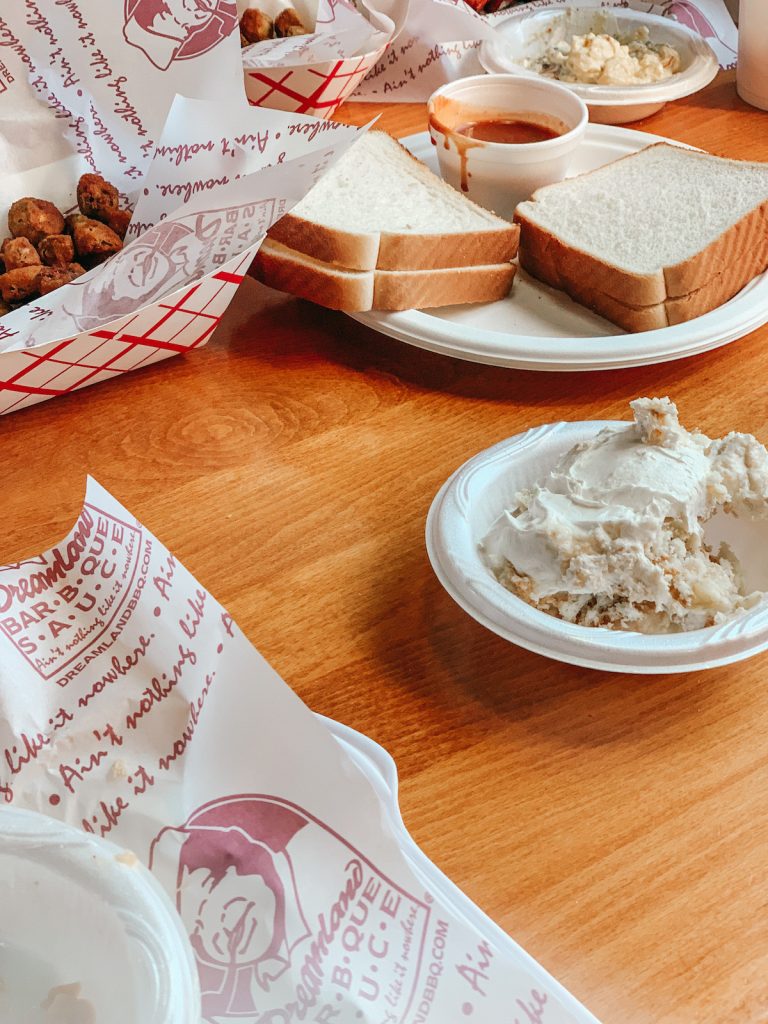 Fun Fact: Jasmine shared that, surprisingly, the busiest day for them is not game day but is actually the Fourth of July. Dreamland is filled with in-house guests, catering orders and their drive-thru, which was a positive outcome from COVID-19 [the drive-thru].
Today is also your lucky day because… drumroll please… on their website you can find detailed instruction on how to make their famous barbecue! You can also purchase many of Dreamland's staple sauces, rubs, and seasoning online or at one of their locations. The restaurant offers t-shirts, hats, and gold gear, available to ship anywhere in the U.S.
Now, we promise we're not exaggerating about how scrumptious this BBQ is, but if you don't believe us, here's what one Dreamland customer had to say!
"I've ate barbecue all over the US, let me say these ribs have everyone beat to a frazzle! Tender, juicy, and best flavor I've ever had! Beats Memphis barbecue hands down! And be sure to order the banana pudding for dessert."

Dreamland BBQ Customer
When it comes to places to eat on gameday in Tuscaloosa, there's certainly many options to select from. Whether you're traveling to Tuscaloosa or West Alabama for a gameday, or for other purposes, a stop at Dreamland BBQ is a must.  When it comes to spots uniquely local to Tuscaloosa, Dreamland is at the top of the list!  For more information about Dreamland BBQ, contact Dreamland Barbeque Tuscaloosa at 205-758-8135.
Final Insiders Tip: When you're ready to give the famous BBQ joint a try, know that the other locations serve the same menu items as the original Dreamland in addition to burgers and chicken options. Sides include mac and cheese, coleslaw, baked beans, and potato salad.
There really is no such thing as a timeout in Tuscaloosa – and we're totally okay with that!  While our friends up North or in the Midwest experience winter snowstorms, our ideal southern location in West Alabama is a prime setting for events year-round.
While the University of Alabama is bursting with all sorts of events this semester, Tuscaloosa is also home to many winter and spring activities that are perfect for those living here or visiting. Whether you're looking for something that's indoors or outdoors, family-friendly, or for young adults, we hope you'll consider a visit to our City.
Continue reading to learn about seven upcoming events that we're looking forward to in Tuscaloosa!
Theatre Tuscaloosa Presents On Golden Pond
Date: Friday, February 25th (opening date)
This classic play inspired the Academy Award-winning film with Henry Fonda and Katherine Hepburn. Norman is a curmudgeon with a strained relationship with his daughter, Chelsea. Together for their 48th summer at Golden Pond, he and his wife nevertheless agree to care for Billy, the son of Chelsea's fiancé, and a most unexpected relationship blooms.
To learn more or to purchase your ticket, click here.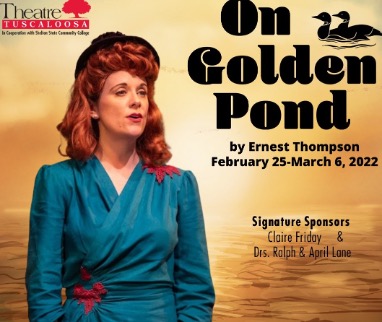 Tuscaloosa Tourism & Sports Half Marathon + 5K
Date: Saturday, March 26th
On March 26th, join us as we celebrate 10 years of West Alabama's premier 13.1-mile running event featuring a great course, good food, friendly staff and volunteers, and a run to remember! As you run throughout the heart of Tuscaloosa, you'll enjoy scenic views, experience some of Tuscaloosa's most historic neighborhoods, and get some phenomenal selfie opportunities with many Alabama-related iconic spots like Bryant Denny Stadium and Denny Chimes. All runners will have access to a post-race party full of beverages and food! Registration is open for the half marathon and 5k.
For more information or to register, click here.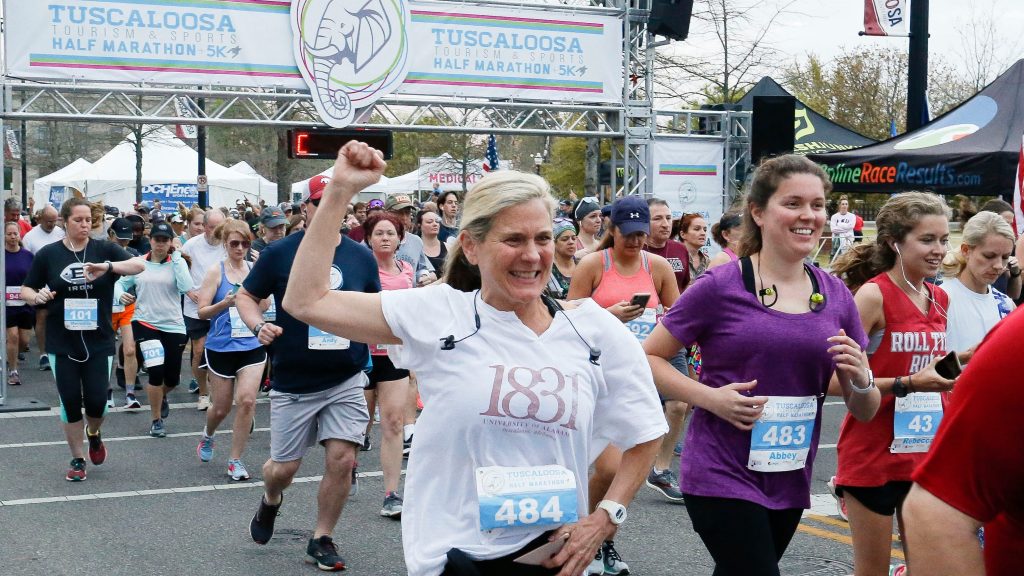 West Alabama Food & Wine Festival
Date: Thursday, April 7th
The 8th Annual West Alabama Food & Wine Festival will showcase some of the best local restaurants with tasting tables that highlight signature dishes. Wine tastings are provided by local distributors to introduce trendy and seasonal varietals. The event takes place along the scenic Black Warrior River at the Tuscaloosa River Market and benefits the West Alabama Food Bank! Details are actively being finalized, so be sure to visit their website to learn more and to purchase a ticket.
Access the West Alabama Food & Wine Festival website here.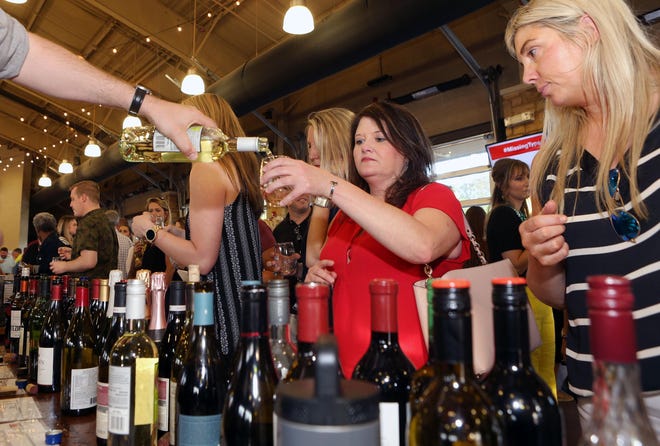 Inaugural Tuscaloosa Gauntlet – A Marine-Inspired 5k Obstacle Course
Date: Saturday, April 9th
The Alabama Marines Foundation is excited to host the inaugural Tuscaloosa Gauntlet event. This is a Marine-inspired 5k obstacle course that is open for anyone to participate – even including a youth heat! If you're a fan of obstacle races, you'll love to hear that this course is one-of-a-kind in Alabama and will feature the Marine's "O Course" as one of the 20+ obstacles. They have partnered with Phoenix Races and it is an OCRWC Qualifier. This race will give all who participate a purpose and a challenge worth celebrating!
To learn more and to register, click here.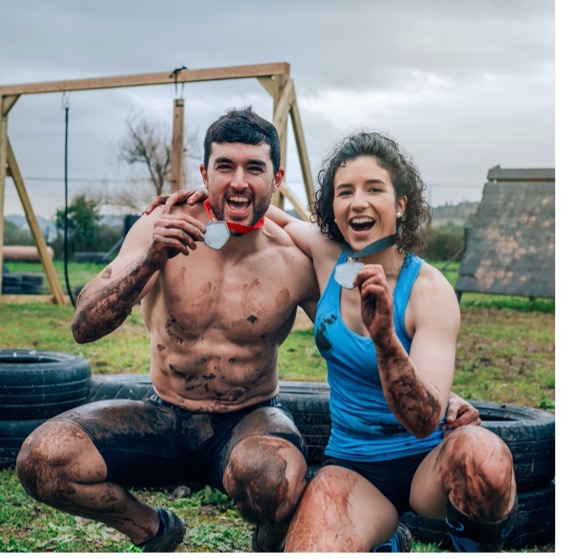 Golden Flake A-Day
Date: Saturday, April 16th
Three months is just too long without football season – but we are in luck! This Spring game, a long-standing University of Alabama and Tuscaloosa tradition, is our annual college football exhibition game that takes place at the conclusion of spring practice. Played at the one and only Bryant Denny Stadium, fans get a preview for the upcoming football season for free. Continuing with tradition, the captains from the previous seasons' team will also be honored at the annual Walk of Fame ceremony at the base of Denny Chimes, in addition to many other activities!
Check out the Crimson Tide's 2022 football schedule and A-Day details by clicking here.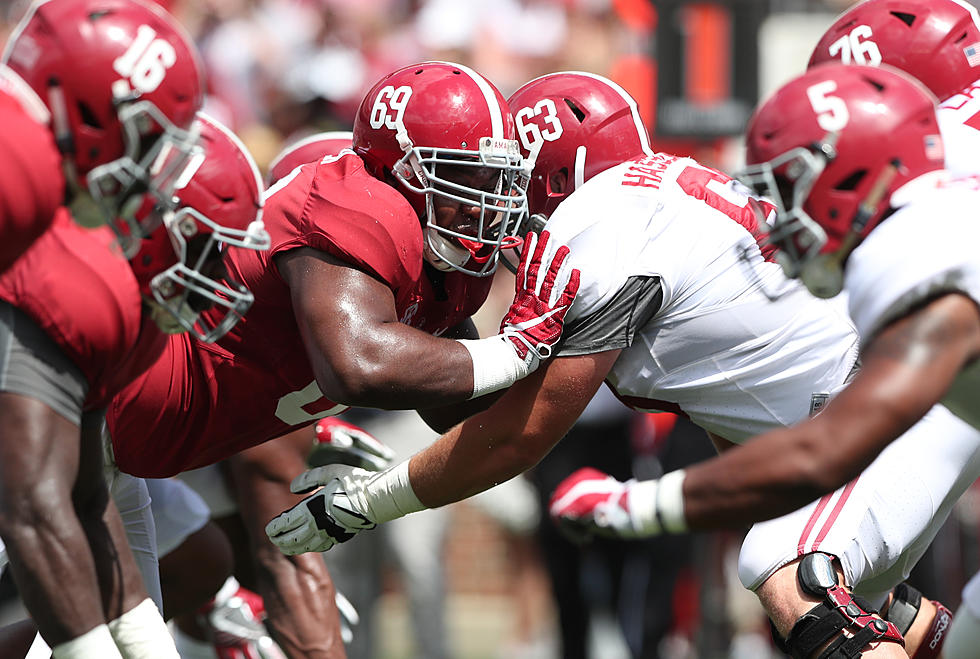 Tuscaloosa Mayor's Cup 5k for Pre-K presented by Mercedes-Benz U.S. International
Date: Saturday, April 30th
On Saturday, April 30th, over 1,000 runners and walkers will gather in Downtown Tuscaloosa for a great cause. Since the inaugural race in 2007, the Mayor's Cup has raised over $325,000 for the Tuscaloosa Pre-K Initiative. The race 3.1 miles and begins and ends at Government Plaza. We are thrilled to have this annual race return in 2022!
For more information or to register, click here.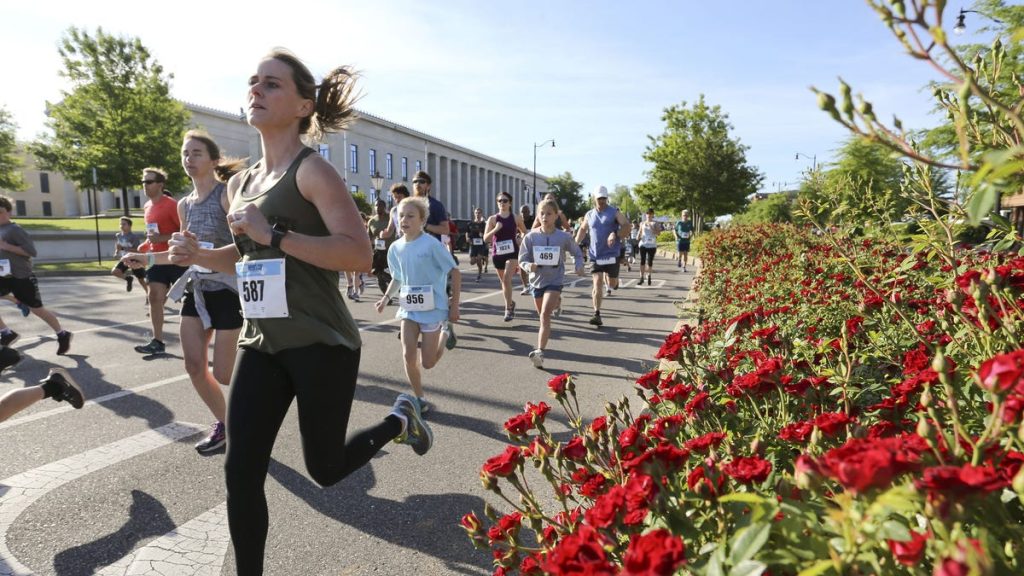 Druid City Arts Festival presented by Cadence Bank
Date: Friday and Saturday, May 20-21
Located in the heart of Downtown Tuscaloosa at Government Plaza, the Druid City Arts Festival (DCAF) is a local favorite that we look forward to each year! Spring will have arrived and it's the perfect time to enjoy art, music, and food of all kinds. No matter your age, this festival has something for everyone (plus it's free to attend – bonus!). If you have children bring them along! They will have the opportunity to explore the Kids Zone, giving them a chance to show off their creativity too.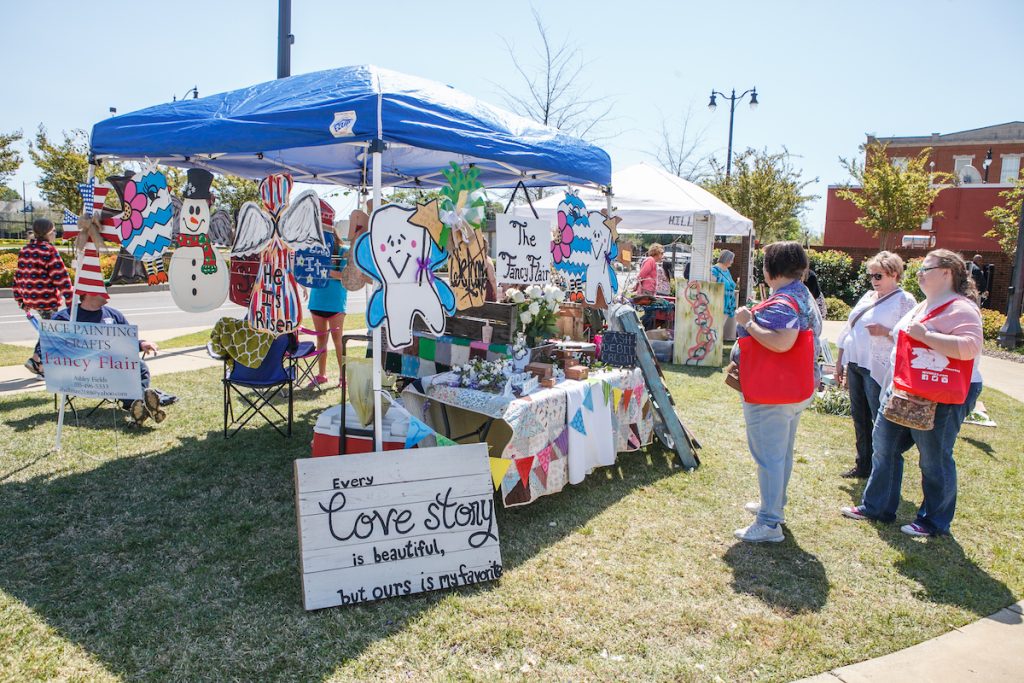 As always, never miss an event in Tuscaloosa or Northport with our Visit Tuscaloosa Events Calendar!
We get it, putting together an itinerary can be overwhelming with vast options to select from. And in Tuscaloosa, the tide rolls all year long with things to do, people to see, and places to be! So, we want to share Tuscaloosa itineraries to help. Up first, a 48-hour, fun-filled schedule that offers you a taste of all things Alabama. While the itinerary below would be best suited during a non-football weekend, you can certainly hit these spots while in town for a football weekend, too! Either way, this itinerary is pretty legendary…
Day 1
8:30 am – There's nothing like specialty coffee and doughnuts to kickstart your day! Babe's Doughnuts serves unique donuts such as Heath Bar donuts, fruity pebbles, and even rich red velvet, yum! They also have stellar breakfast wraps.
9:30 am – Now it's time to learn about Alabama football. Roll Tide! The Paul W Bryant Museum exhibits artifacts and memorabilia that trace their long history. The museum includes state-of-the-art displays enhanced by videos highlighting great players, plays, and games, and is open Tuesday – Sunday. Members and children under 5 are free. Non-member admission for an adult is $5 and children (K-12) are $3.
11:00 am – If it's a nice day, stroll down Paul W Bryant Drive after exiting the Bryant Museum. Walking out the door, you'll be greeted by Sewell-Thomas Stadium, Coleman Coliseum, the Mal M. Moore Athletic Facility, and more. It's the heart of Alabama's athletic facilities. Continue west down Bryant Drive as you make your way towards Rama Jama's – the perfect bama-fied restaurant for lunch. Rama Jama's is a sports-centric bar and grill for American eats including all-day breakfast, sandwiches, and shakes. We're talking about the Large Touchdown Burger Platter, an 8oz burger with a fried egg, choice of hash browns or french fries, and a drink.
1:00 pm – Now let's head for the Quad! As you walk from Rama Jama's hit up Bryant Denny Stadium, the Walk of Champions, the legendary Coaches Walk, and Tuska. This whole area offers many Instagram-worthy photo opps! As you mosey on to the Quad, which is also home to our beloved Denny Chimes, you'll find a 22-acre quadrangle in the center of UA. Take time to soak up the sun and explore that area of campus. Surrounding Denny Chimes you'll find hand and footprints of past Alabama team captains in the concrete.
3:30 pm – Another classic part of an "Alabama Gameday" experience is Gallettes. You must try one of their famous gameday Yellowhammers! The atmosphere is easygoing and it's a refueling hang out spot loved by locals and visitors alike.
6:00 pm – Who's hungry for steak? One of Tuscaloosa's beloved local gems is Nicks in the Sticks. With traditions like their famous "Nicodemus" and pinning dollar bills to the ceiling, this classic joint is almost always packed out, so come a little early and enjoy yourself. Our mouths are watering just thinking about that filet wrapped in bacon and their dinner rolls.
8:00 pm – Now you're ready for some live music, right? Temerson Square is a tremendous place to scout out local, live music! From country to rock and alternative, there will be such a wide variety of music. You'll have many options to end the night with in this area.


Day 2
7:30 am – If you enjoy a good run or walk, hit up the Tuscaloosa Riverwalk or campus – or both! There's something so motivational about running along the Walk of Champions. It's like you can feel the presence of legends right there.
9:00 am – Another incredible breakfast joint is The Waysider. You feel like you're at home the moment you step in – much like how legendary Coach Paul "Bear" Bryant felt when he at there, too. Their customer service always guarantees a happy visit, too. Be sure to check out the homemade biscuits and beignets or their incredible sugar-cured ham!
10:30 am – Now it's time to buy some Alabama swag. Check out the University's Supe Store to find some of the best Bama gear. Speaking of Alabama swag, another spot to explore (if you didn't yesterday) is The Strip. While it's home to many bars and restaurants, there are a few other spots you can purchase gameday attire.
1:00 pm – Lunchtime (so much food!) Local Tip: Innisfree goes far beyond a bar. They have some of the most delicious grub that never fails to surprise people! For example, the secret menu item is the Irish Gold Chicken Fingers, which are out of this world. On gamedays, this spot is packed with fans as the bar boasts many TVs, making it perfect to keep up with all-things sports.
2:30 pm – Now it's time to explore the beautiful and revitalized area of Downtown. If you have the kiddos with you, the Children's Hands-On Museum is a great place that allows little ones to explore, create, and discover! There are also a plethora of storefronts, eateries, and attractions to entertain those of all ages. Some long-time retail spots downtown include The Locker Room, The Pants Store, and The Shirt Shop.
4:30 pm – Before heading to dinner, you might want to take a quick break in the downtown area. If you're looking for a park, head over to Government Plaza. Need a quick drink, a solid charcuterie board, or something sweet? Check out The Wine Market.
6:00 pm – It's dinner time! Baumhowers Victory Grille is one of those places you can't miss while in town. If you're an avid Alabama fan, you'll probably recognize that name. Alabama football legend Bob Baumhower is the owner of this local spot and the restaurant is home to the weekly radio show "Hey Coach with Nick Saban" during football season!

8:00 pm – There's nothing like ending the day with drinks at a friendly, homey brewery. We have two local breweries in town that both offer wonderful atmospheres. But if Black Warrior Brewery and Druid City Brewing Company aren't your style, don't fret, our website can help with that. Fun fact: Druid City is famous for their wall-art and it's not uncommon for you to see art featuring legends like Coach Nick Saban or Bear Bryant. It's another perfect spot for a selfie in T-Town. For a starry night, Hotel Indigo's The Lookout Rooftop Bar is a beautiful place to admire the city from above with a beautiful view of the Black Warrior River.
While Tuscaloosa offers a unique blend of sports, history, outdoor adventures, music, and food for every palate, we hope that you enjoyed this "Alabama" themed itinerary featuring legendary history, popular gameday spots, and just all-around one-of-a-kind experiences that only Tuscaloosa has to offer. Stay tuned for more!
Ready to plan your trip? Request a free Visitor's Guide by clicking here!
Day by day it seems that Tuscaloosa is growing with new restaurants and shops. Making plans is getting easier and easier with so many exciting businesses and activities that fill our community. Bored of your usual mundane weekend plans? Fear not, because below are just a few of some of the newest businesses in town that could very well be your next favorite!
This Tuscaloosa newbie has some of the best cut for their tenders. From the outset, 100% all-natural premium tenderloins have been the building block for the entire menu. The Grocery's time-tested recipe has become a household favorite, locking in flavor with southern-style buttermilk marinade, and lightly breaded by hand with every order. The Grocery also features 24 rotating craft beer taps, premium wines, house-made cocktails and delicious southern street-style food.

2230 University Boulevard Tuscaloosa, AL
Monday – Saturday 11am-2am
Sunday 11am-10pm
Walk-On's is a place where over-the-top enthusiasm and culture are the daily norm. What sets them apart is their authentic, mouthwatering Louisiana cuisine prepared fresh and from scratch in the kitchen. And whether you're there for dinner with the family, date night, cocktails with the girls, or to watch a game on the big screen, they're always happy to share that Louisiana culture with us through their indescribable cooking.

675 Skyland Blvd E, Tuscaloosa, AL
Sunday, Monday, Wednesday, Thursday: 11 am- 11 pm
Friday and Saturday: 11 am- 12 am
This particular restaurant and bar celebrate the past decades of music and memories. The menu consists of incredible pizza, fresh sandwiches, and several appetizers. Once you step foot through the door of Decades it feels like you are walking through influential and classic periods of time when music was beyond iconic.

2314 4th St, Tuscaloosa, AL
Monday, Wednesday, Thursday: 11 am- 11 pm
Friday, Saturday: 11 am- 1 am
Sunday: 11 am- 4 pm
Who would have thought Tuscaloosa Glamping would ever exist?! It's just like camping, but with a little glamour in the details. But it doesn't stop there. You can add-on air conditioning, gourmet s'mores, inflatable paddleboards, and even have your furry friend join you on the adventure! There are a couple of different levels to glamping, sometimes it is a simple sitting at a campsite admiring the fire. Other levels include the addition of amenities like a comfortable platform bed with memory foam mattress, tastefully appointed linens and decor, and more! ​

tuscaloosaglampingco@gmail.com
205.861.6086
The trend of house plants has taken over, and we're not mad about it. That's why House Plant Collective is off to a grand start… because who doesn't like plants? If you are the minority that doesn't like plants, they also have pots, baskets, gifts, and accessories! This business initially began by selling online, but then HPC shifted into pop-up events in a converted school bus. By the end of 2020, it was expanded into a brick-and-mortar store for all of us to enjoy!

410 Queen City Ave., Tuscaloosa, AL
Monday-Saturday: 11am-6pm
Sunday: 12pm-5pm
Magnolia Soap & Bath has plant based ingredients in every recipe and can appeal to everyone in your family! Their bath products range from soaps, shower steamers, bath bombs, body butter, scrub, and shower oils. As if that's not enough, they also sell products for the home, pet care, and accessories. Even the men have their fair share of high-quality products like beard oil, beard balm, deodorant, beard comb, and a variety of soaps with more masculine scents like mechanic, woodsman, and tobacco bay leaf just to name a few. You don't want to miss out on all this store has to offer!

1800 McFarland Blvd. E, SUITE 216 Tuscaloosa, AL
Monday – Friday: 11am – 4:30 pm
Tuscaloosa is located in the heart of West Alabama, and in the South, which means our warm weather season is around for a bit longer! Although this community has an abundance of adventurous outdoor attractions, sometimes, you just need indoor options to beat the heat. Whether it's an ice cream shop or a trip to the bowling alley, we've got just what you need to enjoy Tuscaloosa… a bit on the cooler side.
Las Piñas is a family-owned business that is excited to bring a new modern concept of ice cream shops. Serving 100% homemade frozen treats and snacks with the combination of Mexican and American flavors makes Las Piñas a great spot to cool you off and cure your cravings.
They are located at 2003 McFarland Blvd. E Tuscaloosa, AL 35404
Hours of Operation:
Monday – Thursday: 12 (noon) – 8 pm
Friday – Sunday: 12 (noon) – 9 pm
Another way to escape the humidity is taking a trip to Bowlero.  This reinvented bowling alley includes dining, sports, entertainment, and recreational games. They also have incredible food and drinks, as well as an electric atmosphere and service. What are you waiting for? Grab your best friends and join the (air-conditioned) party at Bowlero!
They are located at 2001 McFarland Blvd E, Tuscaloosa, AL 35404
Hours of Operation:
 Monday – Thursday: 5 pm – 12 am
Friday: 5 pm – 1 am
 Saturday: 12 (noon) – 1 am
Sunday: 12 (noon) – 10 pm
If you're a fan of the arts, you'll love the Paul R. Jones Gallery. The Paul R. Jones Collection of American Art at The University of Alabama includes one of the largest and most comprehensive collections of 20th-century African American art in the world, grown over decades by the one and only Paul Raymond Jones.
They are located at 2308 6th St. Tuscaloosa, AL 35401
Hours of Operation:
Monday – Friday: 9 am – 5 pm
Closed Saturday and Sunday
Situated in a quaint and cozy historic home, Ernest & Hadley Books is Tuscaloosa's Indie Bookstore that's located in the heart of downtown Tuscaloosa. This store strives to provide a unique selection of new, used and rare books, and other creative materials from local, regional, and international sources. If you have a deep love of books and wish to share that passion with others, this store is perfect for you. With a village approach, they provide space for book clubs to meet, authors to hold book signings, and even artists to exhibit their craft!
They are located at 1928 7th St. Tuscaloosa, AL 35401
Hours of Operation:
Monday – Friday: 9:30 am – 5:30 pm
Saturday: 9:30 am – 4:30 pm
Closed Sunday
Tuscaloosa's food truck scene has certainly evolved over the past few years, and we're totally here for it! Whether you're attending a local festival, exploring The University of Alabama's beautiful campus, or simply frequenting some of our neighborhoods, it's likely you'll see a food truck out and about. If you're like us, there's just something special about a delicious meal cooked to perfection and served with a smile and at the convenience of "on-the-go". Today, we want to share six local food trucks that you can find hitting the streets of T-Town.
Just remember, there are many more food trucks in Tuscaloosa than the ones we're covering, especially depending on the time of the year (ie: football season – roll tide!).
Catch a Taste
Serving with love and devotion to make great food is the goal of this food truck. It's nearly impossible to leave this place without a smile. They move around day-to-day, so you can click here to view their schedule. Whether you're looking for a beef wrap combo or a wing platter, you will be more than satisfied as soon as you catch a taste.
Bean Me Up Scottie
This little gem is relatively new to town, but word travels fast when the food is incredible. This organic eatery has unique delicacies like vegan cupcakes, mac and cheese burger, and the classic BLT sandwich. All of their meat is plant-based for those vegetarians and vegans out there. With deserts like Zucchini bread and banana nut bread, this place can cure just about any craving! Their schedule will be posted soon on their Facebook page.
Cheese Louise
This local gourmet grilled cheese food truck specializes in, none other than, spectacular sandwiches. They have earned quite the reputation around town and have lived up to the hype. This place puts a bit of a spin on the American icon. Just imagine, you order the Macdaddy, which is filled with Colby jack cheese, bacon, and chipotle sauce on freshly toasted white bread. Yum!! For the full menu and more details check out their website here.
Little Poblano
Hungry for tacos and tamales in Tuscaloosa? This Poblano food truck has just what you want to satisfy even the deepest hunger. They offer an incredible chicken roasted in an orange tinga sauce, guacamole, pickled red onion, marinated cabbage, and house crema. And if that's not your style, the classic quesadilla never disappoints with chicken tinga, cheese, and roasted poblanos. For more information on Little Poblano click here.
Big Tasty
One of the more classic food trucks that roam T-Town is Big Tasty, serving a wide range of hot dogs and hamburgers. They offer quality services that go a long way to ensuring that your order is to perfection. Not to mention the rave reviews they receive about their customer service going above and beyond. If hamburgers and hot dogs aren't your thing, they also serve a mouth-watering wing combo, served with a side and a drink. For more details check out their website.
Urban Cookhouse
When the official food truck of Urban Cookhouse roams Tuscaloosa, we all know what that means… it's time to grub! They're serving up your favorite UC Classics, now on the go! Check out their website to find our next stop! Whether you're craving something healthy like Berry Good salad and wrap or something hardy, Applewood bacon, avocado, lettuce, and tomatoes with aioli on toasted white bread, you're sure to be satisfied with all the variety of options here.
Blenz Bowls
A smoothie bowl concept that has everyone talking on campus! Their specialty is healthy, happy, good food because the fuel we put in our body matters. Blenz Bowls tries to bring us the best fuel available and we think it's pretty good! They can typically be found on campus Monday through Friday during the school year and actually have a storefront location in the Student Center as well. Check out their Instagram page for current locations or visit their website today!
Archibald's Food Truck
Arguably some of the best wings in West Alabama, the Archibald's Food Truck can often be found around the community and at several local events! They are a locally owned barbecue food truck but their business (Archibald & Woodrow's BBQ) has been around for over 60 years now. They were established in 1962 and is now being run by the third-generation! Over the years, the meat and sauce has stayed the same. Check out their Facebook page or their website to learn more.
With summer at its peak, you might be looking for a quick family getaway with the kiddos before school starts again, and we think Tuscaloosa is the perfect spot! That's why we have pulled together some family-friendly activities that will leave everyone smiling, and make the planning much easier. Tuscaloosa has so much to offer for any age and it's our goal to share those stories! While some of the items listed are taking place this weekend, our email is packed with things to do at any time! Be sure to tag @VisitTuscaloosa in any photos you take when you're having fun at these local gems.
Paul W. Bryant Museum
The Paul W. Bryant Museum opened its doors to the public on October 8, 1988. The museum exhibits artifacts and memorabilia that trace the long history of University of Alabama football. State-of-the-art displays enhanced by videos highlighting great players, plays, and games are produced from the museum's archives. The museum is open Tuesday through Sunday from 9 a.m. until 4 p.m. Members and children under 5 are free, Adults: $5, Children (K-12): $3. Free admission to UA faculty, staff, and students! The Bryant Museum has moved to an online ticketing system. To make a reservation please click below.
This shelter has a program called Happy Hour where you can take a dog out for a day. This benefits the dog by getting some fresh air and exercise, but it is also guaranteed to brighten up your day. Check an approved dog out between the hours of 10 a.m. and 5 p.m., Monday or Tuesday or Thursday through Saturday. There are only a couple rules you must follow while participating in this program. You must be over 18 to participate, do not allow the animal off-leash, stay with the dog at all times, only one dog per car, and return the furry friend by 5:00 p.m.
Metro Animal Shelter
This shelter has a program called Happy Hour where you can take a dog out for a day. This benefits the dog by getting some fresh air and exercise, but it is also guaranteed to brighten up your day. Check an approved dog out between the hours of 10 a.m. and 5 p.m., Monday or Tuesday or Thursday through Saturday. There are only a couple rules you must follow while participating in this program. You must be over 18 to participate, do not allow the animal off-leash, stay with the dog at all times, only one dog per car, and return the furry friend by 5:00 p.m.
Explore the Galapagos at CHOM
Explore the Galapagos at Children's Hands-on Museum! Sail down to The Galapagos Islands and learn about this amazing ecosystem through crafts, activities, and games! All guests over two (2+) years must wear museum-approved masks from entry to exit. This event is a safe distancing event. Visitors are limited. Before you embark on this journey, learn more information below.
Taco Casa
It is difficult to capture all of the incredible foods available in Tuscaloosa, but there is one, in particular, that is a staple of our community: Taco Casa! Young and old adore this local treasure not only because of its delicious food but also for the laid-back environment and exceptional customer service. Whether you are craving a taco salad, a burrito, or the delicious taco burger, Taco Casa guarantees a positive experience for all.
Ladyelines Art Garage
This garage is just what this community needed, new and really exciting. The need for a place for children, babies, and adults alike to explore art through unstructured opportunities in an inspiring environment. Whether you want to go to a Parents Night Out event or bring your child to one of their painting classes, this place is perfect for encouraging learning and experiencing safe, new things. They even host birthday parties and have an Open Play to make sure every child is exhausted by the end of the day. Parents? You're welcome.
Bowlero Tuscaloosa
Bowlero has reinvented bowling with inventive dining, sports, entertainment, and recreational games. Grab your family and join the party! They have great food, a fun atmosphere, arcade, lounge seating, epic eats, and stellar design. No matter how old your kiddos are fun can be found around every corner.