Fishing Black Warrior River Tailraces in Tuscaloosa County when the Spillways are Running
Editor's Note: Russell Jones of Coker, Alabama, is a USCG Certified Guide on the Black Warrior River in Tuscaloosa County, as part of the Alabama Guide Service. Tailrace fishing below Bankhead and Holt dams can be outstanding during certain times of the year because you can catch a wide variety of fish at night, as well as during the day. The success of tailrace fishing is dependent on how much current is being generated by the hydroelectric plants, the spillways and/or both. The amount of current and the color of the water in the tailraces will dictate how you should fish, and what lures you should use. You can contact Russell Jones at 205-454-7313; www.alabamaguideservices.com; and Facebook – https://www.facebook.com/AlabamaGuideService/.
When the Warrior River starts to flood upstream of Bankhead Dam, often the spillways will be opened to allow some of that excess water to move downstream. Depending on how many of the spillways are open, this time can be dangerous to fish in the tailrace. However, if you can see slack water and stay there, you'll catch a good number of fish.
Usually when the spillways are open, the water will be muddy. So, I'll fish with bright-colored lures. I'll be using a Rat-L-Trap, a spinner bait, brown – or green-colored Valiant jigs and an Alabama Rig with big white swimbaits on it. Then, I'll try to cast it out and get it in the current. We'll still be looking for the same type of fish that hold in the tailrace – spotted and largemouth bass, saltwater striped bass, hybrid striped bass, catfish, white bass, drum, skipjack (hickory shad) and any other fish that have come upriver to feed on the abundance of shad holding and feeding in that swift water.
Another tactic that I may use when there's a lot of current coming from the spillways and/or the hydroelectric plant is I'll cast topwater lures in the slack water just off the current. I'll be using a walking bait like the Zara Spook, a popping bait and a buzzbait. Many times, some of the better-sized fish may be holding on that current seam between the slack water and the current from the dam. When those fish see activity on the surface, they'll often attack.
If you're traveling to Tuscaloosa for the Alabama / Vanderbilt football game on Saturday, September 24th, check out the details in the images below for Alabama Gameday info. For more information, you may also visit uagameday.com.
We hope that you enjoy your stay in Tuscaloosa and encourage you to come back and visit us again!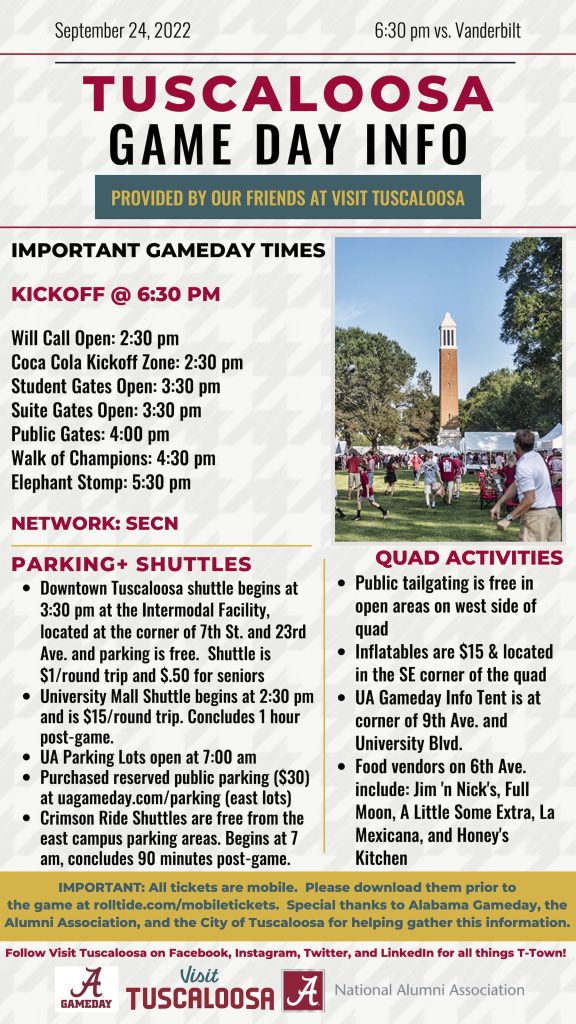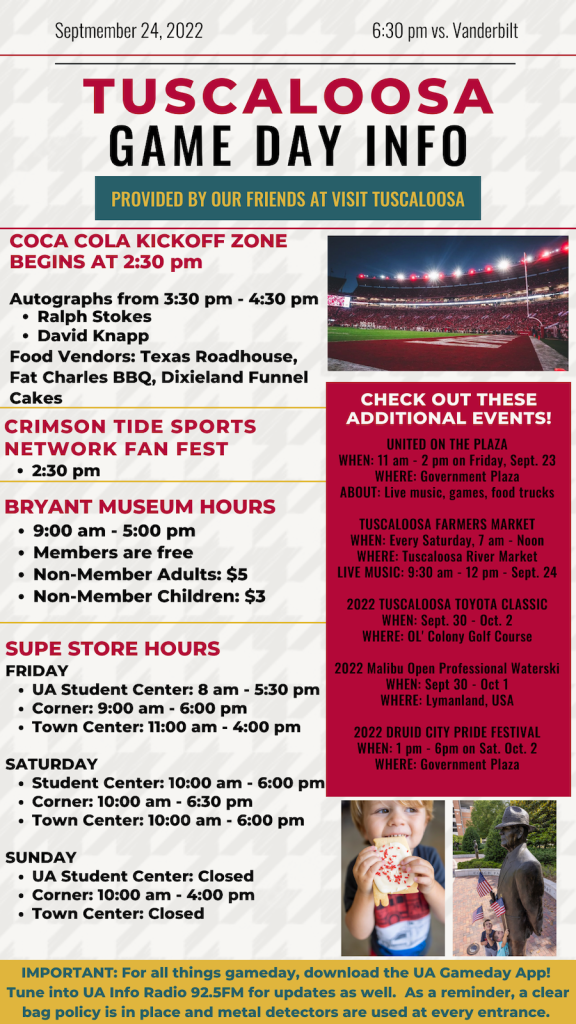 Editor's Note: Adam Hollingsworth is the president of the University of Alabama Fishing Team and explains, "I went back to college because I spent the first years of my life after high school in the military and as a police officer. I eventually want to be a U.S. Marshal. I currently have a degree in criminology and plan to start my master's degree at the University of Alabama in the fall of 2022." 
In the future, the City of Northport, Alabama, while working together with others, is hoping to build a facility where 200 boats can launch and have a bait shop, as well as offer many parking spaces.
Right now, several boat ramps are close together on the lower end of Holt Lake. Rock Quarry Boat Ramp (https://www.recreation.gov/activitypass/4baaca95-f6a4-11ea-ab86-ea94e31cc891) and Rocky Branch Launch (https://www.recreation.gov/activitypass/cb0dde80-f6a4-11ea-bc4c-a2c064eb4d04), that's larger than Rock Quarry, are only one mile apart. Deerlick Creek Campground (https://www.recreation.gov/camping/campgrounds/232571) is located in-between these marinas and isn't as big. When you come out of Rock Quarry Boat Launch you'll see Eagle Cove Marina (https://marinas.com/view/marina/7ecqx9v_Eagle_Cove_Marina_and_RV_Park_Cottondale_AL_United_States), which is where anglers generally will meet to start a tournament. When you combine the capabilities of all the marinas right now, 100 boats can be launched for a tournament.
One of the best bass-fishing locations as you come out of Rock Quarry Marina and go north toward the Lock 17 Dam, is Red Eye, found on the right-hand bank as you go upriver and only a 10-minute ride. You'll go past a coal chute where coal is loaded on barges. Generally, barges are parked on the other side of Red Eye. Several sandbars come off of this spot, and one of them is very shallow. On the weekends, many pleasure-boat riders will park there and have a party. I've found that the outside edge is a good place to catch fish, and that the sandbar usually produces best when there's a current coming through the lake.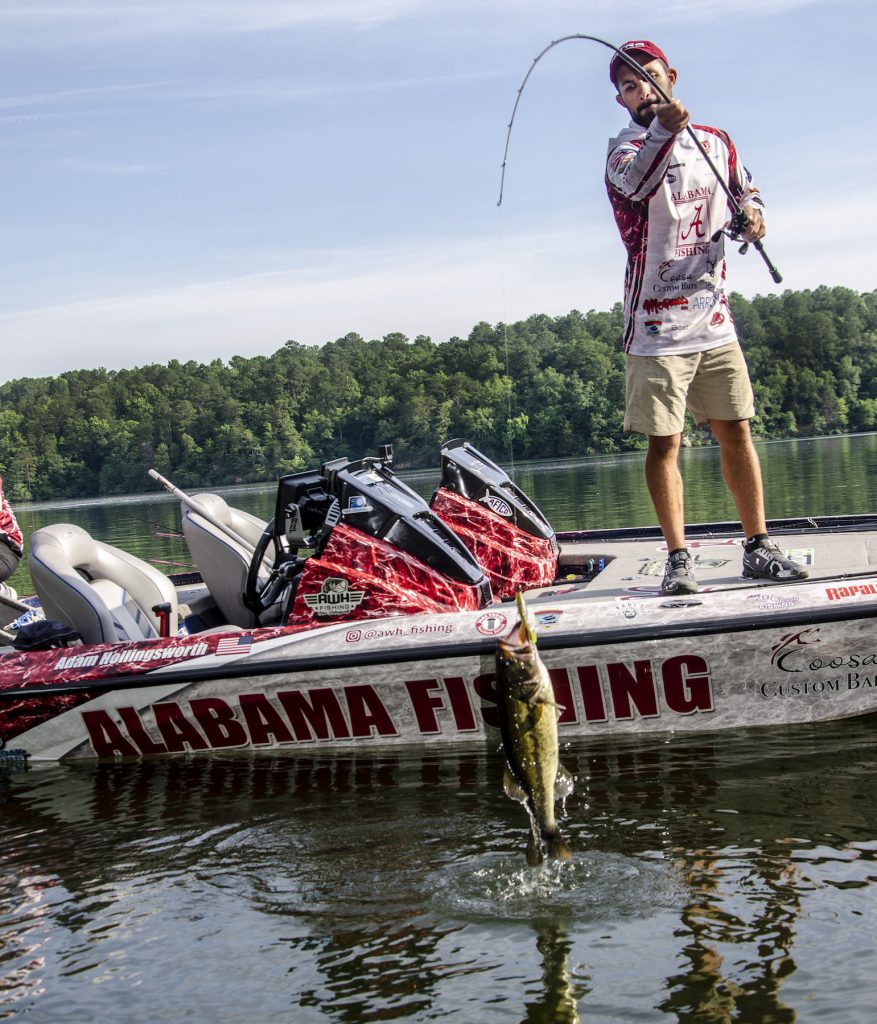 Tuscaloosa, AL– The Tuscaloosa Tourism and Sports (TTS) board of directors has announced Kelsey Rush as president and CEO in waiting for the organization. Don Staley continues to serve TTS as their president and CEO and will do so until his retirement.
Rush returned to TTS one year ago as the vice president of marketing and communications after having spent five years with the organization between 2010 and 2015. Beginning her career with the organization, she worked in the capacity of a sports sales marketing representative as well as the director of event operations. Rush left the organization in 2015 to pursue new opportunities in Nashville, Tennessee with her husband.
"As I transition out of my role as president and CEO at TTS, it's my belief that Kelsey and the board will execute our succession plan and the organization will achieve new heights under her leadership and vision to become one of the top destination marketing organizations in the region," said Staley. "TTS' brightest and most innovative days are ahead and I look forward to watching and contributing to its success in a different way."
Staley was responsible for hiring Rush in 2010 and the two have worked together in various capacities since then. TTS brought Staley back to the organization in 2017 as the president and CEO after spending time as the executive director of Foley Sports Tourism. The organization has witnessed great growth over Staley's tenure, which has experienced increased hotel rooms around the community, a significant number of events, boosted agency funding, growth in staff and much more.
"It has been a tremendous honor to serve as the president and CEO of TTS for the past five years and I am incredibly proud of everything that our team has accomplished together during this period," said Staley. "We've made meaningful progress toward the promotion and economic impact for our community and have made some of the best friends of my life while at TTS. While my tenure isn't quite up yet, I am incredibly thankful for the many years I've had the opportunity to work in this great community."
Rush has both nonprofit and private sector experience. Prior to returning to TTS, she served as the vice president of marketing and communications for Bryant Bank, a community bank based in Alabama that grew from the seventh largest bank in Alabama to the fourth in 2021 based on asset size during her time there. Her experience ranges from strategic marketing and communications, brand management, business development, community relations, sales and fundraising, event management, and media buying.
"Kelsey has gained experience at every turn in her career as a marketing vice president for a large corporation as well as working directly in the tourism and nonprofit industry," said Max Karrh, TTS vice chair and a SVP at Bryant Bank. "She brings the experience necessary to move TTS – a destination marketing organization – forward in the trajectory that Don Staley has the organization heading now. The board of directors is proud of the TTS team and its success in creating tourism opportunities for West Alabama."
Rush has taken on an active role in the community and is currently on The Chamber of Commerce of West Alabama's executive committee as the vice chair for marketing and communications. She earned the highest honor bestowed by the Chamber, the Charles H. Land Member of the Year, in 2020. Rush volunteers for Junior Achievement and has engaged with several organizations such as Tuscaloosa's One Place, Young Tuscaloosa, the PARA Foundation, United Way, and more. Rush is pursuing her masters in advertising and public relations with a concentration in marketing communication management through The University of Alabama's Bama by Distance program and will graduate in December and completed her travel marketing professional (TMP) certification through the Southeast Tourism Society in 2014.
"TTS is excited about the opportunity to work with Kelsey as our new president and CEO in waiting.  She has the experience and the talent to excel this organization to new heights," said Samyra Snoddy, TTS board chair and senior revenue officer for the City of Tuscaloosa.  "We have been extremely pleased with her and appreciate her dedication to TTS and her passion for serving our community.  We look forward to a vibrant and flourishing future for our organization as she continues the exceptional path Don Staley has laid out."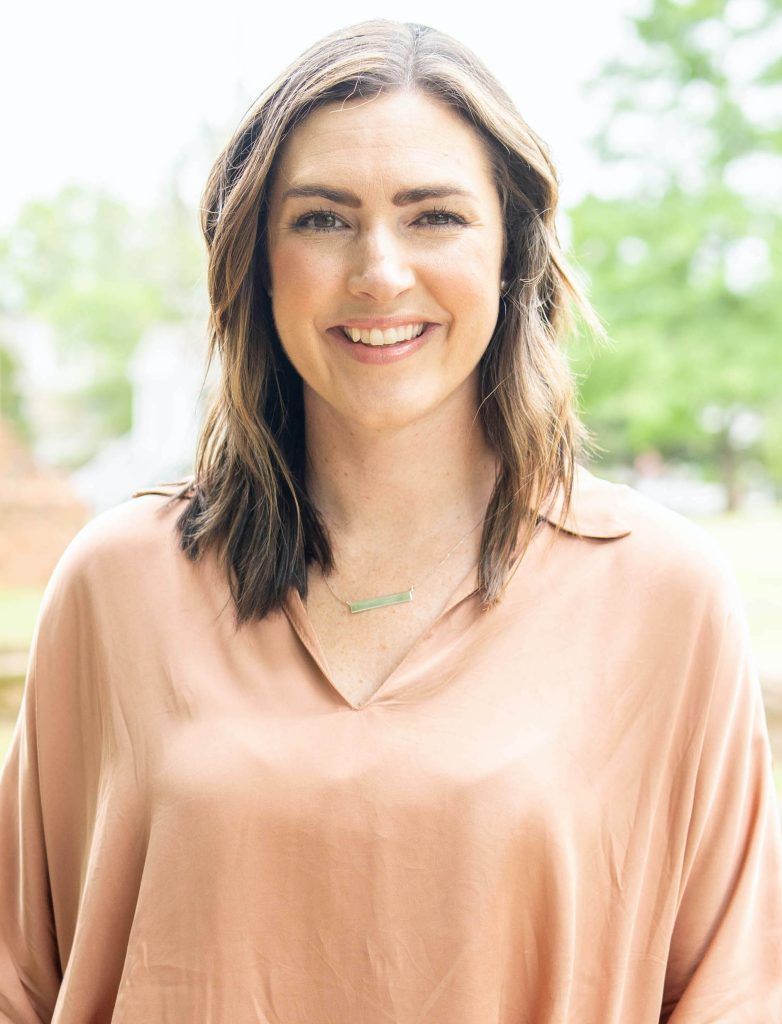 ###
The T-Town Edition
It's beginning to look a lot like Christmas in and around the Tuscaloosa and Northport area! While we had one of the most beautiful fall seasons, the leaves have now fallen and there's a slight chill in the air. We now turn to some of our most beloved holiday events of the year. In this edition, we'll share a few of our favorite festivities, so get your scarves, grab your friends and family, and get ready to have a magnificent time!
Tuscaloosa Tinsel Trail
benefiting Tuscaloosa's One Place
Beloved by all, the Tuscaloosa Tinsel Trail has become a hallmark of the holiday season in West Alabama. Nearly 200 festive trees, combined with the ice skating rink at Government Plaza, allow anyone who visits the opportunity to create traditions that make you feel right at home. Feel the joy of the holiday spirit and select your favorite trees as you stroll through Government Plaza. The Tinsel Trail runs through January 17th.
Check out all of the fun activities taking place along the trail and learn more here!
Location: Government Plaza – 2106 6th St, Tuscaloosa, AL 35401
Parking: Free parking is available on-site in the City's parking deck.
Holidays on the Plaza
ice skating fun and more
Skate the night away and cherish this delightful cold weather with your friends and family in style. Whether it's your first-time skating or you're a seasoned professional, you're bound to have a blast out on the ice as you overlook the Tinsel Trail – all located within Government Plaza. We are so thankful that the City of Tuscaloosa hosts this for all to enjoy this time of year!
For more information, hours, and tickets, click here.
Tip: Don't forget to bring socks for the skates that are provided.
Location: Government Plaza – 2106 6th St, Tuscaloosa, AL 35401
Parking: Free parking is available on-site in the City's parking deck.
45th Annual West Alabama Christmas Parade
super heroes celebrating Christmas
The 45th annual West Alabama Christmas Parade is happening at 6:30 pm on Monday, December 6th. This parade, put on each year by the Tuscaloosa County Park and Recreation Authority, is one of the biggest Christmas parades in the state! Get bundled up and prepare for an amazing parade through Downtown Tuscaloosa. This year's grand marshals include Jheovanny Gomez, Nancie Blewitt, and Pam Parker.
A tree lighting ceremony will take place on the steps of the Tuscaloosa County Courthouse prior to the parade at 5:15 pm.
To get all the details, visit their website here!
To view the parade map, click here.
Dickens Downton
a victorian Christmas celebration in historic downtown Northport
Dickens Downtown is hosted by the Merchants of Historic Downtown Northport, and it is a FREE family event celebrating the Christmas spirit and the joy of giving. At 5 pm on December 7th, attendees can expect live caroling performances, Father Christmas, snow machines, a tree lighting, and live artist demonstrations. In addition, excerpts of A Christmas Carol by Charles Dickens will be read at Shirley Place and hundreds of people will be dressed in Victorian-era costumes inspired by the popular novel.

For more information about Dickens Downtown, check this out!
Location: Main Avenue in Historic Downtown Northport
Hotel Capstone's Jingle Bar
a hotel bar filled with the Christmas Spirit
Get toasty with the elves at Hotel Capstone. Join them for a SELFIE-worthy explosion of Christmas decor, elf-approved holiday cocktails, and magical moments with friends! Book your office party or just grab a group of loved ones for a festive evening of holiday cheer! This will be open until January 2!
For more information visit here.
Check Out These Additional Events!
– Dec. 5 at 3 pm: Tinsel Trail Pet Night
– Dec. 10 at 6 pm: Tinsel Trail Family Night
– Dec. 10 at 7 pm: Alabama Choir School Winter Concert, Moody Music Bldg. Purchase tickets here.
– Dec. 12 at 2 and 6:30 pm: The Nutcracker, presented by the Tuscaloosa Community Dancers at
the Bama Theatre
– Dec. 13 at 7 pm: Tuscaloosa Symphony Orchestra Annual Holiday Concert, UA School of Music.
Purchase tickets here!
– Dec. 16 at 6 pm: Movie by Moonlight Drive-In, supporting DCH Foundation. Learn more here.

FOR IMMEDIATE RELEASE: WEDNESDAY, SEPTEMBER 29, 2021
STAN ADAMS PROMOTED TO EXECUTIVE DIRECTOR OF SPORTS FOR TUSCALOOSA TOURISM AND SPORTS
Tuscaloosa, AL – President and CEO Don Staley has announced the promotion of Stan Adams to Executive Director of Sports for Tuscaloosa Tourism and Sports (TTS) effective immediately. Adams, who has been with the organization in a full-time role since 2017, most recently held the position of Director of Sports.
"Since Stan's return to Tuscaloosa, he quickly made his professional mark in sports tourism locally, regionally, and nationally," said Staley. "He is a bright star in our profession because of his dedication to his career, and TTS and West Alabama are very fortunate to have someone of his caliber promoting our destination."
The announcement came after TTS' executive committee for the board of directors approved the request by Staley. Adams began his career in the sports tourism industry as an intern for TTS in 2015. Upon graduating from The University of Alabama with a master's in sports management, he joined the Wicomico County, Maryland team as a sports marketing representative in 2016. In 2017 he returned to TTS as the sports sales manager. Adams is also a young professional member with Sports ETA, the sports events and tourism industry's association that provides essential resources for sports commissions, sports destinations, sports event owners, and industry partners.
"I want to thank the TTS board of directors and Don Staley for having the confidence in me to take this next step in my career," said Adams. "Tuscaloosa is home for me – it's where I went to school, started my career, and found my fiancé. I look forward to continuing the success we have had at TTS and taking our organization to new heights through sports tourism."
Tuscaloosa Tourism and Sports' mission is to promote and develop local tourism and sports industries to stimulate Tuscaloosa's economy and enhance the quality of life for all Tuscaloosans. TTS generates lodging, dining, shopping, and entertainment revenue for the City. TTS is a destination marketing organization that promotes tourism to leisure travelers, conferences, conventions, sporting events, and more. To learn more, go to visittuscaloosa.com.
###
We get it, putting together an itinerary can be overwhelming with vast options to select from. And in Tuscaloosa, the tide rolls all year long with things to do, people to see, and places to be! So, we want to share Tuscaloosa itineraries to help. Up first, a 48-hour, fun-filled schedule that offers you a taste of all things Alabama. While the itinerary below would be best suited during a non-football weekend, you can certainly hit these spots while in town for a football weekend, too! Either way, this itinerary is pretty legendary…
Day 1
8:30 am – There's nothing like specialty coffee and doughnuts to kickstart your day! Babe's Doughnuts serves unique donuts such as Heath Bar donuts, fruity pebbles, and even rich red velvet, yum! They also have stellar breakfast wraps.
9:30 am – Now it's time to learn about Alabama football. Roll Tide! The Paul W Bryant Museum exhibits artifacts and memorabilia that trace their long history. The museum includes state-of-the-art displays enhanced by videos highlighting great players, plays, and games, and is open Tuesday – Sunday. Members and children under 5 are free. Non-member admission for an adult is $5 and children (K-12) are $3.
11:00 am – If it's a nice day, stroll down Paul W Bryant Drive after exiting the Bryant Museum. Walking out the door, you'll be greeted by Sewell-Thomas Stadium, Coleman Coliseum, the Mal M. Moore Athletic Facility, and more. It's the heart of Alabama's athletic facilities. Continue west down Bryant Drive as you make your way towards Rama Jama's – the perfect bama-fied restaurant for lunch. Rama Jama's is a sports-centric bar and grill for American eats including all-day breakfast, sandwiches, and shakes. We're talking about the Large Touchdown Burger Platter, an 8oz burger with a fried egg, choice of hash browns or french fries, and a drink.
1:00 pm – Now let's head for the Quad! As you walk from Rama Jama's hit up Bryant Denny Stadium, the Walk of Champions, the legendary Coaches Walk, and Tuska. This whole area offers many Instagram-worthy photo opps! As you mosey on to the Quad, which is also home to our beloved Denny Chimes, you'll find a 22-acre quadrangle in the center of UA. Take time to soak up the sun and explore that area of campus. Surrounding Denny Chimes you'll find hand and footprints of past Alabama team captains in the concrete.
3:30 pm – Another classic part of an "Alabama Gameday" experience is Gallettes. You must try one of their famous gameday Yellowhammers! The atmosphere is easygoing and it's a refueling hang out spot loved by locals and visitors alike.
6:00 pm – Who's hungry for steak? One of Tuscaloosa's beloved local gems is Nicks in the Sticks. With traditions like their famous "Nicodemus" and pinning dollar bills to the ceiling, this classic joint is almost always packed out, so come a little early and enjoy yourself. Our mouths are watering just thinking about that filet wrapped in bacon and their dinner rolls.
8:00 pm – Now you're ready for some live music, right? Temerson Square is a tremendous place to scout out local, live music! From country to rock and alternative, there will be such a wide variety of music. You'll have many options to end the night with in this area.


Day 2
7:30 am – If you enjoy a good run or walk, hit up the Tuscaloosa Riverwalk or campus – or both! There's something so motivational about running along the Walk of Champions. It's like you can feel the presence of legends right there.
9:00 am – Another incredible breakfast joint is The Waysider. You feel like you're at home the moment you step in – much like how legendary Coach Paul "Bear" Bryant felt when he at there, too. Their customer service always guarantees a happy visit, too. Be sure to check out the homemade biscuits and beignets or their incredible sugar-cured ham!
10:30 am – Now it's time to buy some Alabama swag. Check out the University's Supe Store to find some of the best Bama gear. Speaking of Alabama swag, another spot to explore (if you didn't yesterday) is The Strip. While it's home to many bars and restaurants, there are a few other spots you can purchase gameday attire.
1:00 pm – Lunchtime (so much food!) Local Tip: Innisfree goes far beyond a bar. They have some of the most delicious grub that never fails to surprise people! For example, the secret menu item is the Irish Gold Chicken Fingers, which are out of this world. On gamedays, this spot is packed with fans as the bar boasts many TVs, making it perfect to keep up with all-things sports.
2:30 pm – Now it's time to explore the beautiful and revitalized area of Downtown. If you have the kiddos with you, the Children's Hands-On Museum is a great place that allows little ones to explore, create, and discover! There are also a plethora of storefronts, eateries, and attractions to entertain those of all ages. Some long-time retail spots downtown include The Locker Room, The Pants Store, and The Shirt Shop.
4:30 pm – Before heading to dinner, you might want to take a quick break in the downtown area. If you're looking for a park, head over to Government Plaza. Need a quick drink, a solid charcuterie board, or something sweet? Check out The Wine Market.
6:00 pm – It's dinner time! Baumhowers Victory Grille is one of those places you can't miss while in town. If you're an avid Alabama fan, you'll probably recognize that name. Alabama football legend Bob Baumhower is the owner of this local spot and the restaurant is home to the weekly radio show "Hey Coach with Nick Saban" during football season!

8:00 pm – There's nothing like ending the day with drinks at a friendly, homey brewery. We have two local breweries in town that both offer wonderful atmospheres. But if Black Warrior Brewery and Druid City Brewing Company aren't your style, don't fret, our website can help with that. Fun fact: Druid City is famous for their wall-art and it's not uncommon for you to see art featuring legends like Coach Nick Saban or Bear Bryant. It's another perfect spot for a selfie in T-Town. For a starry night, Hotel Indigo's The Lookout Rooftop Bar is a beautiful place to admire the city from above with a beautiful view of the Black Warrior River.
While Tuscaloosa offers a unique blend of sports, history, outdoor adventures, music, and food for every palate, we hope that you enjoyed this "Alabama" themed itinerary featuring legendary history, popular gameday spots, and just all-around one-of-a-kind experiences that only Tuscaloosa has to offer. Stay tuned for more!
Ready to plan your trip? Request a free Visitor's Guide by clicking here!
Day by day it seems that Tuscaloosa is growing with new restaurants and shops. Making plans is getting easier and easier with so many exciting businesses and activities that fill our community. Bored of your usual mundane weekend plans? Fear not, because below are just a few of some of the newest businesses in town that could very well be your next favorite!
This Tuscaloosa newbie has some of the best cut for their tenders. From the outset, 100% all-natural premium tenderloins have been the building block for the entire menu. The Grocery's time-tested recipe has become a household favorite, locking in flavor with southern-style buttermilk marinade, and lightly breaded by hand with every order. The Grocery also features 24 rotating craft beer taps, premium wines, house-made cocktails and delicious southern street-style food.

2230 University Boulevard Tuscaloosa, AL
Monday – Saturday 11am-2am
Sunday 11am-10pm
Walk-On's is a place where over-the-top enthusiasm and culture are the daily norm. What sets them apart is their authentic, mouthwatering Louisiana cuisine prepared fresh and from scratch in the kitchen. And whether you're there for dinner with the family, date night, cocktails with the girls, or to watch a game on the big screen, they're always happy to share that Louisiana culture with us through their indescribable cooking.

675 Skyland Blvd E, Tuscaloosa, AL
Sunday, Monday, Wednesday, Thursday: 11 am- 11 pm
Friday and Saturday: 11 am- 12 am
This particular restaurant and bar celebrate the past decades of music and memories. The menu consists of incredible pizza, fresh sandwiches, and several appetizers. Once you step foot through the door of Decades it feels like you are walking through influential and classic periods of time when music was beyond iconic.

2314 4th St, Tuscaloosa, AL
Monday, Wednesday, Thursday: 11 am- 11 pm
Friday, Saturday: 11 am- 1 am
Sunday: 11 am- 4 pm
Who would have thought Tuscaloosa Glamping would ever exist?! It's just like camping, but with a little glamour in the details. But it doesn't stop there. You can add-on air conditioning, gourmet s'mores, inflatable paddleboards, and even have your furry friend join you on the adventure! There are a couple of different levels to glamping, sometimes it is a simple sitting at a campsite admiring the fire. Other levels include the addition of amenities like a comfortable platform bed with memory foam mattress, tastefully appointed linens and decor, and more! ​

tuscaloosaglampingco@gmail.com
205.861.6086
The trend of house plants has taken over, and we're not mad about it. That's why House Plant Collective is off to a grand start… because who doesn't like plants? If you are the minority that doesn't like plants, they also have pots, baskets, gifts, and accessories! This business initially began by selling online, but then HPC shifted into pop-up events in a converted school bus. By the end of 2020, it was expanded into a brick-and-mortar store for all of us to enjoy!

410 Queen City Ave., Tuscaloosa, AL
Monday-Saturday: 11am-6pm
Sunday: 12pm-5pm
Magnolia Soap & Bath has plant based ingredients in every recipe and can appeal to everyone in your family! Their bath products range from soaps, shower steamers, bath bombs, body butter, scrub, and shower oils. As if that's not enough, they also sell products for the home, pet care, and accessories. Even the men have their fair share of high-quality products like beard oil, beard balm, deodorant, beard comb, and a variety of soaps with more masculine scents like mechanic, woodsman, and tobacco bay leaf just to name a few. You don't want to miss out on all this store has to offer!

1800 McFarland Blvd. E, SUITE 216 Tuscaloosa, AL
Monday – Friday: 11am – 4:30 pm
Tuscaloosa is located in the heart of West Alabama, and in the South, which means our warm weather season is around for a bit longer! Although this community has an abundance of adventurous outdoor attractions, sometimes, you just need indoor options to beat the heat. Whether it's an ice cream shop or a trip to the bowling alley, we've got just what you need to enjoy Tuscaloosa… a bit on the cooler side.
Las Piñas is a family-owned business that is excited to bring a new modern concept of ice cream shops. Serving 100% homemade frozen treats and snacks with the combination of Mexican and American flavors makes Las Piñas a great spot to cool you off and cure your cravings.
They are located at 2003 McFarland Blvd. E Tuscaloosa, AL 35404
Hours of Operation:
Monday – Thursday: 12 (noon) – 8 pm
Friday – Sunday: 12 (noon) – 9 pm
Another way to escape the humidity is taking a trip to Bowlero.  This reinvented bowling alley includes dining, sports, entertainment, and recreational games. They also have incredible food and drinks, as well as an electric atmosphere and service. What are you waiting for? Grab your best friends and join the (air-conditioned) party at Bowlero!
They are located at 2001 McFarland Blvd E, Tuscaloosa, AL 35404
Hours of Operation:
 Monday – Thursday: 5 pm – 12 am
Friday: 5 pm – 1 am
 Saturday: 12 (noon) – 1 am
Sunday: 12 (noon) – 10 pm
If you're a fan of the arts, you'll love the Paul R. Jones Gallery. The Paul R. Jones Collection of American Art at The University of Alabama includes one of the largest and most comprehensive collections of 20th-century African American art in the world, grown over decades by the one and only Paul Raymond Jones.
They are located at 2308 6th St. Tuscaloosa, AL 35401
Hours of Operation:
Monday – Friday: 9 am – 5 pm
Closed Saturday and Sunday
Situated in a quaint and cozy historic home, Ernest & Hadley Books is Tuscaloosa's Indie Bookstore that's located in the heart of downtown Tuscaloosa. This store strives to provide a unique selection of new, used and rare books, and other creative materials from local, regional, and international sources. If you have a deep love of books and wish to share that passion with others, this store is perfect for you. With a village approach, they provide space for book clubs to meet, authors to hold book signings, and even artists to exhibit their craft!
They are located at 1928 7th St. Tuscaloosa, AL 35401
Hours of Operation:
Monday – Friday: 9:30 am – 5:30 pm
Saturday: 9:30 am – 4:30 pm
Closed Sunday
What many may not realize is that Tuscaloosa and surrounding communities, like Northport, offer several uniquely local spots to shop. Whether you're looking for back-to-school clothes, home decor, a night-out-on-the-town or gameday attire, or just simply want to visit some charming local boutiques, we think you'll find this information worthwhile!
Throughout the community, you can find a plethora of shopping options. However, for our purpose today, we highlight some specific areas and a few of the locations you will find!
Have a favorite spot that we missed? Come join the conversation on our social media!
Lavish is a female clothing and accessories store that has it all, and is just in time for rush and game days! This gold mine is full of unique tops, dresses, bottoms, and shoes. With this local gem, you don't have to worry about boring pieces, because at Lavish they strive to be ahead of the fashion curve with beautiful lush clothing. This is a must-see in Tuscaloosa, especially if you need a new wardrobe to spice up the new school year.
Alumni Hall has everything you need to cheer on the Crimson Tide. They have it all: great brands, selections, and deals on The University of Alabama apparel, merchandise, and gifts. Official sideline clothing from Nike, fashion and accessories for the ladies and a great kids' selection. It's the ultimate place for UA students, alumni, and fans to shop. They also offer 10 percent off for students and military with valid ID.
Bama Fever is your one-stop shop for all things Bama, with options for men, ladies, and kids. They even have Crimson tide options for your car, home, and tailgate. This uniquely local gem will have you walking out of there with some serious school spirit! They can bring the Crimson Tide straight to your kitchen, bedroom, or both. Let your love for the Tide shine with keychains, buttons, wallets, and purses.
High Tide Sports, LLC offers gifts, accessories, and apparel for any and all of the sports fans in your life. This local gem is a popular shop for both Alabama and Auburn fans alike. They specialize in spirit jerseys, tees, and tanks and carry a huge variety of brands, designs, and colors. As a family-owned business, all of its items are competitively priced.
Pause Boutique is a local legend in Tuscaloosa. From girls to plus size this place has a little something for everyone. The unique jewelry, clothing, shoes, bags and hats, cosmetics, and miscellaneous items make Pause such a wonderful addition to this community. They are open Tuesday through Friday 11-7, Saturday 10-6, and closed on Sunday and Monday.
For those men looking for dapper clothing and accessories, The Locker Room is the place to be! From Bama gear to the finest footwear, this local treasure is truly one-of-a-kind. They also carry the highest quality clothing such as Peter Millar, which is the perfect combination of comfort with high-end style. They've got a whole new wardrobe just waiting on you, with hats, cups, a Bama-themed bow tie, and so much more!
Lou & Co. is a place that the ladies of T-Town cannot get enough of. For those rushing, they even sell bid day gifts that looked like they dropped down from heaven. They also sell wall art, pillows, plush throws, a pajama set in addition to the clothing. Lou & Co. is filled with unique and specialty items, often locally or artisanally sourced, and always thoughtfully chosen by the owner herself.
Bradley's Market is a unique shop that has earned the love and appreciation of all of its customers. Their vast variety of items for sale is extremely unique, including seasonal goodies, home decor, florals, baby shower necessities, wellness products, wedding registries, and so much more. This unique local shop is the definition of class. Some of the fun items they have include Bees and Honey Puzzle, La Hammam Beach Towel, and a decorative Tuscaloosa Street Map!
Another incredibly unique shop in Northport is called Everlasting. From humble beginnings as a family-owned business, they bring their small-town charm for a fun shopping experience that feels as quality-driven as the products. With decorative accessories for your home, inspirational goods, original works from local artisans, handmade jewelry, and distinct gifts Everlasting has just a little bit of everything.
Whether you're looking to explore the outdoors or simply need an activity that allows for safe social distancing, Tuscaloosa is a hidden gem, especially as we work our way through the summer and come upon a beautiful fall season. If you're planning a trip to Tuscaloosa, we encourage you to check out the many local trails within our community. To help, we've identified a few uniquely local top picks below!
We'd love for you to tag @VisitTuscaloosa in any photos you take when you're here!
Lake Lurleen is a favorite of locals looking for relaxation and recreation alike! The park's trails are open to hikers and mountain bikers, and the park offers 91 campsites for those looking for an extended stay. If that isn't enough to draw you in, the park also boasts fishing, swimming, boating, and a beach. Whether it's walking your dog along the shoreline or renting a kayak, Lake Lurleen truly has something for everyone!
About 20 minutes from Tuscaloosa lies another paradise for those looking to enjoy the outdoors: Lake Nicol. This local favorite offers a chance to get off the beaten path and explore the wonder of mother nature. The many species of birds that call the area home make for excellent birdwatching. Visitors also enjoy kayaking, paddleboarding, and picnicking on the shore.
Hurricane Creek has been an important part of the Tuscaloosa community for decades. In fact, the park's popular Eagle Scout Trail was planned and blazed by local scouts. Explore this local favorite by canoeing down the creek, traversing the park's biking and hiking trails, or simply taking in the native plants and wildlife.
Located just 10 minutes east of The University of Alabama campus, the Arboretum has grown to become a perfect spot for an outdoor getaway. Dozens of native and non-native trees provide a nice shade to enjoy the nearly 60 acres of land, situated in the heart of Tuscaloosa. It's also located adjacent to the former University golf course and VA Center.
Munny Sokol Park trails offer over 11 miles of trails where the locals enjoy running, walking, or mountain biking. Located a short drive from downtown Tuscaloosa, Sokol Park offers scenic views and is good for all skill levels. The trail offers a number of activity options, where dogs are also allowed but must be kept on a leash. This park also contains a brand new all-inclusive playground so kids of all ages and abilities can enjoy Sokol.
The Riverwalk is perfect for those who don't want a strenuous hike. This is an excellent paved trail located along the southern bank of the Black Warrior River near Downtown Tuscaloosa. The pathway has plenty of benches, gazebos and hammock-friendly trees for quick breaks and picnics. and offers a playground near River and Another Broken Egg, and a splash pad near the old Bama Belle dock. The trail is well lit.
Tuscaloosa's food truck scene has certainly evolved over the past few years, and we're totally here for it! Whether you're attending a local festival, exploring The University of Alabama's beautiful campus, or simply frequenting some of our neighborhoods, it's likely you'll see a food truck out and about. If you're like us, there's just something special about a delicious meal cooked to perfection and served with a smile and at the convenience of "on-the-go". Today, we want to share six local food trucks that you can find hitting the streets of T-Town.
Just remember, there are many more food trucks in Tuscaloosa than the ones we're covering, especially depending on the time of the year (ie: football season – roll tide!).
Catch a Taste
Serving with love and devotion to make great food is the goal of this food truck. It's nearly impossible to leave this place without a smile. They move around day-to-day, so you can click here to view their schedule. Whether you're looking for a beef wrap combo or a wing platter, you will be more than satisfied as soon as you catch a taste.
Bean Me Up Scottie
This little gem is relatively new to town, but word travels fast when the food is incredible. This organic eatery has unique delicacies like vegan cupcakes, mac and cheese burger, and the classic BLT sandwich. All of their meat is plant-based for those vegetarians and vegans out there. With deserts like Zucchini bread and banana nut bread, this place can cure just about any craving! Their schedule will be posted soon on their Facebook page.
Cheese Louise
This local gourmet grilled cheese food truck specializes in, none other than, spectacular sandwiches. They have earned quite the reputation around town and have lived up to the hype. This place puts a bit of a spin on the American icon. Just imagine, you order the Macdaddy, which is filled with Colby jack cheese, bacon, and chipotle sauce on freshly toasted white bread. Yum!! For the full menu and more details check out their website here.
Little Poblano
Hungry for tacos and tamales in Tuscaloosa? This Poblano food truck has just what you want to satisfy even the deepest hunger. They offer an incredible chicken roasted in an orange tinga sauce, guacamole, pickled red onion, marinated cabbage, and house crema. And if that's not your style, the classic quesadilla never disappoints with chicken tinga, cheese, and roasted poblanos. For more information on Little Poblano click here.
Big Tasty
One of the more classic food trucks that roam T-Town is Big Tasty, serving a wide range of hot dogs and hamburgers. They offer quality services that go a long way to ensuring that your order is to perfection. Not to mention the rave reviews they receive about their customer service going above and beyond. If hamburgers and hot dogs aren't your thing, they also serve a mouth-watering wing combo, served with a side and a drink. For more details check out their website.
Urban Cookhouse
When the official food truck of Urban Cookhouse roams Tuscaloosa, we all know what that means… it's time to grub! They're serving up your favorite UC Classics, now on the go! Check out their website to find our next stop! Whether you're craving something healthy like Berry Good salad and wrap or something hardy, Applewood bacon, avocado, lettuce, and tomatoes with aioli on toasted white bread, you're sure to be satisfied with all the variety of options here.
Blenz Bowls
A smoothie bowl concept that has everyone talking on campus! Their specialty is healthy, happy, good food because the fuel we put in our body matters. Blenz Bowls tries to bring us the best fuel available and we think it's pretty good! They can typically be found on campus Monday through Friday during the school year and actually have a storefront location in the Student Center as well. Check out their Instagram page for current locations or visit their website today!
Archibald's Food Truck
Arguably some of the best wings in West Alabama, the Archibald's Food Truck can often be found around the community and at several local events! They are a locally owned barbecue food truck but their business (Archibald & Woodrow's BBQ) has been around for over 60 years now. They were established in 1962 and is now being run by the third-generation! Over the years, the meat and sauce has stayed the same. Check out their Facebook page or their website to learn more.